Yes! They absolutely are. If you have lightweight carbon wheels on your bike, your rides will feel sharp and it will also be easier to speed up. The lightweight will also allow for quick climbs and conservation of energy when you are on longer rides. Therefore, carbon wheels are a popular choice in XC racing where lightweight is important for optimum performance. Wheels are crucial for shedding weight on your bike. You can easily feel the difference on a bike with light wheels. As you read through this article you will know more about the criteria of carbon wheels, what other riders such as yourself think, and why you should get them too.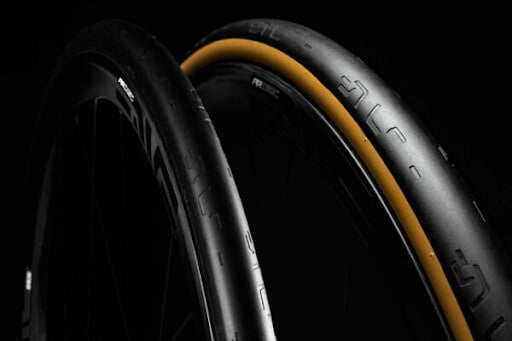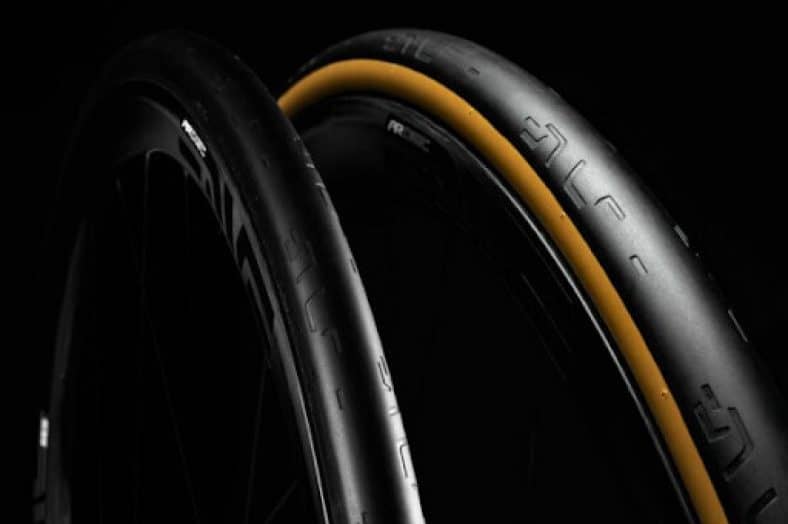 Image Source: enve.com
Criteria when choosing carbon wheels
1. Weight
Carbon fiber is known to have great strength to weight ratio. This material is much stronger than both steel and aluminum. On top of that, it's density is half of that of aluminum and 5 times less than steel. These properties are excellent for bicycle wheels.
Wheels consist of the bike's rotating weight. If your wheels have a high rotating weight that it will also have high inertia. The inertia of the wheel is an important factor as while riding your bike you have to use your energy to overpower it to accelerate. Therefore, heavy wheels will use up more of your energy and light wheels will use less of it.
The main factor for weight on wheels is the rim material. And aluminum rims weigh much higher than ones made up of carbon. With that being said, for bicycles, any weight difference that is more than half a pound is quite significant and has a lot of impact on performance. This is because while you are pedaling your bike constantly, it adds up and requires more energy. Therefore, to take your performance to the next level, a lighter set of wheels can make a huge difference.
2. Stiffness
Stiffness is also an integral criterion when it comes to wheels. Aluminum wheels with good construction can be quite stiff. However, carbon wheels with a similar construction are much stiffer. Stiff wheels are beneficial due to their quick responsiveness while pedaling or accelerating. They allow for better control of steering. You will also find that stiffer wheels enable you to improve tracking performance when you are cornering or aggressively leaning your bike. Also, they help you maintain your speed and deflect off obstacles efficiently. These are all qualities that carbon wheels can deliver. Aluminum wheels flex quite a bit and it can allow the rider to lose confidence when cornering or riding over rock gardens.
Of course, you don't want your wheels to be a little too stiff, which was the issue with some older models of carbon wheels. That is why you will see some riders go for aluminum wheels as they have more flex. However, the ride quality is even more impressive on the latest carbon wheels.
Carbon fiber is designed to perform distinctively in different directions. Therefore, engineers allow the wheel to be rigid in one direction, while more cooperative in another. This enables the wheel to provide both the advantages of stiffness and being compliant. As a result, the rider will experience a ride of exceptional quality.
3. Cost
Cost is one of the main reasons a lot of people don't end up buying carbon wheels. In most cases, carbon wheels are priced almost twice as much as a set of aluminum wheels. For a brand new pair of carbon wheels, you should expect to pay about $1,500 to $2,500. Whereas, high-end aluminum wheels will cost you anywhere from $600 to $1500. So that begs the question, why do carbon wheels cost so much? The answer lies in its manufacturing process.
Aluminum rims are first put through an extruding process and then they are welded or in the case of budget wheels, pinned into a round shape. Most of the aluminum rim manufacturing process is now automated and so a high number of them can be produced every day. That along with the low price of raw materials allows these rims to be priced reasonably.
Now, carbon rims are made in a more labor-intensive process. Also, the raw materials required are highly-priced. The manufacturing process requires molds and this procedure also needs the carbon sheets to be placed by hand. Therefore, the workforce needs to be properly skilled and so the daily production is less than that of aluminum rims. Last but not least, the manufacturing facility must also be climate-controlled and so these are the reasons for the high cost of carbon rims.
You can watch the video linked below to know more about how carbon fiber is made:
4. Durability
Both carbon and aluminum rims will falter if they encounter the right riding conditions. However, they will not fail in the same way. Aluminum rims typically get deformed or dented. Carbon rims, on the other hand, generally cause a crack to develop. That is just how the material works. This is because carbon is quite brittle and so it does not get dented or deformed like aluminum. If your carbon gets a crack, you should replace it as soon as possible. This is why some riders go for aluminum wheels as a dent can be easily repaired. However, a technology known as tire insert can help solve this issue with carbon rims. Tire inserts offer additional protection for the carbon rim. They do this by putting foam between the trail or terrain and the rim itself. They will add some weight to your wheels but it is worth it as your rim will be protected.
5. Rim Profile
The rim profile of your carbon wheels may either come in a U-shape profile which is very smooth and it will definitely improve your bike's overall performance when you ride through crosswinds. Or it will probably come with a V-profile which is actually quite sharp and will provide you with optimum frontal efficiency. So which rim profile you need depends on your preferences and riding style.
6. Rim Width
As you must know, the rim width is of great importance. If you get wider wheel rims you can run wider tires as well. Therefore, to receive efficient performance, a wide tire must go along with a wide rim. It will not only improve the safety of the bike but also make sure there is a seamless transition between the rim and the tire.
The tire width also affects how much pressure you can run them on. It also determined how versatile the wheelset will be. It is important to note that the wider your tires, the lower the tire pressure will be. This will also increase your comfort levels, and also improve rolling resistance.
7. Hubs & Spokes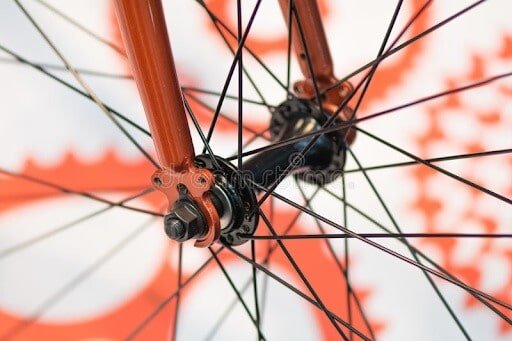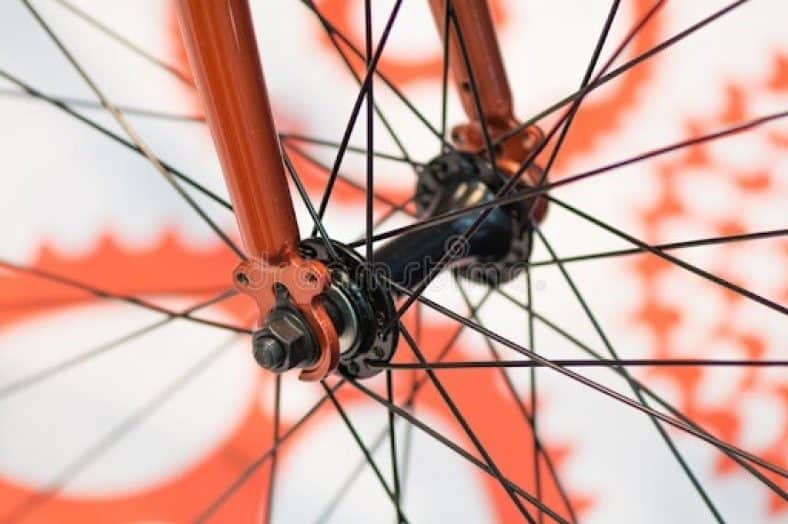 Image Source: dreamstime.com
A wheelset is not complete without the hubs and spokes. Therefore, you should ensure that the wheelset you purchase comes with excellent hubs and spokes. It will maintain the standard and quality of the complete set.
You may find the spokes to be bladed. This will allow it to provide improved aerodynamic efficiency. And the hubs consist of either ceramic or stainless steel bearings. The type of bearing will affect both the price and the rolling resistance of the wheels.
8. Performance
High-quality carbon fiber wheels have the ability to actually transform the ride quality of your bike. As mentioned before, the stiffness is much greater than that of an aluminum rim. Therefore, for riders who like to ride with power, carbon wheels can completely change how your bike feels when you ride it. It adds a much more responsive nature and will offer a smoother performance when you are riding over rough road surfaces.
Back in the early days of carbon rim wheels, the braking performance was not up to the mark. However, these days the modern carbon fiber wheels provide a massive improvement in terms of braking performance. With that being said, a proper set of aluminum wheels offers greater performance, especially when riding in the rain.
Preference of users
When riders were asked about which wheel material they prefer, they would buy with their own money, answers were a tie between aluminum and carbon. However, carbon wheels did have a bit of an edge. Most of the riders who chose aluminum rims were downhill riders. Such riders are known to be quite precise about their biking equipment. However, when the same riders were asked about which material they would choose if they were given the wheels, free of charge, most went with carbon wheels. That allowed us to conclude that the cost of the wheels is one of the biggest factors.
The reason behind using carbon wheels
Riders who prefer carbon wheels do so because they deliver performance gains. Due to their lightweight, carbon wheels help to lower the weight of the entire bike. You will also need to true your wheels less often. Such riders also do not like the idea of dented wheels and they probably never had the experience of carbon wheel failures. Carbon wheels are ideal for riders who are performance-focused. The sturdy feeling of carbon is what provides the extra benefits. All these reasons make carbon wheels such a popular choice.
Frequently Asked Questions
Q1. When did carbon fiber become a popular material to build wheels with?
Ans.: Wheels made up of carbon fiber were starting to gain recognition during the early nineties. Carbon fiber was first used to manufacture wheels for motorsport. Then slowly bicycle wheel manufacturers started experimenting with them and eventually the transition took place in the cycling world. It took some time to actually have a big influence in the cycling community, as we all know that cyclists are a bit cautious about new technologies.
Q2. What are the benefits and drawbacks of manufacturing carbon wheels?
Ans.: It is quite obvious that carbon is the standard for manufacturing high quality and premium wheels. The benefits of this include enhanced sturdiness, lower weight, and incredible aerodynamics.
However, the manufacturing process of such a high-performance wheel can be time-consuming and costly. And these expenses are eventually passed down to the consumer and that is why carbon wheels are so expensive.
Q3. What are the benefits and drawbacks of using carbon wheels for the rider?
Ans.: There are numerous benefits of using carbon wheels for the rider. First of all, the enhanced aerodynamic efficiency is incredible and it will definitely improve your overall riding performance. Second of all, the shape of the stiffness to weight ratio of the wheels is tremendous. Carbon rims can be built to be wider in shape and size as well. Lastly, although it is not as important as the other benefits, carbon wheels look amazing and will improve the overall appearance of your bike. The drawbacks of course include the hefty price and also the fact that carbon wheels do not offer the best braking performance.
Conclusion
Carbon wheels provide a multitude of benefits and although there are a couple of drawbacks which also include the pricing, we have to say that they are completely worth it. With that being said, only you can decide if the hefty price tag is actually worth it or not. Therefore, we hope you come to your final decision and you are satisfied with your purchase. Best of luck and have fun riding with your new wheels!