The most popular exercise equipment on the market has always been, and perhaps always will be the exercise bike. With time, the design and functionality of the exercise bike have changed to cater to the various needs of its users.
One such offshoot of exercise bike innovation is the folding exercise bike.
With having constraints of physical space, and maybe also a restrictive budget, the folding exercise bike presents a brilliant solution for your fitness goals. It can perform almost at the same level as a traditional exercise bike in terms of aerobic exercises, all the while taking up less physical space. Its portability also opens up new options for taking your exercise anywhere with you.
In this article, we will be breaking down the many convenient advantages and, maybe to some, deal-breaking downsides of having a foldable exercise bike as the primary source of cardio exercise at home.
Pros of Folding Exercise Bikes
The folding exercise bike was created with convenience in mind, so you can almost guess what its advantages will be compared to the traditional exercise bikes.
1. Has a Small Footprint
The primary convenience the folding exercise bike provides is its small dimensions. Many of us do not have the luxury of living in large houses or apartments these days, nor is it always feasible to build ourselves a home gym with our tight workloads. But that shouldn't stop us from pursuing fitness.
With its small footprint, the folding exercise bike can be propped up inside a room which at least has some walking space, allowing you to get your daily aerobic workout done with ease at any moment of your convenience.
➥ When it comes to the weight capacity of exercise bikes, if you're someone who plans on getting an exercise bike that has a higher weight capacity, then, have a look at our selection of exercise bikes with 400 – 500 lbs. capacities.
2. Can Be Stored Easily
The main selling point of the folding bike is, of course, folding. Its lightweight construction and durable hinges allow it to be folded and easily tucked under a bed, or even a closet, once you are done with it.
3. Can Be moved Around Easily
This lightweight machine can be easily carried around without much effort. Your favorite program is on TV? Place the machine in front of it. Guests coming over? Relocate the machine to another room.
If you are creative with it, the folding option will enable you to take your exercise wherever you go. Work or holiday, why miss out on the opportunity to exercise?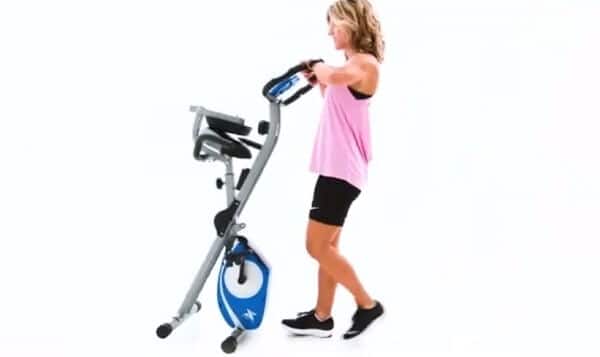 4. Is Easy to Assemble
Having a lower number of parts means that you do not have to fumble with an instruction manual during assembly.
The majority of the frame already comes assembled out of the box. The only things that you generally have to attach to the frame are the seat, the leg stands, and the handles.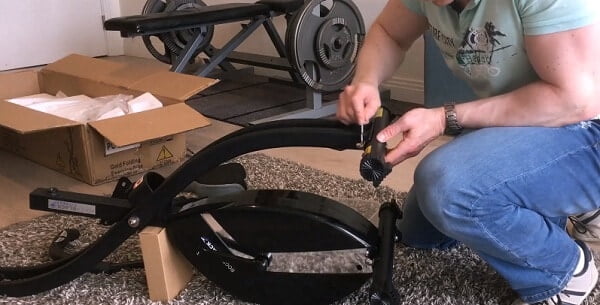 5. Is a Cheaper Option
Having small dimensions and being lightweight does mean that the equipment is built with lesser parts and materials. This can significantly push down the cost of the exercise bike.
So to all the budget-conscious people out there, if you are looking for a financially friendly way to get some calories burned, the foldable exercise bike might just be for you.
6. Provides a Low-Impact Workout
One of the biggest reasons why the stationary exercise bike is popular is because of the low-impact exercise it provides. It means that the machine will contribute to a good cardio workout without putting excessive strain on your body. This is of course carried over to the foldable version.
Even if you want a higher intensity of a workout, the foldable bike also has the option of adjusting resistance levels.
Cons of Folding Exercise Bikes
Like any specialized equipment, the foldable exercise bike also comes with a few downsides.
1. Can be very lightweight
The lightweight quality of the folding exercise bike can prove to be a double-edged sword. On one hand, it makes it portable and easy to use. But on the other it allows the manufacturers to withhold on certain build quality efforts.
If you are planning to buy a folding exercise bike, look no further than the review page of the product to find out what other people have to say about the build quality. This will give you the best indicator for your purchase.
This lighter weight also makes most models of this type of exercise bike have a lower user weight capacity. Only a handful of options available on the market can withstand user weights of greater than 300 pounds or 140 kg.
So, if you are a heavy-set individual, it would be better to invest in a sturdier, non-foldable option of an exercise bike for the long term.
2. Unstable Pedal Action
A smooth and realistic feeling pedal action should not be expected without a weighty flywheel. And the folding exercise bike does not have a 10kg flywheel to support it, let alone a 20kg one that you would find in a full-sized machine.
The presence of a magnetic resistance system may somewhat offset the need for a weighted flywheel, but during a vigorous exercise, the pedal action may seem unstable and unrealistic to a real bike, and might even throw you off your mental zone.
Even cheaper options with friction-based resistances will feel particularly unsatisfactory to even use.
3. Has Limited Features
Saving on cost, weight, and space does mean sacrificing a lot of features and functions that you would otherwise naturally find in a standard exercise bike.
Especially for entry-level models, forget about having wireless connectivity like Bluetooth or Wi-Fi. Even if it does come with a display, it will be a pretty basic one, none of that LED, LCD, or backlit console.
The only features that you are sure to get are different levels of resistance and adjustable seats.
Of course, paying higher might open the door to some models of the folding exercise bike that may have these missing features.
The Verdict
If you are strapped for space or on a tight budget or just looking to get started on your fitness journey, these folding exercise bikes clearly have a space – in your home (pun intended). You will soon find that the portability and convenience that these machines provide soon become an indispensable part of your daily routine. Until, of course, the doors to more feature-rich options open up to you.
But if you are the type of person who is looking for a more sophisticated fitness experience with things like smoother pedaling or in-depth workout analyses, and also has the room space for something sturdier, then it is always better to opt for a traditional upright exercise bike.
Frequently Asked Questions
Q1. Can you stand up on a foldable exercise bike?
Ans.: No. The foldable bike is not as sturdy or robust as its full-sized counterparts. Manufacturers usually skimp on adding more parts or just use higher quality materials on the build. This is to avoid reducing portability and increasing the price of the machine.
Though some premium options of foldable exercise bikes can withstand your standing weight while exercising. But they will be pricey and as a precautionary measure, consult the review page of the product before purchase to get a better understanding.
Q2. Does an exercise bike tone your stomach?
Ans.: No. The exercise bike does not target the core muscles of the body, so no toning of those muscles can occur.
Exercise bikes are primarily aerobic exercise machines. They can contribute to burning calories, reduce body fat and maybe eventually contribute to a flatter stomach.
Q3. Are 30 minutes on the exercise bike good?
Ans.: Any form of consistent exercise that you can perform over 30 minutes is good. Working moderately for 30 minutes on an exercise bike can help an average person burn through nearly 260 calories. [Source: Harvard Health]
Not only does it help cut through calories but also helps you tone your lower body muscles and build your endurance (stamina).