We all know that hybrid bikes are ideal for riding in cities as they are designed to offer comfort and efficiency for urban riding and commuting. However, they can be used for other riding styles as well as they are different types of hybrid bikes to meet different needs. Therefore, they are good for trails as there are hybrid bikes available that are based on mountain biking. In this article, we have written in detail about hybrid bikes, their various features, and construction.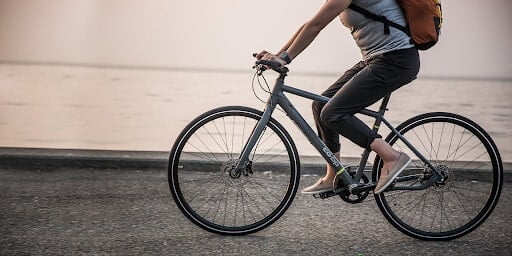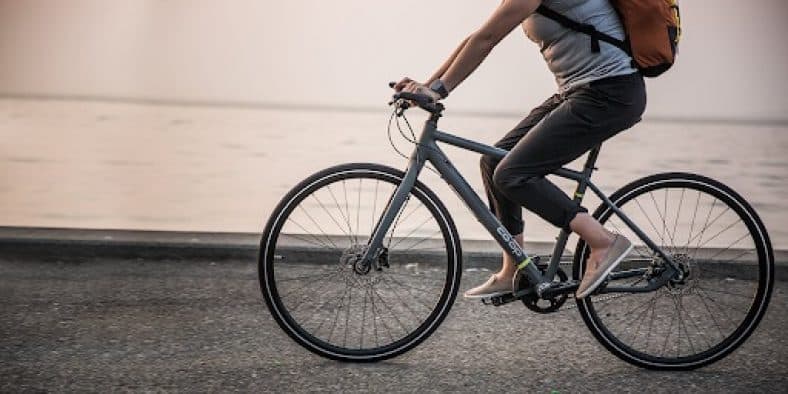 Image Source: vanndigit.com
What is a hybrid bike?
A hybrid bike is a fusion of a mountain bike and a road bike. This gives you a combination of an exceptional bicycle that is ideal for riding on different types of terrain. This is exactly why many hybrid bikes are used by commuters. These bikes happen to be incredibly common. If you're looking around the streets during traffic, you'll find a lot of people commuting on hybrid bikes.
Hybrid Bikes for trails?
Hybrid bikes fall within a very broad category. First of all, there are the flat-bar road bikes. These bikes come in slim tires and they are quite lightweight. They also have a closely integrated frame which is accompanied by a flat bar.
However, deeply treaded and thicker tires are more common among hybrid bikes. These bikes are known to add versatility to the hybrid bike category with their cushioning and grip. Hybrid bikes allow you to ride in places where road bikes cannot. These places include forest roads, towpaths, and singletrack trails.
The features of hybrid bikes are also known for being quite versatile. Such features include mounts located on the bike's fork and frame for mudguards. A lot of hybrid bikes also have frame mounts to place a rack for carrying bags, and also two mounts on the frame which are used for putting water bottles. Some of them might also have mounted on their fork to place a rack and frame mounts for putting a lock at the rear wheel.
Two major decisions while choosing a hybrid bike
Hybrid bikes bring together specific features to provide bikes that can do it all and meet the demands of a broad range of riders. The ideal hybrid bike for you will depend on what you want to use it for.
There are two major decision points while choosing a hybrid bike:
1. Bike features and components
The first decision point is the features and components of the bike. These include the bike's suspension, racks, gears, wheel size, brakes, and much more. It will help you to determine how the hybrid bike will perform and how you can make use of it.
2. Bike fit
The second decision point is how the bike fits. After looking at various types of hybrid bikes and narrowing down your choices, you must ensure that the bike will fit you correctly.
Features of Hybrid Bikes
To find the best hybrid bike for yourself, you must decide what you want to use it for. It can be used for commuting, cruising on mixed terrain, riding on smooth and paved roads, and so on. After deciding that, you can think about the following features to suit your needs.
1. Wheel Size
700c: The 700c wheel size is the standard choice for most hybrid bikes. The wheel is not as important for choosing a hybrid bike as it is to match the bike with your riding style.
26 inch: Some hybrid bikes come with 26 inches wheels. These wheels are much smaller in size compared to the more widely used 700c wheels. However, if it matches your riding style, it will be the right choice.
2. Gears
Bicycles can consist of any number of gears, starting from 1 to 27 and sometimes even more. Gearing can seem a bit complicated when you take in the numerous combinations possible with chainrings, cogs, and the number of teeth they come with. Therefore, to put it simply, you should consider two main things. Your current fitness level and the type of terrain that you are planning to ride on. This is because, if you are planning to ride on hills and your biking activity will consist of a lot of climbing, you should get a hybrid bike with a lot of gears.
Now, if the plan is to ride on flat terrain, you will not require as many gears for powering your bike. This will also allow your bike to be quite light. A type of hybrid bike known as a single-speed hybrid bike comes with only one speed. Such bikes also consist of a freewheel mechanism located in the rear hub and it enables you to coast in the same manner as you would on a hybrid bike that has multiple gears.
3. Bike Suspension
A lot of hybrid bikes do not come with any type of suspension. This is because suspension forks increase the weight of the bike and can also reduce pedaling efficiency. Therefore, most riders who mostly ride on flat, smooth roads or paved ones do not bother about bike suspension.
Some hybrid bikes, especially city bikes are equipped with front suspension forks which provide a smooth ride by enabling the bike to soak up the energy from impacts made on its front wheel.
4. Brake Type
A good number of hybrid bikes are fitted with rim brakes. Rim brakes have pads that allow them to grab onto the rim of the wheels when the brakes are applied. Compared to disc brakes, rim brakes are much more economical, wear and tear can be found easily, and the pads are much easier to replace. However, there are drawbacks as well. These brakes will slowly cause the wheel's rim to wear out. When that happens, the wheel will need to be upgraded. Also, compared to disc brakes, rim brakes provide lower stopping power, are not as good for muddy or wet conditions, and need more effort to apply the brakes.
Disc brakes consist of pads that grab the brake rotor which is mounted on the hub of the wheel. There are two types of disc brakes available:
Hydraulic disc brakes provide more sturdy and progressive braking and also require less effort by your fingers. These brakes adjust themselves when pad wear occurs. On the other hand, mechanical disc brakes require adjustments to be made manually when it is damaged. Disc brakes offer more steady braking when riding in all types of conditions compared to rim brakes. They also provide exceptional performance when riding in both wet and steep terrain. On top of all that it also requires less finger pressure. However, disc brakes are much harder to evaluate for pad wear and also a bit difficult for replacing pads. Also, maintenance of hydraulic brakes can get quite expensive.
Frame Material
Most bikes are built using aluminum. With that being said, carbon fiber and steel are also quite popular. All these frame materials have their own benefits and drawbacks. Therefore, you should evaluate them properly before purchasing a bike.
The qualities of aluminum include lightweight, strength, sturdiness, and affordability. A lot of riders may say that they feel a bit hard while riding on rough roads. However, the latest construction methods have enhanced its shock absorption abilities. Compared to aluminum, steel is much heavier. However, steel is strong and provides a lot of flex so that you can enjoy a smooth and comfortable ride. Lastly, carbon fiber has the best qualities of both the aforementioned materials. It is much lighter compared to aluminum and a lot stronger than steel. But it is also more expensive than both of them. Therefore, it is mostly used for high-end bikes.
Shape of Handlebars
You should compare the height of the seat with the height of the handlebars when you buy a new bike. But what should you look for? You should see if the seat is below the level of the handlebars, because the lower it is, the more comfortable you will be. However, having the seat in a higher position compared to the handlebars will enable you to ride in a much more aerodynamic position. This will also help you to pedal aggressively. As a result, you will ride much faster.
There are 5 main types of handlebars:
1. Drop bar: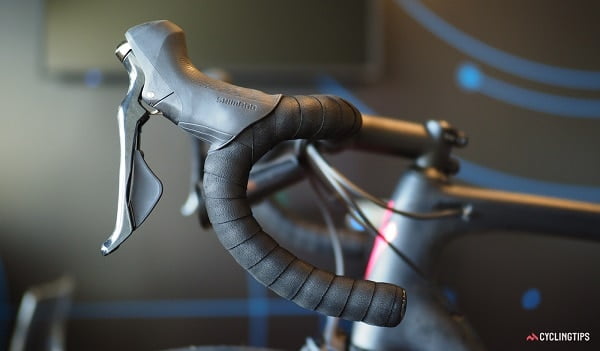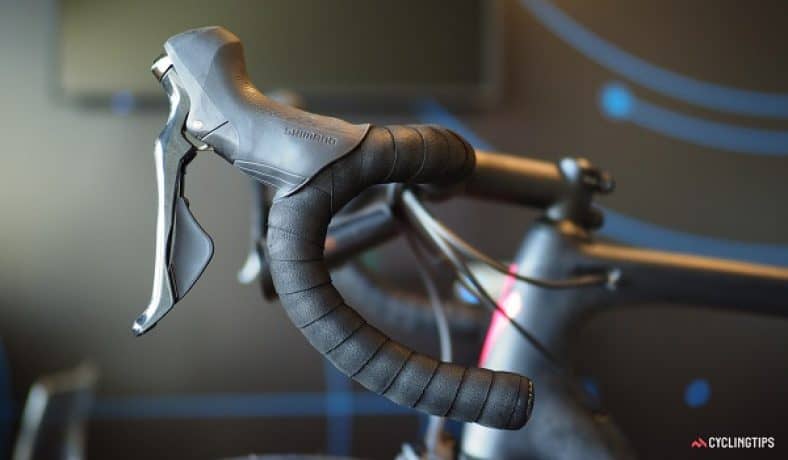 Image Source: cyclingtips.com
These are generally found on road bikes but can be seen on hybrid bikes as well. They are aerodynamic and light. They also offer many hands and riding positions. One drawback of such handlebars is that you have to ride your bike in a hunched position which can put a lot of pressure on your back.
2. Flat bar: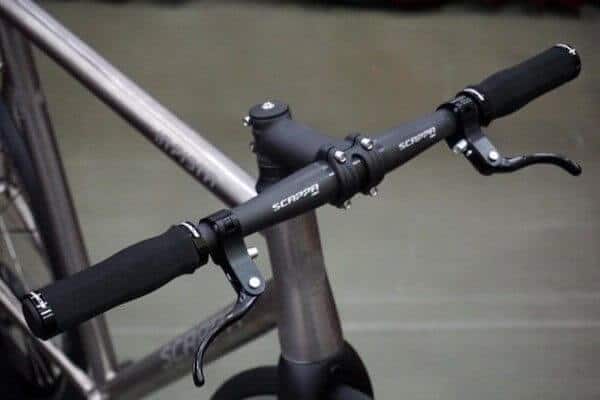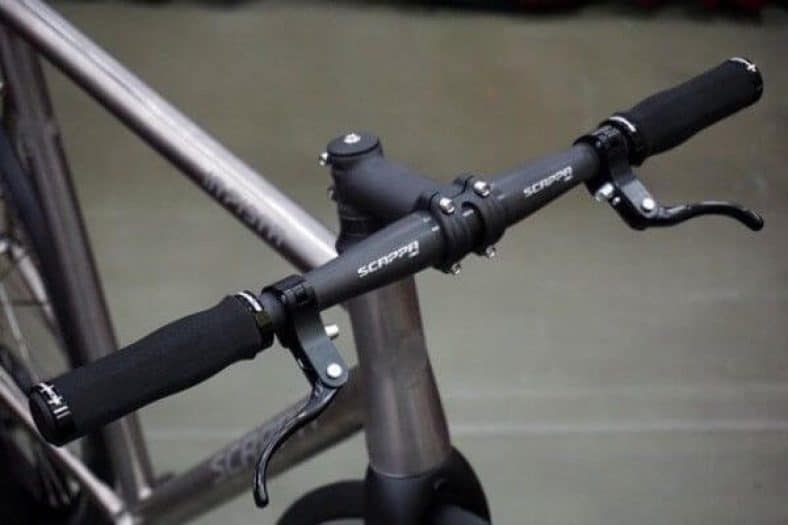 Flat bars can be seen a lot on hybrid bikes. These handlebars are heavier compared to drop-bar handlebars. However, you can ride in a more relaxed position with these bars. This upright sitting position lowers the stress on your wrists, hands, and allows you to see the road ahead more clearly.
3. Riser bar: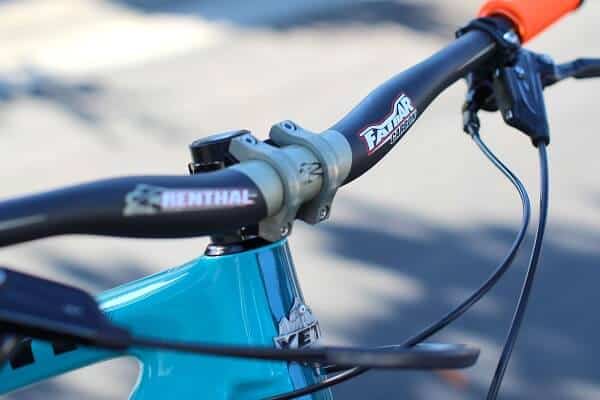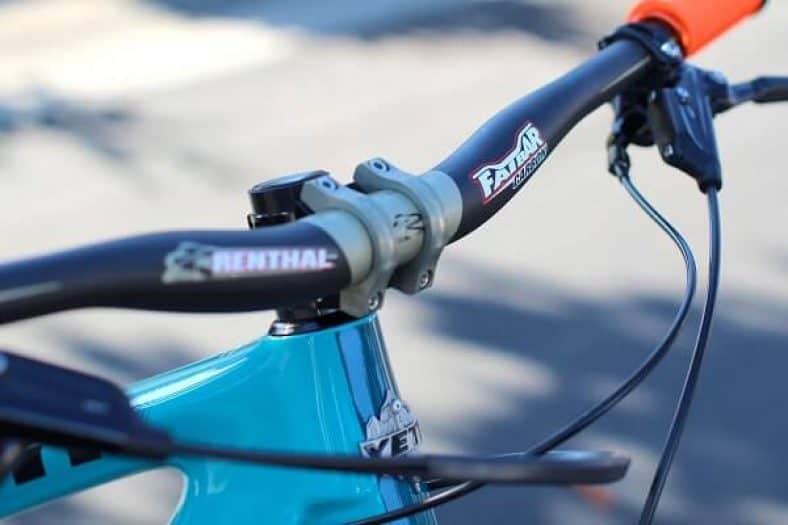 Image Source: worldwidecyclery.com
Riser bars can be seen on hybrid bikes as well. These handlebars actually draw out toward the rider in the upward and backward direction. This enables you to sit in an upright position. Also, you can move back and sit comfortably to get a clearer vision and better control of the bike.
4. Mustache bar: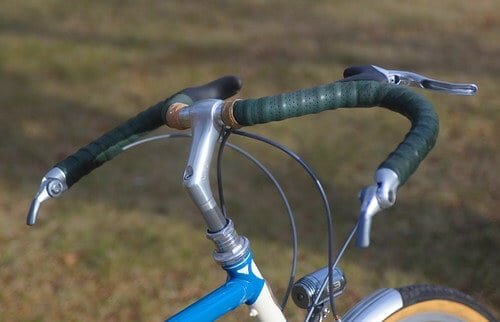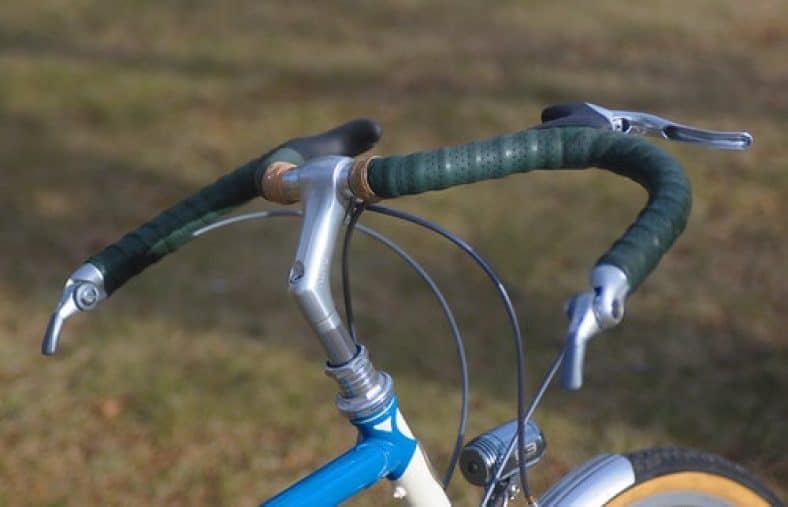 Image Source: lovelybike.blogspot.com
Mustache bars are a lot like drop bars. The only difference is that they have a very small drop. They offer many different hand positions and also a more upright sitting position compared to the drop bars. These handlebars are provided on both road bikes and hybrid bikes.
Cargo Racks
A lot of hybrid bikes that are used by urban riders come with bike cargo racks. You should note that you will be required to get additional pannier bags for some of the racks. You can take off the racks if or when they are not necessary, however, most riders keep them on so that they don't have to install them again when they are needed.
Fenders
You will definitely need fenders if you are someone who commutes to work or likes to ride in their daily clothes. The fenders will prevent you from getting splashed by puddles or grimes on the road. And if you ride in a group, then having fenders can prevent you from spraying dirt or water on your group mates when riding on wet or muddy terrain. If you only ride on dry roads, then you can save weight by not attaching a fender on your bike.
Frequently Asked Questions
Q1. How does a hybrid bike compare to that of a dedicated mountain bike?
Ans.: The main difference between a mountain bike and a hybrid bike is that a hybrid bike is much lighter and consists of a more aerodynamic frame compared to that of a mountain bike. Also, hybrid bikes have tires that are much smoother and thinner. They also usually do not come with any type of suspension and mostly utilize rim brakes over disc brakes whereas mountain bikes mostly use disc brakes. You can watch the video linked below for more information:
Q2. How can I make your hybrid bike suited for more off-road trips?
Ans.: You can make your hybrid bike suited for more off-road riding by lowering the air pressure on the tires and allowing them to be wider. This will increase the grip of the tires and also cover more surface area of the ground. Improving your off-road riding skills will also help. You should also avoid the jumping that comes with off-roading as much as you can and focus on keeping your tires in touch with the ground. Also, selecting a hybrid bike that has a front fork suspension will help to absorb more of the shocks from rough or rocky terrain.
Q3. What are the different types of hybrid bikes that I can buy?
Ans.: The different types of hybrid bikes include hybrid bikes based on mountain biking. These bikes come with wider tires, sturdy brake systems, and a very strong frame. Then you have hybrid bikes based on on-road biking. These bikes excel at providing comfort as well as speed. These bikes are lightweight, come with flat bars, and the tires are thinner with smooth treads. Lastly, we have commuter hybrids. These tires are perfect for cruising. They come with regular drivetrains and the braking mechanism is quite simple as well.
Q4. When should riders use hybrid bikes?
Ans.: A hybrid bike is an ideal choice for you if you are someone who needs to commute daily or just need to run around a lot for errands. Now, if you plan to climb, ride through heavy terrain then you should invest your money in a mountain bike instead of a hybrid bike as that will be more beneficial for you in terms of performance.
Conclusion
Lastly, we would like to say that you should ensure that the hybrid bike you purchase with your hard-earned money fits you properly. Bikes are available in many different frame sizes, and so you should inspect the bike properly before purchasing it. Many bicycle companies have their own size charts which show a fairly accurate height range for all their bike sizes. So take a look at those if you need more help. We hope you learned a lot by reading this article and that you find the right hybrid bike for you. Best of luck and ride safely.