Helmets simply make sense whenever you ride, so they will form the integral part of safe cycling. They will protect your head against impact by reducing the energy transferred to the brain on impact by helping to decelerate slower. However, you should always look to replace your helmet after a major impact even if there are not any visible damages to it. All helmets in the U.S. must meet the same standard for impact protection – which is essential when you are selecting the best gear for your head. Also, you should be making sure that the helmet fits properly over your head and is compatible with your activity. In this article, we have selected two best selling helmets from the manufacturer BERN – the Bern Unlimited Berkeley Summer Helmet & Bern Brentwood 2.0 Helmet to compare their features, advantages, and disadvantages.
Bern Berkeley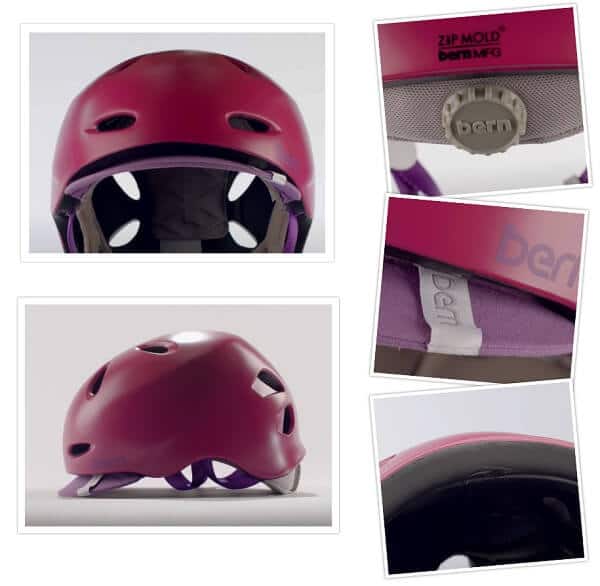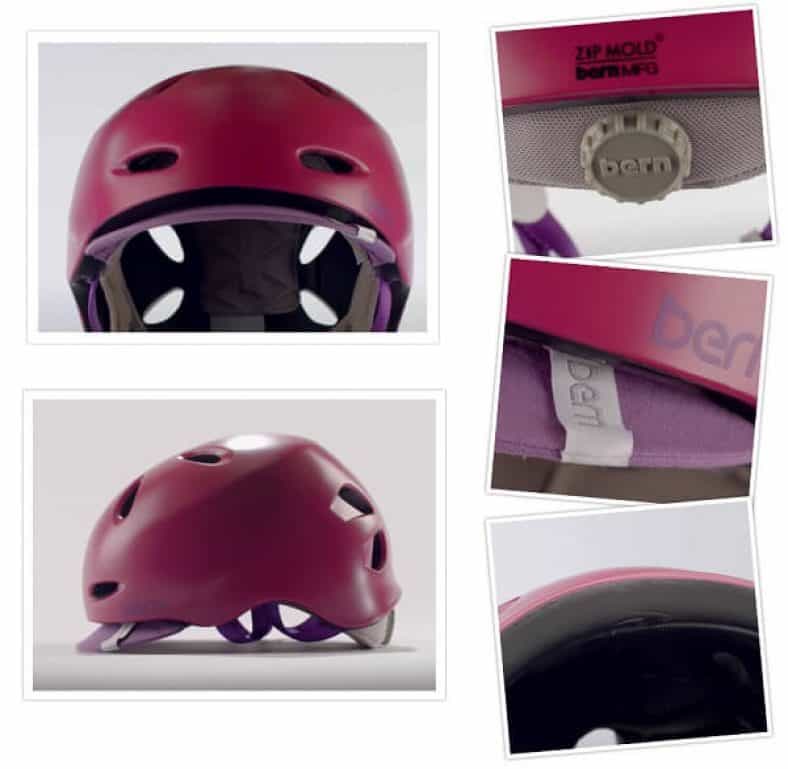 ➥ Click Here to Buy Bern Berkeley Helmet
This ladies' helmet from Bern is the perfect mixture of functionality and style that women are looking for in their helmets. Being superlight, the helmet has a distinctive low profile look that offers the best protection for their heads. The Zip Mold foam and PVC shell combine to protect their brain in the case of a crash, and you can easily attach a liner to be used in all weather conditions. You can use the new flip visor in this half-shell helmet for full protection from debris, sunlight. This can also be tucked away easily for complete peripheral vision when you need it. The Bern Berkely has one of the smallest helmet profiles that is specially designed to fit the head of women and is offered in a variety of colors that are eye-catching.
Compatible for a number of cycling activities – this helmet is adjustable using a Crank Fit dial located at the rear of your head. The Sink Fit technology used on this helmet makes sure that the helmet will not "wobble" when put on. This combines with the Chine line technology for an ergonomic fit around the head of the user. There are 11 vents to facilitate ample ventilation and two lateral guides to hold the goggles in place. Whether being used for commuting or being used for any outdoor activity – the helmet meets a range of safety standards to boost its versatility and therefore a top seller helmet for women!
What are the advantages of using a Bern Berkley helmet?
This helmet is offered in sizes XS-S, 52-55.5 cm & size M-L, 55.5-59 cm. Another great feature is the adjustable headband piece, which is ideal for individuals that might be at the exact upper and lower measurements on the size chart. Well-thought out design that provides the best combination of fit, protection, and profile for women.
The manufacturer Bern has incorporated their patented Zip mold liquid injected foam to give the Berkley an extremely low profile. Zip Mold + is tapered, thin, extremely light and offers a higher "strength – to weight" ratio than in-mold construction used in many helmets. 11 passive vents are positioned to channel airflow from the front of the helmet to the back so that the helmet stays fresh. This also helps to reduce sweat. The knit liner can be added in winter to keep the head warm or taken off easily in summer.
The Bern Berkeley Bike Helmet features the Bern Crank Fit system that will allow the user to loosen or tighten their helmet on the go, via a dial located at the back of the helmet. This fit system facilitates micro-adjustability and a customized helmet fit. The Chine Line technology has been used to separate the top of the shell from the sides so that the helmet fits ergonomically around the user's head, rather than sitting on top.
Bern Berkley uses a soft peak visor that can be easily put up or down for the perfect view of surroundings and optimum protection from debris, sunlight.
The helmet meets all safety standards and can be used for commuting and non-motorized sports, including (but not limited to) skiing, snowboarding, cycling, and skateboarding. The EPS hard foam meets ASTM F 2040 and EN 1077B standard for snow and ski, CPSC and EN 1078 standard for bike and skate.
What are the disadvantages of Bern Berkley?
Despite being offered in feminine colors, there are only two options that seem to restrict choice. Also, the interchangeable liner comes in white color only.
When trying out Bern helmets, remember that they run on the smaller side due to the more rounded shape that these helmets have. Always go for a bigger size if your head circumference is falling near the upper limit of size range.
Bern Brentwood 2.0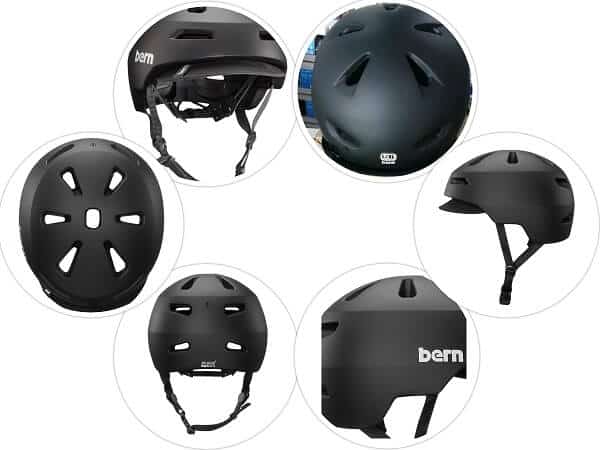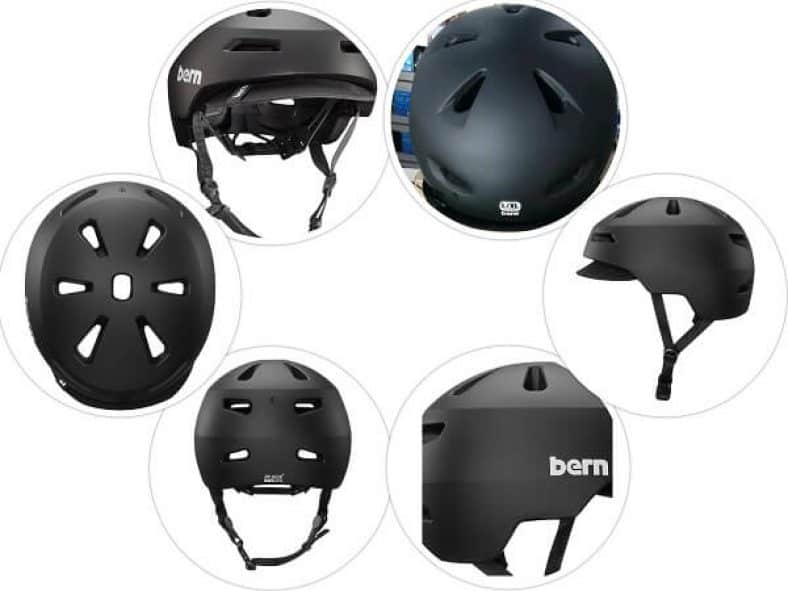 ➥ Click Here to Buy Bern Brentwood 2.0 Helmet
The Brentwood 2.0 from Bern is a classic urban helmet that can be used for commuting and riding around the town with your friends. Designed especially for men – the helmet utilizes Zipmold+ shell technology and has MIPS to protect against angled crashes. Offered in 3 shell sizes for the best fit on a wide array of head sizes for men – the helmet meets safety standards that allow it to be used for bike and snow sports as well. Its patented soft visor will provide protection from the sun and keep dirt/debris away for the best protection for your eyes. The Brentwood 2.0 can be used all year round, thanks to the compatible liners for both summer and winter – which can also be removed. Optimum protection without compromising with helmet comfort – this has been the ideology of BERN over the years.
Additionally, the helmet can be integrated with a custom bike light called Quickmount Asteroid – a great feature on this best selling helmet. Offered in 3 sizes – Small to Large – Brentwood 2.0 is available in a wide array of colours.
What are the advantages of using a Bern Brentwood 2.0 helmet?
Multi-directional Impact Protection System, or MIPS – reduces the impact of angled forces on the helmet structure in case of a crash. You will find a system inside the helmet that is using a slip-plane. This plane replicates the protection system of the human brain itself – bringing down the magnitude of energy transferred to the internal structure.
In this method of helmet construction, a liquid foam is injected. This eventually forms a high-strength foam, but weighs very less on the weighing scale.
The Brentwood 2.0 uses an EZ fit elastic retention system that is auto adjustable for the low fit on the head of the user. You can use this to get a comfortable and secure helmet fit.
This model works seamlessly with the Quickmount Asteroid bike light. This is a micro-USB bike light that is rechargeable and can be fastened to the two-hole mount located on the rear of the helmet's shell.
The Brentwood 2.0 has been equipped with a patented visor that can be flipped up and can be removed too. It will protect against rain, debris, sun etc. In addition, 13 vents have been strategically placed all over the helmet structure to facilitate ventilation. The liner can be attached/removed as well- making it ideal for all season use.
What are the disadvantages of Bern Brentwood 2.0?
The shape of the Bern Brentwood 2.0 is more rounded than traditional bike helmets, which makes it less aerodynamic.
The removable padding will make the space inside smaller and you should keep this mind to size up during your purchase. The rounded helmet profiles of BERN helmets is the reason for this.
The helmet lacks the breathability of traditional bike helmets. Even though we find 13 vents, the liner will make your face sweat even in winter.
To summarise what we have discussed in this article, we have provided a small chart below that includes some of the major differences between the two helmets.
Features
Bern Unlimited Berkeley Summer Helmet with Visor
BERN, Brentwood 2.0 Helmet with Visor
Gender
Women
Men
Visor
Yes
Yes
Weight
380 g ( Size XS - S)
345 g ( Size S )
Size
XS-S: 52-55.5 cm
M-L: 55.5-59 cm
S: 52 - 55.5cm
M: 55.5 - 59cm
L: 59 - 62cm
Vents
11
13
Construction
PVC microshell aligned with Zip Mold liquid injected foam
PVC microshelll aligned with Zip Mold liquid injected foam
Adjustment system
Sink Fit
EZ Fit
MIPS
No
Yes
Additional Features
Quickmount Light Compatible, MIPS
Use
Recreational Cycling, Urban Riding
Recreational Cycling
Conclusion
Depending on your goals, both helmets can be quite effective – but for their respective genders. Bern Berkeley has been designed especially for women, while the Brentwood is a best seller helmet for men. However, both models feature the distinctive shape from Bern – low profile and rounded shape. They both offer a perfect mix of comfort, functionality, and great style all for a considerable budget – you just have to make sure to measure your head so you choose the correct size. To get the perfect size for your helmet, you should begin by getting the measurement of the circumference of your head. Go one inch above your eyebrows and now get the total measurement for your head. Remember that good fit is vital because an ill-fitting lid will diminish the whole purpose of putting the helmet on in the first place – which is, the best protection for your head.
Related Bike Helmets