We all know how important brakes are on a bicycle. One limitation of bike brakes is that the brake pads eventually wear out. Meaning, you will have to replace them now and then throughout the lifetime of your bike. If you are a long time cyclist, then you know about this trouble all too well. Well, this article hopefully has the answers to all your questions regarding bike brake pads.
With so many kinds of brakes and various user intentions, comes different types of brake pads as well. Hence, when you are shopping for new pads, it can get disorienting. To help you choose the right set of brake pads, we have tested and reviewed what we found to be the 12 of the finest bike brake pads out there. Near the end of the article, there is also some useful advice and tips for those of you who are new to this.
Each of the pads was tested according to their intended use. Then we rated the products for how well they fulfilled their purpose. Of the selection, there is one product that delivers the best performance – the SRAM Code Brake Pads. Therefore, we have named it as our 'Overall Best Choice'.
A quick view of our selected best bike brake pads: 
12 best bike brake pads you can buy today
Rim Brake Pads
| Brake | Preview | Type | Use | Material | Rims | Score |
| --- | --- | --- | --- | --- | --- | --- |
| SwissStop FlashPro Yellow King | | Rim brake pads | Road, time trial | Synthetic | Carbon | 92 |
| Kool Stop Dura Road | | Rim brake pads | Road, urban, touring | Dual compound | Aluminium | 89 |
| Kool Stop Eagle 2 | | Cantilever brake pads | Old-style MTB | Various compounds available | According to choice of compound | 88 |
| Kool Stop Dura-Type | | Rim brake pads | Road | Black or salmon | Aluminium | 87 |
| Kool Stop BMX | | V-brake pads | BMX | Various compounds available | According to choice of compound | 85 |
| Kool Stop Mountain | | V-brake pads | MTB, XC | Dual compound | Aluminium | 83 |
| Shimano BR-M530 | | V-brake pads | MTB, XC | Standard compound | Aluminium | 81 |
| Shimano BR-CT91 | | Cantilever brake pads | Old-style MTB or road bikes | Rubber | Aluminium | 80 |
| Alritz Bike Brake Pads | | V-brake pads | MTB, road | Rubber | Aluminium | 73 |
Disc Brake Pads
| Brake | Preview | Material | Use | Backing Plate | Cooling Fins | Score |
| --- | --- | --- | --- | --- | --- | --- |
| SRAM Code Brake Pads | | Organic or sintered | MTB, downhill, enduro | Steel | No | 93 |
| Shimano J04C | | Sintered | MTB, XC | Steel | Yes | 91 |
| Shimano L04C | | Sintered | MTB, road | Aluminium | Yes | 85 |
1. SwissStop FlashPro Yellow King:
Best option for road bike w/ carbon rims
The SwissStop FlashPro Yellow King brake pads have been made with a specific compound that is suitable for carbon rims. Although, they can be used on aluminum rims as well. You get 4 pads when you make a purchase, so you have a full set for both the front and rear wheel. They are compatible with most road bike caliper brakes that use cartridge pads. These include Shimano, SRAM, and various Campagnolo groupsets such as Potenza, Athena, Veloce, etc. However, you can only use them on the more recent models of these brakes.
They provide excellent braking performance in terms of both power and modulation. When we tested them in wet conditions, the results were almost identical with no drop in performance. While bedding them in, it's best to do it in dry conditions. The pads also do not wear out too quickly. This makes the price worth it since you won't have to replace them in a while. If you are a competitive road cyclist, then these pads are truly the best that you can get.
SwissStop FlashPro Yellow King
2. SRAM Code: Best option for aggressive/downhill mountain biking

|

Overall Best Choice
The SRAM Code Brake Pads are the original pads for the renowned Code brakeset. As you might know, the Code brakes by SRAM are at the top of the downhill/enduro world and have a proven record at the World Cup. Hence, we had high expectations for these pads, and they did not disappoint. They deliver smooth, quiet, well-modulated, and strong braking throughout all conditions. The package includes two pads and all the hardware required to mount on one caliper.
You can choose from both organic and sintered pads, whichever you prefer. The organic pads have a greater initial bite and are quieter. However, the sintered pads will last longer and remain almost unaffected by water and mud. The sintered pads would be recommended for downhill riding. Although these are made for Code brakes, you can upgrade other SRAM/Avid disc brakes with these pads as well. All in all, these pads are a worthwhile investment if you are a regular gravity rider.
3. Shimano J04C:
Sintered disc brake pads w/ aluminium cooling fins
The Shimano J04C pads are a set of disc brake pads that provide excellent stopping power. These brake pads definitely have the highest braking power among all the Shimano disc brakes that we have used so far. Since the pads are metallic (sintered), they work just as well in wet or muddy conditions. We even tested them in icy weather, and they worked fine with only a slight drop in performance. The package includes a pair of pads and other parts that are enough for mounting to one disc caliper.
Sintered pads already have good longevity. But these have shown almost negligible wear in the time that was taken for testing. You can probably get around 500 miles with some good organic pads. Our conservative estimates put the mileage of the J04C at more than 5 times that, which is incredibly good. We think that the cooling fins might be contributing to this. If the pads heat less, they will wear slower. You might balk at the price initially, but the long-lasting performance makes up for it.
4. Kool-Stop Dura:
Perfect for road bikes w/ standard aluminum alloy rims
The Kool-Stop Dura Road Pads are probably the most well-rounded brake pads for rim brakes manufactured by this brand. You can use them for several different applications, given that the holders fit on the brake. They are designed to work with Shimano and do work with other brands as well, but not all. Speaking of which, there are 4 pads in the package, but only two holders. So, you will need to buy two sets if you want to replace both the front and rear pads.
One pair is made of a dual compound, while the other is of a single compound. The dual-compound (black and salmon) combines Kool Stop's two most popular compounds. When using these, the braking was quiet and modulation was great in all conditions. The single compound (salmon) is a more aggressive type that works better in the wet. So you can choose which pads to use depending on where you ride. Overall, a great set of rim brake pads that will satisfy a wide range of customers.
5. Kool-Stop Eagle 2:
Best for old school MTB bikes or any bike with cantilever brakes
The Kool-Stop Eagle 2 is an excellent pair of cantilever brake pads. Before the use of disc brakes and V-brakes, mountain bikes had cantilever brakes. So if you have an old school mountain bike with cantis, then these are the perfect replacement pads. Moreover, they can be installed onto pretty much any cantilever brake on any bike. Both smooth and threaded posts are available. Make sure to buy two sets if you want them for both wheels since the package includes only one pair of pads.
You can also choose from various pad compounds. Each type has its benefits and there is even a carbon fiber option for carbon rims. All the options were bought and tested to see if they work according to how the manufacturer claimed they would, and they do. Installation was super easy as well. The pads have a steel backbone which helps to deliver a strong braking force. Finally, the pads are built to last with an extra-long design. Additionally, angled tip plows and grooves keep water and mud away.
6. Kool-Stop Dura-Type:
Caliper brake inserts available w/ two compound options
The Kool-Stop Dura-Type brake pads feature a simplistic design. They are meant to be used with road brakes. Many brakes from various brands that have a set screw can accommodate these pads. Sadly there are some rim brakes, including the Shimano Ultegra, that are not compatible. On the upside, they are very cheap and still have the features of other Kool Stop pads. These include grooves for channeling water/mud and a patented plow tip to scrape off dirt, mud, and water from the rims.
You can purchase them with either the standard black compound or the more aggressive salmon compound. Both work very well, delivering powerful braking and nuanced modulation. However, the salmon compound has the advantage of performing exceptionally in wet conditions. You get to take your pick. In conclusion, these pads are a great, low-cost option for quick and easy replacement of your worn out rim brake pads.
7. Shimano L04C:
Metallic brake pads for mountain & road disc brakes
The Shimano L04C pads are built for BR-RS505 and BR-RS805 calipers according to the manufacturer. However, you will find that they are compatible with plenty of Shimano disc brakes. Compared to the J04C pads, the stopping power is slightly lower. But it is still much better than the majority of disc brake pads. This also means that you can use these pads for road bikes with disc brakes, where you don't need as much power. Keep in mind that these are still a superb choice for mountain biking as well.
Other than power, the modulation and feel offered by these pads are also top-notch. The braking is very smooth and you will feel like you have complete control over your bike. This gives you confidence and really helps to improve your riding experience. Heat management is excellent. Even after continuous braking, the pads did not get overheated. This will contribute to the already extended lifetime that sintered pads usually have. The price is a little high, but considering the quality and longevity, they are worth it.
8. Kool-Stop BMX:
Perfect choice for BMX riders with V-brakes
The Kool-Stop BMX brake pads are the right choice for BMX riders. BMX riders do not often require too much braking power, but these pads provide ample stopping power. They also have a curved design to fit the smaller rim sizes and follow the contour for better braking performance. We noticed that this makes them less suitable for the larger rims of road or MTB bikes. Another aspect of these pads is that they have features that help to increase longevity. Indeed there wasn't much wear on the pads with standard BMX applications.
There might be some confusion regarding the various options that you can choose for these pads, so we tried out all of them. There is a salmon option which is a compound that provides powerful braking, especially in wet conditions. The other options have different colors but are made from the same semi-aggressive compound. This compound also seems to work well in all conditions. However, it has slightly reduced stopping power compared to the salmon pads. Note that you can use them on any V-brake with threaded posts only.
9. Kool-Stop:
Dual compound pads for mountain bike V-brakes
The Kool-Stop Mountain pads do indeed live up to their name. Many mountain bikers still prefer using V-brakes over disc brakes. Those riders will find these pads to be the perfect choice when replacing their old ones. When we first installed them, they made a loud squeaking sound every time the brakes were applied. However, the noise was eliminated by applying a slight toe-in to the pads which are pretty easy to do. This also improved the stopping distance and made them worthy of use in a mountain bike.
The pads are made of a combination of two compounds. This gives them properties that allow them to perform almost equally well in dry and wet conditions. Also, we noticed very minimal wear after the testing period. It can scrape and channel away dirt and mud very well. These are quite long as well, so there is more material to go through before replacement is needed. Additionally, the curved shape allows them to contour the rim's shape. All in all, these pads are cheap, provide powerful braking, and will last a long time.
10. Shimano BR-M530:
Cartridge pads w/ threaded posts for V-brakes
The Shimano BR-M530 Brake Shoes are part of the Deore BR-M530 brakes. Regardless, you can mount them on other V-brakes as well, given that they utilize threaded posts. Installation is quite easy and they do not make much noise. If you do experience any sound, you can try adjusting the toe-in to solve this. We got great braking power as well as a good level of modulation with these pads. Hence, you can be sure about using them for mountain bikes.
Another advantage of these brake pads is that you can use them in any condition and you will still get a reliable braking performance. This is due to the type of compound used. One thing we were disappointed about was the wear rate. These pads wear out faster than what is expected of Shimano. With moderate and daily use on a mountain bike, you will probably get around 5-6 months of use, which is still better than a lot of V-brake pads. However, since the price is low, it won't be much of an issue.
11. Shimano BR-CT91:
Smooth post brake pads for cantilever brakes
The Shimano BR-CT91 Brake Shoes are another set of cantilever brake pads that can be mounted onto your road or mountain bike from the 2000s or even the 90s. Many riders have these older bikes that still work perfectly well but need a change of brake pads. If you are one of those people, then these pads are an excellent option. They are compatible with practically all cantilever brakes, but only if they require smooth posts. Unfortunately, there is no option to get these with threaded posts.
We tested them out on a 20-year-old mountain bike and at first, the pads made a lot of noise. Then we realized that it was because of the melted rubber stuck on the rims from the previous pads. If you clean the rims properly and adjust the toe-in, the noise should be eliminated except for during really hard stops. Other than that, the braking force and modulation are very good. Moreover, they work just fine in all conditions and have shown very little wear.
12. Alritz Bike Brake Pads:
Low-cost V-brake pads for road & mountain bikes
The Alritz Bike Brake Pads are remarkably low-priced. For less than 10 bucks, you get three pairs of pads and a hex wrench for installation. This means that after mounting the pads on both the front and rear wheel, you will still have an extra pair left for later use. The attachment process itself is not too hard. A very useful feature of these pads is that they are compatible with both road and mountain bike V-brakes. They might not fit every single V-brake out there, but all the ones we had were able to accommodate these pads.
Performance-wise, these pads are more than adequate for most people. The braking is smooth and quiet, and you will feel like you are in complete control. The braking power is not exceptionally strong, but it is still better than many of its competitors. However, there is one downside. These pads seemed to wear out at a high rate, especially during the type of use where frequent braking is required. The main reason is most likely that the rubber used is of a lower grade. This is probably why they cost so less.
---
Buying Guide: Bike Brake Pads
1. Disc Brake Pads
Disc brakes are the go-to option for mountain bikes and increasingly, many road bikes too. They use a caliper and rotor on each wheel, where one caliper contains a pair of brake pads. Hence, they are sold in pairs and they normally come with a retention spring that holds the pads in place. You'll need to check the make and model of your brakes before buying the pads since most of them are compatible with specific calipers. There are two main types; organic and sintered.
Organic Pads: Organic pads are also called resin pads. This is because they are made of a mixture of fibers that are held together by resin. They are softer than sintered pads and have a greater initial bite. They also do not heat up as much. However, organic pads wear out faster and the braking quality lowers in wet and gritty conditions.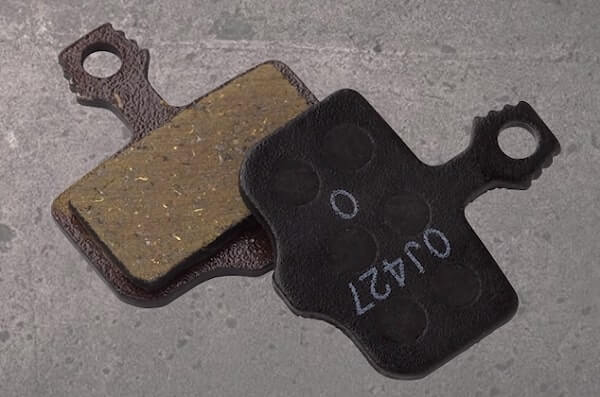 Image: Organic pads
Sintered Pads: Also known as metallic pads, these use a compound containing metal particles fused, usually copper. This makes them louder and they have worse heat dissipation. In contrast to organic pads, sintered ones last a lot longer and their performance does not diminish in wet conditions. However, they do wear out the rotor faster.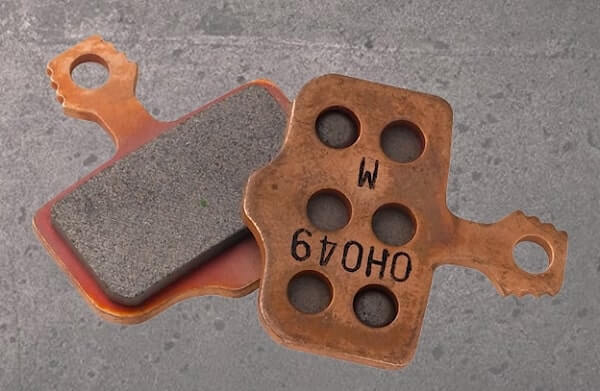 Image: Sintered pads
There is a third type, called semi-metallic pads. These pads have properties that are sort of in between those of organic and sintered pads. Also, they are far less commonly used.
2. Road Brake Pads (Caliper Brakes)
More than half of all road bikes use a type of rim brake called caliper brakes. The brake pads in caliper brakes are either cartridge or non-cartridge. Cartridge pads are a metal shoe with replaceable rubber inserts, while non-cartridge pads are just a block of rubber. The former offers significant advantages in terms of both performance and future use. Road brake pads are usually compatible with most caliper brakes, although some are model-specific. The rubber used in the pads is not always the same. Different compounds are used for different rim material and weather conditions.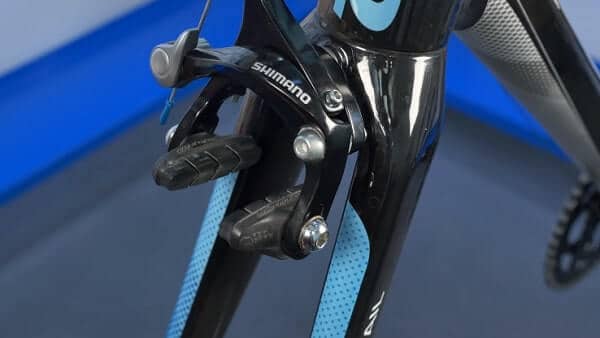 Image: Caliper brake pads
Most rims are made of aluminum alloy and you can use standard brake pads for those. There are also other types, such as carbon rims or ceramic-coated rims. These require different rubber compounds, for example, a carbon rim works best with more heat resistant rubber because of the higher temperatures that are developed. There also are some very lightweight rims that would get damaged without soft rubber pads. Another criterion for the rubber compound selection is the weather conditions. Some compounds are designed to grip better in wet conditions, but they will also work in dry conditions.
3. V-brake Pads
After disc brakes and caliper brakes, V-brakes are the most popular brakes available. V-brakes are used in mountain bikes and sometimes road bikes. These brakes are actually a type of cantilever brakes, but they are more powerful than all other kinds of rim brakes. Just like in caliper brakes, V-brakes also have either a cartridge or non-cartridge pads. Non-cartridge pads attach to the brake arms via threaded metal posts. In cartridge pads, the rubber inserts are attached by grub screws to a metal shoe/holder which in turn mounts to the brake arms using threaded posts. Here also you will find various compound options for specific needs.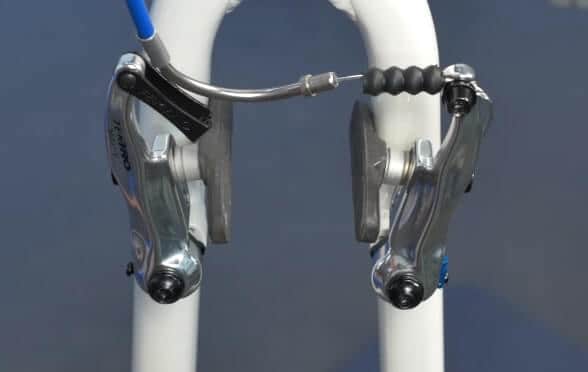 Image: V-brake pads
4. Cantilever (center-pull) Brake Pads
Center-pull cantilever brakes are normally known as just cantilever brakes, as opposed to direct-pull cantilever brakes (V-brakes). These brakes can be found in old mountain bikes and some touring bikes. They are especially popular for use in cyclocross bikes. Brake pads for these are pretty similar to those for V-brakes. However, there are two main types. One type uses threaded posts for installation to the brake. The other one uses smooth posts. Be sure to check which post type is required for your brakes.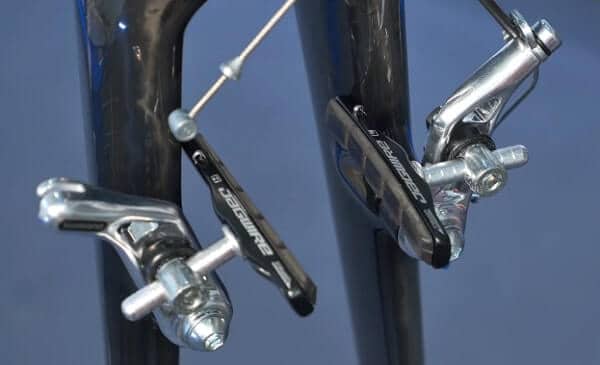 Image: Cantilever brake pads
5. BMX Brake Pads
BMX bike riders often prefer to not use brakes at all – and when they do, they usually go with rear brakes only. The reason being that this cycling discipline requires less demanding use of brakes. Both caliper or cantilever brakes can be used. Some BMX bikes have U-brakes, which are a hybrid of caliper and cantilever brakes. Either way, the pad standards are pretty much the same. Nevertheless, you will find some brake pads that are specifically designed for BMX bikes – such as clear pads that don't discolor anodized rims or pads with a higher curvature for smaller wheel sizes.
F. A. Q.s
Q1. Which type of brake pad is best?
Ans.: There really is no straightforward answer to this question. There are many categories of brake pads. Each has its own set of advantages and disadvantages. Ultimately, it all depends on various factors such as –
The make and model of the brakes you have
The kind of riding you usually do
The weather in your region
Personal preferences
Q2. When should you replace your brake pads?
Ans.: It is very important to replace your brake pads at the right time. Otherwise, it could lead to an accident. Rim brake pads typically have grooves or a tread pattern to indicate the safe limit of usage. When the surface of the pads is completely flattened, that's when you should replace them. For disc brakes, it's a little trickier. Disc brake pads are around 3 to 4 mm thick. When this thickness is reduced to about 1 mm, it's time to switch them out. You can measure this by comparing it with 3 business cards. The combined thickness of the cards should be around 1 mm.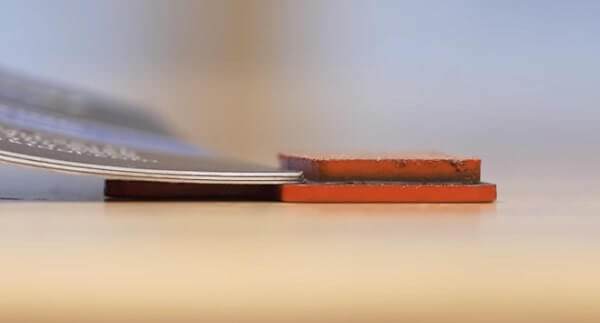 Image: New pads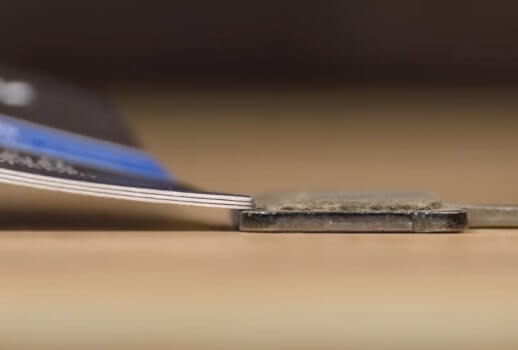 Image: Old pads
Q3. How to install brake pads on a bicycle?
Ans.: Installation of the brake pads must be done properly. Improper mounting can lead to reduced braking power, higher wear, or annoying sounds. Different types of brake pads have different procedures for installing. If possible, get professional help. Otherwise, you can watch the following videos for proper guidance.
Q4. How to stop bicycle brakes from squeaking?
Ans.: There are multiple reasons why a brake is making that horrendous squeaking or screeching noise, and they generally are the same for both rim and disc brakes. The primary reason is the contamination of the braking surface or pads. You should keep the pads, rotor, and rims clean from dirt, mud, and lubricant. The second reason for noisy brakes is improper alignment. Make sure that you set up the brakes correctly. You can search online about the correct way to install brakes. A popular solution for rim brakes is to add a toe-in to the pads. In this setting, the front of the pads makes contact slightly before the rear. Finally, you should always carry out the bedding-in process whenever you attach new parts to your brakes.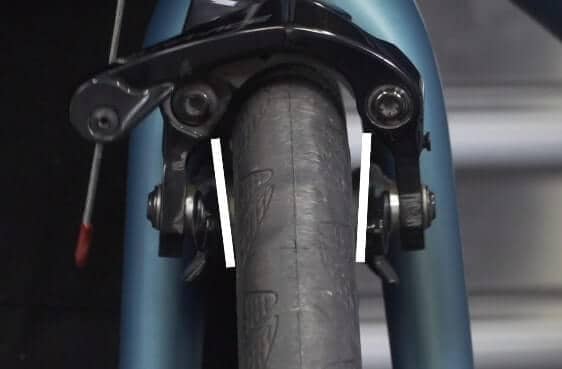 Image: Toe-in
Q5. Can you use brake pads for carbon wheels with aluminum wheels?
Ans.: Technically you can, but you really shouldn't. Carbon brake pads can bring aluminum rims to a stop, however, they won't be as effective as on carbon rims. Also, you should not do it the other way round either. Aluminum shavings on the pads will damage the carbon surface. So, make sure to switch out the brake pads when you change your rims from aluminum to carbon and vice versa.
Conclusion
After carefully going through this article, you should have a good idea about which brake pads to buy. Our selection of products has been intentionally diverse to cater to the requirements and preferences of various users. We can assure you that you will not regret the decision to purchase one of our listed brake pads. After all, you should opt for the best when it comes to safety. Thank you for reading and we hope you found the article useful.
---
Useful Links:
(Visited 16 times, 1 visits today)
Last update on 2020-11-25 at 10:30 / Affiliate links / Images from Amazon Product Advertising API
Close