Brakes are undoubtedly the most important control equipment on your bike. Depending on the quality, a set of brakes can either make or break your ride. A lot of bike owners might never need to worry about which brakes they use. But if you're reading this article, you're definitely a cycling enthusiast, if not a professional. We understand that for you, it does matter which brakes you use.
If you are just starting to learn about bike brakes, you might feel overwhelmed with so many options to choose from. Fortunately for you, you can find all the information you need from this article. Here we will talk about a selection of the finest bike brakes that are available in the market. Also, we have discussed all the factors to consider before buying, along with some useful tips and tricks.
We tested out a number of the top brakes from renowned brands. They have been given a rating based on their performance, ergonomics, and value-for-money. Regardless of your riding style, you will definitely find a suitable stopper. Among our picks, the SRAM G2 RSC has the top score according to our tests. Therefore, we have entitled it as the 'Overall Best Choice'.
A quick view of our selected bike brakes:
12 best bike brakes you can buy today
Brake
Preview
Type
Use
Material
FW/RW
Weight
(grams)
Brake Pads
Mount
Shimano Dura-Ace BR-R9100
Dual pivot caliper brake
Road, time trial, triathlon
Anodised aluminium
FW and RW
326 (pair)
R55C4
Central fastening bolt (standard)
SRAM G2 RSC
Hydraulic disc brake
MTB, enduro, trail
Aluminium
FW
248 (caliper + lever)
Steel-backed resin/sintered
Post mount
Shimano Deore XT M8000
Hydraulic disc brake
MTB, enduro, trail
Aluminium
FW or RW
402.5 (caliper + lever)
Resin/ Metal/ Fin Resin/ Fin Metal
Post mount
Shimano Saint M820
Hydraulic disc brake
Downhill, MTB, enduro
Aluminium
FW or RW
306 (caliper + lever)
Resin/ Metal/ Resin with fin
Post mount
Shimano BR-MT200
Hydraulic disc brake
MTB, XC, city, touring
Aluminium and steel
FW and RW
575 (pair)
Resin
Post mount (IS adaptor included)
Shimano Alivio BR-T4000
V-brake
MTB, XC, city, touring
Aluminium
FW or RW
270
S65T
Double bolt mount
Shimano Ultegra BR-R8000
Dual pivot caliper brake
Road, time trial, triathlon
Anodised aluminium
FW and RW
360 (pair)
R55C4
Central fastening bolt (standard)
Magura MT Trail Sport
Hydraulic disc brake
MTB, trail
Aluminium and carbon-fibre
FW and RW
485 (pair)
Resin
Post mount
Avid BB7 Mountain
Mechanical disc brake
Road, MTB, XC
Forged aluminium
FW or RW
329 (caliper + 160 mm rotor)
Steel-backed sintered
Post mount (IS adaptor included)
Avid Shorty Ultimate
Cantilever brake
Road, cyclocross
Forged aluminium
FW or RW
115
Standard cartridge pads
Post fork
TRP Spyre-C
Mechanical disc brake
Road, cyclocross, XC
Anodised aluminium
FW or RW
154 (caliper)
Semi-metallic TRP pads
Post mount (IS adaptor included)
Shimano BR-MX70
V-brake
BMX racing
Aluminium
RW
184
S70C
Double bolt mount
1. Shimano Dura-Ace BR-9100:
Premium quality caliper brakes, ideal for pro riders
The Shimano Dura-Ace BR-R9100 caliper brakes are a high-quality premium rim brake set. It generates a higher braking power due to the increased lever arm of the symmetric dual pivots. In contrast to the previous Dura-Ace model, a modification has been added to improve the performance. In between the two caliper arm pivots is a steel bridge/stabilizer, that greatly reduces flexing and hence, noise levels are decreased as well. Keep in mind that you may need to adjust the toe-in of the rear brake to achieve silence.
The brakes have an aesthetic look and improved aerodynamics, without any compromise in tire clearance, thanks to the anodized surface finish and low spacing between the arms. The cartridge pads allow you to replace the brake shoes with other shoe standards that will better suit your rim's material. The default brake pads, R55C4, are made for aluminum rims and are not good for rims made of carbon fiber. In conclusion, the premium price of the Dura-Ace BR-R9100 is somewhat justified by the reliable and powerful braking performance.
2. SRAM G2 RSC: Powerful & consistent braking, podium proven, easy installation & maintenance

|

Overall Best Choice
The SRAM G2 RSC is part of SRAM's G2 brake series designed especially for mountain and trail riding. The design is based on the popular Code and Guide disc brakes, also by SRAM. They are said to have the power and modulation of the Code, while also having the lever-feel and adjustability of the Guide. After testing it out, we can safely say that the claim is correct. If you want something that combines the best that SRAM has to offer in a single brake, then this is the perfect unit for you.
It comes pre-bled and the installation was surprisingly easy and can be done by almost anyone with at least some experience. You won't have to worry about maintenance too much either, since little is needed. Even if you need to do it, it is quite simple compared to other hydraulic brakes. Not only do they offer great adjustability to suit your preferences, but there are also three brake pad options to choose from. There are multiple technologies incorporated that work together to deliver a precise and powerful braking experience.
3. Shimano Deore XT M8000:
Controllable & high power braking w/ finned brake pads
The Shimano Deore XT M8000 is one of Shimano's leading hydraulic disc brakes. It is sold as a single caliper-lever set which can work for both the front and rear wheels. When it was tested, both the bike's original rotors and Shimano's recommended rotors were used. A word of advice; get the recommended rotors if possible. Although these brakes work well with any rotor, there is a significant improvement in braking power when using the RT-MT800 or SM-RT86 rotors. It might cost a few extra bucks, but if you're an avid mountain biker, it will be worth it.
The calipers along with the compatible rotors feature a very effective cooling system. Named Ice technologies, the brake pads have radiation fins that dissipate heat better and the rotors are also designed in a way to reduce the build-up of heat. Performance-wise, the braking is powerful, precise, and consistent. A couple of minor issues are present. Sometimes the contact point setting can move around a bit, but this is easily readjusted. The fluid hose attachments are also not as well-built as it should be, leading to possible leakage. However, this is also easily fixable.
4. Shimano Saint M820:
Easy bleeding, ServoWave technology, l-spec compatibility
The Shimano Saint M820 is the perfect set of hydraulic disc brakes for serious downhill riding. The braking power offered by the 4-piston caliper is probably unmatched by any other bike brake. Additionally, the responsiveness and modulation are excellent too. The ServoWave brake lever provides quick contact between the brake pads and the rotor. This leaves a lot of lever travel for gradually increasing the braking force. You can set the bite point and lever reach according to how you want it. A slight problem is that the bite point setting needs readjustment from time to time.
Downhill racing requires you to brake a lot which can build up a lot of heat. We've found that this brake handles that very well, especially if you combine it with the recommended SM-RT99 or SM-RT86 rotors. The calipers have radiation fins and ceramic pistons, while the rotors have a 3-layer structure. All these features provide great heat management and help to keep braking performance high even after long usage. A bonus is that they are relatively lightweight.
5. Shimano BR-MT200:
Easy installation & reliable braking for entry lever riders
The Shimano BR-MT200 is a more versatile hydraulic disc brake than the ones discussed before. It has a 2-piston caliper and the braking power is not as aggressive. However, this makes it suitable for use in different cycling disciplines. It is also a particularly good choice for mountain bike beginners due to the simplicity and comparatively lower price. Regardless, there is still ample power for quick stops. Moreover, the high reliability and precise modulation of this disc brake make it comparable to the more expensive competition.
The installation and maintenance have been made easy enough for novice users. One thing we noticed was that the entire set was pretty lightweight. So, it's a viable option for road bikes as well. Unfortunately, there is no bite point adjustability. But you can adjust the brake lever reach. The clearance of the pads is wider than other brakes we've tested. This feature significantly reduces the possibility of noise and rattling. Overall, a great entry-level hydraulic disc brake.
6. Shimano Alivio BR-T4000:
V-brake w/ smooth stopping power for trekking bikes
The Shimano Alivio BR-T4000 is the first V-brake that we have included in our list. It is also the least expensive brake that we have reviewed, and we can say for certain that it can easily compete with costlier brakes. The stopping power produced by these brake pads is not quite as strong as a disc brake, but it is still significantly higher than a caliper brake. Speaking of, there are multiple options for the brake pads, which you can choose as per your requirement. It can be used for various purposes ranging from city riding to cross-country riding.
You should keep in mind that these can only be fitted to bikes that have dual mounting bolts. Another major problem lies in the design of these brakes. They require shorter shoulders for the mounting studs than what is typical. You'll have to buy them separately or modify the existing ones. A power modulator unit is included which allows for easier braking control. There are a few different models. The one being used here is the SM-PM40 modulator which makes the brake suitable for mountain biking.
7. Shimano Ultegra BR-R8000:
Great all-round braking performance, suitable for all road cyclists
The Shimano Ultegra BR-R8000 is one of Shimano's best road brakes that also has a palatable price tag. This brake is an almost perfect choice for competitive cycling owing to the smooth, predictable feeling and supreme braking power. As claimed, a linear brake curve is followed by the calipers. We can definitely say that it is an improvement over the previous 6800 series model. A stabilizer connecting the pivots decreases bending and symmetric pivots provide even force from either side, improving the braking efficiency.
In terms of looks, they are quite similar to the Dura-Ace BR-R9100, also having a low profile and sleek design. Ironically, you will actually go faster with this brake since they produce low drag. Since cartridge pads are used, you can easily customize them to be suitable with your rims and increase their lifetime. No real downside comes to mind when talking about this brake. If you want race tier calipers, then you can't go wrong with these.
8. Magura MT Trail Sport:
Ergonomic design, unique front quad-piston & rear dual-piston combo
The Magura MT Trail Sport is a high quality, inexpensive hydraulic disc brake manufactured in Germany. It delivers top-notch performance on the trail thanks to its unique design. The quad piston front caliper delivers the high braking force necessary for mountain bikers, while the dual-piston rear caliper offers better modulation for perfect control of the bike. We haven't found any other brand to use this kind of design. The brake levers can be kept closer to the handlebars which further increases control. To add to that, the levers are also quite comfortable.
We were surprised by the weight of this set. They are lighter than most other hydraulic disc brakes. The levers felt a little soft after initial installation This was fixed by slight bleeding of the fluid which was pretty easy to do on this brake. The brake pads are made of resin and have a decent quality. If you want to change them, you can very easily due to the MagnetiXchange pistons. Essentially, the pistons are magnetic and the pads just snap on/off. The best part about these brakes is that you get all of this at a price considered to be low for a hydraulic brake.
9. Avid BB7 Mountain:
Affordable, adjustable, simplistic mechanical disc brake
The Avid BB7 Mountain, despite its name, is suitable for use in a diverse selection of bikes. First of all, it is lightweight enough to be accepted by road bikers. Secondly, it has an affordable price. And finally, it is a mechanical disc brake and can be easily installed on existing cable-actuated systems. However, we would not recommend it for more aggressive mountain cycling. This is because the stopping power is not quite up to the mark of a disc brake. Regardless, you can still use it for less aggressive trail riding and feel completely safe.
What we really liked was that everything you would need is included in the package. You get a high-quality G2 CleanSweep rotor and you can also pick a size from 160 mm, 180 mm, and 200 mm. There are two mounting brackets, one of which is an IS-to-PM adaptor. Additionally, mounting bolts for both the rotor and caliper are provided. In terms of performance, it delivers ample braking force, as mentioned before. Although, wheel lock-up occurs sometimes when you slam on the brakes.
10. Avid Shorty Ultimate:
Lightweight & versatile cantilever brake for cyclo-cross bikes
The Avid Shorty Ultimate is the only cantilever brake in this article. Even though cantilever brakes are not used as much as the other types of brakes, they still have demand for some applications such as for cyclocross bikes. Well, the Shorty Ultimate is the perfect product for this. It has a wide stance for extra pad clearance for wide tires and mud. Moreover, the arms can also be set in a narrow stance if you want a low-profile and better braking power. Speaking of which, it provided a powerful stopping force in nearly all conditions.
There are no instructions included, but that shouldn't be much of a problem. Just about anyone can install this brake since the process is fairly simple and does not take too much time. The default brake pads work very well. However, you might have carbon rims that require different pad types. You can easily replace them with other pads thanks to the cartridge design. The biggest downside is that this brake is very costly. At the price given, you will get just one brake.
11. TRP Spyre-C:
Highly affordable disc brake option for those on a budget
The TRP Spyre-C is one of the most versatile mechanical disc brakes you can buy today. You can use this brake for road, cyclocross and mountain bikes. This remarkably cheap and high-quality product can be easily installed on already existing cable actuated levers. As a bonus, an IS to Post Mount adaptor and a 160 mm rotor comes free with the brake caliper. Unfortunately, it is not compatible with different sized rotors out of the box. To be able to do that you will need spacers or a different adaptor.
The semi-metallic default brake pads made by TRP work quite well. However, it is possible to use other pads such as the Shimano M525/M515 pads if you want. Being a disc brake, it can obviously be used on mountain bikes. But the reason that you can use it with road bikes is that it is surprisingly lightweight and has a compact size with a thickness of only 40 mm. Therefore, the Spyre-C is a great option if you want the power of a disc brake at a really affordable price.
12. Shimano BR-MX70:
Cold forged arms, cartridge pads, ideal for BMX bikes
The Shimano BR-MX70 is another excellent V-brake by Shimano. This brake is advertised as specifically for BMX bikes and that it should be used on the rear wheel only. However, we've found that it can be used with other types of bikes as well. Although, the bike should have mounting posts specifically for V-brakes. You can also use it on front wheels with a slight modification. All you have to do is reverse the brake pads, or else they might not stay in the holder when the brakes are applied.
The brake pads can also be replaced very easily since they have a cartridge design. This is convenient for those who have rims of a different material. The performance of the brake is superb. It is powerful, predictable, and has good modulation. A power modulator unit can be attached, which further improves control. The SM-PM70 is compatible with this brake. This modulator is designed to be used by BMX racers and trekking use for optimum performance. Another great thing about BR-MX70 is that they are very inexpensive.
---
Buying Guide: Bike Brakes
Brake Types
Before you buy any brakes for your bike, you need to know about the different kinds of brakes. You should also know which type of brake is suitable for which cycling discipline. There are two broad categories of bike brakes;
Rim brakes are so-called because they use the wheel rim as the braking surface. They can be further divided into the following types;
Caliper Brakes
Cantilever Brakes
V-Brakes (this is actually a type of cantilever brake, but they are often considered a separate category)
Disc brakes make use of a metal disc or rotor mounted on the wheel's hub. Pistons in a caliper push the brake pads against the rotor to slow down the wheel. There are two types of disc brakes;
Hydraulic Disc Brakes
Mechanical Disc Brakes
Each of these brake types has a certain place in cycling. Which brakes you should get really depends on the bike and intended use.
1. Road Bike Brakes
Although the popularity of disc brakes is increasing, the most preferred type of brake for road bikers is still the Caliper Brake. They are chosen due to their low weight, compact design, and easy adjustability. This is also why racing bikes – triathlon and time trial – are usually fitted with caliper brakes. These brakes have arms that reach down from the top of the tire to the rims. Different mechanisms exist in caliper brakes. They could be single-pivot, dual-pivot, center-pull, side-pull, etc. The most popular and/or best caliper brakes use side-pull cable actuation and dual-pivot arms.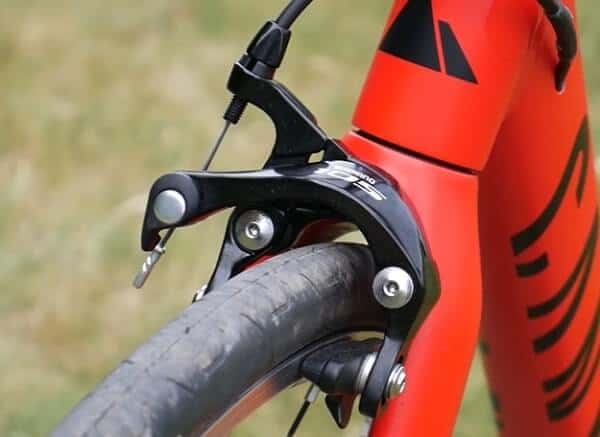 Image: Caliper-brake
When buying caliper brakes, there are certain specifications that you can check to know whether it is compatible with your bike. One of these is reach or drop, which is a measure of how far down the caliper arms can reach. You should match this with the vertical width of the rim and tire combined. The brake must also have the appropriate clearance. This is so that it can accommodate the width of the wheel. Another crucial feature you should look out for is the mount type for the brake which is discussed below.
2. Road Brake Mounts
Most caliper brakes use the same type of mount. They typically attach using a single central bolt screwed into a threaded hole in a part of the frame – the fork for front brakes and the seat stays for rear brakes. Most use similar bolt sizes. If the required bolt size doesn't match with the mount, then you can use spacers. Another more recent type of mount is the Direct Mount. These mounts have two bolts instead of one. They are not found commonly in bikes yet but have the advantage of having a lower profile and the ability to resist flexing better.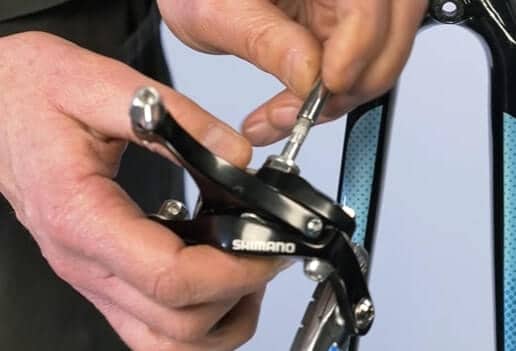 Image: Regular-mount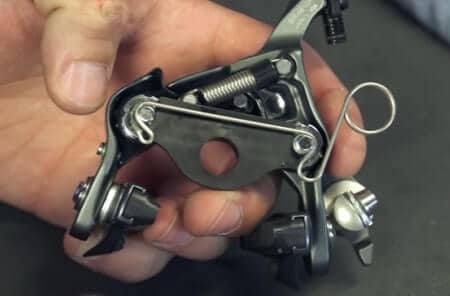 Image: Direct-mount
3. Mountain Bike Brakes
Once deemed to be an item for high-end bikes only, disc brakes are now commonplace for mountain bikes. Disc brakes offer better braking power than rim brakes. Since the braking surface is away from the rim, it mostly stays clear of water, mud, and dirt. This means more reliable braking in all conditions and reduced wear of the parts. However, they are more expensive, have a higher weight penalty, and build up a lot of heat due to the nature of use. Nowadays, improvements in technology are making disc brakes lighter and also imparting them with better heat management.
Mechanical disc brakes work in a similar way to rim brakes. The lever pulls the cable which brings brake pads in contact with the disc/rotor. This type of disc brake is easier to install and maintain due to its simplicity. Hydraulic disc brakes are the champions when it comes to braking power and performance. When the lever is squeezed, it pushes on the incompressible fluid in a hose which transmits power to pistons in the caliper. Not only does this multiply the force generated from your hand many times, but it also offers more precise control. The brake fluid could be either DOT fluid or mineral oil.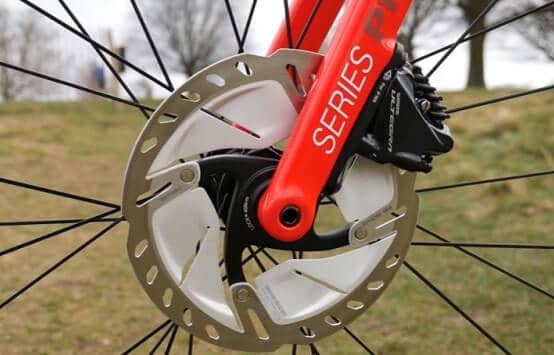 Image: Disc-brake
There are still several people who like to rim brakes on mountain bikes. A specific type of cantilever brake called a V-brake or direct-pull brake (as opposed to center-pull) is used in this case. These have separate brake arms that are mounted by a brake boss on each fork leg or seat stay. Generally, older mountain bike models can be seen to have the necessary mounts for V-brakes.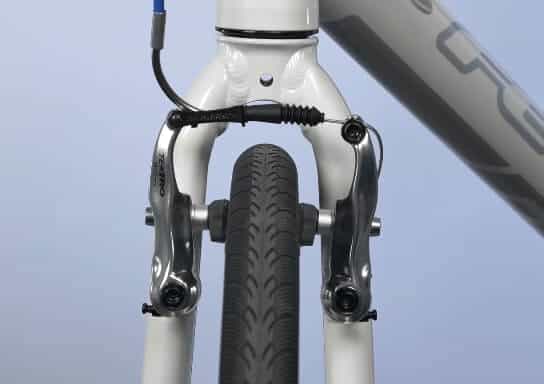 Image: V-brake
4. Disc Brake Mounts
Disc brakes require you to mount the rotor to the hub and the caliper to the frame. Rotors can be mounted using a six-bolt or a center lock standard. Even if your bike's hub does not match for a certain rotor, there are adaptors that you can get for the center lock to six-bolt and vice versa. There are three types of mounts for calipers – International Standard, Post Mount, and Flat Mount. IS mounts have bolt holes perpendicular to the frame, while in PM and FM mounts they are parallel to the frame. Most calipers are compatible with post mounts. Again, there are adaptors available to convert between the three types. Remember that using an adaptor won't affect braking too much, but using compatible rotors and calipers is always preferable.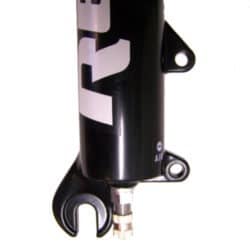 Image: IS-mount
Image Source: bikeman.com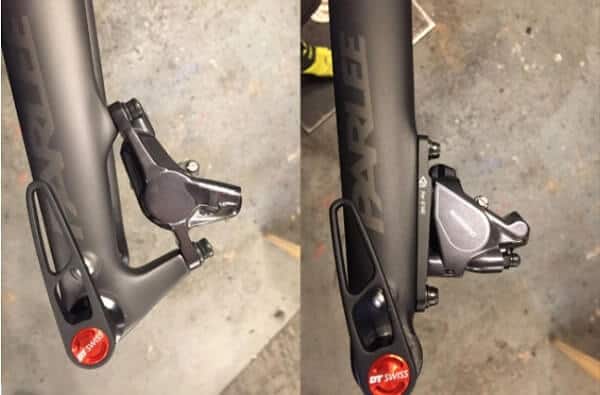 Image: Post-mount-and-flat-mount
Image Source: bikehugger.com
5. Cyclo-cross Brakes
While sometimes disc brakes are used, center-pull cantilever or just cantilever brakes are the main choices for use in cyclocross (CX) bikes. CX racing involves mud a lot of the time and the bikes have wider tires. Cantilever brakes have the necessary clearance and have decent power as well. Often, you will be able to change the stance of these brakes from a wide stance for better clearance to a narrow stance for more stopping power and vice versa. They mount in pretty much the same way as V-brakes. Unlike V-brakes however, the main cable is at the center instead of on one side.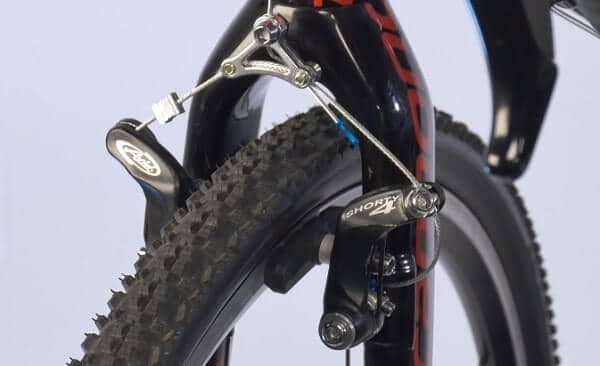 Image: Cantilever-brake
6. BMX Brakes
BMX users do not need disc brakes. In fact, many riders choose to go with no brakes at all. The reason being that it helps with doing stunts and tricks. When they do use brakes, they usually go with a rear brake only. In that case, a device called a de-tangler might be required to prevent the brake cables from getting tangled up. Riders can choose between a caliper brake or a cantilever brake.
7. Brake Pads
For disc brakes, three kinds of brake pads are available according to the material used. They are sintered(metallic) pads, organic(resin) pads, and semi-metallic pads. Most brake pads are organic, but each type has different properties that make them favorable to certain people. The following table illustrates the behavior of each type.
Organic
Semi-metallic
Sintered
Noise level

OOO

OOOOOOO

OOOOO

OOOOO

OOOOOOO

OOO
Initial bite

OOOOOOOOOO

OOOOOOOO

OO

OOOOOO

OOOO
Rotor wear

OOOOOOOOOO

OOOOOOOO

OO

OOOOOO

OOOO
Pad longevity
(dry conditions)

OOOO

OOOOOO

OOOOOO

OOOO

OOOOOOOOOO

Pad longevity
(wet conditions)

OO

OOOOOOOO

OOOO

OOOOOO

OOOOOOOO

OO
All rim brakes make use of slightly varying rubber compounds for brake pads. The rubber used has different properties that make it compatible with different rim materials. Harder rubber is required for carbon wheels since they generate more heat. However, those made for metal rims that use a softer rubber have a better braking effect. Other than most budget bikes, most brakes use cartridge pads for easy replacement according to your needs and/or preferences.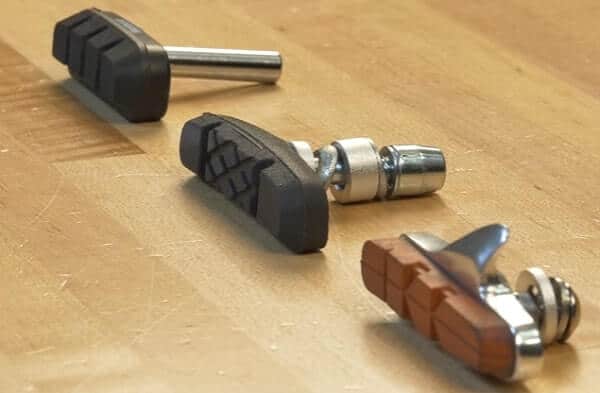 Image: Rim-brake-pads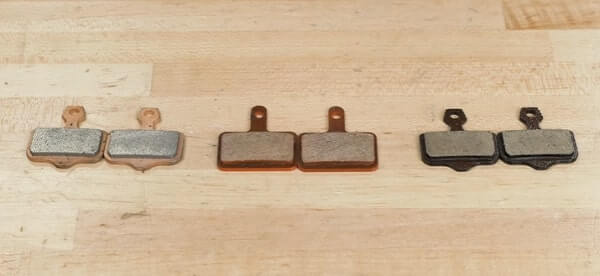 Image: Disc-brake-pads
F.A.Q.s
Q1. Rim brakes vs Disc brakes; which is better?
Ans.: The simple answer would be, it depends. There's no real absolute winner among the two. Whether you should use rim brakes or disc brakes ultimately boils down to your preference and the intended form of cycling as discussed before. The following table lays out their respective advantages. You should think about which properties are favorable to you.
| Rim Brake Pros | Disc Brake Pros |
| --- | --- |
| Less expensive | Higher braking power |
| Lightweight and compact | Reliability in all conditions |
| Simplicity in setup and use | Decreased wear on wheels |
| Easy maintenance | Wider tires possible |
Q2. What brakes are best for a mountain bike?
Ans.: Mountain biking is a sport that requires a combination of powerful braking and perfect control. A lack of either of these features can lead to an accident and possible injury. Therefore, hydraulic disc brakes are the best option, especially if you are doing a lot of downhill time. They always deliver consistent performance, even in wet conditions. However, if you're on a budget or if you use your bike for less aggressive trail riding such as cross-country, you have the option of getting mechanical disc brakes or V-brakes.
Q3. Should I get disc brakes for my road bike?
Ans.: It is becoming an increasingly common sight to see disc brakes on road bikes. Nonetheless, most road cyclists, especially road racers, still prefer caliper rim brakes due to the advantages they have in terms of weight and aerodynamics. Unless you're a big fan of disc brakes or require enhanced performance, we don't see any reason to not keep using rim brakes. Good quality rim brakes will serve you well. Additionally, their simplicity and affordability make them less daunting for beginners.
Q4. Can I convert my bike to disc brakes?
Ans.: Yes you can, but only for the front wheel. Changing to disc brakes on the rear wheel is an extremely difficult task and it would also be more economical to just buy a new bike. Switching out the front brakes should be more than enough for most people. To change the rim brake on the front, you will have to replace the fork and the front wheel. This is necessary because disc brakes require completely different mounts and a disc compatible hub. This process can be quite expensive and you should think about whether it would be a more viable option than purchasing a new bike with built-in disc brakes.
Q5. When should I replace my brake pads?
Ans.: Rim brake pads have grooves or a tread pattern on the surface. When the surface eventually becomes flat from wear, then you'll know it's time to replace them. Disc brake pads are generally 3 – 4 mm thick. You have to replace them when they shrink down to a thickness of around 1 mm. You can use three business cards to judge the thickness. Stack them together and it will be approximately 1 mm thick. For step-by-step guidance on how to replace brake pads, watch the two videos below.
Conclusion
Hopefully, now you have all the necessary knowledge to make an informed decision. We have made sure to include all the types of brakes so that anyone from any cycling discipline can find an appropriate set of brakes. A lot of research and hard work has gone into preparing this article. We hope you found it helpful and informative. Thank you for reading and best of luck!
Related readings on Bike Brakes:
---
Useful Links:
(Visited 15 times, 1 visits today)
Last update on 2020-11-25 at 10:40 / Affiliate links / Images from Amazon Product Advertising API
Close