We have chosen 4 Brooks saddles (Brooks B17, Team Pro, Swift, and C17) for judging their capabilities as a road bike saddle. All four of them are perfect and unique in their own way to be used for road cycling. But among them, we picked Team Pro as the overall best Brooks saddle for your road bike if you are choosing a racy or performance riding posture.
Brooks Team Pro
L x W x H (mm): 273 x 160 x 67, Weight: 530 grams, Best for: Race or Performance Cycling Posture
A perfect steel rails (chrome-plated) saddle for racy or performance sitting position. Tubular steel rivets give it classic look. Super quality European vegetable tanned leather makes it durable. Handmade in England.
'Brooks' is undoubtedly a renowned and respectable name in the saddle industry for their history and heritage. Although they have an issue with the break-in period but it is like the saying: "Patient is bitter, but its fruit is sweet". After the break-in period, you will feel like this saddle is made just for you.
When you are looking for a long-lasting saddle, these saddles are remarkable choices. They have a reputation in this sector. If you want an extended 10 years of warranty as an award, you should register your product on their official website (1) if you haven't done yet.
Comparison Table
Here is a short comparison table for an advance judgment:
Preview
Best for
Long touring in more upright position
Racy or performance riding position
Good for racy or performance riding position. Too narrow for some riders.
All weather saddle. Good for an angled riding position
Rails
Regular: Steel Optional: Titanium
4 best Brooks saddles you can buy today for your road bike
1. Brooks B17: For long touring in a more upright position
Brooks B17
Weight: 520 gm
Dimensions: 275 x 175 x 65 mm
Color: Black, Brown, Honey, Red
PROS:
The company's flagship model has been on the market for over 100 years.
Vegetable tan leather saddle handmade in England.
The standard model has Steel tubular rivets.
Steel rails with Chrome plating, you can select Titanium rails as an option if you can spare a little bit more of your money.
Adjustable with micro-adjust seat posts.
Comes with a maintenance kit and waterproof seat cover.
A 2 years warranty from the date of purchase and an extended 10 years warranty will be provided for registered customers.
CONS:
Will take 200-300 miles to break-in.
Need proper maintenance and apply Proofide (Brooks leather conditioner) at least 2 times in a year.
The saddle is relatively heavy for a road bike saddle.

Even if the Brooks saddles have longer break-in periods, but they are your best options after they are properly break-in. You will feel zero discomforts and as if there is nothing below your back while riding. The saddle is not waterproof, so please maintain it carefully. The saddle offers a ladies version (B17 S).
2. Team Pro: For touring in more racy or performance riding position

Team Pro
Weight: 530 gm
Dimensions: 273x160x67 mm
Color: Black, Honey, Brown
PROS:
Has been on the industry for half a century and it emerged from the old B17 Competition.
It is made for superior performance, so it is a great choice for a road bike saddle.
Time-honored simple classic design.
Features Steel rails and tubular rivets.
The cover is made from original vegetable tan leather.
A 2 years warranty will be provided and an extended warranty of 10 years for registered customers will be gifted.
CONS:
Has a longer break-in period.
Proper nourishing is needed.
For a road bike, it is quite heavy.
Brooks made this saddle simply prioritizing performance. As a result, this saddle is an absolute competitor for the other road bike saddles in the market. This saddle will make you pleased for its simple design, originating from the old B17 Competition. For its simple design, it has gained the title "timeless classic".
3. Swift: Too narrow for some riders. Good for racy or performance riding position
Swift
Weight: 510 gm
Dimensions: 272x150x72 mm
Color: Black, Brown, Honey
PROS:
A modern appealing saddle in the Brooks range.
The lower side edges are skived off by hand contemplating user comfort.
Two embossed logos with graphical details featuring the saddle's name on both sides of the cover.
The cover is made from vegetable tan leather with hand.
Features Steel rails.
Rivets are made of Copper and they are hammered by hand.
A 2 years product warranty will be provided from the date of purchase and you can an extended 10 years warranty as an award if you register on their website.
CONS:
A bit expensive compared to other Brooks saddles.
Not waterproof and need maintenance.
Need to apply Proofide to shorten the break-in period.
This might be your personal choice for a road bike saddle in Brooks range. Because of its modern look and build quality, it will be hard for you to ignore this saddle. Made for young energetic riders as Brooks declares this saddle as youngest gentlemen's racing saddle. Also comes in three different colors for young people's demand.
4. Brooks C17: All-weather saddle. Good for an angled riding position
Brooks C17
Weight: 464 gm
Dimensions: 283x164x52 mm
Color: Black, Bronze/Orange, Octane
PROS:
No break-in period, comfortable from the first day.
An all-weather durable saddle.
The vulcanized natural rubber and Nylon on the top makes you very flexible while riding.
Rails are made of steel-reinforced with a plastic backplate.
Very lightweight compared to other Brooks saddles.
Like all other Brooks saddles, a 2 years warranty and an extended 10 years warranty for registered customers will be provided.
CONS:
Not so padded, some riders may find this unappealing.
Nylon made rubber can be rough sometimes.
Not so wide and relatively narrow.
If you are looking for a road bike saddle and at the same time you also have the criteria that it must be from Brooks, then this just might be the perfect saddle for you. An all-weather saddle is suitable for freezing rain or blazing sunshine. There is almost no break-in period, so it is "ready to ride" from the first day you ride on it.
---
Choosing a Brooks saddle for road bike
For touring where the distance is usually long, you can go for any kind of saddles, i.e. cheaper saddles rather than investing a lot of money for a saddle. Even you can also use the addle that comes with the bike for long-distance tours. Trust me you will feel nothing but pain and discomfort. When choosing a road bike saddle, people usually do these types of mistakes:
They are not in the condition or state of buying a saddle for a lot of money.
Even if they have the money to spare, but they are uncertain of choosing the saddle.
If you are new to the cycling world or unconscious about saddles, then should get expert help or read blogs or something.
Gel padded, not padded or it has to be cushy- there is always these kinds of uncertainties.
OK! Of all the words that I have said, I honestly suggest that you should go for a Brooks saddle, even if they are a bit expensive. They are worthy of the money. You will thank me later for sure. For a long tour which is about 8 hours long or more or it may take day after day, you should go for something better. Gel or padding is not the issue here, they will cause chafing in the long run.
Breaking in a leather saddle
It is common that you will most likely feel uneasy when using a Brooks saddle at first. You might disagree we me that buying a Brooks saddle was in fact a good decision. But hold your horses and keep on riding with it until it is properly break-in. You will feel butter smooth feeling and you will barely want to shift to another saddle.
It usually takes around 200-300 miles to properly break-in. But if you can maintain it properly and apply Proofide regularly it will lessen the time. Like I said the more you ride the more it will adjust your fit.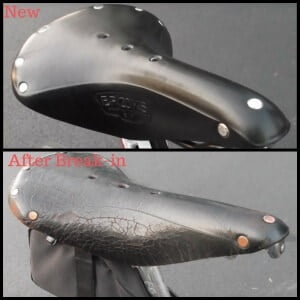 Leather saddle (Brooks) maintenance
Well, I know it is bothering that you need to give your time on maintaining a Brooks saddle.
Unlike other seats with synthetic covers, leather saddles need extra care. You can find a conditioner in the market called Proofide made by Brooks for preventing drying up and cracking of the cover.
You can also rub a little bit of this conditioner on a new Brooks saddle if you like. What will it do? – It will shorten the break-in period time. The ideal is that you rub Proofide on your Brooks saddle twice a year which is a half turn every 6-12 months.
You should be careful with your Brooks saddle on Rainy rides. They can be your biggest threat unless you are using one of the Brooks C series (C13, C15, C17, C19) as they are waterproof. Do not expose your Brooks saddle on rain or water unless you are covering it with a waterproof cover.
Check out this video from Brooks for maintenance and care:
Should you buy a Brooks saddle?
For the leather selection of saddle, they beat all other saddles by their leather quality and their traditional making process. But the question is, how good will it be for you as a road bike saddle?
First of all, it depends entirely on you. Perhaps you don't want a leather saddle for their longer break-in periods. Rather you want to move on to other saddles where the cover is usually made of microfiber or microtex or something else. Furthermore, they are cheaper compared to Brooks saddles. Also, they really don't need proper care and maintenance. They also come in a lot of cool and modern looking designs.
So why should I go for a Brooks saddle? The reasons are many. The first thing is they are making saddles for over 100 years and yet the company hasn't lost its customers. This means they are doing 100% for providing a comfortable saddle to the customers.
You are paying a lot of money for one Brooks saddle, Brooks absolutely values your money and their products are worth every penny. As you are getting the best quality leather saddle in the market, it is deserving that it should get extra care than other saddles.
Ask any professional rider for buying a saddle whether it is for touring or casual rides, they will suggest a Brooks saddle for sure. Because professionals know Brooks value.
Conclusion
At the end of our discussion, I just want to say that you should buy a Brooks saddle if you haven't bought one yet and feel the experience by yourself if the price is not a headache for you. We have tested it and using it. Research shows it is indubitably one of the best saddles for long-distance touring especially the B17 model. It is the flagship model for the company. Our forefathers used it and they liked it, we are using it and hopefully, the next generation will use it too.
Related Readings
Sources/helpful links
https://www.brooksengland.com/en_us/10-years-program
(Visited 2,461 times, 2 visits today)
Last update on 2020-11-30 at 02:21 / Affiliate links / Images from Amazon Product Advertising API
Close