The tires you have on are very important. Whether you are on the road, riding on snow, sand, etc. – we have to look at a few critical factors like weight, durability amongst many others when we are selecting the tires. This is true for fat bikes too. Now, what exactly is a fat bike? Typically, they are bicycles that are used off-road and are characterized by the large tires that they have on them. The tires for these bikes are designed in such a way that when the pressure of air being inside them is low, which actually helps them to maneuver in terrains that are particularly unstable and soft. Immediately what pops into the mind is snow, sand, and mud – which is exactly the specialty of fat bike tires.
Fat-tire bikes can be used to deal with gnarly weather, where even mountain bikes are not enough. Their tires will provide you the traction needed to deal with the weather and terrain. Such tires will function extremely well when you are backpacking, and for cycling on the sand. When tires are larger, they can be run at lower pressures when moving on smooth surfaces. They will make your rides much smoother even if you do not have any suspension on the frame of your fat bike.
With all the various choices for fat bike tires, it is normal if you are hesitating to make a final choice. We reviewed the 12 best fat bike tires that riders can use on their fat bikes. We have chosen, Maxxis Minion FBR is our "Overall best choice".
Maxxis Minion FBR
Perfect tread for loose surfaces like sand, snow; Tubeless-ready | Overall Best Choice
The tread of the Minion FBR tire is sporting several knobs specifically designed to improve traction. The tires will deliver excellent braking performance, enabling its use for aggressive riding styles such as downhill riding. On the centerline of the tread, some knobs are ramped and shaped like paddles. As a result, the grip will improve significantly while cutting down rolling resistance. Designed specifically for the rear wheel of your fat bike, Dual Compound has been used by the manufacturer on the outward knobs. What is really great about the FBR is that in winter, if you are looking for more traction – it can be used as a front tire too. There is EXO protection for the sidewall so that performance remains consistent. Thanks to the foldable beads, the resulting lightweight tire will be secure, with easy portability. A 120 TPI ply single-casing is being used here.
Tread pattern specific for rear-wheel of fat bikes
Tubeless-ready
The sidewall is EXO protected so that there is no puncture
Optimized design for compatibility with wider tires
120 TPI casing
Better cornering
Reduced rolling resistance
A quick view of our list of some of the finest fat bike tires for your bike wheels:
| Tire | TPI | Our Ratings |
| --- | --- | --- |
| Maxxis Minion FBR | 120 | 93 |
| Vee Snow Avalanche | 120 | 92 |
| Maxxis Colossus | 120 | 91 |
| Maxxis Minion FBF | 120 | 89 |
| SCHWALBE Jumbo Jim | 127 | 86 |
| SCHWALBE Jumbo Jim | 127 | 85 |
| Origin8 Supercell | 30 | 84 |
| 45NRTH Flowbeist | 120 | 83 |
| Vee Tire Mission Command | 120 | 82 |
| Kenda Juggernaut Pro Tire | 120 | 82 |
| Terrene Cake Eater Fat Bike | 33 | 80 |
| Mongoose Fat Tire Bike Tire | | 78 |
12 best fat bike tires you can buy today
| Tire | Preview | Tire Type | Tire Size | Material | Bead | TPI |
| --- | --- | --- | --- | --- | --- | --- |
| Maxxis Minion FBR | | Tubeless | 26x4.8 | Dual compound Rubber | Foldable | 120 |
| Vee Snow Avalanche | | Tubeless Ready | 26 x 4.0 | SC - Silica Compound | Folding | 120 |
| Maxxis Colossus | | Tubeless | 26x4 | Dual compound | Foldable | 120 |
| Maxxis Minion FBF | | Tubeless-ready | 26 x 4.8 | Rubber Dual Compound | Folding | 120 |
| SCHWALBE Jumbo Jim Evolution TL | | Tubeless Ready Clincher | 26 x 4.0 | Addix Speedgrip | Folding | 127 |
| SCHWALBE Jumbo Jim | | Tubeless Ready | 26 x 4.0 | ADDIX Speedgrip (blue) | Folding | 127 |
| Origin8 Supercell | | Clincher | 26 x 4.0 | Nylon Fabric | Wire | 30 |
| 45NRTH Flowbeist | | Clincher, tubeless | 26 x 4.6 | Soft rubber | Folding Tubeless Ready | 120 |
| Vee Mission Command | | Tubeless Ready Clincher | 26 x 4.0 | MPC - Multiple Purpose Compound | Folding | 120 |
| Kenda Juggernaut Pro | | Clincher | 26x4.5 | Dual Tread Compound | Wire | 120 |
| Terrene Cake Eater | | Tubeless Ready | 26x4 | 62a | Aramid | 33 |
| Mongoose Fat bike Tire | | Tubeless | 20 x 4 | Rubber | Folding | Undisclosed |
1. Maxxis Minion FBR:
Perfect tread for loose surfaces like sand, snow; Tubeless-ready

|

Overall best choice
Maxxis Minion FBR
Material: Dual compound Rubber
Wheel Size: 26"(559)
Tire width: 4.8"
Weight: 1620g
Tread Type: Knobby Tread
Tire Type: Tubeless
TPI: 120
Max psi: 20
Bead: Foldable
Application: Trail, Enduro
Features & Considerations
Minion series: Minion FBR brings forward the Minion series performance over to fat bike tires, where the tread pattern facilitates fast-rolling while allowing secure traction irrespective of the weather or conditions.
Rear Specific: The design of the treads on the FBR is ideal for rear wheel use while riding out on the trail. Ideally, this rear-specific tire should be used when the front wheel has the " FBF Minion" on. While the FBR looks like another downhill Minion model, the design has been optimized for use on fat bikes.
Dual compound treads: Rubber compound is being used inside the treads, and the FBR is using Maxxis Dual Compound. It means that here, Maxxis is using a combination of two compounds that will bring down the rolling resistance of the tire while enhancing grip during corners. The latter is possible thanks to the soft rubber for the side knobs while the former is a result of harder centered knobs.
EXO Protection: The sidewall of this tire has been added with a material that is resistant to both cut and abrasion. As a result, we have a very dense fabric that weighs less while exhibiting high flexibility. This ensures that the tire performance is consistent. EXO protection is ideal for trails that are more treacherous and rocky, where there is a higher chance of cuts or abrasions to the sidewall.
Tubeless Ready (TR): Tubeless Ready (TR) tires from Maxxis use UST tubeless tires that come with a standard casing. The casing has been incorporated with silkworm to increase resistance to tear and puncture.
Tire architecture: The tread pattern on the FBR is aggressive so that it can plow through the sand. Moving over tree roots and rock is easier too. The side knobs here are tall and square so that while cornering, the tire can dig deeper. Further dual compound knobs that paddle-like and ramped have been added too. As a result, comparatively flat trail sections will present less rolling resistance.
Some Weaknesses
The tire needs to be installed by skilled personnel only.
Maxxis has been a manufacturer of quality tires for a long time, and fat bike tires are one of their specialties. The Minion FBR is another of their products, and we can confidently say that it has met almost all our qualification standards to take up the top spot in our list of the best fat bike tires used today. Meant for use at the rear wheel, the lateral knobs look liked paddles on the wheels, helping us push forwards and backward. The tires were thick enough to withstand abrasion from all terrains, thus they are bound to have a long lifetime. Other than that, the tire proved to be a great all-around performer. We were impressed largely by how easy it was to pop the tires onto our bikes before we aired them up. We were caught off-guard by how the FBR behaved on gravel – which seemed smooth and easy despite the knobby tread pattern. On the 26" rim which was comparatively narrow, floatation was just about adequate along with reduced resistance to rolling. Owing to the meaty blocks, the tire was able to climb out of rust much easily, even when we had a significant load with us. The FBR held on well during the turns, providing good braking traction that we could predict easily.
Maxxis Minion FBR Bike Tire
2. Vee Snow Avalanche:
Studded fat bike tire; Aggressive treads for improved steering; Reduced rolling resistance
Vee Snow Avalanche
Material: SC – Silica Compound + Carbide
Wheel Size: 26"
Tire width: 4.0"
Weight (g): 1485g( each tire)
Tread Type: Directional
Type: Tubeless Ready
TPI: 120
PSI: 8- 20
Bead: Folding
Application: Blocked trails or loose snow
Features & Considerations
Snow Avalanche: This fat bike tire from Vee Tire is amongst the few bike tires that are studded. Here, we have a pair of these tires that have lugs that are shaped somewhat like a square so that they can grip surfaces better.
Studded: There are 240 pre-pinned studs on the Snow Avalanche. To enable better traction during winter, these tungsten-carbide studs are pointed and shaped like a cone so that they can dig in deeper when there are snow and ice.
Tread design: The treads are designed in such a way that they grip aggressively to enable better steering and grip in winter. The rolling resistance is minimized and combines with the excellent float.
Silica: Inside the tire tread, silica has been used so that even when the conditions are extremely cold, Snow Avalanche can deliver superior performance. Also, silica is soft and makes sure the rolling resistance is low irrespective of the temperature while maintaining excellent gripping ability.
Tire architecture: Along the center of the Snow Avalanche, we can see lugs that are present individually and in pairs – but in an alternative manner. As they move towards the center, the lugs take up a more concave shape. The carcass also features extra texture so that the tire's transitional portion has added traction.
Tubeless-ready: If you are using tubeless rims, the Snow Avalanche can be mounted tubeless on your rims, using a sealant.
Durometer: Snow Avalanche has 50 listed here as the durometer, meaning that it is on the softer side of the toughness spectrum of fat bike tires.
Some Weaknesses
The lugs lacked ramping in their design.
We mounted the pair of Vee Snow Avalanche to alloy rims that measured at 80mm. For usual riding on the trails, the tire pressure did not break out from the 9 to 10 psi range. For gravel grinds that were packed with hard rocks, tire pressure went up to 15 psi. While the tires handled the mountain trails relatively well, they spun easily and lifted over obstacles faced on the trail. The lugs had a smaller profile, and this came hand-in-hand with their sharp edges. With sufficient grip, the heavy shoulder of the lugs rarely skidded. Rather, it allowed the tire to exhibit enhanced grip traveling over roots of trees and loose rocks. The lugs were able to clear mud quickly too. Over wet surfaces that were relatively harder, the squared sharp lugs combined with the silica inside the treads to ensure that there was no slippage. After testing this pair of Snow Avalanche over a period of time, we started to appreciate the new treads on the Snow Avalanche.
Vee Snow Avalanche Tire
3. Maxxis Colossus:
Snow-specific tread pattern; EXO Protection available; Tubeless Ready (TR) available
Maxxis Colossus
Material: Dual Compound
Wheel width: 26″
Tire width: 4
Weight: 1515g
Tread Type: Knobby tread
Tire Type: Tubeless
TPI: 120
PSI: 20
Bead: Foldable
Application: Winter, Mountain Bikes
Features & Considerations
Maxxis Colossus: We are reviewing the 120 TPI casing two versions of this fat bike tire here. While the other version featured a 60 TPI casing that is more sturdy, the 120 TPI version can deliver optimized performance. This is owing to the additional flexibility and the Dual rubber compound.
Tread pattern: There are several long knobs on the Colossus that have been designed in such a way that they can better grip the hard surface after penetrating through the snow. Any snow that gets packed on the tires is cleared out thanks to the open pattern of the treads, helping the tire to sustain traction.
Dual compound: This Maxxis tire can exhibit enhanced traction while taking corners, which couples with reduced rolling resistance. This compound ensures that even when conditions are below zero, the tire compound is pliable.
EXO casing: This effectively protects the tire from punctures. The sidewall of the Colossus is protected by this material that is resistant to abrasion and cut, thanks to the fact that it is woven densely. Being lightweight and flexible, tire performance is likely to remain consistent.
Foldable bead: The function of the bead is to keep the tire in contact with the rim while the tire is inflated. Here, foldable beads are made using Aramid fibers that have been spun so that they are lightweight and can be transported easily.
Tubeless Ready: The Colossus is tubeless-ready, meaning it does not have to carry the extra weight – an issue faced with UST tubeless designs. With no tube, there is less risk of getting a flat. Airtightness of the standard but wide carcass is guaranteed by sealants here.
Some Weaknesses
It might increase auto-steer in your bike.
The manufacturer has hailed the Colossus as a fat bike tire that is ideal for use on snow. Thus we had a test period of six weeks to play with the Colossus. We started by mounting it tubeless, and with minimal coaxing, we were able to snap the tire into place. A unique characteristic that caught our eye was how this fat bike tire was able to deal with "rut riding" using deflection or correction. There were no flats in the testing period, and the Colossus was able to deliver the things it promised in advertisements. Despite the big teeth on the Colossus, there is hardly any knob squirm on harder surfaces which allowed them to roll with relative ease while running between 10 to 12 psi. As we ran tire pressure between 4 and 8 psi on snow, this is when the tire really excelled.
Maxxis Colossus Tire
4. Maxxis Minion FBF:
Designed to be front-wheel specific; Performs well in TR setup; Ideally used for trail riding
Maxxis Minion FBF
Material: Rubber Dual Compound
Wheel Size: 26″
Tire width: 4.8″
Weight: 1645g
Tread type: Knobby
Type: tubeless-ready
TPI: 120
Max PSI: 20
Bead: Foldable
Application: MTB + Front Tire + All trail conditions
Features & Considerations
Minion FBF: Minion FBF embodies a design that is front-specific. The treads have been planned in such a way that they are perfect for allowing the front wheel to have absolute control and better steering ability. The tread blocks on the FBF have a design that is proven to deliver better grip while cornering, reduce rolling resistance, and not compromise with grip on surfaces that may be loose or uneven.
Design: The profile for the treads on the Minion FBF has been optimized so that they can be used on fat bikes. The side knobs are shaped so that they can deliver superior cornering performance during races. In the middle, the treads are directional and ramped so that irrespective of the conditions, rolling resistance remains minimized while traction is maximum.
EXO Protection: This is how Maxxis makes sure its tires are puncture resistant. The sidewall is protected using a material that is resistant to both tear and abrasion. This casing option is ideal for riding out on the trails, where you must have appropriate protection for your fat bike tire. Another advantage of the EXO is it does not add any additional weight to the tire.
Tubeless Ready (TR): A rubber layer is being used by this TR tire from Maxxis to cover the bead. This makes installation very convenient. While you are saving on weight, you can also use low tire pressure here.
Dual compound: Two separate compounds from rubber have been processed into a strip of the tread. This resulted in a center that is more likely to be durable thanks to its hardness. Meanwhile, the shoulders were softer but gripped well.
Foldable Bead: Fibers made from Kevlar or Aramid have been used on the FBF so that the tire has been securely attached to the rim. This is possible thanks to the portability and low weight.
Some Weaknesses
Auto-steering may increase.
We tried out the 4.8″ wide Minion FBF tires here. As we used it tubeless, we noticed a fall in rolling resistance after more than 400 miles. On pavement, the tread was aggressive enough so that the tire was able to roll with ease. Thanks to the bold and large outlook, we surely got noticed while on the road. They were a bit noisy, but this alerted pedestrians that something huge was heading their way. We did come across muddy patches, but the tires dealt with them extremely well – as there was no mud stuck on it at the end of our ride. Even when tire pressure was comparatively low, the FBF rolled well as the snow did not stick to them too much as well. There was hardly any self-steering, and it remained tough while we adjusted the pressure between 5 and 20 psi to see the effects. In conclusion, you should definitely get the Minion FBF for extensive pavement and dry XC riding.
Maxxis Minion FBF Tire
5. SCHWALBE Jumbo Jim Evolution:
High Rolling efficiency; Can hold more air
SCHWALBE Jumbo Jim
Material: Addix Speedgrip
Size: 26 x 4.0
Weight: 1090g
Tire Type: Tubeless Ready Clincher
TPI: 127
PSI: 30
Bead: Folding
Application: XC, AM, and Trail
Features & Considerations
Tubeless Easy: This Schwalbe fat bike tire is tubeless easy, which essentially features a twist on the Tubeless Ready design. The sidewalls feature textured monofilament that makes it easy to convert to tubeless here. Even though a sealant is required, fitting is still convenient – without shaking intensively or inflating the tire multiple times. All MTB tires from the Evo line from Schwable are tubeless easy.
SnakeSkin: To ensure protection from puncture, SnakeSkin fabric has been used here. It adds minimal weight but provides the best protection for the sidewall. Sharp rocks that could have possibly cut your sidewall are no longer an issue. The SnakeSkin is perfect for rocky terrains.
Super Ground: This technology works on the SnakeSkin use where and improves it further so that there is an optimum balance between protection from punctures and smooth-rolling. It makes sure that the rider is comfortable and stable on all terrains. We find that there is a fabric layer under the eye's traditional and on the sidewalls of the tire.
Speedgrip: This is a tire compound that is popular all over the world thanks to its versatility. This compound offers a better grip, will last more and ensures more mileage. Schwable has been able to create the perfect compund¹à, Addix Speedgrip that can be used for all-mountain, cross country, and trail riding. Basically, you can use it everywhere.
Some Weaknesses
The weight is higher on this version.
The Schwalbe Jumbo Jim is amongst the top-rated fat bike tires today. With many devoted Schwalbe mountain tire users, we could not wait for them to enter the market and see what they would release to improve our experience. Their first tire, the Jumbo Jim takes a tread similar to their popular racing to ralph and expands to a 4″ and large 4.8″ size, and of course they had to make it light! First offered equipped to many production bikes this year we have had the opportunity to do a fair amount of testing with the Jim and we will say there are better winter tires for loose snow and cornering but take it to the dirt and this tire offers one of the best blends of traction, low rolling resistance and lightweight! Kind of just like the racing Ralph it is modeled after. While they do offer a super light 990g 4.0 Liteskin version we do recommend the only 100g heavier Snakeskin version for a more durable tubeless friendly sidewall. We see the 4.0 Snakeskin as the hottest summer tire available this season so don't wait for these to disappear
SCHWALBE Jumbo Jim Tire
6. SCHWALBE Jumbo Jim Adix:
Blue Addix Speedgrip; Offered in variable widths; Wider lugs for better clearance
SCHWALBE Jumbo Jim
Material: ADDIX Speedgrip (blue)
Size: 26 x 4.0″
Weight: 1,090g. (4.0″)
Tire Type: Tubeless Ready
TPI: 127
PSI: 5-30
Bead: Folding
Application: For deep soils, rough and very loose terrain
Features & Considerations
EvolutionLine: The tires from the Evolution series are the best products from Schwalbe. Their lightweight construction is characterized by good mileage and high-speed travel. All requirements for a good fat bike tire is ensured by the high-quality materials preferred by the manufacturer during production. This is why athletes are fond of them too.
Addix Blue: The new blue Addix Speedgrip features better grip over a wide range of bicycling activities – thus being dubbed as a universal compound. Having said so, performance is optimized in all types of weather. The tires are known to last longer, and the knobs will rarely tear off.
SnakeSkin: This side fabric ensures that the sidewalls are resistant to tears, which reinforces the resistance of the tire to punctures. An additional flexible and lightweight layer of fabric further improves the tire construction and can be found beneath the tire tread and sidewall.
Addix Speedgrip: This versatile compound from Schwalbe is offered on the "SpeedGrip" version of all tires from the EVO series. Therefore, you will be able to use the Speedgrip for XC, AM, and trail.
Design: Ideally, you will be able to ride this fat bike tire on terrains that are very loose, rough, and have softer ground. This is possible even if your tire pressure is low, thanks to the larger tire volume. The treads have an open profile, where the medium-length studs offer reduced rolling resistance.
TLE – Tubeless Easy: Here we have a new standard for tires from the EVO series intended for MTB. As the monofilament SnakeSkin is used on the sidewalls, it can deliver three distinct advantages i. Reinforced resistance to cuts, ii. Better resistance to puncture and, iii. Easy conversion to tubeless setup. For this conversion, we would be using a sealant. Yet still, the fitting would be similar to other tubeless setups. Converting to tubeless will no longer involve vigorous shaking and constant pumping.
Some Weaknesses
Not great on mud or swamps.
During our test rides, SnakeSkin Jumbo Jims showed that it was built extremely well, and will stay locked to your rims thanks to the folding beads. Using them for more than 200 miles, it would be unfair not to mention the seamless compatibility between our standard rim and this tubeless tire. The tubeless setup weighed less, and we were able to mount them very easily. The knobs were large enough here so that the tire was able to grip loose rock surfaces better. Even as we brought down the tire pressure further, the rides remained compliant. With no pinch flats, we did not miss self-steering too. It encouraged us to take a few more turns on this fat bike tire. Given their low weight, we could take on the lengthy uphill slogs too.
SCHWALBE Jumbo Jim Adix Tire
7. Origin8 Supercell:
Produces less noise and with better grip; Low-pressure tire; Rolls fast
Origin8 Supercell
Material: Nylon Fabric
Size: 26×4.0
Type: Clincher
Weight: 1750g
TPI: 30
PSI: 20
Bead: Wire
Application: On pavement
Features & Considerations
Supercell: This fat bike tire from Origin8 has been designed to run at low PSi to deliver improved cornering and fast-rolling thanks to reduced rolling resistance.
Casing: It is available in 120 and 30 TPI casing options. Note that there are two casing options for this tire – 120 TPI and 30 TPI. 120 TPI is featured on a lighter tire that can offer better acceleration and speed. 30 TPI casing is more resistant to puncture, which is ideal for rough roads and for running lower tire pressures.
Tread: This fat bike tire features smooth treads that allow improved cornering. You will find it surprisingly easy to maneuver the fat bike you will be using the OR8 SuperCell on. During the turns, the grip will boost your confidence. This is likely to become even better after a few miles on them.
Design: No matter the track you are using it on – dry or wet, this tire can run pretty well. There are large channels that act to evacuate water, while water is distributed more efficiently by siping.
Some Weaknesses
Do not offer much traction on snow or truly loose trails.
During our test with Origin8 Supercell, we noticed their fast rolling on the pavement. As we moved on, there was a bit of auto steer – something that was felt on gravel too. We came across the gravel terrain as we rode to the bottom of a hill where we were carrying out the test runs. The tire was rigid until we reached the hill bottom, where we were guided to cruising at significant speed by the hill. The extra gravel gave us a thrill as we found ourselves at the turn's apex. Even though tire pressure was low, it helped us to deal with the gravel bed much better than we had initially expected. To address the auto-steer problem, we pumped up the tire pressure to 20 psi. This got rid of the majority of auto-steer but felt harsh. In conclusion, the Supercell can be a great fat tire for gravel or asphalt.
Origin8 Supercell Tire
8. 45NRTH Flowbeist:
Front specific; Tall side lugs; Soft rubber compound
45NRTH Flowbeist  Bike Tire
Material: Soft rubber
Size: 26 x 4.6
Weight: 1396g
Type: Clincher, tubeless
TPI: 120
PSI: 30
Bead: Folding Tubeless Ready
Application: Winter, Sand
Features & Considerations
4.6″ footprint: 4.6" tire footprint was able to offer sufficient floatation, enabled fast-rolling, and could be used with a wide array of forks and frames.
Knob design: The knobs are centered on the tire, and have a height of 6.5 mm. Flowbeist featured knobs whose edges were ramped at a side so that rolling resistance is reduced. On the other side, the edges were sharper so that there was enough bite in the brakes. There were 8.3 mm shoulder knobs too, in addition to the grooves of the fore-aft These were present in rows so that cornering grip is promoted by the knobs collectively.
Compatibility: The bead is tubeless-ready and allows the rider to choose between traditional clincher and going tubeless. The design of the is such that it is ideally compatible with Dunderbeist, the rear-specific version of the Flowbeist. Additionally, it can be used on rims that are in the width range of 65 mm to 102 mm.
Flotation: The manufacturer offers additional tire float while both height and weight have been minimized. Our goal was to create a tire that provided extra float while keeping the height and weight to a minimum. The result is a lighter, faster rolling tire that fits a broader range of frames and forks.
Some Weaknesses
The design is not optimized for racing.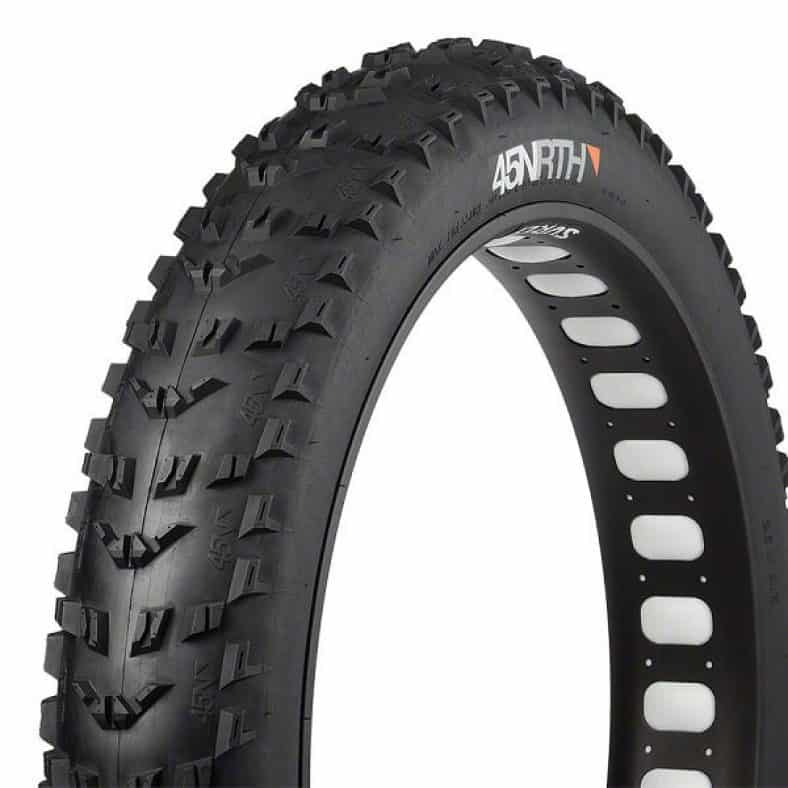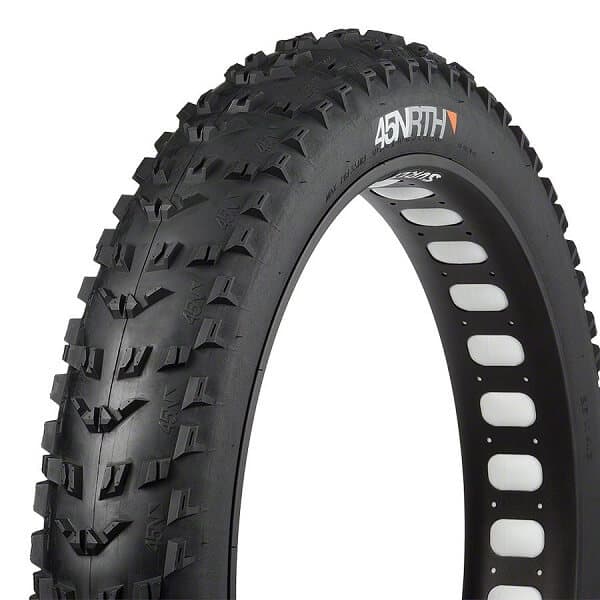 45NRTH Flowbeist Bike Tire
The Flowbeist had tall knobs that spaced widely so that they could get through the loose layer of snow and grip to the snow that lay firm below. The height of the knobs and their spacing coupled with the medium width casing here to offer us just the right amount of float we needed to roll when the snow below us was soft. Make sure that the loose snow does not have too much girth, which would otherwise result in slow rolling. On fat bike tires where the tread is packed densely at the center while towards the sides the knobs were spaced – in our experience, it was more likely that we would be facing weird handling issues. Usually, it was in the form of side slips or squirminess due to traction as we leaned over the bike or when it was more upright. However, at no point did we face such an issue, and we were surprised at how normal the tire felt as we were initiating corners. When we were running low pressure – there was hardly any self-steer or awkward input from the handlebars. With great breaking traction, what the tire can offer during the corners was better than many other fat bike tires.
9. Vee Tire Mission Command:
Reduced resistance; Can be used for racing; Tubeless technology has been implemented here
Vee Tire Mission Command
Material: MPC – Multiple Purpose Compound
Size: 26×4.0
Weight: 1460g
Tire Type: Tubeless Ready Clincher
TPI: 120
PSI: 20
Bead: Folding Bead
Application: Racing, Trail Riding
Features & Considerations
Multipurpose compound: It is a compound that comes with a hardness rating of 56m but can deliver protection against flats and longer mileage on all types of terrain. It increases the service lifespan of the Vee tire, providing durability.
Tread pattern: We find shoulder knobs that are shaped like a diamond at the sides while at the center, the tread pattern is continuous. They work in conjecture to ensure that the sides of the Mission Command can provide extra traction by gripping better and allowing the rider to have better steering control so that trail rides are smooth.
TR: As the Mission Command is Tubeless Ready, we will be able to run a tubeless setup. This leads to better resistance from punctures and better ride control for lower pressure in the tires. An added benefit would be rolling resistance is decreased too.
Folding Bead: Kevlar is being used at the tire's side or inside the bead. Kevlar is a popular choice, where the tire's rim size is compatible with the bead type. When folding beads are being used, they offer a few advantages: i. The tire will be lighter in terms of weight; ii. We can store them easily as the tire can be flattened and folded to form a bundle; iii. Mounting a tire will become easier as beads have surplus stretching ability.
Some Weaknesses
Traction not enough for use on an e-bike.
After a few rides with the Vee Mission Command, we believe that it is better suited for amateur riders. Mission Command did well in summer, and we knew we could use them throughout the year without much complaint. We found that the tire had a tread pattern that ran throughout the structure, which effectively brought down rolling resistance. While it did not look much different at first, after a few changes the tire delivered its full potential. As we varied the tire pressure, there was hardly any self-steering while we ran a PSI rating at other times that kept the tire squishy, soft, and firm. With our extra weight, we used 12 PSI for the test runs. If you are lighter, 6PSI may just work for you. With quality outlying tread and compact center, this fat bike tire retains just the required bite while allowing faster rides on singletracks.
Vee Tire Mission Command Tire
10. Kenda Juggernaut Pro Tire:
Lightweight; Excellent flotation in the snow; Reduced rolling resistance
Kenda Juggernaut Pro Tire
Material: Dual Tread Compound
Size: 26×4.5
Weight: 1398g
Tire Type: Clincher
TPI: 120
PSI: 30
Bead: Wire
Application: Off-road, Snow, Front/Rear
Features & Considerations
Dual Tread Compound (DTC): This rubber compound here has dual tread properties, and hard but fast-rolling rubber or 60sA has been used centrally on the tread. Soft and tacky 50sA rubber has been used at the shoulder so that its grip is optimal when used off-road. With versatile speed, this fat bike tire could be used for XC, AM, and cyclocross.
Tubeless-ready: As the Juggernaut Pro is being used tubeless, the rider will be able to save some weight while rolling performance is improved.
Fast-rolling: Thanks to the setup that allows fast-rolling, the tire can get rid of You do not need to worry about whether your tire will be able to roll on the sand as it is more likely that you will glide over it.
Lightweight: While being strong, the low weight of the Juggernaut Pro has allowed the tire to exhibit better speeding abilities. Being extremely lightweight, your rides will be even smoother even when you might feel that the sand is fine enough to stop you from navigating.
Tubeless Race Casing: The casing of the Juggernaut is TR, again contributing to keeping the overall weight low. The shape of the bead has been modified here sealing is better when it is run tubeless while bringing down the weight of the sidewall too.
Convenience: You will not need to get off the bike too many times if you are navigating with the Juggernaut Pro. As a result, overall ride quality becomes better as well.
Some Weaknesses
Durability is compromised when running 120 TPI.
The Kenda Juggernaut Pro could be the lightest fat bike tire that is sized at 26×4.00. 835 grams was significantly less as we compared the weight with other models. We decided to run 11 psi for our 1st test ride so that we could get a feel of how these tires performed and also to seal the bead. As we were riding out on the trail, the tires were relatively fast, while the cornering traction was impressive too. It hooked up great as we were hitting the corners too, leaving no space for hesitations or washouts. With a higher psi, the Pro was able to deliver great performance, while holding up well again when it hit roots, rock gardens, and other obstacles.
Kenda Juggernaut Pro Tire
11. Terrene Cake Eater:
Low rolling resistance; Edgy and tall side slugs; Optional stud pockets
Terrene Cake Eater Fat Bike
Material: 62a
Size: 26×4
Weight: 1345g
Type: Tubeless Ready
TPI: 33
PSI: 8
Bead: Aramid
Application: Summer + Winter
Features & Considerations
Cake Eater: The low height of the center treads was inspired by other snow tires that ran studless. For reduced resistance to rolling, there were deeper sipps and the tall and edgy side lugs helped to bite better during corners.
Versatility: Cake Eater is offered as 26" diameter wheels, with tire widths 4" and 4.6". For wheel diameter of 27", 2.8" and 4" wide tires can be used. The latter will fit most of the bike frames available today. There are the standard and light versions too, where 33TPI is used as a casing while 120TPi is used for the light version that improves its performance.
33TPI: We are reviewing the standard version, which runs a 33TPI casing. This casing version is amongst the budget options for fat-tire bikes available in the market today.
Tire knobs: The knobs are centered and low, with less spacing between them so that rolling resistance is low too. Featuring a carbide tip, they are triple pointed and sit flush.
Flat studs: With 180 studs on each tire, they can be the deciding factor between riding and get out from the path of driveways without a crash.
Stud pockets: To ensure that the tires can provide sufficient traction as we lean over and when the bike is in an upright position, the stud pockets in the Cake Eater are distributed strategically all over.
Some Weaknesses
On softer snow, the knobs are designed to allow the rider to power up hills.
Initially, we tried out the Cake Eater on drier trails until we found some snow – for which we had to travel to the high country. The center knobs on the Cake Eater were low lying so that with minimum effort, we were able to roll fast. Despite being on the smaller side of the size spectrum, this fat bike tire was able to deliver great grips while on the hardpack. For the singletrack, Cake Eater was able to boat our confidence. During the corners, the knobs at the sides of the tire were engaging prominently so that we knew we could avoid any bleeding of momentum on snowy corners. Even though we felt a little drift, the side knobs leaped into action again – catching us so that we were back on the track. Fun, fast, and above all inspires confidence – this was the impression Cake Eater left on us.
Terrene Cake Eater Fat Bike Tire
12. Mongoose Fat Tire:
Tread pattern is more aggressive; Enhanced cornering traction; Optimized stability and grip
Sale
Mongoose Fat Tire Bike Tire
Material: Rubber
Wheel Size: 20"
Tire Size: 4"
Weight: 953g
Type: Tubeless
TPI: Undisclosed
PSI: 20
Bead: Folding
Application: Hardpack Surfaces, Sand And Snow
Features & Considerations
Mongoose Fat Bike Tire: This excellent bike tire is the go-to option for a replacement tire on your fat bike.
20" x 4" : The 20" x 4" version is a fat bike design. Specifically designed to be used with fat bikes only. This equipment had a knobby, aggressive, and tread pattern well-suited to terrains of all types.
Spec: LMongoose recommends a maximum pressure of around 20 PSI. These tires are reinforced with nylon, which is a bit low for a nylon-reinforced rubber. Also, the MG478251-2 is pretty heavy for a fat bike tire at more than three pounds per tire.
Tech: The budget price is reflected in the rubber quality – as for the 20-inch version of this tire, tod stud8s he studs can wear out within a matter of months if you spend a lot of time riding on pavement. Also, the heavy rubber means that you lose out on a fair bit of acceleration when mounting your bike with these.
Value for money: They are extremely resistant to puncturing and the heavyweight isn't an issue for most fat bike riders. If you spend most of your time on gravel and dirt, these tires can last for years, so you get even more riding for your money.
Some Weaknesses
Studs can wear down quickly on pavement.
Mongoose is a well-known maker of different bike components. One of their bike accessories from the company is this fat bike tire that seems dedicated to enabling breathtaking rides. Created to perfection, the tire was ideal for all bikes that could use 20 4 inches tires. We bid farewell to the plastic tires, as this one featured rubber material that allowed this fat bike tire from Mongoose to be durable. The high responsiveness was great in improving the overall riding comfort. If you are looking to replace your tires and do not want to break the bank, there a lot to be said about these tires. They are looking for a budget replacement for your fat bike tire and do not mind any added weight, you can consider this Fat bike tire from Mongoose. If you like riding on dirt and gravel a lot, again this tire can be a great choice as they are likely to last a long time – allowing you to put in even more rides.
Mongoose Fat Tire Bike Tire
---
A Comprehensive Buying Guide for Fat Bike Tires
1. Riding terrain
Fat bike tires are perfect for the most challenging terrains. We have mentioned below terrains that are most common for fat bike tires to be used on:
Mud: If the mud is very soft, you will be needing softer tires. Go for fat bike tires that are running low pressure while being very wide. You will be able to get just the right amount of float so that the tire does not sink in the mud. Rather, it will continue its rolling motion.
Roots and Rocks: Plus-sized Tires can do the job even on extreme obstacles like rocks and roots of trees. These tires can deal with sharp rocks too, rolling smoothly and conforming to any irregularity.
Sand and Snow: When wider tires are run at low pressure in sand or snow, there will be considerable flotation owing to the bigger contact surface area.
Ice: Studded version of fat bike tires are ideal for icy roads. Ideally, riding on icy roads calls for studded tires. These will provide you with the most grip. You also want to get wide tires for more contact surface and inflate them more to avoid skidding.
Hard Packed Trails: Narrower trails are good enough for firm trails. They will improve your speed and pedaling efficiency, while still providing more than enough grip. Think 3.8″ to 4″ tires.
Bikepacking: If you plan to go bike-packing on unknown trails, go for wider tires and be prepared for unexpected situations.
2. Tire Pressure
What should be the pressure on your fat bike tire? Without any specific pressure setting, we can only abide by fee guidelines. At the end of the day, you should be using the pressure that you deem is perfect. You should bring the pressure up and down on different types of terrains so that you know what the tires are doing in each case. Typically, rear tires should be run at a pressure that is exceeding that in the front tire by 0.5 psi to 1 psi. Between tubeless and tubular tires, the former can be used at a lower pressure. This cannot be the case on tubular fat bike tires as low pressure will lead to a pinch flat. There is a way around this issue too, where you can fill up the fat bike tire to considerable pressure and then allow air to get out until the pressure inside the tires feels perfect. Typically, you should be following the guidelines mentioned below:
Lower pressure is the "best" pressure – particularly true when riding on soft snow.
Wider tires can use low pressure inside them. This would be thanks to the fact that a more volume of air can be fit inside them.
Usually, you can find the optimal tire pressure on the sidewalls of your fat bike tire. However, we have provided an estimate that can be used.
Snow: Between 5 & 8 psi; Sand: Between 4 and 8 psi; Using them on general trails – 8-12 psi; Road, urban travel: Between 15 and 20 psi
3. Tube or Tubeless
Typically, we do not find fat bike tires that are running with a tubeless setup. Rather, it is possible to convert the system to tubeless. Now, why should we go tubeless?
You can save on weight when using fat bike tires. They have a weight that is between 450g and 500g, which is significantly lighter.
Even if the pressure inside your fat bike tire is very low, pinch flats are never an issue.
With tubeless tires, you should know what is ideal for you. There are a few sealants for tubeless tires that can be used if the temperature is sub-zero, even though it is recommended that tubular tires should be used for harsh winter rides. This is because you will be able to deal with flats on tubular tires much easier in comparison to tubeless ones.
4. Tread pattern
Here are some general principles worth bearing in mind when looking at different tire treads and knobs.
For improved traction on softer surfaces such as mud, the larger knobs on fat bike tires are most useful.
Smaller knobs are ideal for riding fast on surfaces that are hand-picked, as there is reduced rolling resistance.
As we move on to ramped knobs, they are sloped towards the front so that it is easier for them to roll. The rear side of such knobs is vertically aligned so that braking power is more.
Usually, the patterns that exist on tires have knobs at the center to separate dual row pairs on the outside.
While taking corners, the larger knobs that are outlying the tire provide the additional grip. If you see a "channel" that has separated the central and outlying knobs, the tire is more likely to have even more grip during cornering. However, this needs some time to get adjusted to.
The knobs that are at the center are smaller in size so that rolling resistance is less.
With compact knobs, the tire is more likely to perform better on surfaces that are hand-picked. However, they will clog up when used on mud.
With knobs that have more space in between them, the tire will have a better grip on loose surfaces such as mud and snow, amongst others.
5. Tire Width
Compatibility is amongst the major considerations for your fat bike tire. With the correct frame size along with width, you can ensure that the tire on your fat bike is spinning freely. If it is tight or wider than the size of your frame – performance would be compromised. As you check your rims, make sure that they are wide so that typically wide fat bike tires can be used.
Frame Size And Width – With all the fat bike tires that we have mentioned in this article, each would be needing an individual frame that has to be specific to fat bike tires. It is a good idea to measure your fat bike before you head off to buy the tire.
Rim Width – The wheel has a circular portion that is also known as the rim. Rims are usually offered for variable widths following the width of the tire.
6. Rolling Speed / Rolling Resistance
This refers to how easily the tire rolls. Some tires will have better-rolling resistance which means they roll quicker than others. This is determined by everything from weight to shape to tread pattern to the material they are manufactured from. Ideally, rolling resistance should be low so that the tire itself can move fast.
7. Tire Bead
The tire bead is the term for the edge of a tire that sits on the wheel. The edge of the tire, known as the bead of a tire, is designed to sit within a groove on the wheel. When the tire is properly inflated to the correct air pressure (each tire will specify the correct air pressure), the bead slots firmly into that groove. This holds the tire in place on the wheel.
There are two main types of tire bead:
Wire bead is a traditional bead technology – it is often heavier.
Folding beads is a more modern technology that is lighter weight. It is known as a folding bead as without the wire the tire can be folded for transport.
For wired beads, steel is used. Kevlar and Aramid are the options for folding beads but they are expensive. We also have to keep in mind that such folding tires will fall off in case of flats.
8. Tire Size
Tires come in a variety of sizes. The ones reviewed here are either 26", 27.5", or 29", which refers to the diameter of the tire. Each bike is specifically sized, and we would need to get a tire that has a specific size. You can either measure the current diameter of your tires or take your bike into a bike shop and they will be able to tell you what size it has.
9. Carcass
Otherwise known as the casing, this is the tire's fabric body that is formed as the weaves are overlapping. When the casing is more supple, the tire can undergo more lump deformation to avail extra grip. At low tire pressure settings, however, stability is less here. The more reinforced carcass offers more protection. At low pressure, even though the tire will feel more stable – comfort and weight are compromised. Lighter casings are more susceptible to punctures too.
10. TPI
TPI (threads per inch) denotes the no. of threads in the casing of the tire. With a high TPI, even though the tire for your fat bike will be supple – it is at the risk of punctures. This is mainly because thinner threads are used more in tire construction compared to thicker ones. With a low TPI, your tire will be more resistant to punctures but rolling resistance will increase. Additionally, you should check for reinforcement to your tire sidewall. As this part of the tire, the structure is less likely to be repaired, any rips or punctures here will make your tire non-usable.
F. A. Q.s
Q1. What are the advantages of using a fat bike tire?
Ans.: Fat bike tires have extensive use in real life, thanks to their practical design. We have explored below a few benefits that can be enjoyed while riding on fat bike tires.
The tires that are designed for fat bikes have the ability to deal with different types of terrains. While you can easily ride on snowy and rough roads, you can also use the tires on rougher trails, sand, and mud. With fat bike tires, you are equipped with a tire that can be used on variable types of bikes, for variable purposes. It can be used for off-road and on-road trips too.
Your fat bike tires will encourage you to frequently ride in rough terrains that you avoided previously, thanks to the perfect combo of comfort and traction. With reduced rolling resistance, any additional weight carried by fat bike tires is balanced out by how comfortable the tires will keep you during the rides.
While you are on the trail with your fat bike, the tires will allow you to enjoy comfortable and smooth-riding by absorbing the energy from homes. You must maintain low pressure in the tires here.
Increases your Skill Capacity
If you are a novice at rough cycling trails that challenge your skill, fat bike tires are the way to go. The tires have the traction that can deal with the pebbles and stones that can get under the tire by gliding right over them.
Q2. Are Fat bike tires and MTB tires any different?
Ans.: Yes, there are considerable differences between these two types of tires. Typically fat bike tires are wide, in the range of 3.8″ to 5″. Therefore both surface area and volume are larger. This is what allows fat bikes to be used at lower tire pressures. As a result, the following advantages can be enjoyed by the rider:
With a much larger footprint, the total weight on the bike( bike + rider weight) is spread across a much larger area. As a result, you can use fat bike tires to ride on snow + sand. This is not possible if a mountain bike tire is being used.
Tires that are running low pressure but higher volume are better at impact absorption when being used on more technical terrains. The rider will feel that they are floating as the tire moves over rocks and roots of trees.
Tires running at lower pressure have an enhanced ability to grip to the ground during climbs, thanks to the improved traction.
However, with an increased surface area – the tire is more likely to be affected by rolling resistance. As a result, you will not be able to conserve much energy while riding. On the road, more surface area will leave with a feeling that you are going slow.
Conclusion
Fat bike tires are best suited for unfavorable conditions. Available in different sizes, they are great for every sized fat tire bike. Therefore, you should not let terrain or ground beat you; these fat tires are the best option that is available in the market today and will serve you well no matter where you are riding – sand, snow mud, etc. We hope we have been to help you out today with our review and hope to catch you again in the future!
Related Resources on Bike Tires:
(Visited 36 times, 1 visits today)
Last update on 2021-01-11 at 23:10 / Affiliate links / Images from Amazon Product Advertising API