Mountain biking is a sport that brings a rush to your adrenaline level but also has a dangerous aspect to it. MTB riders are looking to save their brain from any sort of injury and that is why investment in an MTB bike helmet that offers good protection is always a good idea. For MTB riding, you can go for full-face helmets that have specific features and are suitable.
Full face mountain bike helmet is used for downhill riding and BMX racing which involves a lot of riding at high speed on tough terrains. They come with a chin bar and a core that is much thicker than what we find in open face MTB helmets. Manufacturers add on safety features like MIPS, dual-density cores, durable shells so that their helmets become the best full-face mountain bike helmets. As a safety, it is the main factor that riders are looking for.
In this article, we have dived into 10 of the finest full-face helmets for MTB that are available in the market. We have been able to select these helmets after primarily testing out their safety features and then focusing on additional characteristics like ventilation, fit, weight, etc. After much debate, the helmet that has taken up the top spot in the helmets that we are recommending in this article is the "Troy Lee Designs Stage" helmet. So, it has been labeled as our "Overall Best Choice".
A quick view of our selected best full-face bike helmets for mountain biking:
10 best full-face bike helmets for MTB that you can but today
In the comparison table below, we have laid down the prominent features for the 10 best full-face bike helmets so that you can have a quick overview.
| Helmet | Preview | No. of Sizes Available | Weight | Ventilation | Fit & Protection | Chin bar | Use |
| --- | --- | --- | --- | --- | --- | --- | --- |
| Troy Lee Designs Stage | | 3 | 685 g (M/L) | 25 vents | Fidlock magnetic buckle & MIPS | Polyacrilite injected + EXOskeleton | Enduro |
| Bell Super DH MIPS | | 3 | 850 g (M) | 19 vents | Fidlock magnetic buckle & MIPS | Removable & Wraparound | Downhill, Enduro riding |
| O'Neal Sonus Deft | | 5 | 1450 g (L) | 14 vents | Octo Fit + Fidlock magnetic buckle | Removable & Wraparound | Downhill, Enduro riding |
| Bell Full-9 | | 5 | 1130 g (M) | 10 vents | D-ring closure | Padded | Trail, Enduro |
| Fox Proframe | | 4 | 750 g (M) | 24 vents | Fidlock SNAP & MIPS | Patent Fox Pending System | All -mountain, Enduro |
| DEMON UNITED Podium | | 5 | 750 g (M) | 13 vents | MIPS | Fixed | All -mountain, Enduro |
| Bell Super 3R MIPS | | 3 | 784 g (M) | 23 vents | MIPS | Removable & Wraparound | Trail Riding |
| Troy Lee Designs D3 | | 6 | 1670 g (L) | 17 vents | MIPS | Removable | Downhill, Enduro |
| 7iDP M1 | | 7 | 890 g (M) | 12 vents | Plastic Buckles + MIPS | Removable | Dirt Jump, Slopestyle, Downhill, Freeride |
| H2 100% Aircraft Carbon MIPS | | 6 | 890 g (M) | 25 vents | Titanium D-Ring + MIPS | Removable | Downhill & BMX |
1. Troy Lee Designs Stage:
Full -faced  helmet for downhill MTB

 |

Overall best choice

Available in three sizes, the TLD Stage comes with a variety of pads with different densities that are interchangeable. They are used to customize the fit as there is no adjustable retention system present. You will find two-liner thicknesses (13 mm and 10 mm) which will sit over the MIPS device, two neck rolls (25 mm and 15 mm), and three-jaw pads (35 mm, 25 mm, and 15 mm). They are all labeled for easy identification. Customer convenience is important for the company to make its full-face mountain bike helmet the best.

When you have figured out what pad configuration provides the best fit, you can be sure that the helmet will stay snug on your head without any slipping or creating any uncomfortable pressure points. Most people will use goggles with the stage – that helps to make the helmet more stable. Even if the chin bar may seem a little tight-fitting, but this allows the rider to have an unobstructed view that will add to the rider's confidence. Even on long climbs and hot temperatures, this helmet seems pretty comfortable owing to the 25 generous vents and the fact that the helmet is relatively light. This helmet meets a wide variety of safety standards – CPSC 1203, CE EN1078, ASTM F1952, ASTM F2032, and AS/NZS 2063-2008. You will also find the MIPS feature inside the helmet. There will be a yellow-colored layer beneath the padding but above the foam shell. This layer is intended to move a bit in the event of an impact that is an angled/off-axis impact. As the liner shifts, it minimizes the rotational forces that reach your brain. We can find a simple chin strap that can rub against the ears slightly, and can be fixed using a convenient magnetic Fidlock buckle that is easy and quick to secure in comparison to a typical D-ring system.
The lightweight and good ventilation make the Troy Lee Stage our overall best choice for long shuttle days and enduro race – in turn, the best full-face mountain bike helmet from our perspective. We have included a sizing guide to help you find the perfect fit:
2. Bell Super DH:
A versatile & lightweight full-face helmet
The first thing you notice is that the Bell Super DH helmet uses a total of 25 vents in all. The elongated back profile means that the helmet provides more protection and we find that there is a significant amount of padding present inside the helmet. This portrays that this helmet offers more protection. The Super Dial fit system features an adjustable cradle at the back of the helmet that is easy to use and adjust. This cradle will allow you to adjust the shell in 3 positions.
The "Overbrow" ventilation works well by allowing air to slip in from the top of the forehead to the back of the skull and helps to regulate temperature. The Super DH padding is thicker and comfortable. The cheek padding is also very cushy and the package includes an extra set of pads. They snap in and out easily in case of an emergency or if they're just getting smelly and need to be washed. The soft padding does a great job of wicking sweat too, making it comfortable even during long hours of riding on hot days. Bell has employed the latest MIPS safety liner inside. This technology reduces the likelihood of skull and brain injuries by sliding the inner surface that dissipates any rotational forces that are generated in a crash. The Super DH is offered in 3 different sizes – XS/S (54-56 cm), M/L (57-59 cm), XL/2X (60-62 cm).
3. O'Neal Tactical:
Budget-friendly helmet w/ decent cooling
The O'Neal Tactical Sonus Deft is for all-terrains – including the most challenging enduro and downhill riding. Equipped with 14 vents that enable airflow to keep the rider cool with the help of the moisture-wicking liners. The full-face mountain bike helmet is designed to regulate wind and temperature which often comes in handy, especially in higher temperatures.
The helmet is compatible with air flaps that improve ventilation by preventing overheating or formation of fog. Therefore, the rider has consistent eye protection. The Sonus meets all of the EN1078 safety standards and has a lot of great features including an ABS shell, multicolored graphics for longer service life, maximum-ventilation for good air circulation, a magnetic buckle, comfortable sweat-absorbing inner pads that are removable and washable. The Sonus is very popular for being a mountain bike helmet and it is perfectly suited for students, concierge services, sports riders, and all other riding disciplines.
4. Bell Full-9:
Enduro suited helmet w/ a built-in GoPro mount
The Bell Full-9 helmet meets the ASTM Downhill Mountain Bike Racing, CPSC, and CE bicycle safety benchmarks, making this helmet one of the safest helmets available in the market. For a quick review, we can start with the specially designed Flying bridge that makes sure that the ducts are free from obstruction while ensuring maximum full-head ventilation via the helmet's internal air-channel matrix. Overbrow ventilation pulls in cool air and the Velocity flow ventilation collaborates to deviate the cool air over the rider's head using three ports that can be found on the brow of the helmet. The Eject helmet removal system and magnetic cheek pads work together so that the cheek pads can slide out and allow the helmet to be removed quickly from the rider's head to minimize the risk of any secondary injuries. The Magnefusion removable magnetic cheek pads can also be removed between for quick drying.
Considered to be the best DH or BMX helmet, we can find an XT-2 extended wear interior lining for unparalleled comfort while there is also a widened field of view that will allow the rider to take advantage of a broader vision. The Soundtrax built-in speakers are an extra feature that uses built-in speaker pockets and audio cable routing. We also have an integrated breakaway camera mount that is removable and will pop off in case of a crash so that your neck, camera, and helmet are all undamaged. There are 4 sizes available for this helmet, that are XS (53-55 cm), S (55-56 cm), M (57-58 cm), L (59-61 cm), XL (61-63 cm).
5. Fox Proframe Full Face:
Giant bore vents for circulation, Convenient magnetic fidlock buckle
The Fox Proframe Helmet is one of the lightest full-face helmets that offers good breathability. With a more streamlined design, it won't leave you with your head hanging after an all-day ride. Its low weight means that it can be used both in enduro and downhill for its  DH-level protection with the superlight shell using their patent-pending, fully integrated chin bar. Also, you will not have to experience the discomfort that comes with a hot and heavy full-face helmet.
15 Big Bore intake and 9 exhaust vents allow sufficient airflow and help breathability so that even on the longest and most challenging climbs, you do not heat up. The helmet keeps your ears and head considerably warm on cool days but does not turn you into a sweat bucket in the summer months. The highly breathable liner system is tucked into a shell that is super light and the fixed visor is securely positioned to allow airflow into the Big Bore vents. Although the visor is fixed, it does not obstruct vision and the rear molding keeps goggles straps securely positioned. Fox's Fidlock SNAP helmet buckle provides security and allows the rider to put on/take off with ease.
This helmet is equipped with the MIPS low friction layer where the MIPS has been designed and tested for angled impacts to the head. This superior protection, superior ventilation, and lightweight offered by this helmet make this a helmet that inspires confidence for all-mountain riders and enduro racers. To help you with the sizing, see the sizing chart below:
6. DEMON UNITED Podium:
Aero design, Comes with a magnetic visor
This Enduro full-face helmet DEMON UNITED Podium is very popular for tough terrains. This full-face helmet stands out due to its aesthetics and is preferred by the professionals. It is not the lightest helmet on the market, but this weight is not too noticeable while using it on a downhill track. But this might not be the case for climbing uphill. The 13 vents along with the lightweight chin bar make this helmet extremely breathable. The helmet also offers a clear angular view while allowing an optimum fit and safety for the riders.
The safety measures of the Demon Podium fulfill the CPSC regulations and safety standards. We have a shell that uses tough polycarbonate as outer material, which gives the helmet its surplus strength along with a longer lifespan. A notable feature of the Podium is MIPS brain protection. The ventilation on the Demon Podium comes with 13 air vents along the helmet body that allows sufficient air circulation to minimize perspiration and to control internal temperatures. The vent technology has plush padding that allows more comfort so that you can ride for long hours without getting tired.
The design of the helmet together with its color aesthetics makes the Podium one of the top MTB helmets. For a better fit please take a look at the sizing chart below:
7. Bell Super 3R:
Well ventilated helmet w/ plenty of room for goggles, GoPros, etc
The Bell Super 3R simply lets you take the chin bar off and store it in your pack while riding on long trails. Again when you are facing a more aggressive terrain, you can easily lock the chin bar without requiring any special tools. The helmet's design makes it perfect for all types of all-mountain ridings such as climbing slowly for a long time and making downhill rides on wide but rough trails. The MIPS system works very well to provide additional protection for angled impacts on the helmet by minimizing rotational forces.
This combination of outstanding safety, optimized ventilation, and featherlight weight of the helmet will boost your performance on any trail. On hot days, when you may want to rally along desert rocks; you want a helmet that will help you to stay cool. Bell uses brow channels, helmet vents, and chin guard vents to keep the air moving inside the helmet. These are placed strategically all over the helmet body without weakening the helmet structure. Overbrow ventilation uses intake ports that we can find on the brow of the helmet to take in cool air and pushes it via the air-channel matrix so that the rider can experience full-head ventilation. Bell uses the new Float Fit DH as for the retention system, which allows for a great amount of adjustment and is coupled with their magnetic Fidlock buckle. In addition to the improved overall protection, Bell also added small features on the Super 3R like the integrated camera and light mount-a-breakaway design. There are breakaway screws all over the helmet that can be used for emergency removal. The adjustable visor has been integrated with a wide array of googles. Also, the X-Static padding promises to allow a comfortable fit.
8. Troy Lee Designs D3:
Adjustable visor, Quality construction, Excellent ventilation system
The Troy Lee Designs D3 Fiberlite Helmet will allow you to get the best protection and features race-proven aerodynamics, comfort, and ventilation. This helmet was built to win DH races. It would serve equally good on shuttle days at the bike park or free ride as well.
It is made from a lightweight fiberglass shell that has aerodynamic properties and has been equipped with a super-efficient ventilation system. The innovative construction facilitates a comfortable feeling while the helmet is put on. You will utilize a combination of dedicated, interchangeable, and fully washable TLD cheek pads. The 3D cheek pads have a quick-release mechanism to facilitate quick removal in case of an emergency. It is very lightweight and uses a Hi-Flow multi-ventilation system with 14 intake ports located above the brow, forehead, and chin areas to funnel air through the rider's head. The 6 high-flow exhaust vents will let go of hot air inside of the helmet so that there is a circulation of cool air. We also find cavities inside this helmet that have been integrated into the design purposefully for an audio system inside the helmet. The D3 Fiberlite is perfect for professional racing as the superior design of this helmet will make sure that the rider is confident on any trail or track. It will also serve you for a long time. We have included a size chart for you below:
9. 7iDP M1:
A budget choice for the riders with a larger head
The 7iDP M1 Full Face helmet is perfect for downhill and BMX riders who are looking for comfortable full-face protection. Being a flagship model, this helmet can provide full-face protection that will ensure that the face and chin are not harmed in case of a crash or fall.
With a polycarbonate shell, this helmet comes with a large eye port that allows a broader vision. The fit is compatible even with large-sized goggles. 17 air vents have been placed strategically for allowing sufficient airflow around the regions of the rider's head for aiding long-distance climbs and fast riding. The vents are covered with a mesh material to filter out debris. Inside the muzzle, you can find thick padding that is enough for frontal protection. On top of the helmet, you can find two aluminum screws that are used to hold the adjustable peak or visor in position. The central thumb screw can be used for a flexible adjustment. The M1 peak and shell come with logos that have been screen printed and will last for a long time. The matt finish helps against scratching.
It comes in a range of five sizes, extra small to extra-large – measured as XS (53-54 cm), S (55-56 cm), M (57-58 cm), L (59-60 cm), XL (61-62 cm) – which is more than enough to fit the head of any rider. It has been tested to meet the CE, CPSC, and AS standards.
10. H2 100% Aircraft Carbon: Carbon/Kevlar composite shell and Multi-directional Impact Protection System (MIPS)

|

Premium choice
The H2 100% Aircraft Carbon helmet fulfills the ASTM Downhill and BMX standards while being compliant with ASTM, CPSC, CE, and AS/NZ bicycle standards. There is an integrated compartment that is compatible with an inflatable emergency release system, which will allow you to customize the level of safety that you want while you are riding. Working in compliance with the emergency release cheeks and adjustable visor, this popular lid has high compatibility with most neck brace systems to provide unrivaled protection from unexpected falls.
This stylish helmet uses the revolutionary MIPS technology that will allow your helmet to slide to the head, offer extra protection against rotational violence to the brain that can result from angled impacts. Carbon and Kevlar composite materials were used in constructing the shell that results in a light yet strong and rigid helmet.
Engineered using 2 shell sizes and 3 EP, the active cooling system improves ventilation by maximizing airflow. Extremely lightweight, the Aircraft DH also comes with a titanium D-Ring buckle for securing the rider's helmet in an instant as well as a durable case and integrated goggle pocket.
H2 100% Aircraft Carbon MIPS Helmet
---
Tips to buy the best full-face MTB helmet
There is a huge range of full-face mountain bike helmets that come equipped with safety features and the latest technological design advancements. These helmets vary in terms of mountain bike helmets, also vary in terms of size, weight, construction (shell + inner lining), ventilation, and comfort. They are designed to be suitable for specific MTB disciplines.
Types of MTB Helmets
Classic Helmets: The classic MTB helmets are highly sought after for being extremely light and for offering good ventilation. They provide efficient protection for the whole skull but focus less on the rider's face. This type of helmet is particularly suited for entry-level practitioners as well as cross-country amateurs.
All-Mountain Helmets: All-mountain helmets, which use the same base as classic helmets have longer rears and can offer better protection for the neck. Despite being slightly heavy – they offer a good level of ventilation and are often used on mountain roads.
Dirt-Jump Helmet: Dirt Jump helmets are heavier and often less ventilated than classic MTB helmets. These bowl helmets are better suited for street or skate-park use and can guarantee greater security and safety on the back of the skull without compromising its style. This type of helmet is greatly appreciated by all BMX-freestyle amateurs.
Full Face Helmets: Usually, these helmets tend to weigh a bit more as it is not possible to bring down the weight of this type of very complete helmet. They also protect the entire face thanks to their special shape.
Hybrid Helmets: These helmets can change form with the single press of a button. They go from an all-mountain helmet for flat-rolling terrains to an integral helmet with the addition of a chin strap, which is better suited for more aggressive downhill riding. The MTB enthusiasts can easily use these helmets in the mountains. The chin bar is removable and can be converted into a half-face helmet that can be used for different endure stages. Riders can attach it back again to form a full-face helmet that suits aggressive trails such as downhill riding for better protection and safety.
Types of Full face helmets
Full Face helmets are split into two types:
Downhill or DH helmets: Downhill helmets are similar to off-road motorbike helmets, with internal padding and a minimized number of vents.
Enduro helmets: They have better ventilation and look similar to regular MTB helmets with an extra chin guard, which can also be removed. The chin guard on these enduro helmets are well vented for making breathing easier on climbs.
1. Shell
The shell forms the outer covering full-face helmets. With standard polycarbonate shells that are found on regular mountain bike helmets, full-face helmets sometimes can also be made from fiberglass or carbon. The shell can be molded to the core and completely cover the helmet – which also includes the chin piece. Typical materials used for the shell are:
PC (Polycarbonate): This is a strong and hard plastic material that can be shaped easily to form the outer shell when heated. This characteristic makes it perfect to make helmets using in-mold or Carbontech in-mold processes.
PETG (Polyethylene terephthalate glycol): This is also a hard plastic material that is used to make the outer of a helmet. It cannot resist heat like PC and is not preferred for in-mold production. PETG does not release toxic materials when heated and has become popular nowadays.
ABS (acrylonitrile butadiene styrene): This is a plastic material with more resistance to impact. ABS performs well in cold conditions.
Carbon: Carbon makes the helmet structure stronger and can be molded into the construction.
Aramid: Some helmet manufacturers may reinforce the in-mold mountain bike helmet by introducing a framework of Aramid fibers into the central part of the helmet. The inclusion of this synthetic material enhances protection and durability in an accident.
2. Core
The core sits underneath the shell. Typically, the core is made using EPS foam. Sometimes on high-end DH lids EPP foam is used. Multi-density foam cores are also preferred for better impact protection at variable speeds. Full face MTB helmets are strengthened using additional elements that reinforce the shell designs that have additional venting. Common materials used for the core are mentioned below:
EPS (expanded polystyrene): EPS is a high-quality plastic material that has an optimal density for impact absorption and to make the helmet durable and long-lasting. EPS forms the inner lining and absorbs the most impact during a crash.
EVA: EVA is a material that boosts the ability to absorb impact and is coupled with the EPS. EVA is very flexible but also tough.
3. Fit with Straps
Full face helmets use chin straps with the fitting systems. We explore typical fitting systems in full-face MTB helmets below:
Downhill helmets: With an extensive liner that wraps around the rider's head, these helmets have cheek pads in the chin guard so that the helmet provides a better grip for the rider's head on the inside. DH helmets feature D-ring style straps that are very safe.
Enduro style full face lids: Padding is minimum, but comes with adjustable fit systems. Snap-fit buckles sometimes have a supplementary cheek pad for a better fit.
4. Liner
The padded liners of full-face MTB helmets come in direct contact with your head. If you are a frequent rider, you can go for liners that are made from materials with quick-drying, anti-microbial properties. These can also be removed and washed. Full face MTB helmets can be customized for a better fit using extra paddings that are sometimes provided with the helmet. Variable padding of different thickness is more preferred due to the better fit and comfort.
5. Ventilation
Full face MTB helmets have an efficient ventilation mechanism. Mostly, full face MTB helmets have such advanced and innovative designs that keep the level of ventilation similar to that of open face helmets. It is important to choose a helmet that will favor you in tough and hot conditions by keeping you cool and dry. Typically, downhill MTB helmets have minimal ventilation as riders will have a naturally fast speed which will automatically improve airflow. Enduro full-face MTB helmets feature extensive ventilation for both uphill and downhill travel.
It is also important to notice where vents are placed on the helmet. Vents that are closer to the brow offer convenient cooling while chin guard vents allow them to breathe easier and better. Internal airflow channels work by drawing in air and making sure it circulates inside the head to keep it cool.
6. Safety Standards
The full-face MTB helmets are used for more aggressive MTB riding such as downhill riding as they are safer and protect the head more. All MTB helmets must meet the minimum safety standards (CE EN 1078). Many full-face helmets come with thicker cores and long-lasting shells with enhanced safety features – dual density cores and MIPS. Some full-face MTB helmets meet the international ASTM standards for DH.
7. Removable chin guards
Enduro style full-face helmets are sometimes equipped with removable chin guards. This chin piece can be taken off for extra ventilation and ease of breathing when climbing uphill. Removable chin guards are less protective than fixed chin bars. A few full-face helmets that come with removable chin bars meet the ASTM DH certification.
8. Construction
In-mold PC: Here, the shell and the EPS liner are fused using pressure, heat, and steam to form the perfect shape in a vacuum before the in-mold process. In-mold construction will allow the helmet to maintain a low weight and provide sufficient protection due to the fused material. In case of a crash, impact forces will be distributed over a wider area of the skull so that risk of damage is minimized.
Carbontech In-mold: This In-mold production process uses a similar molding process like polycarbonate, but uses carbon to fuse with the shell instead. They are perfect for helmets that are designed with larger vents.
Glued: The Shell and EPS are joined together using glue to give us the final product. The shell protects the EPS liner here.
Hardshell: Injection molded ABS or PC outer shells are joined together with the EPS inner lining. The PC/ABS-material offers very good protection as it is a solid and strong material. Hard shells are most effective against outside impacts and can also offer full cover protection.
9. Visor
All full face mountain bike helmets come with a visor that will keep the sun or rain away from the rider's eyes. Adjustable visors can be put away when not required so that vision is not obstructed.
10. Goggle Compatibility
Full face mountain bike helmets have a design that is compatible with goggles. However, some goggles may work better due to their different shapes. Some full-face helmets are compatible with googles from specific brands.
11. Action camera mounts
A dedicated action camera mount will allow riders to attach their GoPro securely to their full face MTB helmets. Break-away mounts will eject the camera in case of a crash. They are considered to be very safe and reliable.
How to find the proper helmet size
Get hold of a fabric or paper tape measure if possible.
Essentially measure around the widest (biggest circumference) part of your head and the most prominent portion at the back of your head.
Note down the measurement in centimeters.
All helmets have size ranges and with your head measured it's then easy enough to find which sizing has your head size covered.
Use the picture below as a reference and use the "red line" as the widest part of the head for better measurement :
F. A. Q.s
Q1. Is it necessary to use a mountain bike helmet?
Ans.: As we know, mountain biking involves a lot of off-road cycling, where riders face downhill/uphill stages as well as stages dedicated to enduro racing. Therefore, riders want to select the helmets that will provide the best safety and protection over other features such as aerodynamic design/shape, strong material, additional features like camera mount, and of-course easy handling.
MTB helmets are usually full-face helmets and the ones that are available these days are light but very safe. Manufacturers have redesigned the traditional MTB helmets to be on the lower weight scale, with sufficient ventilation via strategically placed vents, deep-internal channeling, wider front opening, etc. Usually, MTB helmets feature visors that can be fixed or adjustable. Going a step further, some MTB helmets now have a removable chin bar that will allow you to go open face/full face – whatever suits you the best!
Q2. How often should you replace a helmet?
Ans.: Typically, it is suggested that you replace your helmet after using it for a period of 3 years. The foam padding of your helmet will be worn out after this period due to exposure to sweat, heat, etc – in addition to any other damage incurred to the helmet by crashing.
However, this is not a rule and totally depends on how you feel about your helmet and how often you use it. Look out for signs like cracks that may have formed on the foam, condition of the inner lining, shell, and so on. Manufacturers also look to upgrade on features like padding, protection technology, fit, etc on many existing models and you can look for a similar replacement. If you are involved in a crash that has compromised the inner foam, it is a good idea to look for a new one as the helmet might not be able to offer you the same protection if you get into an accident again in the future.
Q3. MIPS and other anti-rotational features of an MTB helmet?
Ans.: Anti-rotational features of an MTB helmet are explored below:
MIPS: MIPS helmets are built with an internal layer of plastic and other components such as stretchy fabric. During a crash, that layer helps keep the brain from absorbing all the rotational force that is created at the moment of impact.
SPIN: A silicone gel-like membrane into the pads that – in the event of a crash – will ensure that rotational forces are not transferred to the head and allow the EPS shell to rotate independently of the wearer's head.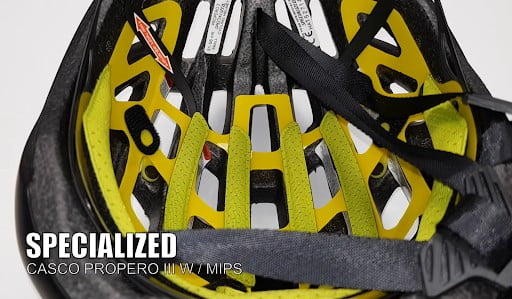 WaveCel: WaveCel is a cellular structure that supplements the traditional EPS shell. It can rotate and shear as it compresses so that it can reduce both linear and rotational forces.
LDL(Low-Density Layer): Rotational forces are addressed with Low-Density Layer from Kali, where the layer is made using strips of gel cups. The pads are mounted on top of the strips which compress, rotate, and shear so that both rotational and linear forces are minimized.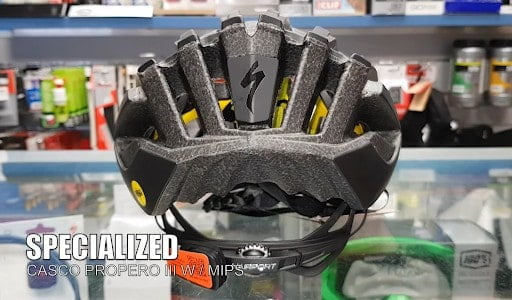 360° Turbine: An energy-absorbing material is used as implants that can be molded and are disc-shaped. They have been positioned strategically inside the helmet so that it can dissipate rotational forces while directing and deflecting impact energy, which reduces 30% head impact at concussion level. The acceleration will be also reduced to 40% to the head and brain.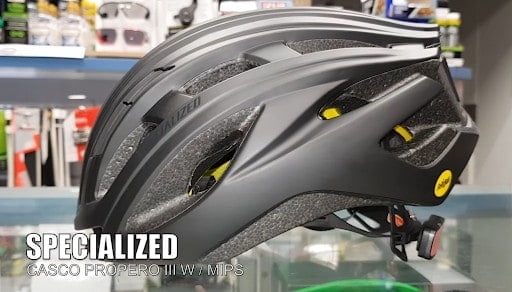 ODS (Omni Directional Suspension): Two separate EPS shells have been connected by elastomer dampers to allow the shells to float, rotate and compress independently of each other.
Q4. Why Do Mountain Bike Helmets Have Visors?
Ans.: Mountain bicycle helmets have visors for protection to the face and eyes from branches that hang low over the trails and also shield you from the sun, rain, and mud. They also deviate sand or gravel during cornering.
Q5. Full-face MTB helmets vs Half Shell MTB helmets?
Ans.: We have explored the difference between Full-Face MTB helmets and Half Shell MTB helmets using the table below:
Full-face mountain bike helmets
Half-shell mountain bike helmets
Suitable For
BMX, Enduro, and more aggressive Downhill riders
All-mountain, Trail, and Cross-Country riders
Key Features
i. Offers full coverage of the head;

ii. Consists face and a chin guard that is usually wrapped around the front of the rider's helmet
i. Offers protection for the top of the rider's head and runs down to the backside of the head. The siders finish just before reaching the ears
Pros
i. Optimum protection

ii. The rider can stay focused as the helmet cuts out any noise from the surrounding
i. Versatility allows riders to use these helmets for a wide variety of riding styles

ii. More ventilation as the chin bar is completely detached due to the simple put-on/take off
Cons
i. Usually tend to be heavy

ii. You will need some time to break into these helmets for the perfect fit

iii. The inside may be stuffy for some riders at the beginning
i. Cannot offer the same level of protection as full face MTB so should be avoided on on aggressive risky terrains
Conclusion
MTB riders should use a full-face helmet for maximum safety as the rider can have an accident at any time during mountain riding. If you are a mountain bike rider, then you should find the best full face MTB helmet for you. This will surely not be easy as there are a wide variety of products available with their different features. When riding for long durations and on trails that are rough/tricky – you can go for any of the 10 best helmets that we have mentioned in this article, where they have been picked for having the best combination of features but prioritize safety first. So you can easily go for any one of them by taking a look at the product specifications, features, and a few weaknesses that we have mentioned. We hope that you will find this article useful and enjoy safe and happy mountain bike riding!
Related Readings:
---
Article writing resources
(Visited 10 times, 1 visits today)
Last update on 2020-11-25 at 10:40 / Affiliate links / Images from Amazon Product Advertising API
Close