Home gyms are looking more lucrative as the days go by. With a nine-to-five routine, we find it very difficult to squeeze in the spare hours that might take to travel to the gym and back. Not to mention the ever-increasing costs that gym memberships incur.
But the need to stay fit and healthy is a base necessity, so where else do we look for other than the comfort of our homes?
The best workout that we can get now is the ones we can achieve at our homes, despite the limitations. To help us with that, many fitness brands have stepped up to the plate to provide us with state-of-the-art, interactive, and high-tech fitness equipment and software to make us feel like we are at the gym even at home. With user-friendly design coupled with sophisticated workout apps, like iFit, these at-home workout machines will definitely help you reach your body goals without the presence of a supervisor.
➥ If you happen to be looking for a spin bike to accommodate in your home gym, we recommend you have a look at our selection of spin bikes.
Home Gym Setup: Examining the Essentials
Setting up a home gym may sound very exciting and all, but you will have to make a few considerations before jumping into the task.
As you can very well understand, a gym typically has a few more advantages that your domestic space might be lacking. So come conscious deliberations and adjustments might be required to make your home gym inject confidence in you to build up a sweat.
Cost: Budgeting your finances is the first and most important step you can make as a consumer. Look out for brands that provide you with the services that fit your bill. If you are strapped for cash, do consider adding equipment-free bodyweight exercises to your routine. And also, going on a run for cardio never hurts, right?
Function: Setting personal body goals is an important aspect to consider. Get the equipment you need to achieve those goals. Even if you have multiple targets, you can still achieve them one-by-one.
Space: Equipment, nowadays, comes in all shapes and sizes, literally. So, it is not just your domestic space that you have to consider but also that of the equipment. You could consider portable or foldable options if you are looking at limited free space.
The Brands
With all of that deliberation out of the way, let us just dive into the brands themselves.
We have tried and tested many home gym equipment over the past year (thanks, but no thanks to the coronavirus) and have put together a list of 8 brands that stood out, not only for the quality of the equipment but also for the services they provide.
Disclaimer: Budget was not the driving force behind our choices, only superior service, and performance. If you are looking for a budget guide for home gyms, please see this article: how can you build a home gym on a budget?
1. Sole fitness
Sole Fitness is a pretty common name in the exercise ecosystem. What we like about them is their traditional approach to exercise rather than going into an innovation race, of which they have plenty of.
They provide simple machines that are user-friendly which in turn makes them very welcoming to first-time buyers or beginners.
They started as a treadmill company, providing their equipment to hotels, and are still pretty well known today. Nowadays they provide a wide plethora of exercise equipment, specializing in cardio, including an impressive line of exercise bikes and ellipticals.
Treadmills are their bread and butter and are something we can vouch for. The running surfaces of the treadmill feel great, whether you are wearing shoes or just going barefoot. They are also spacious to boot, allowing you to mix and match your form. The treadmills also have strong motors, of at least about 3.0 CHP, which is more than enough for any type of runner.
Sole doesn't skimp on flywheel weight either. All of their ellipticals and bikes support heavy flywheels for smoother operations and are paired with smooth drive systems and adjustable seats.
All of these features are covered in heavy-duty frames, boasting user weight capacities of 400 lb.
You can expect a fair price for Sole's products. Most of their machines won't go over $2000.
That price point can still be hefty for many, but to justify, Sole does provide high-quality parts for their equipment which have 5 years of warranty, with the frame having a lifetime one.
If you are someone who prioritizes reliability and performance over high-tech features, chances are that Sole Fitness is the brand for you.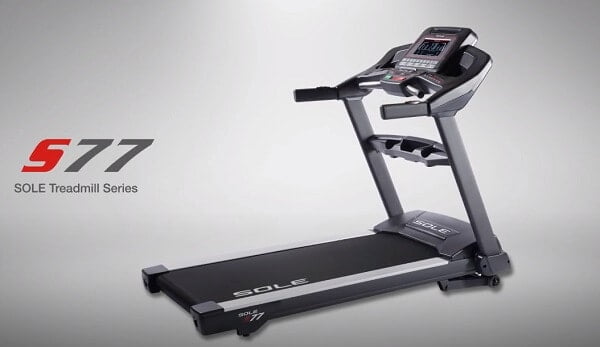 2. Nautilus
Nautilus offers a great range of home fitness products, focusing on endurance training, like exercise bikes, ellipticals, and treadmills. The motto of Nautilus has always been "producing gym-quality strength and cardio solutions for the home."
With its inception in 1970, Nautilus still looks to provide innovative fitness solutions. And with their stacked arsenal of cardio equipment, they aim to be the go-to brand that fitness enthusiasts and athletes alike look towards to take their performance to the next level.
They have also taken into account the modern software requirements that their users might appreciate or need. Thus they have created their own app to connect and save your personal workout profile and analytics. Their app also features virtual coaches to help you transition smoothly through your exercise routine.
Nautilus may seem a bit more high-spec than Sole, but they provide quality fitness equipment that you won't regret bringing home.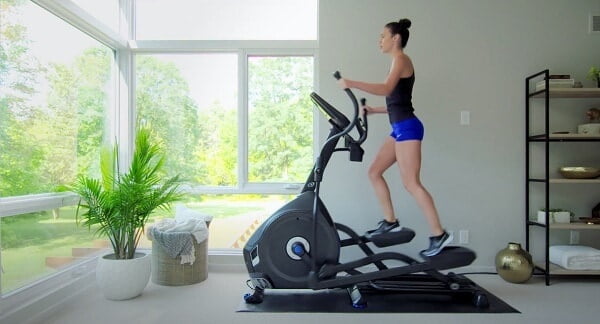 3. Bowflex
Like Nautilus, Bowflex is a name that can be easily recognized. They came under the public radar in 1986 with their unique home gym equipment that utilized their patented "power rod" resistance.
Since then they have flourished and added new categories of exercise equipment for almost all disciplines to their portfolio.
Bowflex's innovation is nothing to scoff at either. Combining multiple disciplines of exercise, their unique Max Trainers can provide intense full-body workouts. And so does our personal favorite, the Bowflex M3 Max elliptical.
You can find most of their products to be under $2000 with warranties almost as good as Sole's.
They may not have diverse models of each type of equipment, but they sure do pack a punch.
Fun fact: Both Nautilus and Bowflex are now under the Nautilus Inc. umbrella. So no matter which brand you may be preferential to, you can expect a great quality of equipment, innovations, and services from both.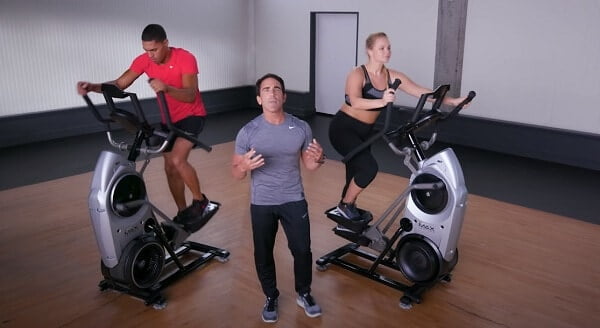 4. ProForm
If we are looking at the top shelf of exercise equipment, ProForm sits snugly in the middle.
The main takeaway from this brand is the focus on subscription services that it provides, namely iFit. To elaborate this service features virtual workout trainers in different settings. What is unique is that these trainers can take control of the settings of your equipment and customize your workout to your body's needs. Such a thing was only possible previously at gyms.
ProForm provides this service as a 3-year family membership with its machines, setting them apart from other brands. This does boost customers confidence, us too of course, in not only their services but on their equipment as well.
Our choice, the ProForm Hybrid Trainer, is an all-in-one gym packed into a not so spacious corner of our homes.
Many of their machines can be found under the $1500 price point, which is a reasonable tradeoff for the innovative and tech-savvy features it provides.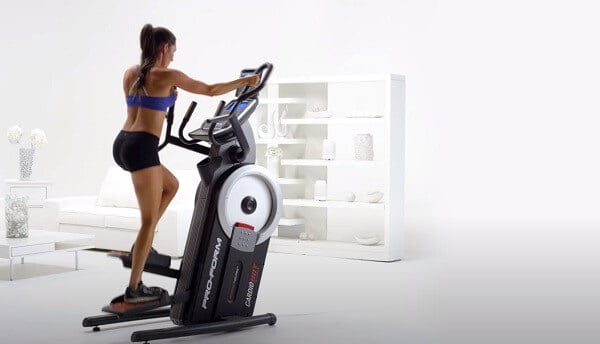 5. Rogue
We have done enough cardio for the day, now it's time to move into some strength training with Rogue.
From squat stands to the power racks, Rogue is a master of everything lifting. Wall-mounted or standalone, you get to choose what you require, for perhaps your garage, thanks to their immense selection of rigs, racks, and benches.
Coming to the home gym regulars, they offer an absurd amount of choices of barbells and all of the ads and accessories surrounding them.
As you can expect from a brand that specializes in strength and power, the frames of their racks and rigs are manufactured using high quality and heavy-duty steel parts, with their most powerful rig being the aptly named "Monster".
They may not offer much in the way of cardio, but whatever they have sure does pack a punch. Standing out in that category are their CrossFit trainers, like an air bike model, is the Echo Bike.
Whether it be CrossFit or Power Lift, with Rogue you can expect maximum gains even at home.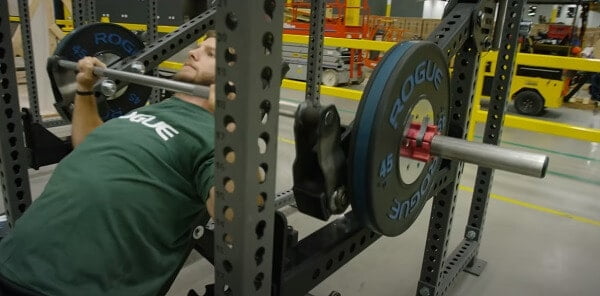 Frequently Asked Questions
Q1. Which exercise machine is best for losing body fat?
Ans.: Doing any cardio workout is the easiest way to burn calories. The science behind it is, if your net calorie burn is higher than your net calorie intake, you will be burning fat. So using cardio equipment like exercise bikes, treadmills, ellipticals, or CrossFit trainers will enable you to lose body fat.
Q2. How much will it take to build a home gym?
Ans.: Even if you are a fitness enthusiast, building a proper home gym should not break your bank. With the right research and resources, you can easily build yourself a home gym with an investment of less than $1000. Even less so if you are just starting on your fitness journey.
Here is a detailed guide to taking you through the essentials.
Q3. Can a home workout be as effective as the gym?
Ans.: Let us break this discussion down as Pros and Cons of working out at home:
Pros
Monthly fees are not required
Eliminates travel time
Budget-friendly, you can make do with basic equipment
Convenient, no queues for a piece of equipment and can be easily accessed at any time of the day
Cons
No trainers to drive your workouts so they might be inefficient
You may have an incorrect form in your workouts without supervision
Can become boring as you might be training by yourself
Limited choice of equipment, unless you are willing to spend or have space
Since most of the cons are dependent on your preference, so if they do not bother you, the pros can easily override downsides and your home workouts can prove to be effective.
Final Words
We have examined five of the most sought-after brands of gym equipment by both home and commercial gym owners alike. Understand that this article only serves as a guide, not a path that you have to follow. We have discussed our opinions based on our own experiences.
But we believe that we have helped you to get a better understanding of the brands themselves and the promises they keep. And we hope that your eyes fall on the brand stamps before the price tag next time you are out there getting ready to perk up your own home gym.
Read More