Whether you want to practice cycling indoors during the winter months to stay in shape for the upcoming season or you just want to get a good workout instead of riding your bike in the busy streets, an indoor bike trainer is always worth it! However, choosing one to suit your own personal preferences, your riding style and most importantly your bike can be quite an arduous task. But there is no need to worry. In this article, you will find everything you need to know to make your next bike trainer purchase!
We have searched both online and offline for the top home bike trainers out there in the market and have successfully compiled our very own list. We have tested the trainers ourselves and we can guarantee that you will find what you are looking for in our article. So let's get right to it!
Out of the 12 finest home bike trainers, we have picked the Wahoo KICKR Core Smart Bike Trainer as our Overall best choice because of its superior technology, silent operation, and realistic performance.
A quick view of our list of the top home bike trainers:
12 best home bike trainers you can buy today
Trainer
Preview
Best For
Trainer Type
Resistance Type
Dimensions
Folded Dimensions
Weight
Score
Wahoo KICKR Core
Road & Mountain Bike
Direct-Drive
Electromagnetic Resistance
20" x 23" x 19"
9" x 23" x 21"
40 lbs
95
Garmin TacX Neo 2T
Road & Mountain Bike
Direct-Drive
Electromagnetic Resistance
22.6" x 29.5" x 21.7"
24.4" x 10.2" x 17.3"
47.4 lbs
93
Tacx Flux 2
Race, Triathlon & MTB
Direct-Drive
Electromagnetic Resistance
26.4" x 25.3" x 18.1"
Not Foldable
52 lbs
91
Feedback Sports Omnium
Race, Cyclocross & MTB
Roller Trainer
Rolling Resistance
25.75″ x 7.25″ x 8″
14 lbs
90
Vivohome Bike Trainer
Road & MTB
Wheel-on Trainer
Electromagnetic Resistance
19.7" x 21.5" x 15.7"
19 lbs
88
Elite Arion Foldable Roller
Road & MTB
Roller Trainer
Rolling Resistance
55.5" x 19.5" x 6.3"
28.7" x 19.5" x 8.7"
7 lbs
86
Sportneer Bicycle Trainer Stand
Road & MTB
Wheel-On Trainer
Fluid
Resistance
25.2" x 24" x 7.9"
24.25 lbs
86
CycleOps H3
Road & MTB
Direct Drive
Electromagnetic
Resistance
31" x 19.5" x 18.5"
3" x 19.5" x 18.5"
47 lbs
85
Alpcour Bike Trainer
Road & MTB
Wheel-on Trainer
Electromagnetic Resistance
23.5″ x 19.5″ x 8.5″
20.2 lbs
84
Saris CycleOps Fluid2
Road & MTB
Wheel-on Trainer
Fluid Resistance
20″ x 22″ x 7″
21 lbs
84
Elite Suito
Road, City & MTB
Direct Drive
Magnetic Resistance
29.92" x 22.04" x 19.48"
22.04" x 5.90" x 19.48"
31.96 lbs
82
CycleOps Hammer
Road, City & MTB
Direct Drive
Magnetic Resistance
31" x 19.5" x 18.5"
8.5" x 19.5" x 18.5"
47 lbs
80
1. Wahoo KICKR Core: Whisper Quiet Performance, Provides Smooth & Realistic Rides

|

Overall Best Choice
The Wahoo Kickr is one of the best home bike trainers you can buy right now. It is built with very advanced technology and engineered to provide the best performance. The assembly process of this trainer is very straightforward and simple. This trainer comes with the Wahoo Fitness App. The app will provide you with all the instructions you need to set this trainer up. It will also show you how to connect to other third-party apps. This app will also offer you a trial membership with The Sufferfest which provides personalized and interval training. This bike is not just about fancy technology features. It is also built to last. The high strength steel construction will allow you to ride as hard as you want without feeling any instability. It will also last for years even if it is met with heavy use. So if you are in the market for a new smart home bike trainer, this is the best one you will get!
Wahoo KICKR Core Smart Bike Trainer
2. Garmin TacX Neo:
Powerful Trainer, Offers Comfort, Less Noisy, Has Tacx Training Plans
Yes, the Garmin Neo is a little too expensive but trust us when we say that it is worth every penny. Its build, technology, and performance are just top-notch. It will provide you with the ultimate road riding feeling, especially if you use the Tacx software or also Zwift. These apps will enable your trainer to vibrate when it simulates different types of road surfaces. Also, get ready to take your climbing skills to a whole new level. This trainer inclines up to a 25% gradient to offer you the most practical experience ever. It is incredibly reliable and provides accurate measurements when it comes to power, cadence, and speed. So get this home bike trainer and take your riding skills and fitness towards massive improvement today!
Garmin TacX Neo 2T Smart Trainer
3. Tacx Flux 2:
Provides Good Performance, Has High Measurement Precision & Compatible w/ Applications
Tacx Flux 2 is an excellent choice especially if you are new to direct drive trainers. It is very easy to set up and use. The smartphone app is also quite straightforward and will allow you to control the resistance of the trainer. The quality of the trainer and its features are absolutely great at such a competitive price point. It is well-built and will make you feel secure while you ride your bike. The flywheel is 7.6 kg in weight and the trainer has 8 Permanent ferrite magnets & 8 electromagnets which makes its performance extra smooth and efficient. And if you are planning on using Zwift for interactive training and VR videos, then this is really the perfect trainer for you! It will keep you motivated and prevent boredom while riding your bike indoors.
The only downside of this trainer is that it is not foldable and so it can be a bit tricky to store it or put it aside after use. However, it is not that big in size and will not take up a lot of space. So do you want to try out a new direct-drive smart trainer? Get this now!
4. Feedback Sports Omnium:
Lightweight Design, Features Patented Technology, Requires Less Maintenance
The Feedback Sports' Portable Trainer is a great choice whether you want to train at home or take it with you on your race day to warm up before the race. It will definitely be perfect for you if you want to travel with your trainer. You can simply fold it into a compact shape and pack it easily in the heavy-duty travel bag that comes along with the package. You will not face any trouble while checking in at the airport and placing it in the overhead cabin on the plane is a piece of cake. Also, you might be thinking whether the trainer can remain stable while being so light. We can assure you that not only can it handle your intense riding but it can also provide incredible resistance despite its size and weight. Also, it is much more affordable than the magnetic and fluid trainer options out there. So if you are not really into smart trainers and just want a solid, well-performing trainer that is also easy to carry around, then this is the best you will find right now.
Feedback Sports Omnium Portable Trainer
5. Vivohome:
Sturdy Bike Trainer, Easy to Use, Stable & Secure
The VIVOHOME is a robust and user-friendly bike trainer. It can be easily folded and therefore you can carry it with you or even store it conveniently. It is suitable for people of all age groups. So your whole family can train or workout using it. Setting up this bike trainer is an easy task. However, we would like to give you a tip to make your experience even better. After mounting your bike on the trainer, put the resistance unit up against the rear tire. After doing that, just turn the knob to fit it tightly. This will make the resistance setting much more effective and efficient. This is the most affordable bike trainer from our product selection. So you will be getting an amazing trainer without spending too much money. Get this home bike trainer today and enjoy it with your whole family!
6. Elite Roller:
Lightweight Unit, Features Parabolic Rollers, Offers Wireless Connectivity
The Elite Arion will provide you with the ultimate satisfaction. This roller trainer comes fully assembled so you don't have to waste your time setting it up. You can mount your bike on it and start riding immediately after you receive it. You may find it a bit overwhelming if it is your first time with a roller. However, there is nothing to worry about as you will get the hang of it very quickly. This trainer will make you a better rider and you will see a great improvement in your riding skills such as maintaining balance, pedaling, etc. Other than performance this roller trainer also delivers on comfort and will make absolutely no sound with road tires. It is built with glass fiber reinforced polyamide, so don't let its weight fool you. Despite the ultra-lightweight, this trainer can keep you stable as you ride as fast as you possibly can. So if you want to get ahead on your next race, get this roller and train at home!
7. Sportneer:
Compact Design, Provides Smooth & Durable Performance
The Sportneer Bicycle Stand is a solid and sturdy trainer. It comes with everything you need for a productive riding session. The front-wheel block really helps to keep the bike level while riding. Also, the accessory bag comes in very handy when you are traveling with your trainer. Most road bikes don't make noise on trainers but you always hear people complaining about the noise that comes with MTB bikes. Well, you won't have that problem with this one. We tried both a mountain and a cyclocross bike and the noise was very minimal. So no matter what kind of bike you want to ride with this trainer, you are good to go!
Sportneer Indoor Bicycle Training Stand
8. CycleOps H3:
Smart Trainer, Offers High Performance Accuracy,  Sensorless Measurements
The CycleOps H3  will provide you with one of the most realistic outdoor riding experiences while staying indoors. It works very smoothly and in a very quiet & calm environment. The resistance settings are just top-notch. It is not too much and neither too low. It is just the perfect amount. Adjusting the resistance is also very convenient and it has an effect immediately. The Bluetooth connects almost instantly which is not the case with many indoor bike trainers out there. Also, the quality of this product is very high. It is made in the USA and so it maintains a certain standard. So if you are looking for a magnetic resistance home bike trainer, this is the best that you will find right now.
CycleOps H3 Smart Bike Trainer
9. Alpcour:
Robust Design, Provides Superior Magnetic Technology, Serves Optimum Safety
The Alpcour Bike Trainer is an amazing product that is available at an amazing price! If you are someone who can't wait to try out something new once they get it, then you are in luck. You can start using this trainer as soon as you get it. It has a very simple set up that will not require any additional tools and takes just 10 minutes to get it up and running. Also, this bike is all about convenience. You can fit any type of bike on this trainer and that too without any effort. We were very pleased with how easy it was to mount and dismount a bike. You can lock the rear wheel to the trainer in seconds thanks to the quick-release skewer. Adjusting the resistance is also very straightforward as you can do it while riding your bike. There is a resistance adjusting remote that can be attached to your handlebar, and so you can just pick your preferred level by turning the knob. This is a fantastic home bike trainer that will surely make it worth your while!
10. Saris CycleOps Fluid2:
Excellent Trainer, Features Low Noise, Has Patented Design & Adjustable Levelers
The Saris Fluid2 Trainer is a new and revamped version of its previous model. We must say that the company has done a stellar job! It is made in Wisconsin, USA, which means that it meets the highest standard and quality. The build is solid and frankly quite impressive. It has a precision-balanced flywheel system that will really make you feel like you are riding on the road. Also, the precisely machined alloy wheel that comes in contact with your rear tire is very smooth and therefore prevents slippage and reduces tire damage. When we tested it out we were amazed by how stable it was. Even while standing the bike nor the trainer seemed shaky or unstable in any way. Although this trainer is perfectly compatible with road and mountain bike tires, we recommend that you use a trainer tire for more convenience and save your bike tire for the races.
Saris CycleOps Fluid2 Indoor Bike Trainer
11. Elite Suito:
Pre-Assembled Trainer, Has Compact Size & Sensorless Technology
The Elite Suito is a piece of tremendous indoor cycling equipment and it is especially great for first-time users due to its ease of use. Its performance is truly impressive. It provides an extensive power interval with approximately 2.5% accuracy. Also, if you are climbing, you are in luck. This trainer can incline up to 15% to provide an excellent climbing simulation. The knocking sound is not really an issue as you can listen to music or watch TV just fine while riding your bike. The design of this home bike trainer helps it to stay stable. It has a robust steel frame, a smooth belt drive, a wide base, and height-adjustable feet to provide you with a steady and balanced performance. If this is similar to what you are searching for, you should get it while it's still available!
Elite Suito Interactive Trainer
12. CycleOps Hammer :
High Quality Design, Features Minimal Noise Level & Impeccable Performance
The CycleOps Hammer is a very well-built indoor cycling equipment. Everything from its design to its quality plays a key role in providing the best performance. You can get your speed and power-related data directly from the trainer. And to ensure the accuracy and timing of these data, the trainer is equipped with internal cooling technology. So no matter how aggressive or intense your workout is, you can be confident that you will receive the correct metrics of your performance. This bike trainer also has a very wide footprint due to its foldable legs and this ensures stability. You will also receive a front-wheel tray to keep your bike level and balanced while riding. Also, the best part about this trainer is that it is a direct drive trainer. This means your actual bike tire will be safe from any type of wear and tear. Also, direct-drive trainers make your ride more steady and efficient due to the absence of the rear wheel. This trainer will provide you with a very quiet and effortless ride. Also, the firmware of your trainer will always be up to date as it will be automatically updated through your Bluetooth devices. Therefore, you should definitely consider this home bike trainer as a prime choice for your indoor cycle training.
---
Buying Guide: Home usage bike trainers
Types of Home Bike Trainers
Now that we know about the best home bike trainers available in the market. Let's learn a bit more about bike trainers, how they work, and about their major features.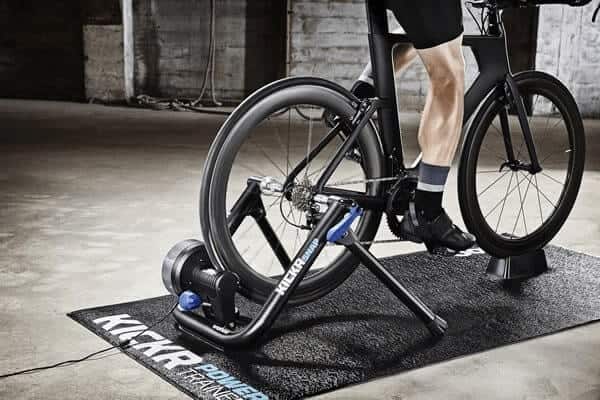 Image Source: wheelandsprocket.com
In this type of trainer, you set up the rear wheel of your bicycle on it. The wheel is securely attached to the trainer and the wheel is put up against a roller that moves and manages the resistance. Wheel-on trainers are mostly found in entry-level models. They perform really well and a lot of the latest models are equipped with wireless connectivity, fitness app compatibility, and can be folded into a more convenient size.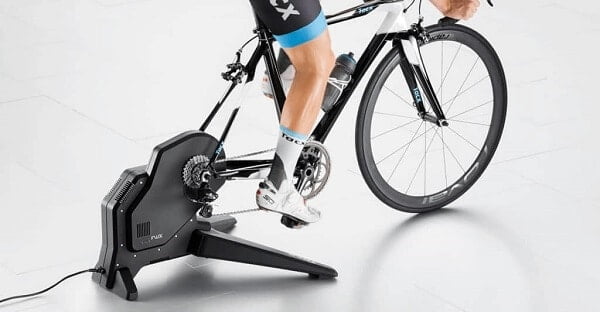 Image Source: indoorcyclingtips.com
Direct-Drive Trainers are different in the sense that you have to remove the rear tire from your bicycle and link the drivetrain to the resistive unit of the trainer. Direct-drive trainers are more advanced. They are more secure, efficient, and realistic than wheel-on trainers. This means they also generally come with a higher price.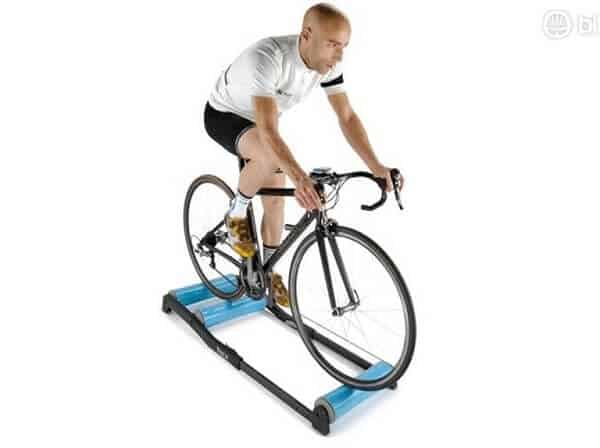 Image Source: bikeradar.com
Roller trainers generally come with three rollers. You place your bike on these three rollers and start pedaling. As the bike wheels turn, so do the rollers, and that's how the trainer produces resistance. Roller trainers are harder to ride on and require a certain level of expertise. On the other hand, you will become a much better rider by using a roller trainer.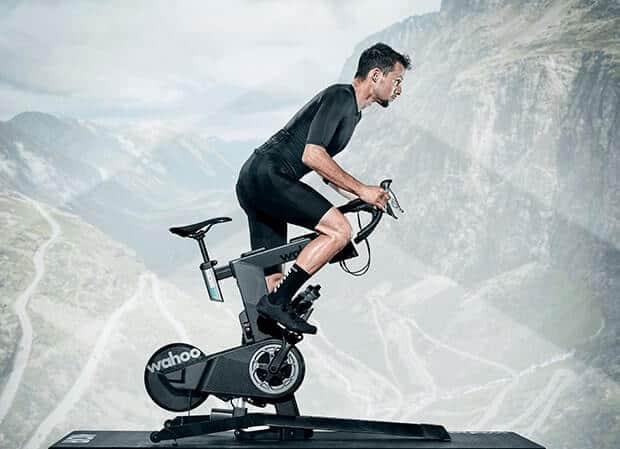 Image Source: slowtwitch.com
Bike Simulators are high-end bike trainers. You don't need to use your bicycle for these trainers as they offer the whole set. They are by far the most realistic indoor trainers in the market. It offers everything you can think of. High-end technology features great adjustability and is built with durable materials.
1. Types of Resistance
There are different types of resistance available on home bike trainers. They are:
Fluid Resistance: systems utilize a hydraulic matter to produce and maintain the resistance. Therefore, the resistance level depends completely on how fast or slow you are riding.
Magnetic Resistance: consists of magnets in its flywheel system. As these magnets move closer or further from each other, the resistance becomes higher or lower according to the movement. This resistance can be controlled by the user, either manually or by using a remote or an app.
Wind Resistance: systems are equipped with a fan. As you pedal, the fan turns and generates the resistance. So, whether the resistance is high or low depends on the speed of the fan.

Image Source: infolific.com
2. Technology
This is probably the most important factor for customers due to the availability of advanced technology in almost all the latest models. As a result, the technology features are the main deciding factor. These technology features include smart sensors that track your performance metrics such as power, calories, speed, distance, and cadence. Also, a lot of trainers feature wireless connectivity through Bluetooth or ANT+ and trainer apps such as Rouvy, Zwift, and many more. These apps will allow you to ride using fitness programs, videos, and interactive training. The latest social apps also enable you to compete or just casually ride with your friends and family in the virtual world.
3. Compatibility
You should make sure that your bike is compatible with the trainer before you purchase it. If you don't you might regret it later. You never know, your bike might be bigger or smaller in size than your new roller trainer. Or your road bike might have a larger rear wheel size than what your wheel-on trainer can accommodate. Therefore, it is always a good decision to know what type of bike your new trainer can be suitable for before you make your final decision.
4. Noise Level
Even though all manufacturers try to minimize the noise level as much as possible, some bike trainers still make a significant amount of noise. This will especially be an issue for you if you have family members or even if your neighbors live close by. If that is the case, then you should opt for trainers with a roller, fluid, or magnetic resistance as they make less noise compared to a bike trainer with a wind resistance system. However, if you are going to ride your bike in a garage or somewhere secluded, then you can go for a wind resistance trainer as it will be much cheaper than the other trainers available.
5. Price
Price is the most important factor as it decides what you will actually buy. A typical wheel-on trainer lacking smart features is the most affordable choice. This will be perfect for you if you just want to give indoor cycling a shot or are planning to use it temporarily. But, if you want a trainer with smart features and advanced mechanism then a direct-drive trainer will be the optimum choice for you. However, the price will be a lot more compared to a wheel-on trainer. Last but not least, bike simulators are priced the highest among all the other trainers as they are equipped with much more sophisticated technology and does not need an additional bike to use it with.
F. A. Q.s
Q.1 Are indoor bike trainers worth it?
Ans.: Yes, indoor bike trainers are definitely worth it! You can ride your bike indoors while experiencing the same feeling you get when you ride it outdoors. It will help you maintain your riding skills when it's not possible to ride outside and it also helps you get some great exercise. They are also quite durable and do not require a lot of maintenance. You should watch the following video to learn more about indoor bike trainers:
Q.2 Are smart bike trainers bad for your bike?
Ans.: Not at all. Smart trainers are very popular these days due to their advanced and convenient features. As long as you attach the bike to your smart trainer properly and are conscious about the fact that some motions of the bike will be different on the trainer than that on the road, you are good to go!
Q.3 Can you change gears on a bike trainer?
Ans.: Yes, you can adjust the resistance by simply changing the gears on your indoor bike trainer. In previous models, you would have to do it manually. However, now you can change it using a handlebar-mounted remote or even using indoor cycling apps on your smartphone. Some smart trainers even provide the option for your set racing conditions and simulate racing with your friends in real-time.
Q.4 Can you put a mountain bike on an indoor trainer?
Ans.: Yes, you can use a mountain bike on your trainer. With that being said, you should remove the rear tire and set a slick tire to enjoy better and noiseless performance. Unlike road bike tires which can be used as it is, mountain bike tires sometimes generate noise and friction on an indoor bike trainer.
Conclusion
We will consider ourselves successful only if we were able to inform you about something you didn't already know and add value to your cycling life. We hope we were able to do that through this article. Please do all the research you can before purchasing a brand new indoor bike trainer. A good indoor bike trainer will aid you in reaching your cycling goals. Thank you for reading this article. Take care!
Related Bike Trainers
---
Useful Resources:
(Visited 24 times, 1 visits today)
Last update on 2020-11-30 at 06:20 / Affiliate links / Images from Amazon Product Advertising API
Close