Ensuring that your head and neck are protected should be of utmost importance as you navigate along the rough and challenging trails on your mountain bike. The occurrence of a crash is very common as you're mountain biking. So, this is exactly why you should make no compromises while shopping for a mountain bike helmet. Comfort and safety should be of utmost importance for you while choosing an MTB helmet. Some other features that you should look out for when getting yourself a mountain bike helmet are the fit-system, number of vents, the shell material, type of liner for impact, type of padding, impact protection technology, and safety standards. We have individually tested out several mountain bike helmets after having consulted with many avid MTB enthusiasts and professional cyclists.
We chose the Giro Chronicle Helmet as our Editor's Overall Best Choice product. Throughout the progression of this article, we shall be providing you with an in-depth analysis of all our carefully hand-picked MTB helmets. We are very confident about the fact these reviews will help you to choose the helmet that will thoroughly fulfill your needs. While at the same time, it will help save you a lot of time in the process. We shall be reviewing a total of 12 of the best mountain bike helmets along the course of this article.
A quick view of our selected best mountain bike (MTB) helmets in the market:
12 of the best mountain biking helmets that offer the best performance and supreme comfort
Helmet
Preview
For Type of Riding
Gender
Weight
Dimension
Fit-System
Vents
Visor
Padding
Giro Chronicle
Mountain, Trail, Enduro, Cross-country
Unisex
1.80 lbs
16" x 11" x 9"
Roc-Loc 5
14
POV Plus Visor
Extra-plush Coolmax padding
Giro Fixture
Mountain Biking, Trail
Unisex
0.67 lbs
16" x 11" x 9"
Roc-Loc 5
18
Removable
Fast-drying padding
Bell Super 3R
All-Mountain Biking, Trail, Enduro
Unisex
1.73 lbs
14" x 10" x 11"
Float fit
23
Goggle-guide & Adjustable
Antibacterial, Odor-resistant & Fast-drying
POC Tectal
Mountain Biking, Trail, Cross-Country, Enduro
Unisex
0.74 lbs
(XS & S),
0.81
(M & L),
0.86 lbs
(XL & XXL)
18" x 10" x 8"
Strap adjustment-system
15
Adjustable
SPIN gel-fitted padding
Giro Tremor
Mountain Biking
Unisex
(Kids)
1.50 lbs
15" x 10" x 8"
Roc-Loc Sports
18
Removable
Fast-drying padding
Giro Montara
Mountain Biking, All-Mountain & Trail
Unisex
0.88 lbs
15" x 11" x 8"
Roc-Loc 5 Air
16
POV Plus Visor
XT2 Anti-microbial, Hydrophilic X-Static padding
Troy Lee Designs A2
All Mountain, Enduro, Cross-Country & Trail
Unisex
0.69 (Youth), 0.75 lbs (Medium/ Large), 0.81 lbs (Extra Large)
15" x 10" x 10"
Rear-Stabilizing
13
Available
Anti Odor Extra-padded & X-static Washable
Troy Lee Designs Stage
All-Mountain Biking, Trail, Enduro
Unisex
3.10 lbs
14.75" x 10.5" x 12"
Fidlock Magnetic Buckle System
25
Adjustable
Anti-microbial, Odor-reducing, Fast-drying, Neck-rolls, Cheek-pads, X-static padding
Smith Optics Forefront
Mountain Biking, Cross-
Country, Enduro, Trail
Unisex
1.90 lbs
12.5" x 10" x 7.5"
VaporFit Adjustable-Fit
21
Removable & Adjustable
X-static padding
Smith Optics Forefront 2
Mountain Biking, Cross-Country, Enduro, Trail
Unisex
1.96 lbs
13" x 10" x 8"
VaporFit Adjustable-Fit
20
3-Position Adjustable Visor
XT2-static anti-odor padding
Giro Cartelle
Mountain Biking, All-Mountain & Trail
Women
0.80 lbs
16" x 11" x 9"
Roc-Loc 5
14
POV Plus Visor
Coolmax Exceptionally-Plush Wadding
POC Axion
Mountain Biking, Trail, Cross-Country, Enduro
Unisex
1.78 lbs
16.25" x 9.75" x 8"
Strap adjustment-system & 360 ° size adjustment system
15
Breakaway Visor
SPIN gel-fitted wadding
1. Giro Chronicle MIPS:
Offers Good Performance and Well Protection against Rotational-impact, w/ Adjustable Visor & Compatible with your Goggles, Sufficiently Ventilated, Adjustable Tension, Perfect for Mountain Biking

|

Editor's Overall Best Choice

Giro's Chronicle bicycle helmet is the perfect choice for mountain biking and trail riding. The Chronicle has quite a similar design to that of Giro's Montaro. The Chronicle offers you deep and considerable coverage. With its Roc-Loc 5 fit system, you will be able to effortlessly dial in the required tension and make one-handed adjustments of the vertical position. You can accommodate your goggles within this helmet by raising the visor and position it within the front side. Like many other helmet models of Giro, the Chronicle is also equipped with Cool-max padding, it will ensure you with optimal comfort throughout your rides. The Chronicle is CPSC certified.

Universal fit Size Chart for Giro Helmets
2. Giro Fixture MIPS: Offers a Modern Design, Well Ventilated, W/ Fast-drying Padding, Protection from Rotational-impact, Has Removable Visor, Equipped w/ Roc-Loc 5 fit-system, Ideal for Trail and Mountain Biking

|

Editor's Overall Budget Choice
If you're looking to buy one of Giro's bicycle helmets that are economic and offer superb quality then the Fixture should be an ideal choice for you. Like all of Giro's bicycle helmets, the fixture will offer the latest MIPS technology. It is also sufficiently ventilated, consisting of a total of 18 vents, that are prudently placed on the shell. These vents work efficiently to let out warm air and help to push in cold air. The Roc-Loc 5 fit system makes sure that this helmet fits your head perfectly. You can make necessary micro-adjustments to fine-tune the tension to the point where you feel comfortable. You can remove the visor on this helmet when and if you require to do so. This helmet has good aesthetics, the rear end, it is not too pointy, it is rather flat and well ventilated. It is comfortably padded and has a quick-drying feature.
3. Bell Super 3R:
Full-face helmet, Adaptable, Sturdy and Durable, Wraparound and Removable Chin-bar, Designed with eyebrow and chin-bar vents, w/ Goggle-glide feature, Has Adjustable Visor and Consists of Camera Mount, Fast drying Padding, Consists of MIPS technology, Perfect for All-Mountain Biking, Trail, Enduro riding
The Bell Super 3R is an economical choice of mountain bike helmet. Given that this is a full-face helmet and the number of features this helmet has to offer, means it is worth every penny. Some of its notable features include the float-fit retention system. The 3R has a total of 23 helmet vents, 6 chin-vents, and 4 brow-ports, making this the perfect helmet when it comes to keeping your head, scalp & face cool. You can make adjustments to the visor to accommodate your goggles & glasses. The design of this helmet is very durable. You can easily attach and detach the chin-bar on this helmet as you please. It also has MIPS technology, a poly-carbonate upper shell, quick-drying X-static padding, detachable camera mount, and EPS liner. Overall this has everything you can possibly ask for in an MTB helmet.
Universal fit Size Chart for Bell Helmets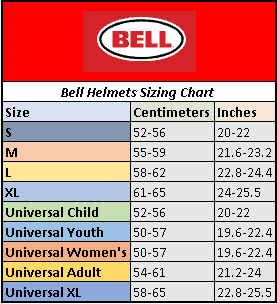 4. POC Tectal:
Well Ventilated, Offers Good Protection, Lightweight, Equipped with Spin-Technology, w/ Premium Gel-fitted Padding, Big-dial for Effortless Fit-Adjustment, Easy One-handed Usage, Good Shock-Absorption, Ideal for Mountain Biking Sessions
This is POC's award-winning helmet and consists of many useful features. This helmet is constructed from a unibody shell. It will also serve you with outstanding protection and supreme ventilation. One feature that stands out on this helmet is its SPIN, patented technology. This helmet will serve you with the perfect combination of good design, very good construction, while at the same time provide you with the perfect blend of performance, coziness, and good fit. Another noteworthy feature on this helmet is the aramid bridge system. So, this system will enhance overall structural-integrity. Also, there is a fortified EPS-liner. The uni-body other PC shell construction is very durable. Hence it will serve you with optimal durability. The weight of this helmet is also quite less compared to the helmets of other brands. The vents on this helmet are very carefully designed and consist of 15 Vents & has a unique ventilation system. The ventilation on this helmet is optimized by carrying out a procedure known as the tunneling testing.
Universal fit Size Chart for POC Helmets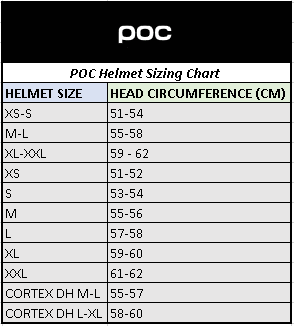 5. Giro Tremor:
Stylish, Comfortable, Easy-to-use Fit-System, Good Breath-ability feature, Fitted with a Removable Visor, Uses Multidimensional Impact Protection Technology, Ideal for Mountain Biking for Kids
The Tremor, like Giro's other helmets, also uses the MIPS technology. It helps in redirecting angular energy and provides protection during impacts. It also has a molded EPS liner foam. This liner and the durable Poly-carbonate shell will serve you with well-rounded protection of your head from impacts. You can remove the padding on this helmet and clean it if required. This padding also has a fast-drying feature and keeps away sweat and bad-odor. This is a helmet that is specially designed for children and they can grow pretty fast. Hence, this helmet has been equipped with a Roc-Loc sports fit-system. This will help your kids to make easy adjustments to the tension and provide them with a secure and comfortable fit. This helmet has a universal fit, so you won't have to worry about buying a newer version of helmet every year.
6. Giro Montara:
Good Cooling Capability w/ 16 tunneling vents, Hydrophilic, XT2 Antimicrobial padding, Roc-Loc Fit System, Has Breakaway Camera Mount, Sleek Helmet perfect for Mountain Biking
The Montaro has a close-packed shape, it is capable of serving you with deep coverage. A Roc-Loc Air system on this helmet will ensure rear and front adjust-ability and serve you with a superior fit. There are a total of 16 vents on this helmet, brow pads soaks in the sweat. The Montaro is designed to accommodate your goggles/ glasses. There are straps for enhanced grip. A POV plus visor allows you to lift the visor up or down. One standout feature of this helmet is its camera-mounting feature. It will hold your camera and this mount will break away upon impact.
7. Troy Lee Designs A2:
Comfortable, Offers Good Performance, Has Extended-Coverage, w/ MIPS low-friction liner, Twin-Density EPS & EPP foam-liner, Deep Fit, Odor-resistant, Very Well-Ventilated, Perfect for All-Mountain and Trail Riding
This bicycle helmet has different layers of foam targeting various levels of impact speeds. Also; within the front portion, there are additional ridges of polystyrene. So this sticks up, beneath the shell, acting as the preliminary line-of-defense from any potential and substantial hit during crashes. The accommodation of a number of features and materials do not affect the ventilation on the A2. This helmet keeps your head cool. The interior pads within the helmet are comfortable, it accommodates your head and forehead providing you with the cushioning that you desire. These pads soak in your sweat. The A2 used MIPS Technology. This technology reduces rotational-motion and cushions your brain from any injuries during crashes. This helmet isn't the lightest, because it is fitted with many features to offer you necessary protection. The A2 has a very suave construction and design. It is equipped with 25% Deep Interior Heat Channels and Larger Exhaust-ports. Thanks to the 13 vents on this helmet, it will keep your head cool. The twin-density EPS Co-molded & EPP layers of foam underneath the outermost shell are fortified with filaments.
Universal fit Size Chart for Troy Lee Designs Helmets
8. Troy Lee Designs Stage:
Full Face Helmet, Has a Sleek Design, Lightweight, W/ Removable Chin-bar, Offer Superior Comfort and Protection, Equipped w/ Dual-Density EPS & EPP inner foam-liner, Extremely Well Ventilated, Perfect for your All-Mountain Riding Adventures
This is the ideal full-face MTB and enduro compatible biking helmet. It offers the perfect blend of security, sleek design, comfort, and breath-ability. Troy Lee Designs Stage will give you a bicycle helmet that has it all. The stage has twin-density EPS & EPP liner that helps in cushioning your head from any impacts. You can get to pick out your ideal size from Extra Small/ Small, Medium/ Large, Extra Medium variants. The fidlock magnetic buckle mechanism will secure your chin and head without making you feel uncomfortable. It has a whopping 25 vents positioned throughout the helmet. The upper shell of this helmet is made from Poly-lite Shell which is further secured by the usage of additional fiber. You can make adjustments to the visor on this helmet. You can also remove the chin-bar. There are also very big openings within the chin-bar that will keep your face cool during journeys. This helmet has neck-rolls, cheek-pads, and sufficient padding. X-static padding on this helmet will offer you anti-microbial and anti-odor features. It dries out quickly even if you sweat heavily. The Stage also has a reflectivity feature to serve you good visibility. To top it all off, this helmet uses MIPS technology. It has also passed CPSC 1203, CE EN 1078, ASTM F1952, ASTM F2032 & AS/NZS 2063-2008 certifications.
9. Smith Optics Forefront:
Comfortable, Lightweight, Durable, Well Ventilated w/ 21 vents, Uses Durable Koroyd Technology, CPSC certified, Ideal for Mountain Biking
The EPS liner soaks in and reduces rotational impact energy, making sure that you do not suffer from any concussion during crashes. A very durable Poly-carbonate shell-material dampens a huge-chunk of the hit from crashes. These helmets pack in a colossal 21 vents, these are strategically placed so that air flows in all the time, as you navigate along challenging and technical terrains. The VaporFit mechanism is capable of serving you with superior fit and comfort. You can efficiently dial-in the necessary tension required for the ideal fit. It is capable of providing you with as much as 5 cm of rotational adjust-ability. This specially designed wadding is designed with very fast-drying materials, it is made from silver-fibers. The padding is odor-resistant and makes sure that fungus and bacteria do not grow on it. The Koroyd technology causes the cores of the Koroyd layers to get crushed in such a way that it decelerates the energy that is accumulated during impacts.
Universal fit Size Chart for Smith Helmets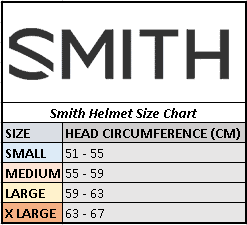 10. Smith Optics Forefront 2 MIPS:
Lightweight, Provides Superior Resistance from Impacts, Uses Koroyd Technology, w/ Fore & Aft Channel for Eye-wear storage, Equipped with 3-position Visor, Uses MIPS, Perfect for Mountain Biking
The outer skeleton of the Smith Optics Forefront 2 is designed using Aero-core in-mold material. This is a newer version of the Smith Optics Forefront. The new design means the rear of this helmet has a much deeper structure. You can adjust the visor on this helmet using the 3-point adjustment mechanism. This enables you to place your goggles by lifting up the visor. The Koroyd honeycomb feature is used on the rear as well. This helmet also consists of a MIPS lining. The front section of this helmet has channels for air intakes, which keeps your head aerated. The straps on this helmet are lightweight. There are 2 portion X-Static bacteria resistant liners on top of the MIPS liner. The Koroyd cores are situated on top of the MIPS liner. The Forefront 2 has been cleverly designed with an impressive 20 Optimized Zonal AirEvec Vents. This Koroyd-honeycomb channeling system is well ventilated. You can make adjustments to the VaporFit retention device using the small dials. The dial is coated with rubber material for easy grip and to adjust the tension easily for an ideal fit.
11. Giro Cartelle:
Offer Good Protection, Comfortable, w/ Goggles accommodating Visor area, Designed with MIPS technology, Perfect for All-Mountain & Trail Riding
This helmet has a lightweight and durable outer-most PC shell. It is well-ventilated thanks to the 14 vents on the helmet. The Cartelle also accommodates your goggles. You can lift-up the visor to position your goggles/ glasses in the fore-front of this helmet. It has Cool-max padding, this also has a very good wicking feature. The helmet is designed to be ultra-plush. It will be able to provide you with optimal levels of comfort throughout the entire day, even as you venture along the most challenging terrains. Giro has used the MIPS technology on this helmet. So, this will largely help in deflecting energy from upon impact.
12. POC Axion Spin:
Comfortable, Secured, W/ Sufficiently Ventilated Uni-body Shell, Uses Shearing Pad INside Technology, Affordable Price, Ideal for Mountain biking
POC Axion is an ultra-lightweight and a well-ventilated MTB compatible helmet. You can also use this helmet for your enduro and trail riding adventures. POC is well known for using the SPIN technology on its bike helmets. The Axion also has superior coverage on the back and temple. Thanks to the very efficient SPIN technology, there is a very durable inner layer. This is gel-like padding that is perfectly positioned between your head and the EPS liner. The helmet is able to move in a range of directions if you get into any crashes. This helps in dispelling slanted and gyrational impacts. The EPS liner also helps in soaking in the force during any collisions.
---
Buying guide: Mountain Bike Helmet
To begin with, you should definitely consider wearing a helmet when riding your bike. When it comes to mountain biking, we recommend you to definitely wear a helmet that will protect your head from potential head injuries if you fall off the bike as you navigate along technical terrains. If you compare the design and structure of helmets that are made for mountain biking to that of smaller-sized road bike helmets, then, you will notice that MTB helmets offer greater protection and comfort. It is better that you take all precautions while cycling in order to prevent any injuries on your neck or head.
Types of MTB Helmets
MTB Helmets can be categorized into two types, these are:
Half Shell
Full Face
Below, the advantages and disadvantages of using half shell and full-face MTB helmets have been shown.
Half Shell
Pros:
It is lightweight.
Ideal for use in flat terrains.
More ventilated than full-face variants.
Extends down the back of your head to provide protection from rear impacts.
Cons:
No face protection.
Sits on top of your head.
Offers lesser protection compared to full-face helmets.
Full Face
Pros:
Ideal for high risk and downhill terrains.
Offers greater protection than half-shell variants.
Wraps all around your face, to protect the jaw and skull.
Cons:
It is heavier.
Is less comfortable.
Not suited for recreational riders.
The features that you should be looking for in an MTB helmet
You should take note of the weight of your chosen helmet. So that it does not weigh too much, to the point where it makes you feel uncomfortable during your rides. Since you will have to put on the helmet for hours, therefore, if it's too heavy then it will end up putting too much stress on your head and neck. This is something that is never desirable. We have reviewed some lightweight bicycle helmets such as Smith Optics Forefront 2.
The liner is the material on the interior. This is undoubtedly the most crucial component of any bicycle helmet. The liner has the capability to absorb energy during your rides. So, there are shocks that result during your journeys, so what this liner does is, it absorbs the energy that is accumulated during potential impacts. Hence, it provides the necessary protection for your neck, skull, and brain. EPS is the most renowned type of material used on the liner of your bicycle helmets. The Expanded Polystyrene foam is used at the center. This material is very light-weight and can also be molded effortlessly.
Image Source: multisportmojo.com
For lessening the damage to the EPS foam. There is an outer-shell material on all bicycle helmets. This outer-shell is usually made from a Polycarbonate Shell. The manufacturer may decide to construct this shell as a one-piece or use multiple pieces.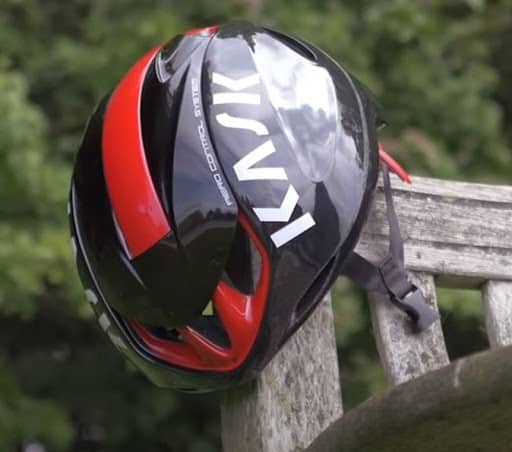 A vast majority of the bicycle helmets are equipped with a retention device. This device is a very minimalistic band with a tension adjustable dial attached to it. So, all you need to do is, rotate the dial in order to increase or decrease the tension according to your requirement to have the ideal fit.
Vents are strategically placed throughout the helmet to ensure that your head and scalp remains cool during your riding sessions. These vents help cool air to enter the helmet and ensure that warm air leaves the helmet through the exhaust panels usually situated on the rear-end. Different types of helmets are designed with varying numbers of vents. Therefore, if you ride along very warm weather conditions, then look for helmets that are designed with more vents. As the greater, the number of vents, the more aerated will your head and scalp be. Some of the very well-ventilated bike helmets that we have reviewed are Troy Lee Designs Stage Full Face and Smith Optics Forefront.
Safety feature/ Impact protection technology:
One of the fundamental features of a bicycle helmet is the level of safety. Along with the progression of time, with the introduction of newer impact protection technologies have been developed. This includes MIPS, SPIN & Koroyd, etc. We shall be discussing these, below.
MIPS (Multi-Directional Impact Protection System) was one of the very first advanced impact protection technologies that were developed. There is a slip-plane lining in-between the pads and the foam within the helmet. Therefore, this revolves and slides in order to divert the force elsewhere from your head and brain. This is a very renowned Impact Protection Technology that will offer you superb dependability on your journeys. Some well-known manufacturers that use MIPS, which we have reviewed here include the Giro's Chronicle, Fixture, Tremor, Montaro, Cartelle, Troy Lee Designs' A2, Stage, Smith Optics' Forefront 2, Bell's Super 3R.
Image Source: https://www.charlesowen.com/
The video below explains the MIPS helmet technology.
This technology SPIN (Shearing Pad INside) was developed by a Swedish company POC, one of the best main rivals of MIPS. SPIN uses a slightly different system to that of MIPS. SPIN has used a combination of synthetic-padding & gel-based substance. So, this ensures that there is regulated motion during the course of an impact. We have reviewed POC's Tectal, Axion.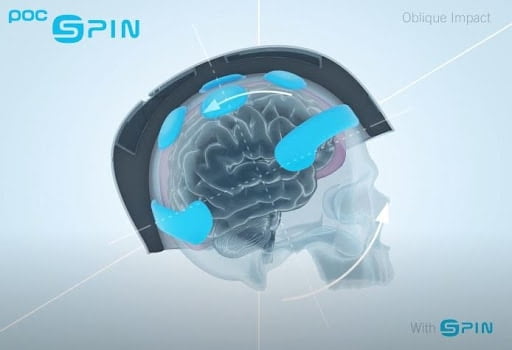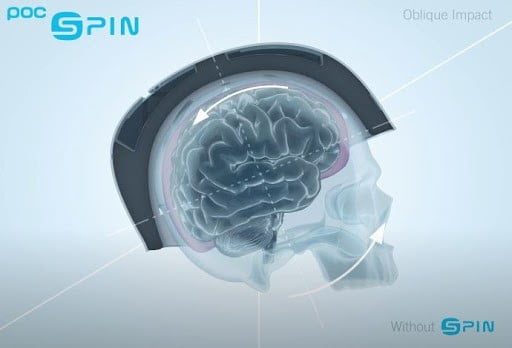 The video below explains how SPIN technology works.
This is a technology that has a mesh-shape that flawlessly blends in with your head. Hence, it helps in evenly dispersing the energy during an impact. Koroyd has been designed using tubes from materials that have been fused together. Thus, they have decided against using glue which might have oxidized or dismantled.
The video given below demonstrates the Koroyd Helmet Technology.
For absorbing your sweat, keeping your head and scalp cool, and making you feel comfortable the padding on the helmet of your choice should have the right amount of thickness and compactness. If you get yourself a helmet that has thicker padding, then you may feel a bit hot and sweat when you're wearing it. However, it will feel more comfortable as you put it on your head. There are specially made channels within the padding, so this will help the padding to dry fast and enhance the overall flow of air.
This is also known as the peak. This ensures that the sunlight is kept out of your eyes. Visors can be detachable or adjustable, so you can easily make necessary adjustments to ensure that it doesn't restrict your field of vision. There are a lot of MTB or enduro compatible bicycle helmets that would provide you accommodation for your goggles.
Bottom Fasteners/ Straps:
Some helmets are equipped with straps that run all the way along with your ears to underneath your chin. We advise you to look for helmets having thinner straps. Because this will make you feel more comfortable. Also, look for many clips for secure adjustments, this will guarantee you the ideal fit.
F.A.Q.s
Q1: What exactly is the MIPS technology and is this an important technology to have on your bike helmet?
Ans.: MIPS, the full form of this is Multi-Dimensional Impact Protection System. A number of MTB helmets use this technology. Helmets that use the MIPS technology have an additional layer that is designed from a light plastic material. This layer is situated on the interior and it comes in contact with your scalp when you put the helmet on. This layer ensures a couple of millimeters of movement during an impact. This specific technology is claimed to help in reducing the possibilities of a whirling brain-injury. You won't find all brands of bicycle helmets to be equipped with this technology. Some well-renowned brands of helmets that use this technology are Giro, Troy Lee Designs, and Smith.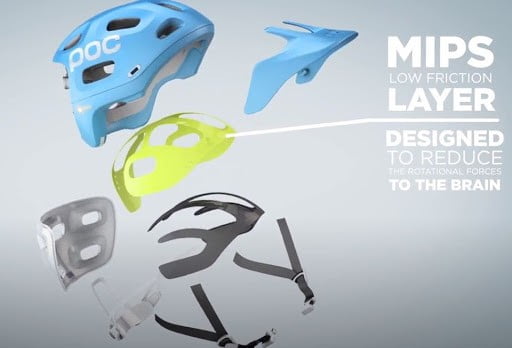 The video below demonstrates what MIPS technology does.
Q2: When can I be sure that it is the right time to get myself a new helmet?
Ans.: It is advisable that you replace your older helmet with a new one, after every three years. However, the durability and endurance of bicycle helmets vary for different brands. You should check whether your helmets look a little worn out or if fasteners look a little tattered, then it may be the right time to get yourself a new helmet. However, if you get into a crash or if you drop the helmet from very high up, then the EPS designed on the helmet would get damaged because it is manufactured to go through a single impact. Therefore, you will be required to replace the helmet straight away.
Q3: Would it be advisable to get equipped with a full-face helmet when I go for mountain biking?
Ans.: We advise you to choose a helmet based on the type of riding you do and one that is comfortable. A vast majority of mountain bikers prefer wearing a half-shell, open-face bicycle helmet. Because this will ensure that you will feel more comfortable. However, full-face bicycle helmets will serve you with more security. So, it boils down to you, whether you need a helmet that offers better protection or comfort.
Q4: Is it possible for me to use a road biking helmet when I go for mountain biking adventures?
Ans.: There are a number of cyclists who use helmets designed for road-biking for their mountain biking sessions and that is perfectly okay. However, in the case of mountain biking, we advise you to buy helmets that are particularly made for mountain biking. Because this will suit the requirements of cycling along the challenging and long terrains.
Q5: How can I be sure whether a bicycle helmet is too compact for my head?
Ans.: As you're wearing the helmet, if you feel as though it puts too much pressure on your head, in that case, you would be sure that it is a bit too small for you. We always advise you to go take the proper measurement of the circumference and size of your head, always refer to the size chart before getting yourself a helmet.
Q6: What sort of safety standards or certification should I be looking for when getting myself a mountain biking helmet?
Ans.: Helmets are put through rigorous testing and once they pass the necessary safety directives it is certified by the Consumer Product Safety Commission (CPSC). Then you'll be guaranteed with the safety for using that specific helmet. You should keep in mind that the main purpose of using mountain biking helmets is to ease the impact during a crash. A helmet won't in any way avert an accident from taking place. It also makes sure that helmets don't end up hindering your vision while at the same time ensuring that the helmet remains securely on your head.
Another form of certification is Conformité Européenne, short-form being CE. This is the safety standard that is issued to helmets that are manufactured in European regions. This certification is provided to helmets after putting them through rigorous testing procedures.
The other very well known certification that is issued to helmets is the Australian & New Zealand standard, in short AS/ NZS for helmets to be issued with this certification, it is required for it to soak in sufficient energies upon any crashes. The helmet should also be able to disperse the load and have a good quality retention-system so that the helmet remains firmly and securely attached to your head.
Q7: How would you describe the protection from impact against rotational-motion?
Ans.: There are certain materials that are used as lubricants during the process of manufacturing these helmets. The components are placed between the helmet's shell and your head. This ensures that oblique impacts from any accidents are minimized. Also, due to the incorporation of this technology, any rotational-force that is attained upon impact is also vastly reduced. These rotational-forces are efficiently deflected which would otherwise have been transmitted into your brain. One of the advanced impact protection technologies is MIPS. We recommend you to choose certain brands of helmets such as Giro, Smith, and Troy Lee Designs a vast majority of their models of helmets use the MIPS technology. This will ensure your safety during the impacts.
Conclusion
You will find a wide selection of mountain bike helmets to choose from. Also, there are many different styles and models of helmets, but you need to pick out the one that you feel is best suited to your riding style and a helmet that you will feel comfortable with. All in all, it is mandatory that you pick out an MTB helmet that offers optimal protection, one that preferably uses MIPS or SPIN technology. Moreover, it should have the necessary safety standards, such as the CPSC, CE, and/or the AS/ NZS certifications. We have gone through months of rigorous and thorough testing of many mountain bike compatible helmets and we narrowed down and reviewed the ones that performed best out of all of them. So, we are very confident that the reviews that we have provided in this article will help you to pick out the ideal mountain biking helmet to suit your needs.
Related Bike Helmets
---
Useful Resources
(Visited 1,726 times, 1 visits today)
Last update on 2020-11-27 at 01:50 / Affiliate links / Images from Amazon Product Advertising API
Close