Riding a bicycle is a joyous experience for any child, but being a parent – you are bound to be concerned for their safety in case they fall. Especially if you are teaching your toddler to ride a two-wheeler – it is vital that you equip your toddler with appropriate protective gear and there is no way you should skip the helmet. Even 3 or 4-wheels bicycles may not have enough stability to prevent it from tipping over, and you can always make using the helmet a "golden rule" when riding.
Manufacturers today not only focus on helmet construction and functionality features on toddler helmets to put parents like you at ease, but they have also opted for using designs and attractive colors that will catch the eye of the toddler and add additional interest to put the helmet on. There are toddler helmets that can be used for other activities as well, such as skateboarding, rollerblading, etc, which is an additional benefit.
The most valuable characteristics of the finest toddler bike helmet are the amount of safety they offer, in addition to helmet fit comfort. With the wide range of products available in the market – picking the best one for your child may be confusing. This is where we can help you. In the article below, we have analyzed 12 of the top bike helmets for your toddlers with their most beneficial features "Giro Scamp Youth Helmet" is our "Overall Best Choice" as it packs all features that we find on the best adult bike helmets, but in a smaller package for your infant.
A quick view of our list of some of the finest toddler bike helmets for your kids:
12 best toddler bike helmets that you can buy today
| Helmet | Preview | Size | Weight | Flat Back | Construction | Visor | Use | Product Score |
| --- | --- | --- | --- | --- | --- | --- | --- | --- |
| Giro Scamp Youth Helmet | | XS ( 45–49 cm); S ( 49–53 cm) | 251 g( Size XS ) | Yes | In-Mold polycarbonate shell with EPS liner | Built-in | Balance bikes to training wheels | 96 |
| Raskullz Mohawk Toddler 3+ and Child 5+ Helmets | | Age 5+ 50-54 cm, Ages 3+ 48-52 cm | 331 g( Ages 3+, "T-Rex Bonez") | No | PVC shell with EPS foam | No | Cycling, Skateboarding | 96 |
| Ouwoer Kids Bike Helmet | | 48 - 54 cm ( Size S); 54-57 cm ( Size M); 57-61 cm ( Size L) | 388 g( Size M) | Yes | ABS shell with EPS foam | No | Cycling, Mountain biking, BMX biking, Hiking, Camping, Rock climbing, Scooter, Skating, Skateboarding, Street dancing | 92 |
| Joovy Noodle Helmet | | XS-S (47-52 cm);S-M (52-56 cm) | 224 g( Size S ) | No | Hardshell with solid foam | Extended | Bikes,Trikes, Ride-on cars, scooters, bike trailers, and other activities | 94 |
| Schwinn Infant Bike Helmet | | One Size (44 – 50 cm) | 295 g | Yes | Lower molded shell with EPS & 360-degree internal padding | No | Infant biking, Trailers, Bike seats, Cycling | 94 |
| Schwinn Classic Kids Helmet | | Infant (44 – 50 cm); Toddler ( 48 - 52 cm) | 272 g( Toddlers Age 3+) | Yes | Lower molded shell with EPS & 360-degree internal padding | Built-in | Backyard & Park riding | 94 |
| Bell Sidetrack Child & Youth Bike Helmet | | Universal Child (47-54 cm); Universal Youth (50–57 cm) | 299 g( Universal Youth ) | Yes | In-mold polycarbonate shell with EPS foam liner | Snap-in & Detachable | Trails, Bike parks | 92 |
| Bell Frozen Toddler Bike 3D Tiara Helmet | | Toddler(48-52 cm); Child(52-58 cm) | 318 g(Size Toddler) | Yes | Hardshell construction with EPS foam liner | No | Biking or Skating | 92 |
| Razor V-17 Youth Multi-Sports Helmet | | Youth( 56-59.5 cm; Age 8-14); Child ( 55 - 57 cm; Age 5 - 8) | 454 g | Yes | Thick outer shell and EPS foam | No | Biking, Skating, Scooter Riding | 94 |
| TurboSke Toddler Bike Helmet | | 48 cm - 52 cm | 249 g | No | In-Mold polycarbonate shell with EPS liner | No | Biking, Skateboarding, Roller skating, Inline skating, Rollerblading, Scootering, etc | 90 |
| Bell Infant Sprout Bike Helmet | | 48 cm - 52 cm | 255 g | No | Microshell and PVC with EPS and interchangeable foam pads | No | General toddler biking; Bike trailers; Road cycling | 94 |
| DaCool Kids Helmet Pad Set | | 48 cm - 54 cm | 544 g (including the weight of additional protective gear) | No | PVC shell padded with Soft EVA material | Back reflectors | Ice Skating, Roller Cycling, Skateboarding, Hoverboarding, Biking, Cycling, Skating, Rolling, ATV, BMX, and other extreme sports | 90 |
1. Giro Scamp Youth: Best overall kids' helmet

|

Overall Best Choice
Giro Scamp Youth Recreational Bike Cycling Helmet is offered in sizes S and XS sizes and the high-quality materials used here have made it our best overall choice. The small fit is perfect for children with a head circumference of 49-53 cm, and the extra small (XS) fit – children with head circumferences of 45-49 cm, that can be worn by a 12-month baby as well. It is designed purposely for general recreational cycling.
The Scamp comes in a wide choice of child-appealing colors and the lightweight design means your kids' will keep it on even after a ride. The in-molded shell and interior foam lining construction allow the helmet to have smooth edges to endure even the harshest weather. The Giro Scamp features the Roc. Loc. Jr fit system, that effortlessly wraps around the child's head and uses a large rubberized knob to adjust the helmet vertically for a comfortable fit. We also find 8 large vents that allow proper airflow within the helmet. The inner padding has sweat absorption properties, which further aids in a dry head even after a long hot ride. It is equipped with a standard/traditional buckle type. The flat body at the rear of the helmet means your child's head will not be forced forwards when it hits the back of the seat when riding in a bike trailer or bike seat. The Scamp is one of the safest kids' helmets dedicated to ensuring no head injuries in case of crashes. See below for a Sizing Chart:
2. Raskullz Mohawk:
Best Kids' Bike Helmet for Boys
The Raskullz Mohawk can be the ideal helmet for boys — as it will easily catch their eye due to the cool looks. The 5+ designs sometimes use light-up 3D fin mohawks made from thermoplastic rubber that can be illuminated with 5 LED lights using a button located on the helmet's rear, to show a steady light or a flashing sequence. The other design from Raskullz Mohawk has 3D rubber tips that are 2" long and have bright themes that are popular amongst kids like "T-Rex Bonez", "Pirate eye patch" themes. The weight of the rubber material used here is almost negligible, so the helmet does not become heavy.
Mohawk's PVC outer shell has six egg-shaped vents on the helmet top. They ensure that your child's head will not get sweaty even after wearing the helmet for a long time. For the inner shell, Raskullz has used expanded polystyrene (EPS) adhered to a soft cushion that will improve user comfort and protect against crashes. The product also uses nylon straps for a snug fit and can be adjusted with ease. Before joining the ends, The 5+ helmets are recommended for kids 5-8 years old, with head circumference (50-54 cm) and 3+ helmets should be favored by kids between the ages 3-5 years old, with heads measuring 48-52 cm. We have included a sizing chart for you below:

Raskullz Mohawk Toddler 3+ and Child 5+ Helmets
3. Ouwoer:
Multi-Sport kids' helmet
This OUWOER Kids helmet is a helmet designed to meet the standards of CPSC and EN 1078. It means that your child can use this helmet for various outdoor activities, ranging from cycling (all types of bikes) to skating and scooting.
Fit wise, this helmet uses 2 sets of inner pads of varying thickness to find your kid the best fit. The chin-straps can be adjusted, which ensures that the helmet will not get snug. Besides, the Small size can be adjusted from 48-54 cm thanks to the crank adjustment dial found at the helmet's rear end. The use of an ABS shell protects against hard impacts and the quick-release chin strap buckle is easy to use. Despite the heavy-duty construction seen here, the helmet does not feel heavy. It works to provide a cool and comfortable feeling to your child all day long. There are 7 different color options to choose from, depending on your toddler's favorite: Black / Blue / Gray / Orange / Pink / Red / Yellow-Green, and can be used by both a boy and a girl.
4. Joovy Noodle:
"Budget" kids' helmet
Noodle helmets by Joovy have been designed exclusively for the smallest members of society. The Joovy Noodle comes in two distinct sizes — Little (47 — 52 cm) and Moderate (52 — 56 cm). They feature extended coverage for extra protection, especially for 1-year-olds and toddlers. These trendy, lightweight helmets are perfect for children between ages 1 to 9 years of age. The 8 shades available make this helmet very attractive.
This helmet has been designed with 14 cooling vents that are mesh covered to protect against bugs. The flatback design adds enough padding at the rear end of the helmet for toddlers to rest their heads. The visor is elongated so that it can provide complete protection to the head, forehead, and eyes while riding. The helmet comes with nylon straps that are user-friendly and is using a buckle that will not pinch the skin of your child. You can adjust the dial fit that according to your kid's head. This CPSC stamped helmet is sleek and made for tough use so that it is very durable. The internal pads are using a high-quality, sports performance fabric that will work to wick sweat away from your child's helmet. There is a second, smaller pad at the back of the helmet that has been attached to the dial to adjust the system. The Joovy Noodle may be a basic, affordable helmet, but it's one of the favorites for toddlers and young preschoolers.
5. Schwinn:
Best kids' bike Helmet for Infants
The Schwinn Infant Bike Helmet is very cool-looking. It offers 360-degree interior padding with optimized comfort and safety for your child. You will also want to buy this helmet for its amazing ventilation via multiple flow vents. This helmet features 6 such vents. So, even if it is humid – you need not be worried. Now, it is always a matter of concern whether a helmet would fit the little head or not. This is where you will be further pleased by the dial fit feature that will pull the helmet securely onto the head. So, no matter how large or small the baby is, you will find the helmet nicely adjustable.
You will also like the lower shell of this product as it has been perfectly molded. This ensures that the rear end of the helmet is extended for additional protection. This helmet is adjustable for children head circumferences between 44 cm & 50 cm, ages 0 – 3.
6. Schwinn Classic:
Best eye-catching design for kids' helmet
The Schwinn Kids Bike Helmet comes in seven different color designs, Pink Carnival, Purple Crazy Owl, Plue Happy Hippo, the red/white/blue plane design along with the simple Teal, Blue, and Pink design. To keep your toddler cool through all seasons, this helmet uses ten vents across the top of the head. This system is coupled with an integrated built-in visor that protects you from the sun.
To ensure a comfortable fit, this helmet offers a dial easy fit retention system. This retention system ensures 100% adjustability. We also find a full shell design that has a low profile and provides additional coverage for the rear of the helmet. The Infant size will fit kids in the age range of 0-3 years and the toddler size is for ages 3+. The typical sizes for such age ranges are 44 – 50 cm & 48 – 52 cm. The "space-ship" flat back design makes the helmet attractive. Quite spacious, this helmet can be adjusted and is actually wearable even for babies as long as the circumference size is suitable. Overall, this is another artistic toddler helmet from Schwinn that will keep your little rider safe on the road. We have included a sizing chart for you below:
7. Bell Sidetrack:
Best "Mountain Bike-Style" kids' helmet
Designed with the look and feel of a mountain bike helmet in mind, the Bell Sidetrack Child & Youth Bike Helmet is an extremely safe helmet. We find an in-mold polycarbonate shell, where the rear of the outer shell falls lower on the head of your child. So the helmet can be used for serious riding( competitions, MTB riding) by your child. The Sidetrack is offered in two sizes – Child (47 cm – 54 cm) and Youth (50 – 57 cm). As there is a 4 cm overlap, a child with a head circumference of 50 – 54 cm can easily use both the helmet sizes.
The Sidetrack features Bell's fit and adjustment system called Ergo-Fit. This is a one-size-fits-all system that uses a single button and a rotating dial to adjust for the perfect fit. This can be done with one hand only, so the system is easy to use. It accompanies only one set of pads and a colorful snap-on visor made using pretty hefty plastic. This is attached very securely to the helmet's body. The buckle here uses plastic (no magnetic buckle here) and the straps are pretty basic. At 299 grams for the Youth, the Sidetrack is a pretty standard weight, even with the extra coverage in the back. You can go for the MIPS version of this helmet for added protection.
Bell Sidetrack Child & Youth Bike Helmet
8. Bell Frozen 3D Tiara:
Best kids' helmet for toddler girls
The excellent safety features on this helmet have been crowned with a dazzling blue tiara that will make your daughter feel like a snow princess! There is the picture of Queen Elsa on one side of the helmet and Princess Anna is on the other side. It has been designed with a hard-shell that will absorb impact in case of a crash.
This 3D tiara kids' helmet has multiple air vents( 4 vents for Size Toddler ) to provide ventilation for ample cooling on those hot summer days. High-impact reflectors are included to ensure visibility and keep your princess safe. Comfortable padding and a chin strap with pinch-guard, plus that awesome tiara, make this kids' helmet one your child will be very eager to wear. Suits head sizes of forty eight-fifty two cm, ages between 3-5. This great looking helmet is CPSC 1203 bike compliant, and also features extended rear coverage for the added protection for your child.
Bell Frozen Toddler Bike 3D Tiara Helmet
9. Razor V-17:
Multi-purpose kids' helmet
We all know the importance of wearing a helmet when it comes to any outdoor sports. The Razor V-17 Helmet uses high-quality materials and complies with safety standards. It has ergonomically designed foam to provide the best protection. It also features side-release buckles so that the helmet can be easily put on and taken off on the go. The straps can also be adjusted easily for a customized fit. The helmet has also been provided with additional pads for sizing.
There are seventeen vents in the helmet to keep your child cool. The best thing about this helmet is that the cutting-edge design and superior quality of the helmet will allow your kids to use the helmet for skateboarding, using a scooter, or even snowboarding, Thus we call it a multi-purpose use kids' helmet. The youth helmet fits children with head sizes between 56 to 59.5 cm, and are appropriate for children aged 8 to 14. There is also a Child version for kids between ages 3 to 5. It comes in quite a variety of colors and patterns that any child would love.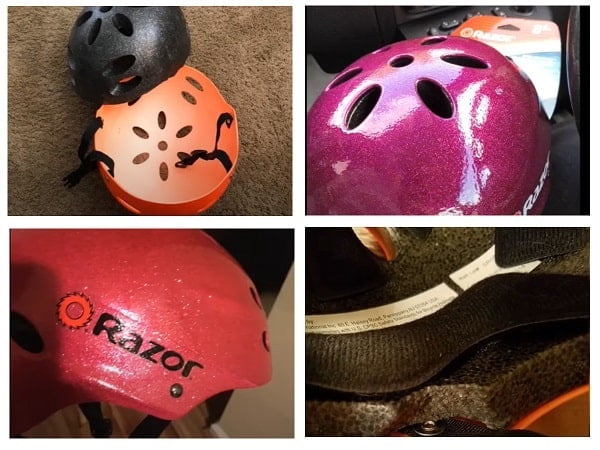 10. TurboSke:
Multi-Sport kids' helmet recommended for boys and girls between age 3-5
The TurboSke Toddler Bike Helmet toddler helmet has passed intensive safety tests with flying colors and entirely complies with CE standards. Thus we have here one of the most trusted toddler helmets in the market. TurboSke does not compromise over your kid's safety even if it weighs only 249 g.
Also, this toddler bike helmet has been made with thick EPS foam and shock-absorbing in-mold polycarbonate shell. Therefore, in case of a collision, you need not worry. We can also find sizable inner padding that can be removed and washed. The 14 vents will provide adequate ventilation to keep your toddler cool enough to go biking on the hot summer days. Your kid's neck will be protected from getting badly injured. It comes with two popular customizing systems available on kids' helmets — an "Adjustment dial system" with "adjustable straps". You can secure the helmet even further using the quick release buckle. With a one year warranty, you can let your kids pick out their favorite color without any worry.
11. Bell Infant Sprout:
Kids' helmet for ages 1 to 3; attractive design & colors
If you have been looking for a colorful bike helmet to please your toddler, look no further than Bell's Infant Sprout Bike Helmet. Seven vents on this helmet will make sure that your toddler's head is never overheated. The Bell Sprout helmet offers extended coverage to the back of your toddler's head so that there is extra protection for the neck and back. Industry grade Microshell and PVC have been used to construct this helmet. It also uses EPS for the inner material, as well as interchangeable foam pads. Available in a wide range of colors and prints, you will be able to find a design for both boys and girls. The design of the helmet features styrofoam for a soft strap – that is extremely skin-friendly. The buckle has also been curved so that it can allow smooth, no-chin-pinch wear. Both the inner padding and the outer shell can be washed.
Bell uses True Fit design on their helmets. This design incorporates a clear three-step process to make sure that the helmet can be adjusted for the perfect fit. You can start by adjusting the helmet's fit that is at the hood of the helmet; then check the straps will be sitting at the sides of the face, and proceed for the strap which sits under the chin.
This progressive design further reinforces the complete protection of the skull with extended back coverage. The product is light in weight, very comfortable to wear, and very reliable to be used for different head sizes.
Bell Infant Sprout Bike Helmet
12. DaCool Helmet Pad Set:
Kids' helmet suitable for age 3~10 years & weight 15 kg – 40kg; comes with knee & elbow pads and wrist guards
The helmet that comes with this DaCool Kids Helmet Pad Set is a high-quality helmet made from a durable, high-hardness ABS outer shell. Even if your toddler falls, there will not be any cracks or breaking of the helmet. EVA material is soft, and allows the head to breath , while lasting a long time.  EVA materia. Those high-quality linings are both durable and breathable. This works with the 11 vents help to keep your child cool and clean when cycling, biking, cycling, and skateboarding. The helmet uses a lever on the back of the helmet to increase and decrease the size of the helmet, allowing your child to use this helmet for a long time.
The helmet buckle is also sturdy, so there is no pain even after long use. The finish is also neat, making the helmet a solid, very well-made object. The kit includes a storage bag for all the extra protective gear that comes with the helmet set. Plus, it comes with a 30-day money-back guarantee.
The size of the helmet, knee pads, and elbow pieces is adjustable. Velcro straps have been used for all the additional protective gear that comes with this set. Your toddler will be able to put on and take off the helmet and other gearseasily. This independence is likely to act as an incentive for your toddler to use the protect gear.
---
Buying Guide: Toddler bike helmets
1. Safety
The main purpose of a helmet for a toddler is to provide safety. Check to see if your toddler's helmet has a CPSC (Consumer Product Safety Commission) sticker. This will mean that the helmet is compliant with safety standards. Again, a "safe" helmet will have perfect fitting and adjustment as well. Higher-end helmets usually fit better to offer overall better protection and tend to be fixed in its place more securely than low-end helmets. All helmets that meet CPSC certifications for kids biking can also be used for in-line skating and scooters.
2. Size
Get hold of a fabric or paper tape measure if possible.
Essentially measure around the widest (biggest circumference) part of your head and the most prominent bit of the back of your head.
Note down the measurement in centimeters.
All helmets have size ranges and with your head measured it's then easy enough to find which sizing has your head size covered.
3. Fit
Once you have your toddlers' helmet size as a reference, it is time to settle for a model. When doing so, check which model "fits" your kid's head best. We have outlined popular practices for this below:
Put the helmet on your toddler's head, back first.
For the best fit, you will find that the helmet's front edge is above the eyebrows by 1-2 fingers.
If the helmet is too big, you will see that the helmet will move around excessively even when the straps and adjusters are tight.
When the sizer is too small, it will be setting higher up the top of the head and there will be a line visible on the skin.
When the helmet sits too far forward, the forehead is protected and the rear side is not.
If the fit is too far backward, the front side is not protected.
The visor should be sitting parallel to the ground.
Check if the side straps are meeting underneath your toddler's ear lobe and forming the letter "Y".
After you have closed the strap, check to see that no more than 2 fingers can fit under it.
When you see that your toddler's helmet does not shift when he/she is shaking and rolling their head – you can conclude that the helmet has a snug fit
and you can go for this helmet confidently.
Helmets today come with additional pads of varying thickness that can be inserted/removed to get the best fit.
4. Adjustability
Once you find the right size helmet, it could still be tricky to adjust it correctly for the snuggly fit. We have outlined a few for you below:
Traditional Dial-Adjust: The most common adjustment system is a dial located in the back of the helmet. By turning the dial, the internal cage adjusts to fit a child's head. "
The adjustment accessory can be a "dial," "crank," or "ring". They offer better fit using a thin pad only and the "dial" will not be damaged from sweat.
Pads Width Adjust:  Variable thickness of pads can be used on helmets too, in order to find a good fitting. they will need to be inserted into the helmets before putting them on. However, the scope is very limited here and does not always result in a great fit.
5. Strap Sliders
The strap sliders play an important role in keeping a helmet squarely on a child's head. To prevent the helmet from tilting forward or back, the chin straps on a helmet should come to a "V" right below the child's ear. Plastic sliders hold the straps together, allowing them to continue together to the buckle. If not properly placed below the ear, the helmet is much more likely to fall forward or back on a child's head.
6. Ventilation
Toddler helmets should have plenty of ventilation to keep them dry and cool. Overheating can be an issue for serious discomfort, that can be addressed by several air vents and large openings placed all over the helmet.
7. Flatback Design
Flatback helmets are perfect for toddlers babies who will be riding in a trailer by reducing neck discomfort and allow your toddler to have a full view of their surroundings. These feature foam at the rear end of the helmet as cushioning for your child's head as they recline. However, flatbacks offer less ventilation than standard helmets.
8. Weight
The lighter the helmet the better. Wearing a heavy helmet can be tiring and can make it more likely for a child to refuse to wear a helmet. As a child gets older this is less important because their neck muscles are stronger, but toddlers will definitely not like heavy helmets.
9. Construction
There are two main types of helmet construction – in-mold and hardshell. Both types of construction provide adequate protection in a crash but vary in durability and style. The main difference between the two types is how the outer plastic protective shell is joined to the foam core of the helmet.
In-Mold: The outer plastic shell and the inner foam core are fused with in-mold helmets. The fusing process allows for more vents and typically provides for lighter overall weight. The outer plastic shell of the helmet will never crack or come off as it is fused to the foam core. Due to their thinner plastic shell, in-mold helmets cannot be certified for skateboard use by ASTM standards.
Hardshell: There are two main types of hardshell helmets – skater-style and lower-end bicycle helmets. On skater-style helmets, a thick plastic shell is glued to the foam core of the helmet. The thick shell allows for increased durability, multiple impacts for skateboarders, and is required for ASTM skateboarding certification.
10. Buckle Type
A buckle may not seem like a big deal, but kids that get pinched while trying to fasten a helmet are hesitant to wear them, often leading to unwanted battles with parents. To prevent pinching, several different companies have developed "pinch-free" buckles. Standard non-pinch buckles use a guard made from plastic , which is at the bottom of the buckle. Fidlock® buckles that use magnets is an option too.
11. Visors
Keeping the sun out of kids' eyes will certainly make for a more appealing ride. Most traditional bike helmets have built-in or clip-on visors while most skater-style helmets have no visor. Built-in visors are common on pre-school helmets as they provide much-needed protection to the face in the event of a face plant. Helmets for youth generally have snap-on visors that are merely for looks and/or limited sun protection.
12. 3D Printed
The outer design of helmets is a key factor for your toddler when deciding whether or not to put on a helmet. Manufacturers have recognized this issue, and take on much R&D to come up with helmets that are attractive enough for your toddler and safe enough for you to trust such helmets with your child's safety. They offer helmets with 3D printed elements attached to the outer shell of the helmets. Using high-quality TPR (Thermoplastic Rubber), which does not make the helmets heavy – design elements like tiaras, animal head shapes, mohawks, LED lights and many more – have been added to the exterior of the 3D printed helmets.
F. A. Q.s
Q1. What size helmet does a 3-year-old need?
Ans.: To get the helmet size of your 3-year-old child, you need to measure their head circumference. Use a cloth measuring tape around your child's forehead, just above the eyebrows. Now that you have a reference, go down to the store with your toddler and try out the helmets. This is the best way to pick out the perfect helmet. Kids of age 3-year-old generally have a head circumference between 47-52 cm, but each human head is different and this sizing may not be applicable for toddlers' universally. Manufacturers usually put down the small and extra small sizes between (49-53 cm) and extra small (45-49 cm) respectively.
Q2. How do you choose a helmet for a toddler?
Ans.: Any time your toddler is engaging in any activity like touring on a bike, scooter, trailer, or skateboarding – a helmet needs to be present. Whenever you are looking to get a helmet for your toddler, make sure that it comes with the CPSC certification sticker that shows that it meets all helmet safety standards. Additionally, the helmet shell and the liner should be durable and withstand impacts while the helmet fit is snug. There should be padding on the rear end of the helmet so that your toddler can rest against it. You should also check for strategically placed vents that are sometimes covered with mesh to keep debris away. Check to see if the helmet has a visor so that there is enough protection from the sun as well. You should be able to adjust the helmet using the adjustment features that are offered by modern toddler helmets.
Q3. Do toddlers need helmets for tricycles?
Ans.: Riding tricycles is a learning experience for kids. They can learn and get stronger from riding and from down. Tricycle injuries usually come in the form of broken elbows or face cuts. On concrete, even if your toddler is not falling from a great height – the risk of serious injury to the head can be a reason of major concern as the transfer of energy will be more significant. Therefore it is advisable to take precautions and use the helmet even on 2, 3, or 4 wheelers.
Q4. Do toddlers need to wear sunglasses while cycling?
Ans.: The sunglasses will protect their eyes from bugs, wind, mud, and ultraviolet light. Check if the helmet is sunglasses compatible before buying your toddler helmet so that there is no issue with the fit.
Q5. Are magnetic buckles safe for toddlers?
Ans.: Magnetic buckles may not be the best option for children who like to move around a lot and they may end playing with the magnetic buckle after you secured it before riding. This will compromise with the closure and make the helmet less safe. However, if not disturbed, they will serve better than the traditional buckles and not pinch their skin, causing discomfort.
Conclusion
We understand that your child's safety is your top priority, and hope that we have been able to help you with this article. However, a helmet is a personal choice and you can go for any of the 12 best toddler bike helmets that we have mentioned here, we believe these are the best kids' helmets available. Emphasize the most on how well the helmet is protecting your toddler's head, try out different helmets, while measuring again and again before settling for a model. Ensure that the helmet comes in a range of colors, if possible with additional design elements. Once you have done so, you can ask your kid to pick the color as this is more likely to add interest so that they look forward to biking with the helmet on. You can set a good example and always use a helmet yourself when biking.
Related Bike Helmets
---
Article writing resources
(Visited 14 times, 1 visits today)
Last update on 2020-11-25 at 11:21 / Affiliate links / Images from Amazon Product Advertising API
Close