If you are looking for a great fitness solution, under desk bikes can be a great option. You can essentially use them anywhere – your home, office, etc. They will present a variety of perks so that you are intrigued to use the machine. Under-desk bikes can simulate your blood flow, and help you get rid of unwanted calories whenever you are sitting down. To add to their versatility, you can put under desk bikes on any elevated surface and exercise by pedaling with your arms as well! By engaging in bi-directional pedal motion, any pain in your arms or legs will be reduced.
When you are looking to get the best under desk bike for yourself, you can find a variety of products offered by manufacturers. They are easy to use, with low resistance levels for even the laziest among us. To help you keep the energy levels up and sharpening your focus during the day. While you are working – under desk bikes can be a great way of breaking up the monotony of your day with some light cardio. Whenever you feel that a little mobility will do you some good, try to select any of these great workout machines
In this article, we have reviewed some of the finest under desk bikes. Followed by intense research, we have selected "DeskCycle 2" as our "Overall best choice". However, you may be looking for a different machine to help you meet your goal. Thus, anyone, of our 13 chosen models can be a great buy!
A quick view of our list of some of the top under desk bikes:
13 best under desk bikes you can buy today
Bike
Preview
Dimension
(L x B x H) /
Weight
(lbs. )
Resistance System / Level
Material
Console
Power source
Product score
DeskCycle 2
24" x 20" x 10" /
40
Magnetic /
8
Steel Alloy
6-function LCD Computer
2 AA batteries
93
MagneTrainer-ER
16" x 9" x 16" /
23
Patented Magnetic / 20
Steel Alloy
5-function Display
1 AA Battery
90
FlexCycle Stepper
20.9" x 17.5" x 13.2" /
23.5
Magnetic /
8
Not Available
8-function Display
Battery powered
88
EXERPEUTIC 900E
31" x 18.5" x 14" /
32.4
Magnetic /
14
Steel, Plastic
Not included
2 AAA battery
84
MaxKare
23.6" x 21.8" x 12.6" /
18.5
Magnetic / 1
6
Rubber
LCD monitor
No. 7 Alkaline Battery( for display)
85
YOSUDA
21.26" x 12.28" x 14.37" /
22
Magnetic /
8
Rubber, Steel
Multi-Function LCD Display
2 AA batteries
83
FitDesk Under Desk Cycle
24.5" x 16" x 10" /
24
Magnetic /
8
Aluminum and Steel
Mounted Digital Display
2 AA batteries
81
Sunny Health & Fitness SF-80418
22" x 18" x 14.7" /
21
Magnetic /
8
Steel
Digital LCD
2 AA Batteries
79
Vaunn Medical Peddler
14.96" x 11.81" x 6.69" /
5.95
Magnetic /
10
Steel
Multi-Functional LCD
2 AA batteries
76
TODO Exercise Bike
14.96" x 11.81" x 6.69" /
6
Magnetic /
10
Steel + PP
Multi-Functional LCD
2 AA batteries
75
Fit Sit Deluxe PFP2100-Parent
32" x 12" x 13" /
6.61
Magnetic /
Not Available
Hardened Carbon Steel
5 function LCD display
1.5V LR44 battery
73
MOMODA Under Desk Bike
14.96" x 13.54" x 7.32" /
6.5
Magnetic /
Low setting
Metallic-Fiber
5 function LCD monitor
2 AA batteries
72
Vive Under Desk Exerciser
14.96" x 11.81" x 6.69" /
12.6
Magnetic /
13
Steel
One-Touch LCD Monitor
1.5V AAA battery
70
1. DeskCycle 2: Best under desk bike; multi-level resistance setting that is patented and calibrated

|

Overall Best Choice
The DeskCycle 2 is a small, compact, portable cycle that fits perfectly under any desk height. The extra weight combined with the low profile design, wide stabilizing anti-slip rubber capped feet, are fantastic attributes for stability. The LCD shows revolutions per minute, speed, time, distance, and calories with the touch of a button. The large pedals have adjustable Velcro straps to hold your feet in place and the double-weighted base keeps the straps on top of the pedals, making it easier to insert your feet and achieve smooth pedal rotations.
It also comes with a wider range of resistance levels, 8 of them in total. The manufacturer recommends using the third resistance level for undisturbed work. This is a low cardio zone according to them but still aids with more blood circulation to the brain. The delivered exercise bike comes almost fully assembled, but can be assembled quickly using a screwdriver and wrench that is provided with the package.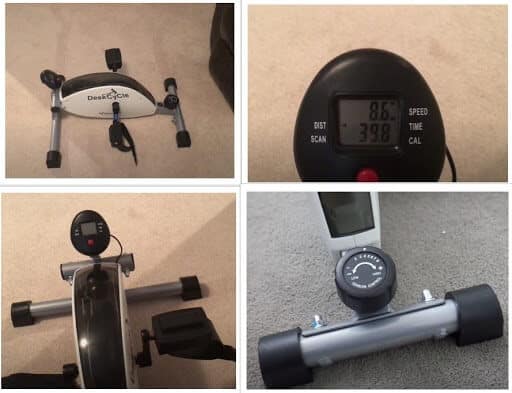 2. MagneTrainer-ER Mini:
Best under desk bike for the elderly; uses patented magnetic resistance
If you are looking for exercise equipment that can be used by both your arms and feet (independently) – the MagneTrainer-ER Mini Exercise bike is a great option for you. The fact that it is battery-powered and has an auto on/off – you are looking at a "green" machine. You can use it to exercise your arms, in addition to the usual workout for your legs. Just make sure your table/desk is at least 34" above the ground level.
A steel frame ensures a robust structure, and we have a handle integrated into the body – for portability. The pedals have indentations for your finger so that you can exercise your arms, even if you have issues with your joints or going through rehabilitation after an injury. This allows you to have a better grip. Also, the patented magnetic resistance here can be adjusted via a dial that uses 5-rotation to amp up the intensity of your workout. A 39 lb heavy flywheel can help you with recovery as you can pedal smoothly, without stressing your body.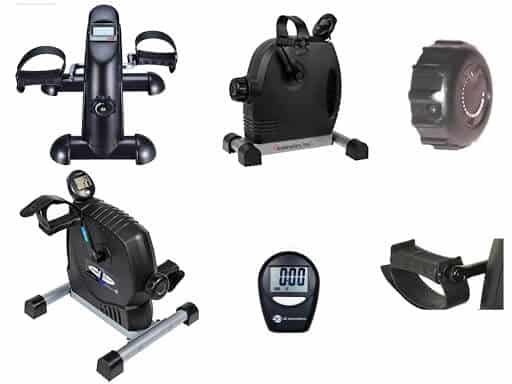 MagneTrainer-ER Mini Exercise Bike
3. FlexCycle Stepper:
Under desk bike for building stamina & muscles
As the FlexCycle Stepper from LifePro has dual-purpose use – it perfect for adults/seniors to pedal away, and for people who may suffer from mobility issues, need rehabilitation after an injury or surgery, etc. Even as a lightweight machine, it shows excellent sturdiness and does not slip on any type of floor/ground. The feet have stabilizers that will prevent any unnecessary bumps, vibrations, or sudden movements as you are pedaling. The portable handle features easy-grips that will help you carry this under desk bike and store away. The 20.9" x 17.5" x 13.2" footprint helps this purpose as well.
The FlexCycle bike desk does not stress the joints in your body, and your workout sessions will pass away in a jiffy. On top of the machine, you can find a knob to adjust the resistance. The functions are mentioned very clearly here. Overall, this is a great machine for you if you are sitting down for a significant amount of time, but want to get a workout for your whole body and engage in more cardio.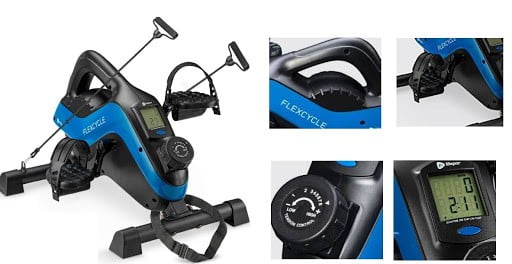 FlexCycle Stepper from LifePro
4. EXERPEUTIC 900E:
Under desk bike, w/ chair hook that is extendable; offers a more intensive workout, features 14 levels of magnetic resistance
Perfect for under the desk or table use – the Exerpeutic 900E is an under desk bike that can easily be used by working professionals in their office. To ease portability, you can find a handle on this 32.4 lb machine. With wheels fitted underneath – you can use these instead of the handle too. To ensure that the leg of your desk chair stays in place- you can find an extendable holder here. It is compatible with a wide range of user heights. This patent-pending holder will lock the leg of your desk chair so that you do not push it away while pedaling.
A 10" pedal height is perfect for under desk use, even for tall users. The pedals are equipped with straps so that you are locked-in while you exercise. The tension level can go up to 14, which is almost twice what is usually offered by such under desk bikes. As you change the intensity of your workout, you will be able to sync to the free MyCloud Fitness via Bluetooth. This will allow you to monitor your performance metrics for both your real timer and past sessions.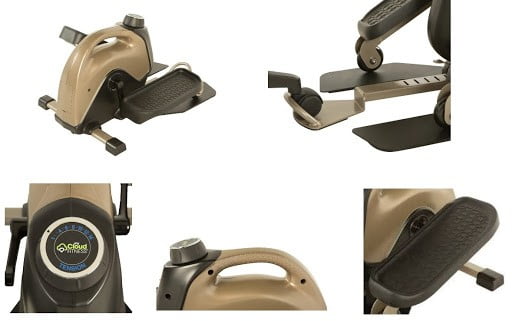 5. MaxKare:
Multi-function use; simultaneous exercise for arms & legs
Designed for multi-purpose use, the MaxKare Multi-use Exercise Bike is ideal for cardio workouts that can help you stay fit- no matter your age. You can use the 16 resistance levels offered here to focus on resistance training, as well as for warming up. You can "pedal" with your arms as you put the machine on a desk, while resistance ropes offer a flexible workout for your hips, lower back, thighs, and your chest too.
Powered via a No. 7 Alkaline Battery, you can find a digital monitor here that is using a liquid crystal display. It will put up data as time elapsed, distance traveled, speed, and the number of calories burned. Measuring at 23.6" x 21.8" x 12.6", this 18.5 lb under desk bike has a bottom that exhibits anti-slip characteristics. This is thanks to the protective tubes under the bike. Whether you are working, studying, or relaxing – this compact machine can be used anywhere, owing to the design and magnetic flywheel that eliminates any noise emerging as you use the bike.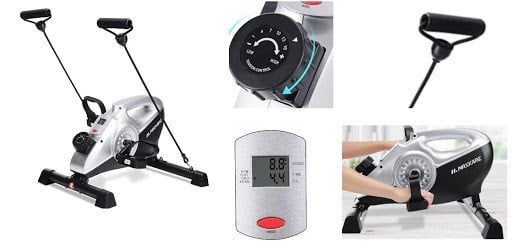 MaxKare Multi-use Exercise Bike
6. YOSUDA:
Under desk bike for your whole family
Designed on a sporty color scheme that uses black and orange, the YOSUDA Under Desk Bike Pedal Exerciser is a modern, compact under desk bike that can serve your workouts needs anywhere. This is mainly thanks to its convenient footprint, measuring at 21.26*12.28*14.37".
For rehabilitation from injury or any similar use, the manufacturer has ensured that the machine is sturdy. You can find rubber pads on the legs that prevent slipping. They are reinforced by a pair of wide bottom tubes on this 22 lb machine. To allow you to multitask and yet get an effective workout, this under desk bike is using magnets that offer sufficient load to generate magnetic resistance up to 8 levels, but do not make any noise. Since it does not put the joints in your body under any additional stress, you can work on improving your mobility and build up your muscles. Very easy to assemble – you can have it all set up in ten minutes, even if you are not good with such tasks.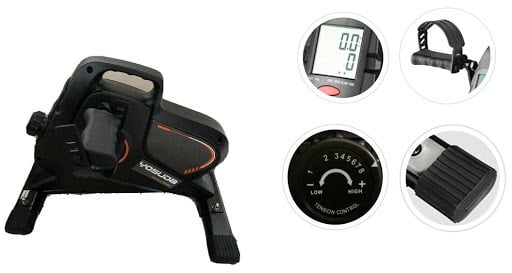 7. FitDesk:
Offers proper clearance for your knees during use
The FitDesk Under Desk Cycle will allow you to continue your work, and get rid of calories simultaneously. To and from shuffling motions are featured on this bike. This will ensure that your knees have the best clearance, and effectively carry on pedaling. This is ideal for users who do not have the best balance and have trouble moving around. This bike offers a reliable option for use after surgery, as very little pressure is exerted on your body organs and muscles.
You can place the digital monitor on top of the desk using a wire so that you can select the perfect resistance level for you. Additionally, a lever can be found at the rear end of the machine that will allow you to shift the resistance through 8 magnetic resistance levels by your foot. With a 9.5" pedal height – the low profile of this bike will allow you to use it even under the lowest of desks.
8. Sunny Health & Fitness SF-80418:
Best mini foot pedal exerciser w/ adjustable settings for resistance
Sunny Health & Fitness SF-80418 is perfect if you are just getting started working out, and want to engage in a low-impact workout. Using a non-slip base, this 21 lb machine is very sturdy. Therefore, you can easily use the bike over a carpet. The pedals can be used for getting exercise for your upper body too, in addition to rehabilitation or recovery from injuries to your lower body.
With a built-in handle on the frame, it is very easy to move the machine. The flywheel used here complements the sleek design and also ensures a noiseless operation. To ensure that users of all feet can use this bike, it is offering large pedals that use non-slip technology on a textured surface. To secure your hand or feet further – the straps can be used. Thanks to a sturdy frame that is using steel – users up to 200 lb weight can use this great equipment.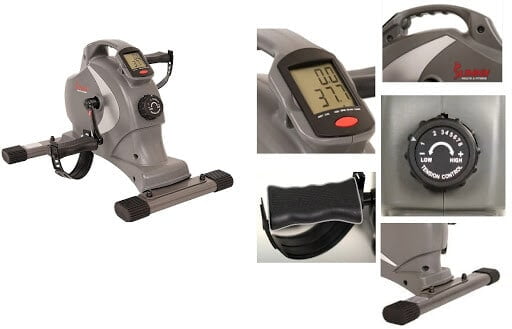 Sunny Health & Fitness SF-80418
9. Vaunn:
Best arm & leg exercise bike for physiotherapy
The Vaunn Medical Peddler can allow you to get an excellent workout for your arms and legs. Since you do not have to spend any time for assembly – you can get the low impact workouts needed while you are in physiotherapy. It can be used to exercise your arms as well. The foldable dimensions of this machine are 15.2" x 11.4" x 7.6". Therefore, you can easily store and move it when not being used. This can be done via a system that uses two-buttons.
The structure here uses anodized aluminum that ensures a string structure and ensures maximum safety, supporting upto 300 lbs. The frame is resistant to rust and is very durable as well. You can make 2.5" height adjustments to ensure users between 76.2 cm – 94 cm easily.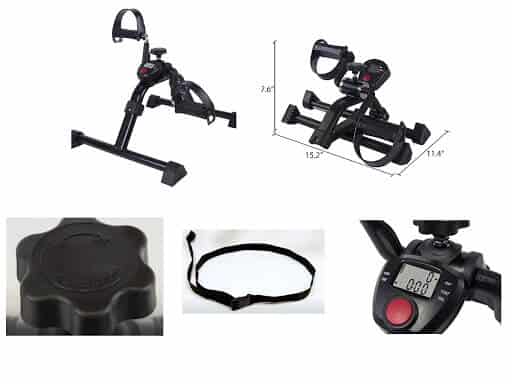 10. TODO:
Under desk bike perfect for rehabilitation or recovery from injury
The TODO Exercise Bike has a lightweight design and can be carried anywhere. With a bottom that exhibits non-slip characteristics – you can feel further secured while exercising your arms. The pedals have molds to ensure the best grip to get an effective workout. This is helpful during rehabilitation after surgery.
The steel frame is high-quality so can support considerable weight. The LCD monitor is multifunctional and you can easily view your performance metrics like RPM, calories burnt, time, and distance. To customize your workout, you can make use of the adjustable resistance here. With a steel frame and 5 lb flywheel – the machine is perfect for long-term use.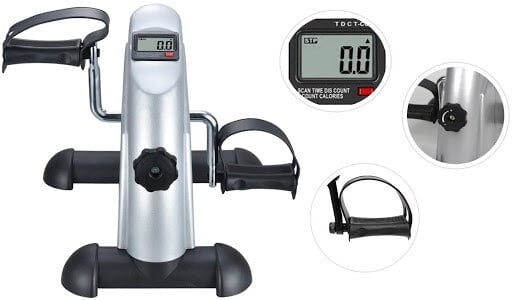 11. Fit Sit Deluxe PFP2100:
Best folding foot pedal exerciser
Due to its lightweight and portability – the Fit Sit Deluxe PFP2100-Parent can be maintained easily and used almost anywhere. Thanks to the foldable frame, you can store it anywhere too.
To improve blood flow in your body, this bike is very effective. It can help you during rehabilitation after surgery or boost metabolism. The anchor strap will hold your bike to the legs of your chair so that you do not slip. On the digital display of the bike, you can see the performance metrics that will keep you on your feet. Thanks to the friction resistance and axle drive – you are sure to get an effective workout.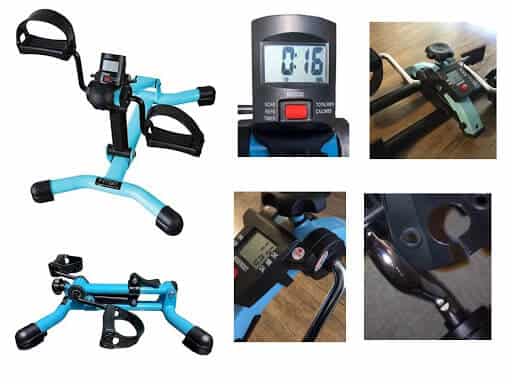 12. MOMODA:
Smart functionality; foldable frame; ideal for rehabilitation purposes
The MOMODA Foot Peddler is a great machine that offers light exercise, for both your arms and legs. You can easily store this biker away as it can be folded to a very compact size.
The adjustable resistance allows a noiseless & smooth pedaling movement, that is ideal for senior use. The crank system here is insulated so that it does not heat up during use. This is done using an insulating foam. For long-term use – the frame is sturdy thanks to the steel pipe & ABS plastic. To ensure that the mini-cycle remains fixed to the ground – the feet are fitted with oversized anti-slip. A knob will let you adjust the resistance, but the intensity will not go up very much.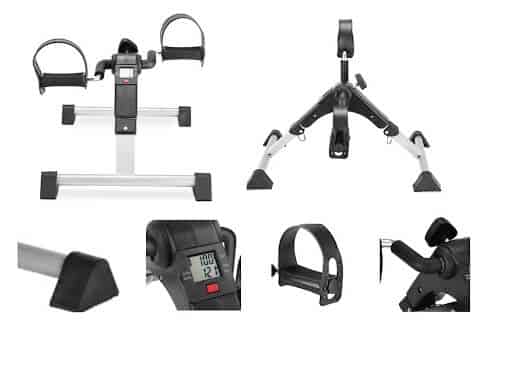 13. Vive:
Best portable pedal exerciser
The Vive pedal exerciser has a great compact design and does not take up much space for storage. It includes a handle that you can use to move it easily. The grooved tension knob can be turned right to left – or vice versa – to vary the resistance. This tension knob is the only piece of installment that needs to be made after delivery.
The feet have a non-slip design to prevent sliding – no matter the surface you are using it on. The pedals have toe loops that can be adjusted for a secured fit, in addition to the surface that uses non-slip technology. Available in silver – you can meet your personal preferences of your workout intensity via a tension knob. [contents h2][wpsm_toplist][wpsm_toplist]
---
Buying Guide: Under desk bike
Types of under desk bikes
Manual Bike: To engage in low-impact exercises targeted to build the strength in your arms and legs. They can usually be assembled easily.
Mini Exercise stepper: These machines use straps and ergonomic grips for your hand as you pedal using your arms. They can be used by almost everyone.
Under Desk Bike with Digital Display: They are similar to manual exercisers. Usually, they have a foldable design, are portable, and can monitor your workout data. This will allow you to keep track of your progress.
1. Weight
Most of these bikes are lightweight. This makes it easy for us to move the machines wherever we want. There are a few heavy models available in the market as well. You have to find the correct balance between stability and portability here.
2. Stability
For stability, under desk bikes are fitted with pads made of rubber. Thanks to this, the base is very stable and eliminates the risk of toppling over. Typically – under desk bikes that have a wide base are recommended.
3. Portability
Thanks to the lightweight and compact design, portability is not an issue with under desk bikes. The majority of the models have built-in handles in the frame of under desk bikes. This can be used to pick the bike up and move it. The handles have an ergonomic design and are fitted with grips too.
4. Resistance Types
Magnetic: This is used in the modern under desk bikes. Magnetic resistance makes use of magnetism and electricity to provide you with variable resistance. When the magnets move, eddy currents are generated to oppose the motion of the flywheel. As the magnets move close or near to each other – resistance alters. This type of resistance is more popular nowadays.
Direct Contact: These bikes make use of frictional resistance. The flywheel comes in contact with a brake – that brings down its speed. These bikes usually offer customizable workouts. However, they are susceptible to damage due to rough use. Eventually, the brake pads will need to be replaced. The operation is noisy.
5. Adjustable resistance
Whether or not the resistance on your under desk bike can be adjusted, is a very important feature to consider. You can set the intensity of your workout session according to your requirement. This will determine how difficult the pedals will feel, with higher resistance needing more effort from your side – and vice versa.
6. Size
Typically, under desk bikes have compact designs so that it can be easy to store them away when they are not being used. A great feature that these bikes offer is that many models can be folded. This acts as an incentive for users who are cramping for workout space to use under desk bikes.
7. Check for height compatibility
When you want to use this machine under a desk, you need to get the distance from the floor( with your shoes on) to the top of your knee. You must do so while sitting. For the next step, try to get the maximum pedal height from the ground. Usually, manufacturers include this detail in the machine booklet/brochure. This "pedal height" is variable; if you have tall legs, try to select "low" under desk bikes so that you can engage in an effective and comfortable workout.
For absolute freedom for your knees, while pedaling, the sum of the above-mentioned heights should be less than the height of the table's underside from the floor. Typically, the knee space available under any desk ranges between 20" – 26". However, this varies of course. Manufacturers are putting out under desk bikes that can be stored away under your couch or have even lower profiles.
8. Dual Function Use
The first important factor to consider is the nature of use. You can engage your legs as you are seated, and the machine can be placed under your desk, or even in an open space. Additionally, many of the products that we have mentioned in this article will allow you to use your arms on the pedals, for getting an upper-body workout. Some manufacturers offer resistance bands with their products, which will add to the variety of your upper body workout.
9. Pedals
Take a gander at the size of the pedals on under desk bikes. Typically, these pedals are similar to ones used on bicycles. They tend to use non-slip technology to ensure the user's feet will not slip. To further reinforce your feet on the pedals, typically you will find Velcro fasteners or rubber straps as an adjustable feature on the pedals. This can ensure that even if your feet are smaller/ longer/ narrower/ wider on the pedals- you can still use under desk bikes. It is very easy to adjust them too.
If the pedal is too small, it can cause you to slip; on the other hand, oversized pedals may make it difficult for you to pedal in the first place. Under the desk, bikes have pedals similar to a bicycle. The pedal size should match your feet. If the pedal is small – you may slip while large pedals will make it difficult to pedal.
If you can engage in bi-directional pedaling, you will be using more muscles for both the leg and arm workout modes.
10. Display
Almost all under desk bikes have displays that allow you to look at typical workout data like speed, time, distance, and calories burned. Some displays will put up more metrics like RPM. They can also be configured to access more features like SCAN mode. Usually, they are battery-powered. Some have the QuickStart feature that will turn the display off after a period of inactivity but will light up again as soon as you begin to pedal.
11. Noiseless
A great advantage offered by under desk bikes is that they can be even used at your office. However, to serve the purpose – the machine must operate with as little noise as possible. This discretion factor is important as all workplaces may not like that you are multitasking, and continuous squeaking noises may irritate your colleagues. This is also applicable if you are looking to workout quietly at home.
12. Maximum user weight
220 lb is the typical user weight that under desk bikes can support. However, if you weigh more – you should look for a model with a higher maximum weight capacity.
13. Additional features
We can refer to features like compatibility via Bluetooth connection, ability to integrate with WiFi on an array of under desk bikes. Typically, these options are great for tracking your workout data on your phone/tablet after sync.
back to menu ↑
back to menu ↑
F. A. Q.s
Q.1: How effective are under desk bikes?
Ans.: They are so versatile and very simple to operate it's hard to believe sometimes just how much of a benefit a person can get from one.
Compare Pedal Exercisers: These tiny machines are very effective to give you a workout – from short durations to 30-minutes sessions. They can be used for rehabilitation, while at the office etc.
Cardiovascular Exercise: Under the desk, bikes will let you enjoy an aerobic exercise session. Blood circulation is boosted during exercise.
Burn Calories: Even if you are using your feet at a comfortable speed, you can burn some calories. 30 minutes of similar exercise can help you lose about 300 calories.
Increase Metabolism: You will see that your body mechanism has been boosted significantly. When this happens, your body will burn calories even if you are resting!
Q.2: Can you use under desk bikes to lose weight?
Ans.: Scientists believe that to bring down your weight by one pound – 3500 calories will need to be burnt over the course of a week. It sounds like a challenge, and this is where under desk bikes are a great advantage. You can use and store them almost anywhere in your home. Plus there is the discrete element for work use. When you are using this machine frequently throughout the day you are creating a calorie deficit. As long as you are adjusting the intensity of your workout – you are good to go. When you are at home, pedaling at high intensity for short intervals is ideal. Since you cannot "sweat it out" at work – try pedaling slower, but for a longer duration. If your equipment has a tracker, you can see the calorie count on the console. A FitBit can be a good option too.
To get the best result efficiently, cut the intake of sugar, soda drink, and alcohol.
Q.3: Under desk bikes or Under desk ellipticals – which one should you go for?
Ans.: We will go through how these machines are different and how you can select the best one for you amongst them.
Under Desk Bikes: These machines have small pedals that follow a circular path. Particularly fitting for large feet. An advantage of this machine is you can put it on a table and put your hands on the pedal to workout your arms.
Under Desk Ellipticals: The pedals are usually oversized, and the surface is usually textured for better grip, with an ergonomic design. Your pedals will move back and forth instead of circular, similar to walking or going upstairs. They help you to concentrate on specific muscles in your leg as you change your foot position.
To decide on which one to get, check the factors below:
Leg Clearance: When the profile of your desk is really low, or your legs are long – the circular motion of the under desk bike should not be ideal. The back and forth movement of the under-desk elliptical is ideal, on the other hand.
Stability: When you increase the resistance on under desk ellipticals, you may find your slipping on the pedal platforms. Your machine should have enough weight so that it does not wobble under high-intensity use.
Q.4: How many calories can under desk bikes help you to burn?
Ans.: Even though most under desk bikes will put up data on performance metrics, such as calories burnt and display – they are only an estimate. This is mainly because of i. These readings do not take into account the power that is being inputted to the bike in real-time; ii. Your physical attributes are ignored too. Scientists have inferred that without these considerations, calorie estimates displayed on consoles will be off by >100% & >1000% respectively.
You can use the formula mentioned below to know the calories you have burned, below:
" Men: C/min = ((-55.0969 + (0.6309 x HR) + (0.1988 x weight) + (0.2017 x age)) / 4.184
Women: C/min = ((-20.4022 + (0.4472 x HR) + (0.1263 x weight) + (0.074 x age) / 4.184"
The "weight" should be in kgs here. "HR" refers to the number of beats per minute. Additionally, nowadays many manufacturers make their machines compatible with Bluetooth. You can use an app to track workout data like "calories burned" and skip plugging in values to the formulae mentioned above.
Q.5: As you use under desk bikes, what are the muscles you are engaging in?
Ans.: Under desk bikes allow you to engage muscle groups in your leg like your calves, hip flexors, hamstrings, and quadriceps. Through long term use, you can see that these muscles "tone" up. You can get a similar effect on your stomach muscles by putting the under desk bike a bit to the front of you. There should be some incline as you are on your seat.
Additionally – your arms, shoulders, and upper body can get a workout as you put the under desk bike up on a table so that your hands can be used.
Q.6: How is it ensured that your pedal exerciser will not slip?
Ans.: A drawback when using pedal exercisers might be that they may slip on the ground during use. The fact that most pedal exercisers are lightweight does not help the cause here. We have put down a few methods to prevent slipping below:
You should take up a position where your toes on the pedals should be facing forward. This will ensure that the machine is underneath you, instead of in front of you.
Use a carpet underneath the machine.
Put the pedal exercise up against a wall or any heavy furniture.
If your pedal exerciser comes with a strap, attach the pedal exerciser to the chair you are seated on.
If your pedal exerciser has rubber feet, ensure that they are "digging" into the ground.
Q.7: How can you workout by using a mini exercise bike?
Ans.: You pedal as you would on under desk bikes. This can be coupled with weight lifting, or any form of exercise for your upper body while sitting. You may use it to exercise your arms too! Many under desk bikes have adjustable resistance for a customizable workout, which is perfect for building strength in your arms. You can find liquid-crystal-display displays to show the duration of your workout, the number of calories burnt off, and distance traveled. This can help you track your data even if you are using another machine.
back to menu ↑
back to menu ↑
Conclusion
There is no question about under desk exercise bikes being the trend for health-conscious people. Incorporating an under-desk elliptical or bike in your life paves the way for a healthy lifestyle. It is difficult to live a healthy lifestyle in such a hectic routine, but when you use an under-desk mini elliptical, things can be easy for you. As you can see the 13 best under desk bikes we have reviewed – we hope that now you have access to enough information to make a good choice. If you are worried about assembly – you can set aside the worry. All of them can be set up quite easily, in a short time, and without any hassle. We hope that this article will allow you to take a confident step towards your healthy lifestyle as you begin to use these under desk bikes. Best of luck and we will be back soon!
back to menu ↑
back to menu ↑
Related Exercise Bikes
---
Article writing resources:
(Visited 8 times, 1 visits today)
Last update on 2020-11-30 at 08:00 / Affiliate links / Images from Amazon Product Advertising API
Close