Upright bikes are undoubtedly one of the best pieces of equipment for a good cardio workout. They improve our cardiovascular health, strengthen the lower body, and help with weight loss. Also, just about anyone can use them. Compared to some other indoor machines, they are low-impact and good for the joints. An upright bike is also among the most popular choices of equipment for home use. In this article, we will talk about some of the top upright exercise bikes that you can get.
Even among upright bikes, there are many varieties with their own advantages and disadvantages. Looking for the one that's appropriate for you is no easy task. Well, we have done the hard work for you. We have taken into account the price, quality, features, and other relevant factors to prepare a list of the finest upright bikes to add to your home gym. We have also included some advice on the different factors to consider before making a purchase. A lot of research and thought has been put into this article, so be sure to read it carefully.
All of our picks are great options. But after careful deliberation, we have concluded that the Assault AirBike Classic stands out from the rest. In terms of most of the major properties, it performs as good or even better than the rest of the exercise bikes. Thus, we have labeled it as our 'Overall Best Choice'.
A quick view of our list of some of the finest upright exercise bikes:
11 best upright exercise bikes you can buy today
| Exercise Bike | Preview | Type | Dimensions | Weight | Max Capacity | Resistance | Console | Score |
| --- | --- | --- | --- | --- | --- | --- | --- | --- |
| Exerpeutic | | Folding upright exercise bike | 31" L × 19" W × 46" H | 39 lbs | 300 lbs | 8 level magnetic resistance | Simple LCD monitor | 82 |
| Harison B7 | | Upright exercise bike | 35.43" L × 20.47" W × 51.2" H | 55 lbs | 300 lbs | 14 level magnetic resistance | Simple LCD monitor | 84 |
| Nautilus U616 | | Upright exercise bike | 41.8" L × 21.6" W × 57.6" H | 63 lbs | 300 lbs | 25 level magnetic resistance | Smart DualTrackTM LCD display | 86 |
| Schwinn 170 | | Upright exercise bike | 41.3" L × 21.4" W × 55.6" H | 58.4 lbs | 300 lbs | 25 level magnetic resistance | Smart DualTrackTM LCD display | 88 |
| XTERRA FB150 | | Folding upright exercise bike | 31.89" L × 18.1" W × 43.3" H | 32 lbs | 225 lbs | 8 level magnetic resistance | Simple LCD monitor | 80 |
| Exerpeutic Gold 500 XLS | | Folding upright exercise bike | 39" L × 26.4" W × 48.4" H | 51.6 lbs | 400 lbs | 8 level magnetic resistance | Simple LCD monitor | 85 |
| MaxKare | | Folding upright/recumbent exercise bike | 31.8" L × 18.5" W × 39.3" H | 49 lbs | 265 lbs | 8 level magnetic resistance | Simple LCD monitor | 87 |
| Xspec | | Folding upright exercise bike | 27" L × 17" W × 44" H | 32 lbs | 265 lbs | 16 level magnetic resistance | Simple LCD monitor | 81 |
| Schwinn Airdyne AD7 | | Air bike | 53" L × 26.5" W × 53" H | 113 lbs | 350 lbs | Infinite levels of air resistance | Multi-display LCD monitor | 91 |
| Assault Classic | | Air bike | 50.95" L × 23.34" W × 50" H | 95.64 lbs | 300 lbs | Infinite levels of air resistance | LCD display with built-in programs | 94 |
| Precor UBK 835 | | Upright exercise bike | 48" L × 21" W × 62" H | 160 lbs | 350 lbs | 25 level magnetic resistance | P31 LED console | 92 |
1. Exerpeutic:
Affordable & foldable upright bike
The Exerpeutic Folding Magnetic Upright Bike is a simple but effective machine for trying to get in shape. It has a very low profile design. Meaning, the bike does not take up that much space at all. It is also highly portable and easy to store. As the name suggests, the bike can be folded to reduce the length. The lightweight frame can then be tilted and moved around using the transport wheels at the front. Even though the bike has a maximum weight capacity of 300 lbs, it itself weighs only 39 lbs. A simple LCD console displays the distance, calories, time, speed, and heart rate. All these features make it a great addition to a home gym.
Assembling the product is straightforward thanks to the easy-to-understand manual. It might take around one hour depending on how mechanically gifted you are. But you only have to do this once. A V-belt transmission system ensures a smooth and noise-free workout. The height of the seat can be adjusted. However, short people may still find the pedals a bit hard to reach. Some people may also find the seat to be too wide. This bike may not be the best for super high-intensity training, but it is good enough for the average user. Moreover, it comes at a very low cost.
Exerpeutic Folding Magnetic Upright Bike
2. Harison B7:
High-quality upright bike for home gym
The Harison B7 Upright Exercise Bike is a great stationary upright bike for indoor exercise. Its sturdy steel frame can support up to 350 lbs of weight. The bike itself weighs only 55 lbs and has small front-mounted wheels. This allows you to move around the bike in your home quite easily. Even if you have an uneven surface, you can just use the stabilizers in the rear base to keep the bike straight. While working out there won't be much noise at all. This is because the drive system uses a poly-v belt and is completely enclosed using ABS covers.
This exercise bike features a leather padded saddle with both height and fore/aft adjustments for optimum comfort. You can track your workout using the simple LCD console that displays distance, calories, time, speed, heart rate, and RPM. Above the console, there is a large device holder where you can place a tablet or even a phone. The resistance system uses magnetic resistance. There are 14 levels to choose from based on your current level of fitness. All in all, the Harison B7 has all the basic features necessary for most users. However, it is a bit costlier than it should be, and assembling the bike is a little difficult.
Harison B7 Upright Exercise Bike
3. Nautilus U616:
Upright bike w/ Bluetooth connectivity & multiple features
The Nautilus U616 Upright Bike is an exercise bike jam-packed with lots of useful features that make it really worth the price. The DualTrack LCD, powered by an external AC supply, is the best feature of this bike. It has two blue backlit screens, 29 different programs, Bluetooth connectivity, speakers, and even a charging port. You can sync with the Explore the World App which lets you track your workout and explore different routes around the globe. Three of the routes are free and the rest can be unlocked using a subscription. There is even an integrated cooling fan with three speeds.
The incredible 25 levels of magnetic resistance are also controlled using buttons on the console. The downside is that if the console stops working, you won't be able to change the resistance. You can adjust both the height and the fore/aft position of the padded saddle seat. Although, it is a bit uncomfortable for long workouts. The U616 also features a shelf to hold any smart devices and a bottle holder below the handlebars. Additionally, there are front-mounted transport wheels and rear-mounted frame levelers. Considering all the features, the price is quite low.
4. Schwinn 170:
Smart upright bike w/ high-tech features & training programs
The Schwinn 170 Upright Bike is another upright exercise bike with a wide variety of features that enhance your workout experience. The DualTrack LCD has many features such as two blue backlit screens, Bluetooth connectivity, built-in speakers, 29 different programs, and even a charging port. With Bluetooth, you can connect to a smart device and sync with the Explore the World App. This app lets you track your workout and explore various routes around the world, of which 3 are free. Other popular fitness or riding apps can also be connected. As a bonus, a three-speed cooling fan is built into the console.
Experience near seamless changes in the resistance with 25 levels controlled using buttons. The flywheel is lighter than in other exercise bikes, but the belt drive mechanism runs smoothly and silently. The padded saddle can get slightly uncomfortable during long sessions. However, it is both horizontally and vertically adjustable. Even the angle of the handlebars can be adjusted. Other useful features include a media shelf, a bottle holder, transport wheels, and rear frame stabilizers. All these features make the Schwinn 170 very much worth it at this price point.
5. XTERRA FB150:
Foldable upright bike w/ a compact design
The XTERRA FB150 Folding Bike is an upright exercise bike that would be the ideal choice for beginners. One reason is that it has a highly affordable price. The other reason is resistance. The 8 levels dial-adjustable magnetic resistance does not get too difficult and the flywheel weighs only 3.3 lbs. However, some might see this as a disadvantage. Assembling the bike is pretty easy and does not require too much time. The saddle has a large area and a well-designed shape for comfort. It can be adjusted vertically for people of different heights.
The best part about the FB150 is the foldable and compact design. The dimensions are already small when it is fully opened. The length comes down to almost half when the frame is folded. To add to that, you can tilt the bike and move it around quite easily thanks to the transport wheels and 32 lbs frame. However, since it is so light, the maximum weight capacity is also a bit low at 225 lbs. Nonetheless, this bike is a great addition to your home gym.
6. Exerpeutic Gold 500 XLS:
Folding upright w/ a high load capacity
The Exerpeutic Gold 500 XLS Foldable Upright Bike is a stationary bike with a very high load capacity. The X-shaped steel frame has 20% more steel than the regular Exerpeutic folding bike and can support up to 400 lbs of weight. Even with this impressive capacity, it doesn't take up too much space and is easy to store. The frame can be folded to reduce the floor space it takes up. You can move the bike to the intended place of storage quite easily using the transport wheels. Assembling the machine is also not that hard. All you have to do is follow the instructions and it should take around 1 hour.
The shape of the seat is a bit unusual for upright bikes. It has a wide flat cushion instead of a saddle shape. This makes it comfortable to sit on even during long workouts. The seat has height adjustability, however, short people may have to stretch a little to reach the pedals. The magnetic resistance is nothing too impressive, pretty average. The drive system uses a V-belt and is fully enclosed. This ensures smooth and quiet pedaling. A simple LCD monitor displays the distance, calories, time, speed, and heart rate. All of this comes at a very low cost, so anyone can afford it.
Exerpeutic Gold 500 XLS Foldable Upright Bike
7. MaxKare:
Versatile folding exercise bike w/ resistance bands
The MaxKare 3-in-1 Folding Exercise Bike is surprisingly versatile and useful. The frame has 3 folding modes. In the default position, it acts like a regular upright bike. It can be fully folded so that the base takes up a fraction of the space of the initial setup for easy storage. A third mode allows you to open up the frame even further than the default position. In this position, the pedals are out to the front and it acts as a recumbent bike. Indeed the large comfortable seat with back support and side handlebars are there for this very purpose. However, the overall size of the machine is a bit small for tall people.
Another unique feature is the resistance bands for your arms. With this, you can work your lower body, back, and biceps all at the same time. Due to this, you can burn more calories in a shorter time. You can keep track of distance, calories, time, speed, and heart rate on the simple LCD console. It also features a device holder, where you may place a phone or tablet. The assembly is relatively simple and it is also portable thanks to a couple of small transport wheels. Moreover, you won't even have to break the bank since the price is very low.
MaxKare 3-in-1 Folding Exercise Bike
8. Xspec:
Folding upright bike w/ compact dimensions
The Xspec Foldable Upright Exercise Bike has a minimalistic design and is better suited to complete beginners. This is because the bike is not made for high-intensity workouts. The 16 levels of resistance are great but are not challenging enough for advanced users. What is really great about this equipment is the foldable and compact design. The X-shaped frame folds to reduce the length by half. It is also lightweight and has integrated transport wheels. Therefore, the bike takes up very little room and can be moved and stored very conveniently.
The padded seat is a normal saddle type with height adjustability. However, it is larger than usual and has a more comfortable feel than other bike seats. One problem with this exercise bike is that it is a bit too small for tall people. There have also been some complaints about the pedals getting loose after some time. Other than that this is a good option for home workouts. It also comes at a very low and reasonable price.
Xspec Foldable Upright Exercise Bike
9. Schwinn AD7:
Heavy-duty air bike for a total body workout
The Schwinn Airdyne AD7 is an air or fan bike. It has swinging multi-grip handlebars that allow you to work the upper and lower body at the same time. It also uses a fan to generate air resistance. So, as you try to pedal faster it keeps getting more and more difficult. Due to this and being able to work for numerous muscle groups, this type of bike is great for calorie burning and fat loss. There is the option to isolate your upper body thanks to the footpegs. As a bonus, the flow of air generated by the fan produces a cooling effect. One downside is that the fan makes a noise at high RPMs.
The well-built steel frame is durable and strong enough to support a weight of 350 lbs. The padded saddle can be adjusted vertically and horizontally so that you can find the optimum cycling position. The LCD monitor displays a wide range of data. This includes distance, calories, time, speed, heart rate, RPM, and watts. For the heart rate, any compatible chest strap can be used. The price may be steep, but you will get what you pay for.
10. Assault Classic: High performance & durable air bike for all levels

|

Overall Best Choice
The Assault AirBike Classic is one of the best equipment for burning calories fast and getting rid of excess fat. You can get a full-body workout at infinite levels of resistance thanks to the movable handlebars and the large fan. This bike can also be used by beginners by pedaling at lower speeds. At every pivot point throughout the frame, there are a total of 20 sealed ball bearings to make it as smooth and durable as possible. The frame itself has a good build quality and can handle intense high-speed workouts. You will also remain cool due to the airflow from the fan, but if you want to limit the airflow there is also a detachable windshield for that.
Even though the seat is quite small, it is highly versatile. Both height and fore/aft adjustments allow you to find the position that is just right for you. The LCD screen console lets you track all your stats including heart rate, calories, distance, etc. Not only that, but it also has 8 built-in programs that offer you to choose your training style and also switch up your routine from time to time. One of the only disadvantages of the Assault Airbike is that it uses a chain drive system that causes some extra noise.
11. Precor UBK 835 Upright Bike:
Self-powered upright bike with premium quality parts
The Precor UBK 835 Upright Bike has been designed for commercial use mainly. Hence, all the components are made to be of premium quality and very long-lasting. The positioning of the seat, pedals, and handlebars are designed for great biomechanics and injury freecycling. The ergonomic saddle can be easily adjusted vertically to 14 positions even while you pedal. The pedals are dual-sided and are also the main source of power for the bike. A 3-phase generator produces electrical power from the motion of the pedals. An optional power cord is included, but the bike is mostly self-powered. Additionally, the two-stage belt drive is also better and quieter than a regular single-stage belt drive.
The large P31 LED console lets you control the resistance which has 25 levels. It also has 12 built-in programmes to choose from as per your requirements. To add to that, the screen displays up to 18 different readouts to track your workouts. These include distance, calories, time, speed, heart rate, RPM, watts, resistance, etc. A large accessory holder below the handlebars can hold water bottles and phones/tablets at the same time. Simply put, the UBK 835 comes very close to being the perfect upright bike. However, the price is extremely high and a lot of people may not be able to afford it.
---
Buying Guide: Upright exercise bikes
1. Weight & Height Capacity
For most upright exercise bikes, the maximum user weight is around 300 lbs. The frames of all exercise bikes are usually made out of steel. Some cheap models may have a weight limit of around 200 lbs. If you are a tall or overweight person then you should check the maximum capacity. Even though it is uncommon to see someone weigh more than the limit, you should try to buy one whose limit is far greater than your weight. The greater the difference, the longer the frame will last. It is also a good idea to find out the range of heights that an upright bike is compatible with. Many machines are either too big or too small. If it is too large, shorter users will have a hard time reaching the pedals. On the other hand, pedaling on a bike that is too small is highly inefficient and may cause discomfort in the knees.
2. Resistance & Flywheel
This should be chosen based on your fitness level and target. Most stationary bikes use a weighted flywheel driven by a chain or belt. For beginners, a flywheel weighing less than 8 kg will work fine. However, if it is too light then the pedaling will feel bumpy. More advanced users prefer flywheels that weigh more than 10 kg since it provides more of a challenge and a smooth workout. You should also check the difficulty of the different levels of resistance. Don't bother getting the bike if its highest resistance is too easy for you.
There are mainly two types of resistance: brake-based and magnetic. In the first type, the resistance is controlled by friction from brake pads. For the second type, a large magnet moves closer or farther from the flywheel to vary resistance. A special type of exercise bike called a fan/air bike does not have a flywheel at all. Instead, a large fan is used that provides infinite levels of air resistance. The harder you pedal, the faster the fan rotates and the higher the resistance will be.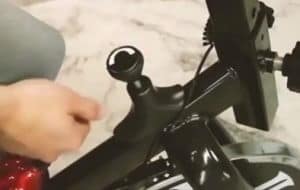 Image: Resistance dial
3. Comfort & Adjustability
Comfort should be given some priority when it comes to upright bikes. Because if there is too much discomfort while exercising, then you won't feel compelled to stay on it long enough. Comfort depends mostly on the seat and the position of the pedals and handlebars. The seat of an upright bike is a saddle type, similar to an outdoor bike. A seat that is too small can cause saddle-soreness during long workout sessions. While if it is too wide, it will actually get in the way of pedaling. The position of the handlebars and pedals can vary slightly among different bikes. Ideally, the handlebars should not be too far away from the seat and the pedals should be almost directly below the seat.
To accommodate for user heights and preferences, there should be some adjustability for the seat. All of them are typically two-way with height adjustability, but only some are four-way that also have fore/aft adjustability. A four-way adjustable seat will provide much better customizability. Many upright bikes also have handlebars that are adjustable or have multiple grips. This gives added comfort. Another useful feature to look for is self-leveling pedals with adjustable straps.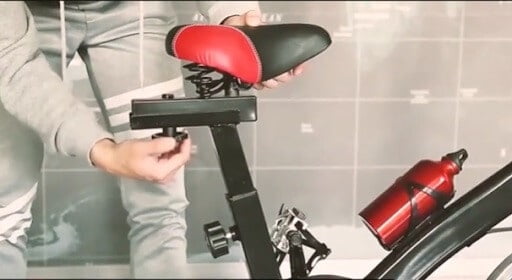 Image: A 4-way adjustable seat
4. Console
Being able to track your workout is very important to people nowadays. It helps you judge your progress and stay motivated. Therefore, a console is typically included with upright bikes. At the very least, it should have a basic LCD screen that displays the time, distance, speed, and calories burned. To get data regarding heart rate, either there have to be pulse sensors on the handlebars or the console must be compatible with a chest strap. Advanced consoles may have more than one screen with backlighting. They may have more readouts and buttons to control resistance. Some even have Bluetooth connectivity, USB charging ports, speakers, etc. But these will definitely cost more. You need to decide which features are crucial for you and which ones you can skip.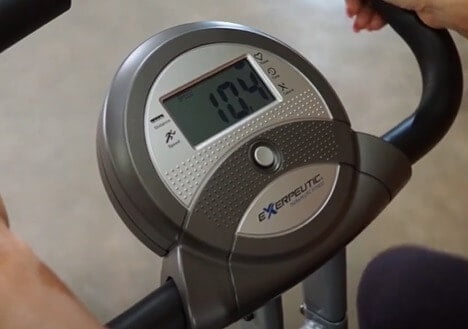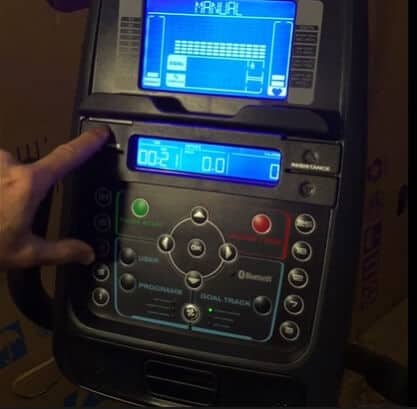 Image: Basic console vs Advanced console
5. Extra Features
There are a bunch of other features that you will find on higher-end exercise bikes. Most of these are not compulsory to have, but they do provide a lot of convenience. These include holders and/or trays, where you can hold water bottles, phones/tablets, or even a book for reading. If needed, you can look for a cooling fan integrated into the console. Air bikes generally have two bonus features. They have moving handlebars to let you work the upper body and the airflow from the fan acts as natural cooling. An advanced feature found in a few bikes is that they are self-powered. A generator is used to convert the mechanical motion of the pedals to electrical power. Hence, no batteries or power cables are required.
6. Floor Space and Storage
Particularly for home gyms, the amount of space available is something to consider. If you are low on space then check the dimensions of the bike. Some of you might prefer to work out in one room and keep the machine in another room. In this case, there are three things that you could look for:
The bike itself should not be so heavy that you can't move it at all.
There should be transport wheels at the front base of the bike.
The frame is foldable, so it takes up even less space.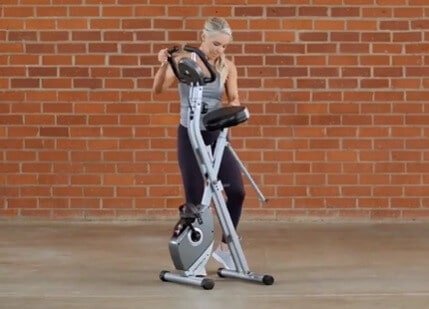 Image: Folding bike
7. Price
The prices of upright exercise bikes vary to a great extent. Some are as cheap as $150, while some super high-end ones can cost more than $3000. There is a significant difference between cheap and expensive upright bikes. Not only do you get more numerous and advanced features, but the overall quality improves a lot with the price. Regardless, some low-cost bikes are actually decent. How much you should spend depends on your budget and what features you are looking for. Preferably, you would want a bike that lasts for years and does enough to keep you motivated. So we suggest not being too frugal about it and thinking of it as an investment towards a better self.
8. Machine Life and Warranty
An upright bike should last for a long time. Fortunately, most bikes do not need much maintenance. The occasional cleaning and change of lubrication can make a good quality machine last for years, if not decades. However, breakdowns do happen, especially right after being bought. These can occur due to manufacturing defects, damage during shipping, or even because of mistakes during initial assembly. There's no point in spending a few hundred dollars only to have the machine go bust in a couple of months. Thus, you should always check the duration and conditions of the warranty. Look for at least a 5-years warranty for the frame and 1-2 years warranty for electronics and other parts.
F. A. Q.s
Q.1: Which one is better: upright or recumbent exercise bike?
Ans.: There is no way of saying whether one is inherently better than the other. It depends on your needs. A recumbent bike has a large reclined seat with back support and the pedals are out in front of you. If you are someone who suffers from back pain or can't put too much stress on your knees and ankles, then the recumbent bike is perfect for you. You can also get better all-around leg muscle development since both the quads and hamstrings are worked in that position. Exercising on an upright bike focuses more on the quads, but it simulates the experience of riding on a real bicycle. Higher intensity workouts are also possible on an upright bike and not on a recumbent bike.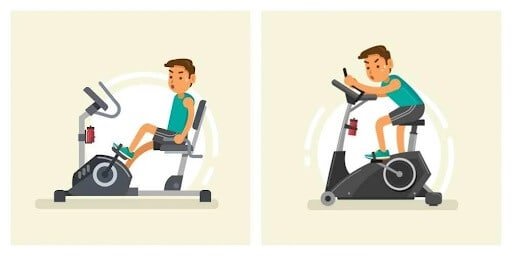 Image: Recumbent vs Upright bike
Q.2: Is an upright exercise bike good for losing weight?
Ans.: The simple answer would be yes, it is. In fact, any type of cardio exercise machine will help to reduce weight. But upright bikes are among the top choices because of the low impact and ease of use. However, you must be consistent and always go the extra mile during a workout. An upright bike used in the right way will definitely make you work up a sweat and leave your legs sore the next day. You can burn around 600 calories an hour, depending on the intensity. For a complete guide regarding weight loss using exercise bikes, watch the following video.
Q.3: How does an Upright Bike Compare to a Spin Bike?
Ans.: An upright bike is more similar to a spin bike than it is to a recumbent bike. Spin bikes or indoor cycles are designed to replicate the experience of a road bike as much as possible. These are high-performance machines that will take your workout to the next level. Spin bikes generally have heavier flywheels for high speed and high-intensity cycling. The handlebars are usually adjustable and are at a height close to the saddle. A spin bike might also have fewer features and sometimes no console at all. To summarise, an upright bike can be used by almost anyone, while a spin bike is better suited for users with intermediate or advanced fitness levels.
Conclusion
Hopefully, you should now be equipped with all the necessary knowledge for buying an upright exercise bike. Remember to really think it through and consider your requirements, preferences, and budget. This is an important decision to help you reach your targets. We have put in a lot of time and effort into procuring this list of products. Any of the exercise bikes that we have mentioned are sure to serve you well. If you remain consistent, they will aid in leading a healthy and active lifestyle. Finally, thank you for reading our article and we hope you found it helpful. Good luck!
Related Exercise Bikes
---
Useful Resources:
(Visited 20 times, 1 visits today)
Last update on 2020-11-30 at 07:20 / Affiliate links / Images from Amazon Product Advertising API
Close