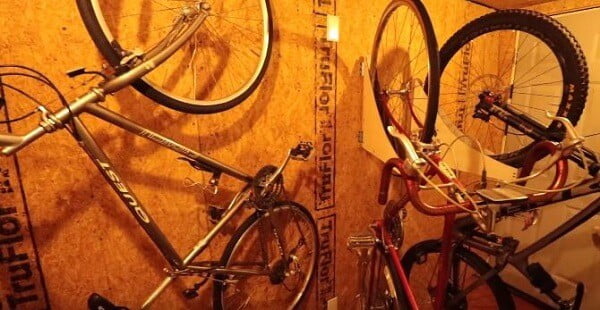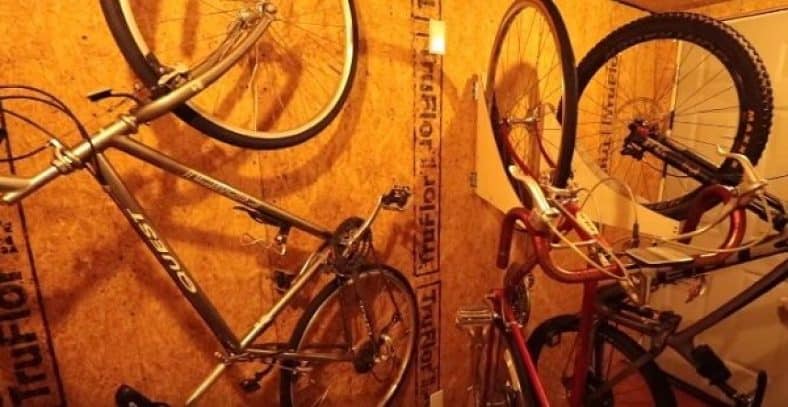 One of the best places for bicycle storage would be a shed. Whether you are living in a house or an apartment – a practical and eye-pleasing solution for storing your bike would be a bicycle shed. They are offered in several sizes that are more suited to be placed in yards or the unused parking space you may have. As you can store multiple bikes in a shed, they are perfect for your family where you do not have to worry much about security. A decent bike shed should not only be secure but waterproof and realistic too.
Now, how can you store a bike in a bicycle shed? Wall mounts are ideal for  bicycle sheds that are compact since they can be installed easily and can be used to store your bikes vertically. Hooks that have been mounted on the wall and ceiling can be the next best option, while hoist storages will use pulleys to efficiently store your bike in the space available on your shed ceiling. Over the course of this article, we have looked into bicycle storage sheds extensively – focusing on topics like why bike sheds are needed, where you can get one, how you can adjust if you are unable to find the correct size for your bike shed and what factors that should be considered when making a purchase. With some handy tips for storing bikes in bike sheds, we have proceeded to address common FAQs for storage sheds used for bikes.
Sheds for bike storage
If you just want somewhere to store the bike that's not in the house then a small bike shed is a great investment. These  tidy isolated units  can sit at the end of the garden/yard and shield your bike from the elements effectively without being an eyesore or get in your way.
Asgard outdoor bike storage sheds
Asgard is a company based out of UK who are known for their specialty in manufacturing bike storage sheds, storage units, and store garages using the metal of the highest quality. These metal structures are resistant to rust and offer excellent security. With ISO 14001 registration, Asgard brings 40 years of experience to the table. Every  metal shed they produce undergoes a manual inspection. The company offers free delivery with every purchase. Arguably these Asgard metal sheds are the best of this kind available in the market.
How to choose a bike shed
Plan out how you can make the best use of the space so that your bike shed can hold your bike and other components. Even if your shed size is small – with the correct features it will do you wonders.
You can consider sheds that are ready-made too.
Take into consideration how much your bike and other materials will cost so that you can adjust accordingly.
You may dedicate some time and build your own bike shed. The raw materials can be easily accessed at hardware stores, where you can seek professional help too.
Where you'll find a bike shed
Several hardware stores can offer bike sheds and the necessary equipments. After you have made a choice, take a look at the space that is available to you for accommodating your bicycle shed. As you consider the number of bikes you will be storing in the bicycle shed – remember that you will need sufficient door clearance to get them out too.
Picking the ideal bike shed
You have to consider a few factors before making the purchase. It should cater to your requirements within your budget. You will also keep in mind that you may upgrade the number of bikes you own in the future, or use bikes that are comparatively larger in size. This is why the size of the storage shed for your bicycle  becomes even more important.
In case of difficulty finding the right shed size
The size of your bike shed will vary with the number of bikes you are looking to store inside them. Past this question, consider the size of your bike/bikes, whether you will be storing your accessories in the shed too, and if you need to do some work on the bike time-to-time.
For adult-sized bikes, you may use the following table as a reference :
| Number of bikes | Size of shed |
| --- | --- |
| 1 | 6' by 2' |
| 2 | 6' by 3' |
| 3 | 6' by 4' |
| 4 | 6' by 5' |
| 5 | 6' by 5' |
The dimensions given above are references only, and you may end up with a much bigger sized bike. In many cases, adding child seats or panniers will increase the size while kids' bikes are relatively smaller in size. You should get a measurement of your bike and if possible go bigger for a bigger shed since cramming everything into small spaces is very inconvenient.
Along with fitting your bike in the shed  – how you take the bike out and put it back in will affect the size of your bicycle shed too. Ideally, even if you are storing multiple bikes – removing one of them should not need you to take all of them down too. The practical way to approach this would be to use backward + forward access, as your bike can move in these directions better. Forward access is best if both you and your family are using the same shed to store several bikes.
Things to consider
1. Storage
A storage shed is amongst the ideal solutions for storing your bike. Wall mounts will ensure that your bikes are hoisted up by their front wheels so that they are vertical on the walls of the shed, and these mounts can be placed on racks too.  With a high ceiling, you can use pulley racks or hooks to store your bike on the shed's ceiling or to a height that will allow you to use the ground space of the shed for other purposes. Many vertical racks are designed to lean against the walls while freestanding stands can accommodate 2 bikes on the same mount. Also, take into consideration clearance for the bars and pedals. See if there are shelves that you can use to store your bike accessories.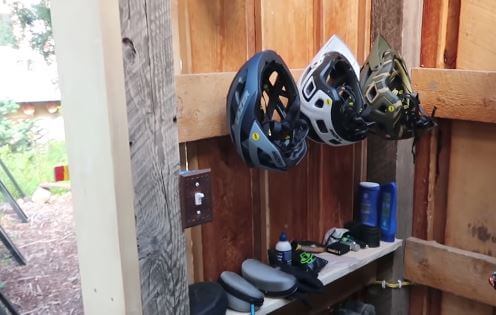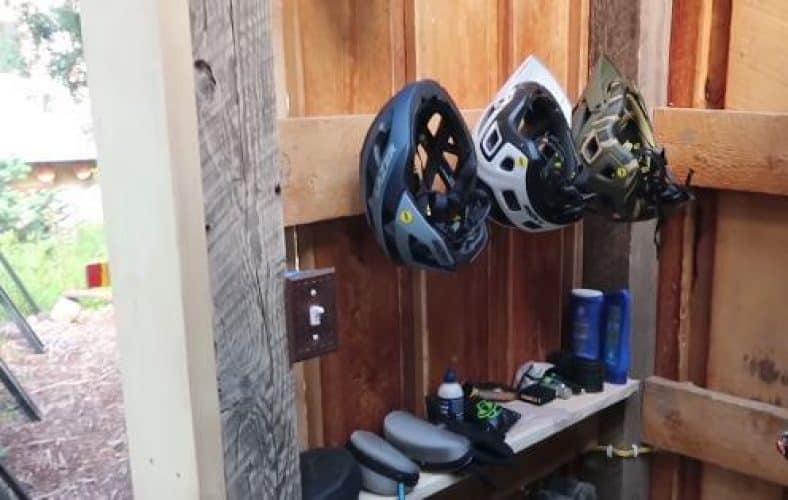 2. Security
Security is a major issue. Whether there is a shed in your yard or front garden – you would want the bike shed to have some degree of camouflage somewhere that will not catch the eyes of intruders immediately. However, you should have a clear view of the shed door.
You can use some additional security measures too. This can be avoided on metal sheds as they usually come with locks and designs that can prevent any threat. Plastic sheds offer better security than wooden ones – but their designs are not optimal for maximum security. However, you can customize wooden sheds a lot while the scope is almost null on those made from plastic. The hinges and the lock can be upgraded while another option would be installing the anchor on chain and heavy-duty padlocks.
3. Material
The choices for the material for the shed are wood, plastic, and metal.
Wood: This option checks all boxes- wood is affordable, can be manipulated as per requirement, looks great, and displays excellent strength. A decent wood shed to store your bike will protect your bike in every weather as long as you can look after it well. Easily customizable – wooden bicycle sheds are available in many sizes and shapes. DIY designs are popular for these sheds too. The wooden planks on a bicycle shed should be thicker than 12mm. Avoid overlap cladding – use grooves and tongue instead.
Metal: Metal sheds for bicycle storage are top of the line, thanks to the great security they offer along with the high strength of the material. They will ensure that your bike/bikes are "theft-proof" thanks to their natural designs. These structures can hold up well in every weather – sun, rain, wind, and snow. The raw material used is often galvanized properly so that there is no rusting. Maintenance is minimal for metal bike sheds too. Customization however is very difficult on bicycle sheds that have been made using metal as you cannot drill holes for hooks and mounts whenever you want to. Lack of ventilation may result in condensation on the bike's frame. This is why you should use panels that exceed 0.25 mm for additional strength and offer better ventilation.
Plastic: Plastic sheds are becoming popular, thanks to the fact that they can be transported easily, are resistant to rust, and can be assembled with relative ease. They are less pricey too. These resin sheds will require very little maintenance and are rarely affected by natural elements. However, they are less sturdy and do not have great outlooks often. Susceptible to damage by heavy winds or harsh snowfall.
Tips for storing the bike in a shed
They are better suited to store your bike after you have just finished riding in wet and muddy conditions.
Vinyl, rubber mats, or linoleum can be used to cover the floor of a wooden shed so that no water drips down your wet bike.
If you are using a mat, check to see if the floor below the mat is dry. Larger-sized mats can be used too while no mats at all may favor quick drying.
Use a cloth to wipe off the water before putting it inside the shed for storage. Take care of any mud when it feels as dry mud is much harder to get rid of.
Frequently Asked Questions
Q1. How do I store my bike in my shed?
Ans.: It is possible to select the optimal storage solution for your bicycle shed. Mounts/racks are commonly used while ceiling hooks can hold your bike inside the shed too. With a compact bike shed – you may want a little extra so that you can efficiently use the available space.  Consider the points mentioned below.
A pair of wooden pegs will need to be screwed into the wall. They should be apart by a distance where the bike frame can fit. Using the pegs to hang a bike will offer some additional space and look great too.
If you are looking for stands that are leaning on the wall and can hold two bikes – use racks that are designed similar to the Delta Michelangelo Bike Stand.
Storage hooks are usually coated with rubber and will allow mounting by both the wheels. They can be placed among the roof and panel of any of the shed's walls.
Q2. Can I store more than one bike in a shed?
Ans.: Storing a single bike wall mounted on the door is comparatively easy. Whenever you are looking to store multiple bikes – a bicycle shed can leave you in a dilemma. The factor that has the greatest effect here is the bike weight. Average bike weight falls in the range between 8 to 18 kg, and with 2 to 5 bikes in a typical family – lifting multiple bikes on hooks or hanging them vertically is not convenient for regular use. They will interfere with your movement inside the bike shed if you lean them against walls. Also, if you think that you can maneuver each bike amongst the others present in the shed, along with other components – you will need a lot of extra clearance.
This is why the best storage solution for keeping multiple bikes in your shed would be wall mounts that will fix the bikes by the wheels at the front. They usually have simplistic designs so that even kids can use them. Another advantage of these mounts would be that as the front wheel of your bike is lifted upward, the space that is needed to store them decreases.  You can use the extra floor space for some other purpose.
Q3. Will my bike rust in a shed?
Ans.: When stored correctly and with proper maintenance, a bike that you have placed in a bicycle shed will not be susceptible to rusting. How you have covered up your bike also contributes to how your bicycle holds up when stored in a shed.
Areas like the south-eastern part of the USA are more humid and it is in these areas where condensation is a risk. Just before long term storage, clean the bike well ( especially if you have just returned from a ride ).
Bike covers/tarps will prevent any condensation to settle in a bike.
There should be decent airflow inside the shed so that even if there is some condensation inside the shed – it will dissipate away.
Boeshield T-9 is a spray that can prevent the formation of rust.
If you live close to the beach, you will need to wash your bike after every ride so that while it is stored inside the shed – rust does not form. Dry it out before putting the bike away for storage.
Q4. How should I decide on a good-sized storage shed for me?
Ans.: As you speculate on what is the ideal size of a storage shed that can be used for your bicycle, consider the factors below.
The number of bikes you want to store: The size of the bicycle shed would at first depend on the number of bikes you want to store inside it. Whatever you do, ensure that you put two bikes apart by a distance of 600mm. When you install bike racks at the correct height, you can simply roll them into the racks during storage. Your wall-length needs to be 2.4m if you are looking to store 4 bikes in your shed – 600mm apart.
Shed usage: Very often you will be using your bicycle shed for a variety of purposes. If you are a bike nerd and like to work on your bike, you would want a shed that can also serve as a workshop.
Consider the height of your bicycle shed too as you can hoist your bike on the ceiling if it is high enough. For example – barn sheds have elevated rafters on gambrel roofs with more than adequate viewing clearance.
Storage needs: Understand what your requirements are before deciding upon a specific shed. This may include stashing sports equipment, holiday decoration, or lawn furniture except when you are storing your bike inside the shed.
Scope for upgrade: It is not a given that the size of your bicycle shed you are using now may not be sufficient enough after a few years. This is why you can go for a larger size now. You may decide to use bikes with larger footprints in the future while your kids may be into biking too. So think smart and get ready for the upgrade now as you may be able to save some money too.
Yard size: Just ensure that your shed fits in your yard. Typically – a shed that has dimensions 12 ft by 12 ft is perfect for a big yard while an 8ft by 10 ft shed suits a medium-sized yard.
Conclusion
Whence you will need to stash bicycles outside, then a decent bike shed is the best way to do it. The shed will protect you from harsh weather, keep thieves away, and will allow you to actually enjoy owning a bike. Which shed will suit you the best is dependent on the number of bikes you are looking to store, the materials that meet your aesthetic and security requirements. Also, consider the effort you might need to dedicate to maintenance and construction. Choose a wooden shed for customization while metal shades have durable anti-theft designs. Irrespective of whether you are using mounts, hooks on the walls and ceilings or your bike shed – ensure that your bike is secured outdoors.