Are you searching for the best bike racks for your pop up campers? You're at the right place.
Pop-up camper or tent trailer, or you can say them moving tent. More lightweight than RVs, you can tow them by your cars and they provide a good amount of interior space.
Now, let's talk about you. You travel now and then for recreational purposes by your car, a bit of cyclist(or not), loves to travel freely and independently and, also carry your bike while traveling. If that's the case we are guessing you are going to buy a pop camper or already you're having one. Then the first question pop in your mind will be- "where will I keep my bike?". This article is about that.
Luckily, there are several types of bike rack you can attach to your pop-up trailer to free you from " where will I keep my bike?" hassle. And more than that we have chosen the best for you. We have reviewed several bike racks for pop up camper/trailers.
The choice is hard. But we have decided to make Allen Sports 4-Bike Hitch Racks to be the best bike racks for pop up camper/trailer. It is durable, made of a rugged material, and can be attached in the hitch receiver of the camper. So overall a good choice for this year.
Compare the selections
7 best bike racks you can buy today for your pop up campers
 1. Allen Sports Hitch Rack:
Hanging style 4-bike rack
Allen sports hitch bike rack is an average bike rack with a lot of features. It has a built-in lock for anti-theft protection. Assembling the rack is easy. You can easily fold the rack and it is compact. It has a tilting feature but we don't think this will come in handy in a pop-up camper vehicle.
2.  Swagman XC2 Hitch Bike Rack:
The affordable platform-style rack
Swagman is a platform-style hitch. Not the best hitch we would admit but it can do better over the time. The rack is affordable, stylish and well designed. The anti-wobble hitch design restricts unnecessary movement.  It has a maximum weight capacity of 35lbs per bike,  And it supports 20′-29;' wheelset. It has a ratchet arm, which is adjustable, can adjust the rack to needed posture.
3. YAKIMA Bike Carrier:
Best roof bike rack for single bike
It is one of the finest designed roof-mounted bike racks that can be installed anywhere regardless of vehicle type. Its installation, bike loading, using the rack is so flawless. The rack binds the wheels by a  feature named ZIP STRIP. The rack also provides anti-theft protection. There are 2 locks provided by the manufacturer for this security protection.
4. Swagman Traveler XCS2 Towing Bike Rack
This bike rack is a standard one for a towing bike. It has a platform style design and it is a ball mount too. Racks' wheelbase accommodation is awesome. It supports up to a 53inch wheelbase. Well built and sturdy design. It has good ground clearance. Though it's not RV approved, in that sort of sense it is perfect for a pop-up camper. So, overall a good rack.
5. Aero Jack-It Tongue Mount bike rack
This is a tongue mount rack also known as a-frame. It has an innovative frame design. The rack can hold two bikes. The vehicle's rear door can be accessed even if this rack is installed. It has an adjustable wheel cradle and special straps to secure the wheels. This rack allows almost all bikes to load upon it.
6. INNO Truck Bed Bike Mount System
This rack system comes with D-ring for tie-down straps. It has a ratcheting fork holder. No tool is required or no hole is needed to drill during the installation of this system. It's fantastic as works with all kinds of bikes. Solidly holds a bike on the truck bed. As it is side-mounted so most of the truck beds remain free for other cargo.
7. Swagman Spare Tire Bike Rack:
RV approved rack
Oh! another from Swagmen RV and camper owners have many choices for a bike rack. But a spare tire bike rack is the best choice for one or two bikes. Hence comes this rack. Average category rack with good features. No bike-bike contact, enough ground clearance and made for RV or pop-up campers. It is easy to install and bike loading is also easy. So, overall it's a good rack.
---
---
Types of Bike Racks for Pup-Up Camper, Buying Guide, & FAQs
---
Types of bike racks you can buy for your pop up camper
1. Hitch-Mounted Bike Rack
We discussed it earlier. If your hitch is already occupied with the trailer/camper then how are you going to attach the rack? It is possible. As the pop-up camper has its receiver hitch in the back. You can attach your bike rack there. So, how a hitch-mounted rack in your pop-up camper benefits you? In a lot of ways-
You can easily access your bike and bike loading is also easy here
This type is basically, high capacity rack. You can load up to 4 bikes here. Well, it depends on the trailer specification.
The most important part is, you can use it anytime attaching with the car, with or without the pop-up camper
There's is no such perfect thing. It also has some cons too-
They are generally made of durable, costly materials. These products are expensive
Good chance of bike vibration or crashing as well as damaging other bikes
You can't access rear door of the trailer
Hitch-mount racks are 3 types
Platform/Tray style- It's just a platform for putting the bikes. Through hitch, it is attached to the trailer.
Mast style- Hanging the bike from a rack. You may have to use an adapter for hanging. These are less expensive and offer more ground clearance.
Vertical style- The bikes stay in a vertical position in this type of rack.
The important factor to remember is, it is not the actual hitch guide. Here, we are only talking about pop up camper or trailer rack. So You must have to know the specification and feature of your trailer to avoid unnecessary hassle.
2. Front Mount Hitch Bike Rack
The name says its features. Front mount hitch bike racks are generally installed in the car's frontal hitch. As the back hitch is already occupied by the trailer. Generally, without the trailer, this type of rack isn't in use.
The front mount hitch bike rack has its fair share of advantages and disadvantages.
The pros are-
Bike safety is ensured as it is always in front of your eyes
Easy bike loading and unloading. Max bike capacity: 2
Cons-
They may cover the headlight. It arises problems
If the car radiator is near to the bike then airflow can get blocked
When the camper is behind, the front mount hitch bike rack is a good option. Mast style is better. They will have a good amount of distance from the solid.
3. Tow Vehicle Roof Bike Rack
Tow vehicle roof bike rack or just roof bike rack. They are another common option. The rack is installed in the towing car's roof. You may need an extra crossbar here. The installation is the same, easy installation. For a pop-up camper, a roof bike rack has both factors, advantages, and disadvantages.
Some of the cons are-
The roof-mounted rack is installed on the car roof. People face problem lifting their bike over the car
If wind resistance increases then fuel consumption also increases
Extra crossbar or flat tracks are maybe needed
Now, the advantages are-
No vibration in the roof, your bike will stay secure
You can carry different types of bikes through the roof bike rack
Possibility of bike damage is lower than other racks
You can carry not just bikes but other stuff too. In one word multipurpose racks
Maximum capacity 4 bikes. Bike lifting, height clearance, and wind resistance are minor issues. Apart from that, it's one of the best rack types.
4. Tow Ball Mount Bike Rack
That's simply the extension of the hitch. The Tow ball lies between the tow vehicle and the pop-up camper. The rack is mounted upon it. The ball mount itself keeps the gravity low so that, the vehicle remains stable.
Advantages:
Both hanging and platform-style rack supporting
The ball mount itself keeps the gravity low so that, the vehicle remains stable as well as the bike.
Disadvantages:
Holding up more than 3 bikes may cause unnecessary accidents
You can't access your hatch
Loading and unloading aren't that easy
5. Camper Roof Bike Rack
It's a roof rack but bigger. Some of the campers have a built-in roof rack from the manufacturers. Also, you can always by a roof bar to set up a roof rack on a pop-up camper.
Advantages:
The overall height is lower on the camper than the tow vehicle roof rack
Wind drag is less at the behind of the vehicle
Carrying capacity is greater than towing vehicle roof rack
It's easier to load the bikes.
Its disadvantages are more like tow vehicle roof rack. Just at a lower scale because of the camper height-
Extra crossbars may have to be installed
Negative impact on fuel consumption due to wind resistance
6. Camper spare tire Bike rack
This type of racks is common. The tire carries the full load of the bike in this case.
A spare tire bike rack is better for both bike and vehicle safety.
Some advantages are-
They are easy to install
Bike loading and unloading is quick
Enough ground clearance for the bike
Some disadvantages-
Rear door access may get stopped
If you need to change your tire then you have to go through all the hassle of bike unloading and rack opening
Rack security might arise problems
7. Truck Bed Bike Rack
Truck bed bike racks are used to do carry bikes and other stuff in a truck. You can use two types of truck bed bike racks for your pop-up camper.
Shuttle pad- A shuttle pad is a large foam padded thing that attaches with a truck. It's because sometimes, you need to keep the suspension and front whee out of the truck. And so that they can't get damaged due to tailgate vibration.
A shuttle pad is large, it has a length of a truck tailgate. If you want something small you can go for the truck bed mount.
Truck bed body mount- In this kind of racks, we only get two bikes to wrap up. Whereas the max capacity of the average truck bed bike rack is 4-5, this system has a capacity of two bikes
The only side portion of the truck is used, the middle part is not utilized.
The advantages-
High capacity for tailgate system
Loading and unloading at the trail gate station
Disadvantages-
Shuttle pad is considered as extra money
Chance of damaging the bike body
In case of body mount, the capacity is lower
8. Tongue Mount Bike Rack
They are called A-Frame trailer bike too. The position of the rack is at the back of the tow and front of the camper. With more than enough ground clearance that while you are driving you can check out your bikes through the rear window. And, that will provide your bike safety and your mental satisfaction They don't use the hitch for support. They use RV/camper's tongue frame to rely on. It has a few advantages and disadvantages.
The pros are-
It utilizes the space between the vehicle and the camper
You can check out your vehicle any time while driving
Disadvantages-
You can fit fewer bikes in it due to low bike capacity
A good chance of vibration
Before buying this type of mountain rack we must find out if the rack is compatible with both the vehicle or the bike rack.
Factors to consider while buying a bike rack for pop up camper
1. Can the bike rack touch the bike's frame?
One of the main disadvantages of bike racks is their touch with bike bodies due to vibration. The racks or even the bike body may get damaged. In a hanging style rack sometimes the bike swings and touch the car body that leads to damage to the paint job. To get rid of this type of problem we may use racks that don't create swings or any chance of touching. Like roof mount racks.
Now recent technology is merged with the car racks. The anti-sway technologies stop the swaying of the bike due to vibration.
In pop-up campers, the racks are mostly attached to the camper side.
2. Weight Capacity
Generally, the weight of a pop-camper is in a range of 1200lbs to 2800lbs. And with bikes, the bike racks weigh around 70lbs to 200lbs. So it is convenient to get something in a good range.
Now, after attaching a pop-up camper, it can be said that tow vehicle's attachment options have lessened. Whereas options for rack attachment on camper has widened.
On the tow vehicle, you can mount a rack on the front hitch and the roof. Both options have its fair share of pros and cons. But in the camper, there is a lot of ways. Roof, hitch, tongue or spare tire mounted rack. We can say that the safest and highest capacity rack for the pop-up camper is the roof-mounted rack.
3. Versatility

The pop-camper has an extra advantage. The large area on the camper roof can be used to carry anything. Or wherever a rack is fitted on the camper we may need to take many things but not just bikes and stuff. The roof area will help a pop-up camper to be versatile.
4. Easy Installation
Before buying a rack for a pop-up camper, considering the easy installation factor is one of the important work to do. First of all, an extra camper is added. This thing has its hassle. After that, you are going to attach another component. So, if it doesn't have a plug and play feature then it's kind of bothersome.
Out of all the rack type for pop-up campers, the roof rack is more convenient than others. You just need a crossbar to install it. And also, it's lightweight.
Now if we talk about other types, the hitch is good. No extra tool is needed for installation in some models. Installing a spare tire is a bit lengthy. The tow ball racks are also fast and easy to install.
Considering quickness and capacity, the roof mount racks are better.
5. Price
Rack pricing depends on material and design. What kind of material is in use, how much it has used and what kind of design is given to the rack. After accumulating all the data, you can say how a rack is going to perform. So, hitch mount racks are generally heavy-duty racks. That's why they are priced so high. Trunk mount isn't applicable here. For spare tire, the load is distributed between tire and rack. Roof racks are expensive too. For price to value, you can go for hitch type racks.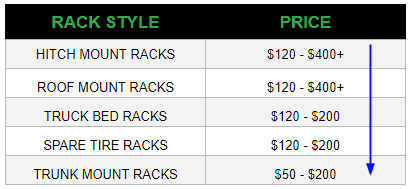 6. Locking options
Safety and security are some of the most important issues while buying a rack for cycling. Some racks provide a built-in lock system and for some racks, we have to buy an extra lock. Features should be considered are- anti-theft, safety from falling e.t.c. Some features we might bump into are-
Hitch lock- It is provided lo loosen or tighten up the hitch screw so that, we cant take the rack out of the hitch any time or the screw doesn't get loosen up due to vibration.
Strap- They are common in kind of all racks. They have just one job to do, attaching the bike body/wheel/suspension with the rack. The straps are adjustable. This is just for security purposes. so that, The bike doesn't fall from the rack.
Integrated locks- Locks, that are built within racks. These locks fulfill their purposes but better locks can be found outside. Unless built-in locks are very satisfying, you should consider buying new locks for this.
Crossbar- These locks are for roof-mounted bike racks. They are for anti-theft purposes.
7. Types of Bikes
Different types of racks are available there. Bearing capacity isn't the same for everyone nor everyone can bear all types of bikes. Due to technology and extraordinary design skill overall format of bikes and cycling has improved. There is a lot of types now. Some bicycles are heavy and some are lightweight. You should choose your rack by looking at bike types and bike rack position. For a pop-up camper, you should check out what kind of racks are suitable for your bikes. You don't have to check trunk-mount racks as it is not supported in the first place.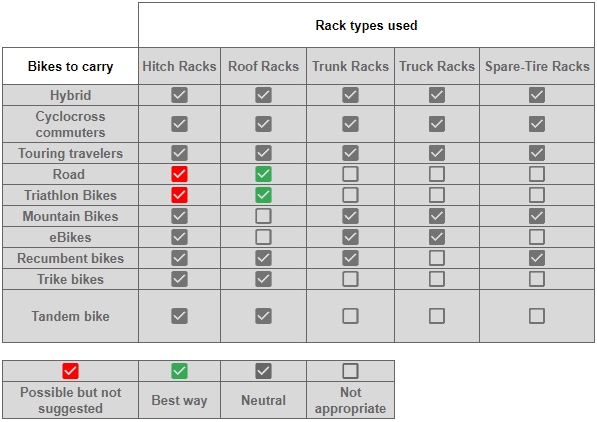 8. Ease of loading bikes
After installing racks there shouldn't be much of a problem unless there is. Sometimes bike loading is tough on several racks. Like, it is troublesome to lift the bike to the roof. Or in case of vertical hitch bikes, it's tough to load and arrange them vertically. Easy loading and unloading must be considered while you are buying a rack guide. Or else, there will be just extra hassle and time wastage.
9. Folding capability
While you aren't using your rack you are storing it in your camper or vehicle. If it doesn't have folding capability than it is wasting a lot of space. For saving space and carrying with ease, the folding capability of those racks will come in handy.
10. Other features
There might be some other features to consider.
E-bike compatibility- It's a good feature for a rack to have. It also means the rack is capable of bearing heavyweight bikes as well as heavy components.
Tilt- Tilting feature is good for accessing rear doors.
Fork/suspension attachment- The rack should have a feature to attach a bike with the help of suspension. Now the bike has front-wheel easy off activity.
11. Car & pop-up camper Specification
As we are buying racks for pop up camper, we must check camper specification first. Its suitability with the rack, capacity, rack attachment area e.t.c. And when the trailer will detach we have to check if we can shift the rack to the car. So when we will buy our rack, we must check if it's compatible with the car and pop-up camper specifications.
Bike Racks and pop-up campers
We came from the wild to civilized life and from time to time we go back there, into the wild. Recreational activities are in human nature. Of course, at some point in your life, you thought of living in the wild, doing camping stuff or something. Well, believe it or not, there is a big marketplace built upon this sector. Recreational vehicles are being popular day by day. RVs, pop-up camper, tent trailer e.t.c are now commonly used for travelling.
If you are a cyclist or a bike lover then it's obvious that on a long journey, you will carry your bike and a rack in your car. Now that, the hitch is already installed in the pop-up camper, where are you going to attach the rack?
Fortunately, there are a lot of options for doing that. Even you can attach the rack in the already installed hitch position. Yes, we will get there slowly. We can see that it's convenient to have a bike rack attached to the pop-up camper.
For the following reasons, attaching a bike rack to your camper is beneficial:
The car will be your long journey vehicle
You will live on the camper, that saves a lot of living cost
You will explore the landscape by your bike
Besides that, you may have to go some distance, where it's inefficient to go by car with the camper. Your bike will come in handy at that time. And then, there is an arrangement for parking your bike. Your biking rack will be the parking lot which is attached to the camper. In that sense, you will become a sort of maverick traveler.
Q: What kind of racks is appropriate for a pop-up camper?
We have seen the carrying options. It can be said that almost all kinds of racks are compatible with pop-up campers excluding one rack. The trunk type rack. The position of the rack is in so unlikely a place that using it is almost difficult. Now, here we didn't mention a rack type. Those are generally called special racks. Mainly they are more like a roof or hitch mount rack. But their capacity is for a recumbent bike or trike bikes.
So, excluding trunk-mount racks, every type is compatible with pop-cup campers.
Q: Can you put a roof rack on a pop-up camper?
A pop-up camper is a recreational vehicle which is needed to be towed by a tow vehicle. Now, they have a lot of interior space as well as outside space for attachments too. Of course, you can put a roof rack on a pop-up camper. In fact, it's better than using a roof rack on the main vehicle. In the main vehicle, there is too much drag you will feel upon the bikes due to the wind resistance. And, also the height of the camper is lower than the main in some cases, so, lifting a bike is easier in the camper. So, yeah, it's possible to put a roof rack on a pop-up camper.
Q: Can I use a spare tire rack on pop-up camper?
It depends on the camper specification. If it supports spare tire attachment then it's good to go. But some campers have weight issues. Even if you can attach a spare tire that doesn't mean you can hang a bike rack with it. But most likely, it's normal to use a spare-tire rack on the pop-up camper. The only fact is your backdoor of the camper will become out of the limit.
Conclusion
A bike rack becomes an important issue when cycling and travelling are rooted in your nature. Both of these give us a sense of freedom. So, it's an important issue when choosing the material that connects with both cycling and travelling. A good bike rack is a good investment. Selecting a good rack will save you from years of trouble. Buy one and get out there, roam. Have a safe ride and a good trip.
Related Reading
(Visited 312 times, 1 visits today)
Last update on 2020-11-30 at 05:20 / Affiliate links / Images from Amazon Product Advertising API
Close