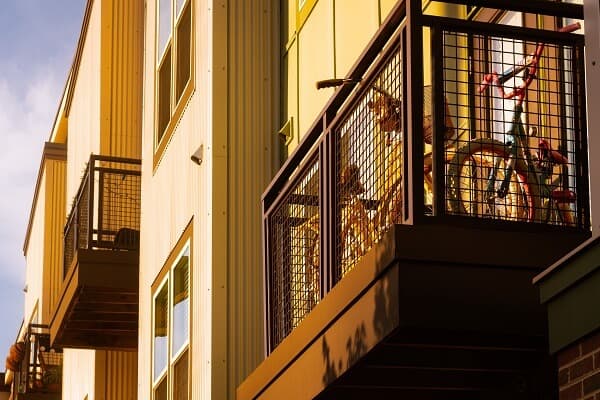 Just because you rent an apartment and may not have access to convenient parking is not good enough to keep you from owning a bike. Even if the living area is small, balconies are usually common and they can easily be used to store your bike. If you are a bike lover, you can easily turn your balcony into a storage-friendly solution. With a rented apartment, take permission from your landowner before you can install ceiling or wall hooks. Consider your bike weight and dimensions so that you can avoid your bike crashing down on top of you. In this article, we have pointed out the several means that can be used to mount a bicycle on your apartment's balcony, along with considerations for winter storage. We have also included instances when you will need to take off the assembly, along with casing options. At the end of the article, we have included several questions that frequently come up in regards to using a balcony for storing one's favorite bicycle – even if you own more than one bicycle.
Types of bike mounts


Picture: Mounts for storing bikes on the apartment balcony
Almost all apartments come with balconies, and they are usually 6m in size. You can use the following mounts to store your bike:
1. Floor
You can use the balcony of your house/apartment to store your bike. A rack will prove especially easy to maneuver as you can pull out your bike with ease. If you own more than one, remember that floor racks can accommodate at most 2 bikes. Similar to bike racks that can be found in universities, vertical slats are used on a metal bar several inches in length. The simplicity of these bike racks are perfect for floor storage, and this is why they are preferred on balconies. These can either store your bikes vertically by one wheel so you can line them up in a row or horizontally by the top tube—and some even have integrated lights to help illuminate your ride, much like track lighting for a painting.
2. Wall-mounted
If you are using the floor of your balcony for something else, wall mounts can help you as an alternative. The specialty of this design is you can place the bike that you use the most at the bottom of the wall mount for easy access while the others can be placed on top of it as per the frequency of use – ideal if your family members are using multiple bikes individually. These wall mounts can be used to hold bike components like rims, forks, tires, etc.
If your bike hangs flat up against your balcony's wall ( much like a painting ) – the low profile of such a design will allow you to use the ground space for any other purpose.
3. Under the ceiling
If you are looking to store your bike for a long time, especially 3 – 4 months of the winter season – you can use this attachment type on your balcony for storage. It can be achieved by two means:
A Pulley system will allow you to lower/raise your bike with ease.
A stepladder can be avoided as mounting with hooks can serve the purpose. However, you cannot store heavy bikes this way.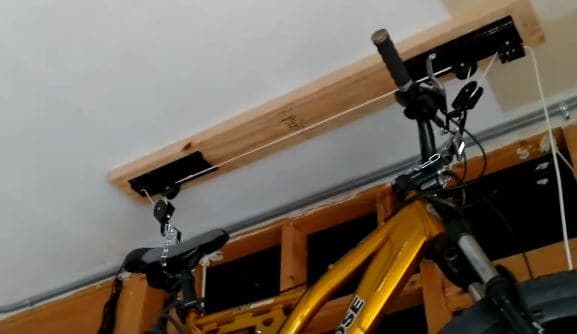 Picture: Pulley system for storing a bike in your apartment
➥ You can use a ceiling rack on your balcony as well as the garage also. You can check the selections of ceiling bike racks.
4. Kickstands
The convenient storage solution you can use to keep your bike upright in the balcony space. However, bikes that use such a design will be a tad heavier. So if you are using a road bike, try the other storage designs mentioned above. On the contrary, if you have a bike that is fully loaded and that you use for touring purposes – this is perfect for you as bike stands are using similar mechanisms for parking.
5. Gravity stands
They manipulate the bike's weight to ensure that it can lean flat across any section of the wall on your balcony. Setup is reliable since no hooks are used, nor any drills will need to be made on the wall. Can store two bikes with ease.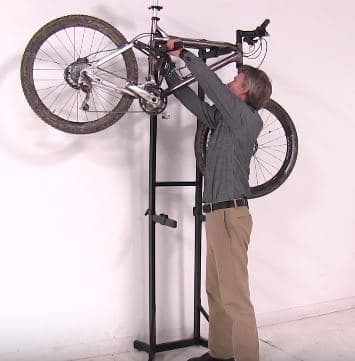 Picture: Use gravity bike stands to store two bikes easily on your balcony
Resource: bestbikeus.com, rei.com
➥ To store your bike, a standing rack on your balcony will be a great choice. Here, you can see our best selections for free standing bike racks.
Un-assembling the stored bike
There may be instances where it might be too much of a hassle to store your bike fully assembled. This is where you can use the following methods to make your easy:
1. We are pretty sure that your bike was delivered with a box, or you might have been given one after store purchase. If you have one – use it. In case you do not, a case has to be used. This will require you to disassemble the whole structure – however, a convenient way to go about this would be to get rid of the wheel at the front and any other parts that are sticking out from its structure.
Saddle, steering wheel, pedal, light, pump and bottle fasteners, etc – check every item so that you can decide whether to keep them on or not. The mounting bolts are easily displaced – so wrap them, but take care so that their threads are not damaged. Parts that you cannot remove – like the end sections of the fork can be wrapped in layers of foil or cardboard that is thick. Follow the same process for the connecting rods and steering wheel.
2. Special containers can be used too, which are ideal for storing your bike for more than 6 months. You will need to completely disassemble your bike and use a waterproof case that is sturdy enough to store the spare parts. Remember that special tools will be needed to: I. Remove the chain and plug; and II. Disassemble the sleeves and the cassette. Therefore your bike will take up very little space. When you do not want to use your balcony anymore, use the space beneath your bed. Some parts are using leather and rubber-like grip, saddle, camera mounts, and the tires that prefer dry and warm storage places.
Preparing a bike for winter seasons on the balcony
To make sure that your bike is well equipped to survive the winter conditions, we have some advice for you below. Even if you are storing your bike for three/four months, it should remain in tip-top conditions.
The bike should be washed thoroughly and if possible use a polish so that it looks great.
The chain should be lubricated by a rag that has been oiled, along with other mechanical parts of the bike.
Transmission cables of your bike should not be taut. Place the chain on the smallest gears for both the wheels.
The wheels have to be inflated to the pressure that has to be mentioned on the wheel sidewall or in the manual. So that wheel deformation can be avoided in winter – balance it on the handlebars or hang it from the ceiling. . If you regularly face harsh winters – remove your tires off the rims so that they can remain warm. Rubber cracks can therefore be avoided.
The frame should be covered so that paint damage can be avoided from UV rays from the sun.
The steel is used on the frame of your bike can "look" like it has been exposed to rush if condensate has accumulated internally. This is why compounds with anti-corrosion properties are used to treat the bike frame so steel does not deteriorate.
Other factors to consider
1. Storage space
The best storage option is dependent on the space you have available on your balcony. The most sought-after option would be bicycle racks where you can store your bike vertically to the wall. Also, you have the option to place the rack on the corner of your balcony where it will take up very little place.
You can also use a wall mount to store your bike in such a way that the wall and your wheels are parallel. With sufficient ceiling space, and if you are using a very high mount – then obviously you can use the space on the balcony's floor for other things.
Vertical stands that are very tall and stand up on their own or can be leaning against walls are perfect for storing a maximum of two bikes. Further elaborate options would be the use of pulley racks or hooks on the ceiling.
There are brackets for mounts that will fold up flat when they are not being used. Great if there is limited space on your balcony.
2. Bike weight
Whenever you are looking to mount your bike on a wall of your balcony – consider how much your bike weighs if you do not want your bike to fall off and damage it. If you are renting your apartment, take your landlord's permission to fix equipment on the ceiling/wall.
3. Security
Many balconies in the apartments today can be accessed externally via ladders. This is why locks are provided with many wall mounts for additional safety. This will reduce vulnerability to theft.
4. Wall & floor protection
You will need to ensure that grease and dirt from your bike do not muck up your balcony floor, especially in winter. Therefore many wall mountings come with tiny plastic housings so that the wheels can be accommodated inside them and nothing comes in contact with the walls or the floors. Just below the touchpoints for the wheels, plates are used so that their width can support the wheels. Additionally, if the design of your rack protrudes from the wall – it will help to keep mud, grease, or dirt away too.
5. Size of wheels
You need to ensure that you will be able to accommodate your wheels on the rack. This should be maintained especially for mountain bikes and 29ers that are using floor stands – check if your tire width can fit inside the rack. Wheel size compatibility should be the key factor for all racks that have the wheels to anchor the rack structure – irrespective of whether it is a floor or wall model.
6. Age & quality
The quality of your bike, along with how many years it has served you will come into play too when you are deciding if you want to store your bike outside ( especially). A high-end model that is aged under 10 years will be resistant to rust much better than much older models. This is particularly true for bike chains as high-end models use more and better quality of stainless steel in their structure.
7. Location
Areas that are rainy or humid will increase the risk of corrosion by a lot. Exposure to rain for 3-4 days is ok – 7 days, on the other hand, will cause your chain to rust. Other signs of vulnerability will become visible too. Humidity and heat will have adverse effects too, especially on bike parts that are using rubber/plastic. Fading colors is a common phenomenon, while the service lifespan of the components will reduce too.
Types of Bike Covers
Some covers can be used for your whole bike. Ideal for use as you will not need to disassemble anything. Usually, elastic wraps at the bottom of the bike cover are used because they are durable and contoured in shape so that your bike is secured always.
Bike covers can work great to keep grime and dust from your bike. They are also UV and water-resistant in most cases. Ideal for balcony storage so that your bike is not scraped or scratched accidentally.
There are bike covers that can be used to cover your bike, which is usually used when you are carrying your bike on the roof rack of your vehicle. They can keep debris and bugs off your bike. Can protect your seat, top tube, handlebars, and front section of the fork.
Seat covers with waterproof properties will keep your bike seat dry and offer protection from other natural elements. Great if you ride regularly and need to lock up your bike outdoors.
They can also be used over your saddle and secured by a drawstring or elastic. They also make your bike durable, especially if plastic, nylon, or leather is used on the exterior. This is important because these materials can be damaged if exposed to the sun or weather that is not favorable. Remove the seat cover before using your bike again so that you can avoid mud or water. Storage pouches or plastic bags that are gallon-sized can come in handy too. In such cases, just make sure that your bike seat cover is dry and clean every time you use it.
Frequently Asked Questions
Q1. How do I store my bike on a balcony?
Ans.: A balcony can be a great storage space, especially if you are living in an apartment building. Use the floor, ceilings, or the wall to store your bike.
If you have two bikes – the floor can be used to mount your bike. This method is particularly helpful and co convenient if you have two bikes. Every time you need to pull any of your bikes from the racks it will be comparatively easy. Bike stands are similar and can be used too. They are convenient because the design is very easy to relocate.
If you find that there is no available space on the floor- bike racks that can be wall-mounted can be used. This storage option is great because floors/ levels can be used to store multiple bikes. The bike you use most often can be stored on the lowest floor while others can be piled up on the floors above according to the frequency of use. If the bike racks are mounted high up, you will have access to more space. Just make sure that you can reach them easily when needed. This is why higher-end racks should always be used so that you can mount them safely. The correct fastening elements are important too. Thoroughly inspect the surface on which you plan to hand your bike rack. Larger bike components like the fork, rim, and tires can use these wall-mounted racks too – as well as gloves, racks, etc.
To go the extra mile, the ceiling is the ideal storage option. Just make sure that the height of your balcony ceiling is high enough. This is perfect for winter storage too. Use either a pulley to lower/raise your bike so that ladders can be avoided. Another type involves using hooks that have been mounted using a dime design. However, this design will fail if your bike weighs more than 22 kg.
Q2. Is it okay if I store my bikes vertically?
Ans.: The reasoning behind storing your bike vertically is to save space. If you do not store your bike properly, it might occupy more space – which does not serve the purpose. Using specific corners to store the bike will work too – as long as it is close to the wall an additional apparatus will be needed to hold the bike upright.
Q3. Is it okay if I hang my bike by its wheels?
Ans.: Yes you can hand your bike by its wheels/tire. Just go by the following tips.
Dual contact points – A Pair of hooks will help you avoid balancing all of your bike weight on a single spot. Two contact points will help distribute weight better.
Hang Horizontally – If you can use two vinyl hooks, try to hang your bike horizontally. The great thing about this design is the frame can be used to hang the bicycle structure as it is more capable of handling the whole bike weight.
Give the wheels a wipe-down – Get rid of any dirt/debris from your wheels after each ride, especially if you are hanging the bike. Otherwise, sand/dirt is more likely to compromise the soft covering of the hooks – eventually resulting in scratches from the hooks. This will make your bike durable.
Bring it down easy – Avoid hurrying as you want to bring the bike down because a wrong step will bring your bike crashing down.
Cover the bike when outdoors – Your bike elements will be at risk to deteriorate and corrode if stored outside. If you end up storing it outdoors, get a rain cover so that exposure to the sun and rain can be avoided. Just make sure to lock it.
Check surface compatibility with mount/hook – Take a closer look at where you will be installing the hooks. Avoid planting them on drywalls directly because they will not facilitate sturdy installation. Use a stud to place the hook.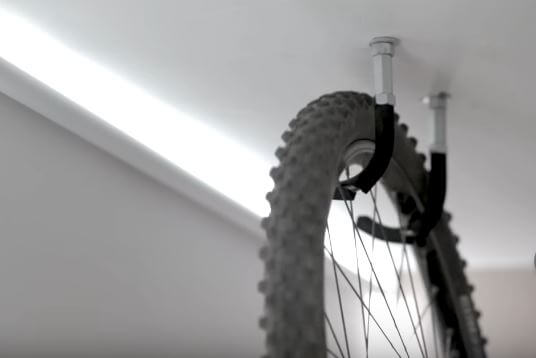 Picture: Hanging a bike by its wheels
Q4. Should I deflate my bike tires for storage?
Ans.: Your bike tires will deflate over time if put in storage. This is why you should be inflating them fully. The weight of your bike should not be focused on the wheels during storage as this can damage them permanently. Thus pump in the maximum pressure mentioned on the sidewall or the manual, and then hand it by the wheels. Another way could be to flip the bike so that weight is being balanced on the handlebars.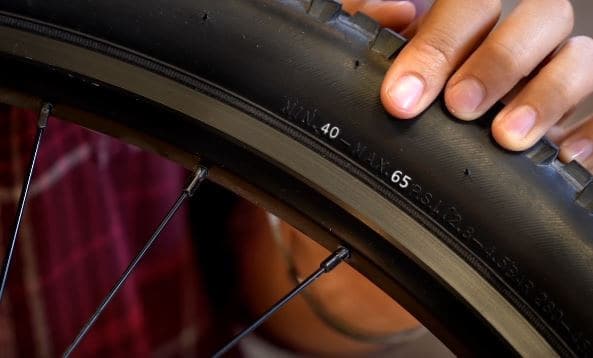 Picture: Deflate a bike tire for storage
Conclusion
Irrespective of the budget or space that you have access to – you should always make sure that you can ensure the protection and security of your bike. Just do not leave it until it is too late. Try to get the storage options sorted out before you have made a purchase- especially when you have a perfectly spacious balcony that has perfect ceiling height and far from the reach of thieves.