Downhill riding is undoubtedly the most exhilarating among all biking disciplines out there. To enhance that experience, and to give yourself that performance edge, upgrading your wheels is the most efficient step that you can take.
➥ We recommend you have a look at some of the top downhill MTB wheels you can but today on 2021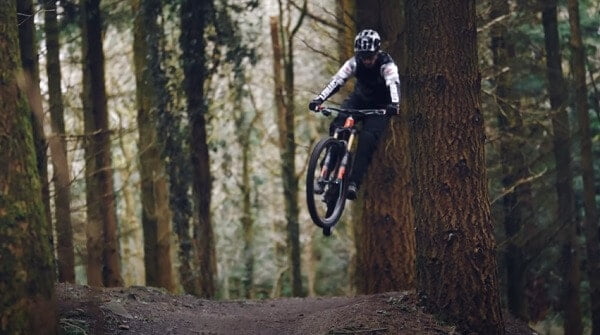 But unfortunately, getting a new set of DH wheels may not be as simple as it sounds. A bit of research and min-maxing is required to get yourself the perfect set.
To help you out with that we have broken down the major features of your typical bike wheel into several talking points that we believe will impact your riding experience as you zoom downhill:
Wheel Specifications
Types of Tires
Hub Spacing
Spoke Style
Material
Let's begin!
Features of Downhill Mountain Bike Wheels
1. Wheel Specifications
A greatly debated point among many MTB enthusiasts given the abundance of options and even more combinations available to users. To make it easier, we have separated it into two dimensions: The Diameter (Size) and The Width.
Wheel Size
MTBs originally came at the 26in sizes. The positives in this size lay in its nimble and light frame. The smaller size also promoted stiffness which is essential to any form of mountain biking. But in the perspective of downhill rides its low weight and lithe frame became its own bane.
While the 26in is still great, downhill wheels require it to be as sturdy and strong as possible, give more traction and response while on track. Thus modern cyclists looking for something a bit more hefty and larger, like the 27.5in (650b) or the 29er.
The 27.5in, or as some might call it the 650b, has become the new norm for DH rides, providing a decent balance between rollover resistance, stiffness, and air volume. In the right hands, you can't go wrong with the 27.5in.
The newcomer, and quickly gaining popularity, is the 29in wheels, or 29er if you are feeling fancy. These large wheels may be a little off-putting at first glance as smaller wheels have always been more commonly represented in the MTB scene. Due to their increased size and weight, these wheels do provide increased traction and roll-over ability.
But most importantly the larger frame of the 29er is capable of providing increased stability during your descent thanks to the increased air volume it can accommodate, increasing the surface-to-tire contact area. This is indispensable for any DH wheel.
The tradeoff however is the increased weight that comes with it and can prove to be a bit more cumbersome than its smaller cousins.
Rim Width
The wider the rim the more stable your riding experience will be. A simple motto to follow.
By current MTB wheel standards, anything below 20mm will be considered a narrow rim, while standard ones are usually between 21-25mm. Anything beyond that is a wide rim.
DH wheels with rims 28-30mm wide can be seen as a balance between standard, stable and strong. Wider rims do help dampen a lot of the impact that you will be experiencing on a rocky track.
Of course, like rim sizes, wide rims come with a weight penalty.
➥ If you're on the lookout for a set of track wheelset, then, we suggest you have a look at the top bike wheelset for you on 2021
2. Accommodate Different Tire Types
There are really only two viable types of tires that your DH wheels should be able to accommodate:
The clincher: Standard tire type, usually comes right out of the box. Good for entry to intermediate levels of riders as these are easy to handle and replace in case of a flat. These tires require a tube inside that needs to be inflated and beads on the edge to hold (or clinch) onto the rim.
Tubeless: Unlike the clincher, and as the name implies, these tires require no inner tubing for inflation. It relies on air pressure (and a liquid sealant) to achieve an airtight seal. Tubeless has always been the go-to tires for mountain biking for its high resistance to piercing impacts (punctures) thanks to its absence of a tube. On top of that, the tires also offer lower pressures for more control and comfort, and possibly, higher traction.
Even if you do plan on getting yourself a clincher wheel, it is always a good idea to get one that is tubeless-ready in case you will be looking to change tires in the future.
3. Hub Width
Hubs are a critical component of any cycle wheel. The width of the hub usually determines its strength and rigidity. And we all know how strong DH wheels need to be.
A point to note that the width of the front wheel hubs will differ from the ones in the rear wheel, as the rear wheel also houses the gear cassettes.
That said, a standard MTB front wheel hub will be around 100mm, but a boosted one with a width of 110mm will be more preferable when it comes to downhill riding.
As for the rear wheel hub, a DH standard would be a 142mm width or a boosted one at 148mm.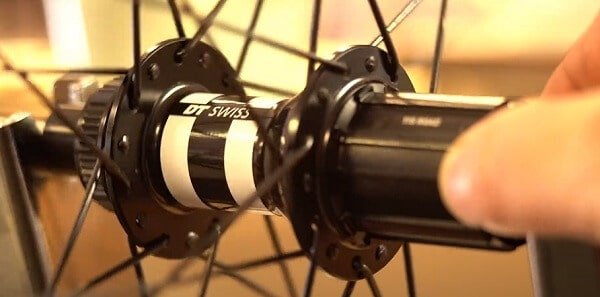 4. Spoke Style
The total number of spokes and their shape and material, all define how strong and sturdy your wheel will be.
In an MTB, the front wheel typically has fewer spokes than the rear wheels. Generally, you'd be looking at 28-32 spokes for a stiff and sturdy DH wheel.
The number of spokes, depending on the material, does add extra weight though. The materials, heaviest to the lightest, include:
Steel
Aluminum
Titanium
Carbon Fiber
However, manufacturing innovations have allowed engineers to add fewer spokes to the wheel without compromising strength.
The next point of contention regarding spokes is their design. The 'J-bend' ones are by far the most common. They are easy to maintain and replace in case of a mishap.
But the strongest and the most durable design option for your DH wheel will definitely be the 'straight pull' spokes. The only hitch that comes with these spokes is that many manufacturers make proprietary hubs that go along with these, making replacement a time-consuming and rather expensive affair.
We suggest that you go for a three-cross lacing pattern for the spokes of your DH wheel, for maximum sturdiness.
5. Material
Finally, we have a great debate about the rim material. Performance wise, it honestly doesn't really matter.
Carbon rims are stiffer than their alloy counterparts making for a very responsive and controlled riding experience. While they do shave off a few hundred grams of the overall weight, it does, however, add a few hundred dollars (if not more) in its place.
Alloy rims, on the other hand, are far more compliant which makes up a smooth ride.
With enough impact, anything can be damaged. Carbon rims may be sturdier than alloy rims, but unlike the alloys, once enough pressure is exerted carbon rims straight up crack and become unusable. Alloy rims bend and dent, which can usually be hammered back into place.
Replacement of alloy rims is far easier and cheaper. The same can't be said for carbon rims. We would be surprised if your heart didn't break along with your carbon rims.
How much should I spend?
On a very positive note, the cost of a downhill wheelset can be as big as your wallet. Meaning, whatever your budget, you are sure to get yourself a decent pair of wheels.
Anything under $500 will provide you with standard alloy wheels in both tubed and tubeless versions.
At the $500-1500 range is where the real strength and specially designed downhill wheels start to appear. This range will give you options for higher performing hubs in various sizes, as well as opening the doors to components made of carbon fiber.
In the next tier of prices, of $1500 and above, you can get yourself professional performance products: the best rims, spokes, and hubs. The ultralight carbon fiber dominates this price range. These products are sure to give you a competitive edge in any race you attend.
➥ If you're on a tight budget and is looking for an affordable pair of wheelsets, then, do check out some of the top budget MTB wheels you can buy in 2021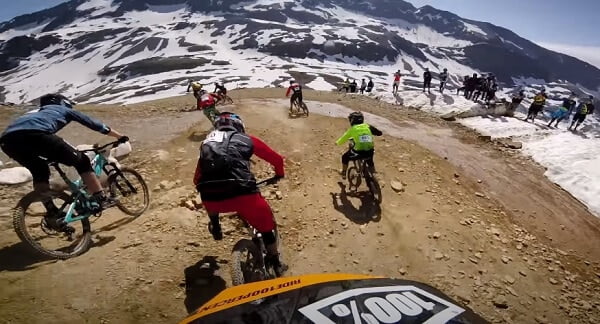 Frequently Asked Questions
Q1. How tall should you be for a 29in bike?
Ans.: Most people can accommodate themselves to a 29er, it is the shorter individuals that may have some trouble adjusting to this specific height (sorry!).
If you are over 5 feet and 6 inches tall, you can find yourself a 29er to easily fit you. If not, then it is better to stick to 26in wheels. But if you are over 6 feet, 29ers will provide you with the perfect riding height.
➥ We suggest you do check out the review of some of the top 29er wheelset for the money in 2021
Q2. Can I put thin tires on a mountain bike?
Ans.: While it is possible, it is suggested that you DO NOT put thinner tires on your MTB.
Thinner or narrower tires have lower air volume, meaning they have less cushioning power as you ride through rough terrain, which is quite common in any form of mountain biking. The lower cushioning can't absorb the constant shock and pressure and can eventually damage the wheel permanently.
Final Words
The weight, width, and stiffness of a new set of wheels can play a huge role in improving your downhill riding experience.
Focusing on the strengths and weaknesses of the ever-changing variables, we have laid down the deets in the form of this article which is sure to help you along the way to get yourself a fresh set of downhill wheels.
Happy Riding!