The platform pedals or, as some might say, flats have withstood the test of time by still being one of the most popular type of pedals available to cyclists today. Beginner friendly and also coveted by many MTB veterans, the flat pedal is here to stay for many many years to come.
But modernity comes with sophistication.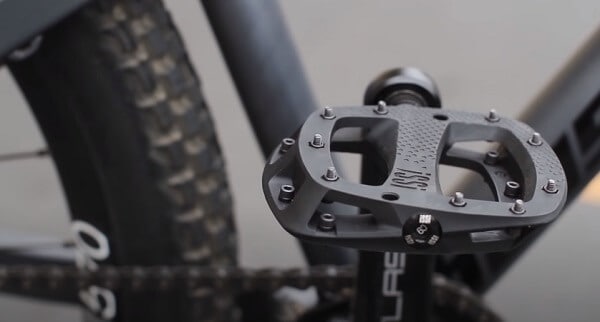 Choosing a bike pedal nowadays, even a simple one like the flat pedal, can be a source of a lot of confusion and headaches for the buyers, thanks to the massive innovations that these pedals have gone through over the years to keep up with the times.
Choosing a pair of flat pedals has now become a matter of research, riding style and preference, a solid balance of each. Looking specifically at the knowledge side of the matter, we have things like…
Size
Thickness
Shape
Material
Pins
…of the pedals to talk about that will surely impact your purchase decisions.
In this article, we will be looking at all of these points in the perspective of the buyer and also the user and how they can impact each party in terms of performance and budget.
So let's dive into it.
Considerations for Choosing a Flat Pedal
1. Platform Size
Being one of the major points of the rider with the bike (the other two being the handles and the seat), the pedals play an important role in terms of balance, comfort and performance on top of a bicycle.
Naturally, the first aspect of the pedals we will be looking at is its size.
There really is no 'one size fits all' flat pedal out there, or for any pedal in fact. Different sized feet (shoe sizes) are easily the main driving force behind pedal sizes. Your riding style can also impact the size of the pedal, but more on that later.
The pedal size is covered by the size of the platform around the spindle or axle. The main consideration that you have to make is the pedal overlap.
This is determined by how much your shoes are covering the platform of the pedals, and depending on it is your overall riding performance.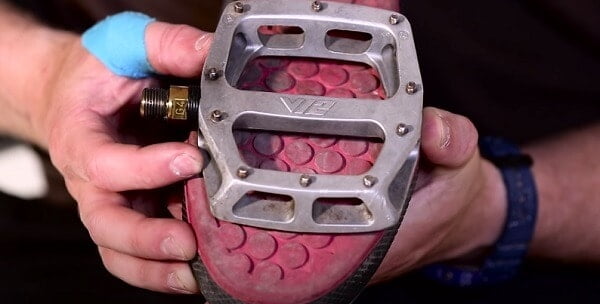 A smaller platform, or a larger shoe (negative pedal overlap, shoes are overlapping the pedals), might make you feel uncomfortable and your pedaling (power transfer) might become inefficient.
Whereas, having a larger pedal, or a smaller shoe (large pedal overlap), may make you hit obstacles, damaging your pedals and perhaps even your feet.
The idea is to find the right balance between the shoes and pedals so that they don't overlap each other.
As for riding styles, a larger pedal should provide enough stability for extreme off-road tracks, like enduro or downhill biking. A smaller pedal with mud shedding capabilities should work well with cyclocross.
➥ Here is our research results and the reviews of Enduro bike pedals for your better understanding to choose pedals for your better performance.
2. Pedal Thickness
Next in line in the physical form department is thickness.
Thin Pedals
+ Low weight.
+ Less likely to contact the ground
+ Lowers center of gravity
+ Your feet are closer to the center of the axle for better power transfer and control.
– Very thin pedals cannot have bearings installed, they go with bushings but they don't last as long.
– Lighter, meaning that they are less durable to contacts.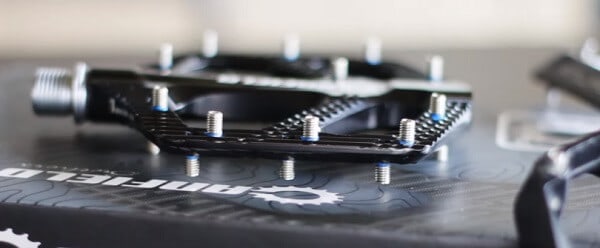 Thick Pedals (more common):
+ Very robust and sturdy
+ Higher performance due to higher quality of bearings and materials used
– Heavy, weight is very noticeable.
3. Pins
Keeping your feet on the pedals at all times not only affects performance but also enhances safety in certain situations. The clipless pedal does this very well.
But compared to the clipless pedals, the flat pedal does not really have any mechanism to keep a cyclist's feet locked in place. That is why the presence of grips become that much important to remedy this issue. This is achieved by the pins that are thread through the surface of the pedals.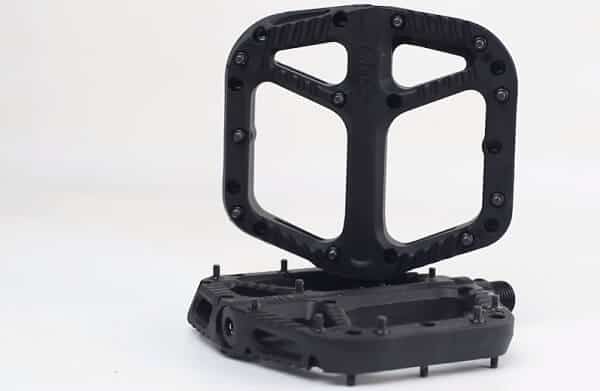 Certain features determine the effectiveness of the pins:
Height
Longer or higher pins give more grip. But they are more likely to hit stuff and bend, especially if the pedals are thick. Some pedals allow you to adjust the pin height. However, you can only find these in a pricier category.
Pattern
Flat pedals usually come with a hexa- (6) or octa- (8) pin pattern on either surface. More pins naturally equal more grip. Many pedals have extra pin holes in them that you can mix and match your patterns or add more pins.
4. Pedal Shape
Moving on from the top view now let's go on to the side view of these pedals. And much more importantly, let's talk about how the shape of the pedals also affect the grip.
Flat: Completely flat interface, simple design, you can't get it wrong. These pedals allow you to slip in your feet and adjust them on top of the pedals with ease. These tend to be the thicker version of all platform style pedals.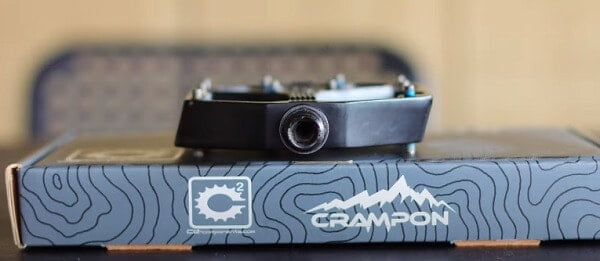 Concave: Quickly rising in popularity, these pedals increase the existing surface area that your feet go onto without increasing the pedal overlap. This shape lets your shoes 'sink in' to the pedals exposing them to the pins. This provides more pressure on the outside pins, and significantly enhances the grip efficiency of the pedals. These are some of the grippiest pedals out there.

Convex: Uncommon design, but follows the same principles of the concave pedals. These pedals tend to be very thin. They allow your feel to wrap around the pedals in order to provide improved grip. These are obviously meant for soft soled shoes.

Note: Not everyone likes grippy pedals, some prefer the freedom to move their feet any way they want to.
5. Pedal Material
As you might have guessed, like many other cycling components the pedals can also be made from different materials.
The main differentiating factors that revolve around these materials are aesthetics, durability and most importantly, how expensive they are to acquire.
Reinforced Nylon (Composite): Cheapest among all the materials, but they aren't in any way less useful than the others. Composite pedals are decently durable to scratches and contacts (rocks) and can also be colored. Very popular among beginners and young cyclists.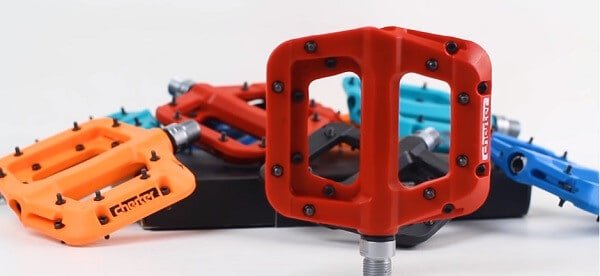 Aluminum Alloy: Lightweight pedals. The pins will hold on to the pedals really well. Machining can be done on them to boost mud shedding properties of the pedals and also to add extra grip. Many veterans and professionals prefer aluminum pedals for its great performance features.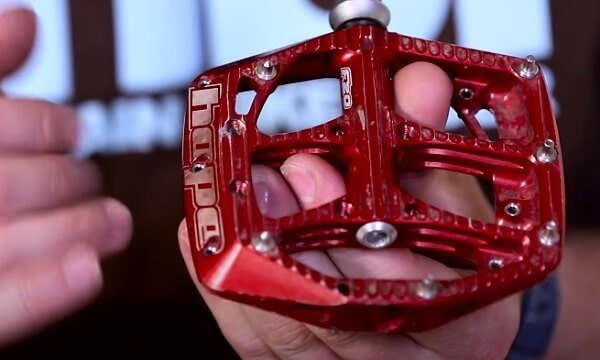 Magnesium Alloy: Considerably lighter than aluminum pedals, though not as tough as the previous two even though it has other similar properties. Pins can get damaged and so can the body due to its low durability. These feather-weight pedals can be more effectively used in competitive road racing rather than off-road biking.
Other Considerations
There are a lot of other considerations that you can make to compliment the pedals. From our perspective, two of the most important are:
Axle Material
The pedal axle is a separate component of the pedal, thus the material used to make them is different and can impact performance
Steel: Highly durable and the cheaper of the two.
Titanium: Also very durable but very expensive to manufacture, which adds to its overall cost. These are considerably lighter, weighing almost as half of that of the steel axle.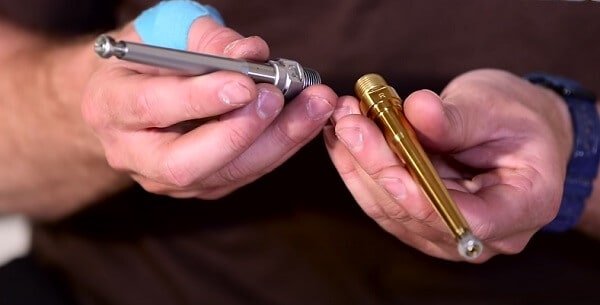 Shoes
Pairing your pedals with the right shoes will see significant boosts in both cycling performance and experience.
Many argue that a pair of shoes is a more important cycling component than the pedals themselves. And with good reason.
Flat pedals will generally require flat soled shoes. But unlike your regular sneakers, the soles of these shoes will be patterned to accept the pins of the pedals.
Whether it is downhill, enduro, BMX or even commuting, specialized shoes for flat pedals will obviously perform better than regular sneakers.
Frequently Asked Questions
Q1) Can you put flat pedals on a road bike?
Ans.: Yes you can. While flat pedals are a common scenario in mountain biking, road bikers are more skewed towards clipless pedals as road biking does not concern itself with some of the safety issues involved with MTBs.
➥ Know in details about our best product reviews for Flat pedals on a road bike.
However, flat pedals do not enhance performance and efficiency of road biking the same way that a clipless pedal does, thus these pedals are often relegated to more casual cyclists, beginners or commuters.
Q2) Are plastic MTB pedals any good?
Ans.: They word fine as pedals, but they act as more of a gateway pedal to many mountain bikers. If you want to take your plastic pedals further, make sure they have metal pins on them.
Metal pins provide better grip and can be adjusted. Plastic pins are horrible when it comes to riding in a wet environment, they can become slippery making them counterintuitive as grip pins. Consider replacing your pedals altogether in this situation.
Final Words
Congratulations for going through this long article!
By now you should be aware of the sophistication and the complexity that choosing a pair of flat pedals can bring.
But not to worry! If it were easy, it wouldn't be worth it. And boy are they worth it!
Naturally, the more expensive the pedals the more positive boxes they check. Even if pedals are some of the most replaced cycling components, investing into them is not really going to break your wallet and the returns are great.