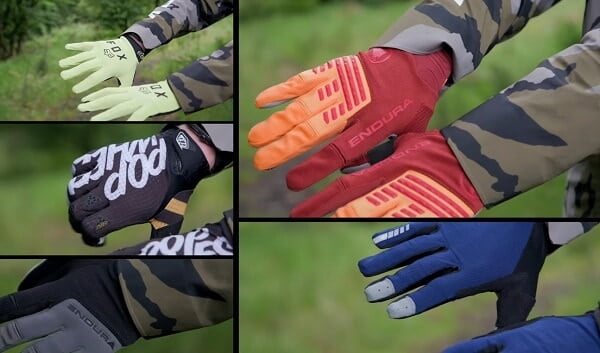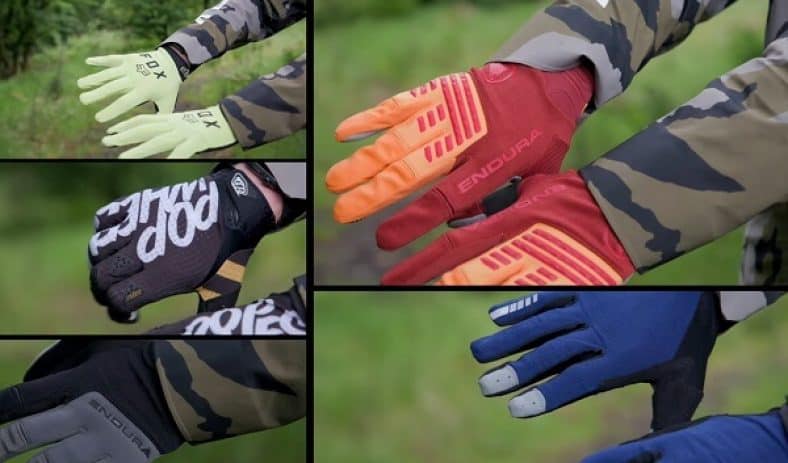 A thrilling way to pass a lazy afternoon or your weekend would be mountain biking. Irrespective of the fact that you are a professional or an amateur – as long as you have the right gear, you are ready to enjoy yourself while you are safe. Decent mountain biking gloves are therefore very important. Not only will they protect dry and warm, but they can be great to enhance your performance on your handlebars.
Like we mentioned above, the additional grip will equip you with better control no matter the weather. This is particularly important when the weather is slippery, wet, and muddy – when your handlebar grip must be extremely firm. A pair of quality MTB mittens will save your skin from the constant handlebar friction. Blisters, bruises, and chafing will therefore play no part in disrupting your comfortable cycling experience. Padding in your gloves is important to prevent long term issues like carpal tunnel or joint damages that come with intensive cycling. In this article, we will quickly walk you through how you can select the best pair of mountain bike gloves and the effectiveness of the features. You will find a sizing chart that you can use for reference, along with how you can find your glove size. Finally, FAQs have been included that will address queries that come up regularly.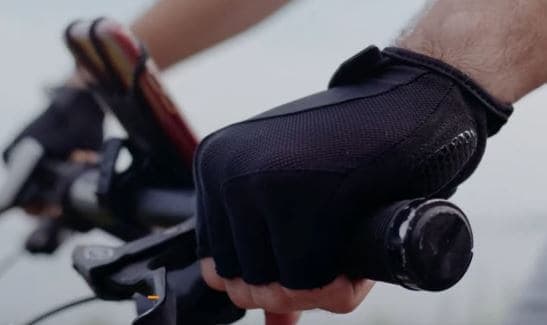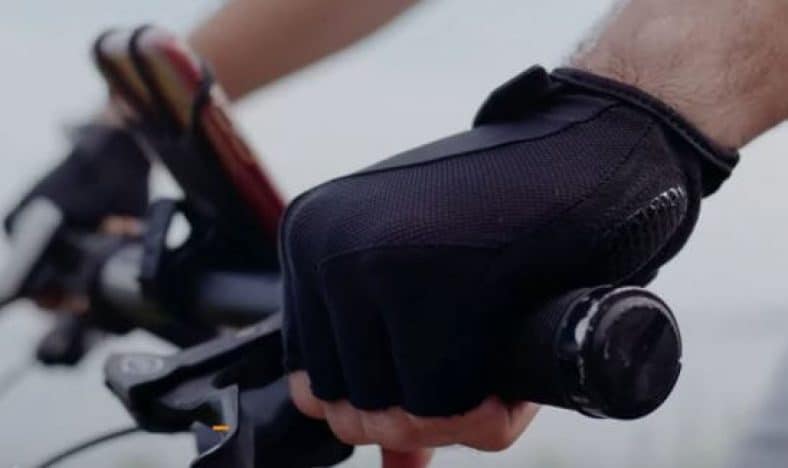 The reason behind the usage of MTB gloves
Remember that any sort of injury to your body from mountain biking is not welcome. Not only do the gloves protect your hand, but they are also essential for your grip on the handlebars so that you are less likely to crash. Whatever you want to do with your mountain bike – hop down boulders or fly down trails, your hands are as important to maintain control as your handlebars. The texture that you can find on the palm of cycling gloves will play a key part in your grip on the handlebars. Padding in this area will also prevent injuries. As you are more likely to brace yourself with your hands, your MTB gloves will need to be long lasting too. It is a good idea to try on a few glove sizes before you get yourself the correct size.
Type of Riding
Before you want to get your pair of mountain bike gloves, you should consider their application.
Cross-Country (XC):

Go for lightweight designs that do not cover the entirety of your hand. This will help you maintain a comfortable grip position throughout your rides. Perspiration inside the gloves will be well regulated and you can absorb any vibration that comes up to the handlebars. Many MTB gloves have a sponge across the upper part to wipe the sweat off. Fully enclosed designs will be helpful to save you from getting hit by tree branches and other vegetation.

All-mountain & Enduro:

Gel inserts incorporated in the structure of the gloves, especially around the palm area offer ample protection. Gloves designed for the Enduro style of mountain biking offer a compromise between lightness and protection.

Downhill (DH):

Your DH glove pairs will be similar to those used for Enduro, only with extra plastic molds/carbon fibers used on the joints.
Weather Conditions
Your mountain bike gloves will adapt to the style of riding you are using them for, where the weather conditions play a good part. This is why synthetic or similar type materials are used to manufacture these MTB gloves.
For the hot summer biking days, lightweight gloves that allow good airflow will serve you the best. Polyester gloves are usually meshed because of their breathability. However, these meshed MTB gloves may not fare so well if conditions get harsh. For extreme or offseason riding, go for gloves that are light but cover your whole hand. Even so, avoid this design in winter. Cold weather may not be able to keep you inside, so an acceptable compromise would be to go for waterproof, warm, and fully enclosed MTB gloves. If the cold is bearable, and you do not expect rain – a glove that comes with a wind-resistant membrane should be sufficient. For very cold weather – look for lining made from fleece that will act as insulation to keep your hands warm. This design however compromises with ventilation.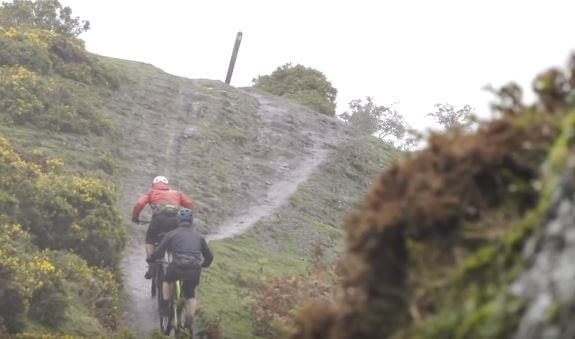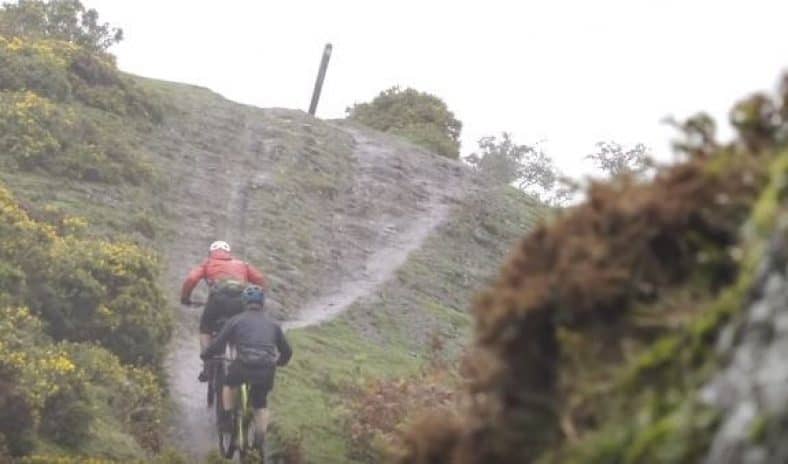 Part of Cycling gloves
The following constituent parts are found in cycling gloves:
Uppers:

This is the 'rear' side of a mitt where the materials are usually thick for additional protection.

Palm:

Either synthetic or natural leather are used as the materials for your palms. They are crucial for your grip on the handlebars of a mountain bike.

Fingers:

You can use fingerless gloves in the summer while full-finger gloves are more suited for protection from both the weather and the extremities that come with mountain biking.

Cuffs:

This glove part is near to the wrist and is responsible for a comfortable and snug fit of your mountain bike glove. We have discussed more on this later on in our article.
Types of Mountain Biking gloves
Fingerless:

These gloves for mountain biking will not cover your whole hand when you put them on. Rather, your thumbs and fingers will be left exposed. Gloves with a "halt-finger" design are suited for warmer weather, especially when you are out mountain biking during summer. The breathability of the design means your hand will sweat less. Increased padding provides the extra grip on the bars for mountain biking.

Fully Enclosed:

This design is also known as full-finger gloves for mountain biking. The padding is thick and long-lasting so that across the entire surface of your hand, there is protection. This includes your fingers, knuckles, and palms. These gloves are suited for warmer weather as they will help to contain heat as you are out mountain biking. They also enhance your grip and overall control over your bike.
Things to look out for
1. Fit
Before you get an MTB glove pair, obviously you should try them out first so that you know you have the best size. Check out the webbing that exists between the thumb and your pointer finger because it is this feature of your glove that will determine its fit. The fit of the gloves you need to use for mountain biking should provide a balanced fit – not too loose, not too tight. If it feels too tight, you will feel additional pressure while gripping the handlebars. This is very uncomfortable.
However, you should not get this confused with the uncomfortable feeling you get when you are using a pair of new gloves. The padding will make you feel as if your hands are in an unnatural position. You can go for another pair, but we suggest we give it some time.
2. Grip
You will need to check the grip that has been provided by the manufacturer on your mountain bike glove. Ideally, it should be consistent, comfortable, and of course strong enough. All these are particularly important when the weather is not on your side but you still want to hit the trails to challenge yourself. Remember that a better grip is an absolute necessity to deal with harsh weather.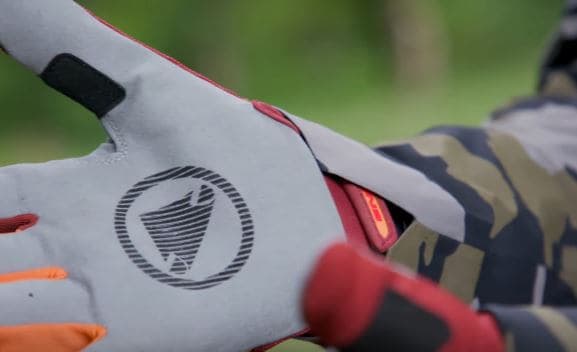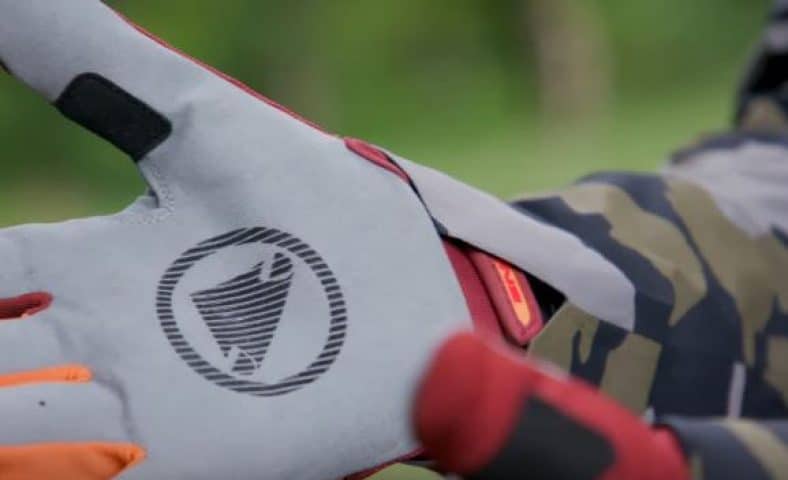 3. Comfort
How your gloves are constructed will determine how comfortable they will feel on your hands. Usually, some seams run internally along where your palms and fingers are placed. The comfort level differs drastically between a seam that is well-made and runs small in comparison to a sloppy and bulky seam. The best designs however avoid using seams around the palm area and also from the fingertip area.
4. Size
If you are unaware of your glove size, use the guidelines below to determine it correctly.
As your hands are flat on a surface, get a measurement of the widest part of your palm (under the knuckles of your fingers; do not include the thumb for this measurement). Do this for your stronger hand
Get the length from the middle finger's tip to the hand's base.
The larger of the two measurements mentioned above will give you the accurate size of your MTB glove.
Look at the sizing chart mentioned below for reference.
You need to go for the next immediate size that is larger if you find yourself in the middle of two sizes.



Picture: You can use the sizing chart to get your MTB gloves
5. Breathability
Water vapors should be able to escape the fabric that is being used by the pair of gloves that you are using for mountain biking. Any fabric that has non-breathable properties will mean that moisture will become condensed and trapped beside the skin. It will make things very uncomfortable and warm on the summer days, while on the cold winter days you will find the gloves becoming clammy. This is why the breathability of the fabric is very important – your skin will always be at an optimal temperature and dry.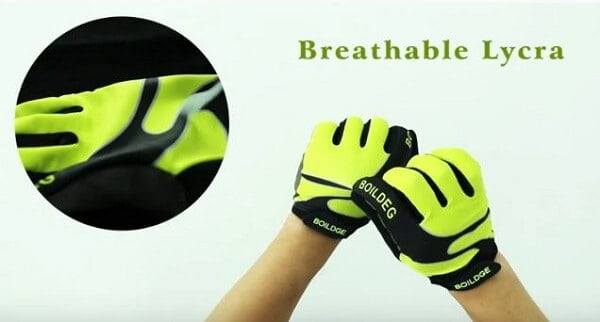 6. Wicking
Another attribute of fabric that is being used by your MTB mitts would be to free your skin from the sweat away so that it can evaporate. Synthetic leather is favorably used as the palm material in MTB gloves today because of the ability of the material to wick sweat efficiently. In no way should your grip be compromised. Additionally, if you find yourself on the dirt ground after a crash – synthetic leather can prove to be resilient.
7. Protection
The level of protection that can be found in your MTB glove will vary on the weather and riding conditions. The mitts being used for summer cycling will offer protection for your palms whenever you crash. On the other hand, fully enclosed MTB gloves have extra reinforcements that suit gravity riding perfectly. Rigid panels are used sometimes too.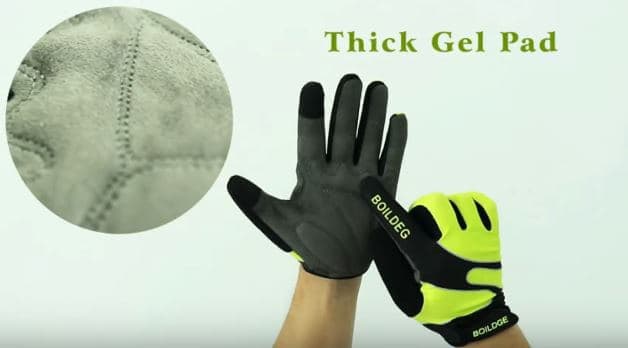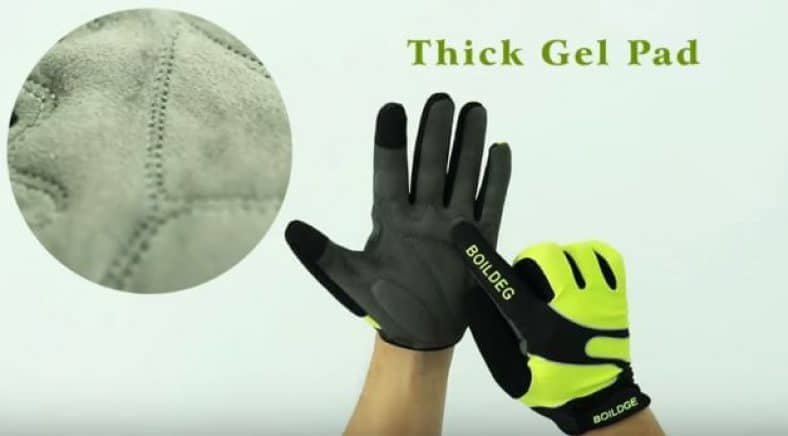 8. Warmth
You can find that gloves that are used for mountain biking in the winter have maximum insulation incorporated in their designs so that even with extreme temperature drops, your fingers remain toasty. Avoid using the same gloves in the summer because winter gloves are heavier and restrictive that does not favor year-round use.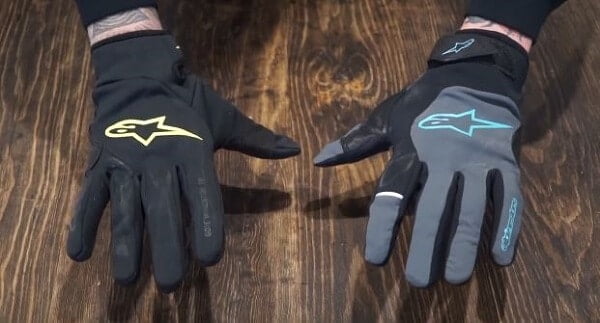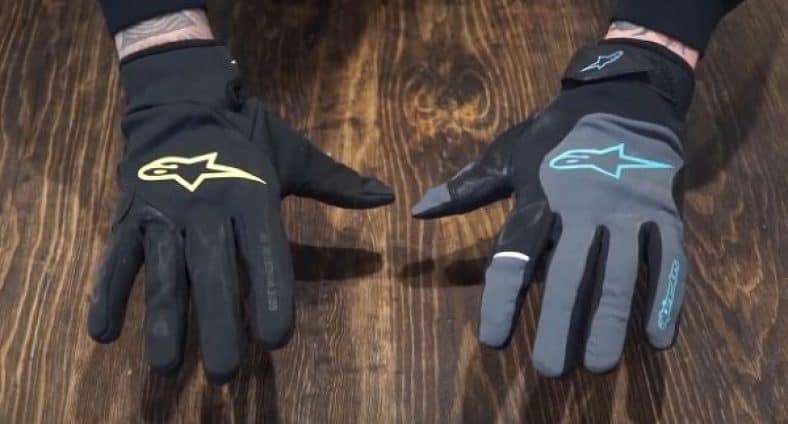 9. Integrated snot rag
While it may not seem like a necessity now – but your MTB gloves should have some means for wiping your nose too. They are found on the thumb most times, where manufacturers prefer using a Terry cloth or fleece. The former is more friendly for your skin and will camouflage any dried snot.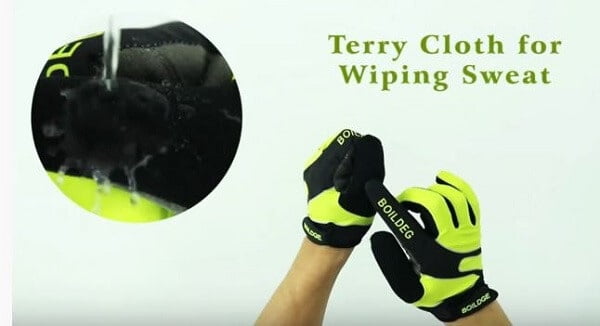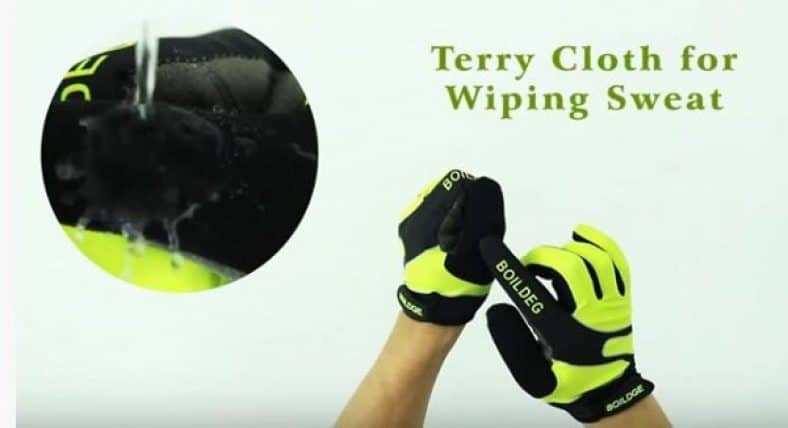 10. Smartphone compatibility
Many gloves used for mountain biking have threads that can access the touch screen of your phone. Usually placed on the index finger and thumb tip. Usually, a conductive material is placed in small patches.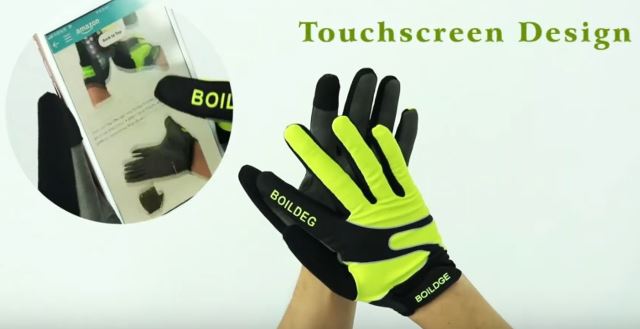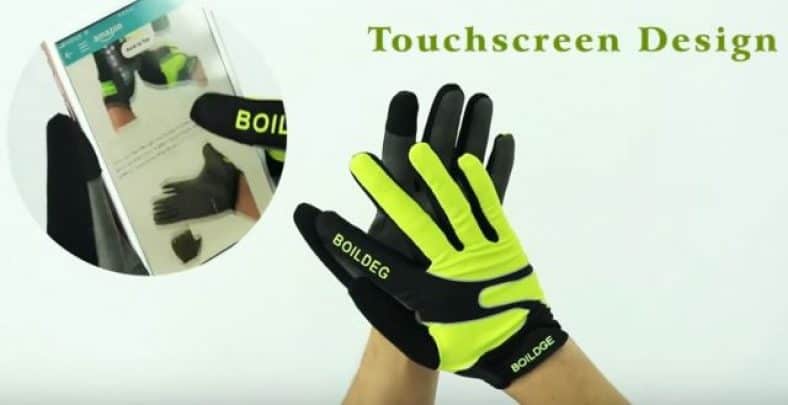 11. Materials
Remember that gloves may be constructed of individual panels, with the material in each one dependent on location and desired properties. See below why the following materials are used on mountain bike gloves.


12. Finger or fingerless:
Fully enclosed gloves are the best choice for mountain biking. Fingerless gloves will bundle up amongst your fingers. This will result in blisters and severe discomfort.
13. Velcro or elastic wrists
Whenever you have a glove that is fitting you well, elastic wristbands will keep the glove in place. You may also prefer a Velcro strap, as they can help you function better in cold weather. Air is also stopped from entering your gloves via the cuff.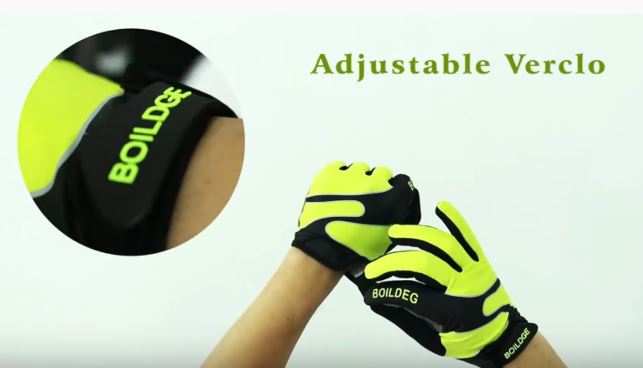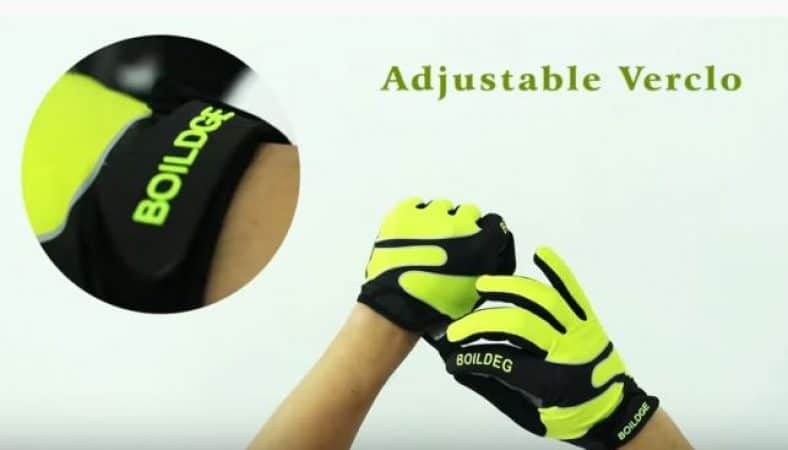 14. Waterproofing
Waterproof membranes are incorporated in the design of MTB gloves so that in case of inclement weather, your hands remain dry. This is not helpful for your glove's breathability which is not ideal for summer.
Frequently Asked Questions
Q1. How Should my Cycling Gloves Fit?
Ans.: The general rule is that your gloves should fit you snug, and there should be no chafing if they scrunch up. The fit should not be so tight that a taut webbing becomes worse whenever you place your hands on the handlebars. If your gloves are too tight, you will not be able to form a fist.
Q2. How should I test mountain bike gloves?
Ans.: The ideal way to test out your mountain biking hand gloves is to try them out in variable weather conditions – but at the end of the day, it comes down to personal preference. You should try out the pair of gloves on path trails over the course of a few months so that you can draw some comparisons. Pay attention to how comfortable the gloves feel, along with the fit. Padding and touchscreen compatibility should lay apart.
Q3. Why should I be wearing gloves for mountain biking?
Ans.: You should be using your mountain bike gloves throughout the year. You can use gloves that will cover the whole length of your fingers because they offer more protection from the undergrowth and also from crashes. Some gloves have palm padding so that there is extra cushioning. Downhill and Enduro riding will require more protection at the rear side of your hands, as you are more likely to crash in these riding practices. Designed to offer extra handlebar traction, your mountain bike gloves will offer the grip.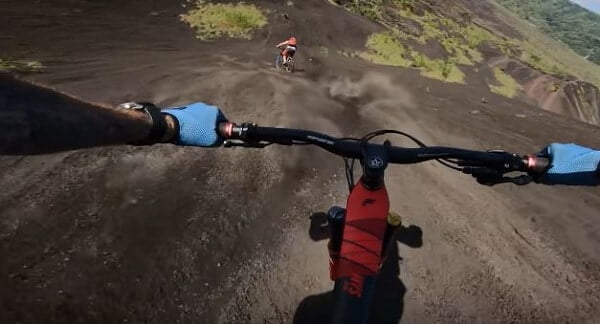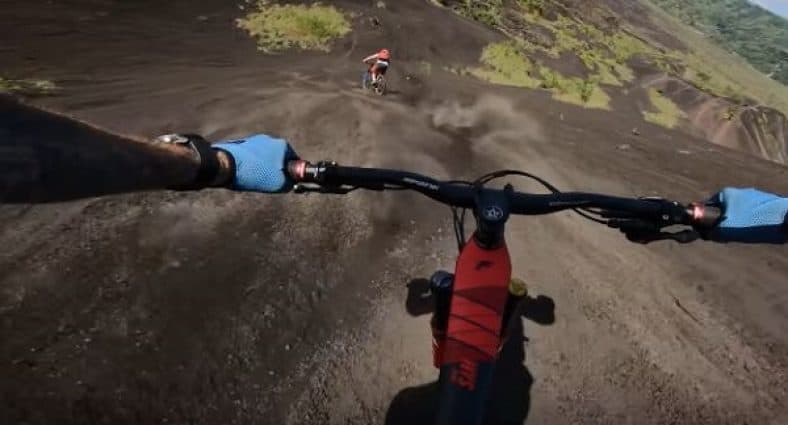 Q4. Where should I look for padding in a mountain bike glove?
Ans.: You will find that the best gloves for mountain biking come with padding across various parts of the glove structure. After a hard downhill descent, you might be left with sore hands. This is where gloves with padding across the bottom of the glove (where the heel of your hands are placed ) are particularly popular. Another common issue that you will come across would be soreness in your thumb or a certain tingling sensation. This can certainly be irritating. So get a pair of mountain bike gloves that have sufficient padding in this particular area.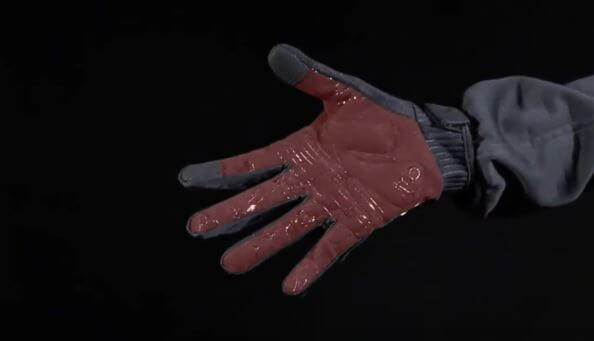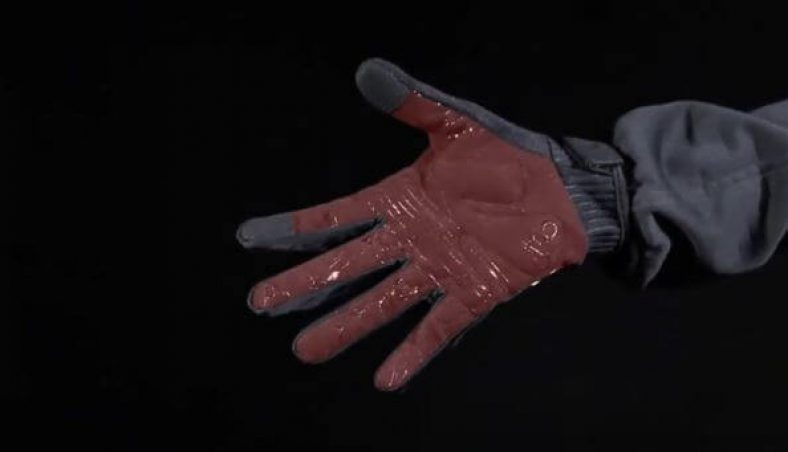 Picture: Padding in a Mountain bike glove
Conclusion
So the effectiveness of how you are using your mountain bike gloves is down to you. You will need to take into consideration how you plan to use the gloves, the frequency of use, and of course the weather you will be using them in. You will take into account if you want to use your MTB gloves for other activities too. Durable and robust materials, a good and comfortable fit, excellent moisture control, good grip, and of course adequate protection are all the indicators of a good quality MTB glove. As long as you get the correct size – you should be good to go.