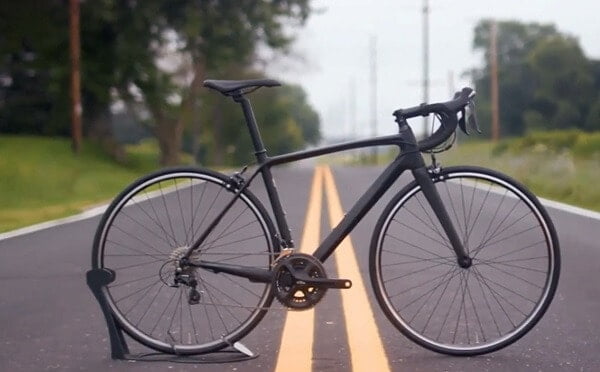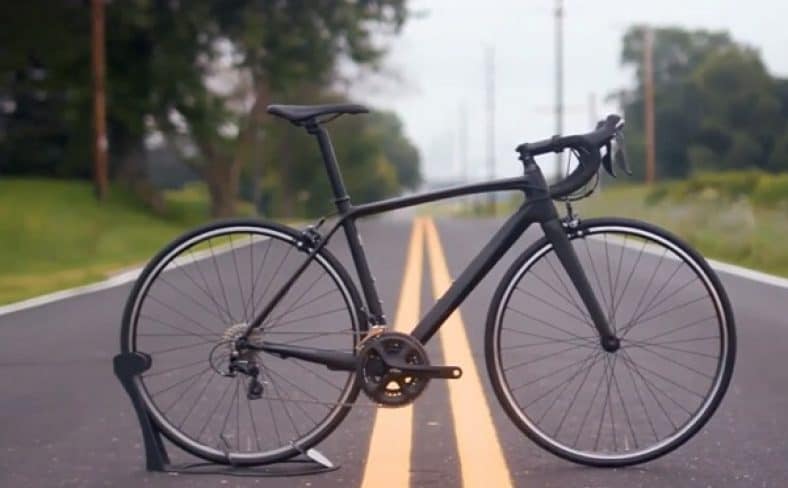 If you are new to road biking and want to get your hands on an entry-level road bike, this article is for you. A crucial factor that will decide your choice is how much should be spent on your first road bike. With a maximum budget of $500, you will be able to purchase a decent road bike that will serve a beginner like you very well. There are lower-priced options too – but if the above-mentioned budget is allocated for your road bike, you can take advantage of the fact that spending more will get you a lightweight model that is using high-quality materials for its components. Besides, better specifications will be offered too. If you can spend more than $1000 – you can use those road bikes for other types of riding too. However, you might find yourself to be extra careful on the more expensive options – so try to avoid going overboard. Over the length of this article, we have focused on how we can then select the best and affordable components of a road bike for an entry-level biker. This is followed by some FAQs to address typical questions that any beginner or expert road biker may have on the topic.
➥ Know detail what to look for in an entry-level road bike?
Doing Research
It is quite normal to be affected by nerves before you get your first road bike as there are many things you have to consider. Before you actually make the purchase, it is a good idea to do some research so that you can set a budget for your first road bike. While you may feel that since you are a beginner, what difference will it make if you get the best cheap option. Also, you can always barge into a store and choose a road bike – we believe that whenever you buy a bike – it is an investment and like all the best investments – this too requires some research. Try out bike forums that regularly discuss how to get the best road bike or similar topics so that you have an idea.
➥ Similarly, you can read our this article, so that you can have an clear idea of Which bike to buy, Touring Bike or Road Bike.
Type of road bike
Road cycling is very accessible for beginners nowadays. The sense of adventure and freedom is sufficient to get you hooked from your very first ride. Therefore, it is a good idea to start with your riding purpose, and how you see your first road bike fit into your future road cycling plans.
As you are a beginner who is probably on his/her first road bike, you are more likely to end up in an upright position where you feel most relaxed and comfortable. Therefore, a Sportive/Recreational road bike will allow you to enjoy yourself during those first rides. These road bikes are designed with a top tube that is shorter while the head tube remains relatively long. This design will allow you to stay upright on your bike saddle for a long time.
As you gather more mileage under your wings, Race/Performance road bikes will suit you more as you will be able to get in a tucked position to cut through aero drag better. The front section of these bikes has a lower profile coupled with a longer reach.
Features
1. Frame & fork materials
A typical beginner mistake would be selecting the wrong material for the frame. From your first pedal turn, the frame used will serve as the heart of your road bike. You will find that a larger portion of your overall budget will be spent behind your road bike frame. We have listed a few materials below that are used on road bike frames, and if you are a rider who has just started cycling – the information will help you more.
Aluminum: Any road bike that you can get below $1,000 that can be used by beginners is most likely using an Aluminum frame, whilst the fork is made up of carbon fiber. Aluminum is preferred because it can be molded into structures that are lightweight and stiff. Butted tubes are preferred for aluminum frames that are of better quality. Thanks to the varying thickness of the walls, the thick end sections can handle stress better where the frame has joints. They are lightweight too, providing the rider with an increased level of comfort. The top frame manufacturers use stickers to identify what tubing has been used.
Steel: Traditional material that is still used on the design of custom bikes. Preferred for touring as the weight of the frame does not make much impact there, as it is heavier. However, the comfort level remains more or less the same. We have seen stainless steel used on some racing bikes thanks to the high durability of the material itself, but the price you have to pay for it will be higher.
Titanium: Titanium frames offer the combination of lightweight and durability, with the added benefit of being resistant to corrosion. The price of titanium road bikes has come down over the years, but still, it is not considered a cost-effective option.
Carbon fiber: Modern road bikes that use carbon fiber have a starting price of £800. However, there is a variation in the quality of carbon fiber that is used on the frames. Its manufacturing process and a few other factors play a huge part to determine its quality. However, this has not stopped designers from manipulating the material to designing frames that offer the optimum balance of comfort, lightweight, and stiffness.
If you find two bike frames that come with a carbon fiber frame and an aluminum frame respectively, for a similar price – take a look at the aluminum frame and the components that are used with it. You can go for this option, save some money and use it for your other components. Higher grade wheels are likely used with the aluminum-framed bike, which would eventually lead to overall low weight. Therefore, for your first ride, you will be very comfortable. With carbon fibers, manufacturers sometimes manipulate other components to maintain a low price. Frames that are lighter tend to be butted or triple butted so the thickness is adjusted as per need all over the structure of the frame.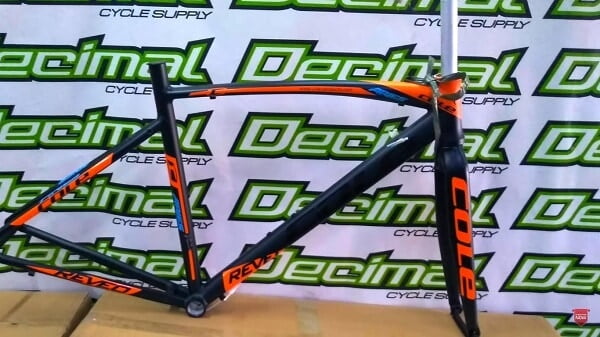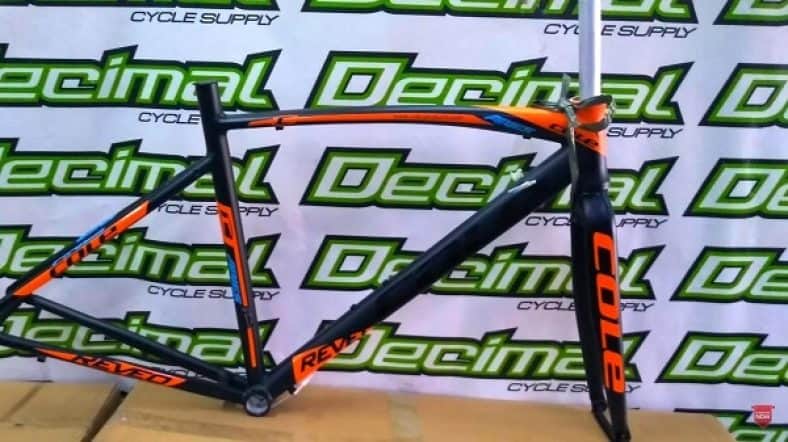 Picture: Road bike Frame
2. Tires and wheels
The tires on your road bike are amongst the most important components. As they all look so similar, how will you know what to get can be a little tricky? Since your tires will greatly influence how the bike is responding under you, the riding experience, and how you feel on the saddle – ending up with the wrong one is a beginner mistake you surely want to avoid. consequently, they can fly quicker from a stop position. A combination of lightweight and quick tires will be more responsive under you. Rims that have deep-sections on road bikes are more likely to be aerodynamic, which allows them to cut through the wind better. They are therefore more capable of reaching high speed. While 23mm tire width was standard and popular for many years, 25-26 mm tires are taking up a larger chunk of the market thanks to their faster rolling ability and how good of a job they do to keep riders comfortable – all the things you should be looking for in road bike tires you will be using for the very first time. They also offer better cornering ability. Even though weight increases by a bit along with more susceptibility to aero drag – you will find that they are acceptable compromises to the comfort level and the grip wider tires will provide you on the road.
➥ Read more: Thin Tires vs. Thick Tires.
Road bikes usually use clincher or tubular tires. Clinchers use an external "carcass" that is suited for the type of riding you intend to use it for. It needs an inner tube to work, where the tube will be holding the air – creating pressure against the tire. Pumping air into the tire means pumping air inside the tube. Clincher road tires are priced very similarly to their counterparts tubular tires. However, a tubular structure is susceptible to flats. This is because a single tube is sewn into the tire – so the tube is basically a part of the tire. This single piece is often attached to the rim by glue, which is not enough to save the whole tire go fail if the tube is punctured. The need to replace the whole tire will drive the cost of your road bike, and you will face a lot of hassle. On the other hand, a clincher tube replacement should cost you between $5 and $7.


Picture: Tires for road bikes
3. Bike fit & Size
This is very crucial for your first road bike purchase. Do not settle for a larger or smaller size just because you may have to spend less on it. You need to understand that it is only when you are using the correct road bike size you will be able to enjoy riding and be encouraged to do it again soon.
Manufacturers often use varying standards to obtain the measurements of road bike frames. It can be 3cm or 10cm – with very small differences between each corresponding size. What further makes this complicated is how no two human body shapes are similar, and it is impossible to offer sizes that are generalized for everyone. So basically you cannot walk into a store and ask for any beginner road bike. This is why manufacturers usually offer size charts on their website. Ideally, if you can take the road bike for a test run while you are making the purchase – you will have the best idea about its suitability.
The minimum requirement would be as you stand over the bike's frame, there should be a few cm between the top tube of the bike and your waist. Saying so, there are options to modify bike components so that you can get a better fit as you will be looking to do this only once. Saddle height adjustments can be coupled with adjustments to the fore-aft position so that you can find a comfortable position. The tube that is used for steering on the bike's frame can be fitted with spacers so that the height of the handlebars goes up or down. To find the best reach, increment options are also included so that the stem is moved up or down.
Getting a good fit is crucial for a road bike because you will be spending a lot of time on the saddle on a road bike. If you are seated in an awkward position for longer instances – soreness, numbness, hot spots will be issues of major concerns for you. Just by adapting to a correct position, you will be able to avoid all the hassles. The great thing about getting a proper bike fit is it can help you to use the capabilities of the components of your bike better. For example – you can spend a lot to get a lightweight road bike so that you can go faster up steep climbs. You could have spent way less on a bike fit to gain additional wattage just by adhering to the process.


Components
Since your road bike wheel comprises several components, you may be able to replace some parts – like the rear derailleur if you are looking for an upgrade or replacement. Other components that are difficult to find will make you spend more.
The parts of a road bike are assembled into groupsets by manufacturers. A groupset will involve a brake that is compatible with the gear parts. This is important so that they can work seamlessly with each other. There are a few manufacturers who prevail more in the market of road bikes today – Campagnolo, SRAM, and Shimano. If you are an entry-level biker who wants a road bike – go for Shimano since the Japanese brand offers a range of entry-level road bike groupsets that are priced reasonably. The table below has other road bike groupsets that are suited for new riders, for performance riding, and Pro level use. They have been arranged in that order too.
| Shimano | SRAM | Campagnolo |
| --- | --- | --- |
| Claris | Apex | Veloce |
| Sora | Rival | Centaur |
| Tiagra | Force | Potenza |
| 105 | Red | Chorus |
| Ultegra | | Record |
| Dura-Ace | | Super-Record |
Keep in mind that as you pay more – you will either get lower weight or better performance; sometimes even both. The entry-level groupsets mentioned above are usually the more affordable options for your road bike. They are mostly constructed of lower quality aluminum – in combination with steel. The best products use titanium, carbon fiber, or an alloy of very high grade.
Brake and gear levers

All three manufacturers mentioned above make brake and gear levers for road bikes. If you want to change the gear on your road bike, you will not need to take your hands off the bars to change gear.
Shimano road brake levers can shift in a particular direction that opposes how another lever( that is following the brake lever) shifts. Campagnolo uses a thumb lever that can be found on the brake lover's body to shift while the other shift uses another behind it. The brake lever is placed ahead of the gear lever in SRAM too. To shift one way, a single click does the job while a double click is used to shift the other one. Since all the designs are patented, manufacturers use whatever available spacing that is available to vary the designs for their models.
The higher-end groupsets include electric versions too – with switches and derailleur motors working together for gear shifts. Levers are replaced completely. Of course, these versions are expensive.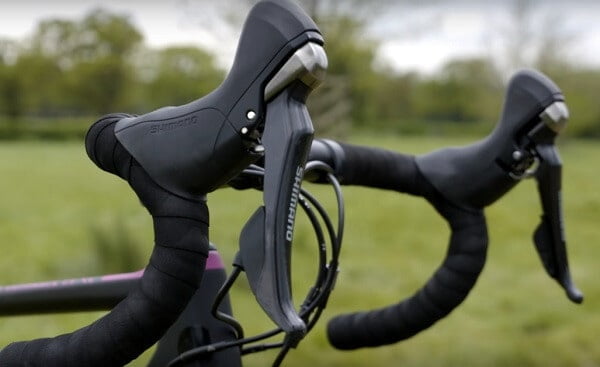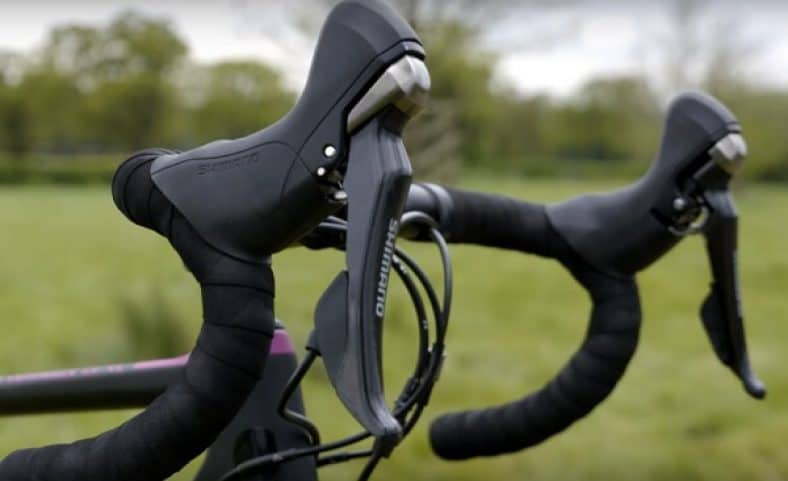 Picture: Road bike brake lever and gear shifters
Chainrings

Where the pedal is attached to your road bike is otherwise known as chainset, and they are offered in variable chainring sizes. Depending on the size and number of the chainrings ( found next to the pedals), road bikes use:

Triple crankset: It uses 3 chainrings that are used with a 9s cassette, especially on the back wheel of a road bike. Found largely on entry-level road bikes, allowing cyclists to use a wider fear range.
Double crankset: 20 gears are available when the 20s cassette at the rear wheel is paired with a pair of chainrings up front. The teeth are larger, with a high gear range.
Compact crankset: Configured similarly to double cranksets except for the fact that fewer teeth are used by a compact crankset. The gear range offered is therefore lower. Used mostly on sportive road bikes due to its lower weight.
A double or compact crankset also offers more clearance in comparison, so there is no shoe rub as the pedal rotates full 360 degrees.
Entry-level road bikes should use a compact or triple crankset. This configuration is useful for going up hills or canyons that are steep.
Crank arms use steel, carbon fiber, and aluminum. Steel cranks were popular in the past, but aluminum is now used for most low to mid-range road cranksets. Carbon fiber is lightweight but costs more. Therefore they are reserved for higher-end models used for on-road racing. Aluminum is the best choice for its toughness, stiffness, and how light the component feels despite its price. So get either a triple or a compact crankset for your first road bike, and make sure that it has been made with aluminum so that you can fit in on your overall budget.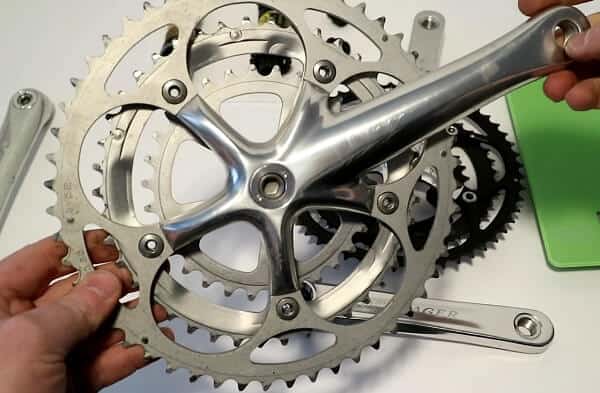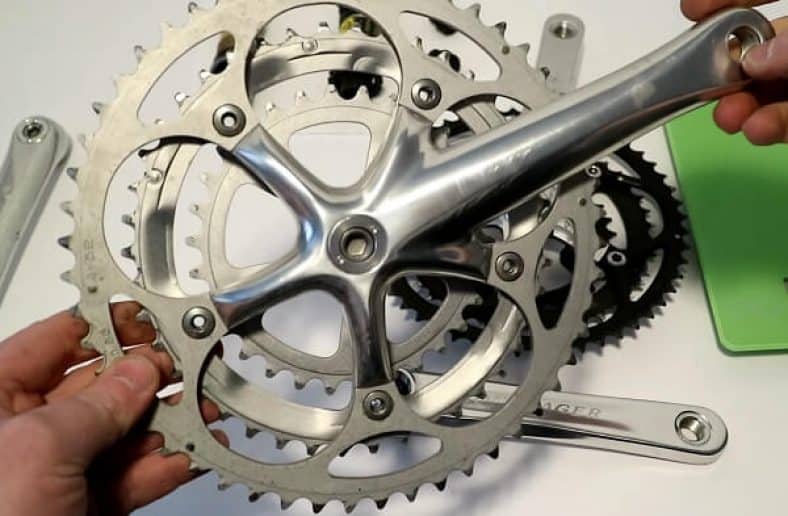 Picture: Triple crankset from Shimano
Rear derailleur configuration

The range of teeth on the rear cogs also determines the gear range of a road bike. The smallest cog should have 11/12 teeth with the largest cog having 23 – 28 teeth. On some models, this may go up to 32 – like the Apex model from SRAM. Here, a compact crankset offers more gearing range than a triple one must by using a rear cassette that has more teeth. You can change the rear cassette of your road bike but you have to be careful to avoid issues with compatibility.
Higher-end rear derailleurs used on road bikes typically combine materials to ensure durability. For example- titanium pivots on a road bike rear derailleur may use carbon cages. The construction process also removes materials that are present in excess. On the other hand, steel bushings are used on less expensive rear derailleurs, and they do not last long. So, in the case of rear derailleurs – go for an expensive option because of the long-term benefits a higher-end model will offer.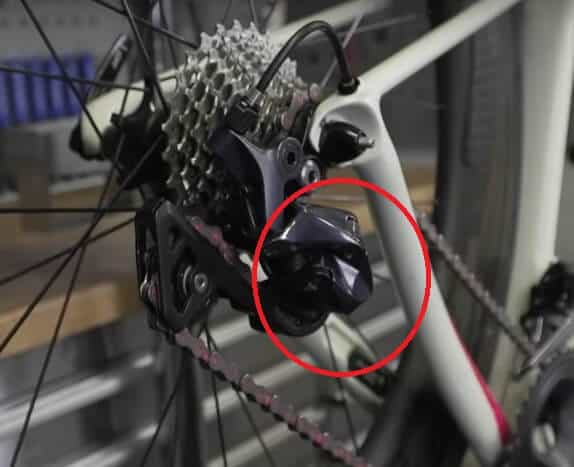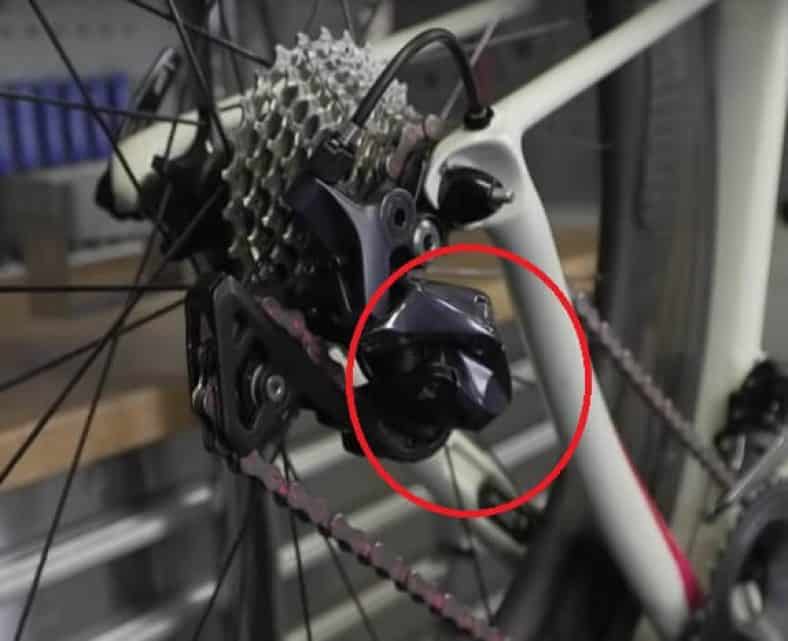 | Use | Crankset | Rear cassette | No. of teeth | Total gears |
| --- | --- | --- | --- | --- |
| Entry-level road bikes | Triple | 9s | 50 / 39 / 30 | 27 |
| Recreational road bikes | Compact | 10s | 50 / 34 | 20 |
| Performance road bikes | Double | 10s | 53 / 39 | 20 |
Frequently Asked Questions
Q1. Where might I look to save money on a road bike?
Ans.: Ideally, you should never look to save any money during the purchase of your road bike. Rather, a good way to approach this would be to set out with a budget and try to get the best set of components within that particular budget. Try to put in some time and so do some research before you set out to make a purchase. A good purchase will reward you with long-lasting performance on a bike that is fun to ride on and inspires you to get on the road frequently.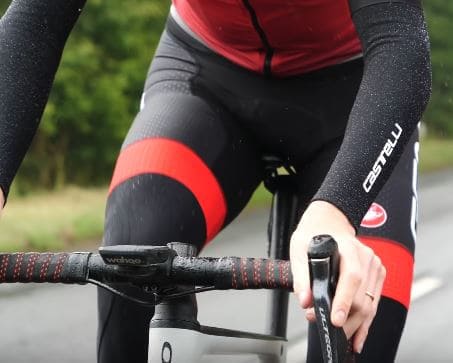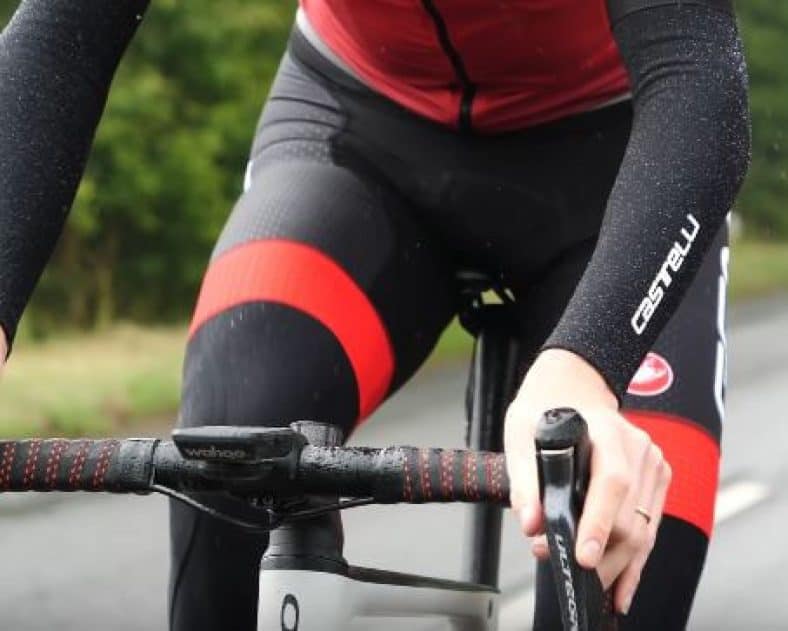 Picture: Use your budget to get the best road-bike
Q2. Is there any specific time of the year when bike deals are offered?
Ans.: Bike manufacturers often target September to bring out their newer models/ next year's models on the market. The retail stores, therefore, offer deals on bikes from the current and previous years to clear up their stock. So the end of September – early October can be a good time if you want to take advantage of those deals.
➥ Read more: Best time of the year to buy a bicycle!
Q3. How to find the correct bike size?
Ans.: First of all, you need to get the correct size of the bike frame. The models that are offered for road bikes usually offer 6 variable sizes for the frame, with frames being offered for women-specific frames too. The size of your frame must be suitable for the geometry of your body. The best fit frame will elevate your comfort level and you will find that your handling has improved drastically. The sizes are usually depicted in cm – which is the seat tune's length, while the other range is expressed by the traditions XS to XL size. Remember that the frame sizes are not similar for men and women, as women usually have shorter top time with reduced arm length.
The other measurements needed are: i. User height; ii. Inseam length; and iii. how far apart your reach is.
Standover height: The length of your inseam will determine the standover height. To be more precise, when you are standing with the saddle behind you – measure the clearance forms between your crotch and the bike's top tube. Ideally, this should be 2 inches.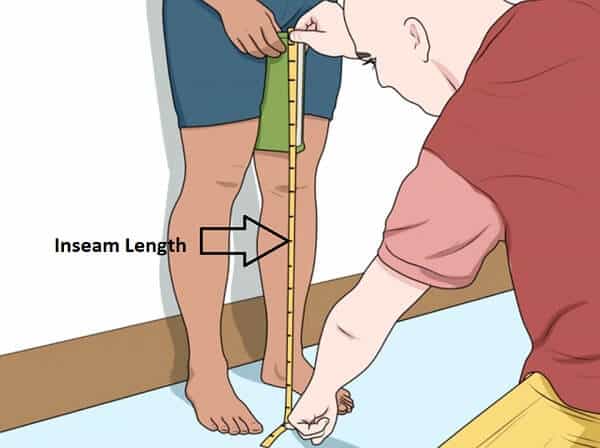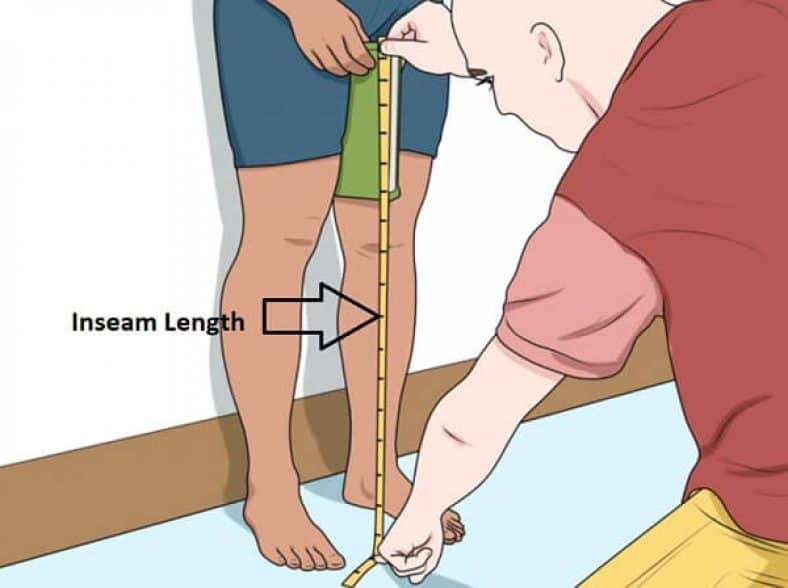 Figure: Inseam Length
Reach: This can determine your road bike size, as the dimensions here will affect how you are stretching along your bike's top tube to reach the handlebars. The 'Ape Index' can be a good way to determine this, where you can get the measurement of your arm span and deduct your height from it. If the 'Ape Index' is :

Positive: Arm span > height – you can go for a larger size.
Negative: Height > arm span – should go for the smaller size.
Example: With an arm span of 152 cm and an overall height of 163 cm, the resulting 'Apex Index' is negative 11. Thus you should go for a smaller frame. A way around this could be to replace the stem of your bike with another that is long or short – whatever suits the purpose. Remember that doing so will affect your handling.
Saddle angle: Ensure your tilt angle is ok before you go ahead. The general rule here is you need to ensure that the seat is level as it will be holding the pelvis while you ride your bike. Spirit level can be used, as shown below. Ensure that the bike itself is placed on a surface that is level before fixing the saddle tilt. As you will be seated for a longer period on a road bike, avoid tilting the seat downwards even if it feels comfortable. This would otherwise transfer more pressure to your shoulders, arms, and knees as you will be leaning on them more. This is extremely important to eliminate groin pressure. Saddle with an upwards tilt will push your pelvis backward at an angle – resulting in discomfort and hip + groin pain. Make small increments so that the saddle is a perfect fit for your body.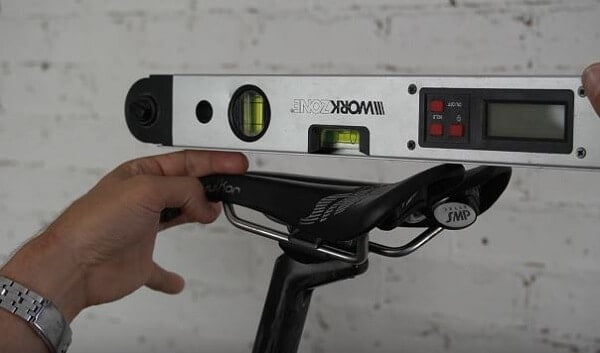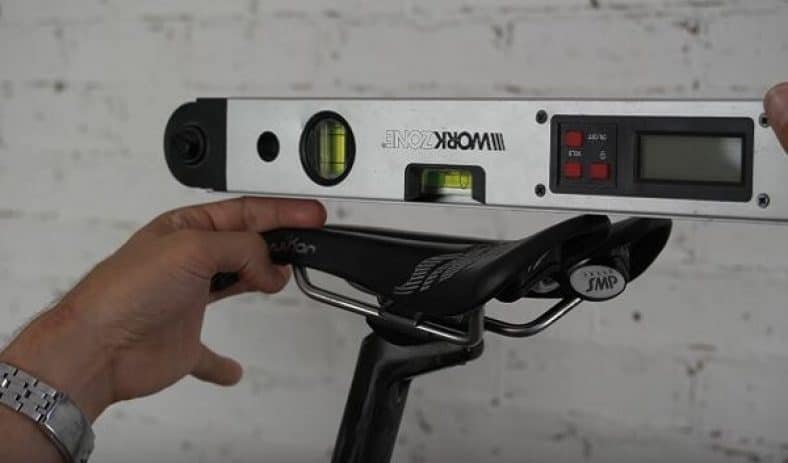 Picture: Check the tilt/angle of your road bike sit
Saddle height: When your leg is at a 6 o'clock position of your pedal stroke, there should be a 30 degrees bent of your knees. This is relative to the fact that you are level on your saddle and the pedal's center has the ball placed over it. To check this angle, pedal backward by placing your heel on the pedal. At the stroke's lowest point, find your knees to be completely straight.
Take notice of how your ankle is placed too. An ankle with a posture that faces tie-down means your saddle height is too high. On the other hand, limited ankle movement range couples with low heels to indicate low saddle height.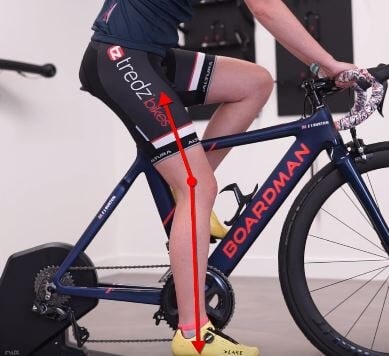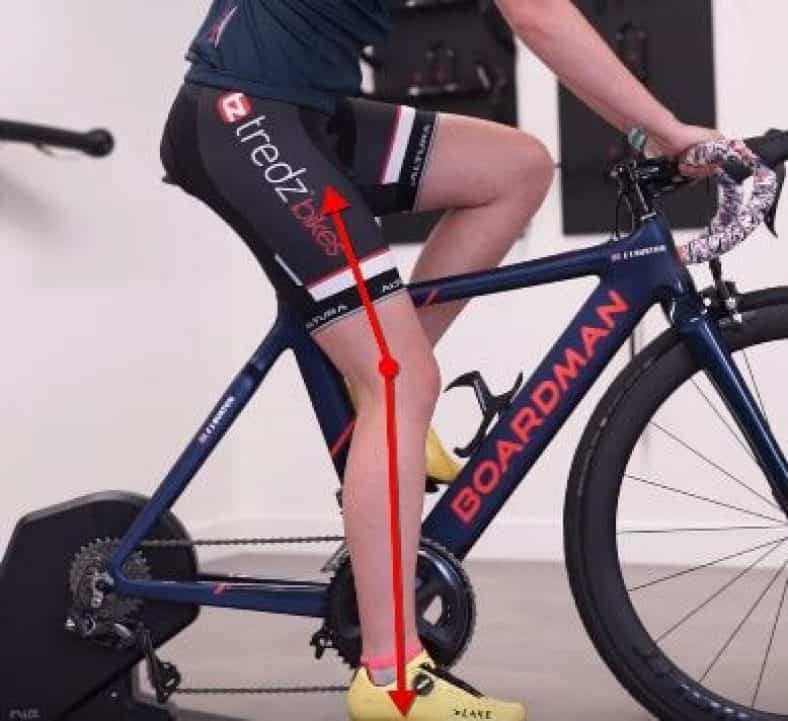 Picture: 30-degree bend in the knee
Fore-aft positioning: The position of your fore-aft can be related to how far the handlebars and seat are placed. This adjustment will determine how the activated muscle groups will behave throughout your pedal stroke and also the pressure that is exerted on your knees. Typically, a saddle that is placed more backward will engage your hamstring more while your quads are placed under extensive saddle load when the saddle is too far forwards.
The ideal way to go about this would be to align the kneecap using the pedal position as the latter is in a neutral position- 9 o'clock + 3 o'clock. The front end of your kneecap that is forwards should be in a straight line with the spindle of the pedal.

You can use the videos below to help with getting the correct road bike size.
How to choose the frame size of your first road bike
Q4. Should I go for a Disc brake road bike or a caliper road bike?
Ans.: Given the choice between rim brakes that are traditional and disc brakes that have been adapted from mountain bikes – you need to begin riding with road bikes that use disc brakes. The lightweight and aerodynamic design of the braking mechanism of disc brakes are combined with how manufacturers are paying more attention to redesigning them so that they can deliver more power and better modulation. If you have just started cycling – you will surely welcome these attributes on your road bike. Unlike rim brakes, their disc counterpart is less affected by riding conditions faced on the road and will function even if the rim is damaged. Even if used extensively for road cycling – disc brakes will rarely wear out. Even if they do – the rotors have cheap replacements. The disc brakes that are priced extremely high will involve a less overall cost in comparison to replacing a rim brake, as the latter will involve replacing/getting a new wheel too. The best disc brake systems are hydraulic, but there are a few hybrid and mechanical disc brake systems too which will go easy on your wallet. Mechanical ones have the piston being moved steel cables while hydraulic systems are fluid based, and reinforced with a sealant. So disc caliper brakes should be used on road bikes.
The video below will help you to visualize this better:
Rim vs Disc brake road bike: Which one to choose
Conclusion
The summary is the value of your road bike is purely subjective, where much is dependent on your riding style, needs, budget, and goals. For the very first purchase, it would be quite normal if you went overboard and spent more. However, spending more is not always better. Remember that it is you who will eventually determine the performance of the bike. A skilled and fit cyclist can be on a bike that is outdated, cheap, and poor in terms of quality and still does better than a beginner level rider on a superbike. You will be able to get quality road bikes over a range of prices. So you can start riding with a decent entry-level road bike that will fit in the budget below $500. Obviously, you can go higher too, but it is ideal to take things slowly and go for pricier models as you gain confidence with more riding.