The bike has always been a common method for commuting to work or for other purposes. To carry everything that is necessary for the commute, two of the most popular options are backpacks and panniers. The question is, which one is better for bike commuting? The truth is, both have their upsides and downsides. So the answer depends on a few factors. In this article, we will discuss the pros and cons of each and explain which is better in which circumstances.
Panniers vs. Backpack for Bike Commuting: Pros & Cons
Backpack
A backpack is a common household item. Pretty much everyone owns one. Therefore, it is the go-to option to carry stuff to and from work on a bike. Backpacks come in a wide variety of sizes and designs. There are even some that are specifically made for cycling. While a backpack has multiple advantages, it does have some downsides as well. Let's go through all of them.
Pros
Easy to carry around: The main reason why people use backpacks is that they are just so easy to bring along. Simply put it over your shoulders and you're ready to go. It's easy to take your things with you on foot when you reach your destination.
No bike attachments: Since backpacks are worn on the body, there is no need for any equipment to be attached to the bike.
Numerous designs available: Due to their enormous demand, backpacks can be found in any color, design, and size imaginable. You are bound to find a model that looks and feels just the way you want it to.
No need to spend money: Most likely, you already own a backpack that can fit all your everyday items. And since no extra equipment is required, this option can be considered free.
Good cargo management: Most backpacks have multiple compartments and pockets. Not to mention the side pockets for easy access. This lets you store your things in a way that is most convenient for you.
More likely to stay clean: A backpack stays relatively far away from the ground and the wheels, meaning it will not catch sprays, mud, or dirt easily.
Versatility: The reason why everyone has a backpack is that it can be used for any purpose and not just for bike commuting.
➥ Commuting needs backpacks with waterproof features. If you're searching for top-quality waterproof commuting backpacks, check out these reviews.
Cons
Lower capacity: On average, backpacks have less volume of space inside when compared to a pannier. You might find it difficult to fit in everything for a longer trip.
Can cause discomfort: Having a heavy backpack limits your freedom of movement. It can also lead to back/shoulder pain after a certain period of time.
Sweating due to low ventilation: When wearing a backpack, it presses your clothes against your back. This cuts off ventilation and causes excessive sweating even in winter. This is not preferable when going to work.
Disrupts back vision: When looking over your shoulder, which cyclists often have to do, your backpack might get in the way of you seeing properly.
Read also: Waterproof vs Water Resistant Backpack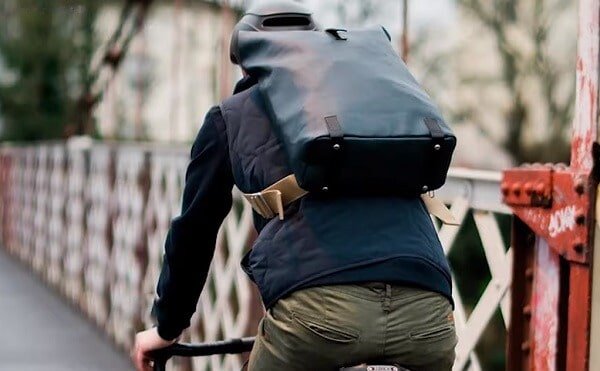 Panniers
A pannier is a special rectangular bag that can be mounted to the side of a rear bike rack using built-in straps or hooks. After backpacks, panniers are probably the most preferred form of carrying objects for a commute. Just like a backpack, a pannier also protects your stuff from the rain. And just like backpacks, panniers have their own set of advantages and disadvantages.
➥ Panniers are widely used for grocery shopping. Read this article to get the get panniers in the market for grocery shopping.
Pros:
No weight on you: A big reason for their popularity is that since the pannier is attached to the bike, all the weight is on the frame. This leaves your body free of discomfort and movement is easier.
Less sweating: When cycling, it is almost inevitable that you will sweat. However, since there is nothing on your back, there is enough ventilation around your back to decrease the amount of sweating.
High capacity: Panniers have quite a lot of space inside and a high weight capacity compared to backpacks. To add to that, you can double your capacity by attaching double panniers to the rear rack.
Two mounting options: Some bikes allow panniers to be attached over the front wheels as well. So you can choose where to keep them. You can also put them on both the front and rear, bringing your total capacity to that of four panniers.
Cons:
Requires a rear rack: Many road, cyclocross, and mountain bikes do not have a rear rack or even attachment points for the rack. Hence, you'll need to invest in a rear rack and, possibly, rack attachment clamps to use a pannier.
Not as easy to use off the bike: Even though many panniers have handles to carry them, they are still less convenient than a backpack. There is also the time it takes to load and unload them.
Can change bike handling: It will take some time for you to get used to how the bike handles with all that weight. This is especially true when panniers are over the front wheel.
Prone to getting dirty: Being right beside the wheels and so close to the ground, panniers can often get sprayed with water, mud, or dirt. This means that you will have to clean them more frequently.
Higher prices: In general, good quality panniers will be more expensive than a similar quality backpack.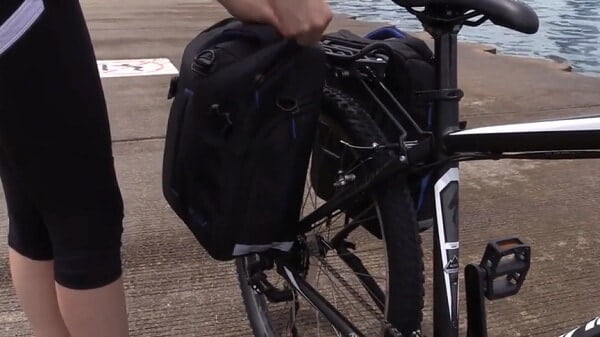 Which one should a commuter choose: panniers or backpack?
You have to consider the terrain, commuting distance, and also whether you ride in your work clothes or in separate clothes just for riding. These will help you to decide what to use to carry your belongings to and from work. If you have a short commute of less than 4-5 miles over flat roads, then the practicality and convenience of a backpack are perfect. On the other hand, for longer journeys of more than 10 miles and transporting multiple items such as a laptop, change of clothes/shoes, and lunch, a pannier would be the smart choice.
For anything in between 5 and 10 miles, either one of the panniers and backpacks can be suitable depending on certain aspects. For example, panniers are better if a large part of your route involves going up an incline. On flat paved roads with few carry items, a backpack is sufficient.
What you wear during your ride is also a deciding factor. If you wear your work clothes, then you might prefer panniers to avoid getting drenched in sweat. However, if you wear cycling clothes or other sports clothes for the ride, then having a backpack and getting sweaty might not be a big deal for you.
Convertible backpack panniers: a third option
There is some good news for those of you who want the benefits of both backpacks and panniers. A convertible backpack pannier offers the best of both worlds. It provides the ease of use of a backpack with the comfort of a pannier. These products are designed so that they can be worn as a backpack but also be attached to the side of your bike's rear rack.
Unlike a regular backpack, a backpack pannier has hooks/clips for mounting and no loose straps that would get caught in the spokes of the wheel. There are some well-designed ones that can be used as a standalone backpack for other purposes. Another extra tip we can give you is to use a basket. That way you can place your normal backpack on the basket for the duration of the ride, freeing up your body.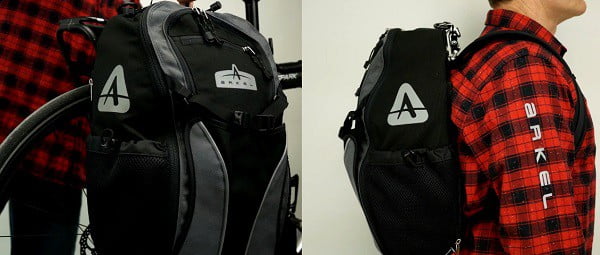 Frequently Asked Questions
Q1. Which is more aerodynamic, backpacks or panniers?
Ans.: Due to the design and how they sit on the bike, a pannier causes more drag than a backpack. Panniers increase your profile, whereas a backpack is mostly blocked from the wind due to your body. For most riders on a normal commute, this difference is negligible. This is because the effect of aerodynamics reduces greatly with decreasing speed.
Q2. What else can you use to carry things during bike commuting?
Ans.: When it comes to carrying multiple items with you on a bike ride, you are not only limited to the classic options (backpacks, panniers, and baskets). There are plenty of cycling-specific bags out there. These, along with where they are attached, are listed below:-
Trunk bag – on top of a rear bike rack
Saddlebag – behind the Seatpost and/or under the saddle rails
Frame bag – frame's front triangle, under the top tube
Top tube bag – above the top tube, just behind the head tube
Handlebar bag – front of the handlebars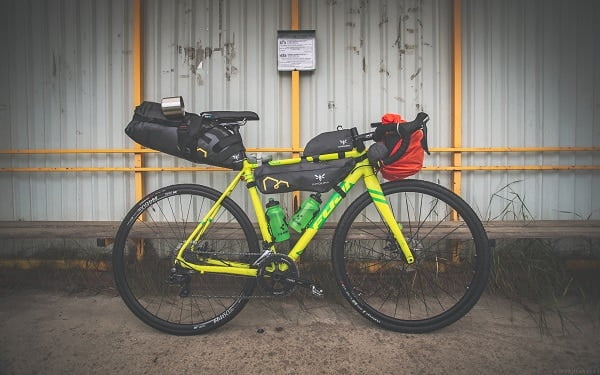 Conclusion
If we had to put it in the simplest way possible, for short trips with fewer items, a backpack is an ideal choice. Whereas, for a long journey with heavier cargo, panniers are a far better option. However, nothing is set in stone. Ultimately, your personal preference plays an important role in the decision as well.