Bike bags are incredibly useful items that cyclists all over the world use. Whether it be for commuting, touring, grocery shopping, mountain biking, or even going camping. Manufacturers produce various types of bike bags to suit all these different requirements. In this article, we will describe all the different types of bike bags available as well as other ways of carrying your things with you on a bike.
Different Types of Bike Bags in the Market
There are several types of bike bags which you can use to carry all kinds of things. All of these bags can be broadly categorized into two types. The first types are bags that are mounted on the rear/front rack of a bike. These usually have a high capacity. However, not all bikes have racks and you might need something lighter and more streamlined for narrow trails. In this case, you would use the second type, usually called bikepacking bags. These are attached directly to the bike's frame.
A. Bags mounted on a rack
1. Panniers
Out of all the various kinds of bike bags, panniers have the highest capacity. A pannier is a bag that hangs off the side of a rack. Each pannier can have a capacity ranging from 10 liters to up to 35 liters. Panniers are normally used as a pair, one on each side of the rack, meaning your total carrying volume can be up to 70 liters. Using all that space means a lot of weight and you will need a rack that can handle it.
Read more: Best bike panniers in the market for grocery shopping
Rear rack panniers are common, but you can use a front rack and mount panniers on them as well. However, it is recommended that you use smaller panniers with a maximum of 15 liters capacity. Having too much weight at the front can badly affect your bike's handling.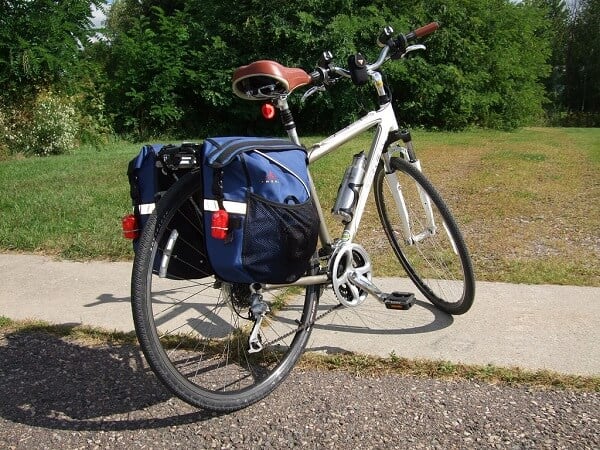 Read more: Best bike panniers for commuting
2. Trunk bags
Trunk bags, also known as rack trunks, are smaller than panniers but still larger than other bike bags. Most trunk bags have rails and a spring-loaded latch that allows them to slide onto a rack and snap into place. Unlike panniers, they have multiple compartments and pockets for easy management of your things. You can use them to carry extra clothes, food, bike tools, etc. A plastic sheet is usually integrated into the base for reinforcement and maintaining shape.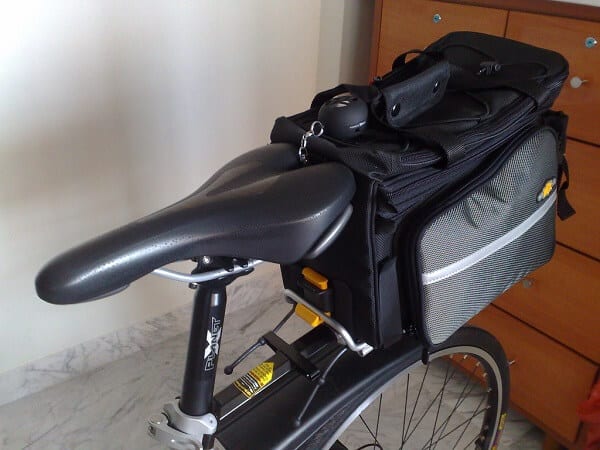 B. Bikepacking bags
1. Saddlebags
If you only had to get one bikepacking bag, we recommend a saddlebag. Also known as a seat pack, it's a very convenient storage option for small items as well as bulky ones like a puffy jacket and sleeping bag. Saddlebags attach to the seat post or saddle rails using straps. Since they are behind you, they are more streamlined, and riding narrow trails becomes possible. A saddlebag can range in capacity from 2 liters to 15 liters.
A lot of saddlebags are water-resistant and some are 100% waterproof. One disadvantage of them is that they can sway side-to-side a bit while you are riding if not secured properly. Be sure to examine how well the bag is attached to the bike and always keep the heaviest items nearest to the seat post.
2. Frame bags
Frame bags are designed to fit in the front triangle of your bike frame. They have straps or clamps that attach to the top tube, down tube, and seat tube. Frame bags offer a low profile design making them aerodynamic. Additionally, their low position makes them ideal for storing heavy items. There are universal fitting frame bags available, but you can get one specifically for your bike as well.
Some bags take up the entire front triangle while others only partially fill it. Make sure to check how a frame bag fits before buying one. Look for how it aligns with the cables, bottle cage, and suspension if there are any. Most of them have 1 or 2 pockets, but there are some with multiple pockets.
3. Handlebar packs
As you can guess, these are mounted to the handlebars. Handlebar packs can be of two types. One is a handlebar bag, much like a trunk bag, but smaller. These are easy to attach and keep things within reach even while pedaling. The second type is actually a harness system to which various things such as a sleeping bag or a tent can be attached. This system is more versatile and can hold larger items.
Whichever option you choose, ensure that it fits right. You should have enough space between the bottom of the pack and the front tire. Moreover, for bikes with drop bars, side-to-side space has to be considered. Keep in mind that mounting something heavy to the handlebars will slightly affect your handling of the bike.
4. Top tube bags
A top tube bag is placed on the upper side of the top tube and just behind the head tube. The attachments are similar to that of a frame bag. They are relatively small, but perfect for keeping easy access at all times to some of your stuff. There are different volumes available, but make sure it doesn't interfere with your pedaling.
5. Stem bags
Usually, a tad bit smaller than top tube bags, stem bags attach to the stem and/or behind the handlebars. They make use of hooks or straps for this. Similar to top tube bags, these pouches provide a convenient place for storing and accessing small items such as a phone, snacks, or sunglasses even while pedaling.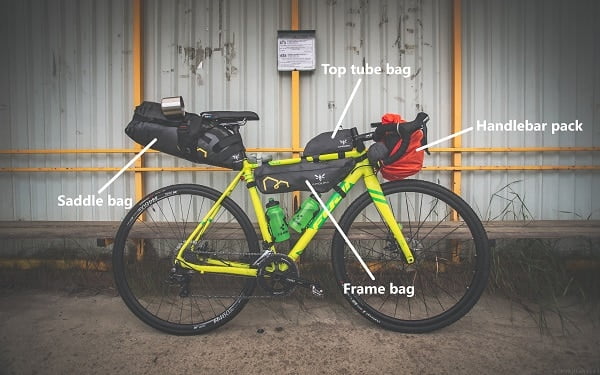 Other carrying options
There are ways that you can haul items with you that are not limited to the bike bags mentioned above. Let's take a look at some of them.
1. Bike baskets
We all know about the classic bike basket. They are easy to use and have relatively good capacity. Baskets are either mounted to the front of the handlebars or on top of a rear rack. They are not the best choice for long-distance or off-road cycling due to the open design. But they are great for use on shorter rides. You could carry groceries or your backpack on the way to work.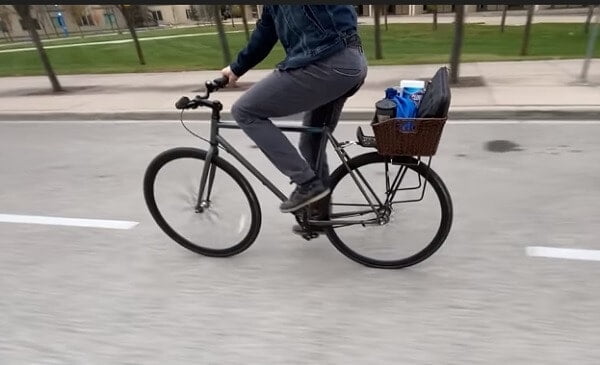 Read more: Bike baskets are also widely used for carrying pets such as dogs, cats, etc.
2. Bottle cages
Unless you are carrying a bottle inside a bag, a bottle cage is absolutely necessary, especially for long touring rides. Staying well-hydrated is crucial to avoid exhaustion and muscle cramps. You should have a bottle of water at least, if not drinks with electrolytes. Bottle cages are usually attached to the seat tube or the down tube of a bike.
3. Cargo cages
Cargo cages look a lot like bottle cages, but they are meant to carry larger bottles or other gear. You can put gear inside a long bag or stuff sack, and place that into the cargo cage. These are typically installed on the bike forks. Although, some can go on the downtube or seat tube as well. Before buying one, you should check how it attaches to a bike and whether your bike has the necessary features.
4. Bike trailers
If you want to bring along as much cargo as possible, then a bike trailer might be worth considering. Just like a car trailer, it is pulled behind your bike and is attached to the rear hub. A trailer offers a large amount of space and a high load capacity. You can use one to carry something heavy or just for lots of items on long journeys as well as for bulk grocery shopping.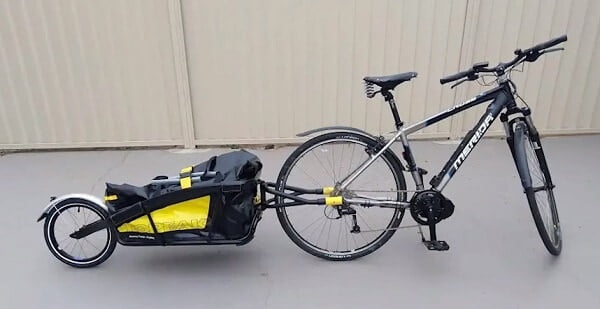 5. Backpacks
Finally, we have a good old backpack. Almost everyone owns one and their ease of use and practicality are undeniable. Backpacks are available in numerous colors and sizes, can be waterproof/water-resistant, and keep your things safe from theft since you have them on your person at all times. The only downsides of backpacks are that they have limited capacity and they can cause back or shoulder pain on longer rides.
Read more: Waterproof vs Water Resistant Backpack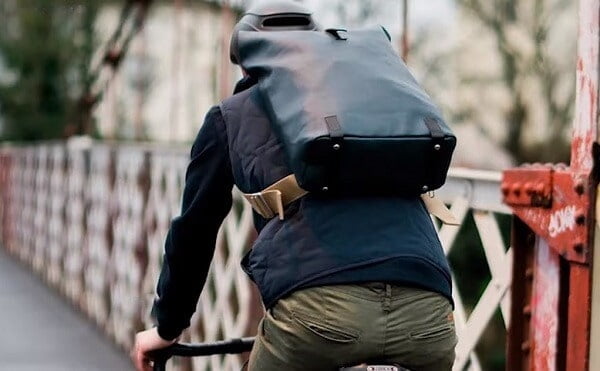 Frequently Asked Questions
Q1. How do I choose a bike bag?
Ans.: If you are collecting a set of bike bags for your next tour or to use on commutes, you need to take a few things into account first. First of all, you have to consider what you will be carrying. The size, shape, and weight of the items will determine your decision. Secondly, you should check how these bags are mounted and whether they are compatible with your bike.
Next, you might consider ease of access. Some things like water bottles, snacks, or phones need to be accessed while riding. Finally, you have to decide the level of water resistance you need. All of these factors will help you find the perfect combination of bike bags.
Q2. Do I need a rear rack for touring?
Ans.: That depends on how much stuff you plan to carry, and that will depend on where you go and for how long. If after filling up your saddlebag, frame bag, and handlebar bag you still require more space, you might have been better off using large panniers in the first place. For this, you will need a rear rack. A front rack will work too, but carrying heavy loads at the back is safer.
You could use a bike trailer, but some people don't like them and the trail you're going to may not be suitable for one. Almost all touring/commuter bikes will have mounting points for rear racks. In case your bike does not have any attachment system for a rear rack, there are racks available that mount to the seat post and/or seat stays using clamps.
Conclusion
By now you know that there are more than enough options to choose from when it comes to bike bags. Not to mention all the other equipment that are not bags. Think about your requirements, budget, and personal preferences. Do your research or better yet, visit a nearby store. You are bound to find something that suits your needs.