Bike locks aren't really the most exciting cycling component to splurge on, but in no way does that mean that it is not an important one.
Bike locks are the first and last line of defense against thieves trying to put your bike up on Craigslist.
That said, with all the brands and types of bike locks available in the market today, each with their own levels of security, it can prove to be quite the challenge to pick the right one (or two) for your coveted bicycle.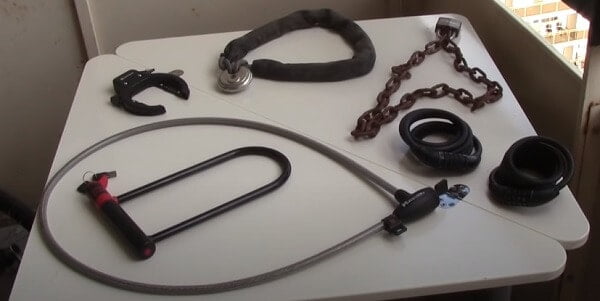 Mainly, we can categorize bike locks as:
Cable Locks
Folding Locks
Chain Locks
D/U-Locks
Each of these locks have their own take on bike security along with some with some manner of inconvenience. Throughout the article you will be noticing this trend: with great security come some inconveniences.
But it is up to you to decide which level and type of security is worth the hassle for your bicycle.
Things To Keep In Mind
Before we get into the meat of things, it is a good idea to familiarize ourselves with the bike security environment to better understand what each type of lock brings to the table.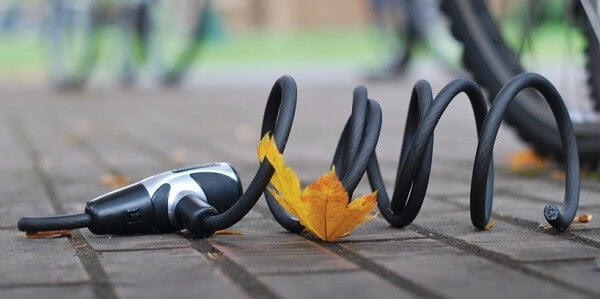 No lock is 'steal-proof'. With enough time, skills and of course, the right tools, any lock is breakable. So make sure to pay attention to your bike's surroundings on top of investing into a lock.
Always keep an eye out for Sold Secure ratings. Sold secure is an independent organization that rates bike locks on their level of security. From lowest to highest: Bronze, Silver, Gold, and the recently added, Diamond. For your primary, always opt for a lock that has a Silver or higher rating.
Heavier locks are theoretically more secure. Heavy locks are not only tough to break through but also act as a visual deterrent against thieves.
Heavier locks can potentially damage your bike. Bike locks usually go around the frame and at least one wheel of the bike. Heavy locks can potentially chip paint or scratch your bike frame or even damage the thin and vulnerable spokes of the wheel.
Two locks are better than one. It is always good to have a primary lock of a higher security rating covering the main frame and a wheel of the bike, while a secondary lock, perhaps of a lower security rating, covering your bike's accessories for maximum security.
Two locks will take more time to set up and remove. This is a no brainer. Since everything is set up manually, it will take more time with more layers of security.
Types of Bike Locks
1. Cable Locks
Let's start with something simple, cable locks. The cable itself is made up of multiple strands of woven metal cables.
It is the lightest type of bike lock in our list making it very easy to carry around with you on top being very easy to set up as well.
The cable itself is very flexible and can come in various sizes, allowing you to secure your bike in any way you want, like against a post, rack, fence or any object for that matter.
These locks can come in either key or combination locking mechanisms. The combo-locking mechanism is becoming quite popular with the cable lock as it compliments its convenience and portability.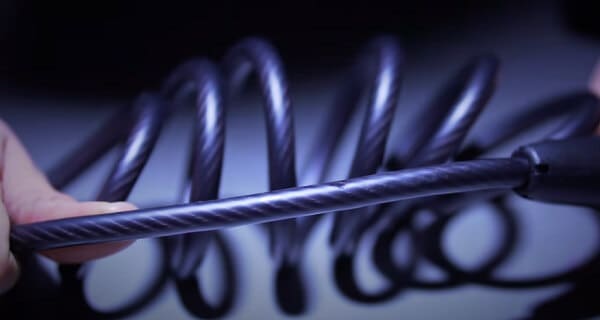 Pros
+ Very lightweight and portable
+ Flexible, you can loop them around the entire bike or objects
+ Easy to set up
+ Works very well as a secondary lock
+ Very cheap (most are under $30)
However, these added conveniences sacrifice a few important security features.
Cons
– Works poorly as a primary lock (most have a Bronze Sold Secure rating)
– Looks flimsy and is a bad visual deterrent
– Very weak to any kind of cutting tool
– Requires very low skill, if any, to break through these locks
There does exist an armored alternative to the cable lock. The strands of metal are covered with steel linked shells to provide added piercing protection. But this upgrade will cost you an extra $20 with that much of an improvement to the overall security.
2. Folding Locks
Folding locks are a newcomer to the world of bike locks. Usually 5mm thick steel plates are linked together to form a sturdy loop with flexible joints.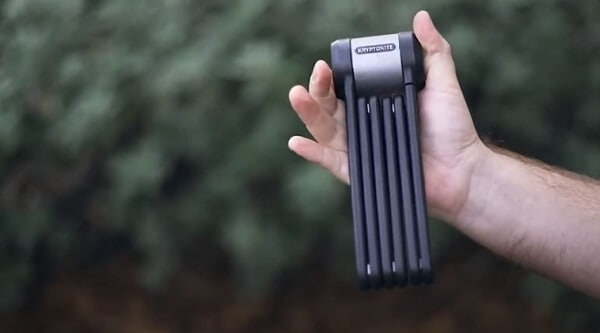 Its design tales a lot from a chain lock, which we will be seeing next, and the cable lock. Simply meaning that the folding lock has a lot of flexibility without compromising much of its security.
Like the cable lock, it can be set up around any object and is light enough to not damage the bike.
The lock has a portable design. You can fold it down to a smaller size and easily carry it around, thus its name. Some even have brackets or hooks to be able to be clipped on to your bike.
Pros
+ Compact and portable, easy to carry
+ Flexible, you can loop them around the entire bike or objects
+ Lighter than chain or D/U-locks
+ Stronger than cable locks (mostly at a Silver rating with some Gold options available)
+ Can work as both the primary and secondary lock
The negatives of these locks are too few and too far in between.
Cons
– Fairly new design so availability can be rare
– Bolt cutters can break through them easily (or with normal wire cutters with enough effort and time)
3. Chain Locks
We enter the world heavyweight locks with the chain lock, perhaps too heavy for many people's tastes, and the first in our list of full-fledged primary bike locks.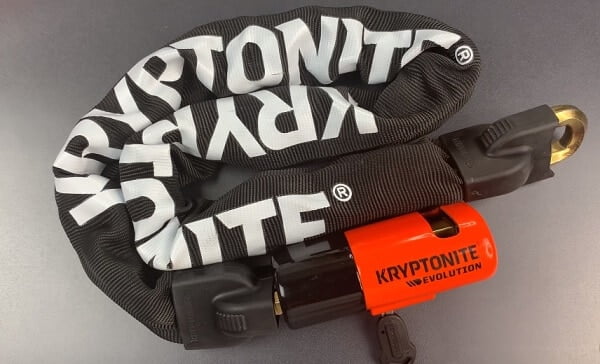 This lock is made up of hardened metal links, usually manganese steel, to create a chain. The chain is usually covered with nylon fabric (for protection against the elements and for protecting the bike itself) and closed with a heavy padlock.
As you might have guessed, you can get yourself a length of chain and a padlock to make your own version of a chain lock. The design is that simple, but very effective.
Pros
+ Heavy duty and very strong security (mostly Gold Sold Security rating)
+ Requires high skill levels and specialized tools to break through (requires power tools like angle grinders)
+ Even using power tools can be very difficult as the chains will be constantly moving around
+ Flexible, you can loop them around the entire bike or objects
+ Visual deterrent, has prominent bulk to it
The simplicity and tough security comes with sacrifices to weight and portability.
Cons
– Very bulky and heavy, tough to carry around
– Can damage the bike
– Can wear out and rust if exposed to the elements
4. U/D-Lock
Designed like a giant padlock, the D-locks are some of the most secure locks out there.
These are seemingly lightweight (lighter than chain locks at least) but heavy duty and come with very strong locking mechanisms.
The horseshoe shaped design is conveniently shaped to accommodate the fame of the bike to any post. But that comes with a bit of inconvenience. It is not flexible, meaning set up is going to be harder in certain places. It is also limited to which part of the bike you can set it up.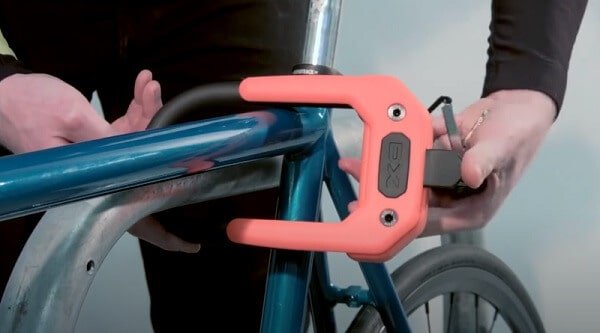 Though it comes in many sizes, the idea is to reduce the amount of space between the bike and the lock so that no tools can be inserted in between. This also forces you to have greater knowledge about your bike's size and where it will be set up.
You can, however, use a longer D-lock to secure two bikes together. But either way, these locks are great as primary locks for your bike.
Pros
+ Has a proven design for securing bikes over many decades.
+ You can only break through them by using heavy specialized tools
+ Great option for a primary bike lock (Sold Secure ratings range from Silver and up to Diamond)
+ If properly set up it can be resistant to most leveraging attacks
+ Lighter than chain locks but performs just as well
+ Won't damage your bike (some premium locks have a rubber outer layer)
+ Most come with mountable options for your bike
Cons
– Not flexible, can be difficult to set up
– Can be difficult or awkward to carry around
Final Words And Considerations
Having read through all the features that each bike lock has to offer, you should be now ready to make a decision.
But in case you aren't, consider asking yourself these questions:
What is the value of your bike? More expensive bikes will warrant a higher security.
Is the area where you are going to park your bike secure? Is the place overcrowded or covered by security cameras?
How prevalent is bike theft in the area where you will park your bike? Doing research on the areas never hurts.
How long are you going to be leaving your bike unattended? The longer it is unattended the more time a thief will have to work on your locks.
Is your bike registered at the local police department? This is more of a failsafe in case you do have your bike stolen.
We hope that you now understand the value of bike security and invest in a lock catered to your particular needs and situation.
Happy Riding!
Frequently Asked Questions
Q1) How do you carry a lock on a bike?
Ans.: Many bike locks come with their own brackets that can be used to mount them on a bike. In case that is not possible for your lock, here are some logical, and creative, ways in which you can carry your bike lock around:
Put it away inside a bag or pannier.
Lock it around the bike's frame.
Use zip-locks or chains to keep the lock mounted
Q2) You you cut bike locks?
Ans.: Yes, all bike locks can be cut. But the few variables that are involved are the type of bike lock, the amount of time given and the amount of skill the thief has.
Of all the types, the cable lock is the easiest to break through requiring little to no skill and a simple cutter.
A cutter can also go through a folding lock but it will require some time and knowledge of the lock since it is fairly new to the market.
U-locks and chain locks are the toughest by far. You will require high skill levels and specialized tools and power tools to break through them.