A helmet should always be worn while riding a bike, even if there is no law stating this. After all, you should never compromise on safety. If you are buying a helmet for the first time, then you've come to the right place. In this article, we have prepared a complete guide for bike helmets and what to look for when buying one.
The best helmet for you is one that fits perfectly and is designed for the type of riding you do. It should have features that improve your riding experience according to your riding style. A well-fitted helmet should fit snugly on your head but not so tight that it is annoying. It should sit in the right position, not tilted too far forward or back. The front edge should be around 1-2 inches above your eyebrows. Try pushing the helmet back-and-forth and from side-to-side. If it does not move, you're good to go.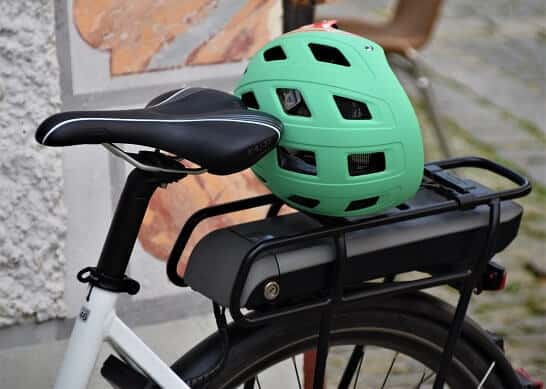 Bike helmet | Credit: https://unsplash.com/photos/lUP7f9ApvlY
Make sure the helmet
1. Fits properly
When buying a new bike helmet, the most important thing is to get the size right. You might be wearing it for long periods of time, so it should be comfortable. Besides, a poorly fitting helmet will not provide effective protection. First of all, you have to know your head size, also known as the head circumference. You can find out how to measure your head in our F.A.Q.s section below. Next, you should take a look at the size charts given by the manufacturer. Sizing might vary from one brand to another, but all you have to do is match your head circumference.
Before you actually purchase a helmet, we recommend trying it on in person. If you're shopping online, make sure that you can return it if the fitting isn't quite right. When trying out a helmet, go through the following steps to see whether you should keep it:-
Position the helmet properly. The front of the helmet should be around 1-2 inches above your eyebrows. If the helmet is too far in front, the back of the head is exposed to hits while your field of vision becomes obscured. Conversely, if it is too far back, your face and forehead are not protected.
Keeping the helmet in the right position, adjust the tightness. Nearly all helmets nowadays have some sort of ratcheting or dial adjustment at the back. Tighten the helmet until it does not move back-and-forth or side-to-side even without securing the straps. But not so tight that it feels uncomfortable.
Finally, adjust and secure the side straps and chin straps. The side straps should form a V at the base of each ear. Then tighten the chin straps just enough so that you can fit two fingers between the straps and your chin. Open your mouth wide and you should feel the helmet press down on your head.
2. Matches your riding style
Any helmet works best when you use it according to its intended purpose. What kind of cycling will you be doing? What sort of terrain will you ride on and for how long? The answers to these questions will determine what category of helmet you ought to buy. You can get away with using, for example, a road helmet for mountain biking and vice versa. But each helmet type has certain features that make it suitable for a specific riding style. We can broadly classify helmets into the three following categories:-
Road bike helmets are lightweight and offer plenty of ventilation. They are designed for fast-paced cycling and have an aerodynamic design to reduce drag. The low weight further enhances speed, while the numerous vents keep your head cool. Get this type of helmet if you spend a lot of time pedaling on the pavement at high speeds. A subgroup of road helmets is time trial/triathlon/racing helmets which have an even more streamlined shape, sometimes having no ventilation holes.
Mountain bike helmets are built for rugged off-road use. They are heavier and sturdier and feature better coverage at the back and sides of the head. There are fewer vents to prevent sticks and stones from getting in during a fall. Nearly all mountain bike helmets have a visor that shields the eyes from the sun and low-hanging branches. You might also want to look for a camera/light mount at the top of the helmet. There are multiple forms of mountain biking such as cross-country (XC), enduro, downhill, etc. You can find helmets that are specifically suited to each discipline.
Recreational bike helmets
These helmets are meant to be used for commuting, urban use, or leisurely rides. Recreational helmets are not always optimized for high performance. Rather, they emphasize more on looks and style, so that they go with your regular clothes. Some may have a small visor. Meanwhile, some feature built-in LED lights to ensure visibility to others at night.
Things to look out for
Other than finding the proper size and matching it with your riding style, there are a few other things that you should be aware of before making a purchase.
Helmet safety standards
Fortunately, pretty much all helmets available in the market have to meet certain safety standards and regulations that deem them safe enough for use. Still, it doesn't hurt to check for a sticker from an authoritative body. In the US, all helmets are required to have a Consumer Product Safety Commission (CPSC) certified sticker. Helmets sold in Europe will have a CE EN 1078 marking. While in Australia and New Zealand, helmets have to comply with AS/NZS 2063 as set forth by the Australian Competition & Consumer Commission (ACCC).
MIPS, WaveCel, & SPIN
As technology improves, helmets get safer and safer. While the polycarbonate outer shell and the EPS foam lining absorbs most of the forces from an impact, they do not prevent strain on the brain from rotational forces. This is why Multi-directional Impact Protection System (MIPS) technology was developed. Many helmets now have a MIPS layer that allows the helmet lining to slide over the head and absorb any angular impact energy. WaveCel and SPIN (Shearing Pads INside) are similar technologies that soon followed. WaveCel can be found on some Bontrager helmets while SPIN was created by POC for their helmets.
Connected technology
In the modern age, everything seems to be getting smart, including helmets. Some helmets have ANGi technology or Bluetooth that can pair up with an app on your phone. These can alert predetermined emergency contacts if sensors in the helmet detect a crash. Other helmets have bone-conduction speakers or smart LED lighting. Keep in mind that these helmets might be more expensive.
Best Bike Helmets – Our Picks
| Helmet Model | Why We Like It |
| --- | --- |
| Bontrager Specter | Best helmet for optimal protection |
| Giro Aether | Best helmet for serious road cyclists |
| Nutcase Metroride | Best stylish helmet |
| Giro Montaro | Best for mountain biking |
| Bern Allston | Ideal for city riders |
| Specialized Prevail II | Connected helmet |
| Bell Z20 | Offers optimal comfort |
| Schwinn Thrasher | Best budget helmet |
| Bell Annex | Offers flexibility |
| Smith Optics Podium TT | Best aerodynamics |
➥ Our experts have tried & tested some other bike helmets that are worth mentioning, given below:
An in-depth comparison between the Giro Cinder and the Synthe
A thorough comparison between the Bern Berkeley vs. the Brentwood
Expert's comparison of the Giro Foray and the Synthe
Frequently Asked Questions
Q1. How do I measure my head for a bike helmet?
Ans.: You can measure your head circumference by wrapping a string around your head around an inch above the eyebrows, basically the widest part of your head. Then simply measure the length of the string it took to wrap around your head using a ruler. Alternatively, if you have a tape measure, you can just use that to get a measurement directly.
Q2. What is MIPS?
Ans.: MIPS, which stands for Multi-directional Impact Protection System, is a brand of its own. They sell their technology for use in the helmets of multiple market leaders such as Bell, Giro, Specialized, etc. The MIPS layer found in these helmets is basically a slip plane. It allows the helmet's EPS foam to slide 10-15 millimeters independently of the head. This relative movement absorbs most of the rotational force which would have otherwise been transferred to the brain.
Q3. Do I need helmet padding?
Ans.: Padding is an essential part of the helmet. It provides comfort by cushioning the head against the relatively hard EPS lining. Additionally, the padding absorbs most of the sweat produced so that it does not drip down and irritate you. Look for high-quality pads that are antibacterial and odor resistant. The padding can be easily taken out and cleaned using water and a bit of soap.
Conclusion
You should now have a good idea about what to look for when buying a helmet. We have tried to give you all the information you need. However, it is your choice in the end. Consider your requirements and budget, but make sure to buy a helmet that fits you perfectly. It might take a bit of trial and error before you find the right one, but the safety of your head is well worth it.