A helmet specifically designed to help bicycle commuters not only attain safety but also assist them on the road with its many features. These features include reflective or LED strips for visibility or a visor to protect its users from the elements and so much more.
Long gone are the days when bike helmets were just a piece of heavy plastic meant to cover your head for added protection. Helmets today are specialized in their own biking types to provide an added edge. So getting the right helmet for yourself can involve a bit of research.
Getting the Right Helmet
As simple as the bike helmet is, getting the right helmet for yourself can be a tad more difficult. Long gone are the days when bike helmets were just a thick piece of plastic covering your head.
As obvious as it is, there are a few things to keep in mind when getting yourself a bike helmet.
First, and most importantly, the fit. Many buyers tend to overlook this due to the presence of so many other appealing features and also with the increasing amount of online purchases.
A snug fit is what you are looking for from your helmet. The front rim of the helmet should land two finger-widths above your eyebrows and have one finger space between it and your forehead. This will allow the helmet to sufficiently cradle your skull. Anything tighter will be uncomfortable and hot, and having more space will make your helmet rattle as you ride.
Other factors like weight, ventilation, visibility, style, and of course price usually vary with the type of riding you are planning to do.
➥ Even if you are a casual biker or on a budget, some thought and research should definitely go into your purchase. We recommend you have a look at helmets you should go for.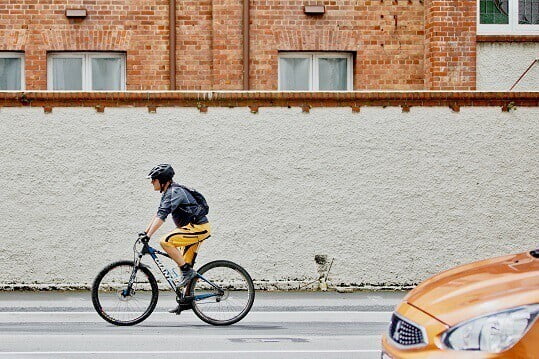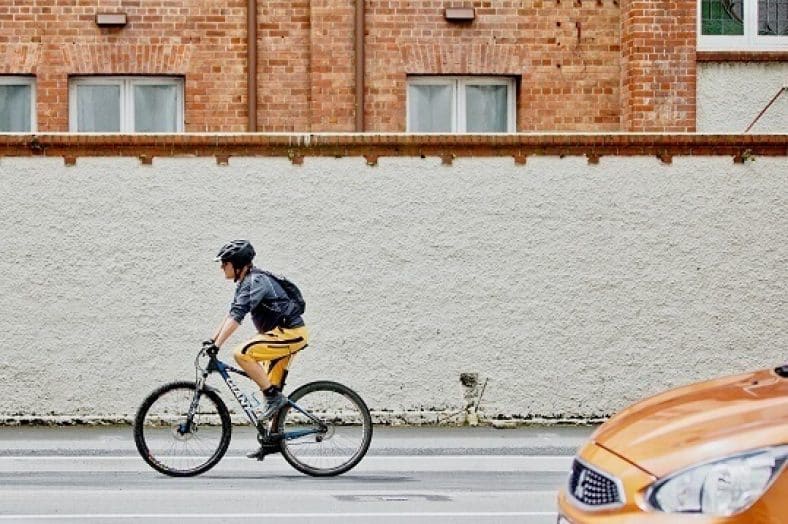 Let us now dive deeper and see what sets the commuter bike helmet apart from the other types.
Helmets for Commuting
From a generalized perspective, it may seem that a standard helmet will get the job done for commuting on your bike. But a commuting bike helmet in reality needs to be more versatile than that.
There are a lot of elements of the commuter helmet that sets itself apart from the other types. To help you understand more clearly we have separated these factors into three categories.
How it Looks
How a commuter bike helmet looks don't necessarily mean its style and design, but how visible it makes you to other commuters and drivers on the road.
Compared to other vehicles and motorcycles on the road, the bicycle and the rider are fairly small to look at. Less visible, with the lack of lights on the bike as well. So, many commuter helmets offer brighter vibrant colors and/or reflective strips on the helmet to make your presence known to others on the road.
Some helmets will also have LED lights or light strips on the front or back of the helmet. This especially helps those who are commuting at night.
Now, if we are talking design, the commuter bike helmet focuses on comfort rather than aerodynamics. These helmets will be of a more rounded shape with ample vents. More on that later.
As for color and style, commuter bike helmets offer the most variety. Many models come in multiple shades of color. Some even come with design components like leather visors, designer straps, etc. Not to mention holders for your sunglasses. Whatever style combination you might have imagined in your head, the chances of that actually existing is pretty high.
How it Feels
As we have mentioned previously, commuter bike helmets are designed to provide their users with maximum comfort.
These helmets generally offer great ventilation, with large vents or a lot of smaller ones. This does increase the wind drag you will feel on the road but will keep your head cool on the way to the office. You surely wouldn't want to enter your workplace looking like you have run a marathon, right? This is also great if you live in a warmer area.
But what about the cold weather? Many commuter bike helmets offer their own winter caps or have space for you to wear one under the helmet.
Some recent and also some premium models also have detachable vent covers that you can remove or attach depending on the weather.
The pads that come with a commuting bike helmet also tend to be thicker and lined with special breathable fabrics, especially in more premium units.
How it Protects
Subtle but sturdy is the name of the game when it comes to commuter bike helmets. These helmets look at safety and comfort more closely than aerodynamics. This is because the average commuter requires a helmet that protects their noggin in case of a serious crash, which has a higher possibility on a busy road than a cross country trail.
These thick-shelled helmets, thicker than most of their counterparts, are usually crash-tested against concrete, asphalt, or brick surfaces. A regular helmet would not have been able to pass these tests.
The commuter helmet also offers more coverage of the head. Especially around the back where crash impacts might happen in the event of a rear accident. The backside of these helmets is usually rounder or flatter, rather than narrower like those you would see on a road bike helmet. The flatter backside also provides enough surface area for reflective strips or LEDs.
If you are looking to splurge a bit and spend a little more than $100, then you can get yourself MIPS protection in your helmet. MIPS or Multi-directional Impact Protection System is one of the most desired and popular bike helmet safety technologies in the market today. This is closely followed by the newer WaveCel technology.
Whether it has an extra layer of safety technology or not, your helmet must be road certified. Keep an eye out for CPSC and/or CE certification stickers on your helmet when buying.
Other Features to Look Out For
Portability: Commuter bike helmets can be quite bulky with all their added safety and features. But some helmets have detachable parts like the visor. And some are also foldable, allowing you to carry them in your bag once you are done with your trip.
Smart Bike Helmets: These are a new breed of bike helmets primarily catered towards commuters. These helmets integrate software, like mobile apps, voice commands, and Bluetooth, to give you a safe but sophisticated biking experience.
➥ If you've specifically set your sights on getting a smart bike helmet, then, you should definitely have a look at the Livall BH51T smart bike helmet.
Frequently Asked Questions
Q1. Are all bike helmets the same?
Ans.: No. A cheap bike helmet under $30 that you can find locally might have a general-purpose when it comes to safety. But once you look at options above $50 you might find specialized helmets catered to a specific riding type: Commuting, Road Biking, MTB, TT, etc. All of these types of riding have their own specific needs, like aerodynamics for triathlon biking, Time Trial (TT) racing, or extra protection for commuting, making bike helmets look and feel very different in each category.
Q2. What is the lifespan of a bike helmet?
Ans.: Generally, manufacturers ask users to change their helmets every 3-5 years as the EPS lining and the outer shell wears off with time. But in the event of a crash, it is imperative that you change the helmet immediately where or not damage is visible.
Q3. Is it worth getting a MIPS helmet?
Ans.: Yes. MIPS is the most popular helmet safety technology available today for good reason. Though it might push the price of your helmet over $100, it is still better to pay this amount than a $1000 medical fee, let alone suffering from permanent head injuries.
Conclusion
The latest and greatest helmet performance doesn't mean much when it comes to the commuter bike helmet. The only things it does concern itself with is style, comfort, and, above all, safety. Whether you are pushing through heavy traffic or cruising down an empty street, these helmets will provide you with the best protection and features to keep your mind at ease and on the road. And with a few extra bucks, you get extra protective features, like MIPS, and also in your favorite color.