Rear bike racks are the tray-like structures found above the rear wheel of many touring and commuting bikes. They usually consist of welded rods made of aluminum, steel, or titanium. Unlike what many of us thought as kids, they are not meant to be a rear passenger seat. Rear bike racks can be used to carry a multitude of items with the use of panniers, rack trunks, straps, bungee cords, baskets, etc. You can find out about all the different ways to use a rear bike rack in this article.
Types of Rear Bike Racks
1. Bolt-on rear racks
This is the type we usually think of when talking about rear bike racks. Normally, they are bolted to braze-on mounts known as eyelets. There are four points of attachment – two at the bottom of the seat stays and two near the top of the seat stays. These racks are commonly found on commuter bikes, urban bikes, beach cruisers, and touring bikes. Bolt-on rack can handle anywhere between 20 and 100 lbs of weight depending on the bike and rack model.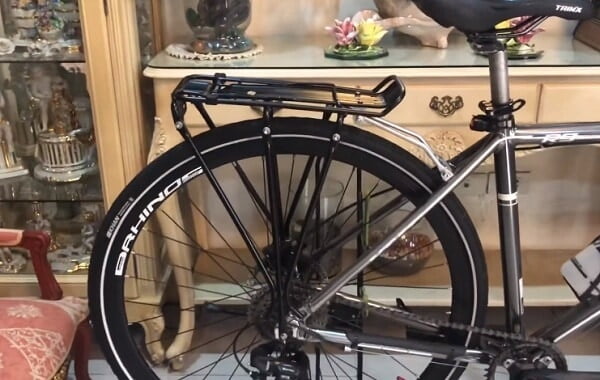 2. Seatpost rear racks
This type of rear rack is installed to the seat post via a clamp and bolts. Seatpost rear racks are used when your bike does not have eyelets or any other mounting points for a regular rack. They are also easy to remove and reattach. On the downside, Seatpost racks have a far lower weight capacity, around 15-30 lbs, and are less durable. This type of rear rack may or may not have side rails for pannier attachment.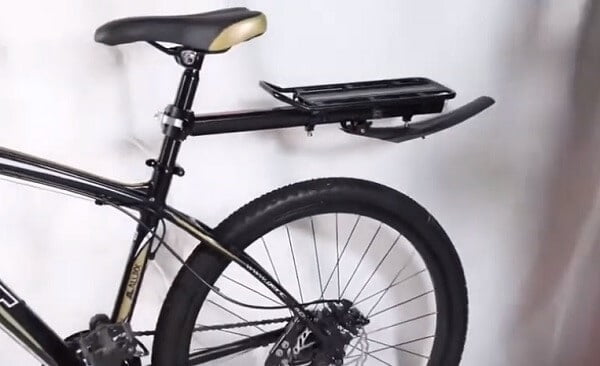 Rear Bike Rack Uses: How to Carry Various Things on Rear Bike Racks
1. Spring-loaded clamp
Most rear racks feature a spring-loaded clamp. In most cases, this clamp is not very useful. However, if you are carrying something like a jacket or raincoat, you can easily just put it under the clamp and it will stay securely in place.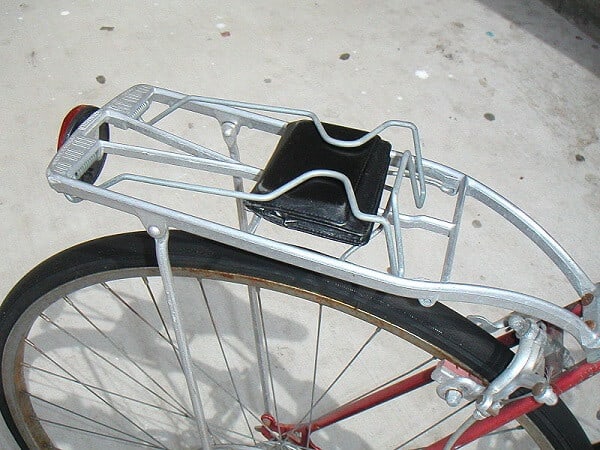 2. Panniers
Panniers are one of the most popular ways of carrying cargo on a bike. They are bags that hang off the side of a rear rack with a load capacity of around 40-60 lbs and a volume of 15-30 liters on average. Panniers are easy to use, have a large capacity, and can also keep anything inside protected from rain. They are highly versatile and can be used for grocery shopping, everyday commuting, or even long-distance touring. Their design makes them a great choice for carrying sensitive items, such as a laptop.
A pannier is secured to the bike via built-in straps or hooks. You can use panniers on either side of the bike or buy a double pannier, both of which will double your capacity. Even if you are using one pannier, you don't have to worry about the bike being imbalanced. Most of the time, you won't even notice it.
➥ Read More: Which one biker should choose: panniers vs backpack for commuting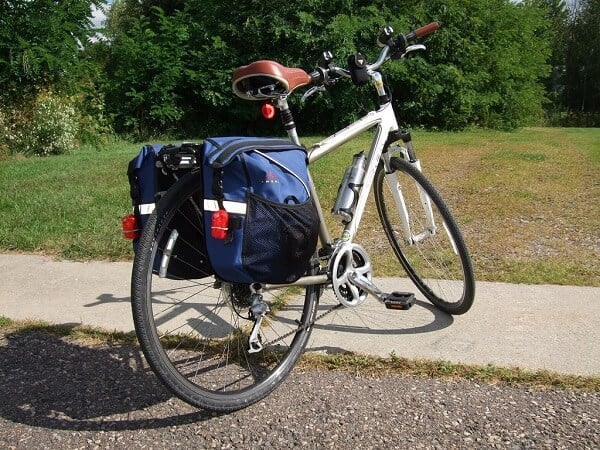 3. Straps & bungee cords
Straps and bungee cords are highly versatile. You can use them to secure any object to the rear rack given that it is not too large. Straps could be of leather or nylon, and they can usually be chained together for larger items. There is a wide variety of strap designs available out there that provide the convenience of use. With bungee cords, all you have to do is wrap it around the item and fix the hooks to the bike's frame.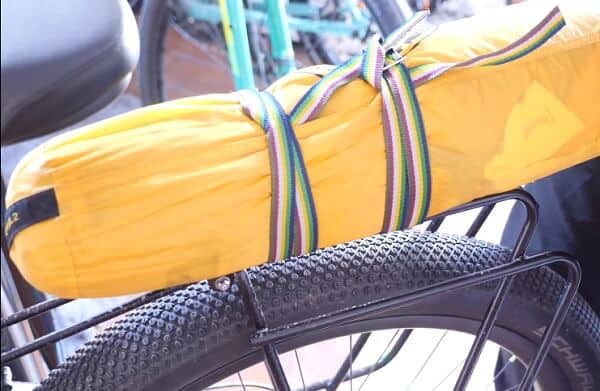 4. Trunk bags
A trunk bag, also called a rack trunk, is a rectangular bag that can be mounted on top of rear racks using straps or hooks. It is usually a bit smaller than a pannier. They feature divided sections and pockets for easy management. Trunk bags are a great way to carry your lunch, extra clothing, tools, etc. Most will have a plastic sheet at the base for reinforcement and to maintain a good shape.
➥ Read more: Top bike trunk bags in the market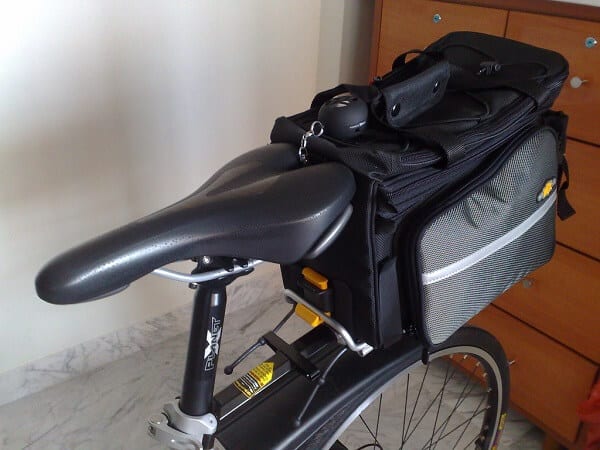 5. Baskets or crates
Baskets and crates are a classic method of carrying cargo on a bike. They are good for keeping a variety of objects such as groceries or your backpack if you don't want it on your shoulders. Baskets are clearly better looking, however, crates get the job done just as well. Both provide plenty of room and usually have capacities similar to panniers. They are cheaper than panniers but don't provide the same level of safety for cargo. You can get baskets of different sizes, materials, and shapes. While most are mounted on top of a rack, some are mounted on the side and are sold as pairs.
➥ Related: Commuting needs backpacks with waterproof or at least water-resistant features. Check our reviews of the top waterproof commuting backpacks in the market.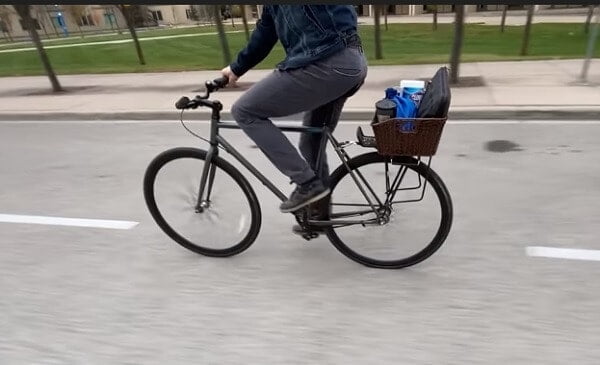 6. Pet carriers
Many people want to bring along their pets, especially dogs, with them on a ride. With the range of pet carriers for bikes available today, that is not much of a problem. Many of these carriers are attached to the handlebars but some are installed on the rear rack. Straps or meshes are usually built-in to keep your furry friend safe. They sometimes also feature additional storage space for treats, toys, or other small items.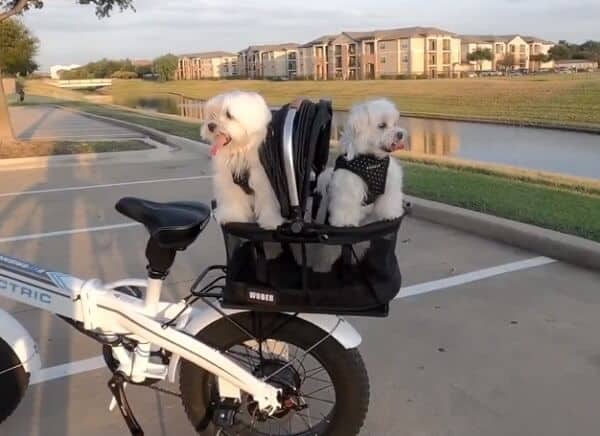 7. Child bike seats
A rear-mounted child bike seat looks similar to a child car seat. This is a safe and comfortable way of bringing your child along on rides. They are installed on top of the rear rack. Most child bike seats can carry children of ages between 9 months and 6 years. Always be sure to check the weight capacity of both the rack and the seat before using one.
Safety features include a 3-point safety strap, protective guards, footwalls, and a backrest. Despite these safety features, it is essential to be very careful while riding with your child. Follow safe practices all the time, such as equipping them with a helmet or riding on roads with low traffic.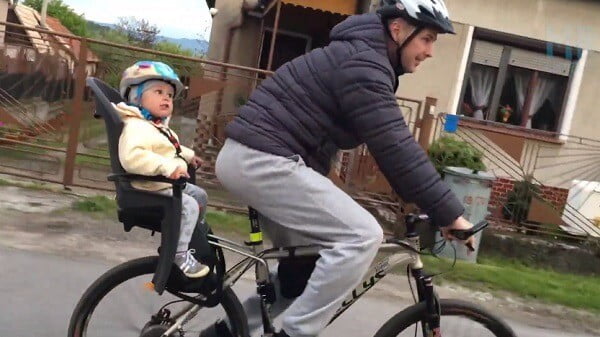 Frequently Asked Questions
Q1. What if there are no mounting points for a rack on my bike?
Ans.: Well you can always get a Seatpost rack which only requires a clamp and bolts that come with the rack. However, you might want the durability and weight capacity of a regular rack. In that case, buy some vinyl-coated clamps or C-clips. These have an eyelet built-in and can be attached to the seat stays. Then you can mount a bolt-on rear rack to the bike. This is usually needed for the road, cyclocross, and gravel bikes.
Q2. Can I mount a backpack directly to a rear rack?
Ans.: You can mount a backpack to the rear rack if you don't want to have it on your shoulder, but there is some risk involved. Most backpacks have straps that could easily get caught in the spokes of the wheel and cause an accident. No matter how well you think you have managed all the loose straps, there is always a chance that one could come loose. An alternative would be to use a convertible pannier backpack. They are designed to be safe for use as both a pannier and a backpack.
➥ Read More: Waterproof vs Water Resistant Backpack
Q3. How much do rear racks cost?
Ans.: Rear racks for bikes can cost anywhere from $15 to more than $100. Naturally, higher quality racks with larger load capacities will cost more. Seatpost rear racks are generally cheaper. How much you spend on a rear rack depends on what kind of use you want out of it.
Conclusion
As you can see, bike rear racks are a surprisingly versatile piece of equipment. You can carry a huge range of items with racks if you pair them with the right accessories. Rear racks are very useful for anything from short commutes to long-distance touring rides. You only need to make sure that you have a rack with suitable specs.