Shimano is a name that is quite familiar on the tongues of any cycling enthusiast. This is no small thanks to their pioneering bicycle pedal design: The SPD.
Naturally, it stands for Shimano Pedaling Dynamics, and this patented design is highly coveted among cyclists of all disciplines.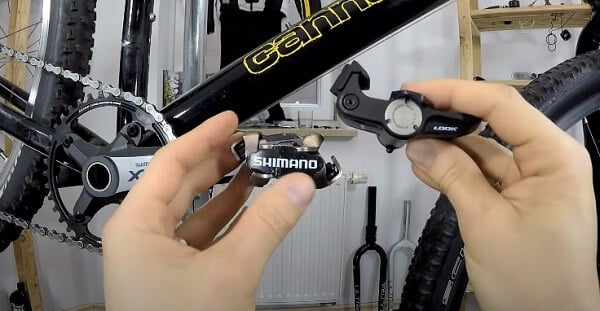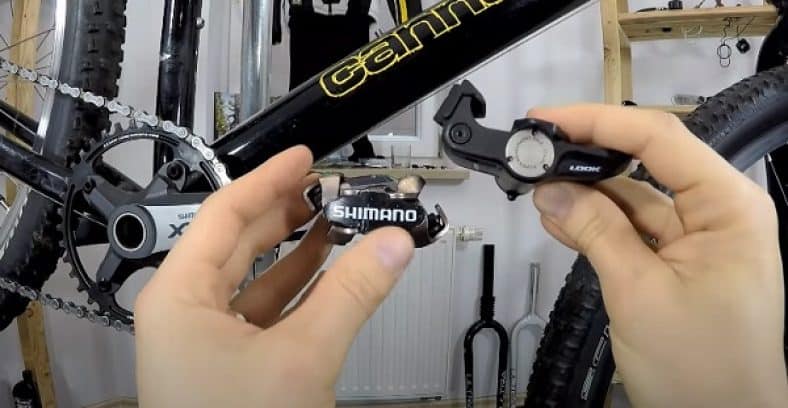 We have come a long way since the inception of the SPD back in the early 1990s. The design of the SPD has improved on top of having more variants of it. One such variant we will be talking about today is the SPD-SL, the road biking variant of the SPD.
We will be putting the SPD and the SPD-SL against each other to determine their strengths and weaknesses and figure out which of these two pedals better fit your riding style. The criteria we are going to be using are:
Design
Ease of Use
Features
Designated Biking Discipline
But before we dive into the "Why the SPD or SPD-SL?", let us determine why we should be using clipless pedals in the first place.
Features of Clipless Pedals
There are certain aspects of clipless pedals like the SPD you should be aware of before making a purchase.
Clipless pedals hold your feet to the pedals better than flat pedals. Which means more power transfer efficiency and stability.
More Rigid = More Efficiency but Less Freedom, which might lead to sore knees if the cyclist does not adjust properly.
Requires specific cleats. Clipless pedals hook onto cleats that are attached to the soles of your cycling shoes, making the choice of your shoes and its respective cleats a mandatory consideration when getting a new pedal.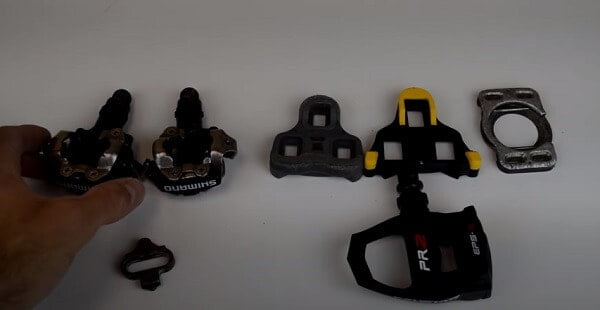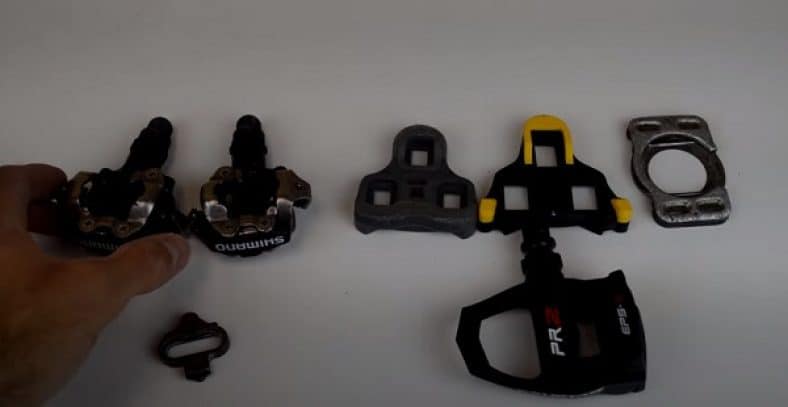 Difference Between SPD and SPD-SL Pedals
SPD Pedals
1. Design
The first thing you always notice about a pair of pedals is their design. SPD pedals are made of metal or a metal alloy. This makes them heavy but highly durable and robust.
These pedals clip on to 2-bolted small metal cleats, a traditional MTB design. Clipping in might take a bit to get used to at first thanks to its smaller size.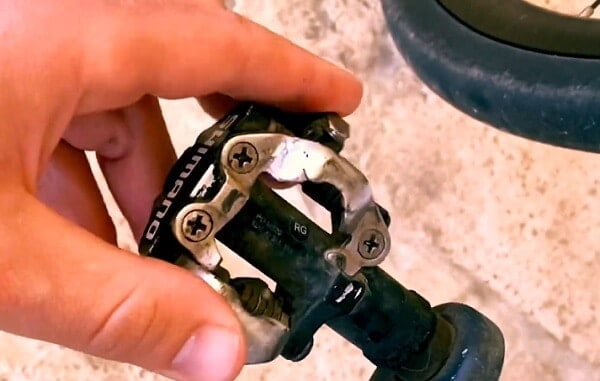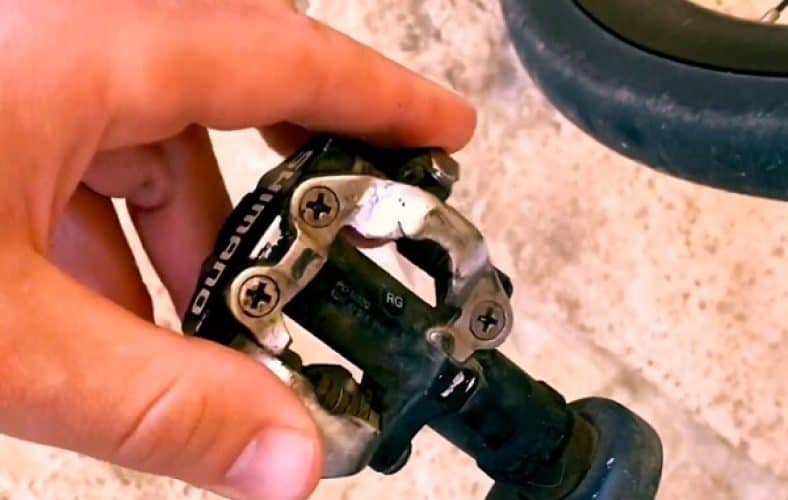 2. Ease of Use
An advantage of having a clipping-in mechanism like this is the shoes that come along with it. The cleats are usually recessed in between thick treaded soles. These types of cycling shoes are obviously very good for walking on any terrain.
Another advantage that comes with these pedals is the double-sided entry, this means that no matter which side the pedal is facing you can easily clip in regardless. This makes for a much easier startup from a stationary position.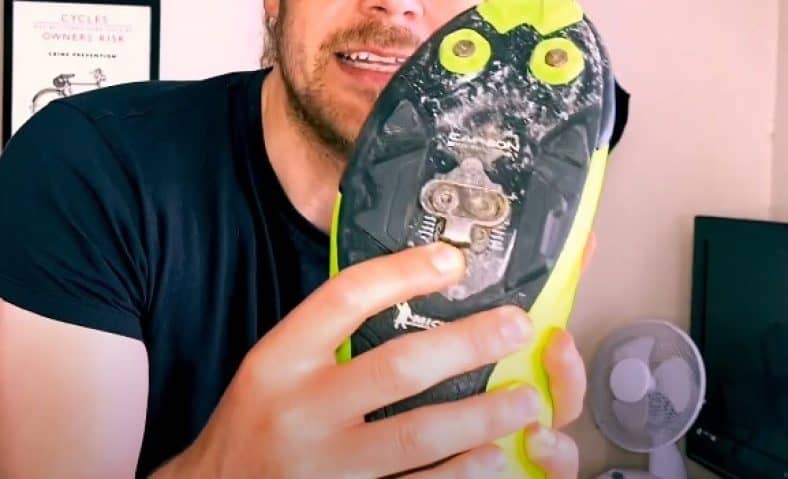 3. Features
As these are clipless pedals, the ease of releasing your shoes from the pedals are as crucial as clipping in. The release tension can be adjusted by fine-tuning the small screw on the back of each pedal. The amount of tension is of course completely dependent on the user. Some prefer added security and rigidity while others prefer more freedom.
Some SPD pedals come with cleats that have a single release (SH51/SH52), you just have to twist your heel outwards and away from the bike. Shimano also offers multi-release options as well with the SH56. This allows you to release from the pedal by both outward and upward movement of the heels.
Next we have float. This allows your feet to move freely while being clipped in. This can provide more comfort to the rider and is highly recommended for newer cyclists to get themselves a set of pedals that allows for higher angles of float.
Mud Shedding is probably one most necessary features of any MTB-specific pedal. The construction and design of the SPD pedals are such that if any mud gathers on the bottom of the shoe it can be easily shed with the help of large gaps in the center of the pedal. This allows the cyclist to easily tackle all kinds of muddy terrain, regardless of the weather.
4. Who are the SPD pedals for?
With all of these features, Shimano has surely created a worthy pedal to deal with any on and off-road track you can dream of; be it the typical road, trail, all-mountain, or even cyclocross. The only thing you have to worry about is the type of shoes that you will be wearing alongside them.
SPD-SL Pedals
The SPD-SL is the road biking variant of the Shimano SPD pedals.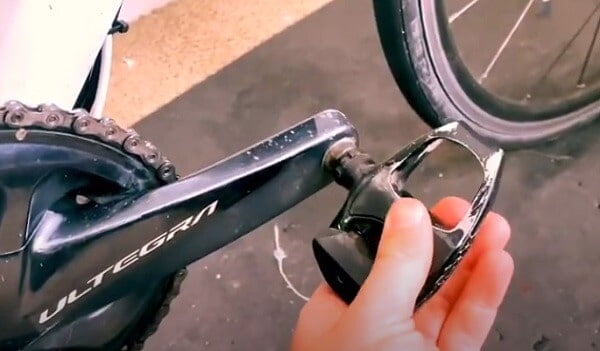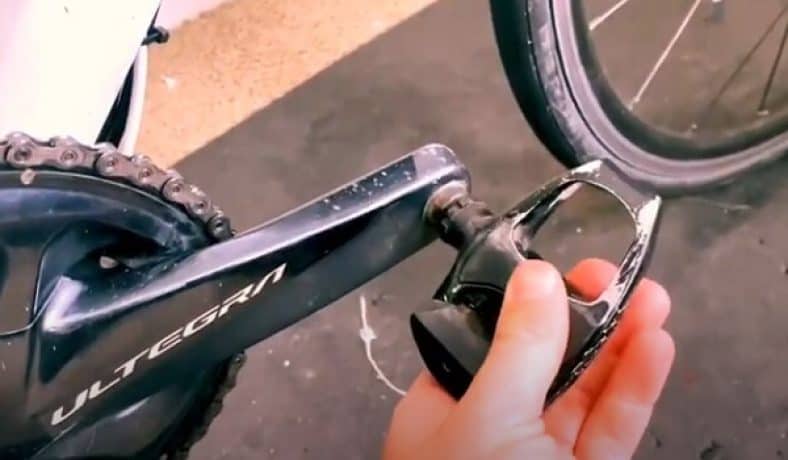 1. Design
The first major difference we notice about the SPD-SL from the traditional SPD is its design. It has a larger platform space and has a more aerodynamic layout. The larger platform is meant to provide added efficiency when pedaling faster, for example, around the sprint legs of a race.
According to Shimano, the SL stands for 'SuperLight' and very easily lives up to its name. The pedals are of lighter construct made out of either alloy (aluminum) or straight-up carbon fiber.
2. Ease of Use
Another breakaway from the traditional SPD design is the acceptance of a larger 3-bolt cleat, a typical road biking feature. These are made of hardened plastic to save on further weight and are easier to clip in due to their larger size.
The larger cleats coupled with the hard road cycling shoes will make walking on them that much more difficult. This in turn also makes them wear out faster the more you try to walk on them. On the bright side, however, these plastic cleats are cheap and can be easily replaced.
Unlike the SPD, the SPD-SL has a single side entry, meaning you can only clip-on if the right side of the pedals are facing the cleats of your shoes. This makes for a slightly more difficult initial startup, but at the end of the day, the difficulty is negligible and can be easily overcome with time.
3. Features
The pedals themselves also have a spring-loaded latch near the rear of the pedal to further lock your shoes in place. On top of that, the disengagement from these pedals is similar to that of the SPD for both tension and disengagement.
Another big difference that the SPD-SL has over the SPD is its adjustability, specifically its float options. Like all other manufacturers, the cleats that go on these pedals have to be specifically Shimano's. These cleats offer three different levels of float. The most common yellow ones offer 6° of flat, the blue ones offer a maximum of 2° and the red ones offer no float at all. We suggest you stick to the yellow cleats if you are a beginner or a casual cyclist.
4. Who are the SPD-SL Pedals for?
These pedals are all about road cycling efficiency. Whether you are in a competition or just challenging yourself, these pedals are almost indispensable for your road cycling needs.
Frequently Asked Questions
Q1) Are SPD-SL and Look compatible?
Ans.: No. While the SPD-SL is based on Look's overall design, their cleats and pedals are not compatible with each other.
As inconvenient as it is, you have to match the manufacturers if you want a working pedaling system.
Q2) When should I replace my road biking cleats?
Ans.: As we all know, road biking cleats take the most wear and tear among all biking disciplines due to its protruding design. From a general point of view, you should be replacing your cleats when it seems to be difficult to disengage from the pedal or when it becomes much easier to do so.
To Summarize
SPD
SPD-SL
Design
Small Platform
2-Bolt Cleats
Large Platform
3-Bolt Cleats
Aerodynamic
Ease of Use
Double Sided Clip-In Option
Single Sided Clip-In Option
Features
Recessed Cleats, easy to walk on
Good Mud Shedding
Works with any biking discipline
Protruding Cleats, difficult to walk on
Road biking only
High Power Efficiency
Price ($)
40 to 150
60 to 200
Taking from Shimano themselves, the more general SPD pedals are a great addition for any new or casual clipless pedal users thanks to their great walkability and features that tackle most of the problems that cyclists face every day, in all disciplines.
As for riding specifically on the road and for challenging new trials, the SPD-SL pedals can be a near-perfect choice.
We most definitely agree with this sentiment and hope that we have convinced you to feel the same.
Happy Riding!