Spin bikes are great fitness equipment, more so when you own one yourself. But spin bikes are notoriously pricey and with good reason: They provide a solid cardio workout and help tone both your upper and lower body. You can shave off a lot of that cost by opting for a used unit or a refurbished one. This way you can get a quality bike that you know has performed well in the past at perhaps half the price.
➥ We recommend you to have a look at our lineup of some of the finest spin bikes under $500.
When buying a second-hand spin bike, it is important to understand and look out for a few things. Like the type or quality of the spinner you are opting for, the condition the unit is in, and whether or not it has an active market presence with warranties available.
➥ Before buying a new spin bike, check out our article: things to look for while buying a new spin bike.
All of these and more are broken down in detail in this article to help you better equip yourself and get started on your fitness journey ASAP.
Factors to look for while buying a used Spin Bike
1. Types of Bikes
If you are looking to buy a spin bike second-hand, there are two distinct types to look out for: Domestic Grade and Commercial Grade.
Domestic Grade
Domestic or home-grade spin bikes are manufactured to be easy to use and lightweight. They typically have lesser parts for you to fumble with but assembly is much, much easier. So if you find a local seller with a machine that has a light frame and flywheel, don't be surprised.
What you do have to keep in mind is the construction. Home spin bikes are not assembled by a professional, so not a lot of care and understanding goes into the assembly and use.
You might want to take it for a spin before purchase. Furthermore, it can also be a good idea to get an expert to fine-tune the bike beforehand.
The features of these domestic bikes are usually bare bones. You can only expect adjustable seats and resistances.
Commercial Grade
Spin bikes created for commercial use are meant to be used for long hours of training. So anticipate a very sturdy frame made of the highest quality of materials on these machines.
These bikes are usually found in a commercial environment, like a gym or a health club. So you can expect them to be assembled and maintained by professionals.
They sport a heavier flywheel and other features, over adjustable seats and resistances, for a better quality of training experience. The other features might include a console for statistics, docks for your device or water bottle. Most will even come with wireless features, like Bluetooth.
➥ We suggest you have a look at our lineup of magnetic resistance spin bikes.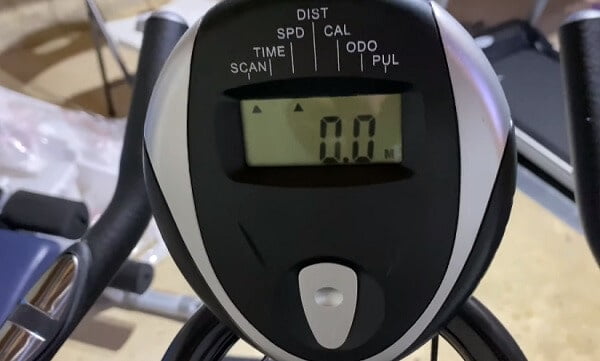 From our perspective, it is always better to get a commercial grade spin bike if you are going second-hand. Not only because of the extra features and perks but also for how well it is maintained and tuned due to the rotations that the gym usually puts them through.
It will definitely cost you a few hundred dollars more. But understand that you are still getting almost, if not more than, fifty percent off from the original price.
2. Condition
The condition of the bike that you will be purchasing is obviously an important factor. When people are selling their exercise products online, you might see the tags Refurbished, Used, and Like New.
For bikes that have been well maintained or the ones that are fairly new and the owner is looking for a quick replacement, the seller will have the confidence of listing them under the Used/Like New tags. You can expect these bikes from a gym looking to replace their older model of spin bikes for newer ones. Or from home users who have neglected proper use of the exercise machine and are now only gathering dust.
Spin bikes listed under the refurbished tag can be a bit more complex to breakdown. The manufacturer usually refurbishes a product if it has known issues experienced by the user. The machine is then sold back at a lower price.
Understanding that there might be existing problems on a Refurbished spin bike. We suggest looking out for the ones listed under the Used or Fairly New tags.
Whatever you choose, make sure you look out for the following conditions:
Is the flywheel and drive system properly aligned?
How regularly was the bike used?
Were parts repaired or replaced?
Is there any rust forming?
Is the warranty still active?
Do feel free to ask these questions to the seller, and of course, test out the spin bike yourself if possible.
3. Warranty
Whether you are getting a home grade or commercial grade of a used spin bike, you must always ask for warranty details from the seller.
To set your expectations, a Like New tagged bike will give you almost the same level of warranty as a brand new machine. Some of the Used labeled bikes may still have warranties, but most will have their warranty time expired or nearing an end. Refurbished bikes will give you a new warranty, but the time period will be lower.
This will give you an indicator of the longevity of the parts of the spin bike and help you take measures accordingly.
4. Availability of Parts
The warranty and the availability of parts of the product are directly linked to the value of the product itself. It becomes more critical if you are looking to purchase a machine that has no warranty or is nearing the end of its warranty term.
You can get yourself a well-known machine which has sustained a few damages for cheap. Later on, you can take the initiative to repair them if the parts are available in the market. Even if you cannot do the repairs yourself and have to hire a handyman to do so, you are still saving on massive costs!
To check the availability of parts of your chosen machine, look no further than the manufacturer's website. You can even search on popular sites like eBay or Craigslist.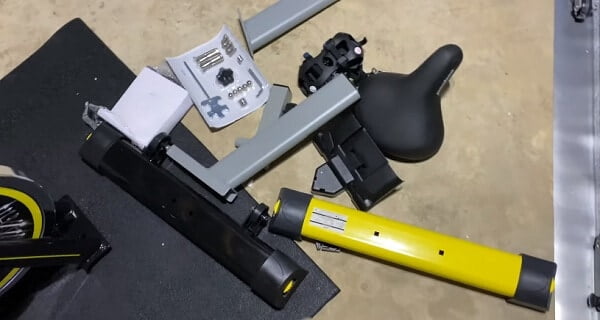 5. Brand
The brand of the spin bike is an underrated factor when it comes to buying a used product and is often seen as optional.
There are hundreds of manufacturers of spin bikes that you can find online. So we suggest you go for brands that are pretty well known in the spin bike department as you can be assured to get a product with an overall decent condition.
Getting a spin bike, even used, manufactured by a reputable brand will cost you a few hundred dollars more, but it is a great trade-off for the assurance you will be getting for long-term use of the product.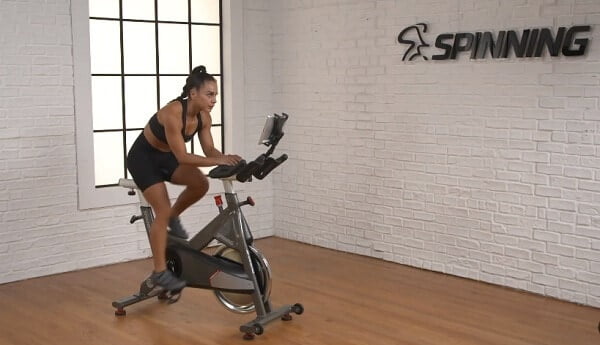 By keeping all of these factors in mind we are confident that you are now well equipped to get yourself a great bargain on your chosen spin bike. Now, the next question that remains is:
Where can I buy a used spin bike from? (Reputation of the Seller)
Verification of the source of information on your selected product is of utmost importance. In this day and age of online business, you can expect a great abundance of shady sellers and scammers.
So it is always best to look locally or at reputable websites, with at least a review forum, to get the maximum assurance of your purchase.
From our perspective and experience, these are the two ways to get your products with the best affirmation:
Local Sellers: Nothing beats having options locally. You can personally visit the seller (homes, gyms, or spinning studios) and physically test out the spin bike yourself, examine the condition and negotiate prices (don't forget the factors we've just discussed!).
Amazon: Provides tons of options for different models at a huge range of prices. Though you cannot immediately test them physically, you can always go to the forums or reviews to check up on the reputation of the seller.
They also have extremely high customer service ratings, great warranties, and even free shipping!
➥ You can also have a look at our selection of some of the other budget spin bikes.
Frequently Asked Questions
Q1. Is it better to have a heavier flywheel on a spin bike?
Ans.: Yes. The flywheel weight contributes to two different aspects that may make or break your experience on a spin bike.
First, the heavier the flywheel the more it contributes to the feeling of realism as you would experience when riding a real bicycle. The hard push that you have to give when you get started and the continued momentum of the wheels when you stop pedaling can all be achieved with a heavier flywheel.
Second, a heavy flywheel contributes to a smoother cycling motion. A lighter flywheel will feel jerky and will constantly have you adjust your pedaling.
Q2. What is the difference between a chain drive and a belt drive spin bike?
Ans.: A chain drive is similar to what you see on a regular bicycle. In this system, the pedals push a sprocket that powers a chain to turn the flywheel. The pedals will keep on turning with the flywheel due to the momentum generated by the flywheel.
In a belt drive system, a rubber belt receives power from the pedals and transfers it to the flywheel. Due to the high tension and the material, the belt rarely slips off and gives a very smooth ride.
Final Words
By now you already know how integral a spin bike can be on your fitness journey, but budget is always a concern for the consumer.
A second-hand spin bike can provide a solution for both. Save money and experience high-quality products.
Even then, if the commercial-grade of second-hand spin bikes are expensive for you, you can still elect to go for the home variety with prices as low as $200. But from our experience, a better quality product is always worth the investment.