Road biking is a great way to develop your health and fitness. However, buying one is not that easy. You will have to consider many factors such as its frame material, geometry, and all the important bike components. So we are here to help you out. As you read on, you will get to know in detail about all the important parts that make up a road bike.
Things to look for in an entry-level road bike
Beginners should start cycling with the right bike so that they are encouraged to carry on and get better at it. There are some important factors that you should consider before purchasing an entry-level road bike. The most important one is the quality of the frame and fork of the bike. You should get the bike with the best fork and frame combination that also fits your budget. The groupset of the bike is also a key factor, however, it is not that critical. You do not need to put much emphasis on the tires, wheels, or even the spare parts. This is because these components will eventually wear out with time and use. Therefore, they can be replaced with better versions.
➥ Know more about how much should you spend on a beginner road bike?
What is a Road Bike?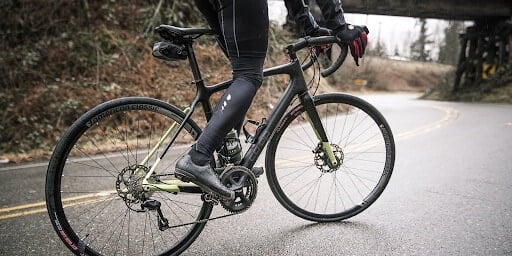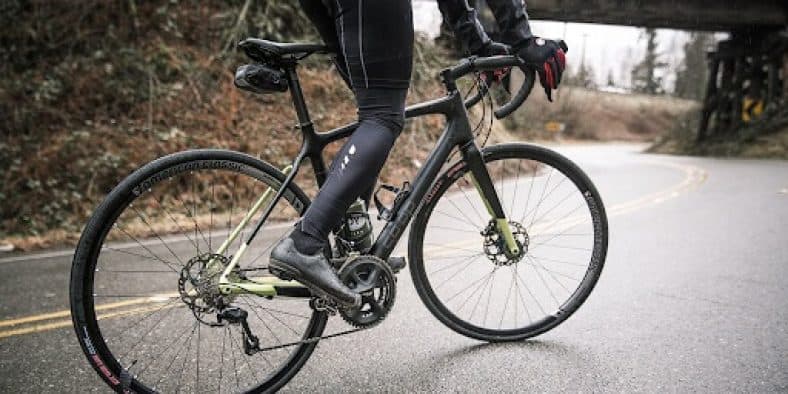 Image Source: rei.com
A road bike is basically a term used to describe a bicycle that is built and designed for being able to ride on tarmac. Such bikes come with a frame that is lightweight, narrow tires, and most of them are equipped with drop handlebars. These drop handlebars enable you to ride using several hand positions. Road bikes normally don't have any suspension at the front nor the rear. The front fork is usually built with composite materials such as carbon fiber. These bikes are available both for men and women and in a variety of sizes to choose from.
The functionality of Road Bikes
Road bikes are ideal for professional racers, event riders, and also fitness enthusiasts. They are designed to provide maximum speed on paved surfaces such as roads and bike paths. You should not ride them on unpaved or rough surfaces. Road bikes enable riders to ride as fast as they want. You cannot do this on other types of bikes. It is not recommended that you load your road bike with heavy things as they are not designed to do that. A lot of urban or touring bikes come with points to attach a rack onto them. You will not find this on most road bikes. With that being said, you can still use a road bike for your daily commute. However, you may be required to carry your necessary items in a messenger bag.
I. Entry-Level Road bikes
There are many different types of road bike riders. Some riders prefer to use their road bikes for commuting, some for touring, while others like to race. Some riders enjoy a bit of versatility in their road bikes and get one that can do almost everything.
Therefore, there are various types of road bikes out there. The main differences between them are most in terms of their frame geometry, their components, and materials.
For entry-lever riders, it is not necessary to go overboard. You can easily purchase a brand new road bike that will cost you less than $400. However, purchasing one that costs over $1000 will keep you satisfied for years to come. Popular entry-level road bikes include The Specialized Allez, BTwin, and Carrera bikes.
II. Frame Geometry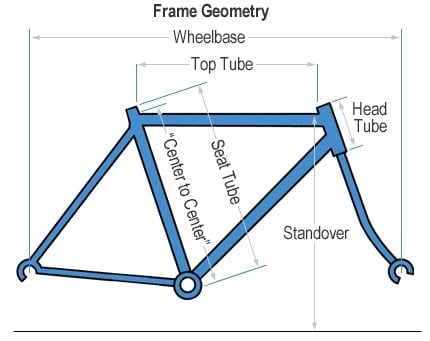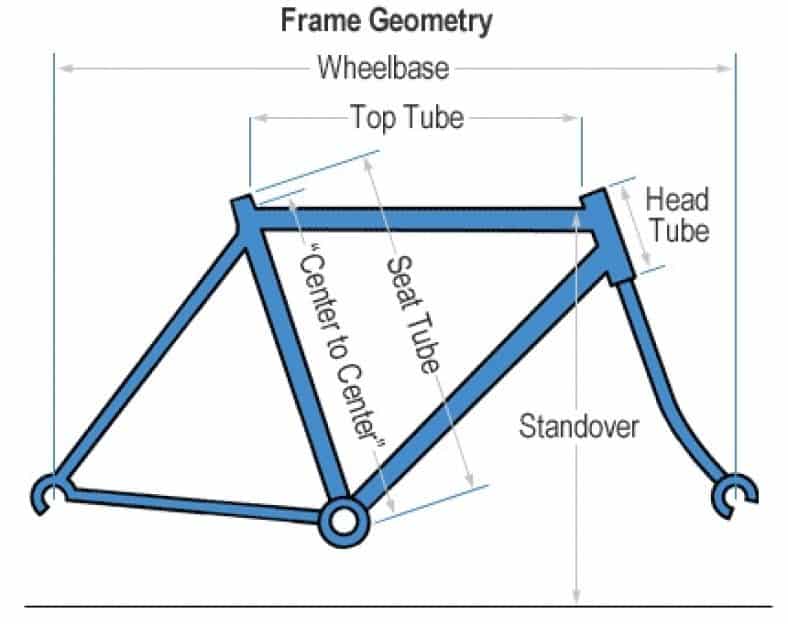 Image Source:
Most road bikes look quite similar. Even though that is the case, they all differ from each other in some ways in terms of their frame geometry.
Road bikes that come with a sport geometry are perfect for you given that you ride about three times or about twenty to a hundred and fifty miles per week. These bikes also perform well for lengthy event rides. Road bikes with sports frame geometry enable you to ride in a more upright position. Also, it is easier to maneuver compared to performance bikes.
There are also road bikes that are equipped with performance geometry. As you can guess, these are ideal for racing and popular among competitive riders. Such bikes allow you to ride more flexibly. It also enhances aerodynamics and improves steering performance. Performance bikes consist of a sturdy frame, lightweight wheels, an expensive price, and premium components.
Flat bar road bikes are quite like the ones that have sport geometry. However, these bikes allow you to ride in an even more upright position. These are popular among commuters or are ideal for anyone who does not like drop bars. Flat bar road bikes mostly consist of entry or mid-tier bike components. Here is a quick tip for you, you should get a road bike that has sport frame geometry given that you are not planning to ride in professional races or triathlons.
III. Frame Material
The most common materials that are used to build the frame are carbon fiber and aluminum. Aluminum frames offer a very smooth performance. They are also much less expensive than carbon fiber. A lot of road bikes with aluminum frames have a front fork made with composite material such as carbon fiber. This helps it to soak up the road vibration which in turn helps it to improve the overall ride quality.
A bike frame made with carbon fiber is known to offer a very comfortable ride compared to an aluminum frame by absorbing all the vibrations from the ground. These frames are much more expensive than the reasonably priced aluminum frames because of their highly labor-intensive manufacturing procedure.
Which one you should get depends completely on you. You should go for a carbon fiber frame if your primary goal is to have a very sturdy and lightweight road bike. However, if you don't need to be the fastest rider around or you just want to ride for enjoyment, then you should go for an aluminum frame.
Bike Components
Now let's talk about some of the key components of a road bicycle
1. Wheels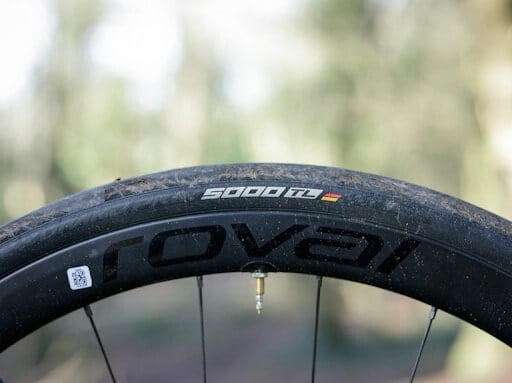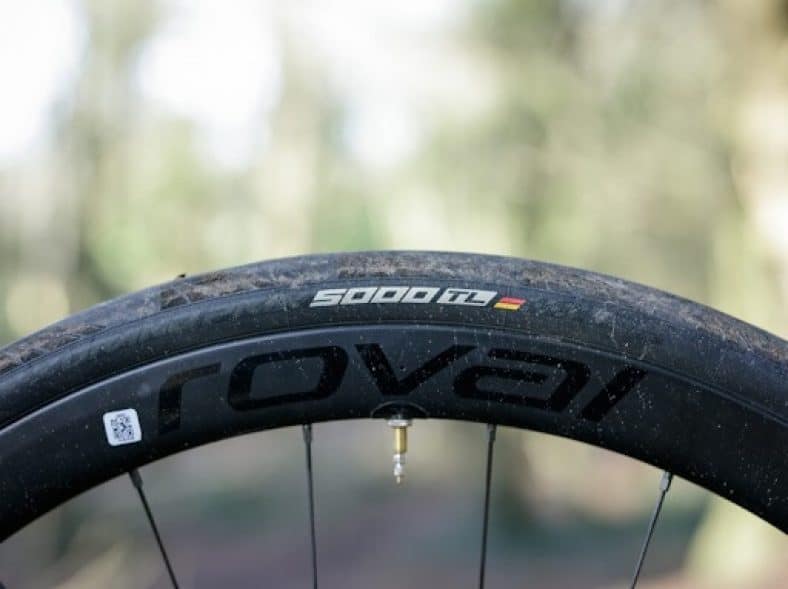 Image Source: bikeradar.com
Wheels are one of the most important components of a bicycle. They have an impact on the bike's weight, how it accelerates, it's aerodynamics, and how the rider can control it, especially in windy conditions. You can't really choose the wheels of a bike when purchasing it unless you get a custom one. However, you can always upgrade your stock wheels after purchasing the road bike. The wheels of the bike are mostly a concern for competitive riders. Casual riders don't really need to bother much with the wheels.
2. Pedals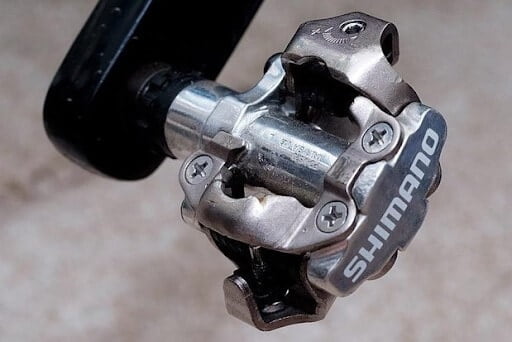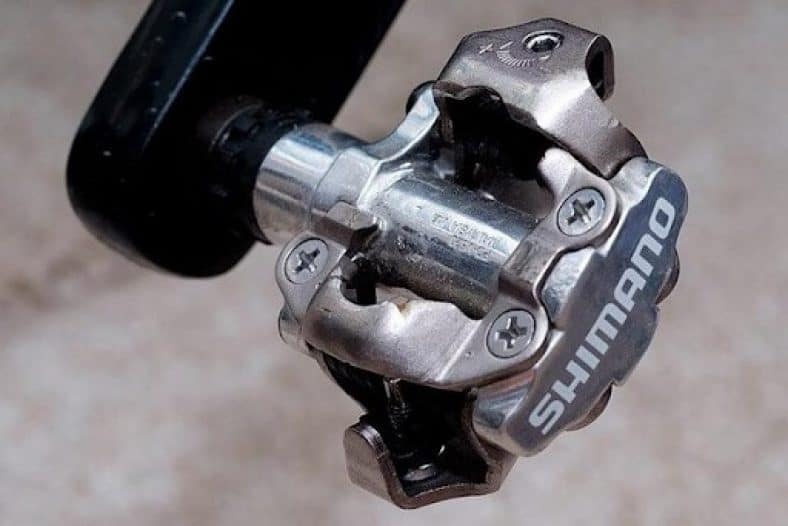 Image Source: bikeradar.com
Basic road bike models are often equipped with platform pedals and these are commonly accompanied by toe cages. However, all of the higher-end road bikes do not consist of pedals. This is because road bikes already know or have what kind of pedals they want. This allows the rider to equip their road bikes with any kind of pedals they want and also saves the trouble of bike manufacturers of fitting the bikes with pedals.
To improve your pedaling efficiency and performance, it is advised to use cycling shoes along with clip-in pedals. A lot of popular brands such as Look, Shimano, Speedplay, Time and so many others produce and sell their own pedals. If you choose to go for a more expensive pedal set, you will get lightweight pedals that also offer great bearings and reduced friction.
3. Groupsets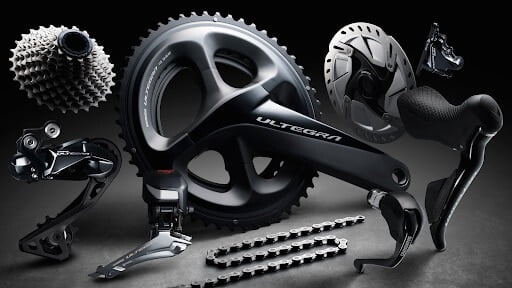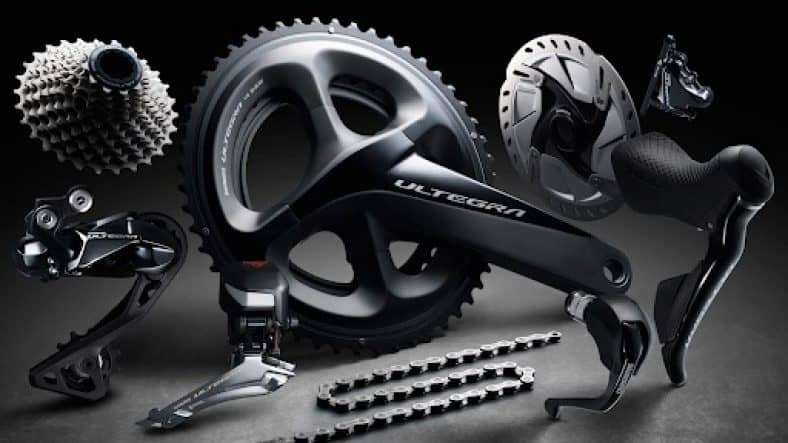 Image Source: cyclist.co.uk
A groupset is basically a group of bike components that match or complement each other. These components are all from the same manufacturer. A bike that has a groupset consists of stylish and exclusive components that just go well with the whole bike. It has an amazing appearance when compared to a bike that consists of miscellaneous form different brands components. SRAM and Shimano are possibly the most renowned brands when it comes to components for drivetrains.
4. Chainring Teeth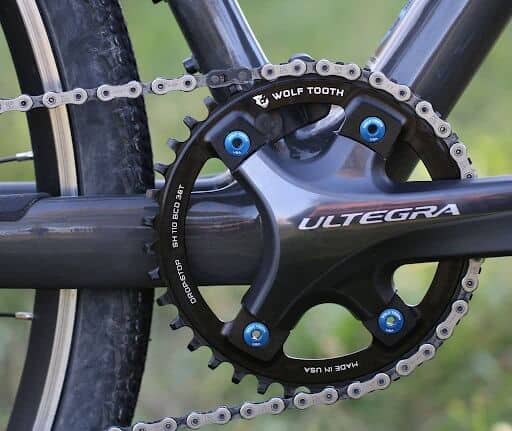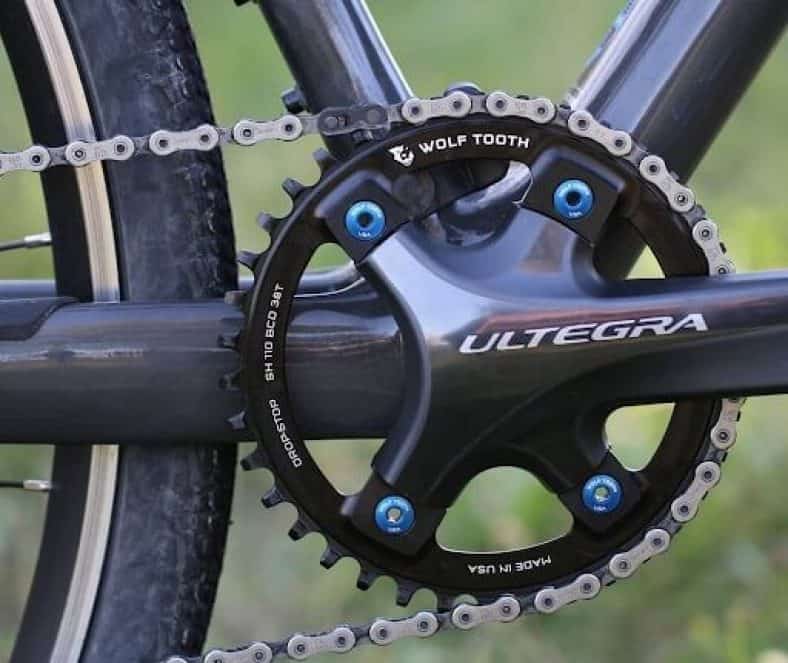 Image Source: roadbikeaction.com
The teeth range of the cassette's rear cogs has an impact on the range of gearing of a road bike. The smallest cog which is the highest gear has about eleven or twelve teeth. The largest cog which is the lowest gear can have anywhere from twenty-three to twenty-eight teeth or even thirty-two teeth which is the scenario with the SRAM Apex model.
Changing the gearing of your bike can be done in a very inexpensive manner by upgrading your rear cassette. However, you should be aware of any type of compatibility issues. Therefore, we recommend that you go see the mechanic at your local bike shop when you do want to change it.
5. Gearing & Cranksets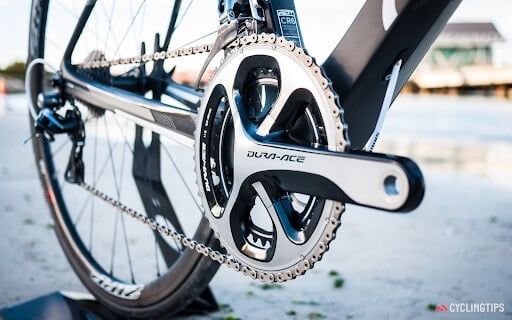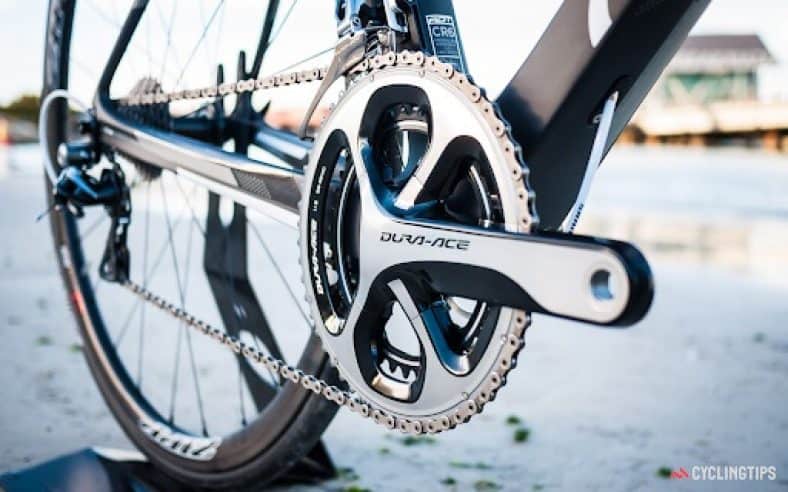 Image Source: cyclingtips.com
The crankset is basically that part of the bike which is turned by the pedals and it rotates the rear wheel by using the chain. Your bike will either come with a compact, double or triple crankset. These names basically refer to the size and number of the chainrings.
A triple crankset comes with three chainrings. This crankset is commonly coupled on the rear wheel along with a 9-speed cassette to get 27 gears. Such a configuration will provide you with a lot of options and is quite popular on entry-level road bikes.
Compact and double cranksets come with two chainrings and are usually accompanied by a 10-speed cassette at the rear so that you can get a sum of 20 gears. Compared to a double crankset, a compact crankset is equipped with smaller chainrings that have fewer teeth. Compact cranksets can be seen a lot on bikes that have a sports frame geometry. Double or compact cranksets provide greater heel clearance when compared to a triple crankset. This also gets rid of the disturbing shoe rub which can occur when turning the pedals.
Go for a compact or triple crankset if you are planning on riding on steep hills or even if you are new to the road cycling world. Flat-land or more serious cyclists should go for a double crankset.
6. Gear Shifters & Brake Levers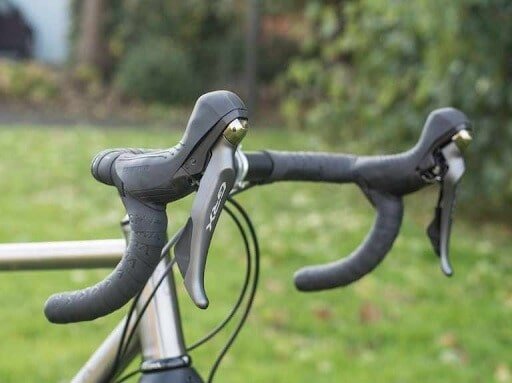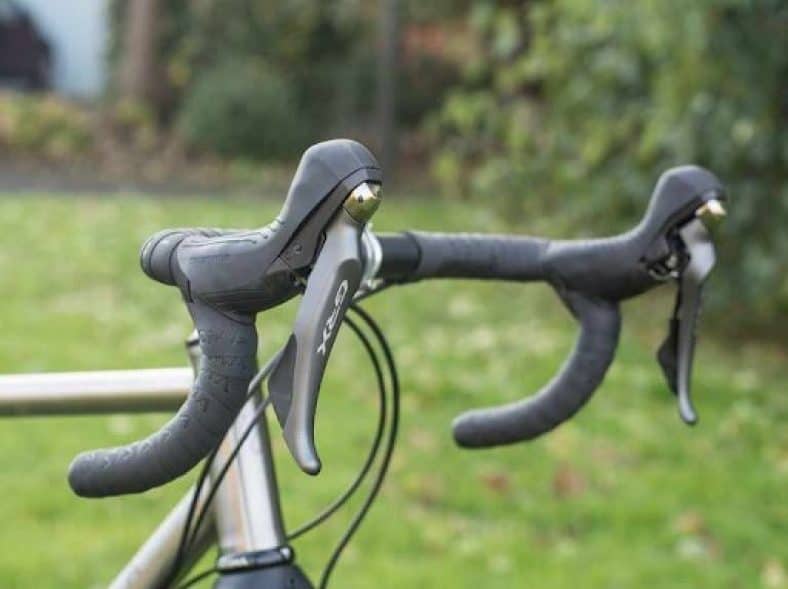 Image Source: bikeradar.com
Before, the gear shifters and brake levers used to be different mechanisms. They were also located on different sections of the bike. That is not the case anymore. Nowadays these two components can be found integrated into the bike. How they operate depends on the brand or model. You should ride different types of bikes to decide what you like.
When testing them out, ensure that you can grab onto the handlebars properly when you change gears or hit the brakes. Also, you should try to shift as well as a brake while keeping your hands on the top side of the handlebars and also in the drop position.
Tips On Choosing A Road Bike
1. Your Bike Must Fit
Your bike must fit you. It should not matter whether it has the perfect price, it is either too small or even too big for your body. You need a bike that matches your size so that you can enjoy a comfortable and efficient ride. So before you purchase your bike, know your size and try out as many bikes as possible to know what you are comfortable in.
2. Going On A Test Ride
As we mentioned before, you should definitely go on a test ride with a bike before you decide to purchase it. Various factors such as frame material, geometry, and the overall construction of the bike have an incredible impact on its ride quality. So make sure you get a proper demo before you take your new bike home.
3. Have Some Savings In The Bank
Most road bikes are great for training or riding for practice. However, competitive racers who want to constantly develop their speed and performance must upgrade their bikes. So if this is you, you must consider your upgrades and have a proper financing plan in advance. If you purchase a road bike without pedals, you will have to buy them separately. Other components that are usually upgraded are the stem, handlebars, and saddles.
Frequently Asked Questions
Q1. What tires are my road bike supposed to come with?
Ans.: Road bikes are mostly equipped with slick tires or tires that have extremely light treads. Recently, it has been observed that there are wider tires on road bikes. Race bikes can be seen with 23 – 25 mm tires while endurance bikes are accompanied by 28 – 32 mm tires.
Tires built for road biking will always roll fast. Wide tires may add a bit of weight but they make up for that by providing more cushioning. Bicycle tires are quite easy to change and so there is no need to worry about the stock tires on your new road bike. With that being said, if you want to fit wider tires on your road bike, you should ensure that the bike frame has clearance for them.
Q2. Should I go for a road bike that has a disc or rim brakes?
Ans.: Before the only brakes road bikes had were caliper brakes. Caliper brakes consist of rubber which was squeezed against the rim to stop the bike. However, road bikes also come with disc brakes. Disc brakes are commonly found on mountain bikes. Disc brakes provide impeccable braking especially in wet riding conditions, however, they are much heavier. So which one you should put on your road bike, depends completely on you and your riding style. You can watch the video linked below to know more about them.
Q3. What would I need when going on a road ride?
Ans.: Your road bike will absolutely be ready for you to ride on. However, you should get some additional things prepared before you go on your first ride with your new bike. This includes necessary items required to fix flat tires such as tire levers, inner tube, a pump or C02 cartridges, water bottles, and a water bottle cage.
Conclusion
Buying a new road bike as a complete beginner can be quite a daunting task. We hope we could help you out on making such an important discussion. We researched heavily and provided everything that you need to know before purchasing an entry-level road bike. So thank you for reading this article and good luck with finding the perfect bike! Take care and ride safely!