No matter what discipline of cycling you specialize in, it is always important to be equipped with the appropriate attire. Your clothing and gear should also be suitable for the climate you ride in. Mountain biking attire during summer should have a good balance between providing enough protection and keeping you cool. Particularly, you should look for lightweight clothing such as moisture-wicking jerseys and ventilated shorts, gloves, and helmets. This article will provide you with a complete overview of all the clothing and gear required for mountain biking in summer.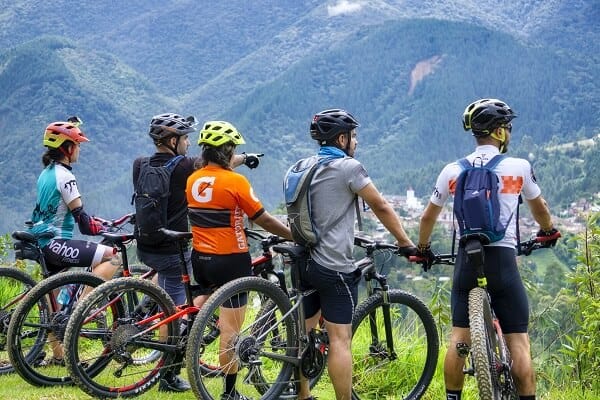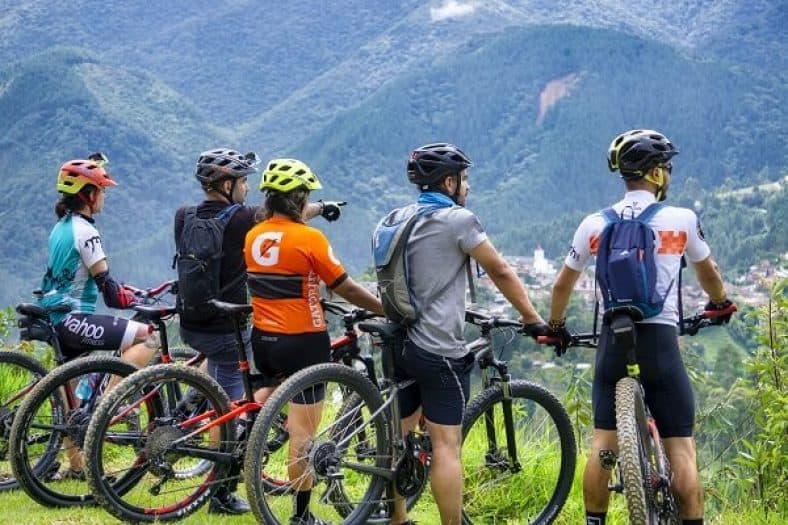 Mountain bikers in summer| credit: https://unsplash.com/photos/X-zWcLABTXU
Checklist of the clothing to wear while mountain biking during summertime
1. Helmet for hot weather
No matter how hot it gets, you should always be wearing a helmet while mountain biking or during any form of cycling. MTB helmets have better coverage at the back and on the sides of the head. Most of them come with a visor that protects the eyes from the sun, rain, and low-hanging branches. They also usually have built-in MIPS or other similar technology for better protection, especially against rotational impacts.
For summer riding, you should look for a helmet with ample ventilation to allow enough airflow and keep your head cool. Unless you are doing some serious downhill riding, avoid full-face helmets as they will feel like an oven on hot days. Another great tip is to use a light-colored helmet that will reflect most of the sunlight striking it. A dark-colored one will absorb a lot of heat making it balmy inside the helmet.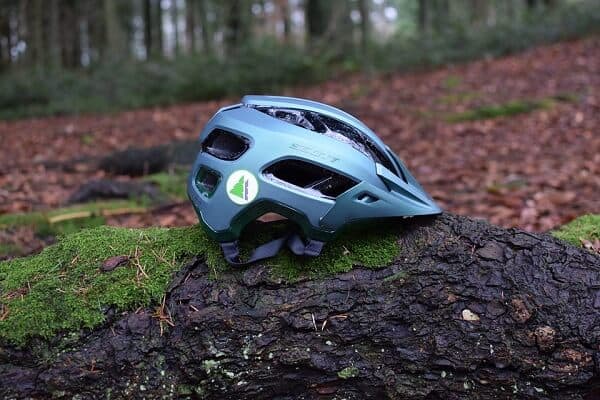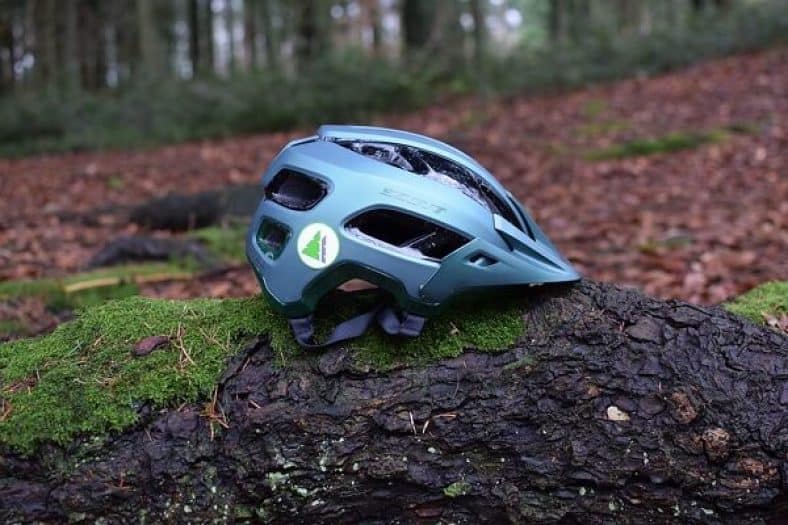 MTB helmet
2. Chamois, liners, and biking shorts for warm weather
Chamois and liner shorts are pretty much the same thing. Basically, they are padded undergarments that will greatly increase your comfort on the saddle. The rough terrain of mountain biking can be hard on your rear side, which is why some padding to absorb the shocks is nice to have. Another function of chamois is to reduce friction and chafing. Many riders prefer not to wear chamois, and that choice is completely up to you. However, be sure to not wear cotton underwear. Instead, opt for materials like merino wool that have good wicking and odor-fighting abilities.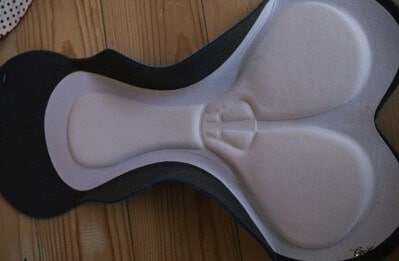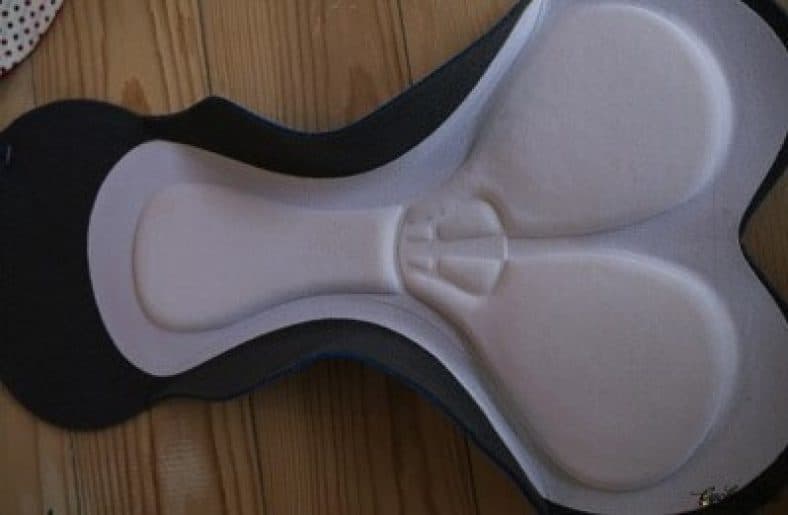 Chamois
After that, you have to decide on the type of shorts to wear. You could either go with baggy shorts or closely fitted short – it depends on what you prefer. Unlike other cycling shorts, MTB shorts are made of more durable material and feature mesh panels for ventilation. Some are even waterproof. There is also the matter of length. You can buy shorts with a short inseam for hot weather unless you are using knee pads. Then you probably want longer shorts that reach the pads. It is better not to wear mountain bike pants which should be reserved for cold weather.
3. Mountain bike jersey for hot weather
The attire for your upper body should also have material with good moisture-wicking properties. Mountain biking is a strenuous form of exercise and you are bound to get sweaty. Fortunately, you can find many mountain biking jerseys available on the market that is made of such materials. Usually, synthetic material is used. MTB jerseys, like MTB shorts, are highly durable and able to withstand snags and crashes. There is also the option of full-sleeves or short-sleeves. Short-sleeve jerseys will keep you cooler while full-sleeve ones provide some protection to your arms from scratches. Go for the one you prefer to wear.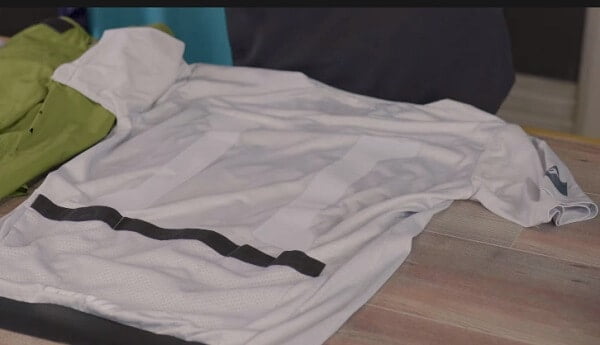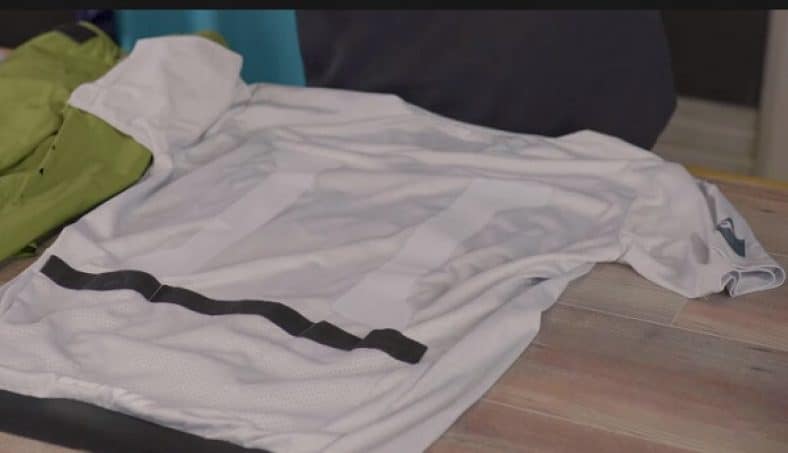 MTB jersey
4. Mountain bike gloves for warm weather
While most mountain bikers wear gloves, many prefer not to wear them. We recommend having biking gloves on for two main reasons. First of all, riding on a hot summer day will make your hands sweaty which will cause them to slip over the handlebars. Therefore, gloves allow you to maintain a solid grip and face technical sections with confidence.
Secondly, gloves protect your hands from overgrown foliage whipping across your knuckles. Additionally, our instinct during a crash is to let the hands take the hit. Gloves will keep your hands from getting shredded during this. Many MTB gloves also come with padding that reduces fatigue on long rides.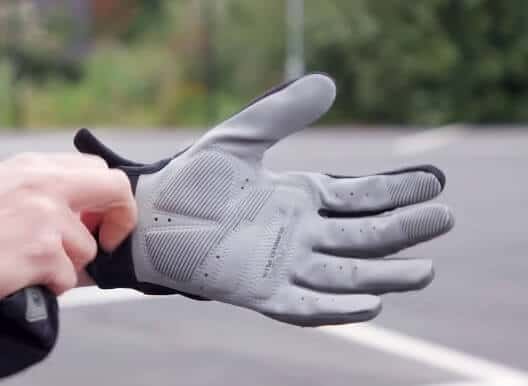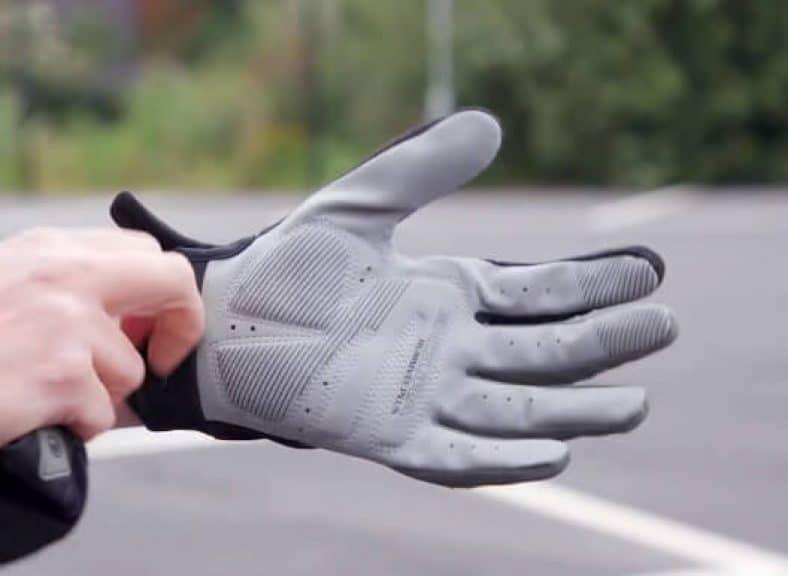 MTB glove
5. Tall socks for hot weather
It is easy to ignore socks when picking out your mountain biking attire. It is worth it to invest in a good pair of socks. As with other clothing items, socks for mountain biking should not be of cotton which cannot effectively wick moisture and prevent bacteria build-up. Having long socks is a good idea as they will offer some protection to the ankles and calves from shrubs, twigs, and pedals slip.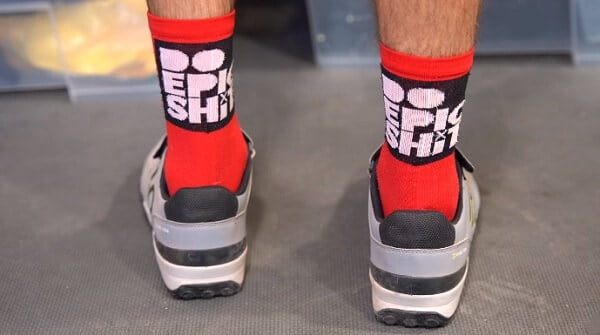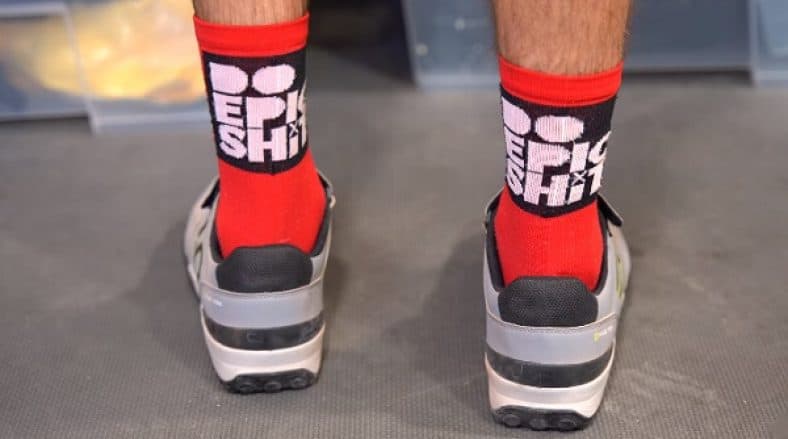 MTB socks
6. Knee pads for warm weather
Knee pads may not be as important for protection as a helmet, but wearing them is definitely a good choice, especially for enduro or downhill riding. It would be very easy to injure your knees during a fall. A good way to alleviate the heat build-up from knee pads is to buy ones with rear cutaways or those that have a honeycomb design at the front. These will enhance airflow and keep friction to a minimum.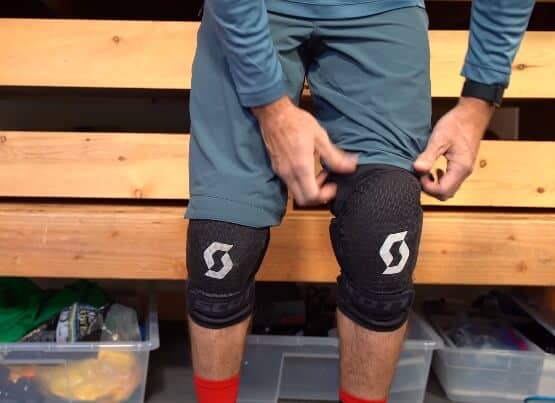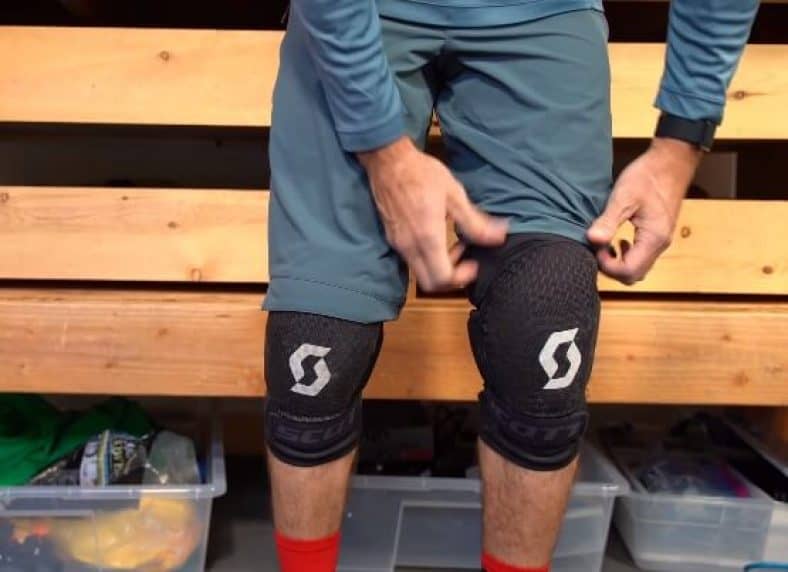 Knee pads
7. Mountain bike shoes
Wearing the right pair of shoes is extremely important for all forms of cycling, including mountain biking. Mountain biking shoes are stiffer than regular outdoor sneakers to allow for efficient transfer of power to the pedals. You can either go for shoes with cleats or without them. MTB shoes with cleats, aka clipless shoes, usually have 2 holes with the cleats recessed into the sole. You will obviously need clipless pedals on your bike to use these shoes. The advantage of a clipless setup is that pedaling is a lot more effective and less energy is wasted.
On the other hand, many mountain bikers ride with flat pedals to let them quickly get on and off the bike. If you are riding with flat pedals, your shoes must have a grippy sole so that your feet do not slip off the pedals. Whichever kind of shoes you use, make sure that they have a proper fitting. Otherwise, the transfer of power will not be as effective and you will feel uncomfortable throughout the ride.
➥ You can have a look at our selections of Mountain bike shoes for flat pedals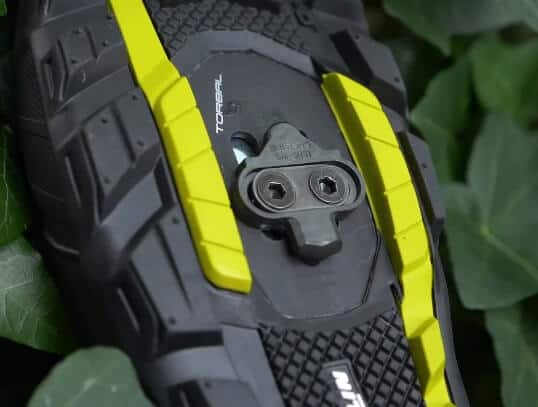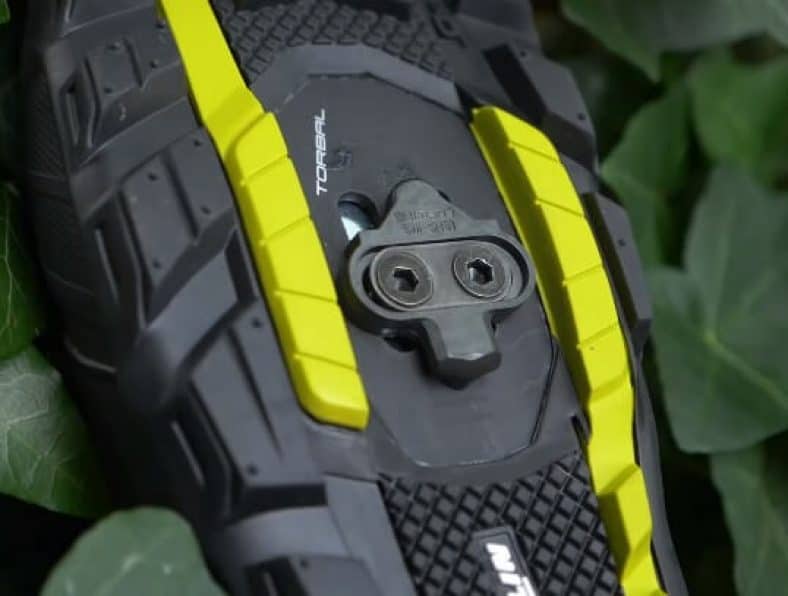 MTB shoes
8. Glasses or goggles for hot weather
Even though a helmet's visor offers some protection to your eyes, it is recommended that you wear goggles or glasses when out on the trail. On bright sunny days, you don't want to get blinded while navigating a technical section. Polarized lenses will block out a lot of the sunshine while still letting you see. Eyewear is also good for keeping dust and dirt out of the eyes. While shopping for a pair of goggles or sunglasses, make sure to get ones that have rubber grips and are shatterproof. Also, remember to check if they are compatible with your helmet.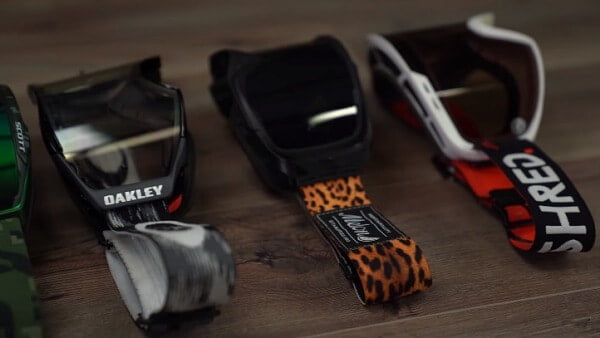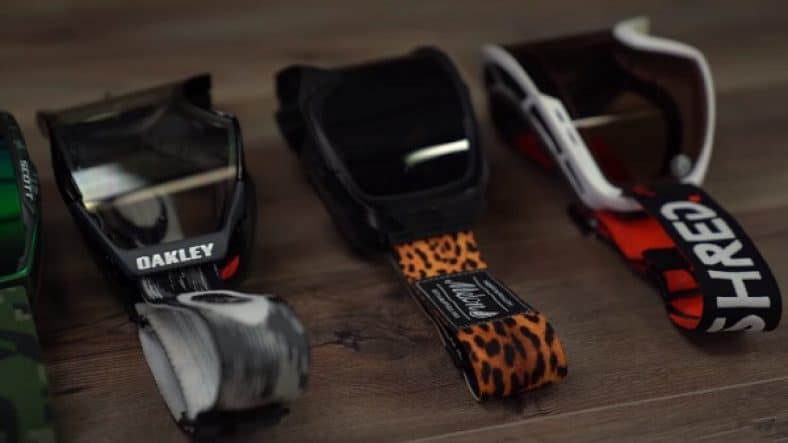 Goggles
9. Waterproof jacket (optional)
A jacket will not be necessary on summer rides in most cases. However, if you are riding in particularly wet or muddy conditions or the rain, you should consider getting a waterproof jacket. This will help to keep your top clean and dry.
10. Backpack or fanny pack (optional)
Again, this is another optional item. Although, you will see a lot of trail riders having backpacks or fanny packs. This is because they are a useful way to carry your essentials with you on rugged off-road journeys. Your phone, wallet, keys, etc. will be much safer in a backpack than in your pockets where it might fall off. You will also be able to carry any additional items such as snacks, extra tires, repair tools, and first-aid among others. Look for a backpack with a ventilated mesh on the side that comes in contact with your back to prevent excessive build-up of heat.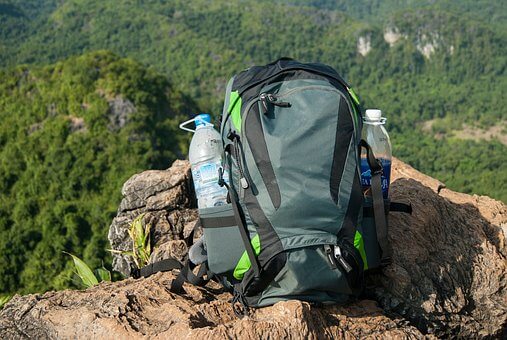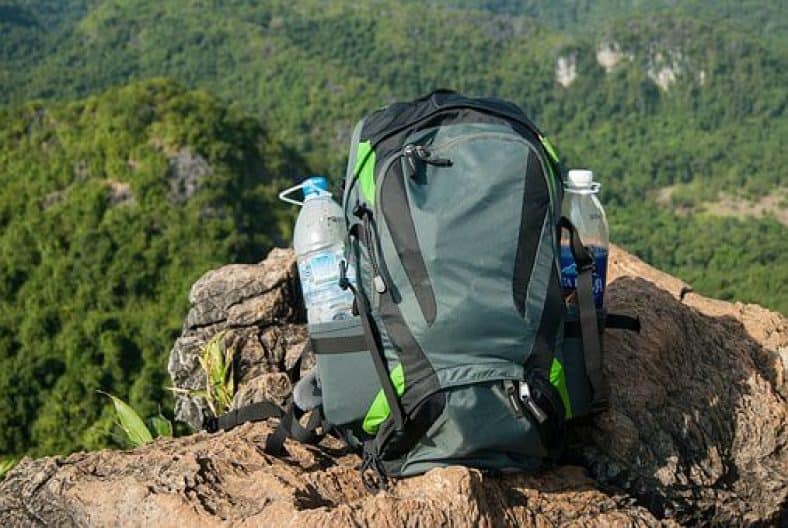 Backpack
Tips & advice for cycling during hot weather
A word of advice for all trail riders, especially beginners – stay hydrated and take in plenty of fluids and electrolytes while on the trail. It can be very easy to lose track of time during mountain biking. On hot days, you will suddenly start feeling weakness, numbness, or experience muscle spasms. This is why staying hydrated is important. And you shouldn't wait till you feel thirsty, rather start consuming fluids well before the ride.
Keep in mind that just water is not enough and you need electrolytes as well. There are plenty of pre-mixed drinks, powders, and tablets available for this. You could keep them in a water bottle or a hydration pack which has more capacity and is worn like a backpack. Even when you don't feel too thirsty, take a quick drink break under some shade every 20-30 minutes.
Frequently Asked Questions
Q1. Should I wear mountain bike gloves?
Ans.: It is not a must, but we believe that wearing mountain bike gloves is better than not wearing them at all. Gloves protect the hands from cuts and abrasions, reduce fatigue from gripping the handlebars for too long, and provide enhanced grip for complete control. If you get a pair of gloves that fit perfectly, then you won't even notice them on the trail. Make sure that they fit snugly without any bunching which would cause friction and chafing. However, they should be big enough so that they don't feel tight when making a fist.
Q2. What shoes & socks should I wear for mountain biking in summer?
Ans.: Unlike with road cycling, mountain bike shoes come with both cleats and without. Hence, you can go with either clipless pedals or flat pedals. Clipless MTB shoes typically have holes for 2-bolt cleats which stay recessed, making it easier to walk. For socks, avoid cotton and go for merino wool or other materials that have good wicking and antibacterial properties.
Q3. Can I wear regular shoes for mountain biking?
Ans.: Technically, you can wear any pair of shoes you want for mountain biking. However, you won't get the same level of power transmission or grip as with cycling shoes. The stiff soles and close-fitting ensure maximum transfer of power to the pedals. You could use skate shoes which will offer a good enough grip. But nothing beats dedicated cycling shoes.
Q4. Which mountain biking pads should I be wearing for protection?
Ans.: We have already talked about how knee pads are a great addition to your mountain biking gear. You should definitely buy them if you want to avoid getting gashes on your knees. For full protection, you can also get elbow pads, chest/backplates, and padded gloves. Mind you, these will protect you but at the expense of comfort.
Q5. What goggles should I be wearing for mountain biking?
Ans.: You can buy MTB-specific goggles. The specific model might vary according to your preference and riding style. Despite that, there are some features that a good pair of goggles should have:-
Rubber grips to stay in place, even when you are sweating
Compatibility with the helmet you use
Good coverage to protect from wind, rain, and dust
Polarized lenses to let you see in bright sunlight
Shatterproof lenses that won't break in a crash and harm your eyes
Conclusion
After going through the article, you should now have a good idea about what to wear for mountain biking during the warmer months of the year. If you are serious about riding, don't be afraid to invest in the right gear and the right clothing. It is completely worth it as your off-road adventures will be a lot more enjoyable. We hope you found this information useful.