Riding dry, predictable trails during the summer is great, but riding those same trails in winter when the conditions are particularly difficult and unpredictable is something else. Tackling the trickier conditions will do wonders for your confidence and control on your mountain bike. Also, cycling in winter is enjoyable too. However, mountain biking in the cold will need the correct riding gear so that you can remain warm and comfortable throughout your rides on the trails or fast downhill travels, for example. Typically, we will need you to get the following:
i. Water-resistant shoes that are well insulated; ii. Waterproof socks; iii. Knee warmers; iv. Waterproof shorts; v. A pair of great winter gloves; vi. Waterproof jackets; vii. Gilets; viii. Neck tubes; ix. Long-sleeved base layers; x.Clear glasses; and xi. Carrier bags.
If you do not have the correct clothing/gears on and therefore you are left shivering out in the cold – focusing more on how to deal with the cold rather than focus on your cycling, you will be left in a rut. This is where our article can help you out today. We have provided details on what type of clothing/gears are suitable to deal with both the harsh winter conditions and the demands of mountain biking. We have offered a few simple tricks that you can implement while riding to stay warm better, along with where you should go mountain biking in winter. At the end of the article, we have listed several FAQs that we believe will answer any additional queries that might come up.
A list of the accessories to use while mountain biking during winter seasons
Cycling shoes with sufficient insulation and waterproof properties are great means to keep the toes both warm and dry. Even though they might be a little pricey, you will appreciate them as temperature plummets and rain comes pouring down. Your shoes will also need to be compatible with flat pedals so that when conditions are slippery, you can dab quickly as well as push through with much more convenience. Check if your MTB winter shoes have waterproof membranes like Gore-Tex on the upper surface as they will not only make the shoes waterproof – rather, they will resist wind from cutting into your legs and prevent sweat build-up. Check to see if thick fleece fabric has been used internally to facilitate trapping warm air inside.
Your winter shoes should come with a sole that is much more flexible. Even though they will need you to work a little harder on the pedals, these soles will help you walk off the bike and keep you comfortable during long hours of riding. Road cleats should be avoided completely if you have to walk over the ice.
Ankle cuffs are another essential to your winter footgear too. If they are designed well, they will fit your legs snug while keeping water and wind away. Taller designs will extend further up the calf and offer better protection. You may also pull the end of your tights over the cuff's top too.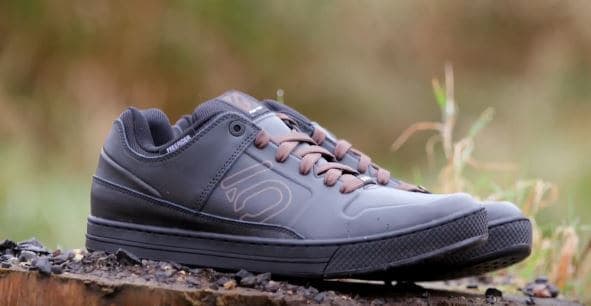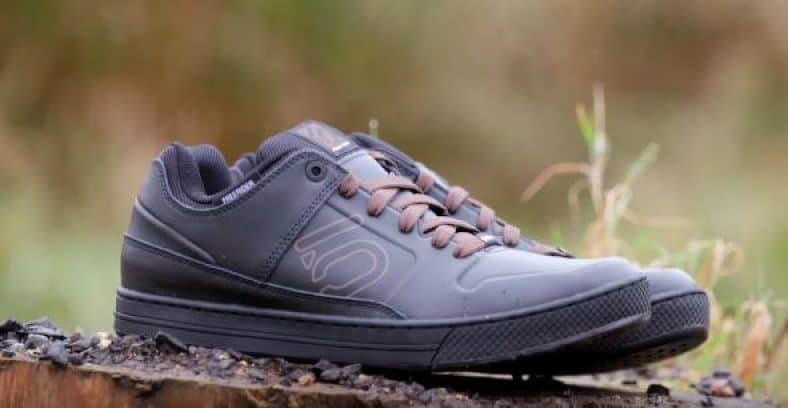 Picture: Use Flat pedal MTB shoes that are waterproof and offer insulation
These socks come with a lining that prevents water from seeping in. This means even if your feet splash on puddles and come across wheel sprays – your feet will still be dry. Even if water can get in through the top, they are still an integral part of your winter gear. Different fabrics ( those used in your MTB winter jacket ) are blended to manufacture socks. We will look into some of them below.
Merino Wool: This natural fiber facilitates optimal temperature regulation in every weather. It comes with innate perspiration ability that works to control moisture as sweat evaporates off your skin surface. If the merino wool blend in your socks is perfect, they will stay dry throughout the year while adjusting its property in accordance to the season – in summer, merino wool socks will keep you cool while warmth is guaranteed with winter use.
Polyester: forms when a polymer is synthesized to form a synthetic fabric. This material is resilient and does a great job standing up against any wear or tear. It dries up quickly too.
Lycra: Another fabric that is stretchable and wicks moisture would be lycra/elastane/spandex. It is used ideally for "tight-fitting".
The length of these cycling socks is important too. They are offered in the following varieties:
Short lengthed, which ends just before reaching your ankles.
Medium length – ideally 9 to 10 cm. The length will run upto your cuff.
Long socks are offered as long as 13cm to 15cm.
It is widely speculated that the optimal stock length should be 7.5cm. However, there is no scientific proof or norms to use this length. As you are looking for a winter sock, check for longer cuffs that will offer additional protection and warmth.
They will keep the joints and muscles in your body warm during the cold winter rides on your mountain bike. Tights with three-quarter lengths are used in every weather while full-lengths are usually preferred to tackle the cold weather. Some knee warmers are completely resistant to water while options are also available in a fleece material. Knee warmers that are used during road biking can be used below your standard shorts if needed.
Ideally, in the best circumstances, your bottoms should be dry even if the weather is soggy.
They are either 100% waterproof or come with rear panels that are waterproof while the front panels are water-resistant. The former will use the same material throughout their construction, usually in layers of two or even more. 3 layer designs are available too – where the layer that is lying externally will give your MTB shorts their distinctive colors. This layer is usually sealed completely so that rain cannot seep inside. The second layer uses materials that are meshed distinctively. However, these holes are usually very small and again hold backwater. On the contrary, they will allow water vapor to escape. The internal layer offers protection for the membrane. Other designs involve using fabrics that are water-resistant too. They will come with a coating that is waterproof repellant. Great for protection from mud during trail rides. You will find that these shorts are breathable and can be used in summer too. Any zips on the shorts should be waterproof too.
Fully waterproof gloves often seem bulky and are usually very thick – which is ideal for harsh winter rides. Remember that your grip on the handlebars is very essential. So avoid clumpy designs that have more than enough palm padding. Windproof gloves are ideal for these conditions because your hands get cold much faster in comparison to other parts, as they are mostly fixed in their place. These windproof gloves will keep the cold wind from cutting into your hands, even for a longer duration of rides. You should be getting two pairs so that if needed you use the dry pair.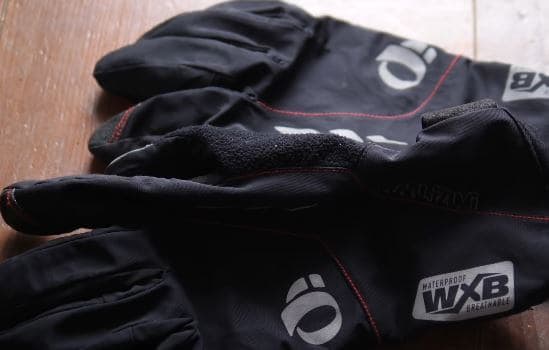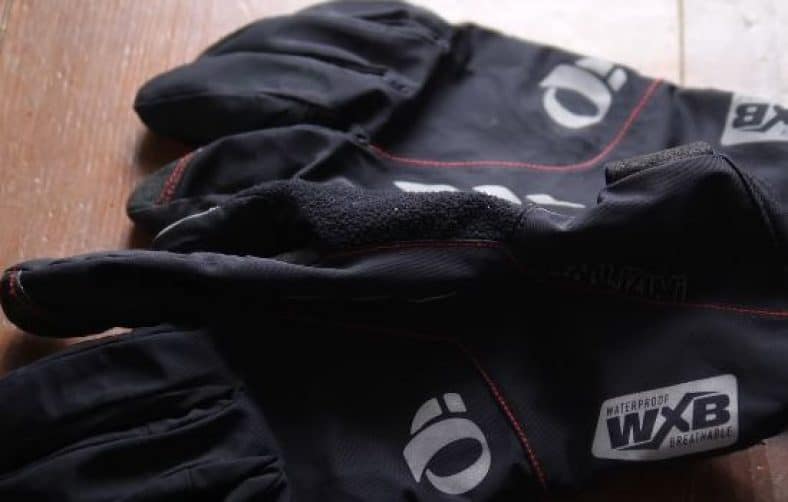 Picture: Your MTB winter gloves will need to be both waterproof and windproof
➥ At subzero temperature glove is mandatory. All gloves are not suitable for this conditions. So, here you can have a look at our best selections of gloves for sub-zero condition.
Clear lenses have become very popular in recent times as they favor all lights. Avoid tinted lenses as they are only helpful for specific light lighting conditions. Size and fit should be taken into consideration too. Make sure that the lens size is compatible with your face as a poor fit cannot work against harsh winds or cruds. Ideally, glasses used for mountain biking should be aligned to the forehead as you can look clearly through the lens's upper third. You should find the lenses 4mm away from your forehead and your cheeks so that air circulation is possible. The arms of your MTB glasses should be 5mm away from your cheekbones. If you want to differentiate them from regular glasses, you will find that they are wider in size.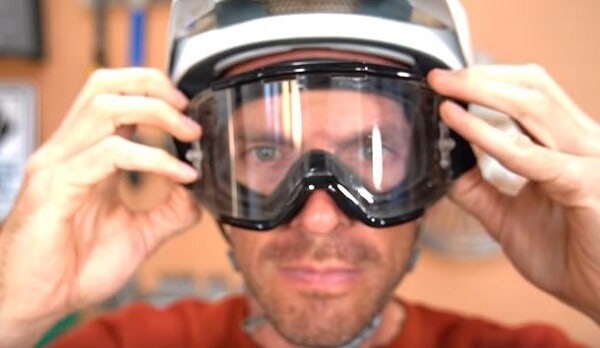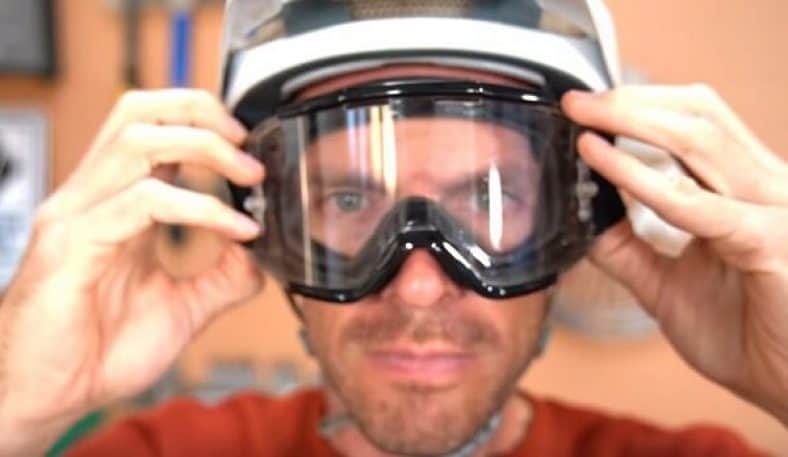 Picture: Clear glasses are perfect for mountain biking in all weathers
A decent base layer – preferably the long-sleeved ones can add to keeping you warm using a film of air that has been confined corresponding to your skin. They are designed perfectly so that moisture and sweat are wicked away from the skin. Synthetic base layers usually come as polyester blends or use merino, which is a type of natural wool. Synthetics can dry off much quicker than wool, even if the latter keeps you comfortable. Still- base layers that are using merino wool on their long sleeve design offer great functionality, can be adapted better and will feel great against your skin.
Neck warmers are widely popular thanks to their breathability. You can pair them with either a headband or a beanie for complete protection in winter. You can pull them up to your chin if needed. You may also use them as a bandana so that your ears or your entire head is warm beneath your helmet.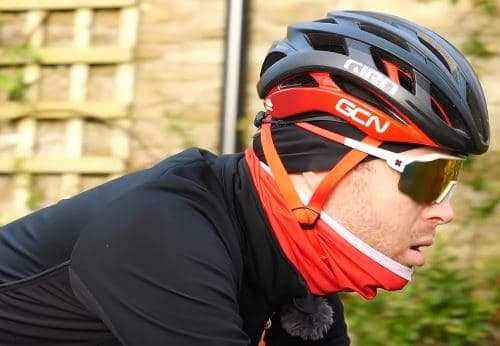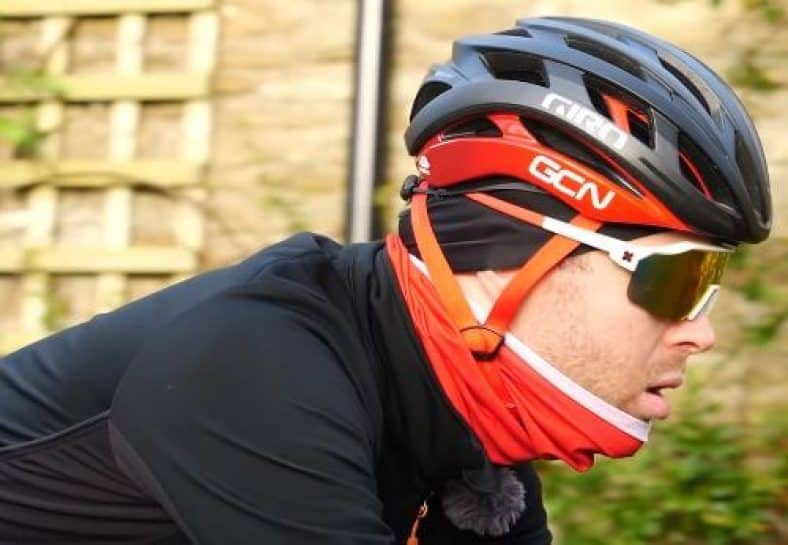 Picture: You can pull up the neck tubes to your chin if needed
A great waterproof jacket will not only protect you from the rain, but it will also score high in terms of durability; toughness, waterproofness, and breathability. 15,0000mm is usually the rating set for a jacket that is waterproof while 10,000 m2 breathability ratings are great too. Jackets that come with taped seams can be helpful to keep water away while biking as the fabric will be sewn together. Go for designs that are using waterproof zips on both the main pocket of the jacket and any other pocket. You can set the position of the air vents, the height of the collar, the adjustment means as per your preference. Hooded jackets are popular too – look for designs where you can tuck away the hood easily and collars with fleece fabric have been used for additional comfort.
Amongst all your winter MTB gear, you will probably end up spending more money on the jacket. So you need to ensure that it is providing value for the money that is being paid for it. This is why jackets that cost more offer better breathability, can retain the waterproof ability much longer and have cuffs that you hold the jacket in place even if you are shuffling on the bike seat. A combination of all these features will regulate the jacket's internal temperature and keep you warm even if the conditions are not favorable in winter. Softshell jackets are used too and will allow you to put a layer on or remove it as per your requirement.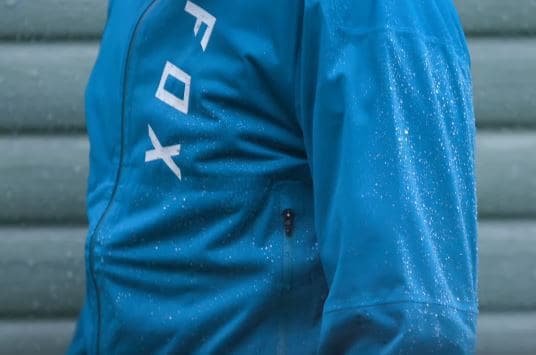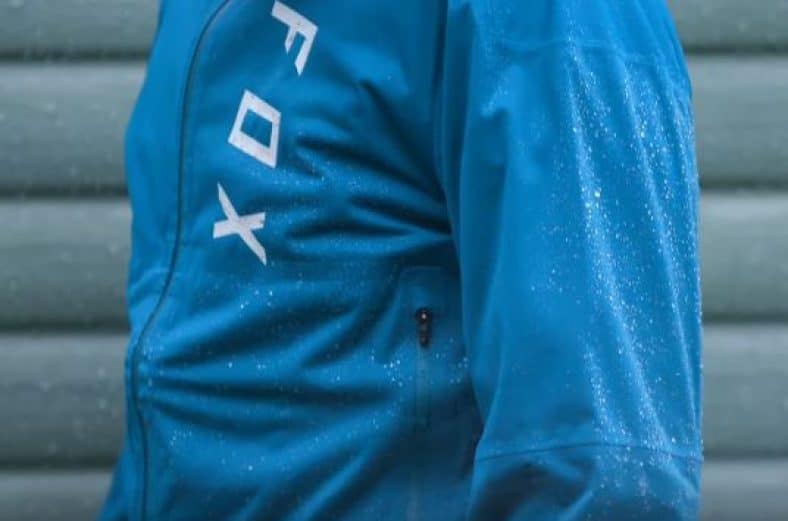 Picture: Use jackets that are waterproof as you are riding around during the winter on your mountain bike
They offer a great option for your winter gears. Even though thermal gilets have not been able to become as popular as winter jackets, the insulation that they offer is ideal to protect your body from harsh winter conditions. Typically, they should be kept on for the full duration of your rides. Thermal gilets can offer protection from the harsh winter winds too, as you are coming down fast descents. Close fit along with a tall neck will stop colder air from going down your front while the gaps for your arms are designed perfectly to stop any air from coming in from the sides. Decent gilets will also have other means to stop cold air from passing through the zips. This is why storm flaps or taped zip designs are preferred. They have an extra strip covering the rear end of the zips.
Even if the weather is sunny, It would be a bad idea to set out on your mountain bike in winter without carrying an extra base layer or a jacket. Carrier bags can meet this requirement perfectly. You can also use it to carry a variety of objects, which can even include food. Carry an extra wool hat or spare gloves – anything that you feel can come in handy. Some designs use waterproof covers, but they may not be so effective if there is heavy rainfall. Check to see if there is a waterproof chamber inside the bag's main compartment so that you can put everything that needs to stay dry inside this "dry bag" – like your cell phone, any spare clothing. Choose carrier bag sizes that are available in sizes 1L or more. Hip belts, shoulder straps, or tiny chest straps can secure the pack against your body.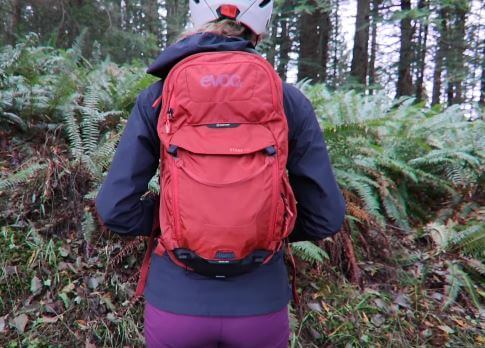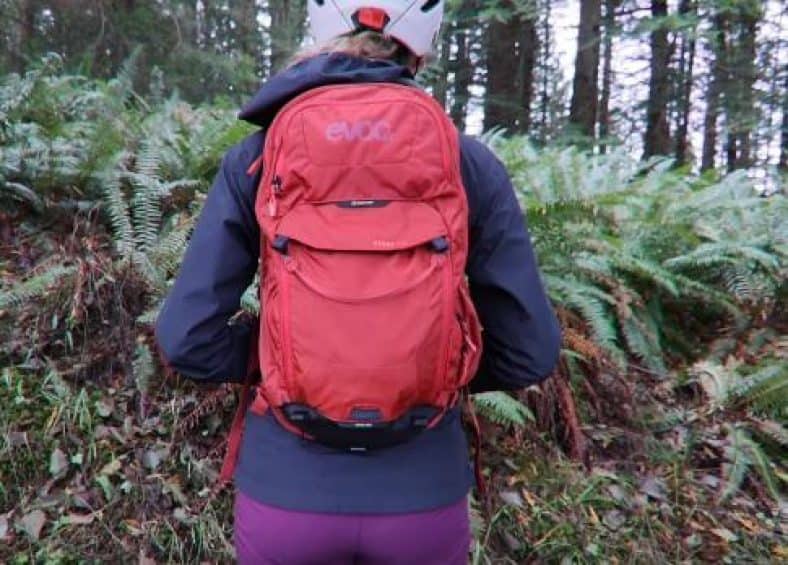 Picture: Get a waterproof bag for your extra jacket, beanie, food, etc
Tips & hacks for staying warm
Make sure that your riding gear includes a beanie in the winter, which you should put on immediately after stopping.
Get your hands on gloves made of latex if conditions are really cold, as they serve as ideal lining for your gloves.
In case you are left with soggy shorts, sit on carrier bags if you are unable to change your clothes. This will also come in handy to store your kit when you reach home.
All the riding in snow may leave you with mud on your wheels and gear. Ideally, wash the mud off using a hosepipe. If this is not possible, you can use your washing machine. In that case, you will need to wash the mud off during your shower. Check if your bike needs washing too, as dried mud is harder to get rid of.
Use silica gels inside old socks and place them inside your riding shoes to absorb the moisture and get rid of any damp smell. Newspapers can be used otherwise too.
Terrains to ride in during winter
These establishments are built purposefully so that riders can enjoy themselves irrespective of weather conditions. Look for one that is close enough so that you do not have to travel a lot.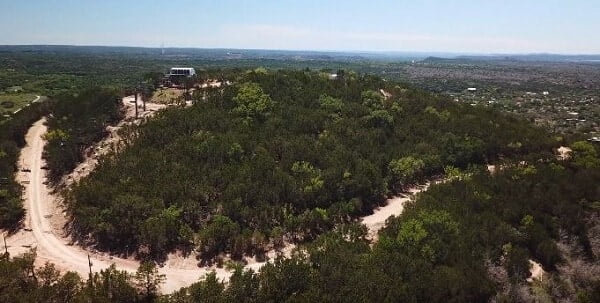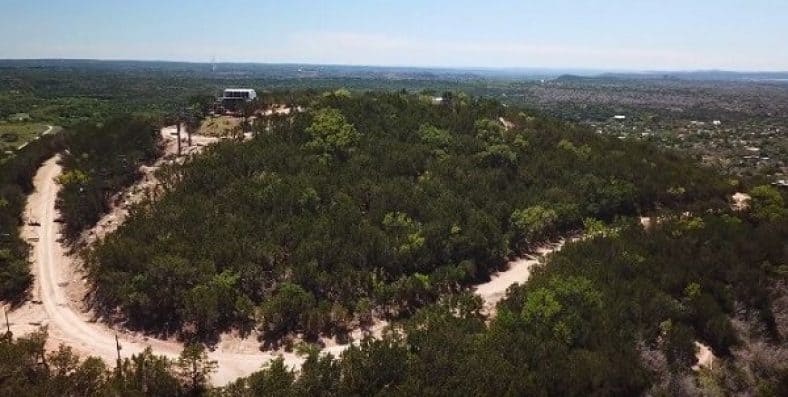 Picture: Bike parks are great for mountain biking
Look for trail centers that can cater to the needs and skills of all types of mountain bikers. Do not skip the chance to ride the snowy trails as they will offer a unique experience. Even if you have been on a trail path for months, a little snow can change it all. Enjoy the drift challenge offered by steep descents and sharp corners as you have fun.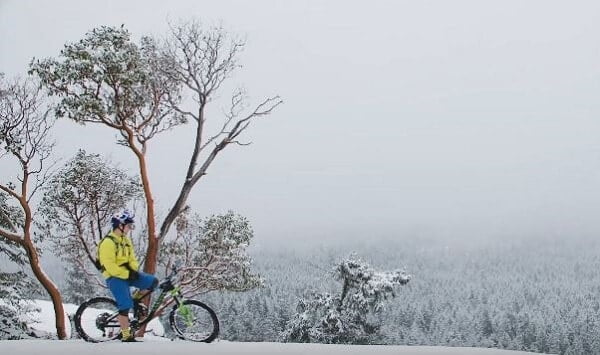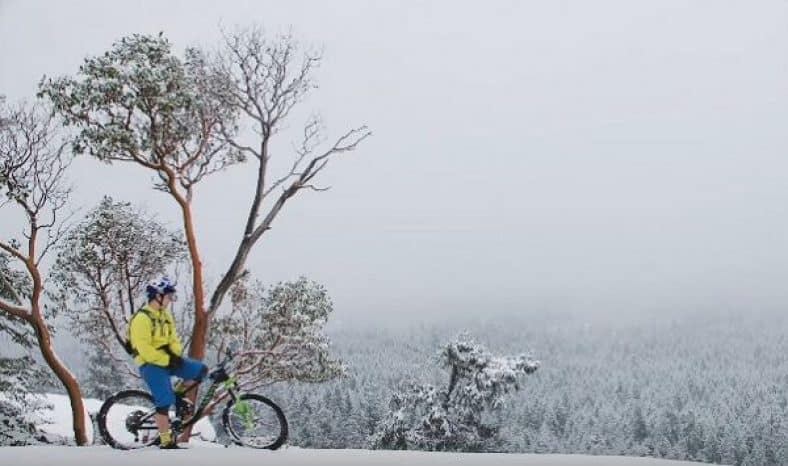 Picture: Trail centers for mountain biking
Frequently Asked Questions
Q1. What should I be wearing while cycling in 40-degree weather?
Ans.: You should be dressed accordingly to the weather as you go out cycling. 40-degree weather suits the following :
Leg warmers/tights
Long-sleeved turtlenecks
Cycling jacket with inner linings
Gloves that have moderate weight
Headband to cover your ears
Shoe cover for your cycling shoe
Winter suitable cycling shoes
Socks made from wool
Q2. Would cycling be harder for me in cold weather?
Ans.: If you compare the efforts you will be required to put into winter biking in comparison to riding around a bike in the summer – the former is more difficult.
This is because, with the increased density of colder air, it remains at a lower level to the ground. This will increase the effect of drag force on both your bike and you – requiring you to put in more effort than earlier. Other factors may need you to work harder on your bike in winter. With all the extra clothing that you will have on, your surface area would increase. More surface area would mean more resistance. The heart is putting in additional work to pump blood via the vessels which leads to early exhaustion. If you are using a fat bike that has studded tires, further additional effort will be required to overcome the surplus rolling resistance and grip.
Q3. How do I burn more calories while cycling in the cold?
Ans.: Temperature fall is associated directly with increasing your metabolism rate so that you remain warm and can get rid of more calories while exercising. The boost that you receive from "calorie-burn" in winter is much more effective when you are out on the road where you are most likely to stay upright and stuff too.
You will also benefit from NST or non-shivering thermogenesis. Mildly chilly weather will activate NST so that you can get rid of calories faster on the bike. Your fat is more active metabolically – facilitating even faster calorie burn. This is maintained even if you are not using the bike.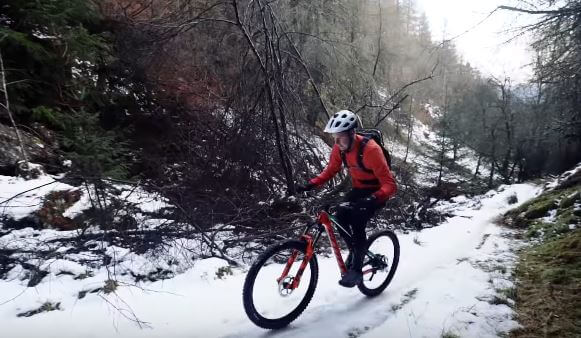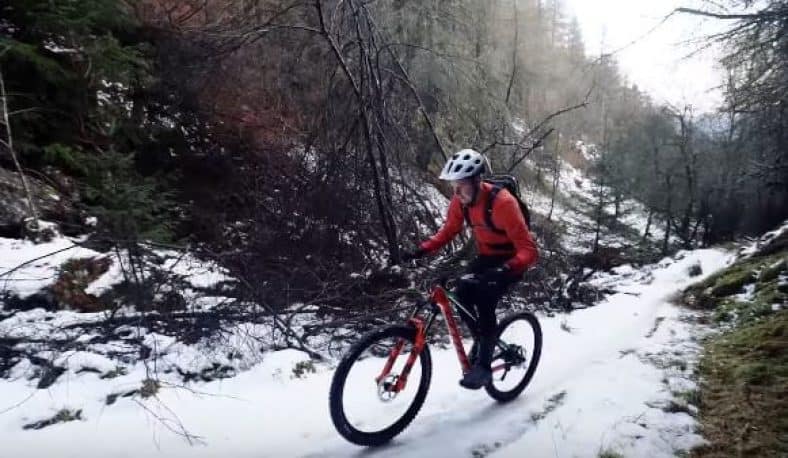 Picture: Mountain biking in winter can help you burn more calories
Q4. How do cyclists keep their ears warm?
Ans.: You may use any one of the following means to keep your ear warm in winter:
Headbands: Available in a variety of weights and thicknesses – some models will do a better job protecting you from wind and help to keep your ears warm. They are great because they will not interfere with the fit. Ideally, headbands will run up from under your helmet rims behind your neck – go over your ears – and just end up inside the rim of your helmet's front. This is great to soak up sweat from your brow too. If your hair is long, use headbands that come with a hole for your ponytail on the rear side of the headband structure.
Skullcaps: They are thin, yet will fit very tightly on your head – covering your head fully and in many cases will run down to your ears. They will not obstruct the helmet too and offer decent warmth and protection from the wind. The soft fleece is preferred internally while externally, stretchable and wicking fabric is used.
Beanies: Acrylic threads are often knitted into beanies as they are very soft.
Earmuffs: Get your hands on ear muffs for extra protection when the weather is relatively chilly. The best ear muffs can be folded, look great, and will wrap easily behind your head so that they do not obstruct the helmet.
Balaclava: They will keep both your necks and head warm. Cheap polyester to synthetics – a wide range of materials has found their way on to them. Cycling balaclava is to be an all-in-one solution to keep your head and neck warm. Many balaclavas are suited for different cold levels.
Full face MTB helmets: They are great when you are winter biking full-on. They cover up the ears completely and can be coupled with skull caps for additional warmth. This high level of protection is usually designed with air vents so that the glasses do not fog up.
Conclusion
If you are fully equipped to deal with all the possible elements that can come up while mountain biking in winter – you will actually have a good time. Do not get discouraged by the weather. Rather, use our article to get suitable technical gear and try out trail centers or bike parks with your mountain bike. Remember that this will greatly improve your overall fitness so that you can remain fit for your summer rides too.