A garage is a place built for keeping vehicles which can be both personal or professional. You can store different types of vehicles such as cars, trucks or motorbikes as well as your bicycles in the garage. In fact, it can be the most suitable place to store your bikes. There may always have some scarcity of space in your garage to store your bicycles because it may already be occupied with your car or other vehicles. When your garage is small in size, you really need to think of better arrangements for storing your bicycles.
If you have decided to store your bikes on a bike rack in your garage, then you will find plenty of options in the market. As a result, it is easy to get confused, especially when you have little idea about garage bike storage racks. Now, you are reading this article, so, you have come to the right place because we have reviewed and listed some of the best bike racks you can find in the market. Please be noted, our listed racks are chosen based on their types, mounting positions and the storing capacity of racks (number of bikes). After a relentless period of research and study, along with third-party experts' help, we have chosen the best ones for you. So, please be patient enough to read the whole article, it will be really beneficial for you.
---
Related Readings
---
Our Top Pick(s)
Among all our selected products, we think, the Feedback Sports Velo Cache free-stand bike storage rack will be the best one for the family use because this rack offers most of the features that the household demands in.
Compare the selections
We have selected several bike racks based on type and number of bike load capacity. Take a look at the table below –
13 best bike racks money can buy today for your garage
Now we shall demonstrate each and every bike rack with its features, general specifications which might be useful and their drawbacks.
A. Free-Stand type bike racks
Easily movable
1. Feedback Sports Velo Cache 2 Bike Storage Rack
The Feedback Sports Velo Cache free stand bike rack is associated with three words, they are – innovation, elegance and timeless. This particular model is one of the company's long-lasting products that has been selling for a long time in the market. This rack will look elegant in almost anywhere such as garages, apartments, homes, and bicycle retails.
When someone gets an image of the storage spot of your bike mounted on this rack, he gets an idea about the love you have for your bike. With a stable and free-standing design, this rack is able to provide secure storage for your most expensive bike. This rack can carry a relatively heavy bike with its weight load capacity up to 40 lbs for each bike. If you like, you can get the Velo Cache Expansion Kit for holding 4 bikes on this rack.
2. Delta Cycle Michelangelo Rack for 2 Bikes
'Delta' puts a lot of effort into their products so that these products can work well and become long-lasting. Moreover, they expertly put materials into their products with an engineering mind so that the products will look premium. Keeping a mission in their minds, they have been creating and selling innovative cycling products for over 30 years.
The Delta Cycle Michelangelo is one of their greatest products. This rack has a simple design with a simpler installation process. You can easily fit this rack anywhere in your garage or home, it will just rest against the wall. If you wish to carry 4 bikes, you can go for the 4-bike version of this rack. This rack is capable of holding a maximum weight of 80 lbs. Check out this video to see how easy to adjust this rack and how it works –
3. Racor PLB-4R Gravity Bike Rack
The Racor PBL-4R is a freestanding bike rack that allows you to store the whole family's bikes and reclaim your garage reducing the footprints of your bikes. You don't have to drill or screw the rack to the wall for installation. This rack requires no tools for assembly and you can easily move it to a new location whenever you want.
This rack has a maximum weight load capacity of 160 lbs, so you can hang a relatively heavier bike on this rack. Research has shown us – the 4-bike version (PBL-4R) is much stronger than the 2-bike version which is the PBL-2R. However, you can buy the 2-bike variant when you need to store just 2 bikes.
B. Wall-hanger type bike racks
Save space
4. PRO Bike Tool – 1 Bike Horizontal Storage Rack
This PRO BikeTool wall mount indoor bike storage rack has made well enough to lift up any bike except for some bikes which have alternative bike frames. You can rely on this rack for storing your precious bike and it will bring an eye-catching look to the place where you are going to install this rack. This wall-hang bike rack can be fitted to any standard wooden stud (1.5" wide and 3.5" deep) depending on the set-up. Sometimes a wooden mounting board might be required.
This rack is able to store only 1 bike where the bike can weigh up to 48.5 lbs. You need to install this rack on a solid wooden stud, masonry or concrete wall and for some certain types of bikes like recreational or commuter bikes, women's bikes or kids bikes where there is not straight top tube, you will need to buy and use a top tube adapter first before you want to mount your bike on this rack.
5. Ibera Horizontal Rack for 1 Bike with 45° Adjustable Angle Bike Hook
The Ibera IB-ST4 wall hanger bike rack not only stores your bike horizontally but also gives you a pleasant display. You can save your floor space by mounting your bike on this rack and it will look just magnificent. The frame holders of this rack are adjustable for leveling your bike wheels horizontally to the ground and you can adjust the holders wider or narrower to keep your bike at a convenient position. This rack is able to carry only one bike with a weight load capacity of 39.6 lbs. This rack holds your bike at a level above the ground and from the wall like it is described in the following picture –
This rack is very well made and like most of the products of 'IBERA', this rack has a sturdy and durable construction. All of the company's products are award winners – you can check their website and will get an idea. In more than 30 countries, Ibera products are available.
6. Dirza Wall Mount Bike Hanger for a Standard Horizontal Mount of Your Bike
This rack is a cheap rack when you like to store your casual bike for display because this rack has a neat look. This rack does the job but nothing premium, as you are paying a considerably less amount of money.
It will help you to free up your garage storage by getting the bike above the ground. So if you are thinking of a cheap solution to free up your garage space then this rack might be your best option. This rack can hold any bike with a weight of 38 lbs. This rack also includes an anti-scratch carry arm which is padded with rubber, so it will keep your bike's frame safe.
C. Floor-parking type bike racks
7. Feedback Sports RAKK Bike Stand Rack
The Feedback Sports RAKK bike stand rack is a patented, versatile storage rack that will hold your bicycle at home, garage or even any retail bike shop with a mind blowing display. This rack allows you to park your bike by mounting either front or rear wheel of the bike and with the help of the spring-loaded arm, you just have to roll your bike into the wheel slot.
The 'Feedback Sports' believes that you need a simple, effective and non-permanent parking solution when you are not riding your bikes and which can also protect them. The 'RAKK' bike storage rack supports mounting all kinds of road, cyclocross, mountain and electric bikes. Furthermore, this rack contacts only the bike's tire, so your bike frame remains safe and scratch-free. With a modular design, this rack also supports add-ons if you want to park several bikes.
8. CyclingDeal Floor Parking Bike Stand
The CyclingDeal (CB-618-4A 1) floor parking bike rack does the job when you own several bikes and need one parking solution for all of your bikes. Although it is cheap, but it doesn't hold back in terms of quality. You are getting a versatile rack for the money. Check out this video for the installation of this rack –
This rack also has a flawless design with a robust structure. Instead of a perpendicular assembly, you can also adjust this rack diagonally. Moreover, you can install it on a wall keeping it close to the floor for mounting your bicycles so that the holders won't be able to touch the derailleurs of the bikes. The following picture will help you to get an idea –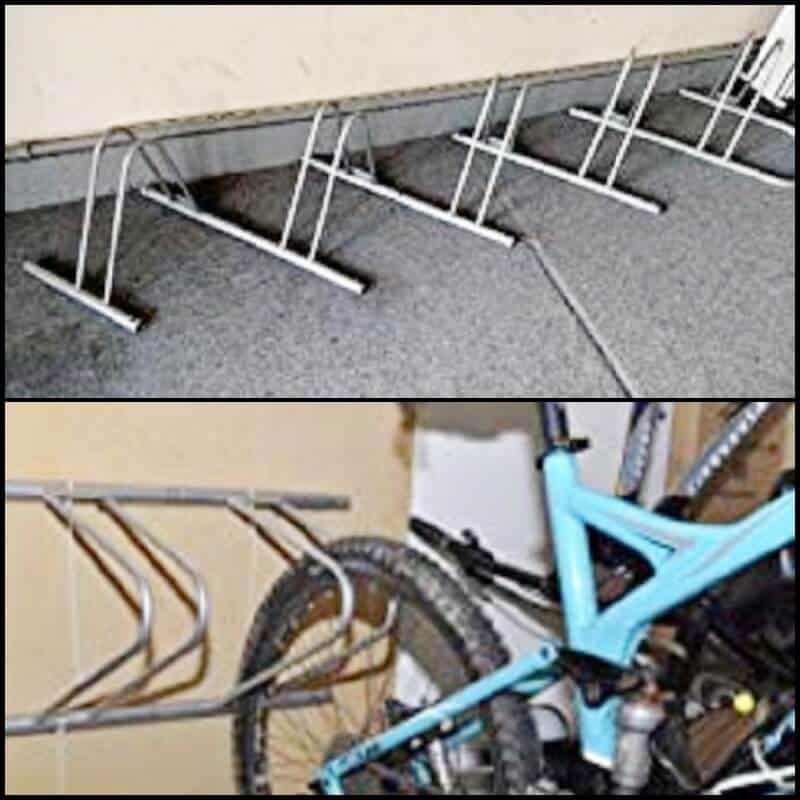 D. Ceiling Tension/Hang-Mount type bike racks
Save space
9. Gladiator Claw Advanced Bike Storage v. 2.0
The Gladiator Claw Advanced Bike Storage v. 2.0 is an ideal bike rack for any of the following bikes –
Mountain Bike
Kids Bike
Road Bike
Ladies Bike
Men's Bike
Unicycle
This charcoal colour bike rack was built to last for a long time. You can install this rack into a ceiling joist or a bare joist through the drywall.
The unique feature of this rack is – it is not just an ordinary ceiling-mount rack but it has an advanced push-lock mechanism. Once you push the rack upward with your bike's tire, the arms of the hook get closed. Again when you push it for the second time, it opens up and releases your bike.
10. RAD Cycle Lift Hoist
The RAD cycle lift provides you rope locking mechanism with smooth pulleys and latches so that you can lift up and store your bike overhead and out of the way. With all these features lifting a heavy bike becomes super easy.
There are many imposters who are trying to copy the RAD bicycle hoist method. Beware of them and buy the original RAD cycle lift rack where the rope is thicker and won't fray. This rack is suitable to fit any garage which has ceilings up to 12 ft and it is engineered to lift up 100 lbs of weight.
11. Hornit Clug Roadie Clip System Bike Storage Rack
The Hornit Clug Roadie is the world's smallest bike rack. This has a neat and simple design and keeps the place tidy where it is installed saving up enough floor space. This rack comes in five different CLUG sizes to fit most bike types. In this chart below, we have included the basic information about these five types of CLUG –
Now the question is – "What is a CLUG?" Well, they are saying that – CLUG is the Eurobike award-winning small rack which provides the most unobtrusive, simple way for storing your bike.
Installation:
Installation is very easy. First, measure your bike's tire and then according to your tire size get the accurate CLUG. Then follow these steps –
Once you have measured your bike's tire, then select the best location where you want to install your CLUG.
Using the alignment guide that comes with the box mark your exact hole space.
Get your friend's help to hold the bike in position.
Try to align the position of the CLUG with the centre of the wheel.
Drill some holes in the marked positions. Just place the template gently against the wall and drill right through it.
Once you have completed drilling holes, you can insert the anchors so that you can screw the CLUG.
But before you screw the CLUG, you need to separate the gripper and just screw the clipper into the wall
After fully tightening the screws, place the gripper on to the clipper so that the screws are covered.
Your CLUG is now ready to mount your bike.
E. Other Types of Bike Racks
12. Swagman Hang It Bike Hanger
The Swagman Hang It is a simply designed bike rack with greater stability. With its height-adjustable hooks, you will be able to place 2 bikes securely and get a lot of floor space. One bike will be hanging above the other while they are being mounted on this rack. It also gives a professional view of the place so that one can get an idea of your enthusiasm for bikes.
'SWAGMAN' is a renowned brand whose products can be trusted and customers have always been satisfied with their products. These products are always evolving based on the customer's demand for the bike and automobile world.
13. Monkey Bars Bike Storage Rack
When you have a lot of bikes, you might get pissed off walking into your garage to see all of your bikes are lying at sixes and sevens. The 'Monkey Bars' just have the solution for this mess. The Bike Rack 2.0 is a large bike rack that can accommodate up to six bikes.
This rack has renewed its hooks so they don't pop off while loading and unloading the rack. This rack holds your bikes vertically and the reinvented 'J' shape hooks will hang your bikes firm and steady. Each hook is able to support 75 lbs of load, so that is a total of 300 lbs of load that this rack can carry.
---
Types of Bike Storage Rack You can Install in Your Garage
If you have seen our products, then you should get an idea about the types of bike storage racks that you can install in your garage. There are several major types of bike storage racks that are popular and available in the market. So we are going to discuss these popular types of bike racks below.
Wall Mount Bike Storage Rack
Wall mount bike racks are usually the common types of racks that have been using by many people in their garages. These types of bike racks are mounted on the wall or on the ceilings using bolts and screws. Generally, these bike racks include necessary equipment for installation. Hence the screws that come with the racks are most of the time nonstandard. Therefore, you can buy strong metal screws and use them to ensure the safety of your bikes. Make sure that, there are at least 6 – 8 inches of gap between two hangers so that your bikes don't get collide or get jammed.
Rail Mount Bike Storage Rack
These types of bike racks are very handy for lifting up heavy bikes. They are usually single bike mount racks that consist of a rail and a pulley. The rail mounts to the ceiling and the user can hoist his bike to the ceiling with the help of the pulley system. With this pulley leverage system, you can lift up and down your bikes effortlessly. Even storing some of the heavy-weight bikes will be effective for this feature. Like wall mount and other types of storage racks where you need to install the rack to the wall or ceiling, this rack clears up sufficient amount of floor space in your garage and most of the time the hooks are padded with soft rubber to protect your bike from scratches and reduce any structural damage. But there might be issues with the ropes that come with the rack, they might come off the pulley or strip off. Therefore, you can buy some extra durable ropes to make sure your bikes don't fall off and get damaged.
Bar Type Bike Storage Rack
This type of rack usually consists of a bar that remains horizontal on the wall and there are hooks for mounting bikes. This type of bike rack is useful to carry a lot of bikes together in a row. Although some professionals who own quite a number of bikes use these bike racks, they are most popular with large families where there are individual bikes for each and every member. This type of rack not only clears up a lot of floor space but also capable of storing a significant amount of bikes, you can store up to 6 bikes without any hassle in this typical bike rack. This bike storage rack is exceptionally helpful for holding mountain bikes or kid's sports bikes.
Floor Parking and Freestanding Bike Storage Rack
The best and common feature that of these two bike storage racks offer is that – you don't need to drill any holes into the walls or ceilings. Both of these bike racks can be easily relocated so that you will be able to move them to the place where you think they suit best.
This mobility of both these racks allows you to make a convenient space anywhere you like.
Floor parking bike racks are the most suitable bike racks that can be installed in a garage, a retail bike shop or in a parking space for a commercial area. There is no doubt that these types of bike racks allow the easiest storage system of your bikes. Moreover, they are able to store a relatively large number of bicycles. They hold your bikes in a straight upright position and do not damage your bike's frame. But they are not so practical for clearing ground space.
On the other hand, the freestanding bike storage racks may not carry as many bikes as the floor parking racks. They keep your bikes in a horizontal position, one above the other. You may install a freestanding bike rack in your apartment or in your garage and it will give a spectacular view to that place. There are some freestanding bike racks that need to be leaning against the wall for installation. Like the floor parking bike racks, they do not work very well to free up floor space.
Tips for Installing a Bike Storage Rack in the Garage
If you love your bike and want to keep it stored in a safe place so that you can go to sleep without any headache then your garage can be the most appropriate place. In order to place your bike at a convenient place in your garage you should not just park your bike into the garage, rather you need a proper bike rack that will keep your bike safe and secure all the time. Again if you have multiple bikes and there is not much room in your garage but you still think that your garage is the perfect place to keep your bikes then you should get a suitable bike rack as soon as possible.
The installation process of the bike rack can be crucial depending on the situation and the bike rack type. Research as much as possible before buying a rack so that you can get sufficient knowledge about the type of rack you are really looking for. So take enough time for installing the rack and do it right with the first try.
Selecting a good location to install the rack in your garage can be a vital part of the installation process. Choose a favorable space in your garage depending on the type of rack you are going to install.
Pick a safe spot where there are any valuable things barely placed around and there will be considerably fewer people and pets passing through. This will reduce unnecessary damages or injuries and enhance the safety of the area. Also, make sure the locking mechanism is installed correctly so that your bikes won't fall off.
---
F. A. Q.s
Q1. How should I store my bike into the garage?
A1. First look at the surroundings of your garage and store your bike on to the rack accordingly. Let's just think you have a garage with higher ceilings, then it would be wise to hang your bikes using a wall or ceiling mount bike rack. Maybe you have a small garage, then go for a vertical mount bike rack because it will free up a lot of space in your garage. Keeping your bikes stored horizontally is the most convenient way of storing your bikes. Although they occupy a bit of space but are easy to use.
Q2. Can I damage my bike wheels if I hang them?
A2. Some suggest that it is safe to hang bikes through the wheels. But there are others who broke the rims and spokes of their bike's wheels by hanging them through the wheels. There is a book called 'Your Home Bicycle Workshop' authored by Jim Langley, where it says – You should hang your bike through two contact points on the frame of your bike, rather than your bike's wheel.
Q3. What should be the minimal space between the bikes while they are hanging?
A3. You don't want to get scratches on the frames of your precious bikes. If you hang them too close there might be collision among the bikes which can lead to a serious disaster. The holes where the hooks are mounted should have spaces of around 18 to 20 inches. Again giving excess space between the holes is not so functional.
Q4. What is the weight-load capacity of the bike rack hooks?
A4. A versatile bike rack hook can carry the weight of any casual bike. In general, most bike racks with hooks are able to handle up to 50 lbs weight. However, this can vary depending on the quality of the rack.
Q5. What is the recommended distance between the bike racks?
A5. You should follow some measurements to place two bike racks at a suitable location. Here is a table you should take a look at to get an idea –


Q6. Can I hang my bike upside down?
A6. From our experience, if you want to hang your bike for a long period of time; it is better to hang it by the rear wheel as it helps to lubricate the fork seals. Apart from that, you can always hang your bike upside down for a couple of minutes if it is really necessary or you don't have any better choice.
Conclusion
At the end of our discussion, we would like to say that you should decide first what you need before choosing a bike rack. You should also determine the place where you want to install the bike storage rack. You may want a pragmatic look with maximum functionality from the bike storage rack or you may want to have an appealing display of your prized bike. You may want to move your rack around a lot so mobility of the rack is your main concern or you may want a more permanent fixture. Take some time to think about your needs and set your decision. Thank you for reading this article, hope this article was useful to get your mindset for buying a bike storage rack that you want to set in your garage.
---
Helpful Resources:
Last update on 2021-05-10 at 07:20 / Affiliate links / Images from Amazon Product Advertising API