Hatchbacks are one of the common forms of vehicles. Small or big, any hatchback has the ability to carry at least two bikes with the help of a rack, securely.
What are hatchbacks?
Most probably this is the common version of cars we see every day. The other common version is a sedan. The hatchbacks are those cars that have hatch type rear doors and after unlocking, it goes the upward direction. Well, now you can say most of the car's hatch goes upwards after unlocking. So, the definition is a bit blurry here. Actually, it's not just the door going upwards but there is a window attached to the hatch.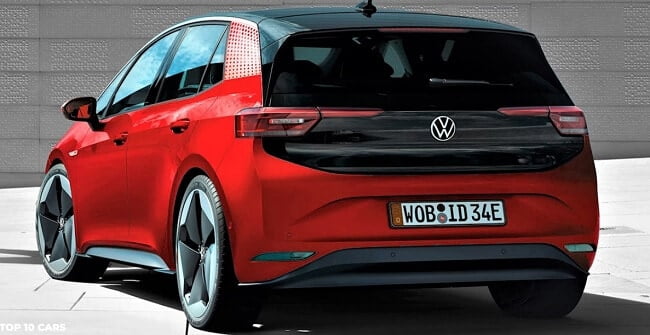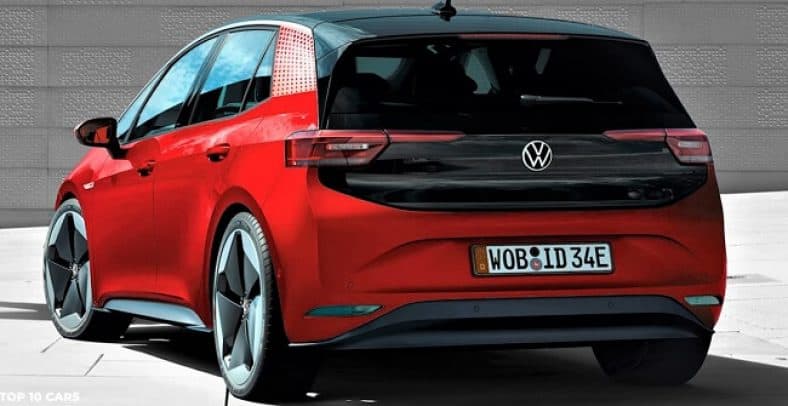 Hatchbacks are popular because these are economy class cars. There are luxury hatchbacks too. Most of the regular, average and economic car style is hatchback, in general. The hatchback, SUV, CUV, MPV; This all car style has one thing in common, the hatch door with a mounted window on that. These cars have an adequate number of passenger seats as well as a good area for cargos or things that we keep back of the cars.
So, the fact is this type of car can carry both people and cargo on a good scale. In this article, our focus will be on racks that can be carried by hatchbacks.
What kind of bike racks are supported by hatchbacks?
We already told that hatchbacks have a good cargo area. It's not just inside the car but also outside the car too. But they are not usable like the inside area. The inside area of the car which exists behind the door is built in. While the outside areas aren't. We need extra tools to make that usable for transporting objects. These extra tools are cargo racks. There are different types of rack for different purposes. As cargo types can vary. Like- luggage, bike, skis, kayaks e.t.c. There are racks for each of the cargo type and also there are multipurpose racks that can carry different types of cargos. Here for cargoes, our main concern is the bike. Different types of bike racks are available in the market for hatchbacks.
They are categorized into several types depends on the fitting area:
Trunk mounted
Hitch mounted
Roof-mounted
1. Trunk/Hatch mounted racks
This rack is installed on a car's hatch/trunk/boot/rear door/dickie/compartment. The trunk is generally found at the back of a car. No extra screw is needed here for the installation of the rack. Just mechanical support and a few straps are enough. The material is either steel or aluminum. One is heavy and the other is lightweight. Certainly, The trunk type has its own advantage and disadvantages. Let's see those:
Advantages
Installation is very easy. After confirming the mechanical support you have to strap it tightly and securely with the hatch.
The maximum carriage capacity is 4 bikes.
Some of the models are foldable which is a great plus. Uninstalling those is easier like installation. They are easily detachable
You won't need additional parts or tools for installation.
Trunk type racks are generally less costly than other rack types.
The rack models are universal. That means this type of racks is generally built for all types of cars.
Bike loading in this kind of racks is easy. Sometimes adapters are required for different types of bikes.
This type of racks provide good ground clearance
Disadvantages
The bikes stay in a hanging position. So, naturally, they sway. Because of that, there is a chance of bike frame-rack contact, bike-vehicle contact, and contact between bikes themselves. Bike body may get damaged if the contact is rough between the body and rack or the bikes themselves. In the case of contact with the vehicle, you might need a new car paint there. Also, there might be a few scratches.
You can't access your cargo frequently. Or accessing it will be troublesome. If you want to access the trunk then you have to detach the rack first along with unloading the bikes.
The bike's weight puts a heavy toll on the rack if it is used for a long time. The rack arm may bend because of it. So, there is a probable chance of an accident if the arms bend and bikes fall from there during a journey.
The rack may get unstrapped from the vehicle because of the road vibration. It is also dangerous.
2. Hitch mounted racks
The most popular version of bicycle racks. The racks are attached to the receiving hitch of the car. As they will be being attached to a vehicle's towing component, this type of racks are built strong, durable and with good carriage capacity. Hitch mount racks are generally for heavy performance. There are several hitch types. Like-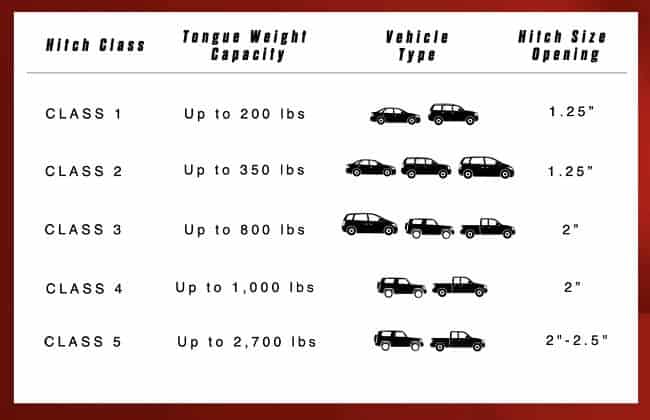 The hatchbacks fall in Class I to III categories. Generally, the rack is attached to the hitch with an adjustable knob. Here, for rack material, steel or aluminum is used. Now, there are 3 types of hitch-mounted rack
# Tray/Platform-style:
A platform or bike-tray is connected to the hitch. The bike can be loaded or unloaded easily here. You can store up to 2 to 4 bikes here. This style can be built with features like anti-sway and tilt. The anti-sway feature reduces swaying and tilting feature enables the user to access the hatch by tilting the rack a little.
# Mast/Hanging style:
Mast type hitch rack has arms where bikes can be hung. This type of rack also can carry up to 2 to 4 bikes. Sometime's bikes need adapters to be hung here. It can be foldable and have tilting ability depending on its design. Hanging style racks are generally less expensive than other types.
# Vertical style:
This type of hitch rack is for storage purposes. They can store up to 6 bikes. The specialty is here you can save space by loading the bikes vertically. As bikes are loaded vertically and adjacently, there is a chance of contact due to vibration. Because of loading, a lot of bikes, these racks are made durable and stronger. It is expensive.
The common advantage and disadvantage of all hitch type racks are:
Advantages:
Installing the hitch isn't troublesome. It is easy.
Loading and unloading bikes are simple and quick
The hitch type holds the maximum bike capacity among all other racks
Hatch accessing is possible due to the tilting feature of the racks
Multipurpose rack, which means can carry bikes as well as other cargos.
Disadvantages:
These type racks are built for performance. So, it is expensive.
Swaying will happen because of road vibration. It can damage the bike body
The different hitch types have their own advantages, disadvantages, and features which hadn't discussed here fully. But overall hitch types racks are for performance and they are expensive.
3. Roof-mounted racks
Common racks, people use them frequently for personal use. This type of rack is also multipurpose. The only fact here is, you need extra equipment to install it. Like crossbars/rails or flat tracks. Car roofs are wide and provide a good space for bearing cargos like bikes, luggage e.t.c. Sometime's while loading a bike, you may have to detach the bike's front wheel and mount it by attaching the fork with the roof. Let's see it's advantages and disadvantages:
Advantages:
No swaying. Bike safety is ensured here
You can easily access your trunk/hatch
It allows several types of bikes as well as other cargos.
This type of rack can carry up to 2 to 4 bikes. Generally, 2 bikes are carried
If you want your bike to be unaffected, it's the best choice.
Disadvantages:
Bike loading is difficult. You have to lift the bike over the roof to load it
Wind resistance increases because of the existence of the bike. Fuel consumption increases due to wind resistance.
As the roof is containing a bike, you have to be very cautious of low clearance area restriction. Otherwise, both of your bike and car get damaged.
4. Adapters
These aren't racks. They are used to hang bikes that have frame design not suitable for the rack. The bike adapter is connected with stem and seat post. It's straight, hard, made of metal. After the connection, the bike is hung in the rack with the help of the adapter.
Considerable factors while choosing racks for hatchbacks
1. Bike frame contact issue
We carry our bikes through the racks. But the main transportation vehicle is the hatchback.
If there is vibration on the hatchback then the rack and frame will be vibrated too. Depending on the bike's position, their frames may contact each other with force. Here, the frame can get damaged. Also, if they are in a hanging position they can sway and get contacted harshly with the rack or themselves. This could do potential damage on the rack or bike's body. So, while choosing a bike rack, this factor should be considered if the bike is expensive.
2. Vehicle damage issue
Swaying may occur in a hanging position. If the swaying is too much the bike can touch the vehicle's body. Thus the body gets scratched and ruined car paint. Or in trunk mount rack, the bikes generally lean on the car's trunk. If the vibration is too much, because of the force both cars and the bike's body have a chance of getting damaged.
3. Weight Limit & Bike Capacity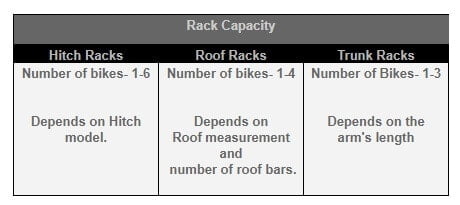 Hatchbacks do have a good weight capacity. They fall in from Class I to Class III hitch category. So they don't have a problem with carrying a bike rack with bikes. Now, Different bike racks have different weight and bike capacity. The capacity depends on the model's design and material.
The roof type has a capacity of up to 4 bikes. Here, weight isn't discussed as the bikes literally stay on the car's roof. And a car's roof can easily handle the weight of 4 bikes. Whatever the bike models are.
The trunk-mount rack has a weight issue. As the bikes hang on the trunk's arms. Their weight is fully applied to the trunks. And if the carriage is continued for the long term then the arm will start to bend because of the pressure it gets. So it has a weight limit. Generally, for trunk-mount racks, the weight limit is the total weight of how many bikes it can carry. The fact is bending occurs even if the weight limit isn't crossed, after a period of time.
The hitch mount racks are attached to hitches and prepared for bearing weights. Generally, they have a weight limit of 4 to 6 bikes. If the bike type is different like a mountain bike or recumbent one than bike capacity will decrease as these bikes are heavier than others.
The weight limit and bike capacity depend on the durability of the material of the bike rack. So, before using them and using them efficiently we should know their weight limit and bike capacity.
4. Versatility (Bike type and Cargo type)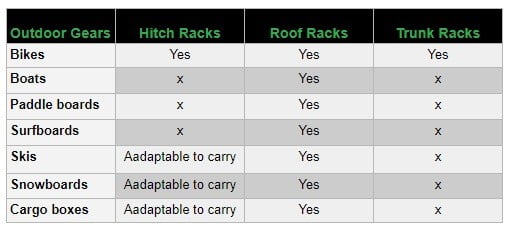 If we look at the chart we can easily understand which rack has the most versatility in carrying cargos. We want bike racks that are true but we want convenient racks where we can carry and bike altogether. The roof rack is perfect for all of these.
Then comes the hitch racks. We can make it adaptable to carry certain cargos but we can't carry all types.
The trunk type racks are single-purpose racks. They are focused on bikes.
It kind of explains why trunk type racks are cheap.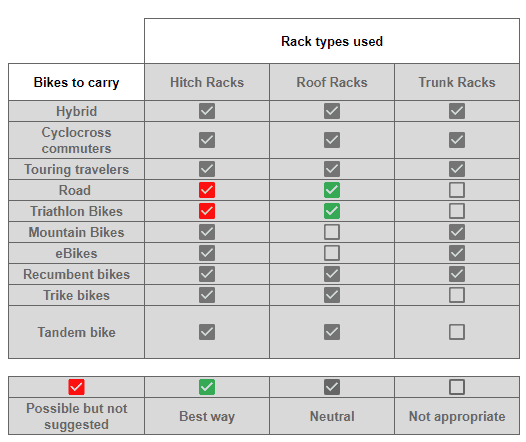 Now, let's see versatility in a different aspect. Here hitch-mount rack can carry almost every bike type but some of them weren't suggested in that rack. It's probably because of the vibration and swaying. Road and triathlon bikes are expensive. Due to swaying, they may get damaged. That's why they are suggested for roof mount racks. MTB and eBikes are too heavy to lift. That's why roof mount rack isn't appropriate for those. The trunk-mount racks are general as usual. They can carry most of the bike type. But not every type.
5. Price ($)
After seeing several factors we can now assume the price. Generally, hitch type bike racks are the most expensive. There is a reason for that. They are strong, durable and long-lasting products. So as roof racks. But they generally carry fewer bikes than hitch types. In some cases, roof type racks are more expensive. The trunk-mount racks are the least expensive. As they aren't multipurpose and also they are built for casual use.
6. Car Specifications
Rack manufacturers don't narrow their target customers. So it's rare they build racks for cars of specific models. Generally, most racks have a feature called universal fit. It means they will fit in any vehicle. So, your hatchback won't be a problem here. You will find a large variety of racks in the market for the hatchback. The trunk mount is the most universally fitted rack. For roof mount racks you need to know your roof's length and width and for a hitch-mount rack, you need to know your hatchback's hitch class.
7. Loading Bikes & Accessing Hatch
These are two of the most useful features to have while you are buying bike racks. Question yourself, will the bike loading be troublesome? Will it feel painful? For example if you try to load MTBs or e-bikes on a roof rack then it will be painful. Easier the bike loading and unloading process, better the bike racks.
Accessing the hatch may not be possible for all types. Like, for a trunk-mount rack it is seriously difficult to open the rear hatch without detaching it or unloading the bike. A hitch-mount bike with a tilting feature is cool. You can access the hatch anytime just by tilting the rack a little. But without the tilting feature? It's the same incident as the trunk-mount rack.
Bike loading is most difficult in the roof-mounted rack. Whereas accessing the hatch or trunk is easier there. The best choice is to get a hitch-mount rack with a tilting feature. It will provide you the flexibility you need.
8. Installation
The easy installation is better. It saves you from the hassle of getting extra tools. In this matter, the trunk types are best. They are lightweight and don't need tools or screws to be installed. Roof type racks need crossbars as well as extra tools. The hitch mount racks are generally heavyweight. Sometimes screws or tools are needed to install those racks. But some of the hitch mount racks are easier to install.
9. Locking Option (Security)
Many racks have built-in locking features. Depending on the rack type the locks are:
Hitch mount rack: This type of racks has a hitch lock. It's for road safety so that the rack doesn't get disconnected from the vehicle. Also, sometimes a rack has an integrated bike lock. A two-system lock that connects the bike with the rack and the rack with the vehicle.
Trunk mount rack: Straps are used in this kind of racks to bind the bikes with racks and also secure a connection with the vehicle.
Roof mount rack: This kind of racks have crossbar locks. The crossbars are locked with the vehicle. It can be built in for some models or you can buy one for your racks.
10. Folding Capability?
This feature will always come in handy. It will save a lot of space. Roof racks are out of this feature. It applies only on the trunk and hitch-mount racks. Because in time of no use you can fold your racks and put it aside without hassle.
11. Anti-sway feature
To reduce the sway due to vibration and also to make less contact between bikes, this feature is needed on your rack. It's a safety feature. This works as a damage control catalyst.
12. E-Bike/Recumbent/Trike Compatibility
Is your bike rack compatible with an e-bike? You should probably think about it. Because eBikes are getting popular. Generally, eBikes are heavy. So, hitch and trunk-mounted rack support to carry an eBike. It's troublesome to lift it for a roof rack.
Our Top Pick(s)
Nowadays, racks for hatchbacks are common but a lot of people don't know the process to choose a rack for hatchbacks. We have covered that in this article. Also, we have reviewed 6 bike racks in this article for hatchbacks. The best of those racks is BV Bike Carrier. It's a hitch type-platform style rack which is upgradeable and you can even access your hatch while the bike is loaded there.
BV Bike Carrier-Tray Style Hitch Rack
Type: Hitch type
Hitch Size: 2-inch hitch; the 1.25-inch hitch is available for 2 bike carrier
Style: Tray or Platform
Capacity: 70 and 140 lbs
Max bike capacity: 2 and 4
Rack weight: 37.5 and 80.1 lbs
Material: Steel
It can tilt, so you can access your hatch/trunk even in bike loaded circumstances. It can be foldable, so you don't have to worry about wasting space. Good features for safety. It's one of the best for your hatchback.
7 Best Bike Racks You can Buy Today for the Hatchbacks
Bike Rack
Preview
Type

Rack Weight
(lbs.)
Bike Load Capacity
(lbs.)
Bike Capacity
BV Bike Carrier
Hitch Mount
37.5 & 80.1 lbs.
70 & 140 lbs.
2 and 4
Allen Sports Deluxe
Trunk Mount
7.5, 10, and 18 lbs.
70, 100, & 140 lbs.
2, 3, and 4
Saris Bones 2
Trunk Mount
8.82 lbs.
70 lbs.
2
RockyMounts BrassKnuckles
Roof Mount
18 lbs.
45 lbs.
1
Allen Sports Racks
Hitch Mount
23 lbs.
140 lbs.
4
YAKIMA: Hangover 6
Hitch Mount
73 lbs.
225 lbs.
6
YAKIMA – FrontLoader
Roof Mount
18 lbs.
40 lbs.
1
1. BV Bike Carrier rack
Best Hitch Rack
BV Bike Carrier-Tray Style Hitch Rack
Specification: (Two types of model are available- 2 & 4 bike carrier)
Type- Hitch type
Hitch Size- 2-inch hitch; the 1.25-inch hitch is available for 2 bike carrier
Style- Tray or Platform
Capacity- 70 and 140 lbs
Max bike capacity- 2 and 4
Rack weight- 37.5 and 80.1 lbs
Material- Steel
Features and Considerations:
Capacity: Depends on the model. The maximum capacity is 2 bikes for one model and 4 bikes for another.
Tilting ability: The rack has tilting ability. This feature enables us to access the car's hatch without detaching the rack.
Anti-wobble design: No-wobbling between rack and hitch in this rack. It ensures the rack and bike safety.
Scratch protection: The tray has padded arms. So it will prevent your bike from getting scratched.
Folding capability: It is foldable. You can save plenty of space by folding it while it's unused.
Security: The tray holds all bikes with a three-point connection system. two arms from the tray bottom and a vertical arm on top, these all firmly grip the bike.
Reflector: Safety reflector is included with the rack. It will help to avoid unwanted collisions at night.
Cons:
Bikes may get damaged due to vibration if you drive continuously on rough terrain.
The vertical arm may cause damage to the body paint of the bike
It's not a bike rack for kids
Rusting may occur
BV bike carrier is one of the well-known racks. It has some handy features like tilting, folding ability e.t.c. Two types of models are available that can carry respectively 2 and 4 bikes. Padded arms and safety reflectors are included in the rack to avoid scratch and night collision. Anti wobble design and three-point connection ensure bike's safety from vibration and wobbling. The fact is, that design isn't completely accurate. Driving in an unpaved way still degenerates vibration. Otherwise, this rack is a good one to use.
2. Allen Sports Deluxe Trunk rack
Best Trunk Bike Rack for the Money
Sale
Allen Sports Deluxe Trunk Mounted Rack
Specification: (Three types of model are available- 2,3 and 4 bike carrier)
Type- Trunk-Mount
Style- Universal
Capacity- 70, 100 and 140 lbs
Max bike capacity- 2, 3 and 4
Rack weight- 7.5, 10 and 18 lbs
Material- Steel
Features and Considerations:
Capacity: This trunk-mount bike has 3 models based on the capacity. 2, 3 and 4 bikes capacity is available.
Warranty: The rack is backed up by the company's lifetime warranty
Design: Single configuration design. Reduce complicity during installation. Portable.
Bike loading: There is a model with an adapter. It supports any bike to transport via the rack.
Stability: Side straps increase the stability in the edge.
Security: There are straps for each bike that secures them individually.
Safety: The rack's lower frame is padded. It prevents contact between bicycle and vehicle.
Installation: Quick installation process. It can be set up in a moment.
Cons:
The rack isn't long-lasting
Trunk arm may get bent if bike weight is applied for a long time
The license plate of your vehicle will cover under the rack
Your car paint might get scratched because of the rack hooks
The deluxe mount trunk rack by Allen Sports is available with 2,3 and 4 bike capacity model. It's an affordable bike rack with a good portable design. The rack even supports other than regular bikes like a BMX or a women's bike with the help of an adapter. The rack is well designed, its installation is very quick. Though there are some drawbacks, overall it's good within the price range. Full capacity for a longer time on the rack might arise problems. But other features like road safety and stability are covered. It fits with most of the hatchback vehicles, sort of universal design. Overall it's fantastic for casual use.
3. Saris Bones 2 rack
Our Premium Choice Trunk Mount Rack
Saris Bones 2-Bike Trunk Rack
Specification:
Type- Trunk Mounted
Style- Universal
Capacity- 70 lbs
Max bike capacity- 2 bikes
Rack weight- 8.82 lbs
Material- Recyclable, non-rusting material
Features and Considerations:
Capacity: It can carry 2 bikes at once
Design: This rack has an arc-based design that fits nearly all cars including hatchbacks.
Warranty:  The company provides a lifetime warranty for this product.
Protection: the rack feet are rubberized for not harming the vehicle. and also the straps are coated. The bike won't get scratch from it.
Build: The rack is constructed with 100% recyclable, rust-free material. It has a strong frame as its arms are injected-molded.
Safety: Bike straps have the anti-sway feature that secures the hold of a bike.
Lightweight: This rack is extremely lightweight for a 2 bike carrier.
Cons:
The plastic might lose his durability in the long term use.
It has a fitting issue with some vehicle models.
The metal clip is part of the rack for attachment, which has a rusting issue.
Due to the vibration, the vehicle might get scratched a little.
Sari bones 2 is the successor of Sari's bones. Both racks are trunk-mounted rack. The bones are actually plastic injected-molded arms where bikes are hung. It has a strong frame and authentic design. The price is a little bit high. Its bike straps have an anti-sway feature that keeps the bike steady. The company provides a lifetime warranty. The protection measurement is good here. It will save your bike and vehicle from getting scratched. What is amazing is the weight of the rack. It's super lightweight. But problems arise too due to this. The rack is overall a quality rack.
4. RockyMounts BrassKnuckles rack
Expensive Roof Rack Choice but Worth the Money
RockyMounts BrassKnuckles
Specification:
Type- Roof-mounted rack
Style- Crossbar fit
Capacity- 45 lbs
Max bike capacity- 1 bike
Rack weight- 18 lbs
Material- Stainless steel
Max crossbar spread- 43 inch
Supported wheelbase- 34 to 48 inches.
Features and Considerations:
Capacity: This roof-mounted rack can carry 1 bike.  weight capacity per bike is higher than average
Design: Its handle is ergonomic brass knuckles shape. The actual design is, no front wheel removal design.
Scratch protection: As the bike loads upon the front wheel it is secured from frame contact with rack or vehicle. So, no scratch on the bike or the vehicle.
Bike loading: Bike loading is kinda troublesome because lifting the bike is messy. But no frontal tire removal is needed in this bike loading.
Folding capability: This rack has this feature. It can be folded down at the time of no use.  This will save you from fuel consumption
Crossbar Compatibility: The rack fits with the most square/round or any crossbars.
Security: There is an option of lock core by which the rack can be kept secure.
Cons:
Lock core isn't included. You have to buy it separately
This rack isn't a long life rack.
The installation process is a bit slow because of the complicacy
The Rocky mount brass knuckle is a roof mount rack. It carries just one bike but with the good weight capacity. It's a hassle-free process with the bike loading as no frontal wheel removal is needed. This also keeps the vehicle and the bike scratch-free. It is foldable and compact. There is an option of lock core which is purchasable. The rack is compatible with all type of crossbars
5. Allen Sports Racks
Hanging Style Hitch Rack
Sale
Allen Sports 4-Bike Hitch Racks
Specification:
Type- Hitch Type
Hitch Size- 2-inch hitch
Style- Mast style
Capacity- 140 lbs
Max bike capacity- 4 bikes
Rack weight- 23 lbs;
Material- Steel
Features and Considerations:
Capacity: This rack support at max 4 bikes at a time.
Warranty: The company provides a lifetime warranty
Design: Rack's design is beautiful. It has a smooth finishing.
Security: It has a 22-inch long arm and tie-down system to respectively hang and secure the bike.
Bike loading: Bike loading is simple and easy in that long carrying arm.
Folding capability: The rack is both flexible and foldable. You can save space by folding it if you aren't using it.
Installation: The installation process is a quick one.
Cons:
After

long 

use in full capacity,

 

the 

rack 

eventually 

bends

Size 

of 

the 

rack 

is 

not 

precise

 

After 

a 

while, 

your 

bike 

may 

become 

damaged 

or 

impacted for swaying

The anti-theft protection isn't that good
Allen sport racks are affordable, have good capacity and fantastic for casual use. Allen sports hitch racks are an economical choice for racks. This offers virtually all of the attributes a good rack should have. The only problem is sustainability in the long term. The rack is well suited for casual use. The rack itself weighs 24 lbs and has a full scale holding 140 lbs. It is a good rack overall.
6. YAKIMA: Hangover 6 rack
Vertical Hitch Rack for Carrying 6 Bikes
YAKIMA - Hangover 6
Specification:
Type- Hitch Type
Hitch Size- 2-inch hitch
Style- Tilt-away, Vertical style
Capacity- 225 lbs
Max bike capacity- 6 bikes(varies, depending on the model)
Rack weight- 73 lbs;
Material- Steel
Features and Considerations:
Capacity: Yakima Hangover can carry up to 6 bikes. It's a great bike storage option.
Specialty: With a fork crown it can carry fat bikes too.
Versatility: It provides a carrying facility for various types of bikes. The rack's wheelbase is adjustable so, bikes with different wheelbases can be stored here.
Safety: For road safety, there is a hitch lock. the company provides a bottle opener too.
Build: It has a solid and durable build. The design and construction are feasible too.
Tilting: The rack can tilt. It will give you access to your hatch. With your foot, you can control the tilting.
Ground Clearance: There are three-mast height positions. You can adjust it as you like for your favourite ground clearance height.
Cons:
The product value is high. Reasonable by scarcely any purchasers as the organization planned
Only suspension forks bikes are supported in this rack
Inflexible fork bicycle, street bicycles, and e-bicycles aren't protected in the rack
A heavyweight rack, in this way, not a decent option for little vehicles
The rack shows insufficient dexterity  and also an additional lock is required for safety
Yakima is outstanding amongst other rack building company. Hangover 6 is one of their best worth rack with an incredible conveying limit. The Hangovers are vertically positioned designed rack. It is accessible in two models, 4 and 6 bicycle limit racks. The rack has worked for genuine and experts who concentrated on carrying trail/MTBs. It has a restricted scope of utilization however it does best what it was expected to do. Simply get your that circle with bikes for an MTB ride with this rack.
7. YAKIMA – FrontLoader rack
Our Another Roof Rack Choice
Sale
YAKIMA - FrontLoader
Specification:
Type- Roof mount
Style- Crossbar(Universal hardware fit)
Capacity- 40 lbs
Max bike capacity- 1 bike
Rack weight- 18 lbs
Bike size- 20-29 inch wheels and tires below 3 inch
Material- Steel
Features and Considerations:
Capacity: It's a roof bike rack and can carry just one bike.
Specialty: Virtually, any bike can fit in this rack
Design: Upright Wheel mount designed rack. wheel removal isn't required here for this roof rack.
Bike loading: Load the fully assembled bike. Even with wheel on-mount. This saves a lot of hassle.
Security: The same key system lock is purchasable. This can lock the bike to the mount and the mount to the base rack.
Scratch protection: As it is wheel mount rack so no frame contact is happening. which means no scratch.
Installation: Easy installation, tool-free. Just a roof rack is required.
Cons:
The lock has to buy separately
It is a little bit expensive
Lifting the bike is tough
The rack isn't suitable for tall vehicles
It's not a multipurpose rack
The Yakima constructed fantastic roof-mounted bike rack Yakima Frontloader is suitable for Honda CR V. This rack fits single-bikes. It uses Zipstrip to lock the rear wheel. You can load the bike easily because wheel removal isn't needed. Because of the universal design, it is compatible with most of the vehicles. And the company has another product which is 2 SKSS locks, which is a security upgrade for this rack.
---
Conclusion
Hatchbacks are better vehicles for families. As they have great spacing. Whether a regular ride to your children's school or a family tour, you will never know when you might need a bike. And a rack is a proper way to carry a bike in a hatchback or any vehicles.
That's why a bike rack is essential for situations like these. There are plenty of places to fit a bike rack in a hatchback so that you don't have to put your bike inside. And, also these racks provide you the safety and security for your bikes as well as the vehicle's paint. So, we think it's time for you to get a bike rack for your hatchback.