What is the relation between your car and your bike? Yes, we know both are used for transportation. And also, they both can be linked to a car bike rack.
Want to have an excursion nearby or going to the nearest mountain and don't want to leave your favorite bike at home? Well, a car bike rack is a solution to your problem. Car racks are now essential stuff for outdoor activities. A must-have accessory for the hobbyists.
The Honda CR V is one of the popular SUVs in the market. It supports almost all car bike rack available now in the market. If you are having one CR V, congratulation then!!! But not every car bike rack is suitable for this SUV. So we chose some best racks based on different criteria that go along with the SUV.
Factors to consider before buying bike racks for Honda CR V
Consider the following buying factors before buying a bike rack for your compact but elegant SUV Honda CR V.

1. Can the bike rack touch the bike's frame?
This is an important factor to consider. Due to vibration, swaying occurs on the bike. It usually happens in trunk, hitch and spare tire type racks. So, there is a chance of the bike touching the body of the car, rack. Maybe a crash between bikes happens while swinging. The consequences are- damage in bike or car body, damage in the paint job of car, etc. Not in all models though.
Now hitch type racks have amazing features that are named anti-sway. This can stop swaying and secure your bike. If you don't want to take the risk, then, in this case, the roof-mounted bike racks are the safest option.
2. Weight Capacity
The Honda CR V has a good weight capacity of 1500 lbs. So, it has no problem with the weight capacity of racks or bikes. Because normally, a bike weights 25-30 pounds averagely. If you choose a vertically positioned hitch-mounted bike rack for Honda CR V, then the highest rack capacity is 6 bikes.
So, For a handful amount of bike, a roof type or spare tire type bike rack will be suitable for you. And if you have a lot, then hitch types are considerable.
This a chart explaining the bike capacity of different racks.

3. Versatility

The more versatile a rack is the better it is for you. Because it's common to carry anything but just not bikes. So, if you want to carry rather than just bikes then roof racks are the safest option. It's more versatile than others.
4. Easy Installation
Rack installation shouldn't be rocket science. It should be easy. Easy installation means a tool-free installation. In that case, the simplest installation process belongs to Trunk type racks. No need for any screw.
For roof type racks, you may have to install a crossbar. Then you can easily install the rack.
Hitch type installation is also easy. You just have to attach the rack with the receiver hitch in your CR V with a screw.
Installing a spare tire rack is simple. We establish a connection between the tire and bike rack, so that, the bike load falls upon the tire.
So, for the easiest installation use the trunk type rack. Or, if you already have a crossbar then maybe a roof type rack is more preferable.
5. Price
Frankly, some of these bike racks are very expensive. The pricing depends on the material and design. Generally, trunk type racks are budget-friendly. But some racks can be expensive depending on the features whether they are the roof, trunk, or hitch-mounted racks. Here is a price chart for a better understanding.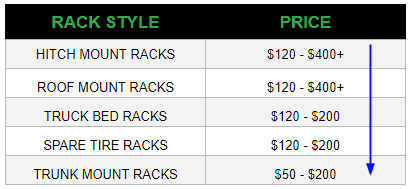 6. Locking options
There are a lot of racks with built-in safety features or locking options. Features like
Hitch Lock- The hitch unit has a built-in lock in this type of racks. So, without unlocking with particular keys, you can't remove the hitch. It works for both road safety and theft protection. You can find this in hitch-mounted racks.
Strap- This is common in several types of racks. A strap comes from the body to attach the bike with the rack tightly. For road safety. You can find this in trunk/hitch-mounted racks.
Integrated Bike Lock- A feature to lock the bikes after loading them on the rack. This lock is also a built-in option of the rack. It's for theft protection.
Crossbar lock- This feature exists in roof type racks. It can be optional or built-in based on models or manufacturers.
7. Types of Bikes
Not all racks are suitable for your bikes. Like if your total weight for the bike is 35 or less than 35 lbs and you don't care about swinging or bike touching the car body than any type of rack will be suitable for you. Other than that, you have to reconsider your rack choosing. Here is a simple type of chart for you.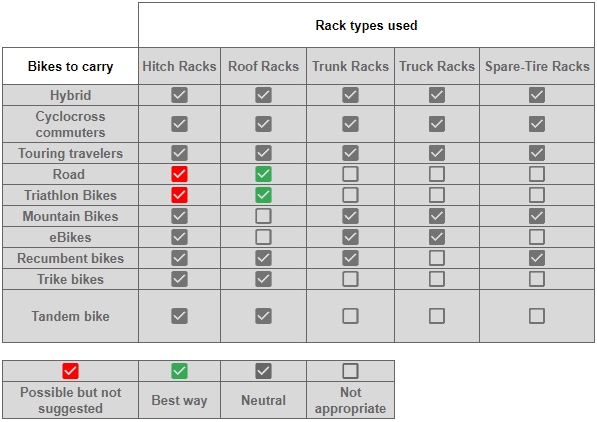 8. Ease of loading and accessing bikes
A bike rack is a useful stuff to have. But to lift the bike to a rack is hassle some. The trunk rack is the best option for easy loading. And the roof type rack is troublesome for loading bikes.
9. Folding capability
To have the folding capability is better for a rack. It's a handy feature. Generally, trunk type rack and some hitch type rack has the folding capability. This feature saves space.
10. Other features
E-bike compatibility- E-bikes are mostly heavyweight bikes. If you want to carry one than you have to avoid roof-mounted racks.
Hatch access- This is not a feature. Because of the trunk-mounted and some hitch-mounted rack model, your hatch will become out of the limit. In that case, you have to avoid trunk-mounted racks. Now, some hitch-mounted racks allow tilting so that you can use the hatch/trunk. But overall, the best option here is the roof-mounted racks.
11. Car Specification
Generally, Manufacturers build the racks in universal style so that they can go along with all types of cars, vans, SUVs e.t.c. In this article, we are featuring the Honda CR V. This SUV support almost all recent rack builds. You won't face problems to find a bike rack for Honda CR V.
Q1. Why do you need a car bike rack?
A car bike rack is a necessary extension for cars. And also it's convenient to have if you have a car and a bike or several ones.
First of all, it increases the car's storage. As bike racks are multipurpose.
Secondly, you might need a bike while you are middle of a tour. This bike rack can be your portable bike storage and parking lot.
In some ways, it reduces fuel costs on a journey. Like you don't have to drive your car every time you need something. You can grab a bike from your rack and finish your job.
Q2. Does Honda CR V have a hitch?
The Honda CR V has a 2-inch hitch. It has a towing capacity of 1500 lbs.
Our Top Pick(s)
Among those, our best pick is Swagman XC2 Hitch Mount Rack. This has a sturdy built, great capacity, and good enough to be the best bike rack for Honda CR V.
Sale
Swagman XC2 Hitch Mount Rack
The best bike rack money can buy this year for your Honda CR V.
Features at a glance
In our research and testing, it ranked top in the category Platform Hitch Mount Rack.
Best for family use.
Carries 2 bikes (max. 35 lbs/bike) with tire sizes from 20" to 29".
Classy and compatible enough (1-1/4" & 2" receiver) at affordable price.
Easy to install (takes only a few minutes).
Easy to load and access the bikes. Accommodates bike with frame size up to 23.2" (59 cm).
You can buy accessories to carry Fat Tire Bikes and add Locking Options
Compare the selections
A quick view of the bike racks that we have selected for the SUV Honda CR V:
Bike Rack
Preview
Rack Type
Best for
Product Weight
Load capacity
Bike Capacity
Swagman XC2
Hitch Mount (Tray Style)
Platform Style Racks
28 lbs
70 lbs
2
Allen Sports Hitch Rack
Hitch Mount (Hanging Style)
Hanging Style Racks
23 lbs
140 lbs
4
Thule T2 Pro XT 2
Hitch Mount
Premium Riders
32.3 lbs
120/240
2/4
YAKIMA FrontLoader
Roof Mount
Single Bike Racks
13 lbs
40 lbs
1
Allen Sports Deluxe Trunk Mount
Trunk Mount
Affordable Racks
7.5 lbs
70lbs
100lbs
140lbs
2/3/4
Hollywood Racks Recumbent
For Recumbent Bikes
Special Bike Racks
59.7 lbs
100 lbs
2
Allen Sports Deluxe Spare Tire
Spare Tire
Spare tire bike Racks
7.9 lbs
70 lbs
2
7 best bike racks you can buy today for your Honda CR V
1. Swagman XC2 Sturdy Hitch Bike Rack
Best platform-style rack
Sale
Swagman XC2 Sturdy Hitch Bike Rack
Pros:
Easy to assemble, easy to load. The rack has an easy installation feature. Bike loading style is also easy.
This rack has an anti-wobble design. So, even in the bump, the bikes remain stable
It is fold-able, so you can save space any time needed
It has a capacity of 2 bikes with different hitch receivers and tire size options. Even Fat tire wheel can be used with a separate tray.
Bike size doesn't matter here, as the upright ratchet arms adjust easily those frames which have a frame size up to 59 cm
You can access to hatchback without removing the rack
Cons:
Carrying capacity isn't that significant
The frames aren't straight, there is a possibility of bending
Not durable neither steady enough to hold the bikes in a long bumpy ride
You can't properly use it in every weather conditions
Material quality is an issue
The swagman platform-style hitch is affordable, sturdy build, and comes with a fold-able design. It is well adjustable and almost supports all sizes of bikes within the 59cm frame size. Capable of bearing only 2 bikes with an average weight of 35 lbs. It's a good rack but there is a lot of space for improvement
2. Allen Sports 4-Bike Hitch Racks
The hanging style rack
Sale
Allen Sports 4-Bike Hitch Racks
Pros:
4 bike capacity based rack which only supports a 2-inch hitch, perfect for Honda CR V
A long carrying arm for the bike to carry and tie them down
It's flexible and foldable. Can save a lot of space
An easy 5-minute installation is needed to set up the rack
Lifetime warranty and made of sturdy steel
It performs well under sun exposure also and has an elegant look due to black pyre coated finish
It has a tilt feature so that the rear hatch can be accessed
Cons:
It can't handle down the weight of more than two bikes
This Rack measurement isn't suitable for all types of bikes
It is durable but also has the bending probability
Security isn't that good
The extra lock has an issue too
It is compatible with a vehicle that has a 2-inch trailer hitch. Fortunately, Honda CR V can work with that. This product comes with a locking version too where an extra lock is provided. The rack is foldable and compact. It is also easy to assemble. The tilting feature enables the rear hatch to be accessed.
3. Thule T2 Pro XT 2 Bike Rack
Our premium choice
Thule T2 Pro XT 2 Bike Rack
Pros:
It supports up to 4 bikes base if you buy the add-on rack. Otherwise max capacity 2 bikes
Easy installation availability and also no tool is needed to install
This rack has a hitch switch lever that helps the rack to tilt and enables rear access
No frame contact is possible as the ratcheting arm holds the wheel and there is good spacing between bikes
There is an integrated 24' cable lock to secure the bike to the rack and lock knob secure the rack to the receiver
60 lbs per bike load capacity
Cons:
Ideal for carbon or road bike frame but fat tire bike isn't available
It's really expensive
The bike lock or the rack lock isn't that secure or strong
Sometimes the product quality is far below its price due to a lack of quality assurance
It's not fit for MTB bikes
It's true, this rack is expensive. This is the royal or premium rack from Thule company among the other average rack. The rack has a lot of good features we can't deny that. But comparing with the price and quality it can be said that the company did keep their value though sometimes the quality isn't up to the point. It is by far one of the best-featured racks but costly. The 2-inch hitch size goes along with Honda CR V. Overall it's a fantastic rack.
4. YAKIMA FrontLoader Wheel-On Mount Upright Bike Carrier
Best roof mount single bike rack
Sale
YAKIMA - FrontLoader Wheel-On Mount Upright Bike Carrier
Pros:
Compatible with any type of bike regardless of its fork, brake, or wheel size
It has the universal roof rack fit size. So, compatible with Honda CR V
You can load your bike easily and put it upright
Wheel-removal isn't necessary here which is a great plus
No contact with the bike/doesn't touch the frame as the rack has contact with the only front and rear wheel
The same key system lock/SKS LOCK is provided to secure your bike. One to the mount and other to the mount to the base rack.
This rack has a quick and easy installation process, extra tools are unnecessary
Cons:
Only one bike can be loaded
It's pretty expensive
It's roof-mounted. So bike loading on the top is difficult
Not a multipurpose rack. You can only carry your bike with this
You will need roof racks to properly use it
Yakima builds a fantastic roof-mounted bike rack for Honda CR V. This rack support single bikes. It has Zipstrip features to secure the rear wheel. Easy loading as wheel removal isn't necessary. You can easily install it as it is compatible with most cars and SUVs. and the manufacturer will provide you 2 SKSS locks for security and protection.
5. Deluxe Trunk Mount Rack
Our budget pick
Sale
Deluxe Trunk Mounted Bike Rack
Pros:
It has 3 different models. 2, 3 or 4 bikes capacity rack model
Single configuration design, which is simple and you can get rid of the unwanted installation hassle
The lower frame is padded. It reduces the chance of damaging the bike body or car paint job
The rack provides straps for each bike. Individual tie-down is available which secures the bike. The straps also ensure stability
It is highly secure, you will find it flexible and simple to use
Made of durable material
The company provides a lifetime warranty
Carry arms are narrow for making bike loading easy
Some model is designed for efficient load distribution
This rack is affordable and a good choice for a Honda CR V
Cons:
The rack doesn't work well enough in vibration or bump
The rear license plate is not usable while the bike is in the car
The trunk/hatchback is out of the limit
The paint job of your car may get damaged
This trunk-mounted rack is one of the best bike racks for Honda CR V. It can carry up to 4 bikes depending on the model. The security is tight here, as an individual strap is used to hold a bike. The arms ane narrow in this rack. So, bike loading is easy. Not good for a long way ride.
6. Hollywood Racks Recumbent
For carrying special bikes
Hollywood Racks Recumbent
Pros:
This rack can carry 2 recumbent bike and upgradable to carry 2 more bikes
With an adapter, it can also carry a trike. So, this rack can carry all kind of bikes
2-inch receiver with a capacity of 50 lbs per bicycle. And can hold up to 4 bikes if upgraded
Extra-wide wheel holders are included. That ensures enough clearance between bikes even if it's recumbent
It is foldable. Which means you can save a lot of space if not in use
Cons:
The security system is poor. You may have to buy extra lock or their lock upgrade
Expensive car rack. The upgrades are expensive too
Chance of the bike getting scratched by the rack body as the protective rubber isn't that durable
Basic features are low. You have to upgrade it to get the full performance
Hollywood Racks Recumbent is an all-star rack. From normal bikes to trike you can store everything and every type of bike which isn't weighed over 50lbs. The rack is made for recumbent bike carrying. Extra add ons enable it to carry trike bikes or extra road bikes or MTB. Even without the upgrades, the rack is expensive. But considering other features, it's a good rack.
7. Allen Sports Deluxe 2-Bike Spare Tire rack
Spare tire mount rack
Allen Sports Deluxe 2-Bike Spare Tire
Pros:
It carries the bike in a position away from the road and hot exhaust
Can carry 2 bikes on a spare tire with easy bike loading
The bottom foot is extra wider that distributes weight evenly on the rear tire
Compatible with mostly all external spare tires
Individual security for each bike
Smooth powder finishing
Pricing is affordable, price to value is not very bad
Cons:
Minor assembly is required- Not fully tool-free
Vibration or bumping causes instability on the rack
The rack possesses a chance of crashing the rear window
The strap in the rack for buckling isn't that feasible
Can't use the rear back while the bike is loaded
Allen Sports is a good name in the field of Racks. This rack is a spare tire rack that is slightly different than others. It is fitted upon the tire so that it can distribute the bike weight on it. It has a maximum of 2 bikes capacity without extension. Beautiful open design with good weight distribution. There are few drawbacks too. But overall it's a good piece of a rack.
Types of bike racks available in the market
Car bike racks have a big market now. A lot of quality racks are built by good companies like Thule, Yakima e.t.c. But before that, we need to know what kind of racks are available in the market for bikes.
Names of rack's type come from the car's attachment parts. like the roof, hitch e.t.c. The types are
1. Roof mount: ✅ Suitable for Honda CR V
This type of racks is the most common. Generally, A car has a naked roof or already installed side rails, flat tracks, or crossbars on the roof. If those components are already installed than roof installment is easy. Otherwise, you may have to install them manually.
Now the only disadvantage of roof type racks is in its bike loading process. Other things are
First, it's troublesome to lift the bikes over the roof.
Then there is this increased wind resistance for those bikes on top and a low clearance area restriction for their height arises a slight discomfort.
And also, because of the wind resistance, fuel consumption becomes high too.
But it has a lot of benefits too.
The bikes stay secure and stable, don't sway
Clear access to trunk/hatch/back door
It allows several types of bike carriage
Maximum 4 bikes can be carried
Multipurpose means bike, as well as baggage, can be carried too.
It's the safer option for carrying Road and triathlon bike without any damaging
2. Hitch Mount: ✅ Suitable for Honda CR V
This is for heavy performance. A receiver hitch is already attached to your car chassis. The rack is connected with the hitch. This chart shows the towing weight capacity of the different vehicles according to their hitch type.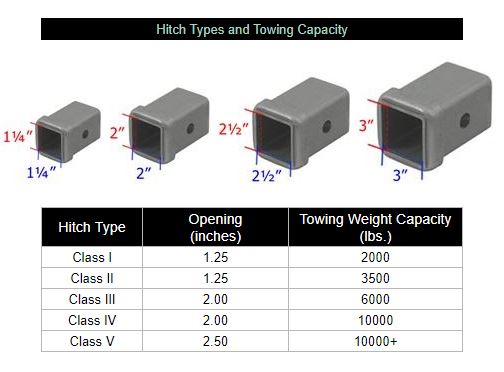 It is made of durable material with heavy strength. Advantages are-
Bike loading and access is easy so as the installation
Heavy-duty racks can bear up to 5 bikes depending on the model
It has the maximum weight capacity among all racks
Good for frequent usage
Well, It has some cons too.
It is expensive. The updated models are costlier
Bikes may swing due to vibration. So, there is a chance of damage by a crash between bikes.
You can't access your hatch. But now some new hitch type racks allow tilting.
There are 3 types of hitch mount racks.
Platform/Tray style: It is easy to install and now has an anti-sway installation. This type is built in a way to fit with a universal receiver. And it is designed in a way that you can access your hatch without detaching it. It can carry up to 5 bikes depending on the model.
Hanging/Mast style: Less expensive hitch mount rack. It can be folded up. Easy to use and can carry up to 2-4 bikes.
Vertical style: This type of bike rack is just storage enhancement. You can carry up to 6 bikes in this position. Well, you can see that if bikes are positioned vertically then they must strap down. So, it's not a plug and play featured rack. Best for MTB.
3. Trunk Mount: ✅ Suitable for Honda CR V
Trunk type mount bike racks are the easiest to install. These types normally just fit with all kinds of vehicles. They stick with the car trunk/boot/rear door through mechanical support and elastic strap or suction cups.
Advantages:
Easy to install
Can carry up to 2 to 4 bikes
They are fold-able and can detach anytime without hassle
No additional parts required like crossbars or a hitch
Less expensive than other rack styles
The same model fits multiple vehicles
Disadvantages:
Bicycle sway while on the rack, so, a chance of damaging the bike body and car paint job occur
The trunk/boot/backdoor is completely off the access because of it
4. Truck Bed Bike Racks: ❌

Honda CR V is not a truck
Truck bed bike racks are completely different than other types. And, it's the only type of rack associated with trucks. A shuttle pad is needed to install to use the tailgate as a bike rack. If you have a Honda CR V then this type of racks won't be needed.
Advantages:
High capacity. Up to 6 bikes can be carried
Easy access to load and draw
Disadvantages:
An extra shuttle pad may need to be installed
Bikes may contact and get damaged due to vibration
5. Spare Tire Racks: ✅ Suitable for Honda CR V with a spare tire
This type of rack will be feasible only when your CR V will have a spare tire with its trunk. They are for carrying 1 or 2 bikes. And low cost too.
Advantages:
Easy to install
Bike loading and detaching is easy
Disadvantages:
Bikes may sway
Can carry maximum 1-2 bikes
Trunk usage is tough while the bike is loaded
6. Special racks: ✅ Suitable for Honda CR V
These are mostly either roof type racks or hitch mount rack. Why they are special? because the bikes are different here. Rack for recumbent bikes and tri-wheel bikes are called special racks.
7. Adapters
They aren't racks. Sometimes, adapters are needed to fit bikes into racks. The adapter is connected with the bike body then the bike is hanged by the adapter in a hitch type rack.
What kinds of bike racks can you use in Honda CR V?
Honda CR V is one of the finest SUVs in the market. It's towing capacity is 1500 lbs. It supports all kinds of bike rack extensions excluding truck bed bike racks extension. Supported rack types are: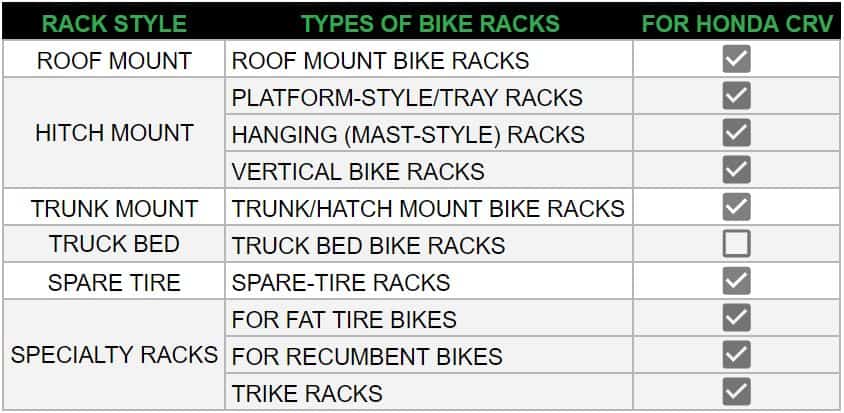 Roof mount bike racks: Check if you have a crossbar. This is the safest type. Just drive carefully in a low clearance area if a bike is mounted on the roof.
Hitch mount bike racks: All of the hitch mount types are compatible with this SUV. Depending on your bike type you have to choose which is suitable for you. Mast types are less expensive here.
Trunk mount bike racks: It's good because of quick attach and detach feature. But there is a chance of damaging the bike's body and car's paint job.
Spare tire mount racks: Good for just one or two bikes. Easy and swift.
Special racks: If you have recumbent bikes or a three-wheeler then these types of racks are for you. Same roof or hitch mounting, just in a different style.
Conclusion
Maybe you are a pro rider. Or just an average one. Who just loves to ride his bike anytime anywhere. The advantage of having a bike rack is limitless. It completes your car, it completes your journey if you are a cyclist.
The Honda CR V is a good touring vehicle. It supports kind of all type racks. The CR V, a bike, and a bike rack; Either it's a long journey or a short tour, you won't have to worry about transportation again.