Jeep Wrangler is a wonderful SUV. The characteristics of this car are so amusing that those made this car an iconic choice for many people. Again this car has also shown its potential to be a great off-road car. To truly analyze the Jeep Wrangler outdoor capabilities, you need to find a quality bike rack that meets your demand at the same time works well with your Wrangler, your bicycle and your budget. If you are an outdoor sports lover and love to haul around with your cycle, it is important that your Wrangler has a suitable rack to hold your bicycle.
What criteria to look for when you are buying a rack for a Jeep Wrangler?
Well, you can use plenty of different kinds of racks for your Jeep Wrangler. Although we are discussing racks for Jeep Wrangler only, you can consider these following benchmarks when buying any type of bike racks for any vehicle –
i. Is your rack easy to use?
'Easy to use' this term actually refers to three features. If your rack has shown these features then congratulations! You have bought the right bike rack for your Jeep Wrangler.
Installation: Unless you are a DIY (Do It Yourself) person, you can choose a bike rack that is already assembled. You just need to put it on your vehicle and I am sure everyone can do that part easily. You don't have to be the most brilliant person to install a bike rack. Most of the racks are very easy to assemble and they come with proper instruction. Within 1 to 1 and a half hours you should be managed to install the rack to your vehicle completely unless everything won't go as expected.
Trunk Access: Try to buy a rack that can be easily folded when it is not using and that connects to the hitch receiver so that you can easily open the trunk without removing the rack.
Bicycle Mounting: Does it take a lot of hassle to mount bikes on the rack? Are you confused about how to mount your bikes on the rack? Are there proper instructions or the instructions are too hard to understand for mounting bikes? If the rack that you have bought has a solution to all these questions, then you don't need to worry about mounting your bikes on the rack.
ii. How much are you willing to spend?
Bike racks are not cheap, they come at a price. Your decision on buying a rack depends mostly on your budget range. As bike racks vary too much in the price you should give proper research and set a value in your mind first. The price for a typical bike rack may vary from $40 to $400.
Try to buy the best option within your price range if your budget is limited. But if money is not a concern for you, then go for the premium ones with greater longevity and modern style.
iii. What type of security can your rack provide?
It is very important as there might be bike theft issues depending on the area. Someone can easily steal your precious bike when you are not around and if the rack is unable to lock and secure the bike. Buy a rack that has a satisfying locking mechanism and that guarantees to secure your bike in all situations. If you are wise enough, then I am sure you won't go for a cheap rack with no security for your expensive bike.
iv. How many bikes can your rack carry?
You should plan this in your mind before you are going to buy a new rack. Usually, there are racks that can carry 2, 3, 4 and up to 6 bikes. Go for a premium rack within a moderate price that can carry 2 bikes. It is good to start like that. But if you are a family guy and you like to go out with your family, then a bike rack with 4 bike mounting ability will do the work. Also, you can go for an expendable one and start with 2 bikes mounting. Consider adding necessary accessories to the rack when you have the money and increase the rack's capacity to 4 or 4+.
Take a look at this chart to get a general idea –

v. What kind of bike will you be carrying?
Try to do proper research that can mount the type of bike you are using before buying. If you have bought a rack that cannot mount the bike you are using then it will be a great loss of your money. In some cases, you may have to buy optional frame adapters to carry women's bikes, children's bikes, electric bikes and bikes with full-suspension.
This chart shows the types of bikes that can be carried by the types of racks –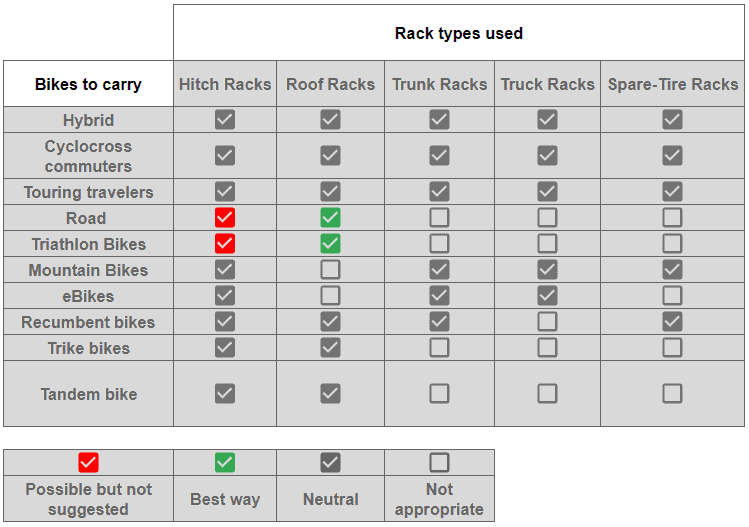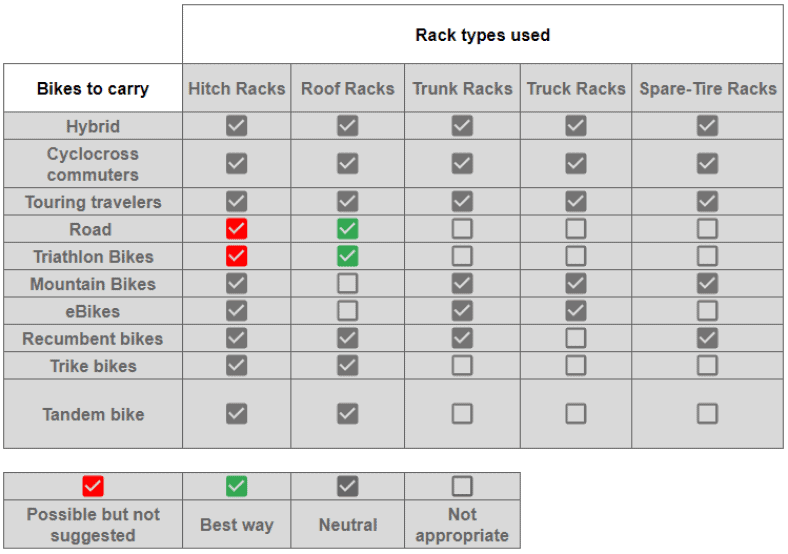 vi. What type of rack do you prefer?
Although it is the criteria that you can be less concerned about, at least try to buy a stylish rack that also fulfills the above requirements. Different types of racks connect differently with your vehicle. So it is also important to buy a rack that can connect to your vehicle to the part where you are expecting to connect.
Our Top Pick(s)
In this article, we are discussing the bike racks which are best suited for Jeep Wrangler and analyzing each rack on a predetermined scale by relentless hours of researching. From all the bike racks that we've tested for Jeep Wrangler, we really think Thule 963Pro Spare Me 2 beats all other bike racks. Keep reading this article in case you want to shift to another rack according to your requirements.
Sale
Thule 939Pro Spare Me 2
Thule Spare Me 2 can hold 2 bikes with a maximum weight load capacity of 75 lbs. It is very a firm and strong rack equipped with a Carbon frame. Easily folds when you will not be using it. Features Stay-Put cradles with Anti-sway cages to hold your bikes tight and steady. You may need to buy an additional frame adapter for non-conventional bikes i.e. (women's bike, kid's bike or full-suspension bikes)
Dimensions when folded: 4.01 x 18.5 x 38.5 inches
A quick view of our selected bike racks (spare tire and hitch bike racks) that are best for the Jeep Wrangler SUV:
6 best bike racks you can buy today for your Jeep Wrangler
Here is a comparison table of our selected products. Take a look at this table to get a quick idea about the products that we have chosen for your Jeep Wrangler.
Racks
Editor's Pick
Thule Spare Me 2
Allen Sports Deluxe (322DN)
Preview
Style
Spare Tire Rack (Hanging)
Spare Tire Rack (Hanging)
Spare Tire Rack (Hanging)
Spare Tire Rack (Hanging)
Spare Tire Rack (Hanging)
Editor's Pick
Preview
Style
Spare Tire Rack (Hanging)
Preview
Style
Spare Tire Rack (Hanging)
Preview
Style
Spare Tire Rack (Hanging)
Racks
Allen Sports Deluxe (322DN)
Preview
Style
Spare Tire Rack (Hanging)
Preview
Style
Spare Tire Rack (Hanging)
Preview
1. Thule Spare Me 2 rack
Applaud for greater stability on SUVs
Sale
Thule 939Pro Spare Me 2
Type: Spare-Tire Rack (Hanging)
Capacity: 2 bikes
Rack Weight (lbs): 15.6
Dimensions (inch): 38.5 x 18.5 x 15.9 and 38.5 x 18.5 x 4 (Folded)
Maximum Weight: 37.5 + 37.5 = 75 lbs
Features and Considerations:
Fit both regular and oversized spare tires.
Keep your bikes steady and stable with Stay-Put cradles.
Anti-Sway cages keep the bikes relatively far from each other to avoid collisions.
Locking knob secures the rack to the car and there is an individual lock to secure the bikes to the rack.
Fold the arms when it is not in use.
Very strong Carbon frame.
Attach to the spare tire with just a single key, makes it very easy to install.
Applaud for its stability on other SUVs like Jeep Cherokee and Honda CR-V.
Thule's lifetime warranty.
Some weaknesses:
The screws on the metal plate have a tendency to get loose.
For rough cradles, there might be scratches on the bike frame.
The cheap plastic knob that tightens the rack may disintegrate if you put too much pressure on it.
There are negative reviews for not adjusting a Honda CR-V (2005).
The straps are difficult to put on and off.
Thule has been producing cycle accessories since 1942 in Malmo, Sweden where the company's headquarters is located. Surprisingly, the source of the company's production was started by the request of a fisherman who asked Erik Thulin the founder, to build some equipment for him.
Thule has gained its reputation for quality products and the users definitely agree with this. The Thule 963Pro Spare Me 2 is adjustable with almost all kinds and sizes of tires. This rack is highly praised for its portable design, mobility, ease of use and stability. It is also foldable when it is not needed. For the non-conventional frame, you may need to buy an additional Thule frame adapter: 982XT .
Even if the rack may have loose screws on the metal plate, you can always tighten them down when a situation like this arises. It is a minor issue. This rack can carry a maximum of 75 lbs, which stands for 37.5 lbs for each bike. Thule is very dedicated to providing exceptional products as they proclaim, and the products are all tested for quality.
2. YAKIMA SpareRide 2 rack
SKS Locking System
YAKIMA SpareRide 2
Type: Spare-Tire Rack (Hanging)
Capacity: 2 bikes
Rack Weight (lbs): 21.5
Dimensions (inch): 40 x 13 x 19
Maximum Weight: 60 + 60 = 120 lbs
Features and Considerations:
SuperCush ZipStrip cradles will make secure the bikes.
The cradles will make loading and unloading easily accessible.
ZipStrips secures the adjustment of bikes and they can be fully removed.
Anti-sway cradle minimizes the collision between bikes.
Reinforced the overall security with SKS locking mechanism.
TireTread pads protect bikes and keep them stable.
The locking knob attaches rack and spare tire tightly with the vehicle.
Enjoy post-ride refreshment with Yakima's signature bottle-cap opener.
It will fit any lug patterns with its universal mounting plates.
Offers lifetime warranty.
Some weaknesses:
After driving for a while the bolt that holds the stem tends to get loose.
The mounts are too close to each other and there is no scope for adjustment capability.
The tight quarters on the strips make them difficult to tie them down.
Scarcity for the longer adapter of this particular rack.
The coolest and unique feature is the way it will hold your bikes and secure them with its SuperCush ZipStrips cradles. The loading and unloading of your bikes will be a breeze because of this feature. There is a locking cable that ties both bikes. It means no matter how bumpy the road you are driving on, this rack will secure the bikes. Also, you don't have to worry about the size of the bikes anymore, with 60 inches long cable this rack can carry any size of bikes such as BMX bikes.
If you are thirsty after a long ride on hot weather and thinking of drinking a cold beer or a soft drink, but you are stuck with the bottle cap, then your problem is solved. Buy and drink beers or cold drinks any time you like and do not worry about opening the bottle cap because this rack actually comes with a bottle opener. I personally thank the company for such a creative and innovative idea.
The YAKIMA SpareRide 2 is suitable for any stock size spare tires. The rack is the best according to the overall verdict, but the only problem is for 12.5 x 35-inch spare tires, it will not fit. It would be better if there is a long adapter provided by the company to adjust such tires.
3. Hollywood SR2 Bolt On rack
3 Extension Brackets to Fit 12" Tires
Hollywood SR2 Bolt On
Type: Spare-Tire Rack (Hanging)
Capacity: 2 bikes
Rack Weight (lbs): 24.2
Dimensions (inch): 31 x 11 x 5.50
Maximum Weight: 35 + 35 = 70 lbs
Features and Considerations:
Universal plate which will fit most of the spare tire bolt patterns.
Keep itself attached with just a single locking knob.
This rack includes 3 extension brackets for easier adjustment of 12" tires.
For side mounting tires, this rack supports arm adjustment.
Keep the bike's frame protected with soft rubber cradles.
Tie-down your bikes with integrated straps to ensure safe bike transportation.
You can fold the arms of this rack when they are not needed.
It will provide a manufacturer's warranty and will set the limitation of warranty by the time of purchase.
Some weaknesses:
Not for Jeep Wrangler (2018).
Do not use this rack on a trailer, fifth wheel or towed vehicle.
May rattle for truculent uses when it becomes loose.
Less space to fit 2 mountain bikes as they will hit each other with their pedals.
The SR2 Bolt On is a popular spare tire bike rack for those who are driving a Jeep Wrangler. There is also another model of Hollywood racks which is the Hollywood SR1 Spare Tire Rack . The main difference between these models is the design. They are both different in the way of mounting bikes and adjusting with the spare tire.
The SR2 Bolt On rack is amazing for its 3 extension brackets so that it can easily adjust with 12" tires perfectly. Your bikes will not get any scratches on their frames when you are carrying them on an uneven bumpy road full of shakes as the rack will be holding your bikes with its soft and supportive rubber cradles. There is also a lock for securing the rack to your Jeep Wrangler.
Just like all the Hollywood racks, the SR2 Bolt is a much versatile rack. Although users have complaints about not adjusting to their Toyota RAV4 and FJ Cruiser, you will be impressed to see the way it will attach to your Wrangler as if it were a built-in part of the car. This rack can hold up to 70 lbs, so that is 35 lbs for each bike.
4. Allen Sports Deluxe rack
Compatible for Sedans, Minivans, Hatchbacks & SUV's
Allen Sports Delux (322DN)
Type: Spare-Tire Rack (Hanging)
Capacity: 2 bikes
Rack Weight (lbs): 9.6
Dimensions (inch): 28.50 x 19.00 x 5.50
Maximum Weight: 35 + 35 = 70 lbs
Features and Considerations:
Keeps your bicycles above the ground and far from the hot exhaust with its patented design.
There is much free space to carry 2 bikes very safely with its 15 inches long carry arms.
Also, the carry arms are narrow enough for supporting bikes of various styles and frame sizes.
There are individual tie-down cradles to protect and secure your bikes.
Maintains a weight on the rear tires with its extra-wide bottom foot.
Offers a very easy installation process.
Very lightweight compared to other spare tire racks.
Warrantied for a lifetime.
Some weaknesses:
The bottom part of the rack fails to attach firmly on some vehicles.
A very poor buckle mechanism that may affect bike paint.
The straps are unable to hold the bicycles tight and can be tucked away on heavy conflicts.
It may even break when you are putting extra load.
It does not attach with the spare tire by using any screws, only uses straps.
Unfortunately, arms can not fold when they are not needed.
Make a safe long journey carrying bikes on your car without damaging them from the exhaust or ground. Also do not worry if your bikes slip away from your car while crossing over an asphalt road. Keeping these types of situations in mind, the Allen Sports Deluxe (322DN) was presented. With this rack keep your precious bikes angled up and out. The maximum weight capacity for this rack is 70 lbs which is 35 lbs max for each bike.
Back in 1967, the company's founder Dick Allen felt the necessity of a useful bike rack and this led him to make his own homemade bike rack. Today the company makes all kinds of things related to cycling i.e. racks, hitches, trunks, roofs, carriers and even folding bikes after achieving nationwide success which eventually grew from Lincoln, Nebraska.
Many reviewed negative impacts on this rack such as breaking the rear window of the car, dangling all the way with loose straps, not fitting on a RAV4 and so on. But it is your choice, your decision to go for this rack or not as the situation can be different for you with others.
5. Mopar TSPRO963 rack
Great addition for your wrangler
Mopar TSPRO963
Type: Spare-Tire Rack (Hanging)
Capacity: 2 bikes
Rack Weight (lbs): 18
Dimensions (inch): 41 x 19 x 4
Maximum Weight: 37.5 + 37.5 = 75 lbs
Features and Considerations:
Keeps your bike in place as the Stay-put cradles on both arms simultaneously holds each bike carefully.
Locks your bikes steady while crossing over off-roads.
Suits many SUVs with regular and oversized spare tires.
The adapter plate will attach most of the spare tire bolt patterns.
Promotes foldable arms when they are not in use.
Capable to adjust 35" tires as it offers brackets of various lengths.
Very easy installation where the rack attaches to the spare tire with just a single knob.
Some weaknesses:
Have to buy a frame adapter separately for women's bike frames or similar type bikes.
Will not fit 35" tire when the vehicle has a 3.6" backspace.
Although it is said that it will fit a 2018 Wrangler, but that is not quite true.
The installation will be easy if you are not confused about the components and instructions.
The Mopar TSPRO963 rack is a specially designed spare-tire rack built for Jeep Wrangler. With this rack, you will realize the outdoor capabilities of your Jeep Wrangler. This rack is the combined product of Mopar and Thule. Based on the usefulness of this rack, Mopar wanted to deal with Thule to build this rack and thus this rack was produced.
This rack is very easy to install and remove from the spare tire. It was designed for 2007, 2008, 2009, 2010, 2011, 2012, 2013, 2014, 2015, 2016, 2017 and 2018 Jeep Wranglers. It is uniquely designed for Wranglers as if it were a genuine part of the car itself.
To carry a women's bike where there will be no crossbars, please order the optional frame adapter (TH982BFA). Can carry 2 bikes where each bike weighs not more than 37.5 lbs. So the maximum weight load capacity is almost 75 lbs.
6. Allen 400QR rack
Great rack for carrying up to 4 bikes
Allen 400QR
Type: Hitch-Rack (Hanging)
Capacity: 4 bikes
Rack Weight (lbs): 23.7
Dimensions (inch): 26 x 15 x 4.5
Maximum Weight: 35 + 35 + 35 +35 = 140 lbs
Features and Considerations:
The locking hitch fits 2 inches hitch receivers.
For extra safe adjustment includes 2 keys for each lock.
Carry arms can be easily snap into place and fold-out when they are not needed.
Straps can be set up individually for bicycle protection.
Keeps bike-frames free from scratches and holds them steady with dual-compound tie-down cradles.
Easily access the back gate for its built-in tilt-away release.
This rack holds the bikes completely flat for enhancing balance on the rear wheels.
Comes with an extra-long hitch so that it won't collide in case of a wider spare tire.
Large spine shields that are padded to protect your bicycles from vibrations.
Holds the bikes high enough to avoid damages done by the exhaust pipe.
Installation is very easy and minimum arrangements are needed.
Some weaknesses:
The most disappointing matter is the miserable build quality of this rack- with a little bit extra pressure, it may bend.
Whenever you feel like taking off the rack, you have to tighten and loosen the 'anti-rattle' bolt; it is quite bothering.
Poor customer service.
Not recommended to use on trailers.
The Allen 400QR hitch rack not only avoids disturbing the spare tire at the back but also attaches the rack with the vehicle very strongly. With this rack enjoy safe and sound tours every weekend. This rack is capable of holding 4 bikes and carries a maximum weight of 140 lbs where each bike should be equal or less than 35 lbs.
The rack's hitch inserts easily to a 2-inch hitch receiver and not disturbing the rear spare tire. As it connects with the hitch receiver, there is limited assembly required for the installment. Also holds the bikes higher enough so they don't get damaged by the exhaust or ground. All you have to do is to attach the rack to your vehicle first and then you can use the tie-down cradle system to lock and secure each bike individually. And whenever you are not using it, fold the arms out of the way.
The analysis shows the durability of this rack and it is not satisfactory. As the whole rack is joint with the car through a single hitch connection, it may easily bend or even break on extreme situations like putting extra load or crossing over a highly shaky road. The rack lacks its quality on durability and the customer service has not been very helpful. The company needs to consider these matters.
---
How to install a bike rack on your Jeep Wrangler
In this topic, we are discussing bike racks which are best for Jeep Wrangler. So we will mostly give focus on the installation of a spare tire rack as most of the racks that are best for this car are spare tire racks.
First, determine what type of bike rack you want to go for. Then you have to set it up based on the joining mechanism and joining location which can be on your Jeep Wrangler's roof, hitch or spare tire at the back. Relax, this is not rocket science and you don't have drill or cut-out anything unless it becomes the worst-case scenario.
In some cases when you are going to install a hitch rack on your Jeep, you may also have to install a hitch extender. This will ensure there is sufficient space for the spare tire to remove when it is needed.
To increase the number of bikes to load on the rack of your Jeep which you need to carry at a time, you can add extra cradles on the rack. If you have successfully installed the rack, then you should make sure with a bolt or knob that it sticks with your car tightly.
The following video shows how to install a Thule Spare Me 2 spare tire rack –
Once you have finished the installation your bike rack should not remain unbalanced or wobbly. The solution is to use some kind of stabilizer according to the type of the rack. This will also enhance the overall performance while driving a Jeep Wrangler carrying bikes.
If you with your car carrying mountain bikes, the use of a conversion bar might come handy for keeping the bikes in place.
---
Popular Types of Bike Racks for Jeep Wrangler
The most popular and effective types of bike racks for a Jeep Wrangler are –
Spare-Tire Bike Rack
Hitch-Mounted Bike Rack
Roof Mounted Bike Rack
These three major types of bike racks are the available options for your Jeep Wrangler in the market. Buying anyone of these three rack types leads you to safer and easier transportation of your bikes from one place to another.
Some types of bike rack may fit on your Wrangler than the other. So consider wisely determining the best choice that goes in your car perfectly.
Spare-Tire Bike Rack:
Those who don't prefer to have a hitch or a roof mountain bike rack, go for a spare tire mounted bike rack. They are usually attached to the spare tire of your Jeep and provides easy access for hauling around with your bikes. It also gives access to the open rear gate without removing anything.
The spare tire bike rack provides a bonus advantage. When a spare tire rack is attached to your vehicle, the hitch still remains free if your vehicle has one. So it lets the proper use of the hitch carrying bikes as well.
Hitch-Mounted Bike Rack:
This type of rack connects directly to the hitch at the back of your Jeep Wrangler. These types of racks are most popular when it comes to buying racks, especially for Jeep Wrangler. It is very easy to install as well as to remove. Most of the time they feature foldable or tilting options that give easy access to open the back door.
Just make sure your hitch rack is not resting on your Jeep. Because this will make a dent or can damage the body of your Jeep Wrangler. Provide enough space for inserting or removing the spare tire. For that, you can use an extender.
Roof-Mounted Bike Rack:
This can also be a reliable individual for those who do not want either a spare tire rack or a hitch-mounted bike rack. This type of rack is very useful for carrying bikes and at the same time providing easy access for opening the trunk or using the hitch. This type of rack is reliable for not denting or scratching the body of your Jeep Wrangler.
But these racks also have some limitations such as you can use a roof-mounted rack if your Jeep has a soft top.
Steps You Should Take to Avoid Bike Rack Theft
It can be the worst situation for you when you are not around near your car and when you come back, you see that your bike rack is gone with your expensive bikes. Stop making silly mistakes and try to maintain these steps as much as possible –
Although it is common sense to lock your bike rack, for some sort of excitement or dumbness you may have forgotten to lock the rack.
Ask one of your friends to remind you to set the lock or you can set an alarm on your mobile.
Your rack will attract fewer thieves when it has some foldable parts or it is very compact in size.
If your bike rack features a key locking option, try to hide the key in a secure place where only you are certain of.
Try not to keep it to yourself when you are cycling wearing spandex bike outfits or something similar where there is no pocket.
Try not to stash the key somewhere obvious or to someone who is not trustworthy.
Double-check your locks with the types of racks where there are individual locks for the rack and for bikes. Also, stash both of the keys in the same place.
---
Frequently Asked Questions
Q1. Is it safe to transport more than 2 bikes?
It depends on the load capacity of your rack. There are bike racks that can carry up to 4 or more than 4 bikes. But it is not suggested that you should go for a rack like this where the safety and security of your bikes will be compromised during transport. You wouldn't want to see any damage to your bikes made by the collision with each other. Try to keep these things in mind, not just the quantity of bikes that the rack can carry.
Q2. Can the rack damage my car?
When you are most certain about the installation of your bike rack, there should not be any possibility of damaging your car. However, if the rack does get in contact with the body of your car, you can take immediate steps like adding an extender or extra cradles.
Q3. What are the usual materials that made a bike rack?
In the market, most of the casual bike racks are generally made of Steel. But there are some racks that are made of plastic materials furnished with ultraviolet additives which make sure your bike rack is not affected by the sun.
Q4. How many racks I should install on a Jeep Wrangler?
From general experience, it is ideal to have only one rack for your Jeep Wrangler. In case you do need more bikes to mount you can go for another rack but it needs to be of a different type than the first one which you have already installed.
It is suggested to stick with one rack for the best experience. For carrying more bikes choose a rack that is able to load 4 or more than 4 bikes.
Q5. What comes with a bike rack?
Your bike rack package must include brackets, plugs, screws, and bolts. There should be an installation manual or perhaps a video in the package.