Toyota Prius is a car for the modern generation. This is an Eco-friendly car for daily usage in various sectors of our lives such as you can use this car for family usage, for personal usage or you can also use this car for business purposes. Being a hybrid electric sedan, this car is very fuel-efficient. This car has been being used by many people for decades around the world which makes this car very popular. Thereafter as a reader, you may be one of the prestigious owners of this car or you may be planning to buy a Prius in the future. You might be an avid cyclist and willing to take your bikes around while traveling in this car. Well! After prolonged hours of unparalleled study and research, we were able to present this article which signifies those bike racks which are the best for Toyota Prius cars.
How to look for the Right Rack for Toyota Prius
There are several things to consider before you are buying a bike rack for your Toyota Prius. Before we get into further discussion, think carefully if you really need a bicycle rack. The easy and short solution for keeping your bikes in your car when you are not around is – you can remove the front and rear wheels of your bicycle and store it on the back seat. I know it is not the greatest solution especially when you like to travel with your bikes a lot. It is for those who are not regular cyclists and if it is a case of an emergency. So think carefully before you buy a rack – Do you really need a bike rack? Do any of your friends go out with you for cycling? Are you really a commuter who likes to travel a lot with his bike or it just happens occasionally?
If you think you have proper answers to all of these questions, then try to consider the following facts to buy the best rack for your Prius –
1. The Type of Rack
The three most popular bike racks are – Roof mount, Hitch mount, and Trunk mount bike racks. Choose what type of rack does it all to fulfill your demand. Do not go for a trunk mount bike rack when you are going to access the trunk frequently. Do not buy a roof mount bike rack if you are short and there is a lot of hassle to mount and dismount the rack. Check if you have a hitch installed on your Prius or you may have to install one before you are going to buy a hitch mount bike rack.
2. The number of Bikes and Weight Load Capacity of your rack
According to the number of your bikes that you want to carry indicates the bike rack which you are going to buy. Buy a 2-bike rack, a 3-bike rack, a 4-bike rack or other bike racks with greater bike loading capacity judging by the number of bikes you want for transportation. If you go out with your bikes by yourself, then a bike rack with 2 bike loading capacity will do just fine. Again you might be a family guy who likes to travel around with his family where the other members also love cycling. Then it is better to buy a bike rack with 4 bike loading capacity. If you want to carry more than 4 bikes, then go for a rack that can carry more than 4 bikes at a time. Some bike racks, especially the tray-style hitch mount bike racks feature the function to add an extra tray to load more bikes in the future. So buying a rack with this type of feature might come in handy if you are assuming that in the future you need to carry more bikes.
Talking about the number of bikes, we can't ignore the weight load capacity. The total weight that your rack will be carrying depends entirely upon the number of bikes you are going to transport. Buy a versatile bike rack that is able to handle extra weight load pressure. If the rack is able to carry a greater number of bikes, but it lacks durability and after sometimes it breaks damaging your car and your bikes, then it will be meaningless. So not only the number of bikes is important for buying the best rack for your Prius but you also need to check its weight load capacity.
3. Weight of Your Bikes

Most of the bike racks have a weight limit of 35 – 40 lbs for each bike. If your bicycles share the same weight limit, then you don't have to worry much. But some bulkier bikes the weight limit might be different, so you have to look for an extraordinary bike rack with greater weight load capacity. But these types of racks are often heavy for their heavy versatile build materials. So be sure about the weights of your own bikes before you are purchasing a bike rack.
Our Top Pick(s)
Here is the list (quick view) of the bike racks that we've selected for your Toyota Prius. If you want to compare among these bike racks, go to the comparison table.
We would like to entitle the SeaSucker Talon as our editor's choice among all the racks. But it really depends on you and your preferences. You may find another bike rack from our selections that will actually meet your demands. So, we emphasize on to read the whole article taking your time, it will be an absolute benefit of your time. If you are in a shortage of your time, check out our comparison table.
SeaSucker Talon
Type: Fork-Mount (Vacuum)
No. of Bike Load Capacity: 1
Rack Weight (lbs): 6
Dimensions (inch): 15 x 13
Weight Capacity: 45 lbs
Best for: SUVs, Toyota Prius, Sedan, Hatchbacks, RVs, BMWs, Hondas, Tesla, Mazda, and any other car
The 'SeaSucker Talon' is a vacuum type fork mount bike rack which is able to hold only one bike at a time, but holds it very steadily and strongly, not damaging your car's surface. This rack is very lightweight, so you can travel with it anywhere and at any time. It is capable of adjusting to any type of vehicle with its HUSKE universal fork mount system. It's a made in USA bike rack.
8 best bike racks you can buy today for the Toyota Prius
We have made this table so that you can compare the bike racks by yourself. Don't skip the post just by looking at the table, instead read the whole article as this table won't give you all the information only the basics.
| Racks | Preview | Bike Capacity | Load Capacity (lbs) | Style | Dimensions (inch) | Weight (lbs) | Folding Capability | Tilting Feature | Lock Feature |
| --- | --- | --- | --- | --- | --- | --- | --- | --- | --- |
| SeaSucker Talon | | 1 | 45 | Fork-Mount (Vacuum) | 15 x 13 | 6 | No | No | No |
| Allen Sports Deluxe (103DN) | | 3 | 99 | Trunk Mount | 28.6 x 14.2 x 4.5 | 10 | No | No | No |
| Küat Sherpa 2.0 | | 2 | 80 | Hitch Mount (Tray-Style) | 45 x 15 x 12 | 32 | Yes | Yes | Yes |
| Swagman Traveler XC2 | | 2 | 70 | Hitch Mount (Tray-Style) | 35 x 11 x 5 | 39 | Yes | No | No |
| Saris Bones 2-Bike | | 2 | 70 | Trunk Mount | 30 x 8 x 30 | 9 | No | No | No |
| Hollywood Racks Expedition | | 2 | 70 | Trunk Mount | | 2.2 | Yes | No | No |
| Yakima FullBack | | 2 | 60 | Trunk Mount | 30 x 25 x 22 | 22 | Yes | No | Yes |
| Thule Raceway PRO | | 2 | 70 | Trunk Mount | 23 x 24 x 33 | 22.4 | Yes | No | Yes |
1. SeaSucker Talon rack
Lightweight. Ultimate Protection
SeaSucker Talon
Type: Fork-Mount (Vacuum)
No. of Bike Load Capacity: 1
Rack Weight (lbs): 6
Dimensions (inch): 15 x 13
Weight Capacity: 45 lbs
Best for: SUVs, Toyota Prius, Sedan, Hatchbacks, RVs, BMWs, Hondas, Tesla, Mazda, and any other car
Features & Considerations:
This vacuum mount car rack fits with any car.
Never allows any contact between your car and bike, so it provides safety all the time.
This rack is almost 3 times lighter than most hitch mount racks.
Small rack yet strong and durable made in the USA.
You can install almost all types of bikes for its HUSKE universal fork mount.
Featherlight rack (almost 6 lbs) is travel-friendly.
Secures your bike close-bodied with its 22" strap at the rear wheel cup.
Solid construction with high-density polyethylene (HDPE).
Vacuum cups have powerful pull-strength (almost 210 lbs), will attach on your roof, trunk or rear hatch.
Easy to use a bike rack which is also fuel-efficient.
Quick and fluent installation requires minimum assembly.
Package includes Lube Tube (5 gm) for maintenance, spare vacuum pump, crack arm strap and all standard stuff.
2 years SeaSucker official warranty.
Some weaknesses:
The cups may gradually lose their pulling strengths over time.
Have to remove the front wheel of your bike if you want to carry it with this rack.
Need to keep the removed front wheel somewhere in your vehicle, which will cause a great loss of vehicle's storage.
The suction pads may permanently damage the vehicle's painted surface, especially when the rack is mounted on the trunk or roof.
One major disadvantage of this rack is – there is no sufficient locking method, so easy to steal your bike for a thief.
The SeaSucker Talon follows only one rule, that is – any car, any place, any time. The 2019 Talon comes with upgraded universal HUSKE fork mount, quick release skewer and 9 mm plugs. It is a 1-bike carrier and the company's best seller. 'SeaSucker' has been producing products for cars and boats by concentrating on one fact, that is not to let any kind of scratches or drill holes on your vehicle's surface.
This rack has gone through the toughest races and most exhausting physical courses for testing. This rack has achieved a reputation for carrying more than $250,000 worth of bicycles for the pro cycling teams around the world. This rack is an officially licensed product of the UCI (Union Cycliste Internationale).
Having a magnificent weight load capacity of 45 lbs this rack can be fitted with almost any type of vehicles i.e. sedans, SUVs, wagons, hatchbacks, coupés and even if you have a sports car, you can travel carrying your bike with this rack. However, the company should focus more on the locking procedure of this rack, apart from that this rack is what you need.
2. Allen Sports Deluxe (103DN) rack
Unharmed transportation of 3 bikes
Sale
Allen Sports Deluxe (103DN)
Type: Trunk Mount
No. of Bike Load Capacity: 3
Rack Weight (lbs): 10
Dimensions (inch): 28.6 x 14.2 x 4.5
Weight Capacity: 33 + 33 + 33 = 99 lbs (almost 100 lbs)
Best for: Sedans, Minivans, Hatchbacks, and SUVs
Features & Considerations:
Simple yet sturdy patented design that will support most sedans, minivans, hatchbacks and SUVs.
Keeps you free from headaches and hassles while installing for its single configuration design.
Increases stability sideways with left and right side straps.
Individual tie-down straps add extra security for each bike.
Enables full flat folding for easy access to the storage.
Lower frame is equipped with soft padding to keep your bikes away from the vehicle.
It is quite small, so you can stow it on your trunk.
Each rack comes in a fully assembled unit so that you can install it within a few seconds.
If you are purchasing an Allen Sports rack from an authorized dealer, you will get a lifetime warranty.
Some weaknesses:
After using the rack for a while the soft pads on the lower bar will erode away and cause friction on the car's frame.
The straps can get loose for holding your bikes a while.
Wasn't built to suit the 2019 and 2020 Toyota Prius.
Shows demotion in quality over time.
The distance between some portions of your car and the holding arms may shrink gradually, as a result, it may block your license plate.
Although there are other variants with 2 or 4 bike loading capacities that are offered by Allen Sports, but we have decided to choose the 103DN model with 3 bike loading capacity. Therefore this rack is able to carry 3 bikes at the same time with a maximum weight load capacity of 100 lbs, so you can consider 33 lbs for each bike. This rack comes in an assembled form, so do not worry about the installation of this rack. Watch this video and see by yourself how easy it is to install this rack.
The founder of this company Dick Allen started small in 1967 making bicycle-related products in his garage. The very first trunk-mounted carrier was built by this one-time aerospace engineer. He built it as a prototype in his shop at Lincoln, Massachusetts. Then he took this prototype to market and by 1971 he was successfully able to launch the product nationwide.
However, this rack does have some disadvantages for long tours. This particular version does not feature 'Dual compound cradles' like the model S-102 or other premium quality variants. There are grumbles against this rack that it lacks its durability over time such as the padding on the lower bar might be wasted away and when the metal is exposed, then it can damage the car's frame as it can be utterly sharp.
3. Küat Sherpa 2.0 rack
Best tray-style bike rack for Prius
Küat Sherpa 2.0
Type: Hitch Mount (Tray-Style)
No. of Bike Load Capacity: 2
Rack Weight (lbs): 32
Dimensions (inch): 45 x 15 x 12
Weight Capacity: 40 + 40 = 80 lbs
Best for: Toyota Prius, SUVs, Hatchbacks, Sedans.
Features & Considerations:
Renew design with a foot assisted pivot system so that when your hands are full, you can access that rack just by tapping your foot.
Despite being a platform-style rack, it is not heavy because of its full Aluminum finishing.
There is no wobble of your bicycles because of its ratchet arms which you can easily adjust to the front tires of bikes with just one hand.
Both 2" and 1.25" hitch receivers are adjustable with this rack.
Folding cradles for front tires which can be folded up and down so that you have enough ground clearance and an aesthetic look.
This rack has an external cable with a semi-integrated lock to make your bicycles secure all the time.
You can fit bicycles with wheelbases of maximum 47" and tires as large as 3" on this rack.
Allows you to tight the rack with hand tight hitch cam.
You can tilt the rack down for rear hatch access without unmounting the bikes.
Dashing look for its premium quality gloss metallic powder coat.
Holds your rear bike tires tight with its co-moulded straps.
Comes in three different fancy colours, so you can choose the colour which matches best for your car.
Relatively easy installation.
No Worries Warranty: You can submit your claim for the product to Küat as you are getting a lifetime warranty.
Some weaknesses:
Complaints that the main threaded rod was cut incorrectly which makes it very hard to insert the rack properly.
The bolt holes that mount the rack to the hitch are not aligned.
The locking mechanism is not that functional, it would be better to keep an additional lock.
Comparatively less durable than the Sherpa 1.0.
The Küat Sherpa 2.0 is a different type of platform mount hitch rack. Even though it is a platform type rack, but it is comparatively lighter than most of the tray style hitch mount bike racks because of its full Aluminum construction. It is a very stylish rack that will enhance the overall beauty of your car. You can buy this rack in 3 different fancy colors – Gray/Orange, Black Metallic/Gray and Pearl Metallic/Silver. All these colors are furnished with premium powder coating, so the color won't go off easily. 'SHERPA' – the word comes from Nepal and it has a meaning for being strong and agile to carry everything.
With the helping hand of the National Forest Foundation, the company has initiated a program called Future Forest Initiative. As a result, all of the Küat products including racks and other accessories symbolize the effort of the Küat team for this program with a sticker of Future Forest Initiative. The main objective of this program is to plant trees as much as there can be.
The Küat Sherpa 2.0 can load 2 bikes of 40 lbs each, so the total weight load capacity is 80 lbs. No doubt that this rack is one of the top quality racks for your vehicle, but the company should focus and resolve some negative facts especially the mounting bolt holes that are not correctly aligned and the overall durability of the rack as users complaining that this rack is not durable as the Sherpa 1.0. Furthermore, this rack has some issues with adjustment for some vehicles like the Hyundai Santa Fe or Santa Fe Sport.
4. Swagman Traveler XC2 rack
Another best hitch mount rack
Swagman XC2
Type: Hitch Mount (Tray-Style)
No. of Bike Load Capacity: 2
Rack Weight (lbs): 39
Dimensions (inch): 35 x 11 x 5
Weight Capacity: 35 + 35 = 70 lbs
Best for: Toyota Prius, RV rated, Trailers, 5th Wheelers
Features & Considerations:
Works flawlessly with bicycles of maximum 52" wheelbases and maximum 3" – ½" tire widths.
Connects 2" Class III hitch receivers and 4" – 4.5" tall RV bumpers.
Secures your bikes on a bumpy road with its light yet sturdy design.
Holds your bicycles at an upright position and won't let them contact your vehicle's body.
Adjust the height of the ratcheting hooks with push buttons to quickly load and unload your bikes.
Based on the size of your bikes, you can adjust the position of the wheel cradles.
Ratcheting hooks are padded with soft foam, so it won't scratch your bike frame.
Fold the main mast down for easier rear access of your car.
The foldable platform for converting the rack into a compact shape for easy storage.
Corrosion-resistant and rust free body for its black powder coat finishing.
For attaching to RV bumpers, a bumper mount adapter is provided.
Will take only a few minutes to assemble and it is very easy.
Looks great on any kind of vehicle for its sleek and professional look.
You will get a lifetime manufacturer's warranty.
Some weaknesses:
The main mast is only able to fold down when the rack is not loaded with bikes.
There is a possibility of the ratcheting hooks for getting jammed.
The padding on the ratcheting hooks may wear out over time and eventually damage your bike frame.
The length of the receiver extension is too short so it may not adjust some vehicles like a Mazda CX-5.
The wheel hoops are very slick and thin.
There are no straps to tie-down your bike wheels.
There is no proper locking mechanism included.
To adjust a woman's bike or a kid's bike you need to buy an additional bar frame.
Not a friendly rack when it comes to fuel efficiency.
The Swagman Traveler XC2 is a platform style bike carrier that will look fair and square on your Prius. Just by pushing a button you can adjust the ratcheting hooks, so this rack will adjust a wide range of bikes. This rack is able to carry 2 bikes with weights of 35 lbs each, so the maximum weight load capacity for this rack is almost 70 lbs. The installation is pretty easy and quick. Here is a video of the installation in case you need any assistance –
There are some positive and negative reviews about the RV bumper adapter. Some users said that the rack was able to fit their RVs with a little difficulty. Then again some reported that their bumpers were deformed for installing this rack.
'SWAGMAN' has a reputation for designing and producing hitch mount bike racks as it was one of the old companies that introduced this type of rack. They introduced these racks to fulfill the philosophy of the company's founder Jim and Jan Morris. Their high quality products helped them a lot to become what they are today. Bringing distinctive products to customers at a reasonable price – is the main purpose of 'SWAGMAN'.
5. Saris Bones 2-Bike rack
Quality trunk rack
Saris Bones
Type: Trunk Mount
No. of Bike Load Capacity: 2
Rack Weight (lbs): 9
Dimensions (inch): 30 x 8 x 30
Weight Capacity: 35 + 35 = 70 lbs
Best for: Nearly all cars, Sedans, Hatchbacks, SUVs, and Minivans
Features & Considerations:
Available in 2 profiles according to the number of bicycles the rack can mount – 2 bike and 3 bike mounting capabilities.
The arc-based design of this rack was developed by the Italian designer 'Fabio Pedrini'.
This rack fits almost all types of spoilers and holds the bikes at different levels.
Anti-Sway Straps: Ratcheting straps include anti-sway features to secure the bikes.
This rack is injected with molded carry-arms and legs which are very strong.
The feet of this rack is padded with rubber so it won't scratch your car's body.
Your bikes will be protected with its coated straps.
You are getting the strongest trunk mount bike rack which is built with 100% recyclable materials.
This rack is very lightweight so you won't feel any weight at the back of your car while driving.
Strong and simple rack that comes at a good price.
For any Saris rack, you will get a lifetime warranty.
Some weaknesses:
Any non-traditional bikes without horizontal top tubes will be hard to use when you do not have an extra bike beam.
Does not feature any locking option.
You will need excess straps to secure your bikes.
You will need to buy an additional Hatch Huggers when you drive a hatchback.
You won't be able to access the trunk while this rack is installed.
The top two straps may get loose while holding your bikes, they don't stay locked.
Lacks in durability and quality when carrying an extra load and the rack may break.
The Saris Bones 2-Bike is the tested statement of durability, convenience, and style. This rack is a mixture of functionality and form. As a result, this rack was conceived by Saris and it has brought fame to the Italian Designer Fabio Pedrini. This rack holds the qualities that meet the European Union regulations. From Bicycling Magazine, this rack was awarded 4.5 out of 5.
With the weight load capacity of a maximum 70 lbs, this rack is able to carry 2 bikes of 35 lbs each. If you drive a hatchback and want to use this rack, then you need to add a Saris Hatch Hugger for installing the rack on your car. This rack is also available in a 3-bike version that is the Saris Bones 3-bike if you need to carry another bike. The installation process is very smooth. You will get an idea of the installation process by watching this video:
The company's name was formed by the combination of the names of the two founders. 'SARIS' – the name actually combines two names 'Sara' and 'Chris Fortune'. The company is almost 45 years old and it always makes products that keep pace with time because the company tends to plan ahead for the next 45 years through unique inventions, deep research and utilizing past experiences while thinking towards the future.
6. Hollywood Racks Expedition
A rack with quick installment process
Hollywood Racks Expedition (F6-2)
Type: Trunk Mount
No. of Bike Load Capacity: 2
Rack Weight (lbs): 2.2
Dimensions (inch): 33.9 x 22.2
Weight Capacity: 35 + 35 = 70 lbs
Best for: Sedans, Hatchbacks, Prius, SUVs
Features & Considerations:
This rack is engineered to accommodate most of the spoilers.
Anti-Sway cradles: rubber anti-sway cradles are quite soft and the straps secure the bikes by properly tightening them.
The side arms allow you to adjust the space between bikes and the car.
The cradles rotate to fit bikes of different sizes.
Reduces bike-to-bike and bike-to-car contacts.
Have to adjust the rack with 6 buckle straps.
Tools free installation as the rack comes pre-assembled.
Adjustable arms can be folded flat so that you can store it easily in your trunk.
Keeps your bike a bit more secure with its integrated tie-down straps.
At the base, there are 4 foam pads that protect your car's finish.
Steel construction with powder coat finish and won't get rusty over time.
Rear safety reflectors on the arms to make your journey safer at night.
You will get a limited lifetime warranty from Hollywood Racks.
Some weaknesses:
An additional top tube adapter may be required to hold Kids bikes, ladies bikes, and some alternate frame mountain bikes.
For some vehicles, the lower bar might rest on the license plate.
May not work on a 2016 – 2017 Toyota Prius.
When you are driving a 2013 Toyota Prius, you may face difficulties to fit 2 bikes.
Space between the bike mounts on the arm is too small, so it might get hard to mount 2 bikes at the same time.
The Expedition F6-2 model from Hollywood Racks will fit your car with two interlocking hubs, quick-release levers, and other features. A versatile rack with solid build quality will ensure the safe transportation of your bikes. This rack will fit the following Prius models –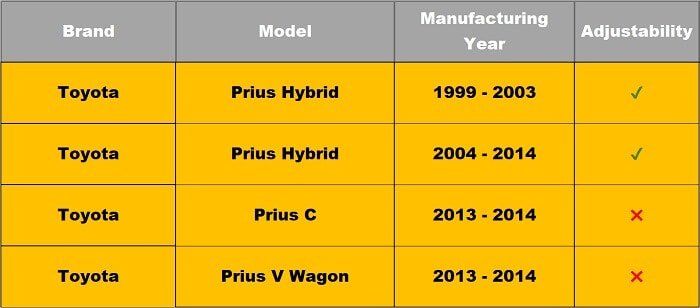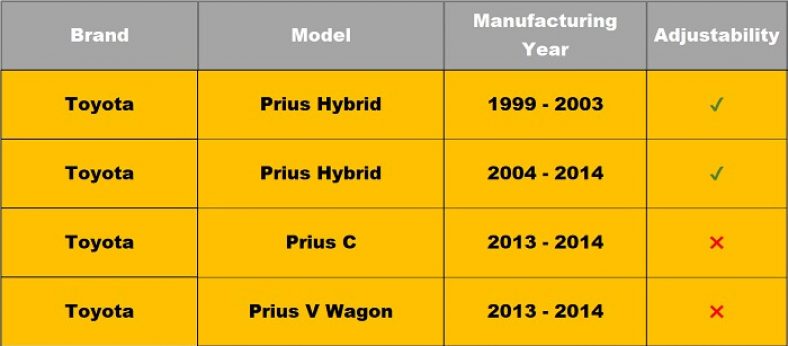 This rack is capable of carrying 2 bikes where each bike weighs 35 lbs each. So this rack can carry a total of 70 lbs. This rack adds extra security with 6 attachment straps along with integrated tie-down straps. Therefore you are buying a rack with extra security for carrying your bicycles at a very reasonable price. Although the rack comes assembled and there is a minimum arrangement for fitting, still you can watch this video if you face any difficulties while installing –
Hollywood racks started making trunk-mounted bike racks at their bike shop in Hollywood, California back in 1973. Their aim was crystal clear, that is – make high-quality products that are pre-assembled at a fair price. After achieving great success in a short period of time the company started to produce racks for many bicycle companies such as Schwinn, Peugeot, and Nishiki by the late 1970s.
7. Yakima FullBack rack
A versatile bike rack
Yakima FullBack
Type: Trunk Mount
No. of Bike Load Capacity: 2
Rack Weight (lbs): 22
Dimensions (inch): 30 x 25 x 22
Weight Capacity: 30 + 30 = 60 lbs
Best for: Cars, Sedans, Hatchbacks, and SUVs.
Features & Considerations:
SuperCush ZipStrip cradles: These cradles are very soft and will hold your bikes gently with proper security.
These zip strips are also removable, so you can take them off when you don't need them.
SKS Locking: The SKS locking system provides ultimate protection to keep your bikes safe from robbery.
The key adjustment points of the rack are aligned with an interlocking HUB which makes it very easy to install the rack.
The rack itself is very compact in shape for easy storage.
The rack remains intuitive during the whole tour for its 'Four – Strap attachment' system.
Bomber External Frame: Versatile frame attaches with your car firmly at the same time protects your car's paint for the cushy padding on the holding bars.
A modern design car rack with a premium gloss finish will look awesome on your car.
Grab a drink when you are thirsty as this Yakima rack comes with its signature bottle opener.
Folding arms with an easy number dial system so that you can adjust the carry arms in position.
It comes fully assembled and doesn't require any tools to install.
You will get a limited lifetime warranty from Yakima.
Some weaknesses:
Won't let you access the car's trunk easily while this rack is mounted on your vehicle.
The process is very tedious, every time you mount and dismount the rack.
This rack does not work well on a 2016 Honda HRV or similar type vehicles.
Bikes with full suspension and lower top bar such as a woman's bike will need an additional adapter to mount on the rack.
The foam pads on the holding arms may eventually shrink and this will damage the car's paint.
When 2 bikes are loaded on this rack, it becomes relatively heavy.
The YAKIMA FullBack rack is very easy to use, easy to install, easy to store and also easy on the wallet. This modern-looking bike rack will look cool on your car and will keep you cool by opening the bottle top of your cold beer with its built-in bottle opener. Therefore, every time you want to grab a drink just go ahead and open the bottle cap with Yakima's signature bottle opener. So cheers. You may need to buy an additional Yakima Top Tube adapter for holding bikes with full suspension and lower top bar like a kid or woman's bike.
The story of 'YAKIMA' started with 2 hardcore kayakers and cyclists, Cole and Don Banducci who acquired the company in 1979 which was a small machine shop in Washington state. The company got recognized by the Summer Olympics back in 1984 where they decided to provide original aerodynamic fairings to each and every race vehicle.
This rack doesn't compromise anything when it comes to the security and safety of your bike's transportation. It has a solid construction with a high-gloss finish and with its modern design, it will look mind-blowing on your vehicle. It is also very easy to install and will take approximately 5 minutes to assemble (written on their official website). This rack can hold up to 60 lbs of weight, so it is 30 lbs maximum for each bike. This rack also comes in another variant with 3-bike loading capacity which is the YAKIMA FullBack 3 .
8. Thule Raceway PRO rack
Best trunk rack for your money
Thule Raceway Pro
Type: Trunk Mount
No. of Bike Load Capacity: 2
Rack Weight (lbs): 22.4
Dimensions (inch): 23 x 24 x 33
Weight Capacity: 35 + 35 = 70 lbs
Best for: Sedans, Hatchbacks, and SUVs
Features & Considerations:
Sure-Tight Ratcheting Cables: Ensures maximum security for fastening the rack to your vehicle.
No-Sway Cages: These cages prevent bike-to-bike contact.
FitDial: Features patented FitDial so the rack fits your vehicle with perfection.
Locks are included for both bike-to-rack and rack-to-car.
Soft cradles absorb shocks and vibrations and keep your bikes safe.
Avoids bike-to-bike collision as the arms provide ample spacing between the cradles.
Won't scratch or dent your vehicle because the arms are padded with molded rubber pads.
You can fold it flat when you are not using it and it gives you convenient storage.
Narrow cradle arms are capable of fitting a wide variety of bike frames including children and women's bikes.
You will get a limited lifetime warranty from Thule.
Some weaknesses:
Locks the trunk access of your car, so you need to mount and dismount the rack every time you want to access the trunk.
May face difficulties for mounting some mountain bikes, for example, Trek Verve 2.
Poor instructions on the installation manual.
The pedals of one bike may protrude into another bike's wheel spokes.
The cradles may lose the ability to hold the seat tube from swinging and may bend over time.
Comparatively expensive than its quality.
The Thule Raceway PRO 2-bike trunk mount rack is a premium hanging style rack that holds your bikes strong and firm during transportation ensuring greater security and safety.
'Thule' is a trusted brand and you can rely on this rack when you are driving a Toyota Prius or a similar vehicle. This rack has the capability to carry a maximum weight of 70 lbs where each bike should not weigh not more than 35 lbs. If you face any confusions or complexities during the installation of this rack, then watch this following video –
The beginning of this company started with its founder Erik Thulin who made fishing accessories and sold them to the Scandinavian fishermen. His company started growing back in 1942 when he started to produce quality equipment mostly for bikes. Now 'Thule' is a reputed company for making great products for bikes and other accessories where the headquarters is situated in Malmo, Sweden.
Although this rack is a premium quality rack that is adjustable with a huge range of car models, there are negative reviews about this rack for not working on a 2013 Audi Allroad, 2015 Infiniti Q70 and other types of vehicles where Thule claimed that it will work on these cars. Again you may need to buy the Thule 982XT additional frame adapter to mount some children and women's bicycles where Thule has proclaimed you don't need to buy it.
---
Frequently Asked Questions
1. How easy is it to install a rack on a Prius?
-Most of the trunk mount bike racks are very easy to install on a Prius. But as a hybrid electric sedan, most of the time Toyota Prius doesn't come with a hitch or roof crossbars. Moreover, the hitches that are available for a Prius are mostly Class I hitches. So you might have to install roof crossbars and have a hitch to install a roof mount and hitch mount bike racks on your Prius.
2. How does an Anti-Rattle device work?
-Most of the bike racks have Anti-Rattle devices and they are very easy to use. You may either need to twist the knob or tight a hitch bolt with a wrench every time you load and unload your bikes.
3. Is it difficult to store the rack on a Prius?
-No, it is not difficult at all. If the rack you are using is able to fold so that you can convert it into a compact shape, then it will have enough space to be stored on your car's trunk or somewhere convenient. On the other hand, if it doesn't fold then you will have to worry about space for storing your rack otherwise you may just leave the rack installed all the time.
4. Is it possible to tow while using a rack?
-When you are using a roof mount or trunk mount rack, then you should have access to tow your trailer without any problem. But some hitch racks do allow you to tow your trailer, RV or camper even when the bike rack is installed.
5. Is it good if the rack offers theft prevention?
-Obviously it is good. You don't want to leave your bikes in an offensive situation for getting them stolen by someone, do you? If your bike rack doesn't provide any locking mechanism or poor locking mechanism, then it is better you buy additional locks both for your expensive bikes and your rack if your rack features any accessibility for an additional lock.
Conclusion
This article gives you a hint of buying a proper rack that fits your Toyota Prius and which can transport your bikes from one place to another without damaging them. Remember, bike racks are not only an accessory for your car but also they resemble significant investments.
The one major fact for buying the best rack for any car is to get assured that the rack damages neither your car nor your bike. So after reading this article, if you think that this article has benefited you a lot, then go ahead and buy one of the above racks for your Toyota Prius and enjoy transporting your bikes anywhere you want. Hope this article was useful for choosing the best rack for your Prius and we wish you good luck.