If you are an avid bicycle rider, you know how significant it is to wear a helmet when riding. All helmets need to meet a certain standard to be certified for use and also in many countries or cities it is mandatory by law to wear a helmet when riding a bike. However, purchasing a new helmet is not an easy task. Modern helmets do much more than just protecting your head. They are equipped with Bluetooth so that you can connect your helmet to other smart devices and enjoy listening to music, talking to your friends, get directions, and other features, all while riding your bike. Therefore, with so many features and specifications available, choosing the perfect Bluetooth helmet can seem quite complicated. That is why we have written this article so that you can learn more about such helmets and choose the best one.
To provide you with the absolute best products and their reviews we have conducted extensive research on the best Bluetooth helmets out there. Also, we have tested the products ourselves and assessed countless customer reviews to provide you with the most accurate information. So let's get right to the details. Scroll down below to check out our selection of the finest Bluetooth bicycle helmets.
After hours of research, we were able to create this list of 9 of the top Bluetooth bicycle helmets. We found that the Lumos Kickstart Smart Bike Helmet is the best one due to its trendy look, cool features, and optimum protection. That is why we have chosen this product as our "Overall Best Choice".
A quick view of our list of some of the top Bluetooth bicycle helmets:
9 Best Bluetooth Bicycle Helmets that you can buy today
Helmets
Preview
Material
Shell Size (cm)
No. of Vents
Bluetooth
Battery Endurance
Weight
Product Score
Smart4u SH55M
EPS foam and Polycarbonate
55 to 59
13
Bluetooth 4.1 & 4.2
Approximately 10 hrs (lighting) 3-6 hrs (music and lighting)
310 grams
86
Smart4u SH20
EPS foam and Polycarbonate
58 to 62 (L) & 62 to 64 (XL)
11
Bluetooth 4.0
Approximately 3-6 hours for music
320 grams (L) and 340 grams (XL)
82
Sena R1
In-mold polycarbonate helmet shell with EPS liner
50 to 55 (S), 55 to 58 (M) &
58 to 62 (L)
N/A
Bluetooth 4.1
Approximately 12 hours Talk Time
380 grams
94
Livall B51M
EPS Foam with Polycarbonate Shell
57 to 61
12
Bluetooth 4.0
10 hours (Default lights), 3-6 hours (Music+Default lights)
Approximately 470 grams
88
Coros Omni
Premium EPS impact foam with a reinforced polycarbonate shell
55 to 59 (M), 59 to 63 (L)
18
Bluetooth 4.0
Up to 8 hours
340 grams (M), 360 grams (L)
86
Lumos Kickstart
EPS foam with in-mold polycarbonate shell
54 to 61 & up to 62
22
Bluetooth 4.2
6 hours (flashing mode), 3 hours (solid mode) and 18 hours in power saving mode
380 grams
92
Coros Linx
EPS impact foam with a reinforced polycarbonate shell
54 to 58 (M) & 57 to 61 (L)
15
Bluetooth 4.0
Up to 8 hours
410 grams (M), 420 grams (L)
86
WRC BTIN
Polycarbonate shell with EPS impact foam
52 to 58 (M) & 59 to 62 (L)
16
Bluetooth 4.0
7.5 hours stand by duration
260 grams (M), 572 grams with headset
85
LIVALL BH60SE
Polycarbonate shell with EPS impact foam
55 to 61
24
Bluetooth 4.0 & 4.1
10 hours (Default lights), 3-6 hours (Music+Default lights)
300g(±5%) American version
82
1) Smart4u:
Smart & Safe Helmet Built with High-Quality Materials and Patented Technology
Smart4u SH55M is a smart & safe bicycle helmet. It is made with high quality and resistive polycarbonate shell and EPS foam. It highly impacts resistance and therefore provides utmost protection and safety to the rider. It is also equipped with 13 ventilation holes, so it lets air in and out quite easily and makes the helmet comfortable to wear. Now, this helmet consists of a lot of advanced and patented technology. It has Bluetooth 4.1 with a one-button answer to phone calls. This allows for easy connectivity and the microphone is wind resistant which means you can talk to your friends without difficulty even if you are riding at 25 km/h. It has two stereo speakers which allow you to listen to music but also be able to hear your surroundings.
It has 6 LED Warning lighting beads with a patented concealed design. This patented design allows the rider to be easily spotted at night and so ensures safety. Furthermore, the helmet is equipped with acceleration sensors and a patented algorithm that tracks the rider in real-time. So if you ever get into a serious accident, the helmet will automatically send SOS alerts to your friends and families along with your GPS location. Therefore, you can ride freely without having to worry about your safety. Also, the company has its own mobile app which you can connect with your bike helmet and enjoy features such as sharing and tracking your bike trips, control the LED lights and even talk to your friends using a walkie-talkie. So if you need a new helmet, don't hesitate to buy this smart helmet to ride safely. You can buy this smartphone mount so that you can easily control your helmet with your smartphone while riding.
2) Smart4u:
Highly Connected & Superior Smart Helmet that comes w/ a Unique Design
The SH20 smart cycling helmet is another amazing product from the company, Smart4u. It is made up of superior materials that have high strength and quality. And so, this helmet is highly durable and has even been termed "unbreakable" by many customers. It provides excellent connectivity as it has Bluetooth 4.0 speakers which can be easily connected to your phone. It also has wind resistance and noise-canceling microphones so you can talk without facing any technical difficulties. The dual speakers provide amazing audio quality. These speakers will allow you to listen to music or talk with your friends while also not blocking out the sound of your surroundings. It has a unique and compact design that will not only allow it to fit you properly and make you comfortable but also look sleek and trendy.
The helmet also offers very fast charging. It can charge up to full battery power in only 1.5 hours, so you can just hop on your and ride away as soon as you can. And the best part is you are getting all of these cool features at a very affordable price. So if you want one of these useful and safe helmets, get them right now!
Smart4u SH20 Smart Bike Helmet
3) Sena R1:
High-Quality Smart Helmet w/ Water Resistance & Noise Cancellation Abilities
Sena R1 Smart Communications Helmet is made from high-grade plastic polymer. This ensures its durability and quality. The plastic material used to build this helmet is quite dense and so provides great protection especially from impacts or accidents. Furthermore, this helmet is water-resistant and so it can be used in any type of weather or riding condition and the rider does not have to worry about it malfunctioning. The R1 helmet provides great communication features. The built-in intercom system allows up to 4 users to be in a group conference together and it offers a great range as the users can connect within 900 meters. So you can talk with your buddies while riding and even share music with them using the helmet. The best feature of this helmet is the advanced noise cancellation audio system. It offers clarity in listening to music or intercom conversations while also making sure you hear vital sounds from your surroundings such as traffic signals or approaching vehicles.
This helmet is available in a variety of colors for you to choose from. So if you want a technologically advanced helmet that you can use daily, get the Sena R1 Smart Communications Helmet today!
Sena R1 Smart Communications Helmet
4) Livall:
A Sleek Looking Smart Helmet w/ Automatic Lighting & Hands-Free Features
Livall is one of the best brands out there when it comes to smart bicycle helmets. The company has won numerous awards for its superb helmets. Livall B51M Smart Helmet consists of high tech features in a classical looking helmet. The helmet cover is handmade with PU leather brim and really enhances the appearance of the helmet. It looks trendy and will definitely suit any type of outfit. The B51M will allow you to ride hands-free due to its one-button answer feature. You can easily change songs, answer or hang up calls on the go. The most amazing feature of this helmet is its smart lighting. The helmet is equipped with LED smart lighting. The taillights offer automatic inductive lighting that provides 270 degrees visibility which makes you noticeable even in the darkest streets. Also, the turn signals are useful when riding in cities with heavy traffic. Also, voice navigation is just fantastic. You don't have to worry about getting lost, carrying a map, or even looking at your phone for directions when you are using this helmet.
This helmet is also quite comfortable due to the air vents which provide great airflow and keeps your head cool and dry. So if you want to make riding your bike much easier for yourself with superior Bluetooth connection and hands-free operation, get the Livall B51 Smart Helmet. You can buy this smartphone mount so that you can easily control your helmet with your smartphone while riding.
5) Coros:

Premium Smart Helmet featuring the Coros App & Advanced Bone Conduction Technology
The Coros Omni Smart Cycling Helmet is made with premium EPS impact foam with a reinforced polycarbonate shell which makes this helmet very strong and has high impact resistance. Therefore, as you can see this helmet is very safe and it is also equipped with advanced technology to send SOS alerts to emergency contacts immediately if an accident occurs. This helmet also has a lot of other features. The Omni helmet comes with a Coros App which allows the rider to track everything from riding distance, speed and also allows to set up voice alerts. Now, let's talk about what really matters most in a smart helmet, the audio system. The Coros Omni helmet is equipped with open ear bone conduction technology which boosts the audio quality for both music and phone calls. Also, you will be able to hear vital sounds from your surroundings to make sure you are riding properly. Furthermore, you can control the audio system or incoming phone calls using a smart remote control. Using this remote you can control the volume, change soundtracks, and even receive or end calls.
On top of all that, this helmet also offers a very long battery life to accompany you in your daily commute or long-distance adventures. So if you want to enjoy safely riding your bike, get the Coros Omni now! You can also buy this smartphone mount so that you can easily control your helmet with your smartphone while riding.
Coros Omni Smart Cycling Helmet
6) Lumos: High-End Smart Cycling Helmet that provides Excellent Connectivity & the Ultimate Protection

|

Overall Best Choice
The Lumos Kickstart smart cycling helmet is one of the best ones we have featured in this article. This helmet provides everything like safety, comfort, and ease of use. The Lumos Kickstart consists of a multi-directional impact protection system (MIPS) which offers extra protection to the brain in case there is an accident. This technology provides superior protection and is known to save lives. Not only that the helmet also provides great comfort. It consists of 22 air vents and superior inner paddings which allows the rider's head to stay cool and dry at all times. Also, the helmet is waterproof so you can wear it to ride in any kind of weather. The lighting technology of this helmet consists of smart LED turn signals which you can control using a wireless remote that can be mounted on the handlebar The helmet also consists of excellent LED smart brake lights which light up instantly.
Lumos app allows you to change the lighting patterns of the helmet, know how much charge is left, track your riding distance, and also connect with other compatible smartphone apps. The helmet has quite a long battery life as you can go for long rides. So if you want to ride with the best helmet in the market, get the Lumos Kickstart as soon as possible!
Lumos Kickstart Smart Bike Helmet
7) Coros:
Great Quality Helmet that comes w/ Advanced Bone Conduction Technology & also provides a custom fit
We have another Coros product for you. The Coros Linx helmet uses open ear bone conduction technology of the helmet which provides precision audio both from the speakers and also the surroundings. The helmet also offers amazing protection as it consists of 3-axis technology and sends an SOS alert with your GPS location to up to 3 emergency contacts. This helmet is equipped with an adjustable knob and strap which can be used to adjust it according to your comfort. Also, the inner paddings of the helmet are soft and easily remove water or sweat and keep the rider's head dry.
Coros has a free app with all its smart cycling helmets. You can use the Coros app to keep ride history including distance, time, speed, and calories burned, and also provide navigation. This helmet is available only in black, white and also comes with a variety of accessories. So if you want a brand new smart helmet that will provide safety, comfort, and amazing sound quality, Coros Linx is perfect for you.
Coros Linx Smart Cycling Helmet
8) WRC:
Lightweight Smart Helmet that offers Water Resistance & Optimum Protection
The WRC BTIN is a multipurpose smart cycling helmet that is ideal for anyone who wants to listen to music or talk to their friends or family while riding their bike. The helmet is quite strong and durable as it is made with the industry standard polycarbonate shell with EPS impact foam. Also, the helmet provides superior security as it has Reinforced Frame Safety Net inside the helmet. Therefore, the rider can ride with complete confidence and it provides great protection on impact. The best part about this helmet is that you can use it anywhere and at any time. This is because the helmet is waterproof including the microphone and can be used in any kind of weather. The sound system is amazing and the headset provides noise cancellation so you can listen to your music without any interruptions. Also, the microphone is great at reducing noise from winds and so you can speak to your friends with absolute clarity.
This amazing helmet is available in black, lemon, and white color and is quite stylish with a road biking design. So if you are searching for a new smart helmet to buy, we suggest you learn more about this one.
WRC BTIN Bluetooth Smart Bicycle Helmet
9) LIVALL:
Aerodynamic & Lightweight Smart Helmet w/ Cool Technology Features & Smart Lighting
The Livall BH60SE is a very aerodynamic and lightweight bicycle perfect for road biking, trail riding, commuting, and touring. It is capable of offering high speed as the aerodynamic shape reduces drag and weighs just about 300 grams. The helmet features a nylon strap that is resistant to water and sweat and can provide an adjustable fit according to your head size. This helmet provides incredible safety & protection. It is built with American EPS foam and high-quality in-molded polycarbonate which has great impact resistance. Also, in case of an emergency, you can press the SOS alert button and send your GPS location to notify your chosen contacts immediately. Furthermore, the helmet has smart LED warning lights at the rear and indicator lights on each side which help to maintain traffic rules & regulations. So as you can see this helmet is safe to use at night. The Livall App which comes along with the helmet is very useful. You can use it to send SOS alerts, call friends, listen to music, configure the smart lights, and even use it for voice navigation. So the days of getting lost while trailing or riding in a new city are long gone.
This helmet is very stylish and will definitely make you stand out from the crowd. Not only does it look good but it will also make you feel very comfortable. It consists of 24 air vents which allow very smooth airflow through the helmet and provides efficient cooling. Also, you can buy this helmet with absolute confidence as it comes with a One Year Warranty from the manufacturer. So don't wait around, get the Livall BH60SE to enjoy the smoothest and most comfortable ride.
---
Buying Guide: Bluetooth bicycle helmets
1. Buying Criteria for Bluetooth Bicycle Helmet
Bicycle helmets have been around for a long time, however, now they have evolved and offering more exciting features than ever before. With more advanced technology available at our fingertips, the riders enjoy a much better experience with music and intercom systems while also having more safety and protection ensured. There are a lot of features and specifications that you should check on smart helmets before you purchase them. That is why we have written this buying guide so that you have a proper idea about what to look for. So, we suggest you take a look at this buying guide to learn a little more about smart biking helmets.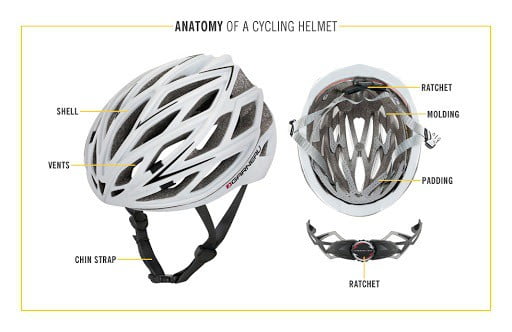 Image Source: onetri.com
2. Cooling system:
Comfort is one of the most important aspects of a bicycle helmet. The helmet must keep your head cool so that you can ride for as long as you want without facing any difficulty or disturbance. It must be able to keep your head cool on a warm day. The ventilation system and fans installed in the helmet are used to reduce the heat inside the helmet. So before you buy your helmet check how many air vents it has. A higher number of air vents means that the helmet can allow great airflow and keep the inside cool at all times.
3. LED lights:
Lighting on the helmet is very important for every rider. Being visible on the road and especially at night is one of the most crucial requirements for safety. To be visible becomes difficult at night as well as during bad weather. And so in modern smart helmets, the LED lights provide better vision to other riders or vehicles on the road and also allows riders to ride safely using turn signals or indicators. So before you choose your smart helmet check if the LED lights at the rear are bright enough to be seen from a long distance.
4. Size Chart:
No matter how many cool features and air vents your helmet has, it will not feel comfortable or fun to use if it does not fit you properly. Riding in a bicycle helmet that does not fit or feel comfortable can lead to injuries. So it is of utmost importance that you measure your head size accurately before you set out to buy the new helmet. We have provided two size charts below that can give you some idea of what the standard sizes are.
Standard Chart:

| | |
| --- | --- |
| Child | 50 - 55 cm |
| Youth | 50 - 57 cm |
| Men | 54 - 61 cm |
| Women | 50 - 57 cm |
| XL | 58 - 65 cm |
Detailed Chart:
| Adult Helmet Size Chart: | |
| --- | --- |
| XS | 53 - 54 cm |
| S | 55 - 56 cm |
| M | 57 - 58 cm |
| L | 59 - 60 cm |
| XL | 61 - 62 cm |
| 2XL | 63 - 64 cm |
| 3XL | 65 - 66 cm |
| Kids & Youth Size Chart: | |
| --- | --- |
| S | 49 - 50 cm |
| M | 51 - 52 cm |
| L | 53 - 54 cm |
| XL | 55 - 57 cm |
To know more about helmet sizes and how you can get the perfect fit check out the video links given below.
For Adults, watch this video:
For Kids, watch this video:
5. Audio System:
The main reason riders want to buy a smart or Bluetooth helmet is so that they can listen to their favorite songs when they ride their bike. So, making sure that the audio system provides good sound quality is crucial. However, just providing good sound is not enough. Modern Bluetooth helmets are equipped with noise cancellation systems which allows the helmet to block out any disturbing sounds from the rider's surroundings. This helps the rider to focus on riding and stay on track. At the same time, these modern sound systems allow the rider to hear important sounds such as an incoming vehicle or traffic cues. This type of advanced technology enhances the safety measures of the helmet and offers the rider a productive ride.
6. Waterproof:
Riders don't have any specific weather that they ride in. Most riders love riding their bike no matter what the weather is. So you must buy a helmet that is waterproof and can be used in any kind of weather condition. As Bluetooth helmets consist of a lot of electronics and devices, if the helmet is not waterproof then bad weather such as rainfall can cause a lot of damage to such expensive helmets. Doing so will bring you more confidence in your riding and you will not have to hesitate the next time it rains while you are on your bike. You can embrace the weather and enjoy your ride without any hesitation.
7. Battery life:
You must buy a Bluetooth helmet with long battery life and quick charging time. You don't want to go out riding and find your helmet is out of charge. That would be incredibly frustrating and annoying. Therefore, getting a helmet with a long battery life will allow you to ride for hours while listening to music or talking to your friends. And, getting a helmet with fast charging time will allow you to go out with your bike whenever you want rather than waiting to have your helmet charged up. You can try getting a solar-powered helmet to avoid the hassle of charging your helmet. However, they are not as efficient and powerful as battery-powered helmets.
8. Safety Features:
As discussed before, safety is the most important factor when purchasing helmets. The rider must be protected at all costs. So to help in achieving maximum safety, smart helmets are equipped with 3-axis gyroscope technology and sensors, so that the helmet can detect when the rider falls off the bicycle or gets into an accident. If detected, using a smartphone app, the helmet automatically sends an SOS alert along with the GPS location to the rider's emergency contacts. A decade ago, this was impossible, however now with modern technology this feature is crucial in helping riders in need and even in saving their lives. Before there were many cases of riders heading out on biking adventures and then going missing. But those days are long gone thanks to the SOS Alert system as riders can be tracked with their GPS location in case of an emergency.
Also, having specialized safety technologies in your helmet reduces the probability of facing severe damage when involved in an accident. Multi-directional Impact Protection System or MIPS technology, which is used on helmets by many companies consists of a layer with less friction that reduces rotational effects by allowing the impact-absorbing foam liner to rotate slightly during an accident. Some companies use WaveCel on their helmets which consists of a liner material that is engineered to allow the helmet to absorb both energies created from a sudden impact with another vehicle or obstacle. Lastly, SPIN, which stands for Shearing Pads Inside, technology is basically silicone-injected pads put together in a way that it moves inside the shell to reduce the effect of rotational forces during an impact.
F. A. Q.s
Q1. Can I use my Bluetooth helmet for other sports/activities besides cycling?
Ans.: Each bike helmet is validated to be used for specific cycling activities. Some helmets on our list, such as the Livall B51M and BH60SE can be used for other activities besides cycling such as skateboarding, roller skating, hoverboarding, etc. Therefore, it is safe to say that whether they can be used for other activities depends completely on the manufacturer of the helmet.
Q2. To what type of devices can smart helmets pair with and how do I pair them?
Ans.: Most Bluetooth helmets can be paired with all types of iOS, Android devices, and Bluetooth ready electronic devices. That includes smartphones and also smartwatches. How they are paired depends on the specific devices and their settings.
Q3. How to take care of helmets?
Ans.: Your helmet's lifespan completely depends on how you take care of it. You can clean your helmet using a soft piece of cloth or a sponge, water, and soap. Do not use any type of chemicals as they can do more harm than good. Also, make sure that you do not keep your helmet in a very hot place as it can cause severe damage to it and reduce its overall strength. You can watch the video linked below to know more about how to clean your bicycle helmet:
Q4. How to change the padding of the helmet?
Ans.: There are straps in place in every helmet to keep the padding intact. Simply take off the straps and remove the foam padding and replace it with the new foam padding. After you place your new padding put the straps on so that the padding is secured and does not fall off.
Q5. How does bone conduction technology work?
Ans.: Bone conduction technology allows you to listen to music or talk to someone using your helmet while leaving your ears open. It manages to do this by converting the audio signals to vibrations and sends them to your upper cheekbones. This is super important as you can listen to your favorite songs and hear your surroundings, such as other vehicles at the same time as you ride.
Q6. How to adjust the chinstrap of the helmet?
Ans.: Many helmets come with an adjustable chin strap which allows the rider to adjust the helmet to fit properly. To adjust it you can open the band under the chin, adjust the length of the strap according to your needs and pinpoint the position of the buckle so that you can have a comfortable and perfect fit around your chin and head.
Conclusion
A brand new Bluetooth helmet will enhance your riding experience by making it more enjoyable, easier, and of course safer. These helmets will provide the ultimate protection in case of an accident and also send SOS alerts to your emergency contacts for help. And with easy to use and highly adjustable straps, these helmets make the perfect fit for you to move your head easily. If you have any confusion about buying such smart helmets, just go for one of the helmets from our suggestion list. We can assure you that if you buy one of these Bluetooth helmets, you will have fun and be protected. With that being said, we also hope that you do your research and learn as much as you can about smart biking helmets before you make you choose the right one for yourself. Thank you for taking your time in reading this article. We hope this was useful for you and has helped you make your decision. Ride responsibly and stay safe.
Related Bike Helmets
---
Useful Resources:
rei.com
consumerreports.org
bikeexchange.com.au
youtube.com
(Visited 57 times, 1 visits today)
Last update on 2020-11-30 at 07:10 / Affiliate links / Images from Amazon Product Advertising API
Close