Peloton bikes have changed the landscape when it comes to indoor biking sessions. So; owning a peloton bike would mean you won't be required to go through the trouble of attending spin classes. Also; you can save up a significant amount of your income since you won't have to pay for spinning lessons. Therefore; you can rather invest this money on a pair of shoes compatible with your Peloton bike. Hence, this is exactly where we come into the picture.
After a number of grueling sessions of testing and research for identifying the shoes best suited for peloton bikes. We have chosen the Venzo Peloton Bicycle shoe as our Editor's overall best choice.  Furthermore; we've also narrowed down and selected a few other peloton biking shoes which performed outstandingly. So; we believe, upon selecting any one of these shoes, it'd make your overall biking experience more enjoyable and efficient.
In the following table, we've listed the best bike shoes in the market for your peloton bikes:
After a grueling few months of in-depth research and testing this pair of shoes on our own peloton bikes. Thus; we along with our esteemed panel of professional cyclists came to the unanimous decision that the Venzo Peloton Bicycle shoe would be an ideal choice to use while you're on a peloton bike.  So; its design, lightweightness, simplicity to gear in, and security are just some of the factors that swayed us in favor of choosing Venzo's shoe, which would provide you with ultimate satisfaction. Also; it'll be worth every penny.  
12 best cycling shoes you can buy today for your peloton bikes
We have narrowed down a selection of bike shoes that would offer you excellent service for your peloton bikes. Therefore; we shall be reviewing these in detail, along with the progression of this article.
Below you'll find a comparison table consisting of the important specifications of the bike shoes which we shall be reviewing throughout the course of this write-up 
| Shoe | Preview | Type | Gender | Weight (Pair) | Upper body material | Insole | Outsole | Closure | Cleat included | Accepted Cleat Mount |
| --- | --- | --- | --- | --- | --- | --- | --- | --- | --- | --- |
| Venzo | | Indoor Cycling | Men & Women | 2.15lbs | Breathable Mesh | EVA | Nylon | 3 Velcro Straps | No | 3-bolt |
| Venzo Triathlon | | Indoor Cycling | Men & Women | 1.30lbs | Breathable Mesh | Removable Sock Liner | Rubber | 2 Velcro Straps | Yes | 3-bolt |
| Tommaso Strada 100 | | Indoor Cycling | Men & Women | 2.15lbs | Mesh | EVA | Rubber | 3 Velcro Straps | Yes | 2-bolt & 3-bolt |
| Tommaso Pista 100 | | Indoor Cycling | Men & Women | N/A | Mesh | EVA | Rubber | 3 Velcro Straps | No | 2-bolt & 3-bolt |
| Tommaso Strada 200 | | Indoor Cycling | Men & Women | N/A | Mesh | EVA | Rubber | 3 Velcro Straps | Yes | 2-bolt & 3-bolt |
| Fizik F5 | | Indoor Cycling | Men & Women | N/A | Microtex | EVA | Carbon-Fortified Nylon | BOA IP1 | No | 3-bolt |
| Shimano RP2W | | Road Cycling | Women | 0.6 lbs | Synthetic leather/polyurethane | Adaptable Cup Insole | Nylon | 3 Strap | No | 3-bolt |
| Gavin Road Cycling Shoes | | Cycling/Road Cycling | Unisex | 1.1 lbs | Synthetic Leather/Mesh | Perforated | Nylon Fiberglass | 3 Hook & Loop Strap | No | 2-bolt, 3-bolt |
| Shimano SH-RP1 | | Road Cycling | Men | 1.12 lbs | Synthetic Leather/Mesh | Standard Flat Insole | Nylon Fiberglass | 2 Hook & Loop Strap | No | 2-bolt (SPD), 3-bolt (Delta) |
| Venzo Road Cycling Shoes for Women | | Outdoor/Indoor Cycling | Women | 0.97 lbs | Premium Microfiber | EVA | Nylon | Lace | Yes | 2-bolt, 3-bolt |
| Giro Women's Savix Road Shoe | | Road Cycling | Women | 1.08 lbs | Synthetic Leather | Die-Cut EVA | Nylon | BOA® L6 (1mm Hook & Loop + Macro Release) | No | 2-bolt, 3-bolt |
1. Venzo:
Best performance. Highly-Breathable Mesh Design

|

Editor's Overall Best Choice

Venzo's Peloton cycling shoes are designed using the most advanced technology. Also; it has got hot-seal straps which would look more tempting, compared to the bland regular-sewing ones. Furthermore; the materials used for these products aren't recycled, rather they are totally raw and brand new, this would ensure, if you use it for long durations, there won't be any foul odor from these shoes. Additionally; these shoes also happen to be pretty stiff, this ensures that there aren't any losses in energy while you're riding. Moreover; the soles on these shoes have heat-insulating capability. So; these are the perfect shoes for your peloton biking sessions. Also; these shoes happen to be one of the most versatile shoes you'll find out there.    

As previously stated the breathable mesh-design dries up very quickly, soaking up the sweat. Thus; in the process ensures that you have a comfortable session. Moreover; the textile-lining is removable and can also be attached. Also; the 3 velcro straps make sure the shoe is securely strapped into your foot. Furthermore; you can easily wear and remove the shoe effortlessly. In contrast with other peloton biking shoes, this shoe has a low-cut construction, ensuring you have a lightweight feel while you're on your sessions. Additionally; the synthetic material ensures your feet would not give off any bad odor when it gets wet. This material also gives you optimal security.

To conclude, if you're looking for coziness and a pair of premium quality sneakers then this definitely fits the bill. Lastly; these shoes are compatible with all Shimano SPD and Look ARC Delta pedaling systems. The cleats offer a 9° float-angle allowing you to ride in various positions. Thus; this would ensure overall better riding ability compared to other fixed cleats.  
2. Venzo Triathlon:
Comfort & Performance together. Great for Triathlon Riding
Venzo has designed this triathlon peloton cycling shoe with the perfect mixture of solace and performance for your betterment. So; this shoe happens to be very versatile at the same time, all these attributes make it an ideal peloton cycling shoe. Also; its cleat area is designed so that it is capable of being compatible with most of the road bike cleats out there, this includes Shimano SPD, SPD-SL, Look Delta, and Keo. Therefore; this shoe offers you the perfect solution, irrespective of the type of pedal you ride on.

Also; the topmost portion of the shoe has an intensely durable mesh and synthetic material. Thus; it will dry out very quickly, once it gets soaked by your sweat. Furthermore; the breathable material makes sure your foot remains cool and dry at all times. However; the insole is non-removable. Also; this shoe has especially been designed to give you a super lightweight, instant fit feeling. Lastly; the 2-strap Velcro belt would firmly secure your foot within these shoes, which is also very easy to strap in.   
Venzo Triathlon Peloton Bicycle shoes
3. Tommaso Strada 100:
Specifically Designed for spin class riders
Tommaso has specifically designed the Strada 100 for your Peloton bike sessions. So; these would be able to offer you outstanding performance for the peloton and spin cycling. Moreover; the selection of cleats included has been designed to fit into any standard style of spin pedals. Also; the paddings on the inside of the shoe make sure that you're able to attain a high-level of comfort even along with the most gruesome peloton cycling sessions.
So; these shoes would aid you in obtaining exactly what you need in terms of training and overall performance.  It has been designed to deliver you with the maximum amount of power transfer and also the comfort that you deserve. Thus; assuring you with riding efficiency. Strada 100 is an entry-level dual cleat(SPD and SPD-SL) compatible indoor peloton bikes.  
Tommaso Strada 100 Peloton Bicycle shoes
4. Tommaso Pista 100:
Enhanced power & Cozy
Tommaso has designed the Pista 100 as entry-level, dual compatibility(SPD and SPD-SL) peloton cycling shoes. So; this is an ideal shoe to offer you a very satisfactory clipless riding experience. Moreover; if you want efficiency with each of your strokes then you should not look any further. Furthermore; the Pista 100 is designed for everyone in mind, it doesn't matter if you're a newbie, seasoned professional, or if you're entirely new to clipless cycling.    
Therefore; Pista 100 is the perfect shoe for your optimal biking experience.  Additionally; it's 3-velcro straps would provide you with the comfort and adjustability that you desire. Lastly; the well-designed solid fiberglass fortified polyamide sole would be outstanding for an efficient power transfer. 
Tommaso Pista 100 Peloton Bicycle shoes
5. Tommaso Strada 200:
Combination of Coziness and Performance
This also happens to be an entry-level peloton bike compatible bike shoe. Moreover; getting yourself a pair of these would mean you'll have a shoe that's high-quality and also very stiff, so you'll have an extraordinary performance. Furthermore; it has a spiraling-buckling mechanism and also; two velcro straps to ensure your safety, at all times. Additionally; the synthetic material on the top portion would attach securely to you throughout the day, giving you very cozy riding experience.
Strada 200 would aid you in getting the best possible workout experience, as it will target and engage different muscles individually. So; with each revolution of the pedals, you get an effective push and pull. Soles of these shoes are made from fiberglass, this would aid in getting superior results with each stroke. Because; these stiff and durable soles make sure that they not only would provide the right amount of stiffness but at the same time ensure efficient power transfer.
It is compatible with a wide variety of cleat systems. Also; it comes with SPD cleats, which would save you a lot of time and trouble. Thus; you can use it on various types of platforms, irrespective of the type of pedal you use. To conclude; this is the ideal shoe that will provide you with an amazing cycling experience that too at a very reasonable price, on your peloton bikes.
Tommaso Strada 200 Peloton Bicycle shoes
6. Fizik F5:
Convenient design
The Fizik F5 offers a very good combination of functionality and style. So; this has a very convenient design. Moreover; it helps you to make a seamless adjustment, on the go. Therefore; if you plan on going for long peloton biking sessions then this would be a very good bike shoe to go for. Also; this shoe performs admirably in short bursts of rides having a smaller duration. Additionally; it is very efficient in the transfer of the right amount of pedaling power and also effective in pedaling as well. However; breathability may not be one of its strongest suits. Lastly; the microtex top material isn't totally durable to scratches and damages, compared to other synthetic-made materials.     

These are very comfortable sets of shoes to ensure you can cycle securely. So; these peloton-compatible shoes would offer you the right blend between coziness, style, and functionality. Also; this has 9 different styling options, allowing you to find the one that suits you best. Moreover; these shoes are compatible with both SPD, SPD-SL (3-hole), and Look Delta cleat-system as well.    
Therefore; the functionality of these shoes would aid you to make a peloton bike riding pretty straightforward. Also, wearing and removing these shoes takes a minute at maximum. Moreover; the velcro closing system gives you the freedom of adjusting your foot as you please. Lastly; these are the types of shoes that you'd require for enjoying seamless power transmission between your strokes and bike pedals.   
7. Shimano RP2W SPD-SL Women's Shoes:
For a Natural, Comfortable Fit for Women's Feet
Focusing mainly on comfort, the Shimano RP2 Women's Shoes are some of the entry-level road shoes that come in a stylish package including performance, comfort and quality. A high-density synthetic leather construction has made these shoes stretch-resistant while they can add immense comfort by relieving pressure on the sensitive areas of your feet. Yet the highly cushioned tongue increases the comfort to another level.
These shoes are compatible with all SPD-SL cleats and you may need an adapter to attach SPD cleats. With such compatibility, these shoes are the best matches for the Shimano PD-R550, PD-RS500, PD-R540-LA pedals (Suggested by Shimano). These shoes also allow adjusting wide cleats with a 22mm of total cleat adjustment where you can possibly adjust 11mm from the outsole and another 11mm from the cleat. And a 3-strap closure system and adaptable cup insoles combine with the Shimano Dynalast Technology for making them the most suitable choice for female riders.
The Shimano RP2W Shoes feature 6 out of 12 on the Shimano Stiffness Index. Take a look at this picture below to find out how this index works –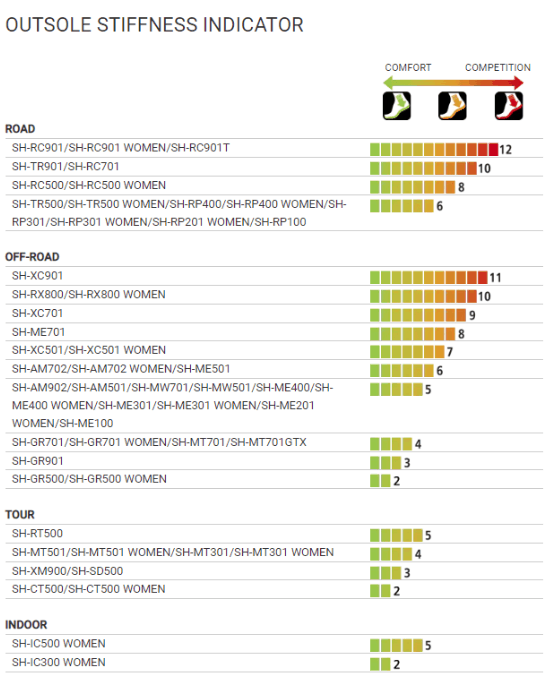 Shimano RP2W SPD-SL Women's Shoes
8. Gavin Road Cycling Shoes:
Great Pair of Shoes for Both Men & Women
The Gavin Road Cycling Shoes come with many advantages such as pedal efficiency, added power, improved cadence, and other favors for comfortable and operational cycling without flexing your feet. A perfect pair of sneakers to go out with a group for weekend rides or to take the next indoor spinning class as they are competent with a range of stationary exercise bikes. And they have a black and grey color scheme that looks clean and neutral.
These shoes fit snugly on your feet and keep on providing support until you have finished riding or spinning. They are stiff yet they are adequately ventilated to make sure your feet are cool allowing maximum airflow. And with rigid nylon fiberglass soles, they can adapt a variety of clipless pedals featuring different types of cleats. These shoes can be also used with peloton bikes using compatible Look Delta cleats.
9. Shimano SH-RP1:
Indoor Cycling Friendly Shoes, Great Choice for Studio Bike
Shimano has gifted the SH-RP1 Cycling Shoes for men and when you wear these jockeys and go cycling, you will go wherever the road wants to take you. Whenever you want to take long road tours, these shoes won't disappoint you for providing all-around performance and comfort. They are just awesome for their user-friendly design and secure fit. Shimano suggests that it will be ideal if these shoes are in combination with PD-R550, PD-RS500, or PD-ES600 pedals.
Blessed with the Shimano Dynalast®, which defines quality, performance, and comfort. These shoes also work with peloton bikes if they are used with the 3-bolt Look Delta cleats. However, you will need to buy an optional SM-SH40 adapter if you want to use these shoes with 2-bolt SPD cleats. These are not only competent for road cycling but also friendly for indoor cycling as you can use them with any studio bike.
10. Venzo Road Cycling Shoes for Women:
Good for Indoor & Outdoor Cycling + Look Keo Compatible
If you are looking for something that works flawlessly for both regular cycling and peloton biking, then you should definitely go for the Venzo Road Cycling Shoes for Women. Made with top-quality materials and advanced technology, these shoes are durable for daily rides and they will not bend or wear out even after using for a long period. With excellent compatibility and versatility, these shoes can be used with a wide range of cleats for various common types of cycling including spinning and peloton cycling. They use laces for fastening your feet and they have pretty much the perfect platforms for any type of pedal.   
Included Pedal Description:
These shoes offer a complete package where you will get a pair of shoes, cleats, and pedals. These pedals are clipless and they are good for road cycling. They are engineered with a thermoplastic-injected body and the spindle axle is made of CNC machined Cr-Mo steel that is equipped with sealed cartridge bearings. The bearings also have LSL bushing and these pedals can work with Look Keo cleats without any difficulty.
Venzo Road Cycling Shoes for Women
11. Giro Women's Savix Road Shoe:
Best for Riders with Wide & High-Volume Feet
The Giro Women's Savix Shoes are not some plain entry-level shoes with Boa® dial systems. These are some of the tough and rigid shoes that have injection-molded nylon outsoles and die-cut EVA insoles. These responsive shoes will provide enough comfort and make sure your feet don't get hurt at all. These are outstanding shoes for most types of cycling. Despite the type, you will feel like you want to ride your bike a little more when you wear these shoes.
Giro Footwear Sizing:
There are three types of fittings Giro offer for various riders with different feet-size. Take a look at below to find out about the sizing – 
Performance Fit:

It is the most common sizing option and supports a low-to-mid volume foot with ease and comfort. 

High-Volume Fit:

Those who have extra wide feet are encouraged to go for this sizing. They have greater volumes than the Performance shoes and they feature extra tall insteps. As these shoes will be thicker than stock footbeds, you can use them for a custom orthotic.  

Women's Performance Fit:

Compared to the standard Performance Fit, this fitting has a lower volume. The Women's Performance Fit comes with narrower forefoots and narrow heel cups than Performance Fit.
You can also take a look at the size chart to get a better idea of how this work in different regions –  
| | | | | | | | | | | | | |
| --- | --- | --- | --- | --- | --- | --- | --- | --- | --- | --- | --- | --- |
| EU | 36 | 36.5 | 37 | 38 | 38.5 | 39 | 39.5 | 40 | 41 | 41.5 | 42 | 43 |
| US | 5 | 5.5 | 6 | 6.5 | 7 | 7.5 | 8 | 8.5 | 9 | 9.5 | 10 | 10.5 |
| CM | 23 | 23 | 23.5 | 24 | 24.5 | 25 | 25 | 25.5 | 26 | 26.5 | 27 | 27.5 |
| UK | 3 | 3.5 | 4 | 4.5 | 5 | 5.5 | 6 | 6.5 | 7 | 7.5 | 8 | 8.5 |
Want to use your regular shoes with your Peloton Bike?
Choose this pedal with toe clips:
12. Venzo Fitness:
Spin + Exercise Bike & SPD Compatible
The Venzo Fitness pedals are for those who want to ride a Peloton bike wearing normal walking shoes. Hence, these pedals are great if you want to use them for spinning or recreational cycling. When you purchase this pair of pedals, you will get a complete package where you don't have to buy anything else separately. The package includes a pair of pedals, a pair of toe-clips, two straps and a pair of VP-C51 cleats. So, if you are thinking of going out with these pedals for outdoor cycling, you definitely can. Your outdoor cycling experience will be a lot better if you don't use the toe-clips and straps. 
---
What to consider while buying Peloton Bike specific cycling shoes
So the budget that you have kept allocated for a pair of shoes compatible with your peloton bikes is very important, to say the least. Thus; if you want premium quality shoes that are featured for both men and women, then you'd be required to pay top dollar for it.     
When it comes to the design of the shoe, it is mandatory that you go for one which offers a good design and adapting capability. Also; we'd strongly advise against choosing a shoe that would be a bit on the heavier side. Since this may make you feel uncomfortable while you're wearing it. More importantly; these shoes have to be breathable, this is a very important criterion. Additionally; it should rather be lightweight and offer stability. Stability is also very vital since you'd require efficiency and added control while you're pedaling. Moreover, having to choose a product that offers a wide range of colors would seem more attractive.   
It is absolutely mandatory to get the size right when purchasing the shoe, it should be a perfect fit for your feet. So; always take help from the manufacturer's size chart. Moreover; you can also consult with someone from the manufacturer's team, in case of any confusion regarding the size. Also; it is very true that you are required to buy a shoe which is a size larger than your required size. This would make you feel cozy and walk around comfortably. Furthermore; the arch and heel of your foot should not be restrained in any way, rather they should get the maximum amount of support from the shoes so that you can pedal effortlessly. Therefore; choose shoes that don't grip your foot too tightly.       
If you choose a bike shoe, you must make sure that it'll provide you with the comfort that you deserve. Also; it needs to have the simplicity and ease of wearing and removing it. Additionally; it should not be too tight in terms of both length and width. So; a majority of cyclists choose a shoe based on its simplicity in strapping your foot in or slipping your foot out. Lastly; a clipless pedal maybe your best option out of them all.
A viral factor that you should take into consideration is a shoe that has a good locking system. So; this is basically when your shoe is well designed and equipped with straps and buckles to secure your foot. More so, if you happen to be a newbie into cycling, then it is absolutely crucial that you choose a shoe that has good straps and leashes. Peloton cycle compatible shoes tend to have well designed and modern locking systems. Thus; it'd provide you with security to support your feet so that you don't have to face any unwanted accidents. 
Like most parts of the shoe, soles are also one of the important sections of the shoe that you need to take into consideration while purchasing one. So; we'd advise you to check the soles of your pedal properly, as it gets to decide the amount of pedaling force that you can get to exert on your bike's pedals. Moreover; it must be long-lasting and offer firmness. When it comes to the soles of your shoe, it can either be made from carbon or nylon. As for your peloton bikes, soles made from carbon-composite should provide better performance. Since these pedals would offer firmness and are also lightweight in nature. 
For you to be able to get rid of dirt, muck, filth, and sweat quickly, having a breathable material is absolutely mandatory. Having a breathable material would lessen the odor of your sweat easily, thanks to the good airflow design, making your foot feel cool. So; this would give you an added advantage while you're on your Peloton bike. Furthermore; having a beatable material means it'd aid in getting rid of the dampness easily, for a cozy session. 
Generally for peloton bikes, we observed and tested it out first hand that 3-bolt cleats and pedals provide a better solution. So; these 3-bolt cleats would aid you in supporting the paddle securely. Thus ensuring that you don't fall off. Also; it allows you with that added security while you adjust clips on your pair of pedals. 
Some people fail to differentiate by choosing shoes based on gender. However; we've chosen men's and women's shoes and came to understand that selecting either one has a lot to do with overall handling. To begin with, shoes having a varying length, width, and sizes did make a lot of difference for both men and women. For example, if you buy a shoe having a smaller dimension then would be ideal for women. Whereas; if you buy a shoe having a bigger size, then it'd suit men's feet. Therefore; you should keep this in mind while purchasing a shoe. 
Size guide
The table below represents men's and women's shoe size guides which are compatible with Peloton bikes.
| | Shoe Sizing Chart for Peloton Bike | | |
| --- | --- | --- | --- |
| Men's size | | Women's size | |
| EU size | US size | EU size | US size |
| 40 | 7 | 36 | 5 |
| 41 | 8 | 37 | 6 |
| 42 | 9 | 38 | 7 |
| 43 | 10 | 39 | 8 |
| 44 | 10.5 | 40 | 9 |
| 45 | 11 | 41 | 10 |
| 46 | 12 | 42 | 11 |
| 47 | 13 | 43 | 12 |
| 48 | 13.5 | - | - |
*If you wear larger than a 13.5, you'll have to choose from "non-Peloton bike shoe options".
FAQs.
Q1. Do you really need special types of shoes in order to ride a Peloton bike?
Ans:- Yes, you do need special clipless shoes in order to spin on a Peloton bike. The classy at-home Peloton bikes will function with 3-hole Look Delta cleats whereas the commercial Peloton bikes usually work with SPD cleats. So, you should take a look at your peloton bike to see what type of pedals it really has. 
Q2. Will your spin class shoes work on a Peloton bike?
Ans:- This can be a bit tricky to explain. The stock pedals for most Peloton bikes usually work with Look Delta cleats. Therefore, your spin class shoes must be compatible with these types of cleats and there should be 3 holes on the outsoles in order to insert 3 bolts for attaching these cleats. Technically speaking, any type of shoe can be used with a Peloton bike as long as it is customizable.    
Q3. Is there any difference between SPD and Delta cleats?
Ans:- Yes, there are some particular disparities between these two popular cycling cleats and the main difference is the number of holes. SPD cleats are 2-hole cleats that make them easy to put on and walk around. Whereas the Delta cleats are made with three holes and these cleats are used more for getting the ultimate performance. Because of having 3 holes, wearing compatible shoes with these cleats may not be as easy as the SPD cleats. Therefore, you need to get the appropriate shoes depending on the type of cleats you are using.
Q4. What are the closure systems that clipless shoes offer and which system is better?
Ans:- There are several types of closure systems that can be found in clipless shoes. Among all the systems, the Velcro strap closure system is probably the most preferable and affordable choice.
Laces, BOA dial system, and ratchet are also some of the popular methods of closure. However, people have found the Velcro strap system more user-friendly as this system allows them to get the shoes on and off very easily and quickly. The shoes having such systems, help you to secure your feet more closely to the pedals while you ride.
Q5. Which is better for spinning, 2-bolt, or 3-bolt cleat?
Ans:- Experts recommend using the SPD – compatible mountain biking cleats for spinning. These are not 3-hole design cleats instead, they have 2 holes that usually make them very easy to put on and off. These types of cleats guarantee to work with almost all types of spin machines. And while such cleats are under the soles of your shoes, you can comfortably ride your bike as well as walk.   
Conclusion
If you have read this article in its entirety, hopefully by now you have picked your favorite pair of shoes for the Pelton Bike. We are pretty sure you'll be choosing one of these 11 shoes from our list. We do not consider any of these shoes to be inferior and we vote for each of them because each of them will be quite effective and helpful for you in one way or another. If you buy a pair of shoes from our selection, we can guarantee you will not regret it.
If for some reason you don't like any of these shoes, we suggest you do good research on this type of shoe. Analyze a variety of online pages or forums, and when you get enough information, buy your preferred pair of shoes.
We hope this article has been useful to you and you have enjoyed reading it, thank you.
Related Readings
---
Helpful Resources:
(Visited 20,753 times, 80 visits today)
Last update on 2020-11-30 at 02:21 / Affiliate links / Images from Amazon Product Advertising API
Close