Whether you are an avid and expert mountain biker or someone who is new in the mountain biking world, you have to admit that having the best bike is essential to your biking experience. And one of the important parts of your mountain bike is the hub. It determines everything from how smoothly the wheels turn and torque to how efficiently power is transferred to the wheels. Therefore, getting the perfect hub for your front and rear wheels is of great importance. 
Now, that we understand the significance of mountain bike hubs, we need to understand what it is and how it works. The hub is located at the center of your bike wheels. It is attached to the rim of the wheel with the help of spokes and an axle is inserted through the hub to keep the wheel intact. This allows the wheels to spin freely and as fast as possible. The hubs on the front and rear wheels are not the same. The front hub is basically a tube that consists of bearings, an axle, and a rim or disc brake mount depending on the brake system of your mountain bike. The rear hub, on the other hand, includes all that and also a ratchet and freehub.
There are many factors to keep in mind when looking for your new hub. Factors such as bearing type, materials, axle type, and many more are crucial in delivering optimum performance to your mountain biking escapades. Making a decision about your new hubs while keeping track of all these factors can seem impossible. That is why we wrote this article to help you make a trouble-free decision. Before writing our suggestions and reviews we have tested the hubs ourselves and also read through countless first-hand customer reviews in order to provide you with the best and most popular mountain bike hubs available today. Therefore, if you are building a new mountain bike and looking for the perfect set of hubs to match them or just planning on upgrading your current hubs, go through our list of mountain bike hubs and you will find what you are looking for.
Before we jump into the list, we want to show you the overall best hub that we came across. This will save you the trouble of reading the whole article. Through our research, we have found that the DT Swiss DT 240S is the best mountain bike hub available in the market right now. And that is why we have chosen this product as our "Overall Best Choice"
In the following table, we've listed the best mountain bike (MTB) hubs in the market:
11 best mountain bike (MTB) hubs you can buy today
We have found the following mountain bike hubs to be the best ones available right now. Our list includes the following bicycle hubs.

We have made a comparison table for you so that you can compare all the products on our list and see which mountain bike hubs are right for you. The comparison table consists of all the specifications of the products from our list.
Hubs
Preview
Material
Weight
Bearing
Axle type
Axle length
Shimano MTB Hub HB-M525 (F)
Anodized Aluminium
245g
Cup and Cone
Quick Release
108 mm
Shimano Deore XT (F)
Aluminium
239g
Cup and Cone
Quick Release
108 mm
Shimano Deore HB-T610-L (F)
Aluminium
108g
Cup and Cone
Quick Release
108 mm
SRAM 716 X7 (F)
Aluminium
170g
Sealed Cartridge
Thru Axle
100 mm
DT SWISS 350 MTB (R)
Aluminium
277g
Precision, SS Sealed cartridge
Thru Axle
135mm, 142 mm, 150mm
Hope Pro 4 (R)
Aluminium
300g
Sealed SS Cartridge
Thru Axle
135mm,142 mm
Shimano Deore M525A (R)
Aluminium
435g
Cup and Cone loose ballspoke
Quick Release
135 mm
Hope Pro 4 Boost (R)
Aluminium
311g
Sealed Cartridge
Thru Axle
148 mm
Shimano HB-M820 Saint (R)
Aluminium
202g
Cup and Cone
Thru Axle
110 mm,
135
mm
DT SWISS 240S (F & R)
Aluminium
220g
Precision, SS Sealed cartridge
Quick Release
100mm(F), 135 mm(R), 142mm(F)
Onyx MTB (R)
Aluminium
447g
Ceramic hybris Sealed Cartridge
Thru Axle
148 mm
1) SHIMANO HB-M525 (Front Hub):
Lightweight and durable hubs at a very affordable price
Shimano is a brand that makes it to any list of best bikes or biking components and our list is filled with Shimano hubs today. That is because they are some of the best ones out there. Shimano HB-M525 is one of the most affordable hubs in the market. Made with anodized aluminum and weighing about 245g, it has the perfect weight for an activity such as mountain climbing. It will not weigh your bike down nor will it make it too light to hold strong on hilly terrain. The cup and cone bearings are of great quality and will give you a very smooth experience. To put it simply, you cannot go wrong with these hubs. So if you need a replacement for your old and weary hubs and you don't want to spend too much, this Shimano hub is the way to go.
SHIMANO HB-M525 Front Hub Mountain Bicycle
2. SHIMANO Deore XT (Front):
Affordable and reliable bicycle hub that provides a smooth experience and easy maintenance
Just like our last product, Shimano does not disappoint. Shimano perhaps has the most popular hubs, especially in the affordable range. The Deore XT is just what you need for your mountain biking needs. Weighing almost 240 grams, it will get you through any type of terrain. It is just as strong as it is durable and the large flange design allows for a much stiffer wheel. This is because the spokes are shorter.
Also, this hub has angular contact bearing which absolutely sets it apart. The angular contact bearings reduce friction in the wheel which allows for a much comfortable ride. It also reduces the change of damage to the hub. On top of all this, the quick release axle makes this hub even more convenient as it allows ease of use and replacement. Get this hub on your front wheel to have a much more relaxing mountain biking experience.
SHIMANO Deore XT Front Mountain Bicycle Hub
3) SHIMANO Deore Front Bicycle Freehub – HB-T610-L:
High-performance bicycle hub that requires low maintenance and is budget-friendly
The Shimano legacy continues. This front wheel hub was built for trekking bicycles with rim brake systems. Great for any type of mountain biking experience, it provides strong and reliable performance, thanks to its bearing system. The top quality double contact sealing and angular contact bearing really take its performance to a whole new level. That coupled with the superbly polished bearing races and the low price is everything you can really ask for on your mountain bike hub. Built with aluminum and weighing just over 100 grams, the Deore HB-T610L is really an example of what Shimano as a titan in the bicycle industry can achieve without the use of fancy materials and components. So if you are looking for a new front wheel mountain bike hub that will not burn a hole in your pocket, this is your best bet.
SHIMANO Deore Front Bicycle Freehub
4. SRAM 716 X7 Front Hub:
Top quality and lightweight mountain bike hub that exhibits superior performance
Now it's time to move on from Shimano and look into some other well-known brands. Priced a bit higher than the other front wheel hubs in this list, the SRAM 716 X7 6 bolt disc brake compatible hub should definitely be considered when buying a new hub. Weighing only 170 grams, the hub is super light and will not add any extra weight to your mountain bike. This is a huge advantage as a lot of mountain bikers complain about their hubs weighing them down. This hub also offers solid build quality and bearing performance. Built with aluminum, this SRAM 716 comes with a sealed cartridge bearing which offers the perfect level of friction to protect the hub and is also good at keeping the hub in perfect shape. Therefore, a strong hub with long-lasting abilities and serviceability, what more can you ask for.
# Rear hubs:
5. DT Swiss DT 350 MTB Rear Hub:
High end bicycle built with patented technology in Switzerland
DT Swiss is the epitome of premium brand and product quality. The DT 350 expresses that completely. It is a high-quality aluminum hub that features proprietary technology that makes this product stand out in such a competitive field. As mentioned before, the star ratchet system technology provides top of the line performance that will catch your attention on the very first ride. These hubs are an example of just how much change a good hub can bring to your bike. The ride will feel comfortable and give you more control. The hub also shows great resilience and will last you years. DT Swiss also has a "no tools" concept which allows you to fix or adjust your bike easily on your own. Also, the hub engagement on this rear hub is quite exceptional. It has 36 points of engagement which allows the rider to have the best experience ever. Weighing about 277 grams, this hub has an extensive diameter which gives it the strength and durability it needs to last a long time while providing the best performance all the way. This hub is perfect for any type of mountain biking activity and also good enough for cross country riding. Lastly, although it comes at a high price, the DT Swiss is worth every penny.
6. Hope Pro 4 Rear Disc Hub:
High-quality bicycle hub built with an exclusive design in the United Kingdom
The Hope Pro 4 is the proud and successful successor of the very popular Pro 2. Hope worked relentlessly to outperform its old model and they were successful to do so. Pro 4 is better enhanced and built to beat its predecessor. The sleek-looking hub weighs about 300 grams and is built with forged aluminum billet. It has stainless steel sealed cartridge bearings which are some of the best that industry has to offer. If that all is not enough, the Pro 4 has an excellent hub engagement system with a 44T ratchet ring and a 4-pawl drive system. This was a massive improvement from the previous Pro 2 as a lot of users complained about it. And so, Hope listened to their consumers and built a better and faster engagement system, perfectly equipped to handle the challenges of intense mountain biking. 
The hub is also quite adaptable as riders can convert the thru-axle to their choice in order to suit their respective mountain bikes. And last but not least, this hub has a larger flange diameter that increases its lifespan and stiffness, giving the biker more control when riding. So the bottom line is that this brand has a lot of experience in this field. They have tried and tested every material and technology available to deliver a well-rounded product to their customers. Therefore, we can come to the concussion that Hope's well built and dependable mountain biking rear hub is worth the money.
7. Shimano Deore M525A Rear Hub:
Great quality and budget-friendly mountain bicycle hub that ensures reliability
The Shimano Deore M525A is yet another amazing hub that will not cost you 200 dollars or more. It offers all the top-notch features and characteristics without the hefty price. The aluminum hub with cup and cone precision-machined bearings is resilient to friction and is very durable according to many customer reviews. The polished bearing race also helps in gaining low friction rolling ability. The axle and freehub are made of steel and the QR skewer is made of light aluminum alloy. Although all this makes the hub slightly less light, it handles really well on mountains and rocky terrain. 
A potential downside may be that this hub is a bit on the heavier side. However, that does not prevent it from performing at its absolute best. The hub feels great when you are riding and will not stop you from climbing mountains or going downhill when you are on your MTB expeditions. As a matter of fact, it can actually be taken as an advantage as the extra weight will give you a more sturdy feeling when you are on your ride.
This rear hub is not for professional mountain biking. However, it can endure any type of regular mountain biking activities. It also gives a nice sound when you are riding it and a lot of existing customers seem to love that about it. It is a well built, reliable, and reasonably priced Shimano rear hub that will help you meet your mountain biking goals.
8. Hope Pro 4 Rear Disc Hub:
High-quality hubs that were built with impeccable engineering and technology
Hope is one of the most popular brands in the bicycle community. This is because they strive for excellence. They release every product into the market after years of extensive research, testing, and development. Even after releasing a product, they take their customers' reviews seriously and look into how they can improve their products. And that is exactly what happened with the Pro 4 Boost. 
After Hope achieved massive success with Pro 4, they looked into how they could further develop the product and they released the Pro 4 Boost. The boosted version is said to be way more reliable, stiffer, and able to provide an even better overall experience. It has a taller flange diameter which increases its strength and durability. It has an improved hub engagement facility which is equipped with a 4 pawl ratchet system with 44 tooth engagement. This gives the hub a 10 percent increase in locking points than the previous version and ultimately making the engagement speed faster. It also has a wider body when compared to Pro 4 which gives more control to the biker and also enables the bike to become stiffer. The stainless steel sealed cartridge bearings are of the highest quality and aid the hub in performing really well. All the other components of the bike hub were manufactured, inspected, and tested at the Barnoldswick factory in order to ensure first-class quality.
9. SHIMANO HB-M820 Saint Hub:
Superlight mountain bike hub that ensures strength and high performance
This hub is in a higher price range than the other Shimano products on this list. That is because it is made of the best materials and offers very high performance. The superlight hubs include angular contact cup and cone bearings which are highly resistant to friction and prevent any type of wear to the hub. This hub is very well built and its robustness can be seen when you take the bike out on the mountains.
The axle fixing method on the hub is of the thru-axle type. But it's not just any thru-axle, this is Shimano's very own E-thru which follows the "tool-less" concept meaning it provides ease of repairing and maintenance. The E-thru is made up of steel and so it is light in weight while also being highly rigid. Perfect for gravity mountain biking activities, the Shimano HB-M820 Saint Hub is one of the top hubs in the market.
10. DT Swiss 240S MTB Rear Hub: Premium quality and lightweight hubs made with patented technology

|

Overall Best Choice
The DT Swiss DT 240S hubs are the benchmark for the most high-end hubs in the world. Built with world-class engineering and technology, these hubs are as good as it gets. The proprietary DT Swiss freewheel system with precise star ratchets provides top-notch performance. Thanks to this technology, the bearings provide less friction, the light-alloy axles can take on more load and the system is able to transfer torque at a very minuscule weight. These hubs are also very reliable as they are stainless steel cartridges and resistant to corrosion and the double flange seal system keeps out all the water and dirt, preventing the hub from getting damaged. All this makes both the front and rear hubs last very long.
The hubs are also quite light which is an added bonus. Normally, with such fantastic features, you have to compromise on the weight but DT Swiss startled the entire bicycle community by providing all those features on such a light hub. Also, just because these hubs are high end and have sophisticated features does not mean that you have to always take them to the bike shop for maintenance and repair. These hubs require no extra tools which are a trend a lot of companies are following right now. They are very easy to maintain and you can fix any casual errors all by yourself. 
The DT 240S front and rear hubs are perfect for cross country, trail, gravity, and other mountain biking activities. So if you are looking to upgrade your mountain bike hubs, a couple of these will be more than perfect and will offer you trouble-free mountain biking experience for years. Those who are looking for the front hub can click here.
11. Onyx MTB Rear Hub:
Built with an incredible design to ensure strength, durability and a smooth-riding experience
The Onyx mountain bike rear hub is truly a premium racing product. This hub is machined from 7075 aluminum to provide strength and durability of the highest standard. The bearings on the hub are made of hybrid ceramic which is stronger and lighter than the other steel bearings available in the market. This ceramic hybrid bearing is highly adjustable and can be made as tight or loose as you choose. However, what makes this device truly unique is its hub engagement. The hub engagement consists of a sprag clutch mechanism which allows instant hub engagement under power and instant disengagement for coasting. Also, this engagement system allows for a completely silent ride and will not disturb you with loud buzzing noises that other hubs make. So you can enjoy the beauty of the natural surroundings when you go on your mountain biking adventures. This is possible because the sprag clutch mechanism uses a non-rotating sprag which automatically locks up when turned as opposed to the usual pawl system.
The only major downside of this hub is the weight. However, if you look at what Onyx achieved with its engagement system and bearings, the heavyweight is a very small price to pay. Onyx delivers on a super smooth performing hub with an instant engagement that no other brand can even come close to. It is an essential bike component that will actually make a difference when you are racing or just riding for pleasure. One ride with this rear hub on your bike and you will not want to go back to your old hub.
---
 

Buying Guide: MTB Hub
Considerable Criteria before purchasing your brand new mountain bike hubs: Mountain bike hubs explained!
Starting from bearing type to weight, there are too many factors to consider when you decide to purchase new hubs for your mountain bicycle. Keeping track of all these factors can seem a little difficult especially when there are so many options to choose from. So here is a brief description of everything you need to consider in order to choose the best hubs!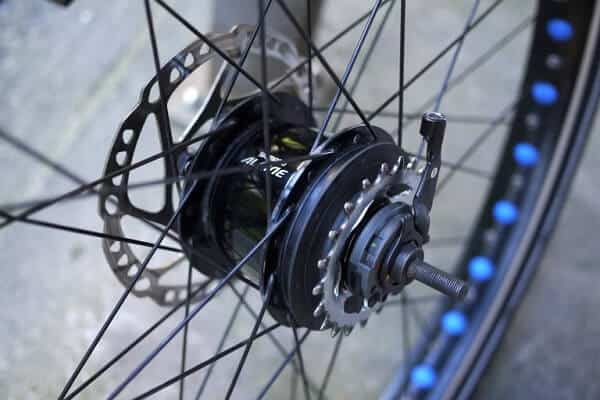 Strength and durability:
I know what you are thinking. We sound like a broken record. We have mentioned this so many times in this article. But it is probably one of the most important things to consider for every part of your bike, not just the hubs. Your new hubs should be strong enough to have a high load capacity and also to be less susceptible to damage and malfunction. Making sure of this will allow you to get a long-lasting hub. A good way to do this is to purchase your new hubs from a well known and expert brand.
Bearing type:
You should also make sure your new hub has bearings of the absolute best quality. Anything less will not last that long and will not be worth it. The hub's bearing should be sealed and secured from mud and water and should be resistant to damage. If you are on a budget, cup and cone bearings are the way to go, they are solid bearings that offer great performance and they are easy to use and repair. And if the price is not an issue, cartridge bearings offer better quality however they are difficult to repair on your own and quite expensive to replace. Also, you should check what the bearing is made up of. Ceramic bearings are smoother and more resistant to wear and tear than steel bearings, however, steel bearings are the standard and are widely used in the industry.
Brake rotor compatibility:
Your new hub needs to match the brake system on your mountain bike. If your bike has disc brakes then your hub needs to attach to the disc rotor accurately. It will be the same case if you have rim brakes. However, in the case of disc brakes, there are two options: the six-bolt disc brake or the center lock disc brake. Therefore, check your brakes before you purchase a hub.
Rim Compatibility:
The number of spokes on the rim and the hub needs to match. There are quite a few options to choose from including 28H, 32H, and 36H which are the standard. So check your rim before you order your hub.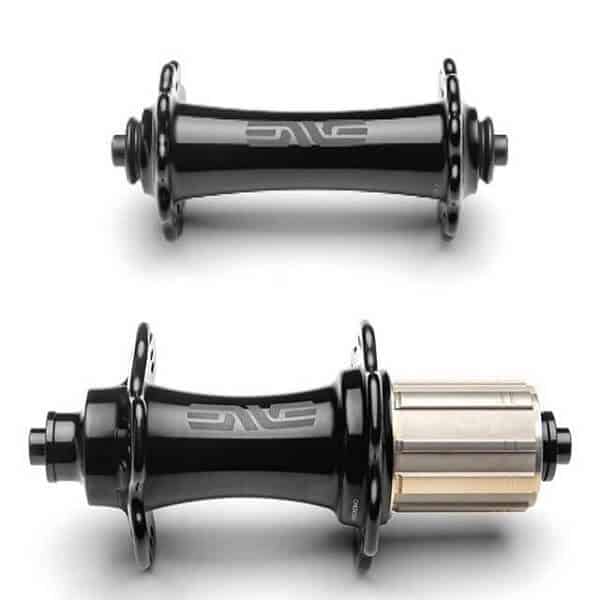 Axle size (front & rear):
The hubs must be compatible with the axle standard for the bicycle. For hubs with a quick-release fixing method, the usual diameter of the axle is 9mm and the quick release skewer is about 5mm. In most of the new mountain bicycles, manufacturers are incorporating the thru-axle. For thru-axles, the diameter is larger ranging about 12mm, 15mm, or 20mm. The thru-axle is much more sturdy and reliable. 
You should match your rear hubs with the diameter and length of the rear axle. The standard mountain bike rear axle measurements are 135x5mm for a quick release rear hub but mountain bikes for jumping and gravity biking have measurements such as 135×10, 142×12, 150×12, 157×12 and 165×12 for better performance and strength. So ensuring the compatibility of the hubs and the axle standard of the bike is crucial.
MTB Hub engagement:
The engagement on your mountain bike is basically how many clicks sounds the rear wheel makes when you are freewheeling. The cassette of the bike is attached to the hub on a freehub. This contains the spring-loaded pawls which have a technique that allows the hub and wheel to continue spinning freely when you are not pedaling your bike. This technique is the engagement that occurs between the pawls and the ratchet on the hub. The ratchet is a device with angled toothed gear inside the hub. When you are coasting, the pawls click past the teeth and these are the clicks you hear. When you start pedaling, the pawls and the teeth engage to transfer the power to the wheel.
So this is something to consider when you get new mountain bike hubs. A high number of teeth means that your bike will have a greater engagement rate and power will be transferred to the wheel more efficiently. On the other hand, fewer teeth mean that you will have more torque. This is referred to as points of engagement. The greater the number of pawls and teeth, the more points of engagement you will get and vice versa. Having more or fewer points of engagement both has its advantages as I have mentioned. Therefore, it is a trade-off between better power transfer or more torque and which you want more depends completely on you and your mountain biking style.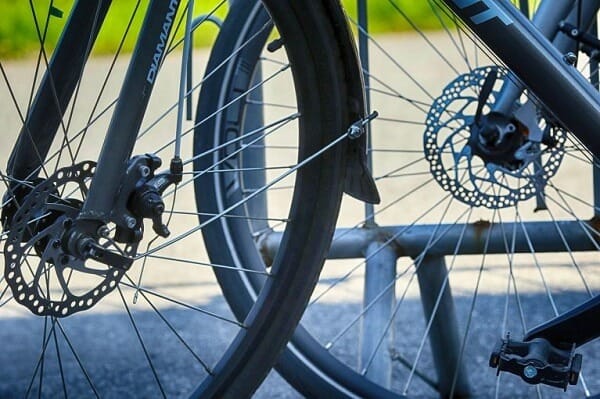 Conclusion
Upgrading something as small as a hub on your wheel will bring about a massive change in your mountain biking expeditions. The hub is the powerhouse of your wheel and should be in good shape in order to deliver the best performance possible. The hubs we reviewed in this article are the best ones available in the market today. They are all solid and powerful hubs that have the strength and durability to serve their customers for years to come. 
Discovering the perfect hub which meets all of your mountain biking needs can feel quite exhausting. Trust us when we say that we know how you feel. We hope that this article has helped you understand and given you some insights into what really makes or breaks the best hub. Also, we hope that one of the products we have reviewed will be the right one for you. We wish you all the best to find the MTB hub you desire. Thank you for taking the time to read this article.
Related Hubs
(Visited 2,150 times, 2 visits today)
Last update on 2020-11-30 at 03:10 / Affiliate links / Images from Amazon Product Advertising API
Close