Out of all the components that make up your bike, brakes are the most important. And it is equally important to fit the most suitable and compatible brake pads with those brakes. However, finding the right brake pad for your brakes and wheels is a very difficult task. That is why we have written this article so that you can learn more about and choose from some of the top MTB brake pads money can buy.
After all our research and hard work, we have listed down, 12 of the finest MTB brake pads available right now. Our testers have evaluated these brake pads themselves and therefore we can say with confidence that our reviews of these products are absolutely solid.
Out of our selection, we have chosen the SRAM Code Brake Pads as our Overall Best Choice because of its impressive design, choice of materials, and originality.
A quick view of our selected MTB brake pads for your mountain bikes:
12 Best MTB Brake Pads that you can buy today
| Brake Pads | Preview | Pad Type | Best For | Material | Back Plate | Cooling Fins | Compatibility | Post Mount Type | Weight |
| --- | --- | --- | --- | --- | --- | --- | --- | --- | --- |
| SRAM Code | | Disc Brake Pads | Downhill, Enduro Riding | Organic, Metallic | Steel Back Plate | No | Code RSC, Code R, Guide RE | | 27 grams (Organic), 30 grams (Metallic) |
| Shimano J04C | | Disc Brake Pads | MTB | Metallic | Stainless Steel | Aluminium | Shimano XTR Series, Shimano Deore Series | | 31 grams |
| Kool Stop Eagle Claw 2 Brake Shoes | | Cantilever Brake Pads | Cyclocross | Dual Compound | Hardened and Plated reinforced steel backbone | No | | Threaded and 2024 Aluminum Smooth Post | 40.4 grams |
| Shimano BRT615 (B01S) | | Disc Brake Pads | Cyclocross | Resin | | No | Shimano Disc Brakes | | 79.95 grams |
| SRAM G2 Guide | | Disc Brake Pads | Trail Riding | Organic/Sintered | Steel/Aluminium | No | Avid XO Trail, Elixir 9 Trail etc. | | 30 grams |
| Kool Stop Dual Compound | | Direct Pull Brake Pads | MTB | Dual Compound | Hardened and Plated reinforced steel backbone | No | | Threaded and 2024 Aluminum Smooth Post | 38.2 grams |
| Kool Stop V-Type Holder | | Rim Brake Pads | Road Bike | Forged Alloy Holder & Dual Compound Pads | | No | Shimano and Avid Rim Brake Systems | Threaded and Smooth Post | 43.8 grams |
| Shimano Deore/LX Pads | | V-Brake Pads | Touring, Commuting | Rubber (Non-Cartridge) | | No | Shimano LX and Deore Series | Threaded Post | 45.4 grams |
| Kool Stop MTB Brake Shoes | | V-Brake Pads | MTB | Dual Compound | Hardened and Plated reinforced steel backbone | No | | Threaded and 2024 Aluminum Smooth Post | 38.2 grams |
| SwissStop Disc Brake Pads | | Disc Brake Pads | All Mountain, Cross Country, Downhill Riding | Kevlar, Ceramic, Brass, and Resin Composite Material | | No | | Threaded Post | 9.07 grams |
| Alritz Bike Brake Pads | | V-Brake Pads | Road, Mountain Bike | Rubber and Aluminum Alloy | | No | | Threaded Post | |
| Avid Elixir | | V-Brake Pads | MTB | Organic, Metallic | Aluminium, Steel | No | Avid Elixir brakes, Avid XX, SRAM | Threaded Post | 26 grams |
1. SRAM Code:
Original, Available in Organic & Metallic Compounds, Reliable

|

Overall Best Choice

The SRAM Code Brake Pads are one of the best sets of brake-pads that money can buy. This will be the perfect choice for you if you are into mountain bike riding. These are OEM pads that will fit right onto your bike and work perfectly. If you are tired of hearing your brake pads make annoying sounds, then these will help you get rid of that problem. We highly recommend using metallic pads in all SRAM Code Brakes for the best possible performance! You should opt for organic pads if you want your brakes to provide a more quiet performance. However, doing so will give you a bit less braking power. So if you are planning on upgrading or replacing your brake pads, get these to enjoy an impeccable braking performance.
2. Shimano J04C:
Made in Japan, Ice-Tech Cooling Fins, Durable Metallic Pads
The Shimano J04C Metal Disc Brake Pads is a very reliable and well-performing bike component that will upgrade your bike's performance. The brake pads offer a very powerful bite that will allow you to ride smoothly no matter how steep the road gets or how sharp the corners are. These pads are substantially more durable than resin pads. However, they are harsher on rotors & sort of louder when you apply the brakes. With that being said, we would like to say that it is completely worth it due to the excellent braking performance. Here is a quick tip. if your new pads don't restore the original performance, just flush it with some fluid. The Shimano brakes bleed very easily than just about anything else out there. So, if you are on the lookout for a fresh new set of brake-pads, then these metallic ones might be the right ones for you!
Shimano J04C Metal Disc Brake Pads
3. Kool-Stop Eagle Claw 2:
Patented Design, High Stiff, Very Durable
The Kool-Stop Eagle Claw 2 Brake Shoes is great for cantilever brake systems and it comes with a rim friendly compound. These brakes are very easy to install on your bike and also offer accurate toe-in installation. These brake pads bite very precisely and even though it is adequate for most types of riding styles, it is especially great for cyclocross. You can choose from the different types of compounds available with these brake shoes. The black and red compounds can be generally used for regular riding. The green compound is very stiff and you make sure you utilize it only with ceramic rims. Salmon compounds are designed for extreme conditions such as wet and muddy terrain. You can also choose from a threaded or smooth post depending on what type of brake you have. They are absolutely great for the price and also offer great modulation. So if you want to upgrade your mountain bike brake pads, this is the perfect choice for you!
Kool-Stop Eagle Claw 2 Brake Shoes
4. Shimano BRT615 (B01S):
Excellent Performance, Less Noise, Endurance

|

Best Value For Money

The Shimano BRT615 (B01S) Resin Disc Brake Pads are authentic brake pads by the Shimano brand. These pads match exceptionally well with factory Shimano brakes. The installation process is not too challenging especially if you watch a couple of instructional videos online beforehand. These pads offer adequate and smooth braking while also preventing any type of vibration. They do not provide a very powerful bite and they are also likely to wear down in about 1200 miles or more. However, due to the affordable price you can replace them annually and keep the previous pads as spares. If you have any doubts about the size of your brake pads, remove your old pads first to evaluate the correct replacement part before buying the new ones. These amazing pads offer the best value for money out of all the other options in this article. So if you are looking for something similar to this, grab it while you still can.
Shimano BRT615 (B01S) Resin Disc Brake Pads
5. SRAM G2 Guide:
Lightweight, Heat Dissipation, Organic Material
The SRAM G2 Guide/Trail Disc Brake Pads is a great choice for trail riding and it offers a lot of options for you to choose from. We have used both the resin and sintered disc brake pads. The resin pads offer a lot more bite and will also provide much quieter performance. The SRAM resin pads are top-notch and last much longer than some of the other brands out there. A lot of brake-pads offered by other brands last around 3 weeks. The SRAM resin pads last as long as 6 weeks. The sintered brakes are also great. You should ensure that you use the centerline rotors as they are designed mainly for the guide brakes. The sintered pads create a bit of noise especially when they have a high temperature. They offer less bite which a lot of riders prefer, and will definitely last longer than the resin pads. The sintered brakes will last months compared to the weeks for resin. If you are looking for durability, then the sintered pads are right for you. So if you want a new pair of excellent disc brake pads, why not get the SRAM G2 Guide.
SRAM G2 Guide/Trail Disc Brake Pads
6. Kool-Stop Dual Compound:
Patented Build, Curved Design, Power Stop
The Kool-Stop Dual Compound Mountain Pads is a top choice for mountain bike direct-pull brakes. If you use a rim brake system on your bike and your braking performance is getting worse by the day, but can't afford to upgrade to a hydraulic disc brake system, then these are the ideal choice for you. These are the perfect brakes to close the gap between V-brakes and hydraulic discs. These brake pads provide a much greater value compared to you getting a complete mechanical disc set up. A disc brake conversion can be very expensive as may be required to replace the whole wheelset. In our opinion, if your bike is a V-brake bike, you have the option to either buy the Kool stop pads or to completely convert to a hydraulic disc brake system. So if you like what you see here, don't hesitate to get these new brake pads on your bike.
Kool-Stop Dual Compound Mountain Pads
7. Kool-Stop V-Type Holder:
Made in the USA, High Performance, Affordable
The Kool-Stop V-Type Holder with Brake Pads is great for road biking and is built with a forged alloy holder and dual compound pads. You can replace these pads without replacing the carriers. The installation process is fairly simple. You just need to put them in and align them so they don't rub against the tire or get off the rim. You don't need to do the toe-in installation as these brake pads can do the correct toe-in for you. Just make sure the back and front of the pad are touching the rim when you tighten them down to get the most optimum performance. So if you want to next-level braking power without a high price tag, get these right now!
Kool-Stop V-Type Holder with Brake Pads
8. Shimano Deore/LX:
High Quality, Durability, Compatibility, Reasonable Price
The Shimano Deore/LX brake pads are the best choice especially if you are someone who rides on a touring or commuter bike. First of all, installing them is a piece of cake. Even though you might have to try a few times to get the angle exactly right it's not a very big deal. Shimano V-brakes have much more superior pad material than brake pads of other brands. The problem is Shimano brake pads can be hard to find at your local stores. But that's not an issue as you can find them online at any time. They do not make any squeaking sound and will allow you to brake silently. So what are you waiting for? Get these Shimano V-brakes today!
9. Kool-Stop MTB Brake Shoes:
Superior Design, Protective, Kool Power Stop
The Kool-Stop MTB Brake Shoes works really well and installs very nicely too. The brake pads provide a large braking surface and also curves along with the rim for better contact. The salmon compound brake pads provide incredible braking performance in all types of weather conditions while also minimizing rim wear. However, the dual-compound pads provide an overall great experience. Our testers have tested the product themselves and they were completely blown away by its performance. They do have some tips for you so that you can get the best experience possible. For example, you can prevent the squeaking noise by getting the toe-in for dialing in so that the installation is done properly. Also during the installation process, ensure that you look through and then clean out the contact-patch of the rim on your bike. After doing so, if you still find any marks on the rim, simply by rubbing the surface into the rim with a nail file. This will help you remove the marks and offer you a clean braking-surface. Last but not the least, if you are someone who rides a lot during wet or atrocious weather conditions, then you need to ensure in wiping the surface of the pads off after each of your rides. So if you think these amazing brake shoes are the right ones for you, get them right away!
10. SwissStop Disc 1 Brake Pads:
Great Power, Long Pad Life, Impeccable Performance
The SwissStop Disc 1 is exceptional brake pads that outperform a lot of its competitors in the market. Usually, SwissStop brake pads break-in quite easily and offer stellar performance. According to our testers, the pads have a great bite initially and offer tremendous modulation. It also offers very durable performance with very low wear. In dry conditions they perform quietly, however, they do make some noise while riding in wet conditions. With that being said, it gets quiet again when the rotors warm up and become completely dry. No matter how hard or late you hit your brakes, you will not encounter any type of brake fade. Therefore, if you require a new set of brake-pads, we suggest you get these to experience the best braking performance.
11. Alritz Bike Brake Pads Set:
Curved Design, Durable Performance, Easy Installation
The Alritz Bike Brake Pads Set is a phenomenal choice for its smooth performance and reliability. Our testers highly recommended these pads for mountain biking activities. According to them, if you want to ride your bike down the steepest hill and also be able to stop within a short length of distance, these are the ideal brake pads for that. Also, it is very convenient that they provide 3 pairs of brake-pads instead of just 2. You can save the extra pair for emergencies or unique riding events. Even though the installation process is very straightforward, here are a few points to keep in mind when installing these brake pads. To install the brake pads, you need to distinguish R and L on the pads which represent right and left. Also, the direction that the arrow points to should be the front. After you install the pads, you need to make slight adjustments to keep them close to the rims. If they make noise, please try to adjust them several times. If you follow these steps you will enjoy a very smooth experience with these brake pads. So if you are tired of your old brake pads and are in desperate need of something fresh and exciting, check these out!
12. Avid Elixir:
Lightweight, Organic & Metallic Compound, Brilliant Stopping Power

|

Our Budget Choice

The Avid Elixir Disc Brake Pads are genuine SRAM products and so they are very trustworthy and well known in the bicycle community. They do have an initial bedding period like all other brake pads. However, once that is completed there is no end to these pads' exemplary performance. They are very easy to set up and also replace them. And according to our testers, they do not make any of the disturbing squeaking sounds that usually comes with a lot of brake-pads. The Avid Elixir brakes have increased stopping-power & a lot of other new features. These features require a redesigned pad specific to the Elixir brake. Therefore, it is one of the best decision to go with the original manufacturer brake pads instead of the cheaper third party models. These brake pads will not only provide great performance but also help take care of your brakes and wheels. So if you need to upgrade the pads on your Avid or SRAM brakes, we suggest you go for these amazing brake pads.
---
Buying Guide: MTB Brake Pads
1. Rim Brake Pads: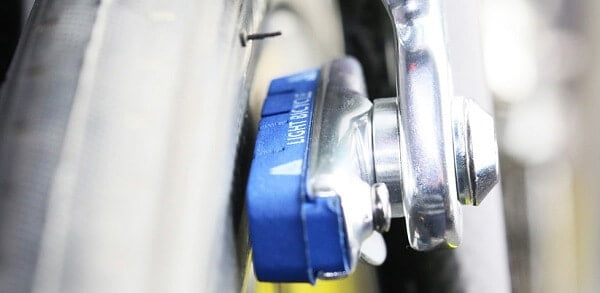 Image Source: lightbicycle.com
Rim brakes use the wheel's rim as it's braking surface. The brake pads are attached at the ends of the two pivoted cantilever arms of the brake. So when you pull on the brake lever the brake pads rub against each other and stop or slow down the bike. Rim brakes are the popular choice when it comes to the city, BMX, and road bikes. This is because they are very lightweight and come with a simple design. There are quite a few types of rim brakes out there. The two most popular ones are caliper and cantilever brakes. There is another type of rim brake that is also used widely in the cycling community and that is the V-brake.
V-brakes are also sometimes called direct-pull cantilever brakes. They are fitted on a lot of entry-level or older MTB models. In addition to that, you will also see a lot of city or hybrid bikes with v-brake systems. These brakes basically have separate brake arms which are attached using two brake bosses. The brake's arms are connected to a boss located on each of the seat stay or fork legs. V-brake pads are available in two forms or types. They are cartridge and non-cartridge brake pads.
2. Non-cartridge pads:
Non-cartridge pads are the most simple and affordable type of pad. These pads consist of a basic rubber block. It comes with a braking surface and also has a threaded metal post on the other side which enables the pad to be attached to the arm of the brake.
3. Cartridge pads:
Cartridge pads come with metal shoes that have replaceable rubber inserts. The rubber inserts can be attached using a few screws. Cartridge pads are much better in terms of performance when compared to non-cartridge pads. They are more resistant to flex and therefore provide better stopping power. These pads are an easy upgrade that can make a huge impact on your bike's braking power. Cartridge pads are mostly sold as packages. However, you can also purchase just the rubber inserts separately.
4. Disc Brake Pads: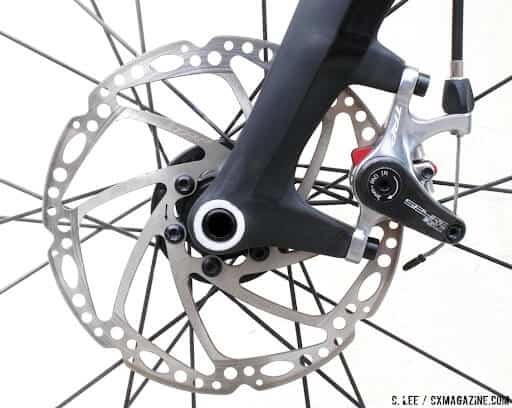 Image Source: cxmagazine.com
As opposed to the rim of the bike being used as a braking surface, alternately disc brakes utilize a round metal disc that is attached to the wheel's hub. This disc spins through a caliper that consists of the brake pads. When you press on the brake lever, the pads are applied to the rotor. As a result, friction is created that immediately slows down the bike. Disc brakes can be seen on both MTB and road bikes. Mainly, there are three types of disc brake pads. They are organic, sintered, and semi-metallic pads.
5. Organic pads:
Organic pads can also be called resin pads. They are made up of a high-density ceramic. Organic pads are known to offer more stopping-power and are much better at heat dissipation compared to sintered metallic pads. They are also much softer than metallic pads. The fact that they provide great heat distribution means that they heat up quite slowly and therefore are ideal for use in braking systems that have a low boiling point. However, there are a few drawbacks to these pads. Organic pads are more likely to wear out very quickly in wet and sandy conditions.
6. Sintered pads:
Sintered pads are also called metallic pads. These types of pads are made with a compound that has added metal content. These metal contents are usually copper shavings. Therefore, the metallic pads are much noisier and heat up much faster compared to organic pads. On the plus side, they perform exceptionally well in wet conditions in comparison with organic pads which do not last very long. In the end, your choice may depend on the weather and road or terrain conditions you ride in.
7. Semi-metallic pads:
Semi-metallic pads are made up of metallic fillers mixed with organic fillers. This gives a well-balanced combination of the qualities of both organic and metallic compounds. These versatile pads are the ideal choice for anyone that requires more rough performance than that of an organic pad and lacking the downsides of a metallic pad. On the other hand, they do come with a few drawbacks of both types of pads as they are noisier than organic pads and don't offer the high-temperature performance of metallic pads.
8. Major Factors for Brake Pads
i. Rim Type (For Rim Brakes)
Standard alloy rims are not an issue when it comes to brake pads type. This is because any regular pads will suit them well. However, riders with carbon-rimmed wheels will need carbon-specific brake pads. Also, it is important to note that some lightweight rims require special pads so that the rim does not get damaged or harmed in any way. Another important fact you should be aware of is that almost all aftermarket pads will be compatible with most of the caliper brake systems out there, however, some require specific models from the manufacturers.
ii. Riding Conditions
There are different pads for different kinds of riding conditions such as dry, humid, or wet weather. A lot of brake pad manufacturers offer products that are specific to wet weather. These are the best choice for winter training or riding during the transition seasons of spring or autumn. Such pads still provide excellent performance during dry conditions but are enhanced to provide even better performance when compared to standard pads during wet or rainy conditions.
F. A. Q.s
Q1. Which type of brake-pad material would be ideal for me?
Ans.: Generally ceramics tend to be more preferred brake-pad materials as they are great when it comes to building up of dust. With that being said, organic brake-pads come in as a very close second. Semi-metallic brake pads are known for gathering the most brake-dust. Metallic pads also have a large following due to their stable and lasting performance. However, the type of pad material that will be the best for you completely depends on your riding style and conditions. You can watch this video to know more:
Q2. When should you replace your brake pads?
Ans.: Rim brake pads have a tread marking on the part which is in contact with the rim. If these markings are not there anymore then that means that the upper part of the rubber strained, and the brake pads need to be replaced. Disc brake pads have about 3-4 mm of the compound. These pads are worn out when the compound goes down to 1.5- 1 mm or 25% thickness. You should note that if you have metallic brake pads, you may not need to change them as often as you do with organic brake-pads. You can watch the video linked below to know more:
Q3. How to stop bicycle brakes from squeaking?
Ans: You should clean out your rotors or wheel rims regularly with a specific oil-free degreaser. This is a great way to prevent your brakes from squealing. You should also clean out your pads to reduce noise while braking. However, if grease has soaked through the pad, you have to replace the pads to stop the noise.
Q4. Can you use brake pads for carbon wheels with aluminum wheels?
Ans: Yes you definitely can! The carbon brake pads will work very effectively, however, it is advised that you should not use them. First of all, the brake pads will perform as well as would on the aluminum rims. Second of all, using your carbon rims for both your carbon and aluminum wheels can cause significant damage. Any minute speck of aluminum from the wheel can damage your carbon rims.
Q5. Are my brake pads universal?
Ans: Bike brake pads are mostly universal. It actually comes down to what type of compounds they are made up of. Some come with soft non-metallic compounds while others have hard metallic compounds. Of course, there are also some variations in the size and diameter of the pads. If you're not sure, however, remember to ask your local bike store attendant for advice on the best fit.
Conclusion
We hope we could provide you with correct advice and guidance on the best mountain bike brake pads. However, you can choose one from this article if you do not have the time for searching for one on your own. We can assure you that the brake pads in this article are some of the best in the world. So we wish you all the best for your new purchase. Have a wonderful time with your new brake pads. Thank you for reading this article. Take care!
Related Articles on Bike Pads:
---
Useful Resources:
(Visited 20 times, 2 visits today)
Last update on 2020-11-25 at 11:50 / Affiliate links / Images from Amazon Product Advertising API
Close