Brakes are the most important component of your bike. Therefore, you must have the best rim brakes on your rim wheel bike. However, finding the right rim brake that matches all your requirements is not as easy as it sounds. That is why we have written this article so that you get to choose from the top rim brakes available in the market right now.
After extensive research, we have compiled this list of the 12 of the finest rim brakes that are being manufactured now. We have tested the brakes ourselves and so you can rest assured that these rim brakes are of the highest quality & performance.
Out of some of the selected finest rim brakes, we have chosen the Shimano Dura-Ace Calipers as our Overall Best Choice because of its impressive design, tremendous braking power, and smooth shifting.
A quick look at our selected list of the finest rim brakes for you:
12 best rim brakes you can buy today
| Brakes | Preview | Model | Best For | Material | Brake Type | Reach | Rim Width | Maximum Tire Size | Mount Type | Weight | Score |
| --- | --- | --- | --- | --- | --- | --- | --- | --- | --- | --- | --- |
| Shimano Dura-Ace | | BR-9100 | Road Biking | Steel | SLR EV Dual Pivot | 51 mm | 20.8 - 28 mm | 28" | Standard | 326 grams (pair) | 95 |
| Campagnolo Record 12 | | Record 12 | Road cycling, Time Trial, Triathlon | Aluminum | Dual Pivot | | | 28" | Center Bolt | 317 grams (pair) | 92 |
| Shimano Ultegra | | BR-R8000 | Road cycling, Time Trial, Triathlon | Aluminum | SLR EV Dual Pivot | 51 mm | 20.8 - 28 mm | 28" | Center Bolt | 182 g (Front), 178 g (Rear) | 90 |
| TRP Road Caliper | | R879 | Road Cycling | Forged / CNC machined 6061-T6 Aluminum | Dual Type | 39 - 49 mm | 27 mm (Maximum) | | Short Reach Caliper | 160 g (Front), 158 g (Rear) | 89 |
| SRAM Rival 22 | | Rival 22 | Road Cycling | Forged Aluminum Arms & Stainless Hardware | Dual Pivot | 39 - 49 mm | 29 mm (Maximum) | 28" | Short Reach Caliper | 300 grams (Pair) | 88 |
| Miche Performance | | Performance | Road, Triathlon | Lightweight Alloy | Dual Pivot | 41 - 57 mm | | 27" | | 325 grams (Pair) | 87 |
| Shimano V-Brake | | BR-T4000 | Trekking | Aluminium | V-Brake | | | 700C | | 270 grams | 86 |
| Avid Shorty Ultimate | | Shorty Ultimate | Racing, Cyclocross | Forged Aluminium | Cantilever Brake | | | | Post Fork | 129 grams (Front/Rear) | 85 |
| Shimano Ultegra | | Ultegra 6810 | Competitive Riding | Aluminium | Direct Mount Type | 51 mm | 19 - 26 mm / 19 - 28 mm | 28" | Post Fork | 340.7 grams (Pair) | 84 |
| Bike Brakes V-Brakes | | Liteone V-Brakes | Most Bicycles including Road, MTB & BMX Bikes | Aluminum Alloy & Plastic | V-Brake | | | | | 386 grams (Pair) | 83 |
| Shimano BMX V-Brake | | BR-MX70 | MTB, BMX | Aluminum | V-Brake | | | 26", 650b, or 700c | | 184 grams (Rear) | 80 |
| SRAM Apex | | Apex | Road Biking | Forged Alloy | Short Reach Road Caliper | 39 - 49 mm | | 28" | | 308 grams (Pair) | 78 |
1. Shimano Dura-Ace:
Exceptional design, immense braking power, tremendous shifting

|

Overall Best Choice

The Shimano Dura-Ace Calipers is just one of the best brake calipers out there. First of all, we have to say just how amazing these rim brakes look when they are mounted on the bike. It really does improve the overall appearance of the bicycle. We have used a lot of Shimano calipers and we have to say that these Dura-Ace brake calipers feel much lighter and stiffer than all the others. Also, the performance is absolutely top-notch. With these brakes, you will experience a smooth ride where slowing or just stopping your bike is as seamless as it can get. It provides the perfect combination of weight, braking performance, and stiffness. Also, don't worry about these brakes getting locked up. No matter how heavy you are, you can't get them to lock up without a serious effort. Therefore, if you are planning on upgrading the brake calipers on your bike, you can't get anything better than these rim brakes.
2. Campagnolo Record 12 Dual-Pivot:
Aerodynamic, excellent performance, orbital adjustments
The Campagnolo Record 12 Dual Pivot Brakes is widely popular in the cycling community for its reliability and performance. The dual pivots on the front and rear offer superior braking power. The dual-pivot design provides a much better grip on both arms to produce more clamping force on the rim's brake track. Also, the bearings at the pivots offer up a super smooth motion. Campagnolo upgraded this model from the previous ones by providing clearance for 28" tires. These brakes will aid you in building up your lightweight dream bike, without any fear of slowing down on the steepest or even the longest mountain descents. Also, these excellent rim brakes feature superb ergonomics. It will provide you with an amazing and fulfilling riding feeling. Setting these brakes up on your bike is also fairly easy. So if you are currently searching for a new set of dual-pivot rim brakes, the Campagnolo Record 12 will provide you with everything you need!
Campagnolo Record 12 Dual Pivot Brakes
3. Shimano Ultegra:
Aesthetic design, dual-pivot brakes, SLR-EV technology
The Shimano Ultegra Brake Calipers will provide you with great stopping performance. You will be able to use this with complete ease and also get instant response from the brakes. Also, they provide a simple installation process and the brakes themselves are quite easy to adjust according to your preferences. There are narrow gaps between the arms of the brake calipers. This not only helps to lower its weight but also improves the aesthetics of the brake unit. These brakes are of excellent quality. They are also capable of accommodating wide tires, upto 28C in size. This is a major advantage as wider tires perform very well on rough and tough roads. Another benefit of this feature is that you can easily fit or even remove your tires thanks to these brake calipers. And so, if this is the type of brake caliper you are searching for, you should get them before they run out!
Shimano Ultegra Brake Calipers
4. TRP Road Caliper:
Lightweight, dual-pivot brakes, reach adjustability
The TRP Road Caliper Brake Set is just what you need to enhance your racing experience. That's not all, they are also great for your daily commutes or just regular road biking. You will realize how amazing they are on your very first ride. It provides an excellent & firm braking response. They work very well with SRAM levers but will also go well with any type of road levers. Also, it will look great on your bike no matter what your build is. Another great part about this brake set is that they include two sets of brake pads for both alloy and carbon rims along with the package. The TRP road calipers are very smooth and easy to modulate. So if you are planning on getting a new pair of brake calipers for your favorite road bike, get these and enjoy a whole new riding experience.
5. SRAM Rival 22:
Versatile, solid build, SwissStop pads
The SRAM Rival 22 Brake Caliper offers everything you need to meet your versatile cycling endeavors. These brake calipers can be installed very easily onto your bike and making adjustments is a completely effortless process. The best part is once you are done adjusting them, they stay exactly like that. You will not find them loosened or unadjusted. Our test ride was very successful. The brakes performed very well and offered incredible modulation which was not only efficient but also linear. Also, the brakes offer a lot of predictability as they respond well to an increased force applied at the levers. The swiss stop pads are a bonus as they provide smooth stopping power as well. Therefore, you can buy this pair of brake calipers and easily set them on your bike to enjoy the tremendous performance while riding.
6. Miche Performance:
Affordable, great stopping power, excellent adjustability
The Miche Performance Brake Set is quite popular in the cycling community for their high quality and affordable price. They are a great choice for cost-conscious audax and winter bike builds. The rich gloss anodizing on our test pair looked classy and very durable. It looked absolutely amazing on our road bike. The braking has proved impressive with excellent modulation and runs even while swooping into long, wet, and winding descents. The original pads have relatively soft compounds and provide an adjustable angle. So if you want a great pair of calipers without spending too much money, this is the perfect choice for you!
7. Shimano V-Brake: Long brake arms, incredible power, noiseless

|

Best Value For Money
The Shimano Mountain Bicycle V-Brake is a very efficient and powerful mountain bike rim brake. They are very easy to set up onto your mountain bike and they are guaranteed to provide more stopping power than the brakes that originally came with your bike. This is because this is the best quality v-brake for MTB. These brakes can lock up the rear wheel with very little effort but still provide controlled braking. Also, the brakes have strong retracted springs and have adjustment screws to set them not to rub the wheel. The pad adjustment is easy and well-executed. The bottom line is that they provide rock-solid braking, no squealing or rubbing pads, and most importantly a safe bike for riding. Highly recommend these brakes if you are thinking about replacing or upgrading from what came on with your bike.
Shimano Mountain Bicycle V-Brake
8. Avid Shorty Ultimate Cantilever:
Lightweight, NC machined arms, center-pull design
The Avid Ultimate Cantilever Brakes are the best cyclocross cantilever-brake out there in the market. It has incredible braking power especially in dry conditions and it also offers high brake modulation without which the braking power would be meaningless. While it may be true that the brake performs well along with the Shimano's brand new brake levers which comes with a longer cable throw, these cantilever brakes actually give their best when used along with an SRAM lever or even an older Shimano lever. These cantilever brakes are compatible with both wide or narrow arms. We gave them both a shot and we preferred the narrow profile for both the front and back brakes as it offers more power. So get these amazing cantilever brakes while you still can!
Avid Shorty Ultimate Cantilever Brake
9. Shimano Ultegra Direct Mount:
Integrated design, dual-pivot brakes, fantastic brake shoes
The Shimano Ultegra Direct Mount Brake Calipers are highly recommended for its great performance and control. You can install these brake calipers on your bike all by yourself. The cable tension can be adjusted easily and the brakes grab onto the rim very well. The brake pads can be adjusted in all three dimensions. You may notice that initially, the pads don't mount parallelly on to the rim very well. But you can adjust it to do that. After adjusting you will be able to get the whole pad within a few millimeters of the rim. They perform in a very smooth and quiet manner. The stopping power and modulation that these brake calipers offer will surely enhance your performance and help you get ahead at your next race. So get these brake calipers and upgrade your bike's braking performance!
Shimano Ultegra Direct Mount Brake Calipers
10. Bike Brakes V-Brakes Set:
Multipurpose, great build, easy installation

|

Budget Choice

The Bike Brakes Mountain Bike V-Brakes are a very versatile and reasonably priced brake set that will surely meet all your cycling requirements. They are very easy to set up and adjust. Specifically, the springs are quite smooth and evenly proportional which makes them very easy to adjust. The company provides a lot of extra items in the package that are very helpful. You will find that stopping with these brakes is very quick and smooth. The brake pads are quite soft and yet the performance is still upto the mark. So if you are looking for a budget-friendly upgrade to your bike that will improve its stopping performance and is reliable, then you should definitely get these fantastic brakes.
Bike Brakes Mountain Bike V-Brakes Set
11. Shimano BMX V-Brake:
High strength, superb brake pads, cartridge brake shoes
The Shimano BMX V-Brake is used only as a rear brake and is the best choice for taking your BMX riding to a whole new level. This brake is quite light and provides a smooth and effortless pull. The stopping power is just fantastic and will allow you to brake conveniently and with total control. The brake looks amazing too. Your friends and BMX riding buddies will instantly recognize the large DXR logos on the brake. Overall, they are a great option for upgrading your rear only brake on your BMX bike. So what are you waiting for? Get it today to experience the best BMX riding with this outstanding brake.
12. SRAM Apex:
Exceptionally lightweight, very adjustable, SwissStop brake pads
The SRAM Apex Brake Caliper Set is a lightweight and powerful brake set to empower your next riding session. The brake set can accommodate large wheels which is a huge plus point as not brakes can do that. Apart from that, they also have a very high quality and great looking finishing that will surely make your bike stand out. The brakes are also super easy to set up and adjust according to your own preferences. You can get it up and running in under an hour and take it out on the road for a quick spin. So if you are looking for a set of brakes from a well-known brand that offers great performance and also comes with a reasonable price tag, then the SRAM Apex Brake Caliper Set is the perfect match for you!
---
Buying Guide: Rim Brakes
What is a rim brake?

Image Source: blog.mapmyrun.com
Rim brakes use their wheel's rim as the braking surface. After the brake lever is squeezed the bike's speed is reduced as the braking pads are pressed on to the rim. Rim brakes are widely used in city, BMX & road bikes. They are popular due to their effortless mechanical structure and because they are light in weight. Two of the most preferred types of rim brakes are cantilever & caliper brakes. Both of these types of rim brakes are great in terms of their quality and performance. With that being said, they each have their own unique advantages and disadvantages. Also, they are appropriate for different types of bike riding activities. You will rarely see any rim brakes on mountain bikes. However, some mountain bikes are equipped with a rim brake called V-brake.
1. V-Brakes
After V-brakes were introduced, they really enhanced the performance of tour bikes, hybrid & off-road bikes. V-brakes are still an excellent option even though most bikes come with disc brakes now. When the brake cable is pulled, the two long arms of the V-brakes provide exceptional braking power. Also, V-brakes are known for performing well even in extreme weather or road conditions. V-brakes are quite simple to install and assemble. However, you should ensure that the brake levers are well-matched otherwise it can lead to poor performance. Also, most V-brakes have cartridge style brake pads, therefore replacing the pads is very straightforward.
2. Cantilevers
Cantilever brakes are quite similar to V-brakes. However, they have a straddle cable between them. When that is pulled in a vertical direction the brakes become activated. Cyclocross riders prefer cantilever brakes over V-brakes as they provide great performance and do not get jammed with mud. Cantilever brakes are not very straightforward when it comes to the installation process. But they are worth the trouble because of their performance. These brakes also come with cartridge style brake pads. As a result, they offer a quick and simple replacement. Even though most new cyclocross bikes come with disc brakes, you can still find older models fitted with cantilever brakes.
3. Calipers
There are many different options you can choose from when it comes to caliper brakes. However, the most common one you will find is the dual pivot caliper brakes. The dual-pivot brakes have two key parts. These brakes not only offer immense stopping power but also offer incredible control. They are very popular among professional riders and they are also quite easy to install and maintain. Dual pivot caliper brakes also offer excellent aerodynamic gains and that is why they are the prime choice for many in the cycling community.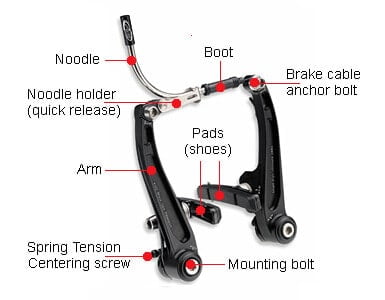 Image Source: bikesonrobson.com
Features of Rim Brakes
1. Brake Pads
The brake pads are attached to the ends of the brake's two arms, and when you pull the brake lever, the brake pads rub against both sides of the rim and therefore the bike slows down. There are two main types of rim brake pads. They are:
These are the most basic types of brake pads and also the most affordable. They consist of a rubber block along with a braking surface and a threaded metal post. The brake pad is mounted on the arm by the use of the metal post and is located on the opposite side.
Cartridge pads consist of a metal shoe that has replaceable rubber inserts. Cartridge pads are better in terms of performance when compared to non-cartridge pads. This is because cartridge pads offer more braking power as the metal shoe is less susceptible to flex than the rubber block of non-cartridge pads. They are an easy upgrade to your bike which can help you enhance your braking performance. Cartridge pads may be sold as a package along with posts, pads, and shoes, or as individual rubber inserts.
2. Brake Modulation
Brake modulation is how efficiently the braking power is impacted by the position of your bike's brake lever. It basically means that your bike will stop according to the amount of pressure you apply on the lever. A bike with high brake modulation will slow down gradually if you apply a slight amount of pressure. However, if it has low brake modulation then the bike might stop instantly with just a slight pressure on the lever. Rim brakes offer much better modulation when compared to disc brakes. Some brake systems allow you to improve the brake modulation by balancing the adjustment between the lever piston and the caliper piston. This enhances the brake modulation even more and gives you much better control of your bike.
3. Bike Compatibility
You must make sure that your new rim brakes are compatible with your bike. To install your new V-brakes, you must check that the forks, wheels, and frames are compatible. When mounting your V-brakes or other cantilever brakes both the frame & forks will require bosses that the brakes will be attached to. These bosses are threaded metal ends that are located on the frame's fork legs and seat stays. There are adaptors if your frame or forks does not consist of these bosses. Also, and this is perhaps the most important of all, the rim of your wheel must have a braking surface. It is also important to note that disc-only wheels will not be compatible with your rim brakes.
Caliper brakes on the other hand are of two types. They can either be single-pivot brakes, in which both brake arms pivot at one point, or dual-pivot brakes, in which one arm pivots at the center point and another at a side point. While single-pivot caliper brakes are much lighter in weight, dual-pivot ones are capable of exerting much higher braking power. Caliper brakes for road bikes are generally mounted along with a bolt that threads past a parallel hole on the frame.
4. Long-drop Brakes
One of the most important factors that you must consider if you are purchasing a new set of caliper brakes is the amount of 'drop' the brakes have. This is especially important if you are getting the brakes for your touring bike or your winter trainer. The amount of drop basically refers to the arm length of the brakes. This is because commuting, touring and winter training bikes are compatible with larger tires that measure 28 mm and above. Therefore, the arms of the caliper brakes need to be long enough to go around the tires and be able to get to the rim. This will also enable them to be used along with mudguards. Therefore, if this is the case for you, you should avoid standard drop brakes and go for long or deep drop caliper brakes for your bike.
F. A. Q.s
Q1. Are rim brakes going away?
Ans.: Most rim brakes are much lighter than disc brakes. In addition to that, they offer incredible stopping power & linear brake modulation. They also allow for flexible fork blades that decrease suspension losses. This allows you to control your bike's speed more comfortably. Yes, most new bikes coming out these days are indeed fitted with disc bikes. But rim brakes still provide reliable and powerful performance. It still has a respectable place in the worldwide cycling community.
Q2. What is the difference between rim brakes and disc brakes?
Ans.: The main difference between rim brakes and disc brakes is that in rim brakes, the braking force is applied by calipers on the outer edge of the rim. On the other hand, disc brakes shift the braking surface away from the rim and on to a rotor. Also, rim brakes are lighter, less costly, more aerodynamic, and require less care than disc brakes. However, disc brakes offer much more braking power, better heat transfer, and offer more precision. You can watch the video linked below to find out more:
Q3. How to take care of rim brakes?
Ans.: First of all, you should check your rim brake pads and the inner cable regularly for wear and tear. Second of all, if your brakes feel gritty while you are riding, you should apply some Teflon based oil on your brakes to make it smooth again. You can watch the video linked below to know more about rim brake maintenance:
Q4. How to adjust your rim brakes when you are riding on the road?
Ans.: If you are out riding on the road and see that your brakes are not working properly, you should immediately get off your bike, try to find out what's wrong, and make some quick adjustments to fix it. Firstly, you should take a look at the barrel adjuster and if it is adjusted properly. Secondly, check your brake pads for wear. Also, check if your brake pads are in the correct position or not as they can sometimes get misaligned while riding. You can watch the video linked below to know more about making roadside adjustments:
Conclusion
We hope we could guide you and give you proper advice on how to choose the best rim brake for your bike. If you feel like you don't want to go through the hassle of finding a rim brake set for yourself, you can choose one from this article. We can assure you that you will not regret it. With that being said, best of luck with your new purchase and we hope you have a great time with your brand new brakes. Thank you for reading this article. Take care!
Related readings on Bike Brakes:
---
Useful Resources:
(Visited 27 times, 1 visits today)
Last update on 2020-11-25 at 10:30 / Affiliate links / Images from Amazon Product Advertising API
Close