A rear derailleur is one of the more traditional components on road bikes, despite the significant evolution of cycling technology over the years. They allow seamless shifting while on the roadz keeping the tension in the chain constant and consistent throughout. Modern road bikes are still fitted with rear derailleurs during production, while many of the previous versions have seen upgrades. This is why brands like Shimano and SRAM, amongst many others – have continued to design and manufacture rear derailleurs. As a road bike user, you can find various options over a considerable range.
However, this "availability" of options can be a dilemma for you. Since the rear derailleur is bound to work hard, you need to check compatibility with other bike parts. The best ones for road bikes will be extremely responsive to shifter press, and last a long time without much maintenance. While they are similar looking, the difference in quality of construction and engineering is likely to decide how your gears are shifting.
Buying Guide: Road Bike Rear Derailleurs
Road bike rear derailleurs are incredibly simple in design, and fundamental in how the bikes function. Available in numerous sizes, the design of this equipment causes the chain to shift at the rear sprockets. Secured to the rear dropout of a bike frame, the main body of this component contains cable actuated springs. These allow the derailleurs ranges of motion that are in accordance with the pull of the cable. The chain is run around two jockey wheels. Having dual functions, the primary of which being moving the chain from different sized sprockets; a constant level of tension is also taken up by the derailleur and maintained using the jockey wheels.
1. Components of a rear derailleur
The derailleur is named in segments, the upper portion of which is known as the b-knuckle.
The b-tension adjuster on derailleurs like Shimano and SRAM is responsible for tweaking and tuning the guide pulley height. Whereas on derailleurs from Campagnolo, a screw located near the p-knuckle is used for height adjustments.
A barrel adjuster can be used to maintain or change cable tension.
As the bike chain moves from cog to cog, it is kept in place using the guide pulley.
Gear selection choice has no impact on the idler pulley's ability to maintain tension on the chain.
In order to attach the derailleur to the bike frame, mounting bolts are used as connections.
The chain has a parallelogram linkage. Therefore,it stays parallel to the cogs whilst allowing the chain to move about in any direction.
The high limit of a derailleur is marked H, and is used to stop the chain from falling off of small cogs. Marked L, the low limit prevents any chain shift into the spokes. Generally located near the b-knuckle, the high and low limit stops can also sometimes be found at the front of the parallelogram.
The p-knuckle in a derailleur has dual function. To attain cage tension that can maintain tautness in the chain, the p-knuckle supports a guide pulley along with a spring. Some mountain bikes, such as the XTR Shadow Plus by Shimano, are equipped with a control switch. This is used to heighten the spring tension, along with activating a friction stabilizer which helps keeps the chain stable even in the roughest of terrains.
The shift cable is moved to place via the cable bolt. Usually when the cable is pulled by the shift lever, the derailleur transitions the cassette to a lower gear. Shimano's low-normal derailleurs are considered as exceptions, designed in a manner to do the exact opposite.
The chain between the pulleys is kept in line using the cage.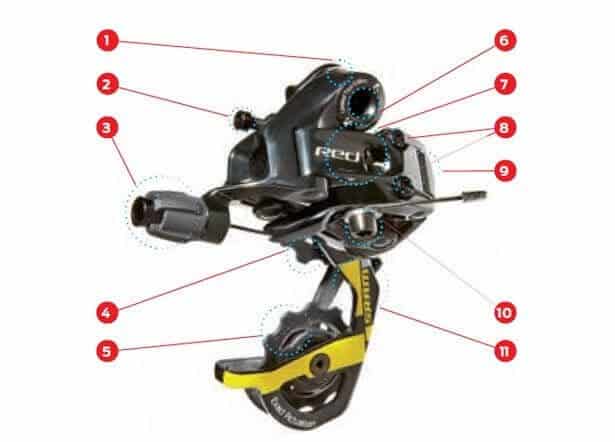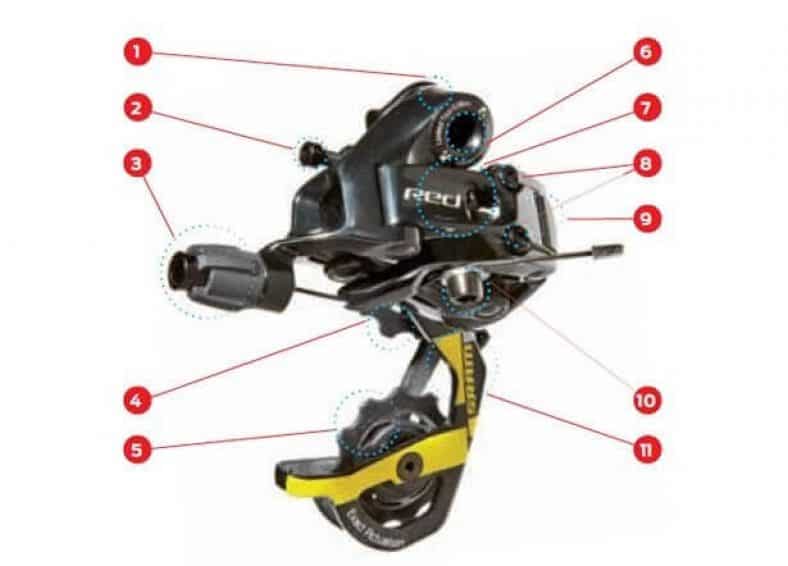 2. Type of bike
Road bike: Road bikes usually come equipped with high gearing – the crankset running 52/39 or 50/34 chainrings. While two chainrings are hugely common on the front cassette of road bikes, the rear cassette will be considerably small. Road bikes need road specific rear derailleurs on them.
Mountain bike: Mountain bikes have 30s or 40s chainrings at the front, while the crankset is using 3 chainrings. This difference is what makes mountain and road bike derailleurs non- interchangeable.
3. Manufacturer
With cable pull being brand-specific and varying, your rear derailleur is only compatible with a shifter from the same manufacturer. A few major players in the field of manufacturing rear derailleurs are SRAM, Campagnolo, and Shimano.
4. Speeds
The speed of your rear derailleur is determined by the cassette's sprocket number, typically denoted by 8 speed, 9 speed etc. To function properly, the rear derailleur's speed should conform to the sprocket number on the cassette.
5. Cage size
The 3 cage lengths are: I. Short, II. Medium, III. Long.
When the largest and smallest cogs on a cassette have a wider teeth range between them, long cages are preferred. To minimize any chain slack, short cages are preferred on road bikes. This is also due to the narrow gear range on the cassettes of these bikes. For more gear range, the cage of the rear derailleur would need to be longer. The sprocket that is the largest is able to cope with increased teeth number. The greater the range, the longer the cage length will need to be. Medium length cages are compatible with most bikes.
Low rear wheel gear range can be found particularly on touring bikes, and the large sprockets here require a long cage length. On the other hand, racing bikes can do with medium cages as the gear range is not too widespread. Medium cages can offer a considerable range of gears in many sporting bikes today. However, if you are running chainsets that are more standard sized and the cassette ratio is much closer – you will be needing a rear derailleur that has a short-lengthed cage.
6. Rear cog size limit
The teeth capacity for the largest sprocket of a rear derailleur is a detrimental characteristic, and is largely dependent on the cage length. Rear derailleurs on road bikes running short cages can accommodate 25- 28 teeth, while MTB bikes that run longer cages can use 32 or more teeth.
7. Chain wrap capacity
Chain-wrap capacity exhibits how the rear derailleur is able to pick up any chain slack. This takes place simultaneously to movement from one cog on the cassette to another, by means of having a cage that is long enough. Shorter cages are common on lighter rear derailleurs so that shifting is quick. It is a good idea to calculate this information so that you are able to get the best performance from your rear derailleur. To calculate Chain-wrap capacity, start by finding out the teeth number on the cog that is the largest and smallest, of course in the rear wheel. You have to follow the same process for pedal chainrings. Adding these two will give us the chain wrap capacity.
Also known as drivetrain capacity, bigger cages are needed to deal with increased potential for chain slack. We have put up how this varies by manufacturer below:
| Manufacturer standards | Teeth on cog of the largest cassette ( Road) | Chain wrap capacity(Road) |
| --- | --- | --- |
| Shimano SS/ Short cage | 27 | 29 |
| Shimano GS/ Medium cage | 34 | 37 |
| Shimano SGS/ Long cage | 42 | 45 |
| SRAM short / Short cage | 28 | 31 |
| SRAM medium / Medium cage | 32 | 37 |
| SRAM WiFLi or Eagle / Long cage | | 45 |
8. Standard vs "rapid rise" rear derailleur
Derailleurs at the rear are pushed outwards by means of a spring. The mech moves in the direction of the sprockets that are smaller with the release of the shifter cable. A pulling movement at the shifter cable will move the derailleur towards sprockets that are larger. Rear derailleurs that function like this are called top-normal/high-normal.
Mechs that are "low-normal" are a Shimano speciality, where the term "Rapid Rise" is used to address such rear derailleurs too. The functionality is reversed on these derailleurs – shifter cable pull moves the mech in the direction of smaller sprockets while spring push moves the derailleur in the opposite direction.
9. Electronic
Electronic rear derailleurs are only compatible with components from the same manufacturer. Instead of cables moving the mech, battery power acts instead. Prime manufacturers like Shimano use rear derailleurs that have been integrated with Digital Integrated Intelligence on groupset models like Dura Ace & Ultegra. Another major manufacturer Campagnolo features Electronic Power Shift on its popular road groupsets like the Super Record or Chorus.
10. Weight
It is likely that higher end rear are lightweight in comparison. Either carbon or Aluminum is preferred for such models, and they might be a little pricey. Manufacturers also combine Aluminum with steel on some models. A heavy derailleur is likely to slow you down, and this will outweigh any advantage of durability
11. Longevity
Rear derailleurs material also affects how long it will serve the user. For rough trail road biking, there are special models for heavy duty use, and they usually weigh and cost more. Typically,rear derailleurs that are less expensive are more likely to bend, given the thin metal that is used in their construction. .
12. Easy to Install and Adjust
The best road bike rear derailleurs can be installed and adjusted by users on their own. Usually manufacturers deliver rear derailleurs with the necessary tools that are needed for installations and to make adjustments.
13. Bicycle frame mounting
There are two ways of rear derailleur attachment:
Standard mount hangers: Typically, rear derailleurs use a replaceable hanger that uses a threaded hole. It is at this M10x1 hole where the derailleur has to be attached . The ideal position for this hole is close to the axle centre of the rear hub. Major rear derailleur manufacturers mention where the rear derailleur has to be attached.
Direct mount hangers: Direct mount system for rear derailleurs was first put into use by Shimano, and is featured on all their road bike rear derailleurs. Here, the location of the main pivot so that it is towards the back, and under the cassette. This relocation allows easy installation and removal of the rear wheel. In this design for mounting, since much of the rear derailleur body is tucked beneath the cassette, it is less susceptible to damage in case of unfortunate crashes. Rear derailleurs that are direct mount can be used with standard hangers for mounting rear derailleurs too, making them " backwards compatible".
Our Top Pick(s)
In this article, we have brought up 12 best road bike rear derailleurs that are available in the market today. As the name suggests, these rear derailleurs have been designed specially for riding on the road. For our "Overall best choice", we have selected 2 products from 2 separate manufacturers. The Shimano choice for best rear derailleur is Shimano RD-RX812 GRX, while SRAM Rival Type 1 3.0 is the SRAM rear derailleur choice.
Shimano RD-RX812 GRX
Shimano rear derailleur | Overall Best Choice
Shimano RD-RX812 GRX is our overall best choice of rear derailleur from the manufacturer Shimano. It will allow smooth and quiet shifting on road terrains that are very rough. Thanks to Shadow RD+ and chain stabilizer that allows adjustments, chain drop and slap will be a thing of the past. The long cage is designed for giant 11 speed Shimano cassettes, running 11-42 t.
Consistent and noiseless rear derailleur shifting
Clutch tension is gravel tuned
ON/OFF switch for stabilizer
SHADOW plus for rough riding on the road
No chain drop or slap
Compatible with 1x drivetrains
Sale
SRAM Rival Type 1 3.0
Designed for optimal chain movement; roller clutch 3.0; no chain slap or ghost shifting  | Overall Best Choice
SRAM Rival Type 1 3.0 would be our SRAM overall beat choice. It brings the innovative 1x technology from SRAM to adventure, gravel, and road bikes that have drop bars. X -Horizon derailleur design is specific to 1x drivetrains, and is compatible with a wide cassette range. Despite being non- clutch, it is able to retain the chain well while the 3.0 RBC has minimized chain slap. The chain gap is adjusted automatically by the bigger upper pulley. non- clutch
Parallelogram and Rolling Bearing Clutch technology
Can be used with 1x drivetrains
Great chain control
Chain and cog are close together on the X-Horizon design
Exact Actuation makes shifting precise and quick
A quick view of our list of the best road bike rear derailleur for your bikes:
| Rear Derailleur | Speed (s) | Our Ratings |
| --- | --- | --- |
| Shimano RD-RX812 GRX | 11 | 93 |
| Rival Type 1 | 10 | 93 |
| RD-R9150 Dura-Ace Di2 | 11 | 92 |
| SRAM Eagle GX | 12 | 92 |
| SRAM Force 1 Type 3.0 | 11 | 90 |
| Ultegra RD-RX800 Rear Derailleur | 11 | 89 |
| Force WiFli RD | 10 | 87 |
| Force 22 Rear Derailleur | 11 | 86 |
| Shimano Ultegra R8000 | 11 | 84 |
| Shimano 105 RD-R7000 | 11 | 80 |
| GX Type 2.1 | 10 | 78 |
11 best road bike rear derailleurs you can buy today
In the comparison table below, we have listed 12 rear derailleurs for road bikes. Please note that only products from Shimano and SRAM have made it, and a quick glance at the table will tell you why. For comprehensive review of each product and a buying guide, check the rest of our article.
| Rear Derailleur | Preview | Manufacturer | Speed | Cage length | Chain wrap capacity |
| --- | --- | --- | --- | --- | --- |
| RD-RX812 GRX | | Shimano | 11s | Long | 31t |
| Rival 1 Type 3.0 | | SRAM | 10s | Long | 32t |
| RD-R9150 Dura-Ace Di2 | | Shimano | 11s | Long | 33t |
| GX Eagle | | SRAM | 12s | Long | 40t |
| Force 1 Type 3.0 | | SRAM | 11s | Medium | 25t |
| Ultegra RD-RX800 | | Shimano | 11s | Long | 39t |
| SRAM Force | | SRAM | 10s | Medium cage WiFli | 32t |
| Force 22 | No products found. | SRAM | 11s | Medium | 37t |
| Ultegra R8000 | | Shimano | 11s | Medium | 39t |
| 105 RD-R7000 | | Shimano | 11s | GS Medium | 16t |
| Gx Type 2.1 | | SRAM | 10s | Medium | 35t |
1. Shimano RD-RX812 GRX: Shimano rear derailleur

|

Overall Best Choice
Shimano RD-RX812 GRX
Material: Aluminum alloy, GRFP
Weight: 264g
Cage Length: Long
Largest cog: 42
Chain-wrap capacity: 31t
Speed: 11s
Compatibility: Shimano Road 11-speed
Use: Gravel, Cyclocross, City & Touring
Mount Type: Direct Mount
Features & Considerations
Shadow RD+ system: The profile for RD-RX812 is narrow and allows the chain tension to be customized. Despite what you push this derailleur through, it will keep you on your road bike always. The upper pulley has an on/off switch placed next to it. When it is activated, any unnatural noise, movement, and "chain chatter" is eliminated.
Compact design: One of the first few technologies that we can see in this rear derailleur is RD+ technology from Shimano. It has produced a very compact design so that the derailleur fits much closer to the frame, and the cable routing is more direct. The width of the main derailleur is reduced by half here. For the larger gears, the gear mechanism is extended by almost 33 percent. Out on the road, branches and stones can be easily avoided.
Customizable chain tension: The derailleur has been mounted with a lever to activate the chain- tension. Any chain bounce is minimised so that shifting of the GRX RD-RX812 gear is continuous, while the drivetrain is stable. This innovative system allows chain customization so that you can take on any road terrain. Out of the box, the chain tension is optimized for gravel.
Shimano S.I.S: Everytime you are shifting the gears of the GRX RD-RX812 by using your index finger only, you can hear a harmonious "click". This is a Shimano speciality, and is characterised by consistent and accurate gear shifting. The lever feel is considerably better.
Long cage : The GRX derailleur is available in "long" cage length only. To avail a gear range that is wider for 2x, RX812 is able to accommodate 11-42 cassette. Unlike a 1x setup, the cogs do not have excessive gaps between them.
Compatibility: The GRX RD-RX812 can be used with 11s Ultegra, amongst others. As a result, it can be used when riding either a 11-42 or a 11-40 cassette. Additionally, you can use the Dual control levers from Shimani too. You will be able to carry out short-stroke shifts, while your hands are on the handlebars always.
Some Weaknesses
Can be used only with 1 piece front chainring, which limits the 1x gear range.
GRX RD-RX812 from Shimano is designed so that even when the road terrain becomes extremely challenging, riders can depend on their shifting system. Shifting is likely to be more accurate, smooth, and quiet. Thanks to this hype, we decided to test the 1x oriented RX812 on our 42t rear cassette.
We were looking forward to the crisp shift that is common on all Shimano derailleurs, and we were not disappointed. There was also the RD+ technology to look forward to. Chain slap was restricted to a bare minimum while we were able to engage the clutch precisely. The chain was able to stay on the ring throughout our test, so there was hardly any chain drop too. When we turned off the clutch, the experience was similar to other road non-clutches from Shimano. RX812 levers are sub brake so that we could take up varying hand positions during the technical part of our rides. However, we had to mount them close to the stem – which made our stance narrower while we could use maximum two fingers for gear shifting. Obviously this did not affect the performance, and we were quite pleased by this rear derailleur. The wider gear range is appreciable on gravel rides.
Shimano RD-RX812 GRX Rear Derailleur
2. Rival Type 1: Designed for optimal chain movement; Roller clutch 3.0; no chain slap or ghost shifting

|

Overall Best Choice
Sale
Rival Type 1
Material: Aluminum
Weight: 269g
Cage Length: Long
Largest cog: 42
Chain-wrap Capacity: [long] 32t
Speed: 11s
Compatibility: 10, 11-speed shifters with Exact Actuation
Use: Road
Mount Type: 10×1 Standard
Features & Considerations
Road & gravel specific: Drivetrains that are one-by, like the Rival 1 have been designed by SRAM for the Type 3.0 configuration. It is a great option to bring the functionality and reliability of the derailleur on to road and gravel bikes. Even though the price may be a little on the higher side, the performance outweighs this quite well.
3.0 RBC: This Rival 1 has been equipped with Type 3 Roller Bearing Clutch. While it manages the chain and how the control cage moves, it also ensures that the drivetrain remains stable even on very rough road terrains. The torque curve is smoother so that any derailleur bounce is minimized. Chain slap is eliminated as well so that the derailleur can operate consistently( smooth shifting) and without any noise.
X-Horizon geometry: This technology can be found on one-by rear derailleurs from SRAM only. The idea is to allow the rear derailleur to move horizontally only. The design runs " straight parallelogram" eo that the cogs on the cassette are apart from each other by a constant distance, while the tension remains the same. The force needed to initiate shifting is reduced significantly so that more effort can be used for input. You will be able to shift with greater confidence as there will be no risk of ghost shifting.
Cage lock functionality: The idea behind Cage Lock is to allow you, the rider, to take off your rear wheel easily when dealing with flats on road and gravel terrains. The cage of the derailleur can be locked in place towards the front during installation or removal. To release the pin, the cage needs to be pushed towards the front once more so that the derailleur is able to fall back in its place for use.
Exact Actuation technology: Characterized by equal cable pull on every gear shift, the 1:1 actuation ratio will help you to make quick and precise shifts. This denotes the ratio between how much the shifter cable travels with movement of the derailleur. The adjustment for the drivetrain will feel better, while it makes little or no noise.
Compatibility: Here, the long cage model of Rival 1 Type 3.0 is being reviewed. It is able to support a cassette with capacity 10-42t, while being compatible with 10s and 11s road systems using one -by.
X-SYNC: The rear derailleur can engage the square teeth edges better as they are tall, narrow and sharp. The edges are round and chamfered too so that a deflected chain could be managed while getting rid of mud on the roads.
Some Weaknesses
Cannot be used with 2x drivetrains
Simplicity of use – this is how we can sum up rear derailleur Rival Type 1. The derailleur is designed to move over a cassette that , a much extended range of gears. We took very little time to adapt to the simple shifting, and as usual Shimano delivered a product that allowed quick and accurate shifting. At no point of our test did we experience any accidental shifts. To tell the truth, we would have been surprised if it did occur. As we found our way through terrains and roads that were comparatively tough, the drivetrain kept noiseless throughout. There was very little or no chain slap thanks to the rear clutch mechanism. On road bumps and paths, the chain did not derail. We tried the rear derailleur out on a wide array of bikes, including a few for cyclo-cross racing. Not once did the chain fall off, and we were confident of the reliability of the rear derailleur Rival Type 1 from SRAM.
Rival Type 1 Rear Derailleur
3. RD-R9150 Dura-Ace Di2: Electronic operation; Ergonomic and effortless shifting; Shimano Synchro Shift with Shadow RD

|

Premium choice
RD-R9150 Dura-Ace Di2
Material: Aluminum, carbon (CFRP)
Weight: 240g
Cage Length: Short
Largest cog: 30
Chain-wrap capacity: 33t
Speed: 11s
Compatibility: Shimano Road 11-speed
Use: Road, Triathlon & Time Trial
Mount Type: Standard (Direct Mount compatible)
Features & Considerations
XTR Di2: XTR Di2 system from Shimano offers presice and quick electronic shifting. It is free from any cables, and is therefore able to deliver a much consitent shifting performance than a nechnical shifting system. A single battery is needed for operation.
Synchro-Shift Technology: Electronic shifting is combined with synchro-shuft. It uses he shifter on the right hand side to shift to high or low gears. Te rear derailleur will be operating in such a way that the chainline is optimised. Additionally, the rear mech undergoes automatic shifting as the rider switches to the ring lying internally so that smoothness is maintained.
Single button design: As a rider, you will appreciate the simplicity of the new design that uses reduced buttons. The lever that has been slenderized to 29mm from 40mm. The lever weight also drops to 100g. This single button is featured on satellite shifters too.
One Cage Size: This new derailleur is offered in a single cage size only, and can work with 30T cassette sprockets. It is able to offer an extended rider-adjusted ratio than many of the previous models from the manufacturer.
Shadow Design: The rear derailleur has a narrower profile , while it has been placed beneath the cassette and the chainstay. This gives the derailleur an aerodynamic profile and offers additional protection in the event of a crash. The derailleur can be moved to make way for the dropouts so that it is possible to install or remove wheels faster. Finally, gear shifts are precise and quick. Even in riding conditions that are rough, the derailleur does not come in contact with the chain stay. This is facilitated by the single tension construction as well.
E-Tube: This is a speciality of the electronic actuation of this rear derailleur. Using D-FLY wireless connectivity along with the "Plug & play" E-TUBE platform, the status of the system can be checked easily. By using a smartphone, tablet, or PC – customized settings can be applied too. While riding, Bluetooth® can be used to wirelessly access functions.
Some Weaknesses
All firmware would need to be updated for proper functioning.
We were excited to try out the electronic shifting on the rear derailleur RD-R9150 Dura-Ace Di2. While we could easily rely on the smooth shifting, the braking force was adequate enough for rasy modulation . We also found that the shift levers were extended so that the "click" during gear shift is more profound. Using the E-Tube app from Shimano, we could shift over multiple sprockets. As the app can be run on Windows, Android, and iOS – customizations were much simpler and quick than before. Thanks to Synchro-shift, we were able to choose from 3 modes for shifting. Junction A featured the button which we double clicked to shift between the modes even when we were riding. Installing the RD-R9150 rear derailleur was a real challenge. However, once set up properly, there were hardly any issues as we bounced between the gears on the road.
RD-R9150 Dura-Ace Di2 Rear Derailleur
4. SRAM Eagle GX:

Cage architecture is updated for durability; backwards compatible; accurate shifting with improved chain retention
SRAM Eagle GX
Material: Aluminum and steel
Weight: 290g
Cage Length: Long
Largest cog: 52
Chain-wrap capacity: 40t
Speed: 12s
Compatibility: 12s SRAM MTB, All Eagle drivetrains
Use: Cross Country, All Mountain, Enduro
Mount Type: 10×1 Standard
Features & Considerations
Long Cage: This SRAM rear derailleur has been equipped with a long aluminum cage. The LOCK has been repositioned backwards so that it is protected from any debris on the road trail. Cage Lock technology makes installation/removal of the rear wheel quick and simple, which is helpful while on the road. Combined with a spring made of steel , this Gx Eagle derailleur is a budget option that will last a long time.
Versatile: This Eagle derailleur is available in a number of options in terms of color, and will look great with any eagle chain & cassettes. The mounting system is robust while the cage architecture was redesigned to make the derailleur durable and deliver the same performance. You can see a 500% expansion in gear range.
Straight parallelogram design: The chain gap is consistent through the cassette gears, thanks to the upper pulley's offset design. Movement is restricted to the horizontal plane only, and very less shifting force will be required. Any risk of ghost shifts is eliminated too. This is a patented rear derailleur design from SRAM.
X-Actuation: With X Actuation technology, this rear derailleur does not compromise performance due to over shifting. Across the entire gear range of the cassette, the derailleur will deliver sharp shifting consistently. This is specific to 1x drivetrains.
X-Sync: The lower 14-tooth is able to accommodate larger Eagle cassettes, 10 to 50 tooth. These 1x SRAM chain rings that have X-SYNC™ technology are durable and deliver consistent high level performance. SRAM X-SYNC™ has much taller teeth on a squarish profile. This helps them to engage the chain instantaneously. Any chain deflection is managed easily by the narrow and sharp teeth here. These chain rings are designed with recesses for the rollers and the chain links on the inside.
Roller Bearing Clutch: Type 3.0 RBC( Roller Bearing Clutch ) ensures that the drivetrain has highest stability. On very harsh trails, there is minimised chain slap and derailleur bounce is eliminated fully.
Some Weaknesses
The clutch cannot be adjusted.
Setting up the Gx Eagle was easy and did not take much time. We had the spacing tool to make adjustments to the B-tension screw, which was over in a few seconds. For the ideal setting, we were able to make precise and crisp shifts without any chain hop or half shifts. The cage lock had a push button for easy removal of the wheel. During rough parts of the trail, the teeth of the lower pulley held onto the chain for added security. If you are upgrading to the 12s from a 11s, you will appreciate the performance of the later at an affordable budget. Long duration climbs were possible too, and did not drain us completely. We would suggest you to use all Gx components with this derailleur for best compatibility and performance.
SRAM Eagle GX Rear Derailleur
5. SRAM Force 1 Type 3.0:

Quiet, crisp and effective, with component options for all your bikes; improved Type 3.0 roller clutch design
Sale
SRAM Force 1 Type 3.0
Material: [cage] aluminum, [hardware] stainless steel
Weight: 261g
Cage Length: Medium
Largest cog: 36
Chain Wrap Capacity: 26t
Speed: 11s
Compatibility: SRAM 10s/11s shifters with EA
Use: Road, Cyclocross
Mount Type: Direct mount
Features & Considerations
3.0 version: This is the latest version of the RBC technology. it features updates to the chain retention mechanism, where the torque curve is much smoother. As a result, operation will be quiet and the feel of the derailleur is much more consistent. The tension in the chain will be high, and no guide will be needed to hold it in place.
X-Horizon: This is a 1x specific technology from SRAM. It helps to shift gears without putting much effort. Even under heavy loads, the gear shifts are precise thanks to the straight parallelogram architecture. Less shifting force will be required while the risk of ghost shifting is eliminated completely.
Cage Lock: This ingenious function allows to reposition the cage lock so that installation and removal of the chainring and the derailleur are easy and convenient.
Exact Actuation: This derailleur is ideal for road cycling as the actuation ratio here is 1:1 so that shifting operation is quick and accurate. The cable pull for all gear changes will be the same so that your shift feel is consistent with precise indexing . It is characterized by a "click" while shifting so you know that the drivetrain is well adjusted.
X-Sync: The upper pulley has a 12 teeth construction, where the teeth have been designed to deal with chain deflection. The derailleur is able to get rid of mud so that it does accumulate to reduce performance in wet weather. The design helps to control how the derailleur is moving laterally.
Product Compatibility: This derailleur is compatible with 1x 10s and 11s systems on road bikes. As this model is supporting the medium cage, 11-26t to 11-32t range of cassettes can be used here. Try to pair with matching SRAM speed components for best performance.
Some Weaknesses
The gap between certain gears may be larger in comparison.
We were excited to try out SRAM Force 1 on our road bike. During the rides, the derailleur delivered excellent shifting performance even though it was mud- packed in some cases. The clutch felt firmer, which allowed us to stay on the small cogs and go over rough terrains. Compatibility is a key factor here, as a perfect match is able to deliver great performance. The durability was combined with quick response on narrower chain rings. At no point was there any chain slap or chain drop, owing largely to the clutch mechanism. What impressed us more was how the aggressive teeth pulleys held on to the chainrings and kept it moving. We put on more than 200km with this rear derailleur, pushing the Force 1 to its limit on terrains that were very challenging. Never did we feel that the derailleur was underperforming; on contrary, we appreciated how simple operation was combined with reduced noise. The RBC controlled tension in the chain much better so that chain slap was not an issue. In terms of attributes, Force 1 checks all the boxes for ideal road racing derailleur.
SRAM Force 1 Type 3.0 Rear Derailleur
6. Ultegra RD-RX800:

Improved chain management; designed with low profile to prevent crashes; durable swift shifting
Sale
Ultegra RD-RX800 Rear Derailleur
Material: Alloy
Weight: 248g
Cage Length: Long
Largest cog: 34
Chain Wrap Capacity (teeth): 39t
Speed: 11s
Compatibility: Shimano 11-speed road
Use: Road cycling
Mount Type: Direct mount compatible
Features & Considerations
Rx800: RX 800 is an upgrade from Ultegra R800, where the manufacturer has continued to push the capability of road bikes. Features like chain stabilizer have been combined with versatility of road drivetrain from Shimano. This will allow you to use the RX800 for various types of riding.
Shadow RD design: This integrated technology allows the derailleur to maintain a low profile. The design is compact so that in the case of a crash, the frame will protect the derailleur. The throws can be short even with minimized effort so that the derailleur is moving more linearly.
Clutch mechanism: To engage /disengage the clutch, you will need to flip the levers here. At the on position, the spring force will be increased by the lever so that shifting is crisp, with zero chain slap. Again, to remove the wheel you will need to flip the lever off. The RX800 is the first of Shimano's models to have a clutch for boles with grip bars. As it is compatible with both 2x and 1x setups, the clutch is a must for cross and gravel bikes.
Compatibility: A 1x system with a narrow gear range or dual chainrings are compatible with RX800, along with all road drivetrains running 11s.
Direct Mount hanger: Thanks to the direct mounting system, the frame design is flexible. The mounting feature will suit chainstays on variable frames that have larger sections. This is particularly found on bikes that have dropouts for thru-axles.
Long Shadow cage: Offered in only the long cage version, 11-34 cassette can be accommodated on this derailleur. The gear ratio becomes much wider when used with a 2x, excluding the widely spaced cogs. The GS version is for cassettes with maximum 34 teeth.
Some Weaknesses
The mechanical shifting is significantly heavier.
The Rx800 is the mechanical version of the Ultegra rear derailleur. First thing that we noticed was how the derailleur looked bulkier due to the clutch mechanism inside it. As a result, whenever we were riding over cobbles and rough stones – the cage tension stopped any chain slap and unnecessary cage movement. We found a conveniently located lever that disengaged the mech so that we were able to take off the rear wheel easily. The shifting felt slightly heavy at the lever for RX800. This hardly created any issue as we put in a few miles to get adjusted to the gear shifts. Off the road, the clutch mechanism was a huge success as we did not face the usual issues like chain drops or noisy operation on our road bike. This is amongst the best derailleur for road bikes so that you can avoid chain drops and noise disturbance.
Ultegra RD-RX800 Rear Derailleur
7. Force WiFli RD:

Crisp, accurate, and clean shifting; constructed using cutting-edge materials; longer cage to accommodate 11-32t
Force WiFli RD
Material: Steel, magnesium, and carbon fiber
Weight: 190g
Cage Length: Medium cage WiFli
Chain-wrap Capacity: [medium] 32t
Speed: 10s
Compatibility: SRAM Exact Actuation lever
Use: Road, Cyclocross
Mount Type: Direct mounting
Features & Considerations
2 spring systems: After eliminating the spring for the B-position, further adjustments can be made so that the gap between the cassette cog and the guide pulley is managed better . The springs used by this derailleur are very strong.
Exact actuation: Irrespective of the gear you are running, this rear derailleur will pull the cable by 3mm. With a 1:1 actuation ratio, the derailleur moves by the same distance. Throughout the whole shifting range, the changes in gear are accurate and consistent.
WiFLi: WiFLi will increase the cage length so that the varied geometry is capable of accommodating a 11-32t cassette. The improved gear range is much widespread while weighing 250 grams less. Shifting via the dual chainrings and 10 gears is much faster too. The complete experience of road cycling has undergone frequent innovation from the manufacturer. WiFli can also be discussed in the following way-

Wider- For uphill and downhill travel, the fear range available is much wider.
Faster – Characterized by fast set-up and chainring shifting
Lighter – With a weight of 274g, the design is lightweight.
Q factor – The Q factor is improved considerably so that there is more than sufficient heel clearance available.

Material: Carbon is being used as the cage material so that the cage exhibits greater strength, while the pulley is using steel bearings that last longer. The mid cage is unidirectional, while the inner link is using magnesium.
Some Weaknesses
The color scheme could have used a few tweaks.
We upgraded to SRAM Force WiFli Rear derailleur as it seemed like a cost effective upgrade. Another thing to look forward to was a significant boost in performance.
We were thoroughly impressed with the shifting of the mech during our first miles. Paddle clicks were followed up with instantaneous and precise shifting. No matter the direction you are looking to go- up/down, a simple click is enough. We noticed how all the shifting characteristics were maintained even when we resorted to uphill climbing with heavier chain loads. With all the technology that has been integrated on this rear derailleur, it was quite impressive that weight was kept under 200 grams. The 32T cassette was perfectly compatible with the derailleur, and we could use it to run lower gears on a 10s cassette. However, we would suggest you to use it with components, shifters and cassettes from SRAM.
Force WiFli RD Rear Derailleur
8. Force 22: More clearance; quiet shifting with AeroGlide pulleys

|

Best value for money
No products found.
SRAM Force 22 rear derailleur was designed so that we, the riders, can take advantage of all of the 22 gears that can be used here. Another advantage was we could run 32T at the rear. However, if the largest ring on your caste is 28T – you should use the short cage version. Like all rear derailleurs from SRAM, 1mm cable pull via the after moved the cage by the same amount. It went about its shifting business quietly, and delivered incredible performance throughout. SRAM also modified the jockey wheel's teeth geometry so that the chain was able to run quietly. This WiFli version provides a 32t cassette, which we used with a 53/59 standard chainset. This added additional 9 grams to our setup which we could have avoided, but as it did not affect performance in any way we were able to shrug the thought off. After we put in more than 800 miles on this rear derailleur, whenever it was asked to shift under extended load the derailleur always delivered.
No products found.
Force 22 Rear Derailleur
9. Shimano Ultegra R8000:

Shadow technology construction; greater shifting stability; cassette combination ideal for road riding
Shimano Ultegra R8000
Material: Carbon Fiber
Weight: 210 g
Cage length: Medium
Gears: 11s
Largest cog: 34t
Chain-wrap capacity: 39t
Compatibility: 11-30t cassette used here
Use: Road, Cyclocross
Mount Type: Direct
Features & Considerations
Shadow RD: The derailleur 's sleek look has been coupled with a stable shifting performance. The design suits more aggressive riding due to the low profile.
HG-EV cassette: As we are running an optimal 11s cassette here,the sprocket is tuned for best combination of gears and better management of cadence. The gear ratio of the 11s drivetrain is perfect so that you can pick the ratio suited to your riding style. This does not affect derailleur durability.
GS Type: Constructed using aluminum, GS type is one of the two models available for this derailleur. The cage will be longer on the GS, and 11-34t cassette gradation can be used with it. This helps to deal with ascends that are very steep.
Direct mount(optional): It has become the norm for mounting rear derailleurs from Shimano. It facilitates easy wheel installations and removal thanks to a repositioned upper pivot. Direct mount also ensures that the cassette is covering much of the derailleur body while sitting on top of it.
Flexible housing: The housing path on this rear derailleur is more direct, and uses a more flexible housing piece. The chainstay's housing loop has taken a more direct approach too.
Some Weaknesses
You will need to check cassette cage compatibility.
Since the Shimano Ultegra R8000 was all the trickle down technology from Dura-ace, we had an idea what to expect from it. As we clicked the lever for gear changes, shifting was very consistent, smooth, and noiseless. This was constant throughout our testing period. As we used a 11-30T cassette, the short-cage GS version was our pick. For a 32T 34T cassette, you would need to use the long-cage version of the GS derailleur. Shadow low-profile design was a MTB technology that was integrated by the manufacturer on this road derailleur, and we had the option to use the derailleur with modern dropouts that used direct mount. As usual shifting was smooth as silk, while the springs had more strength so that shifting was marginally snappy. Over road terrains that were particularly rough did we feel that the derailleur was able to hold onto the chain better. Though we intentionally put the derailleur to test on the punishing terrains, at no point did the chain drop off.
Shimano Ultegra R8000 Rear Derailleur
10. Shimano 105 RD-R7000:

Direct mount compatible; Stable shifting performance; Wide compatibility
Shimano 105 RD-R7000
Material: aluminum, glass-fiber-reinforced polymer (GFRP)
Weight: 225g
Cage length: GS medium cage
Chain Wrap Capacity (teeth): 16
Largest cog: 34
Drivetrain Speed: 11s
Compatibility: Shimano Road 11-speed
Mount type: Shimano rear direct mount, 10×1 standard
Use: Road, Cyclocross, Gravel
Features & Considerations
105 series derailleur: This rear derailleur from the 105 series has been designed for the purpose of road riding. When it is used as part of a 11s 105 groupset, you will be able to adapt and conquer different styles of road riding thanks to the improved handling and adjustable control.
Wide link: The pivot link is widened on the rear derailleur here so that strength is boosted.This will also make the derailleur very stiff. Rigidity is boosted thanks to widening of both the inner and right link. The derailleur will not flex at all – generating gear shifts that glare quick and accurate.
Shadow RD: Shimano Shadow ensures that the profile of the rear derailleur has a low design, and the construction is running single tension. When used for riding on rough roads, there is no contact between the chainstay and the derailleur so that performance is smooth and noiseless. By low design, we are referring to the position of the top gear.
Direct Mount: This is a mounting option for the Shimano Road technology used here for easy wheel removal. Direct mount is suitable for flexible frames over a wider range of large-sectioned chainstays. The location of the main pivot has been moved toward the back, and lies under the body of the cassette. This relocation makes it easy to install and remove wheels with this rear derailleur. The cassette also protects the derailleur body since less of the derailleur is exposed for damage in case of a crash.
GS variant: We are using the GS variant of the rear derailleur here. It is compatible with a wider range of gears, and can accommodate upto 11-34t cassettes.
Cable housing: This Shimano housing for the shifter cable is a must for the Shimano 105 RD-R7000 rear derailleur, where a reduced radius routing path is used between it and the frame. The construction is superior and uses high quality materials so that the shifting action is smooth. Adjustments can be made to the cable length in accordance with frame size of your bicycle. This will allow optimal performance.
Some Weaknesses
No free stroke adjustment.
Rear shifting with the Shimano 105 RD-700 was predictable, abrupt, and light. We can confidently say that Shimano has taken significant steps forward from its previous generation of foad bike rear derailleurs. It has used Shadow construction so that the derailleur wss tucked beneath the chainstay of our road bike. This would certainly save the derailleur from damage in case of a crash.
The GS version was used for our tests, which features the medium cage. However you can use the SS model too, as their performance will not vary much. The gear range was truly expanded while the tooth capacity was 39t. As a result, the gear ratio for this 105 series derailleur could be set at its lowest. The stronger spring and the new design makes it marginally harder to drop out the rear wheel, which we overcame using a slightly different technique is needed. The performance was consistent, but the feel of the derailleur felt a bit off.
Shimano 105 RD-R7000 Derailleur
11. GX Type 2.1:

2×10 GX provides a widespread range of gears; shifting variation and chain slap is eliminated; stable drivetrain
Sale
GX Type 2.1
Material: Aluminum
Weight: 239g
Cage Size: Medium
Largest Cog: 36
Chain-Wrap Capacity: 35t
Speed: 10s
Compatibility: SRAM 2X10
Mounting: 10×1 Standard
Use: Road, Cyclocross
Features & Considerations
Exact Actuation: This SRAM technology ensures that over the ehe gear range of your cassette, the rear derailleur is able to deliver accurate and consistent shifting performance. A 1:1 ratio for shifter cable movement to how much the derailleur travels is perfect for running a 10s cassette, like we are doing here. Shifting is reliable and accurate. It also aims to balance the suspension design of the derailleur.
Roller Bearing Clutch: This is a 2.1 technology from SRAM on the derailleur. It aims to ensure that the drivetrain is perfectly stable even on road terrains that are bound to punish your bike. RBC will eliminate chain slap along with any derailleur bounce. In due process, shifting precision is not compromised.
Cage Lock: This is an unique mechanism from SRAM so that the rear wheel can be fit or removed with ease. You can push a button to engage it. During use, the cage needs to be pushed forward. It is prevented from coming back to its original position by the push button as it moves behind the cage. Cage lock is very handy if you are running a RBC clutch and the chain tension is higher.
Direct Route: Actuation mechanism of the rear derailleur has the cable routed directly to it. Minimised effort is needed as input now as friction has been reduced. The cable acts impervious in case of damage to cable housing here.
Cage length: The derailleur is running a medium length cage here. It is compatible with 2x drivetrains, where the 10s cassettes can have a maximum ic 36 teeth.
We tested the SRAM GX Type 2.1 rear derailleur on a few drops and downhill travel that required more aggressive road riding. With essentially no chain noise, the GX 2.1 diminished any chain slap too.
The rear derailleur was a replacement for a Type 1 X9 rear mech on our test bike, and did not feature any clutch. As we ran 36 teeth at the rear for the new GX, immediately the beefy feeling of the X9 derailleur used before was no more. Out on the trail, Xo shifter delivered optimal shifting performance. The chain was held tight by the clutch,which we believe allowed noiseless derailleur operation. Thanks to a "lockout" pin, we were able to pull the wheel at the rear with ease. A maximum of 5 seconds passed until we were able to put the wheel back in fully. After proper adjustment of the rear derailleur, the only thing that needed to be fixed was the rear derailleur's B screw. The setup worked in perfect synchronisation for our whole test period. We could urge you to ensure that the GX derailleur is used with components from the GX series as they are the most compatible. It is a great budget option for a rear derailleur that can be used for road racing too.
GX Type 2.1 Rear Derailleur
---
Frequently Asked Questions
Q1. Can I use a MTB derailleur on a road bike?
Ans.: It is not a good idea to use MTB derailleur on a road bike, or the other way around too. The reason behind this is the shifters for your road bike will have different cable pull than MTB shifters. This will not allow the cogs and the derailleur to line up properly, which obviously affects performance.
Q2. Advantage of clutch mechanism on rear derailleur?
Ans.: Clutch mechanism on a rear derailleur is designed to ensure that the chain is tensioned and stays in place when riding over grounds that are uneven and rough. Although clutch mechanisms on SRAM and Shimano rear derailleurs are designed and operate in a different manner, the objective is the same. Nowadays they are common on all MTB rear derailleurs, offering quiet operation of the drivetrain that can be easily relied on. However, for everyday bikes rides – clutch rear derailleurs may cause flats.
Q3. Are Shimano rear derailleurs better than SRAM rear derailleurs?
Ans.:Both these manufacturers are leading the way to integrate their products on road bikes, as there is a whole new market to capture for this product. Ideally, rear derailleurs from Shimano should be used with a drivetrain from Shimano, while rear derailleurs from SRAM work best with components from the same manufacturer. There is some scope of cross compatibility, thus these major manufactures are great competitors. As we explore how their rear derailleurs affect the groupsets, we can understand how they differ.
Lever index will determine the gap between the gear shifts, or shifting actuation. This is different on rear derailleurs from each manufacturer. Shimano typically uses a 1:1 actuation ratio so that the distance between the derailleur and routing cable is incremental with each gear shift. Shifting becomes crisp, enhancing gear feel. We can see an exhibition of the sturdiness of Shimano derailleurs when they are placed under load or used on terrains that are muddy. On rear derailleurs from SRAM, the tolerance is slightly tighter thanks to the actuation ratio 2:1. Less power is needed at the input for SRAM rear derailleurs. However, when placed under load – the shifting feedback from riding is difficult to gauge. However, picking between the two brands is purely a personal choice.
Q4. How can I replace a rear derailleur ?
Ans.: To replace a rear derailleur, you will need to begin by taking off the chain. Usually chains are integrated with mechanisms for easy and quick removal. If none is present, remove the connecting pin that is joining the chains or use a chain tool. This is to be followed up by pulling the cable for the shifter out while loosening the bolt for the cable-clamp. You will have to undo a hex bolt that is being used to attach the hanger of the derailleur.
As you replace the rear derailleur, it will need to be compatible with shifters on your bike. After you have used the hex bolt to clamp the derailleur to its hanger, the cable will need to be attached. Follow this up by looping the chain between the jockey wheels. If you are able to shift smoothly through variable gear combinations, you have successfully replaced your rear derailleur. The shifting can be fine-tuned by turning the barrel adjuster inwards or outwards, if needed.
You can take a look at the video given below for a visual guide to replacing the rear derailleur of your bike:
Replace the rear derailleur on your bike
Conclusion
As you use the shifter on your right hand as a means of controlling rear derailleurs, out on the road you will want clean gear shifts. A simple click should be enough to transfer the chain from one from to another – up or down. The best road bike rear derailleurs will instill inside you the confidence required to make automatic changes to the gear so that you are able to deal with any conditions out on the road. Whichever road bike rear derailleur that you select from this article, make sure that your bike is compatible with the rear mech and the shifters. Try to use shifters and derailleurs from the same manufacturer, and you can be on our way!