Toe clip pedals were designed mainly for those who are looking for suitable pedals for their exercise or stationary bikes. They also work very well for commuting or recreational cycling. That is why these pedals offer the options to adjust not only toe-clips but also straps to make your ride as comfortable as possible. However, these pedals can be used without clips and straps for other types of cycling such as road, off-road or mountain cycling. You never know, they might turn out to be more useful than your professional expensive pedals.
Again, some of these pedals are hybrids. These hybrid toe-clip pedals also support clips and straps. So, when you are going to buy these types of pedals; there are lots of different options to go with. As a result, it can be very hard and imprecise to get the appropriate one according to your needs. That is why we have come up with this article with a list of toe-clip pedals, toe-clips, and straps that are the best choices you can find in the market.
After monopolistic research for prolonged hours, we were able to present you with a list of 6 toe-clip pedals along with some straps and toe-clips. And after a little more research, we found that the Venzo Fitness pedals are better than other paddles in terms of characteristics. So we want to entitle it as our "Overall Best Choice".
Venzo Fitness Cycling Pedals
Best for Spin & Exercise Bike. SPD Compatible | Overall Best Choice
You may find the Venzo Fitness pedals good for peloton bikes, but judging by some of its characteristics and features; we couldn't help ourselves to declare it as our top choice. These pedals have oversized spindle axles made of Cr-Mo Steel that are said to be CNC machined and the bearings are lubricated very well for buttery smooth pedaling. These pedals allow you to use them either with or without toe-clips and straps. The biggest feature of these paddles is that they are hybrids. They are SPD compatible, which means you can either use SPD cleats with these pedals or use their cleats with Shimano SPD pedals. For their excellent build quality as they are made of Aluminum, you will pedal a greater number of strokes for enhanced grip and stability.
Type: Toe-clip Pedal / Hybrid Pedal
Dimension: 4.1" x 2.9"
Pedal Weight: 1.6 lbs (Pair)
Spindle Diameter: 9/16"
Body Material: Aluminum
Axle Material: CNC Cr-Mo
Included Cleat: VP-C51
Bearing Type: Sealed (Smooth)
A quick view of our selected best toe-clip pedals for your peloton, road, indoor, & commuting bikes:
11 best toe clip bike pedals, clips, & straps you can buy today
We are going to discuss these pedals below. But before that, we have made a comparison table for these six toe-clip pedals as usual, especially for those who are unable to spare much time reading this article. Take a look at this comparison table in order to get a quick overview of all the toe-clip pedals from our selection. But if you take your time and read the full article, it will be beneficial to you. So we recommend you to read the whole post.
Pedals
Best Choice
Venzo Fitness Cycling Pedals
Diamondback Toe-clip Pedal
MKS Urban Platform Ezy Superior
Preview
Type
Toe-clip Pedal / Hybrid Pedal
Toe-clip Pedal / Hybrid Pedal
Best Choice
Pedals
Venzo Fitness Cycling Pedals
Preview
Type
Toe-clip Pedal / Hybrid Pedal
Preview
Preview
Type
Toe-clip Pedal / Hybrid Pedal
Pedals
Diamondback Toe-clip Pedal
Preview
Preview
Pedals
MKS Urban Platform Ezy Superior
Preview
# For Peloton bikes 
1. Venzo:
For Spin & Exercise Bike. SPD Compatible
|
Overall Best Choice
Venzo Fitness Cycling Pedals
Type: Toe-clip Pedal / Hybrid Pedal
Dimension: 4.1" x 2.9"
Pedal Weight: 1.6 lbs (Pair)
Spindle Diameter: 9/16"
Body Material: Aluminum
Axle Material: CNC Cr-Mo
Included Cleat: VP-C51
Bearing Type: Sealed (Smooth)
Features & Considerations
Excellent for Exercise Bike: These pedals were designed in a special way to make indoor exercise a bit easier.
Oversized Axle: These pedals include oversized axles made of heavy-duty Cr-Mo Steel, which is CNC machined.
Smooth Riding: Fine lubricated sealed bearing for making each pedaling very smooth.
Dual Function: These pedals offer the function of either riding with cleat compatible special shoes for necessary power transfer to make pedaling efficient or with casual shoes for recreational cycling.
SPD System Compatible: Fortunately, you can use the cleats of these pedals on any Shimano SPD pedals or use SPD pedal cleats on these pedals.
Tension Adjustment: There are screws on sides of these pedals that will let you adjust the tension for the cleats.
Grip and Stability: Each pedal has an Aluminum large surface that comes with a cleat for better grip and a toe-clip for better stability.
Build Quality: Made of die-cast Aluminum and the axle is made of CNC machined Cr-Mo Steel.
A 2-year warranty will be provided by the company.
Some Weaknesses
Although these pedals are said to be compatible with Peloton bikes, they cannot be used if you are wearing Peloton shoes.
After limited use, the cages may fall off the pedals.
Some have found the cleats very awful as they are tough to unclip.
If you are searching for a suitable pair of pedals for indoor spinning classes that can also work well for casual outdoor cycling, then the Venzo Fitness pedals. They come with a complete package where the package includes – one pair of pedals, two toe-clips, straps and two VP-C51 cleats. These pedals are great for indoor cycling and work perfectly on any exercise or peloton bike. However, you can use these pedals without straps or toe-clips if you want to use them for outdoor cycling. Then again, these pedals can also be used without cleats as they are dual-platform pedals. So, whenever you are thinking of having a casual ride wearing normal walking shoes; you can do that with these pedals. Therefore, these pedals come in handy for commuting as well.
2. NEWSTY:
Best for Outdoor and Stationary Bikes
Newsty Bike Pedals
Type: Toe-clip Pedal
Dimension: 3.9" x 2.5" x 0.92"
Pedal Weight: 0.6 lbs (Pair)
Spindle Diameter: 9/16″
Body Material: Aluminum + Resin
Axle Material: Chromalloy
Bearing Type: Polymer Bearing
Features & Considerations
Pre-installed Clips & Straps: The straps are connected with the toe-clips. As a result, You do not have to install these two components separately.
Better Engagement: For these pre-installed clips and straps, the engagement between your feet and the pedal becomes more accurate and easy.
Great Support: The metal grips on the bottom of the pedal and Nylon straps on top, will keep your feet in the right position even when you are riding aggressively.
Excellent Control: Such support prevents the stress of pedaling that will lead to excellent control for the entire period of cycling as you will hardly lose your balance.
Compatibility: These pedals can not be used for indoor cycling but also for outdoor cycling as they support most regular 9/16" spindle.
Build Quality: Made of high-quality Aluminum and Resin that were engineered for ensuring durability.
Easy and Quick Installation: Because of having pre-installed clips and straps, the installation process of these pedals is never time-consuming.
Threaded Pedals: For a better guideline, the left pedal is threaded left-hand and reversed whereas the right pedal is right-hand threaded.
Return Policy: The company offers a one-month free return policy if you are not satisfied with these pedals.
Some Weaknesses
May face difficulties for adjusting big feet on these pedals. For instance, if your feet are as big as size-10; then these pedals may not work for you.
There is no appropriate instruction about connecting the straps to their holes.
These pedals may seem quite small and thin for use on children's bikes.
The Newsty Bike Pedals are decent sets of toe-clip pedals when you are looking for something that can be used modestly for both indoor and outdoor cycling. These are versatile pedals where the clips and straps are connected to each other and they come pre-installed. Therefore, your feet remain always in a place that will provide excellent control while you are cycling. You don't have to be careful about preserving your energy for gaining control. When you use these pedals, you can express your aggression while cycling or exercising. Moreover, such support and setup of these pedals make better engagement and disengagement with your feet. You can easily and quickly step your feet into these pedals as well as take them off for a sudden stop.
3. NAMUCUO:
Hybrid Pedals for Indoor Use
NAMUCUO SPD Pedal
Type: Toe-clip Pedal / Hybrid Pedal
Dimension: 3.5″ x 3.5″ x 0.9″
Pedal Weight: 1.69 lbs (Pair)
Spindle Diameter: 9/16″
Body Material: Aluminum Alloy
Axle Material: Steel
Bearing Type: Sealed
Features & Considerations
Multipurpose: This pair of hybrid pedals can be obviously used for multiple purposes. One side of these pedals features the common flat paddle characteristic and the other side features an SPD paddle characteristic where you have to ride with cleat compatible shoes.
SPD Side: One side of this pedal is like SPD style clipless pedal where you can use the same cleat that you had used for a Shimano pedal.
Flat Side: The other side acts like an ordinary platform pedal that doesn't require any cleat compatible shoe.
Non-Slip Design: The surface of each pedal is made of TPR rubber for a better grip and to make sure your foot doesn't slip off easily.
Excellent Control: When you use these pedals with toe-clips and Nylon straps, the metal grips provide a little bit more control and stability to your feet.
Optional Shaft: This set of pedals comes with 20 mm long shafts, so it is better to buy the optional 10 mm shaft for adjusting any typical bike.
Build Quality: The ontology of these pedals is built with Aluminum Alloy while the surface is made of black electrophoresis.
Long-term Use: For being dust and water-proof, these pedals can provide an extended service life.
Easy Installation: The installation process only requires a 15 mm wrench and it is quite easy.
Guided Installation: The left pedal has an 'L' mark on it and the right pedal has an 'R' mark on it. This will help to make the installation process easier.
If you are not satisfied with these pedals for any reason, don't worry – you will get a half-year money-back warranty.
Some Weaknesses
When it comes to durability, these pedals are unable to show their full potential.
Some proclaimed, these pedals have poor quality cleats and break off easily.
Many parts and screws of these pedals tend to break after a few uses.
The NAMUCUO SPD Hybrid Pedals include straps and toe-clips to accommodate any indoor exercise or spin bike. These pedals can be an excellent choice if you are looking for a new set of pedals. Again, they are hybrids that make them suitable for outdoor cycling also. In short, these pedals can work with any bicycle that comes with 9/16" spindle axles. With a moderate surface area, these pedals come with straps and toe-clips where the size of each clip is around 5.3" x 3.5" x 0.9". These pedals are the product of 5 different materials to make sure they are strong and sturdy for all types of cycling. 22 Steel was used to make the crews, Nickel plate was used to make the surface and the buckle bracket is made of spring steel that is also plated with Nickel. However, it is advisable you check the suitability of your bicycle as these pedals have 20 mm long shafts.
# For road bikes
4. Diamondback:
Preinstalled Clips and Straps
Sale
Diamondback Toe-clip Pedal
Type: Toe-clip Pedal
Dimension: 8″ x 6″ x 2″
Pedal Weight: 0.5 lbs (Pair)
Spindle Diameter: 9/16″
Body Material: Alloy + Resin
Axle Material: Chromalloy
Bearing Type: Sealed Loose Ball
Features & Considerations
Pre-installed Clips & Straps: Remain hassle-free as the toe-clips and straps are already installed on these pedals when you buy them.
Best Support: Metal grips along with Nylon straps will keep on holding your feet for the total cycling period.
Longer Cycling Period: By proving their durabilities, these pedals are reliable enough for a long-distance tour or marathon cycling.
Build Quality: These pedals have Alloy and Resin construction where the cages are fully Alloy made.
Stress-Free Installation: As the clips and straps of these pedals are already installed, you can remain free from stress while installing them.
Colors: You can find these pedals either in Black or Silver color.
You will probably get a one-year warranty for these pedals. Consult your manufacturer for more details.
Some Weaknesses
The toe-cages might be a little too long so that they can overlap with the front tire of your bike when taking the slightest turn.
There are some complaints about the clips being very cheap.
The cheap quality bearings may cause clicky noise while cycling.
The Diamondback Toe-clip Pedals are suitable for most types of cycling. These pedals come with 9/16" Chromalloy spindles to accommodate almost all typical bicycles. You can trust these pedals for any kind of outdoor or indoor cycling, they will not let your expectations down. Like most good quality toe-clip pedals, they also contain metal grips at the bottom and Nylon straps on the top for superior stability. Durable Aluminum body and full Alloy cage add extra efficiency while you pedal. Although there are some complaints about the toe-clips for being too long, you can always remove them from the pedals to get rid of this problem.
5. Tbest:
Toe-Clip + Cage-Strap for MTB, Indoor & Road Bikes
Tbest Bicycle Pedals
Type: Toe-clip Pedal
Dimension: 4.4" x 3.1"
Pedal Weight: 0.825 lbs (Pair)
Spindle Diameter: 9/16"
Body Material: Nylon
Axle Material: Steel
Bearing Type: Polymer Bearing
Features & Considerations
Pre-installed Clips & Straps: The straps and toe-clips come pre-installed with these pedals to reduce the stress and effort while installing.
Adjustable Buckle: Keep your feet positioned at the right place while riding by releasing or fastening the adjustable buckets on the straps.
Excellent Control: The straps with adjustable buckles and toe-clips will keep your feet exactly in their places where you want them to be while you are riding.
Hollow Design: Each pedal promotes a hollow-out and compact design.
Build Quality: Super build quality where the clips and body of the pedal are made of durable Nylon.
Quick & Easy Installation: As all the clips and straps are pre-installed, the whole installation process may take only a minute.
Integrated Reflectors: Each pedal is integrated with a reflector to ensure a safe ride on highways or during nights.
Lightweight: The hollow and compact design of these pedals make them very light.
Some Weaknesses
The toe-clip along the body of this pedal may break off for excessive usage.
You may face difficulties inserting your feet on these pedals.
There is no Aluminum like other toe-pedals. So, these pedals may seem to be less durable.
These toe-clip pedals have reasonable prices and they might become pretty useful for most types of cycling. The good feature of these pedals is the adjustable buckles. Because you can adjust the length of each strap according to your feet-size with these buckles. Therefore, you will experience more stability while aggressive pedaling and you don't have to think about the stress for balancing. Also, your feet won't slide off the pedals easily. They are also very light for their hollow-out design that makes pedaling more efficient and easier. The spindle diameter is about 14 mm or 0.6", which is ideal for typical bicycles. We are not certain about the warranty policy of these pedals, please contact the authority or contact the manufacturer directly if you can for more details.
# For commuting
6. MKS Urban Platform Ezy Superior:
Toe-clip Compatible + Light Alloy Body
MKS Urban Platform Ezy Superior
Type: Toe-clip Pedal
Dimension: 2.7" x 3.1"
Pedal Weight: 0.811 lbs (Pair)
Spindle Diameter: 9/16"
Body Material: Alloy
Axle Material: Chromalloy
Bearing Type: Triple Sealed Cartridge
Features & Considerations
One-piece Body: These pedals come as a whole, there are no extra parts attached to them or no extra parts that can be removed.
Vintage Bike Pedal: These pedals have a glamorous and glazing look that makes them perfect to fit any vintage bike.
Adequate Grip: These pedals feature ridges on the body for adequate grip on the exterior edges along with the axle line.
Bearing: These pedals feature buttery smooth triple-sealed cartridge bearings.
Toe-clip Compatible: These pedals are recommended to be used with a full pair of Steel cage clips, at least a half pair will also do the job.
Build Quality: The whole body of the pedal is made of light and durable Aluminum.
Possible Reflector Option: It is said that these pedals offer the option for supporting compatible reflectors.
Quick and Rapid Installation: Not only the installation process is quick and rapid but also the removal process of these pedals is also very fast..
Lightweight: The whole Aluminum body makes each pedal light as a feather.
Color: Available options for colors of these pedals are Black and Silver.
Some Weaknesses
Some may find these pedals odd-looking for their modern bikes.
The installation process might be quick, but it is not always easy.
A bit more expensive than usual toe-clip pedals.
It is said that the MKS Urban Platform Ezy Superior pedals resemble the Lyotard's classic MB23 pedals, which is a French brand. To be more clear, these are the reborns of those pedals and anyone with a sense of history can tell just by looking at them. The purpose of such pedals was riding your bicycle comfortably wearing soft-soled shoes. These pedals can be better alternatives for hybrid pedals and work great for utility riding and commuting.
Fast and rapid installation and removal are allowed for these pedals and only a 15 mm wrench with 3.2 mm thickness is required. These pedals come as a whole where there are no parts being attached. But we suggest you buy and attach the MKS Steel cages (Full) for more stability and performance. These are excellent choices for everyday riding and will certainly look great on any Steel-frame or vintage bike.
MKS Urban Platform Ezy Superior
# Toe clips
Another important and obvious part of the toe-clip pedals is the toe-clip. As these pedals are called "Toe-clip Pedals", there should be decent quality toe-clips for them. And trust me, there are a whole lot of toe-clips available for these pedals. But, which one is for you? Which one fills your requirements? Considering these questions we have added some toe-clips in our list that just might be convenient for different aspects.
7. ETC EPE910:
Resin Toe-clips with Straps for Mountain Bikes
ETC EPE910
Type: Toe-clip
Build Material: Resin
Color: Black
Features & Details
This is a set of two toe-clips that attach to the pedals to improve efficiency.
2 adjustable Nylon straps are included with these toe-clips.
These clips along with the adjustable straps, keep your feet in place and stop them from sliding.
These clips can be a great option in order to upgrade your bike.
Made of durable Aluminum and black Resin that make them capable of long-lasting service.
These clips weigh only 0.22 lbs, so they won't add excessive weight to the pedals.
These clips are only available in black color.
8. MKS Half Clip:
Strong Half Toe-clips Made of Deep Steel
MKS Half Clip
Type: Toe-clip
Build Material: Steel
Color: Chrome Silver
Features & Details
A pair of half clips that come in one size to fit most standard boots and shoes.
Although these are half clips, they can provide the full rigidity of full clips.
Just get on your bike and start riding, you don't need to hassle for fastening any strap.
This pair of half toe-clips has very deep sections in order to accommodate large feet.
The package includes all necessary nuts and bolts for installation as well as necessary tools such as an Allen wrench.
Made of strong and durable Steel with a glossy finish.
Available in chrome Silver color that is very glazy and will look royal on any vintage bike.
This pair of half toe-clips weighs only 0.24 lbs, which is considerably light.
9. Zéfal Christophe:
Simple Design Steel Toe-clips
Zéfal Christophe
Type: Toe-clip
Build Material: Steel
Color: Chrome Silver
Features & Details
These are pronged toe-clips that offer better adjustment with your pedals.
These clips can be used with any Zéfal pedal strap. Therefore, you will have an option for using these toe-clips with or without straps.
These are all Steel toe-clips with a chrome finish to look premium.
Provide adequate space so that you can freely move your feet and make sure you don't suffocate.
Firm and sturdy full-size toe-clips for a long-lasting service.
A pair of classic toe-clips for classic bikes.
Sizes: These toe-clip pedals can be found in two sizes according to the measurement of the user's feet. They are – Small/Medium size (ref. 0506) which is almost 110 gm of weight as a pair and Large/Extra Large size (ref. 0507) which is close to 120 gm as a pair.
Eugène Christophe, a french cyclist was born in Paris on the 22nd of January 1885 and he is considered as the inventor of the toe-clip. Portrait-Morin who is also known as Zéfal bought his invention in 1925. Eugène Christophe was the director of the company until he passed away in 1970. Maintaining his legacy, Zéfal continued to sell these legendary Christophe toe-clips and you have to buy these clips as pairs.
# Pedal straps
When it comes to toe-clip pedals we just cannot forget about the straps. There are many kinds of straps available in the market. Many of the straps are remarkably good in quality and some are made of leather instead of rubber or Nylon. You may find different quality straps at an affordable price but we thought we should at least add 2 straps in our selection thinking about the users who are quite new to the cycling world or who are confused about buying a pair of good quality straps.
10. Zéfal Christophe 516:
Stylish Pedal Straps
Zéfal Christophe 516
Type: Pedal-Strap
Build Material: Leather
Strap Dimension: 370 mm / 14.6"
Color: Black, Brown, White, Red, Blue
Features & Details
These toe-straps will fit most typical bike pedals that are compatible with straps.
Can also be used with any Zéfal toe-clip and compared to any other straps, they can offer the perfect look to your pedals.
Unisex straps that will perfectly fit any size of feet.
Elastic, tan and extra-large straps that are 370 mm long.
These toe-straps are a combination of history and quality.
A premium set of straps made of high-quality leather.
Their durability and in-leather quality will enable ultimate pedaling comfort.
Come as a pair and each pair contains 2 straps.
11. Life Fitness:
Long Heavy-duty Straps for Stationary Bikes
Life Fitness
Type: Pedal-Strap
Build Material: Rubber
Strap Dimension: 12.5" x 2"
Color: Black, Gray
Features & Details
Long and heavy-duty straps for exercise or stationary bikes that can be used anywhere such as in your home or any gym center.
They are designed to adjust almost bike pedals that support straps. So, they referred to a universal replacement for most toe-straps.
Made of high-quality elastic rubber.
Long straps having a dimension of 12.5" x 2" to adjust most toe-sizes.
There are 2 colors (Black & Gray) for these straps. So, you can go for the option that matches your bike most.
Different packages have different numbers of straps. For example, some packages have only 1 strap, some have 2 straps, some have 4 straps and some have up to 8 straps. So, you decide which package you want to buy depending on the number of straps you need.
---
Different Types of Pedal Bearings
Bicycles contain bearings to make the movement of certain parts smooth. There are ball bearings in the front-wheel hub as well as in the rear-wheel hub. In the fork tube that allows the handlebars to turn. Also on each side of the bottom bracket to connect the two pedal-cranks together by an axle. These bearings are in these certain parts in order to reduce friction and to make the overall cycling experience comfortable. But we are not talking about these bearings, we are going to discuss the bearings that are inserted into the pedal axle.
After an appropriate study and in-depth research, we can declare that there are generally three types of bearings for most pedals. They are – Loose ball/ Loose ball in a retainer bearing, Needle bearing and Cartridge bearing. However, some special pedals may use other types of bearings but they are not so popular.
Loose Ball/ Loose Ball in a Retainer Bearing
The most traditional and old type form of bearing is the loose ball bearing. Although they may be old, they surpass other types of bearing in many ways. They are relatively strong and they can offer plenty of power while pedaling as they connect the axle to the pedal very firmly and rigid. They can service day after day and they have pretty low maintenance. They require the use of cups and cones in order to function.
The Loose ball in a retainer bearing works pretty much the same way except there is a retainer cage that holds the balls. These bearings work in a fast and easy way and that makes them attractive to the user. Especially in the cost-effective or economical pedal-versions, these bearings are more popular. Although the retainer cage makes them quick and painless for usage, it affects their overall performance. This video will demonstrate the process of replacing ball bearings in a retainer cage –
Needle bearing or Needle Roller Bearing
Needle bearings are unique and uncommon types of bearings that are also known as Needle Roller bearing. They use needle or cylinder shape bearings rather than ball-shape bearings. We assume you have already figured that out by their names. These bearings can make smooth rolling of the pedal-axles especially, while you are cycling under heavy load.
As for the newer and cheaper technology, these bearings are losing their grounds and they are rarely used even in the pedals. Moreover, making good mating surfaces for these bearings can be very expensive and if they are not mated duly, it will not take much time for them to fatigue. That is why they are often replaced by cartridge bearings.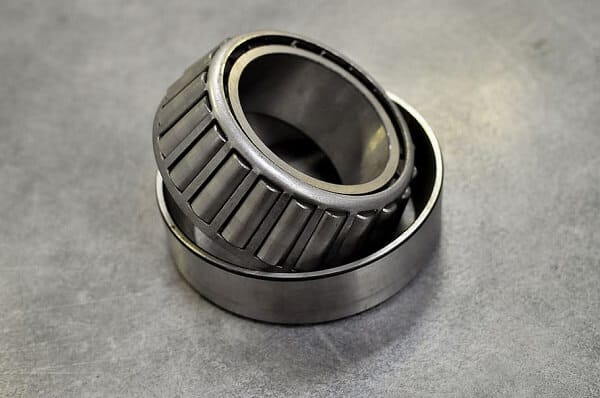 Cartridge Bearing
The tolerances in frame, hub, and other component bores have increased more than ever. This makes cartridge bearings popular in recent years. These types of bearings require much skill to install them and a specific set of tools to maintain them. Moreover, their system requires precision to function properly. But the performance that you will get from such bearings will outweigh these factors.
Basically there is a cartridge that contains the balls, the cup, and cone; that installs into a waiting bore. However, their use of applications may reduce due to the trickle-down effect of technology.
A brief knowledge about Bearing Seals
Seals are kind of a boring topic to discuss. But there are some facts that may catch your attention. Typically, there are some key factors that you may need to consider for your desired application. They are –
The Type of Bearing
Lubricant
Friction and consequent heating of the seal
Shaft's finish and speed
Available space
Some seals remain integrated with the bearing while some aren't. The most common type of seals that are being used in the ball or roller bearings are Contact or Lip seals. There are also Non-contact seals available that are mostly used in sleeve bearings. These seals produce less heat and friction compared to Contact seals, but they tend to leak out lubricants from the bearing chambers. The Labyrinth seals are great examples of Non-contact seals. There is a third type of seal known as Isolator seals that usually combines the characteristics of a Contact and Non-contact seal. Unfortunately, these seals are very pricey and need much physical space.
When it comes to lubrication, you can either use grease or oil to maintain these seals. The Labyrinth seals are on the other hand suggested maintaining with oil lubrication instead of grease. Keep that in mind – most rolling bearings are grease-lubricated whereas most sleeve bearings need to be lubricated with oil. This chart below shows the limitation of contact surfaces for the seal materials –
You have to keep an eye out for the shaft's surface speed if your bearing has Contact seals. If the speed is excessive, the friction may cause overheating that can damage the seal material as well as the shaft itself.
Tips for using Toe-clips and Straps
If you desperately want to use toe-clip pedals, there are some tips to follow before you purchase one. These simple tips will help you a lot when you are kind of new to the cycling world. As you may have figured out, toe-clip pedals contain toe-clips and sometimes even straps. So unlike the regular pedals, you have to keep an eye on the straps and clips more.
Check the pedals properly before you buy them:
Different pedals use different sizes of toe-clips and you need to be careful about this fact. Select that set of pedals where your feet stay completely comfortable, where you have sufficient space to move your toe-fingers and your feet do not suffocate. Don't go for the pedals where the clips are either too large or too small for your feet. Using your regular shoes for checking this matter would be wise.
Some pedals contain not only clips but also straps. When you have finished checking the clips, next check the straps. There are some poor quality straps that tear off very easily and you may find some straps non-adjustable. You have to do a lot of hassle to adjust your feet with these tight and inelastic straps. Your feet will find nothing but trouble while you are cycling, we are sure you don't want that to happen.
Next comes the quality of the pedal's surface and workmanship. No matter what purpose you are buying a pair of toe-clip pedals, try to buy a premium better-quality set of pedals. This will actually save your money, as you have to buy once rather than buying poor quality pedals again and again.
Try to use proper shoes:
Please don't be a fool to check the pedals with bare feet. It is always advisable to try out the pedals with your regular walking shoes or the shoes that you usually use for cycling. Again, don't be over-smart using oversized shoes to check the pedals, that is not ideal.
Accustom yourself with toe-clip pedals:
If you do not feel comfortable using toe-clip pedals, we suggest you to avoid buying them. But if you want to use them thinking they might provide better comfort and ease while cycling, then first you need to get used to these pedals. To be honest, these pedals are for those who use mostly exercise bikes or who are still learning to ride a bike.
Therefore, practice as much as you can if you want to accustom yourself with these pedals. Try to quickly insert and take off your feet from these pedals while you are at a stationary position. Practice fastening the straps on and practice in an empty area perhaps an empty parking lot. Watch out for the obstacles on the road instead of looking at the pedals. When you think you can smoothly and effortlessly take on and off your feet from the pedals, then you can become natural with these pedals.
How to use toe clip pedals: Entry & Exit
In this article, we want to share some guidelines for entering or exiting toe-clips. First, we will describe the guidelines for entering the toe-clips and then we will discuss the guidelines for exiting the toe-clips.
For Entering The Toe-clips:
First, start rotating the pedals placing your feet on the pedals.
Keep the right crank-arm to an upright position or to be more clear, to its 2 o'clock position while leaving your left foot on the ground.
Pointing the toe of your right foot slightly downward, place it on the rear edge of the right pedal that remains upside-down.
Try to insert your foot into the clip after you have flipped the pedal into an upright position with an ample motion.
Then try to sit on your bike's seat while pushing off your left foot. Get on moving with your cycle by pedaling one or two strokes.
Follow the same procedure for putting your left foot into the left toe-clip.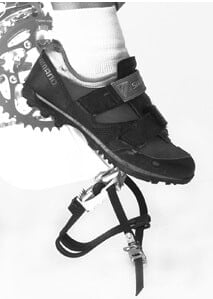 For Exiting The Toe-clips:
Try to levitate your heel in such a way your shoe-sole clears the pedal surface.
In an up-and-back motion, withdraw your foot from the pedal and make sure you have a clear path.
Finally, you can place your foot from the toe-clip to the ground.
For both entering and exiting toe-clips, do not fasten the straps on your feet.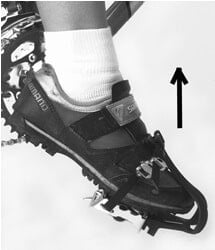 Conclusion
Toe-clip pedals can make your cycling experience a bit easier and comfortable. These types of pedals ensure safety by keeping your feet protected from the crankset, keep your toe-fingers protected from hitting obstacles or hitting the ground and when there are straps included with these pedals, you will have less chance of your feet from sliding off the pedals. They can be used either with or without the clips and straps. So, you can pedal however you like. But try to use these pedals as they were intended to be otherwise, you may have to face some troubles. If you have any confusion about buying such pedals, just go for one of the pedals from our selection. We can assure you that if you buy one of these paddles, you will not regret it. Thank you for reading this article taking your time, we hope this was useful for you. Follow the rules of cycling and ride safely.
Related Readings
---
Helpful Resources:
(Visited 2,585 times, 4 visits today)
Last update on 2020-11-30 at 02:31 / Affiliate links / Images from Amazon Product Advertising API
Close