When riding a triathlon, it is always important to make sure you have the necessary safety gear that is required. In this regard, the most noteworthy piece of safety equipment is the helmet. Figuring out the perfect helmet from the numerous triathlon helmets – that is better suited to your needs can be tiring and time-consuming. We have highlighted the 10 of the finest bike helmets for a triathlon. Features that highlight why they have been identified as the best helmets.
At the end of the article, we have also included helpful buyers guide to help you make the right pick. Triathlon helmets are specially designed for triathlon and offer three design types – road, aero-road, and TT (time trial). Triathlon helmets have enough ventilation for long rides, have aerodynamic designs for safety and speed, and can be quickly put on and taken off. These helmets are also called Aero helmets which offer a sleek design for boosting performance and come with few vents.
A Guide to Buy the Best Helmet for a Triathlon
Types of Cycling Helmet
Road Bike Helmets: A cycling road bike helmet is what comes to our mind when we think about bike helmets. It will be customizable for your head and will help to keep your head safe and sound in case of an accident.
Aero Road Bike Helmets: An aero road bike helmet is a hybrid between a road bike helmet and a TT helmet. It will give you the advantages of a TT helmet except for the long tail. Aero road helmets and TT bike helmets will help considerably with speed on triathlon race days. An aero road helmet essentially has an aerodynamic design that forces air to move up over the helmet. Traditional road bike helmets feature multiple vents that channel the air through the helmet, keeping the rider cool. The best aero road helmets will incorporate ventilation to keep you cool and still efficiently move air up and over the helmet.
TT Bike Helmets: TT helmets are more commonly used by elite cyclists and triathletes who are looking for every advantage to reduce drag and maximize speed. Their distinguishing feature is usually a long tail off the back of the helmet to aid in providing the least amount of wind resistance when riding in an aero position. Even if you don't need them in everyday training, you will want to seriously look at getting one for a time trial and or triathlon race formats.
Mountain Bike Helmets: Mountain bike helmets are designed to allow breathing and willingly accept a beating. They typically have more vents to help keep your head cool. They also tend to be bulkier so that riders can easily zig and zag through trees and bushes. Typically mountain bike helmets will come with a visor. This helps to keep the sun out of the rider's eyes and helps protect their faces.
1. Design
Helmet design and build are the key factors. For triathlon helmets, we are looking for a design that will allow the rider to gain considerable fast. You are going for a race, and you must look for a design that can enhance your speed. By reducing the drag effect of wind and air resistance – you will not have to put in your maximum effort and can conserve energy during riding. Helmets are best fitted for triathlon because of their wide front that dulls the air drag. In recent times, short/no- tailed helmets present a smaller surface area in crosswind conditions that not only reduces helmet weight but also drag effect. Design Technologies that can provide the aero advantage the Dorsal Ridge™ design adds more material on top of the helmet effectively diverts the airflow, conveying it in such a way as to reduce resistance to forward motion, thereby allowing the athlete to go faster, with lower energy consumption. Vortex Killer System uses two side vents and helmet geometry straightens airflow near the back of the helmet, reducing drag.
2. Ventilation
A big safety risk of triathlon may result from overheating and maybe even suffering from heatstroke. That is why substantial ventilation should be present in your triathlon helmet. Cooler body temperature will allow more efficient racing and conserve energy. Manufacturers use small air vents to accelerate warm air and release it through the back to aid in cooling the inside of the helmet down. The best triathlons helmets may have a few vents, which is favorable during climbs when little air tends to move over your body and the ride is hot. Another good option is closeable vents which can be used in colder climates or long descents.
3. Weight
The weight of the helmet will play a large role in which helmet you pick as it can add weight to your body that cannot be avoided. For competitive triathlon riding, light helmets are a great advantage. Heavy triathlon helmets sit on top of your head without any suspension features that may help you deal with the added weight but are held firmly in place in case of a fall or adjustment. However, they are usually safer as this extra weight is due to the padding and protective foam that forms the inner lining of the helmets. Perfect weight balance is also essential because if a helmet is heavier on the front or back, there is the possibility that it may slip off during riding.
4. Safety
All bicycle helmets should meet the safety standards set by UCI and is an important factor when picking a helmet as the whole purpose of the helmet is to protect your head in the event of an accident. Technological innovations that add more safety to the helmets are mentioned below:
MIPS: MIPS helmets are built with an internal layer of plastic and other components such as stretchy fabric. During a crash, that layer helps keep the brain from absorbing all the rotational force that is created at the moment of impact.

SPIN: A silicone gel-like membrane into the pads that – in the event of a crash – will ensure that rotational forces are not transferred to the head and allow the EPS shell to rotate independently of the wearer's head.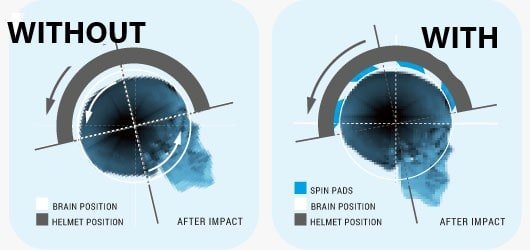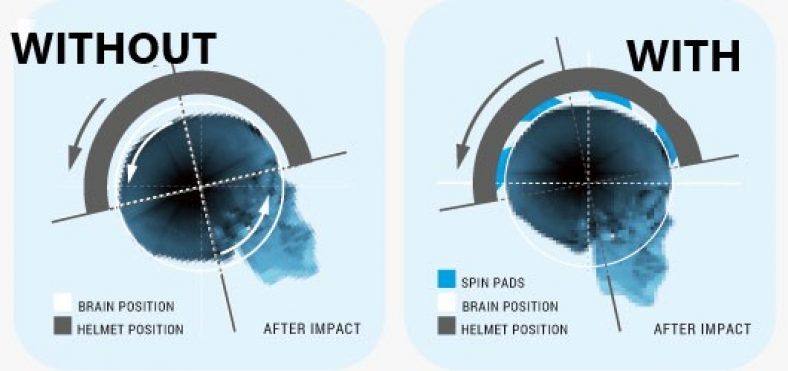 WaveCel: WaveCel is a cellular structure that supplements the traditional EPS shell. It can rotate and shear as it compresses so that it can reduce both linear and rotational forces.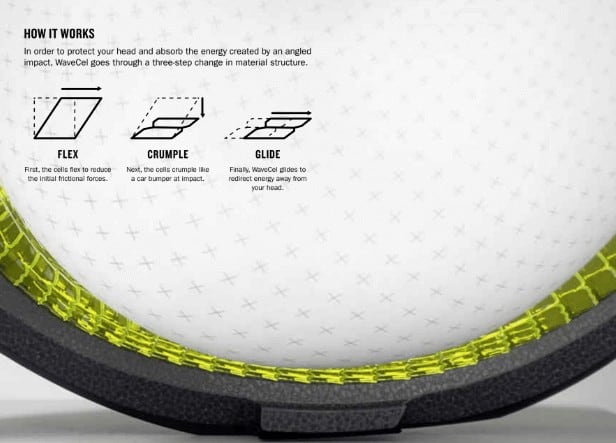 LDL(Low-Density Layer): Rotational forces are addressed with Low-Density Layer from Kali, where the layer is made using strips of gel cups. The pads are mounted on top of the strips which compress, rotate, and shear so that both rotational and linear forces are minimized.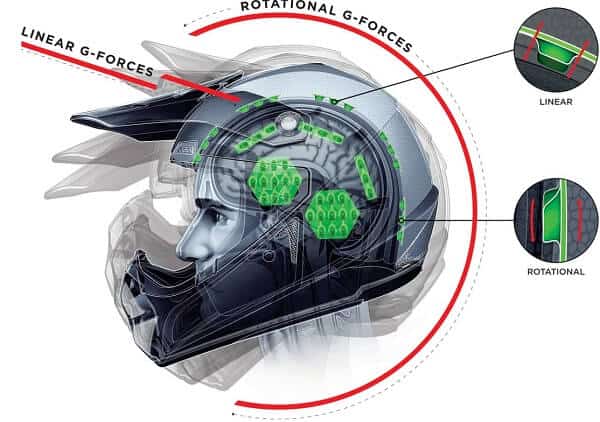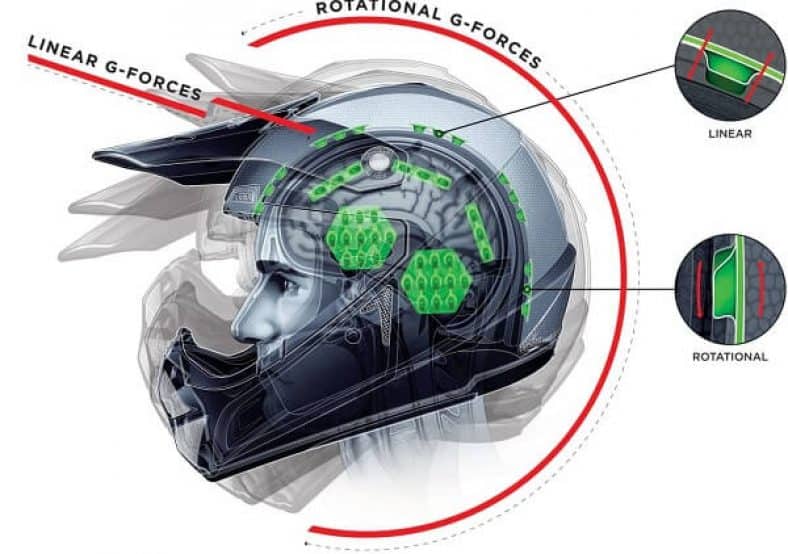 360° Turbine: An energy-absorbing material is used as implants that are molded and are disc-shaped. They have been positioned strategically inside the helmet so that it can dissipate rotational forces while directing and deflecting impact energy, which reduces 30% head impact at concussion level and 40% reduced acceleration to the head and brain.
ODS (Omni-Directional Suspension): Two separate EPS shells have been connected by elastomer dampers to allow the shells to float, rotate and compress independently of each other.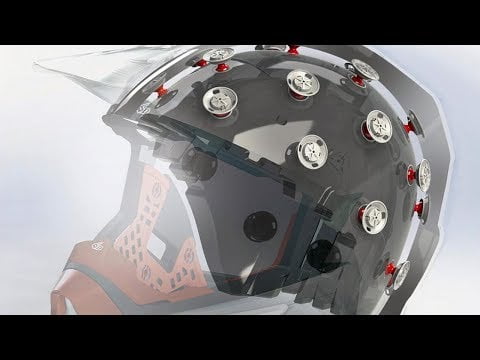 5. Material
Polycarbonate: Usually the best pick for helmet material is polycarbonate. It is durable and resists impact well.
Carbon fiber: Carbon fiber will allow the helmet to have better quality in every aspect than polycarbonate. Also, using carbon fiber will not only bring down the weight but also gain aerodynamic efficiency.
6. Retention Systems
An easy adjustment retention system is very crucial but easy to adjust. For triathlon, look for a retention system that can be vertically adjusted. We have mentioned popular retention systems technologies used in triathlon helmets below:
Roc Loc micro-dial adjustment: The heart of the Roc Loc 5 is a ratchet, micro-adjust dial. A simple twist with two-fingers will open or close the retention system. The vertical position can be adjusted with a single hand. On tougher terrains, for a tighter feel you need to twist the dial, and on flat or warm climbs, relax the dial by backing it up. Allows a 15 mm of up-and-down adjustment.
Octo Fit: OCTO FIT technology features an easy-to-use dial made from rubber that allows the rider to access a wide range of horizontal and vertical adjustments so that you can decide how close to your head the helmet will sit, with an easy flick of the wrist. Allows 180 degrees of rotary adjustability.
R.S.R. Retention System: Rudy Project constantly updates the retention system to improve stability and performance. The new RSR 9 system features a better fitting, where the structure is wraparound more with precise micro-metric regulation using a rotating disc and allows three height adjustment positions for a comfortable and personal fit.
Vapor Fit System: VaporFit system uses a tried-and-true rotary dial adjustment system fused with a tuned elastic fit. Each VaporFit system allows a full 360 degrees of rotary adjustability and can be moved up/down or forward/backward at the attachment points.
7. Fit
Finding the best fit for your helmet is very important. Helmets that are not too tight but snug are perfect and should not stress the pressure points on your head. You can adjust features on some triathlon helmets as per your size. For example, the inside padding can be adjusted in some models. Also consider things like your hair length (eg. If you have a ponytail), if you will need a winter hat in cold climates etc.
The helmet should fit squarely on your head and should not cover the eyebrows nor sit on the back of the head so that the entire forehead is exposed.
The plastic strap slides are best adjusted when they create a V-shape around the ears. The strap should be tight enough to hold the helmet in place.

To measure your head size for a helmet – use a measuring tape. After making sure the tape measure is a close fit, proceed to approximately 1inch (2.5 cm) above your eyebrows (forehead) and around the complete circumference of your head. Repeat a few times to get your correct size. See the picture below for guidance :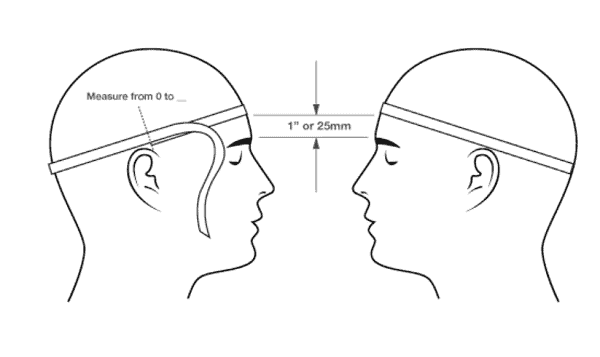 8. Closure
This refers to how your triathlon helmet will stay in place during riding. Popular close types are mentioned below:
Magnetic locking system: Popular for racing events where you will not need to have the helmet on all the time. However, avoid them if you think you may experience strong winds.
Snap locking system- is more secure than the magnetic lock and is more common. Usually uses plastic.
Our top pick
After extensive research, we have been able to select 10 of the best bike helmets for triathlon-type cycling. They have features that make them stand out and have a few weaknesses too. In conclusion, we have found the "Giro Aerohead " helmet has taken out the top spot for triathlon bike helmets, and thus we have labeled it as our "Overall best choice".
Giro Aerohead MIPS Adult Road Cycling Helmet
Giro Aerohead  | Overall Best Choice
Equipped with a wide array of features – this is a high-end bike helmet that is determined to provide the high-quality performance that every triathlon rider is looking for. The short but wide tail shape gives the helmet an aerodynamic profile. Made with an in-mold polycarbonate shell, this makes the inner EPS lining of the helmet sturdy and the polycarbonate helps to hold the padding in place. This is further reinforced by the Roc Loc Air system, which allows you to have a comfortable and secured helmet fit.
A High-quality Zeiss visor provides the best eye protection and clear vision that can be adjusted easily. The MIPS technology minimizes the impact of rotational forces – providing the best protection for your head when you have this helmet on – making the Giro Aerohead MIPS easily the overall best choice.
Specifications:
Designed with Roc Loc Air system
Features 4 internal wind ventilation system
Uses molded shell
Equipped with vented magnetic Zeiss visor
Reduces drag force effect significantly
Has been fitted with expanded polystyrene foam padding
Here is a quick look at our selected bike helmets that are best for triathlon
| Helmet | Ventilation | Our Rating |
| --- | --- | --- |
| Giro Aerohead MIPS Adult Road Cycling Helmet | 4 Wind Tunnel Vent | 92 |
| Giro Vanquish MIPS Adult Aero Cycling Helmet | Wind Tunnel Ventilation & TransformAir | 90 |
| Kask Utopia | HyVent | 89 |
| RUDY PROJECT Boost 01 Cycling Helmet | Vortex Killer System | 65 |
| Smith Podium TT MIPS Helmet | AirEvac | 94 |
| Kask Mistral Aero | 6 front vents & 2 rear vents | 88 |
| Smith Optics Ignite | AirEvac | 80 |
| Giro Air Attack | Wind Tunnel Ventilation | 88 |
| Kask Protone | 12 frontal vents | 94 |
| Exclusky Aero | 8 vents w/ Speed port | 86 |
How our selected Triathlon (TT) Bike helmets compare
Helmet
Preview
Helmet Type
Shape
Weight
Inner lining
Ventilation
Retention system
Use
Giro Aerohead MIPS
TT
Forward-overhanging with wider front & short tail
480g
EPS
4 Wind Tunnel Vent
Roc Loc 5
triathlon, road cycling
Giro Vanquish MIPS
Hybrid
Highly tapered profile with a short, squared-off tail
312g
EPS
Wind Tunnel Ventilation & TransformAir
Roc Loc 5
training, racing and TT use
Kask Utopia
Road Aero
Ovalised
235g
EPS + Resitex pads
HyVent
Octo Fit
Road racing and triathlon
RUDY PROJECT Boost 1

No products found.

Aero
Oval with short tail & Dorsal Ridge
310g
EPS + Static-X padding
Vortex Killer System
RSR 9
Road Bike, Time Trial, Triathlon
Smith Podium TT MIPS
TT
No tail
360g
EPS + Koroyd
AirEvac
VaporFit
Road
Kask Mistral
Aero
Medium length tauk
340g
EPS + Coolmax® pafs
6 front vents and 2 rear vents
Occipital Fit System
TT
Smith Optics Ignite MIPS
Aero
Blunted tail
229g(150 mm)/ 240g(160 mm)
Zonal ventilated protection
AirEvac
VaporFit adjustable
Outdoor Cycling Racing Recreational Safety
Giro Air Attack
Aero/Tri, Road
No tail
275g
EPS + X-static pads
Wind Tunnel Ventilation
Roc Loc Air
All types of riding
Kask Protone
Semi-aero
Rounded shape with round tail
215g/
250g
EPS+ Coolmax
12 frontal vents
Octo Fit
Road Bike, Cross Country
Exclusky Aero Bike

No products found.

Aero
Shortened airflow tail
340g
EPS
8 vents with Speed port
Dial Fit
Road Bike, Cycling
10 best bike helmets for a triathlon that you can purchase today
1. Giro Aerohead Helmet
Wide front & Short tail, MIPS version | Overall Best Choice
Giro Aerohead MIPS
Specifications:
Helmet Type: TT
Shape: Forward-overhanging with wider front & short tail
Size: S (20"–21.75" / 51–55 cm) , M (21.75"–23.25" / 55–59 cm), L (23.25"–24.75" / 59–63 cm)
Use: Triathlon, road cycling
Weight: 480 g (Size M)
Color: Matte Black/Titanium, Matte Glacier, Matte Grey Firechrome, Matte White/Citron, Matte White/Citron
Inner Lining: EPS foam & hydrophilic brow pad
Shell: In-mold polycarbonate shell
Ventilation: 4 Wind tunnel vents with internal channeling
Retention System: Roc Loc 5 Air MIPS
Shield Type: Magnetic VIVID shield by ZEISS
Buckle: Slimline Buckle
Gender: Unisex
Features we liked about this product:
Short tail: This aims to provide a smooth airflow, like the long-tailed helmets, but without creating huge drag when the rider's head is down – which is the case for most TT riding.
Integrated MIPS technology: Giro helmets have been designed to meet and exceed several strict safety standards. Rotational forces are minimized so that less of the rotational force is passed on to the brain in case of certain impacts.
Roc Loc 5 Air Fitting:

This is a design that will keep your helmet slightly elevated from your skull to allow airflow. The helmet will be suspended above your skull for allowing cool air to pass through. Vent performance is boosted, while heat is exhausted out. The "three-positioned" bracket allows 15mm vertical movement and can be adjusted even if you have the helmet on you.

Wind Tunnel Ventilation: This elaborate design incorporates active vents in the helmet's shell with exhaust channels inside the helmet that work to push fresh cool air over and around the rider's head while forcing heat and stale air out. This is the most effective cooling system available in the market today
Construction:

The shell on the outside fuses polycarbonate to the inner liner that can absorb lots of impacts. This construction process will improve ventilation in the helmet so that they are lighter and "airy".

Superfit Engineering:

Based on a lot of research, these helmets mold in the adult head sizes of 4 humans to match the skull shape. The resulting fit is comfortable and boosts confidence.

ZEISS shield:

These help the helmet to achieve an aero profile bypassing air past them "smoothly". They also improve the vision while you have the helmet on.

Hydrophilic Padding:

This padding can absorb almost ten times its weight of water and helps you manage the sweat better while you have the helmet on. The sweat will not get in your eyes and dry up fast. You will also feel fresh thanks to the x-static pad, which has antimicrobial properties

.
Tri-glide straps:

They usually have a flat profile, and will lie against your face mostly. Quick adjustment using these straps is very helpful

.
What we did not like:
The visor becomes foggy in excess humid conditions.
Getting the shield into the up position sometimes requires a bit of finesse to get just right.
Starting with a polycarbonate shell that incorporates MIPS, the MIPS version of the Giro Aerohead comes loaded with many features. We have four wind tunnel vents that have been integrated on the helmet, with the overbrow ventilation system. The vented visor helps too. To help you put on and also take the helmet off easily, Roc Loc 5 system has been used. You will be able to adjust the helmet vertically using one hand only.
As long as you are riding with your head face towards the road – the helmet will deliver nicely. As you look up or down, you will be compromising this "aero" position. If you are a natural ride with your head faced down – this is the perfect helmet for you.
We have included a sizing guide to help you find the perfect fit: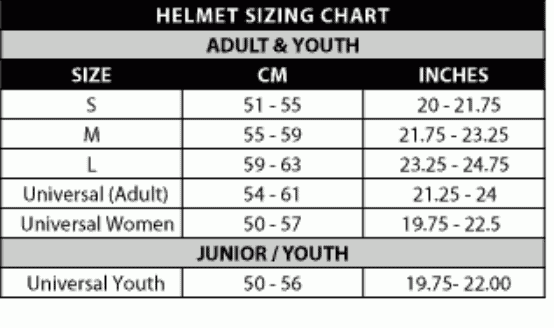 Giro Aerohead MIPS
2. Giro Vanquish Helmet
An all-rounder helmet for various types of cycling, MIPS version
Giro Vanquish MIPS
Specifications:
Helmet Type: Aero
Shape: Highly tapered profile with a short, squared-off tail
Size: S – 20" to 21.75"; M – 21.75" to 23.25"; L – 23.25" to 24.75"
Use: Training, Racing, and Time Trial
Weight: 312 g (Size M)
Color: Matte Black/Titanium, Matte Glacier, Matte Grey Firechrome, Matte White/Citron, Matte White/Citron
Inner Lining: EPS foam
Shell: In-mold; Four-piece polycarbonate interlocking hardbody
Ventilation: Wind tunnel ventilation with internal channeling & TransformAir technology
Retention system: Roc Loc 5 Air MIPS
Shield Type: Magnetic VIVID shield by ZEISS
Buckle: Ultralight
Gender: Unisex
Features we liked about this product:
MIPS:

Giro uses MIPS on this version of the Vanquish. This will reduce the impact of angled bumps and minimize the energy that is transferred to the interior of the helmet.

Transform Air technology:

This helmet has an aero "cliff" that minimizes drag force and allows the helmet to exhibit aerodynamic properties. Riders will therefore be comfortable in a variety of head positions.

Lens by Zeiss Optics shield:

The shield has a "wrap-around eye" profile, and allows you to see clearly. An attachment that uses a magnetic anchor will keep the shield out of your way, in a "flipped" position.

In-Mold Construction:

In this process, you will find that hard polycarbonate has been fused with the foam liner. As a result, ventilation inside the helmet will improve and feel light on the rider's head.

Roc Loc Air 5: This design will allow you to move the helmet vertically by 15mm in both the positive and negative axis. This boosts airflow.
Antimicrobial padding: This has been incorporated into the inner lining and can absorb 10 times its weight in sweat so that the rider can maintain hygiene.
What we did not like:
The aesthetics may not appeal to some riders.
The visor may fog up.
"Vivid Optics by Zeiss" printed on the bottom left which can be a pretty annoying distraction that constantly enters our field of vision.
If you are looking for a single helmet that you can use for TT, racing, and training purposes – the Giro Vanquish MIPS can serve as the "all-rounder". Four frontal vents are equipped with deep internal channels. Additionally, you will;l find 4 more on the rear side, along with a pair of comparatively large exhaust ports.
To ensure safety, Giro has used the latest MIPS safety liner. There will be a sliding surface on the internal that will redirect any force that might cause harm to the rider's brain, like angled impacts. The liner uses a more "breathable" material, in addition to Giro's Roc Loc retention system. The anti-microbial pads will help you to retain a fresh feeling while you have the helmet on. An adequate silicon coating will keep your eyewear safe when it is not being used. To further minimize drag, the magnetic VIVID eye shield has been used.
Related: Giro Caden MIPS Bike Helmet Review
Giro Vanquish MIPS
3. Kask Utopia Helmet
Improved aerodynamics, Decent cooling thanks to internal channeling
Kask Utopia
Specifications:
Helmet Type: Road Aero
Shape: Ovalised
Size: 50 cm to 62 cm in S(50-56 cm) / M(52-58 cm) / L(59-62 cm)
Use: Road racing and triathlon
Weight: 235 g (Size M)
Color: White/Black, Black/White, Black/Yellow, Gray, Light Blue, Orange, Red
Inner Lining: EPS Foam with Resitex pads and 3D dry padding
Shell: Polycarbonate
Ventilation: HyVent with 6 front vents
Retention system: Octo Fit with a rubberized micro-dial
Shield Type: Removable Vivid Shield
Buckles: Leather chin strap
Gender: Unisex
Features we liked about this product:
Aero Control: The shell is top-performing as it is very aerodynamic. This ensures that no matter the head position, air outflow will be in line with the helmet.
HyVent: This structure and shell design allow the air to flow and break up the exchangeable heat.
Can breathe easily: The inner padding fiber speeds up the evaporation process of perspiration, and slows down humidity formation on the skin.
Anti-Bacterial Padding: The inner padding fiber respects the skin and protects it from bacteria and dust. Also, eliminates the risk of annoying allergies.
Anti-static: Because of its conductivity, the inner padding fiber absorbs and disperses electric charges accumulated from the environment or during physical exercise.
3D Dry padding:

This high-tech padding is originated from a multi-layered open cell manufacturing process.

Resistex pads:

These pads will take away any moisture from the head of the rider so that they always feel fresh.

MIT:

This technology is found on all KASK helmets to ensure maximum safety using the layer of polycarbonate on top of the helmet shell, the ring base, and on the rear side

.
Chinstrap:

Chin pad with eco-leather chinstrap is washable and will not cause any allergy. Thus it is extremely comfortable and does not irritate the skin.

In-mold technology:

The innovative "in molding" technology, joins the inner polystyrene cap to the outer polycarbonate one to ensure better shock absorption

.

Octo Fit:

This system features a rubberized adjuster that is using Micro Dial for a better grip. The contact points for the floating cradle work in sync with the gel pads that are lying internally for optimal comfort. On any sized heat, the supports can oscillate. The cradle is using lightweight Brackets that have been designed especially and refined for the best support and fit.
What we did not like:
There is no protection from the rotational impact present here.
No pad across the helmet front to absorb sweat.
If the circumference of your head is in between two sizes, you have to go for a smaller size.
The Resitex pad may feel firm against the head when putting on.
With regular use, the foam side pads will pack out.
The Kask Utopia helmet incorporates a shell that is slippier at various yaw angles for an aerodynamic profile. HyVent allows for airflow across the top of the head while exchanging and exhausting the excess heat, which is exactly what riders look for on scorching days and extended climbs.
The inner EPS foam has deep channels molded into it so that it can direct air around the head of the rider, which is also featured on the 5 mm-thick, carbon yarn Resitex pads. Anti-bacterial, 3D DRY padding inside the helmet helps to speed up evaporation to remove moisture and helps with odor control. Additionally, these channels are kept away from the places of the helmet where the rider's ears are located. At the rear is Kask's Octo Fit system using a rubberized micro-dial for adjusting the floating cradle. The retention system also has sufficient space to accommodate women who wear ponytails when using a triathlon helmet. We find an extra plastic loop at the center back of the head, and lobes on both the sides of the harness' lowest part. This means there are more contact points and allows a customizable fit with a secure-feeling. The in-molding process attaches the outer polystyrene cap to the inner polycarbonate shell and can absorb shock better. This MIT Technology ensures that the polycarbonate layer covers the helmet's top, base ring, and back – makes the helmet more long-lasting. The certifications held by this helmet are CE EN 1078, CPSC 1203, AS / NZS 2063
Related: Top Road Bike Helmet for Women Reviews
We have included a size chart for you below:

Kask Utopia
4. RUDY PROJECT Boost 01 Helmet
Customizable decent ventilation
No products found.
The RUDY PROJECT Boost 01 helmet seamlessly provides both solid drag reduction as well as ventilation. First, the design of the helmet is balanced in all directions, but it offers special benefits to variable winds. Specifically, this triathlon helmet features a dorsal ridge that provides plenty of drag resistance when facing both forward and crosswinds. This is why it is said that the design of this helmet has been inspired by sharks. This triathlon helmet features the vortex killer system which generates significant ventilation in and around the head of the rider.
Rudy Project uses in-mold technology to shape the external polycarbonate outer shell directly when the expandable polystyrene (EPS) impact-absorbing foam is injected so that the helmet structure is more rigid but light. Rudy's RSR 9 fit system allows you to customize the helmet's fit to your head as needed. A set of two modular, removable covers (one closed, one mesh) – can be inserted into the front vent opening for the airflow to be regulated. This also helps to adjust the aerodynamic effectiveness of the helmet according to environmental conditions and also helps to maintain the body's efficiency. The EPS structure with the polycarbonate shell and exoskeleton resists mechanical action exercised by an impact and stops energy transfer to the head of the rider wearing the helmet. The helmet features a built-in shield (available in clear, smoke, or orange) that incorporates Rudy's lens technology and their Flip-Up magnetic retention system. It allows the rider to have a clear vision as if you are not wearing any eyewear at all. Yet the level of protection is very high. You can easily move it out the way when you are putting the helmet on or if you need to move it while riding. The magnetic flip-up system will help to snap it right back into place. Overall, this incredibly comfortable and light helmet features top-notch ventilation.
We have included a size chart for you below: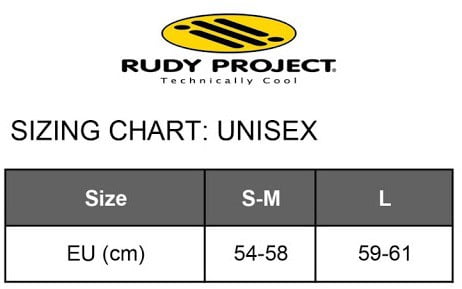 No products found.
RUDY PROJECT Boost 01
5. Smith Podium TT Helmet
Blunted tail, AirEvac Ventilation
Smith Podium TT MIPS Helmet
Specifications:
Helmet Type: TT
Shape: Tailless
Size: M(55-59 cm)/Large (59-62 cm)
Use: Road
Weight: 360 g (Size M)
Color: red, white, and black
Inner Lining: EPS and Koroyd
Shell: Aerocore in-mold
Ventilation: AirEvac , 2 rear exhaust vents
Retention system: VaporFit
Shield Type: Magnetic visor with ChromaPop lens
Buckle: Adjustable webbing
Gender: Unisex
Features we liked about this product:
In-Mold construction: This creates a polycarbonate shell helmet with EPS liner so that weight is significantly reduced. These helmets are best for riders who like to cruise trails and want to be protected in case of a fall.
Aerocore construction: For better airflow, improved temperature regulation with fog-free vision, and better impact resistance, EPS and Koroyd have been combined to create a new material that can absorb more energy on impact. Additional vents are placed throughout the helmet without compromising protection and comfort.
AirEvac ventilation system: A venting system patented to the Smith brand, AirEvac is featured on goggles and helmets to allow for an uninterrupted obstructed flow of air through corresponding channels that are present in both. The vents that are forward-facing draw in cool air, and the top and back ones remove the excess heat, keeping the rider cool in warm weather. It also ensures that your goggles do not fog up.
VaporFit system: A dial adjustment system that has been integrated with a tuned elastic fit. Each system has a 5 cm rotary adjustability and the system can be moved up/down or forward/backward at the attachment points. This means the helmet can accommodate any head type and size and still feel secure.
Koroyd ventilated technology: The podium TT helmet uses two Koroyd rear inserts that provide ventilated protection. Koroyd is a unique structure that has been designed to reduce trauma levels by managing the energy transfer in case of an impact. In a crash, the Koroyd core will crush to dissipate the energy from impact and reduce trauma.
ChromaPop lens: This lens delivers greater definition, with more natural color and clarity that translates to more detail. It is large enough not to obstruct your peripheral view or obstruct. The magnetic attachment allows easy on/off.
MIPS: This technology features a sliding layer on the helmet's inside so that the shell can rotate relative to the head. This technology brings down the amount of rotational force you could experience from a crash or fall.
XT2 anti-bacterial performance lining: These pads resist the build-up of bacteria and are present at the front and on the crown of the head, offering plenty of comforts and sweat absorption.
What we did not like:
 Be careful while cleaning the shield as the rubber strip at the nose cutout may slip.
Smith Podium TT MIPS helmet has been specifically designed with MIPS technology and a perfect combination of protection, coverage, comfort, and ventilation. Popular for time trialing or even triathlon racing. Its aero styling will help you to conserve your energy and increase your speed when needed. VaporFit adjustable fit system allows you to get a secure, comfortable fit and is very easy to adjust. The side straps are static and have no adjustments, which makes them very comfortable. This is combined with an X-Static with reactive cooling performance lining.
There are three vents on the optical shield and two on the front of the helmet. The rear helmet has two exhaust vents to help with the airflow. Those rear vents use patented Koroyd technology (honeycomb looking material). The helmet smoothly incorporates lightweight-ness, aerodynamics, and relatively good cooling. Podium TT has two magnetically affixed lenses, where we have a clear lens that can be used for dark and cloudy conditions; while the ChromaPop lens can be used for all other conditions. The lenses are clear and did not fog up. Many triathletes like it not only for its outstanding technology but also that it is equipped with MIPS. This is available in seven different colors and two sizes: small/medium or large.
Smith Podium TT MIPS Helmet
6. Kask Mistral Aero Helmet
Aero design, Magnetic visor
Kask Mistral Aero
Specifications:
Helmet Type: Aero
Shape: Medium length tail
Size: Medium(55-58 cm)/Large(59-62 cm)
Use: Time Trial
Weight: 340 g (size M)
Color: White/Silver, Black/Anthracite, Blue Sugar/Paper Blue, Black/White, Black/Lime, Black/Red, and Black/Light Blue
Inner Lining: 3d dry with removable Coolmax
Shell: Polycarbonate
Ventilation: Six front vents and 2 rear vents
Retention system: Occipital Fit System
Shield Type: Magnetic visor compatible
Buckle: Eco Leather chinstrap
Gender: Unisex
Features we liked about this product:
Aero Control:

We have a helmet here a helmet shell that has performed very well, so we can conclude that it is very aerodynamic.

Eco-leather chinstrap:

This chinstrap is made using eco-leather and comes with a chin pad. The washable chinstrap is extremely comfortable and stops skin irritation.

3D dry padding:

The dry padding here has a multi-layered structure, which incorporates open cells.

Coolmax fiber:

These are inner paddings that can be removed and washed.

These  CoolMax are made by using the 3D Dry system from KASK. They will draw sweat away from your head.

Magnetic Visor:

This is another patented feature from KASK. The visor has been integrated into this helmet by using 5 magnets. The sync between the visor and the helmet allows continuous airflow.

In-molding technology:

KASK has fused the outer poly shell to the liner. The resulting structure is lightweight and offers better ventilation.

The layer of polycarbonate can be found on the top and rear side of the helmet's shell while being used on the ring base.
What we did not like:
No MIPS
Lacks versatility and venting for everyday riding
The magnetic visor may fog up
Kask Mistral AeroHelmet is designed to provide the rider with the ultimate in efficiency and the best possible performance. A medium-length tail works to reunite airflows as they leave the helmet where each contour of this helmet is smoothed and optimized. Combined with the use of a magnetic visor that provides great protection to your eyes, offers you a real advantage while you are riding, works to manage airflow for the most favorable performance. There is an eco-leather chinstrap that reduces skin irritation.
Coolmax internal padding and an eco-leather chinstrap assure heat management as the rider goes hard. A self-adjusting lateral divider is present under the ear to prevent ear discomfort. 3D dry padding 3D dry tri-dimensional padding has multi-layer open cell construction, which diminishes any pressure points and Coolmax Fiber also moves moisture away from your head. Overall, internal plush and cushioned padding allow a neat fit and comfortable ride. Ventilation using six small front intakes does not compromise aerodynamics. In-mold construction offers the best level of shock absorption that assures that you are protected. Even on the longest training sessions or races.
Look at the sizing guide below to get the best fit:

Kask Mistral Aero Cycling Helmet
7. Smith Optics Ignite Helmet
Good ventilation, Lightweight
Smith Optics Ignite MIPS
Specifications:
Helmet Type: Aero
Shape: Blunted tail
Size: Small (51 – 55 cm), Medium (55 – 59 cm), Large (59 – 62 cm)
Use: Outdoor Cycling Racing Recreational Safety
Weight: (Size M, mips) 340 g – Size M, 320 g.
Color: Matte Black.
Inner Lining: Zonal ventilated protection featuring patented Koroyd material
Shell: Aerocore Polycarbonate
Ventilation: AirEvac, 8 optimized vents
Retention System: VaporFit adjustable
Shield Type: Integrated
Buckle: Ultralight but strong "Y" straps
Gender: Unisex
Features we liked about this product:
Aerocore Construction: The Aerocore technology fuses an EPS foam skeleton with the unique Koroyd honeycomb-like material that fills up the vents. The resulting structure is exceptionally resistant to impact, and also allows airflow through the Koroyd filled vents. Thanks to this airflow, Smith helmets are comfortable in a wide range of temperatures. They also feel very strong and robust in their construction
XT2 Antibacterial performance: This lining helps to get rid of the bacteria that causes sweaty smells so that we have that fresh feeling in the helmet always.
Lining: The inside of the helmet has EPS and Koroyd (looks like a beehive) materials that complement each other. The EPS absorbs more energy during a fall or crash compared to international standards. While the Koroyd material lets the cool air come in and hot air out of the helmet.
VaporFit system: This uses a simple dial to adjust the tension. This dial provides great feedback and can be easily adjusted. Riders can adjust the retention cradle vertically and horizontally so that we have a greater degree of customization making it possible to fit comfortably overheads of any shape. They have a full 5 cm of rotary adjustability
AirEvac ventilation: This is an integrated system that has been designed to move air via the external vents and internal channels to ensure a clear vision with the best comfort. 8 vents are strategically positioned around the aerodynamic frame of the Ignite helmet so that airflow through the design is efficient.
Zonal ventilation: Smith don't just hope airflow will get to your head either, instead, 8 carefully optimized AirEvac vents create an integrated system of ventilation whereby channels force warm moist air away from the head to create a comfortable climate within the helmet space
MIPS: This is a third-party technology for the helmet's internal cradle that will allow the helmet and the head to move independently in case of an impact — thereby minimizing torsional rotation on the brain.
Straps: The straps are thin, soft, and flexible with a great feel against the skin. It features a 'Y' bracket that allows adjustment around the ears.
Weight: At 310 g, it is ideal for racing long distances and training.
What we did not like:
Does not have an aerodynamics profile
The strap bracket cannot be adjusted for height.
AirEvac vents and MIPS technology has been used to further facilitate comfort and protection in the Smith Optics Ignite MIPS helmet. AirEvac vents refer to the strategic positioning of the eight vents around the aerodynamic frame of the Ignite helmet for efficient airflow through the design. The feature that draws attention to this helmet is the fact that it is very well ventilated.
MIPS technology allows the helmet to move independently of the head in the event of an impact — so that torsional rotation on the brain is reduced. Aerocore™ construction combines the best impact protection and maximized head cooling airflow. The hard polycarbonate shell with EPS foam with Koroyd material with a honeycomb structure combines protection and ventilation. The smooth outer shell incorporates just six forward-facing vents with four exhaust ports to channel air across the head and out the back of the ignite efficiently and does not compromise on effective cooling. The XT2 is an antimicrobial technology that provides odor protection by using silver. Riders do not have to worry about overheating or developing heat stroke, which is crucial to triathletes who regularly go on long rides or races. This helmet can be used for a variety of purposes – even casual riding thanks to its discreet look.
Smith Optics Ignite MIPS
8. Giro Air Attack Helmet
Lightweight, Expanded polystyrene interior
Giro Air Attack Helmet
Specifications:
Helmet Type: Aero/Tri, Road
Shape: Frontal profile with blunt trailing edge
Size: S (20 – 21.75 in), M (21.75 – 23.25 in), L (23.25 – 24.75 in)
Use: All types of riding
Weight: 275 g (Size S)
Color: Black, Grey, White
Inner Lining: EPS foam with X-static padding
Shell: In-mold polycarbonate shell with EPS liner
Ventilation: Wind Tunnel Ventilation with 6 vents
Retention System: Roc Loc Air
Shield Type: N/A (The "Shield" version has a Zeiss shield)
Buckles: Slimline
Gender: Unisex
Features we liked about this product:
X-Static: This padding contains a fiber made from silver that is woven permanently into the fabric to reduce unwanted odor. On the Giro Air Attack, this padding is removable and works efficiently to add anti-microbial properties to the helmet to keep it fresh longer.
Roc Loc Air: Here, the Roc Loc Air permits cool airflow to travel directly over your head, further boosting the performance of vents and internal channeling that has been used here to exhaust heat out of the helmet. This is achieved via the plastic flexible inner cradle that lingers over the rider's forehead and the top of their head as well, keeping the shell slightly elevated.
Wind Tunnel Ventilation: Giro helmets are made using their Wind Tunnel ventilation system, which combines active vents and internal exhaust channels to push cool, fresh air over and around the rider's head and forces heat and stale air out. This significant improvement in air channeling makes an immediate impact.
Polycarbonate shell: The helmet presents a fully wrapped polycarbonate shell that covers the lower edge of the helmet. The bottom edge and the entire helmet is covered in this material.
Air channels: Deep air channels connect the two front air intakes above the brow with the four topmost vents while skinny, shallow channels run vertically from above the temples towards the deep upper channels. Again, this is an attempt to promote airflow inside the helmet with very minimal vents through its shell.
Zeiss visor: The world-renowned manufacturer Carl Zeiss has designed the best anti-distortion and clarity for this specifically designed bike helmet shield. The shield is attached via magnets that are strong and do not permit the lens to vibrate or shake uneasily. This is available for the "Shield" version.
What we did not like:
Rainwater may find its way to the top of the visor through the vents, which will lead to water trickling down the rider's face.
Not ideal for steep climbs in hot weather.
Giro Air Attack has a similar overall profile to a standard road helmet but has been designed to exhibit more aerodynamic properties that will help the rider save time during road riding, time trialing or triathlon racing. RocLoc Air retention system suspends the helmet 3 mm off the front and top of the head of the rider so that airflow into and around the helmet can be improved. This system incorporates a flexible plastic cradle to be attached to the tough outer shell. This allows the Air Attack to have a universal fit. We have three height adjustment positions at the rear of the helmet that will allow you to control helmet tightness using a clicky wheel. Riders can use only one hand for winding it up and let out the slack.
We find six small vents, so there is a possibility that the helmet maybe a little warm. However, Giro addresses this issue by placing active vents in the helmet shell in addition to exhaust channels inside the helmet too. They combine to let out warm stale air out of the helmet and push fresh, cool air over and around the rider's head. This is called the Wind Tunnel ventilation system. The X-Static antibacterial padding that is found inside the helmet adds comfort by reducing odor and regulating heat. Soft and lightweight webbing straps also feature a small plastic locking yoke hardware that will allow fore/aft positioning of the chin strap. However, lack of ventilation means it should be avoided on climbs or in hot temperatures. There are two versions of this helmet available, the other being the Giro Air Attack Shield, which comes with a Zeiss visor that is attached via magnets. See the Size chart below:

Giro Air Attack Helmet
9. Kask Protone Helmets
Very comfortable & well ventilated
Kask Protone Helmet
Specifications:
Helmet Type: Semi-aero
Shape: Rounded shape with round tail
Size: Small (50 cm – 56 cm), Medium (52 cm – 58 cm), Large (59 cm – 62 cm)
Use: Road Bike, Cross Country
Weight: 215 g (M), 250 g (L)
Color: Matt Black, Black/Blue, Black/Red, Black/White, Black/Green, Blue, Green, Red, White, White/Green, White/Blue, White/Blue
Inner Lining: EPS foam with Coolmax inner padding
Shell: In-Mold polycarbonate
Ventilation: 12 large frontal vents
Retention system: Octo fit, rubberized micro-dial
Shield Type: N/A
Buckle: Eco-leather chinstrap
Gender: Unisex, Male
Features we liked about this product:
Fine-Tuning Fit:

The inner helmet frame offers enhanced strength while keeping the structure compact. Even if the helmet encounters shock – it can retain its structure

Aero Control: Incredibly aerodynamic and top performing shell is said to be tested in the wind-tunnel, the result of which is any head position will allow air outflow to be in perfect line with the helmet.
Eco-Leather Chinstrap: The chin pad comes with an eco-leather chinstrap that has the buckle positioned in such a way that it will rest along the side of your face which is very comfortable. It aids to prevent skin irritation.
3D Dry padding:

To deliver optimum performance along with comfort, these tridimensional paddings are multi-layered, with an open-cell structure.

CoolMax Fiber:

This internal padding can be removed to wash it; however, essentially- they work to absorb brow sweat.

Inner Frame: The innovative inner-strengthening frame offers greater mechanical strength. In case of shock, it prevents the helmet from breaking into many pieces allowing greater safety for every rider. The "in-molding" technology joins the outer polycarbonate to the inner one, ensuring better shock absorption.
MIT Technology:

All cycling helmets from KASK cycling helmets have incorporated this technology for optimum protection

.
Octo Fit:

It has a simple, single hand-operated dial and that can be adjusted vertically, where the actual plastic bits that are used to build the retention system are thin with minimal design so that overall weight remains low. For optimum comfort, the internal gel pads are combined with the floating-cradle contact points. Supports can therefore oscillate freely through 180°  – making sure there is a perfect fit for any shaped head

Sanitized Treated Fabric:

This other inner padding fabric is treated with the antibacterial and antimicrobial sanitized process

.
High Visibility:

They will ensure that even when visibility is poor – the helmet can be seen.
What we did not like:
The headband has a poor fore and aft adjustment mechanism.
We also see a bend near the temples causing uncomfortable pressure points
Adjustable Y-buckles are missing.
The helmet rear could use more ventilation.
Kask does not use MIPS, which indicates a great disadvantage in security.
The Kask Protone helmet is highly adjustable with cool ventilation and a comfortable fit while being highly aerodynamic. Designed with Team Sky, the Kask Protone fully covers your head, so that it can reach low at both the front and back of your head while having the lowest drag coefficients of any ventilated helmet.
Kask's Octo Fit adjustment system has a simple adjustment system and is very convenient. The cradle arms are fastened to the inside of the helmet that features an expanded polystyrene body at your temples and also at the rear so that the helmet has a good amount of height adjustment. The dial system at the back will allow you to adjust helmet tightness. Changing the sideways position of the occipital pads independently makes it is very comfortable. The straps are always flat and do not have any dividers under your ears. Made from eco-leather – you can clean it easily even when you are sweating. The removable antibacterial and antimicrobial inner padding are made with Coolmax with a honeycomb inner surface. Large ventilation holes at the front of the helmet will keep your head well-aired and cool. Maintains EN 1078, CPSC 1203, AS/NZS 2063 standards.
You can stow your glasses on the vents after taking them off and this does not make the helmet more susceptible to drag force. See below for a Size Chart:

Kask Protone Helmet
10. Exclusky Aero Helmets
Innovative ventilation technology, Budget-friendly
No products found.
Exclusky Aero Bike Helmet uses the unique technology of improved aerodynamics, sufficient ventilation, and an improved lens system. The minimal frontal surface area makes the helmet more compact. Also, 8 air vents allow excellent airflow that will keep you well-ventilated when cycling. The tail has a reversed inferior part that reduces drag at your shoulders, and a Speed Port facilitates air entry at the front of the helmet so that they exit via the vents behind the ears for pressure release. The improved vent position coupled with extra evacuation channels allows improved airflow for better ventilation.
The helmet comes with detachable magnetic goggles that will protect you from UV light. This lens will stay firmly on the helmet and can be easily removed or flipped up with one hand. In terms of safety, the helmet features an in-mold construction fusing the matte shell foam that meets the US CPSC safety standards. High-density EPS and PC will ease impact and minimize shock pressure. The easy patented adjust rotary internal regulator ensures that the helmet fits your head perfectly.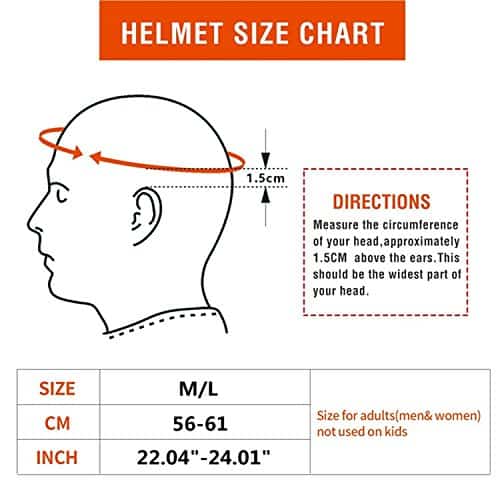 No products found.
Exclusky Aero Bike Helmet
---
Frequently Asked Questions
Q1. What kind of helmet for a triathlon?
Ans.: Typical helmets used for triathlon events were typically designed to provide the rider with aerodynamic advantages when put on and featured minimum padding. However, in 2003 the cycling body UCI made it mandatory for these "aero" helmets to be fitted with polystyrene and that became the new norm.
Obviously, the triathlon helmet has to fit your well. The helmet tail should cover the back of your head as well, without leaving much of a gap. Otherwise, the "aero" helmet will keep slowing you down – which will also be the case if you are moving your head too much while riding. This is helpful for long-course triathletes. Make sure that your helmet does not create overheating issues as even though air vents tend to suck in air and create turbulence without any ventilation. The experience is likely to be uncomfortable. As helmets have to be kept on for the longest portion of a triathlon – they mustn't be heavy otherwise, it would result in head fatigue during aero bars.
Q2. Aero Road helmet vs TT helmet?
Ans.: Typically there are 3 designs for road bike helmets – road, road aero, and time trial/tt helmets. To explore the differences between aero road helmets and TT helmets, we will use examples of each – Giro Vanquish and Giro Aerohead respectively in terms of design, build, comfort, and features. Coming from the same manufacturer, they have lots of common features and only a few differences. TT helmets as the name suggests, are used by A-list cyclists and triathletes who want to use every available advantage for reducing drag and maximize speed while aero road helmets are a hybrid of road bike helmets and TT helmets – where the helmet exhibits all advantages of a time trial helmet but differ in terms of design.
Design –
Both the Vanquish and Aerohead come with a "tail" to make the helmet aerodynamic but differ in terms of design. Aerohead clearly features a tip that is more pointy with a longer tail than Vanquish. We also find a "cliff" on the helmet, just above the ears, that allows the helmet to deliver time trial-like performance- making it versatile.
Build –
Giro Vanquish has its outer shell split in two parts where the front part is simple but looks like it overlaps the smaller and narrower back half. This is a TransformAir design. Four interlocking pieces of the shell can be customized and offers resistance to impact. The shell is then fitted with expanded polystyrene foam for added protection- in layers. On the other hand, the Aerohead also has a polycarbonate shell but has an in-mold design which means that the inner padding will not come loose at any time. Combined with the Roc Loc retention system, the Aerohead is a very comfortable and secure fit. Both come with built-in MIPS technology that offers protection against any rotational forces
Feature-
Vision is a key factor that should be considered when picking a helmet. Both these helmets feature a vented Zeiss Optic visor that comes with a magnetic anchor. There are two magnets – in one in front of your eyes to keep the visor in place and the other magnet is used to attach the visor to the helmet top. However, the Aerohead model allows a wider vision, while Vanquish has the extremes sides both fitted with plastic and the vision is not as wide.
Comfort-
On the Vanquish, we find four forward vents that face forwards to pull cool air over your head and have been fitted with six more vents at the rear. The design gets rid of the warm air and brings down the head temperature. There are two silicon-coated lower front vents coating to protect your eyewear. On the other hand, the Aerohead has four integrated external wind tunnel vents and deep channeling for ventilation. Additionally, we also find a hydrophilic brow pad for absorbing your sweat and helps to keep you cool.
Conclusion
As we can see, it will be a very difficult task to pick a triathlon helmet that will be the best option for all users. Some racers may feel that a triathlon helmet may help them to achieve the best time possible while others may simply want a comfortable helmet or even want to have maximum ventilation so that their internal body temperature remains low. Since racing is a big feature of triathlon, we have suggested the Giro Aerohead MIPS helmet as the best triathlon bike helmet. We believe that it can provide a wide range of advantages for you and as we have mentioned in our review, it does not feature weaknesses that will make it fall out of favor.
However, we believe that with any of the 10 best triathlon helmets that we have picked out for you above you get up and ready for that next triathlon event or race and will not be disappointed. We thank you for taking the time to go through this article with us and hope to catch you again soon.