The Caden MIPS Bike Helmet from Giro is a commuter/urban bike helmet, suitable for city riders, casual cyclists, and daily commuters. We have tested this product thoroughly in various conditions. In this article, we have presented a detailed breakdown of the helmet and what we thought of it.
Our Verdict: Definitely one of the top Commuter/Urban helmets that you can find with its fantastic build quality, integrated MIPS, superior comfort, and sophisticated design. This is a helmet very much worth its price due to its useful features and functionality.
➥ Buy Giro Caden MIPS from Amazon
Incredible!
One of the commuter/urban helmets
PROS
Superb Build Quality and Protection
Extra Safe due to Integrated MIPS Technology
Very Well Ventilated to Keep You Cool
Great Comfort and Compatible with Various Head Sizes and Shapes
Lights can be Attached
Stylish Urban Look and Multiple Color Choices
Reinforced Lock Port for Security
CONS
Chin straps may need to be adjusted occasionally
Not very aerodynamic
Does not come with built-in lights
No smart features
Giro Caden MIPS Bike Helmet Review:

Adult Urban Cycling Helmet for the Streets
Giro Caden MIPS Bike Helmet
Technical Specifications:
Type: Urban/Commuter cycling helmet
Head Circumference: Small (51-55 cm), Medium (55-59 cm), Large (59-63 cm)
Weight: 325 grams
Gender: Unisex
Fit System: Roc Loc City Fit System
Ventilation: 12 wind tunnel vents
Visor: Removable Visor
Safety Standard: CPSC and CE.EN1078 certifications
Construction: In-mold construction
Shell Type: Polycarbonate (PC) shell
Impact Liner Type: Expanded polystyrene (EPS) foam
About the manufacturer
Founded in 1985 by Jim Gentes, Giro Sport Design is a U.S. based company and is headquartered in California. Giro is a familiar name in the cycling industry and they are always at the forefront of developing the best gear. The Caden MIPS Helmet is arguably one of their best products. It is a well-engineered and well-designed helmet perfect for urban users.
Features that make Giro Caden one of the best bike helmets for commuters and everyday urban use
1) Superb Build Quality and Protection
The outer layer is a two-piece shell consisting of a tough and hard outer shell and a lower shell made of polycarbonate. Polycarbonate (PC) is a commonly used thermoplastic that is both durable and lightweight. Advanced in-molding technology is used to fuse the outer layer with a thick layer of expanded polystyrene (EPS) foam. This layer is also called the liner and is the core of the helmet. EPS is a foam plastic material with pockets of air in between making it very lightweight. This fusion process makes it possible for better ventilation systems and keeps the helmet durable without adding excess weight.
The PC shell allows the helmet to slide without friction on surfaces and hence, prevents snagging. The EPS liner has cushioning properties that make it perfect for absorbing almost all of the energy of an impact and preventing it from reaching the brain. Together, the liner and the shell provide solid protection to your head. This helmet is compliant with both CPSC and CE.EN1078 safety standards.
2) Extra Safe due to Integrated MIPS Technology
A category of forces known as rotational or angled forces may occur if you hit the ground at an angle, causing the helmet to slide on your head. This creates a large amount of strain on the skull and is potentially very damaging. Fortunately, the Caden employs a modern technology called Multi-directional Impact Protection System or MIPS to tackle this problem. This is integrated into the helmet as an extra layer. This low friction layer basically acts like a slip plane allowing the helmet to slide a tiny amount over your head in any direction. Even though the displacement is tiny, it is enough to dissipate most of the rotational energy.
You really won't be able to tell the difference while wearing helmets with and without MIPS. This ingenious and truly life-saving feature can be found in a lot of high-end helmets nowadays. Although a MIPS helmet might cost more than a non-MIPS helmet, we always recommend it. We believe that safety should always take the highest priority, and an extra 20-40 dollars shouldn't get in the way.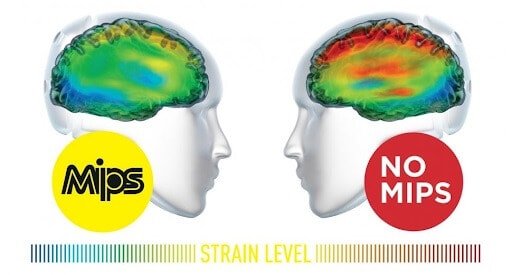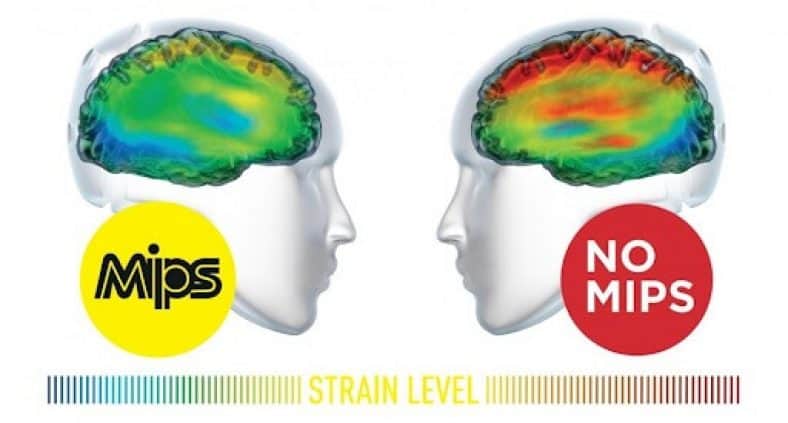 Image Source: cdn.road.cc
3) Very Well Ventilated to Keep You Cool
Cycling is an activity that can really work up a sweat, even if you are going on a short ride. This is why ventilation is such an important aspect of all bike helmets. All Giro helmets, including this one, are developed utilizing a patented Wind Tunnel ventilation system. This helmet features a total of 12 air-flow vents, which is a relatively large number for commuter helmets. Some don't even have one! This puts the Caden a step above the rest when it comes to keeping a cool head.
The front and back vents work in tandem due to Giro's elaborate design. Fresh, cool air is thrust into the helmet through the front, which passes over and around the scalp and exhausts heat moisture, and stale air out the back. This keeps you feeling cool, fresh, and dry even on hot summer days.
4) Great Comfort and Compatible with Various Head Sizes and Shapes
Another thing that sets the Caden apart is the use of the proprietary Roc Loc City fit system. It uses a rubberized dial at the back that can be turned slowly to achieve a precise 360-degree fit. This sort of a dial-adjustable system is pretty common in bike helmets. Now, what makes this system unique is the additional 3-step vertical adjustability. This, along with the 6cm range of the dial and three different size ranges available, means that this helmet can effectively fit a wide range of head sizes and shapes.
The internal padding also plays an important role when it comes to comfort since it cushions the head from the harder EPS liner. This helmet uses high-quality Ultrasuede padding which is soft and very comfortable. It can also be easily removed for cleaning. The side straps are made of featherweight webbing and have a Slimline buckle. When properly fastened, it will be impossible for the helmet to fall off your head. Fit and comfort are extremely important for helmet safety. So make sure to check the manufacturer's size chart to find the right size. Because of all the features discussed in this section, the Caden MIPS helmet excels in this category.
5) Lights can be Attached
This is great news for all those riders who prefer to (or have to) cycle at night. The helmet boasts a universal light attachment point, thanks to the creative design of the vents. Almost any mountable bike front light available in the market is compatible with this helmet. You can also choose to attach a rear light instead and have the front light mounted on the handlebars. Other than this, the straps have a reflective covering, adding some visibility to motorists in low-light conditions.
6) Stylish Urban Look and Multiple Color Choices
Looks are also an important factor when it comes to buying a helmet. This is especially true for casual cyclists and city riders who do not demand super high levels of performance. It has also been seen that users will be more inclined to wear helmets if they are also fashionable. The Caden is designed to have a sophisticated and stylish urban look that is sure to capture the admiration of others. Not to mention the five color options that add a bit more personality to the helmet. It is available in Matte Black, Matte Grey, Matte Highlight Yellow, Matte Iceberg, and Matte Midnight Blue. This helmet also comes with a removable cap-style visor. It shields your eyes from the sun and rain and is designed to ensure that air-flow through the vents is not obstructed in any way.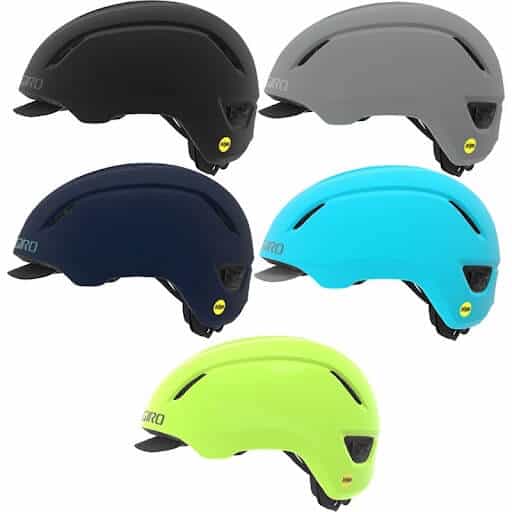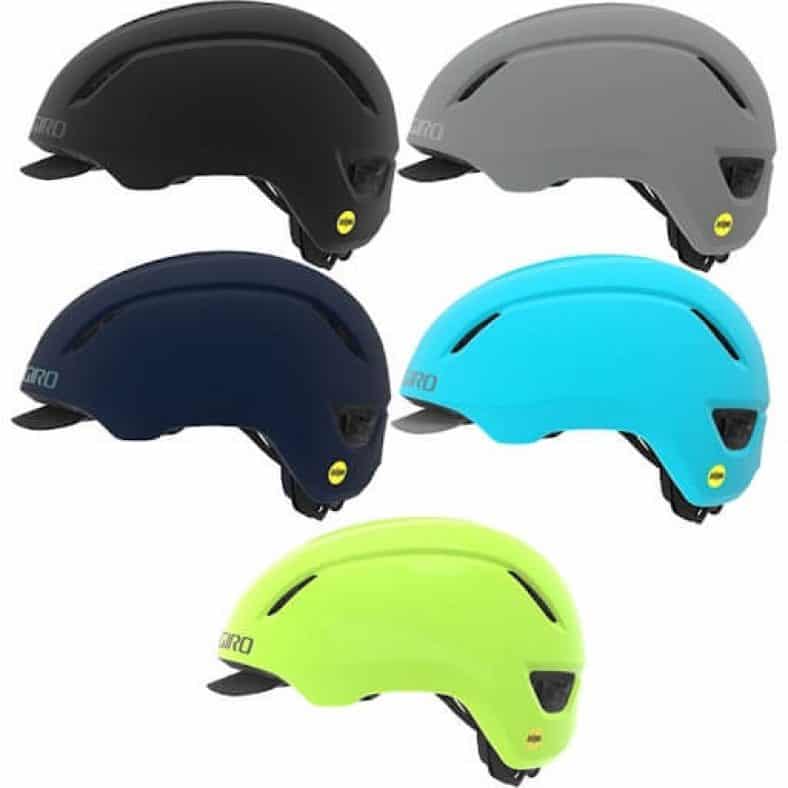 7) Reinforced Lock Port for Security
Security is also a bit of an issue in the city. You may have your bike locked-up securely, but stealing your helmet is not a big deal if you just leave it hanging on the handlebars. That is why Giro has added a reinforced U-lock port to this helmet. You can easily use any ordinary lock to secure the helmet to your bike or even your bag when you are on the move.
Is Giro Caden the best Commuter/Urban helmet out there?
The Giro Caden MIPS is definitely among the top helmets in this category, but it is not the 'best'. This is due to a few drawbacks listed below:-
The chin straps of the helmet seem to get loose occasionally. They need to be fiddled with from time to time to tighten, which can be slightly annoying.
Unlike road bike helmets, the shape of this helmet is not very aerodynamic. However, this is likely to be not an issue for city and commuting purposes.
It does not feature built-in lights. There is, however, an option to buy with an integrated rear LED light, but that will obviously cost more.
Many urban helmets nowadays are incorporated with advanced features such as Bluetooth, stereo speakers, smartphone connectivity, etc. These may be considered to be useful for urban life by some people. The Caden does not include any such features.
Our Verdict: Definitely one of the top Commuter/Urban helmets that you can find with its fantastic build quality, integrated MIPS, superior comfort, and sophisticated design. This is a helmet very much worth its price due to its useful features and functionality.
➥ Buy Giro Caden MIPS from Amazon
Conclusion
At the end of the day, the Giro Caden MIPS Bike Helmet is a very well-rounded commuter/urban type helmet. It is a high quality, comfortable, and stylish helmet that is guaranteed to serve you well as you navigate through the concrete jungle.
In terms of price, this product sits roughly in the upper mid-range. There are cheaper helmets, but the Caden is totally worth it due to the additional features such as MIPS, great ventilation, lock port, visor, etc.
We recommend this helmet without reservations as the ideal choice for daily urban riders.