If you are new to the cycling world, then tires and their characteristics can seem a bit confusing during the beginning. But if you ask for help, you will get bombarded with all sorts of different opinions. And that is not helpful at all. That is why we are here to give you all the information and guidance you need to become an expert on bicycle tires. So before we go down to the details, you should know that bicycle tires can be categorized into 3 different types. These three types are tubular, clincher, and last but not least tubeless.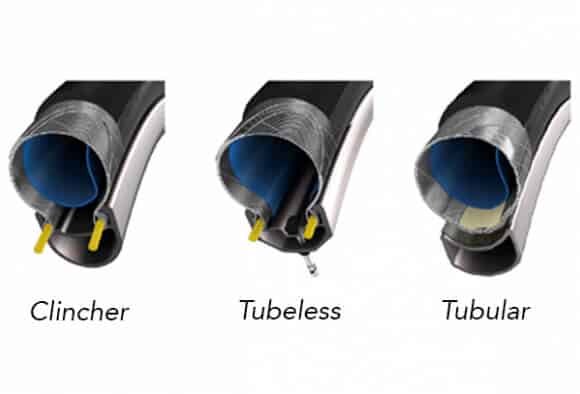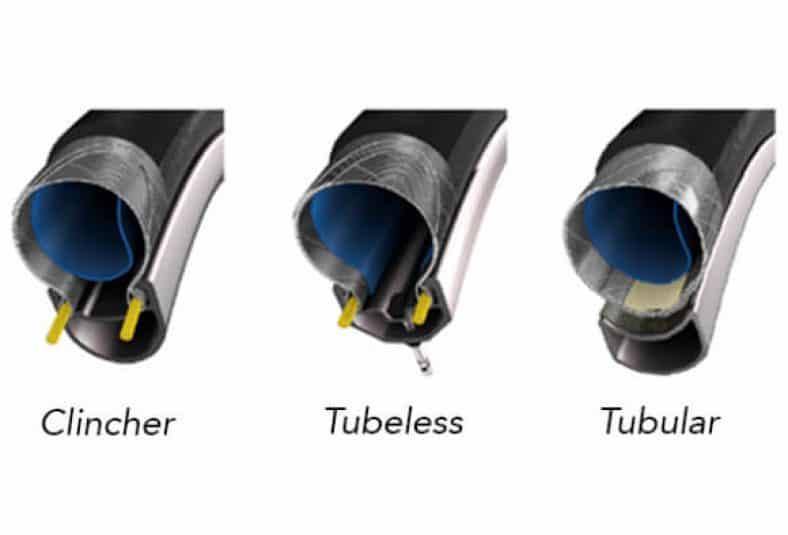 1. Clincher tires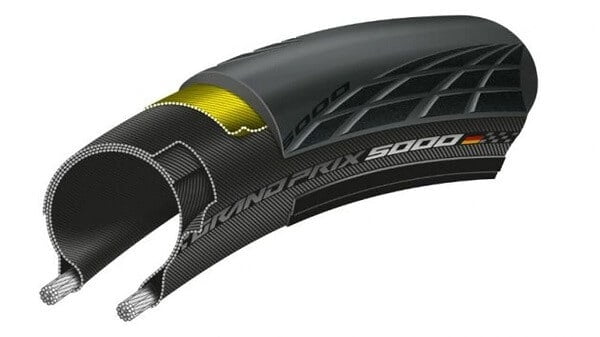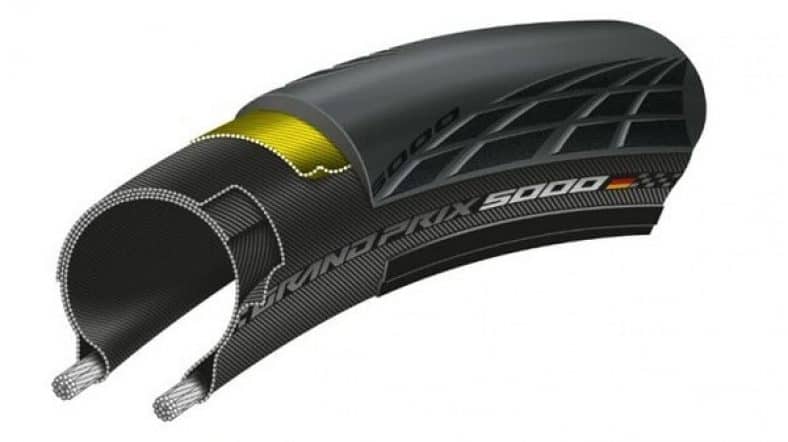 Image Source: glorycycles.com
Clincher tires are referred to as the standard choice in the bicycle community. These hybrid tires are quite popular and preferred by many. These are called clincher tires because back in the day these tires would have a Kevlar or steel bead located on their edge. And when they were pumped up with air to full pressure, the tires would clinch around the edge of the wheel. Now things are done a bit differently. Now, the Kevlar and steel beads are engaged along the flange on the rim of the wheel. Therefore, when you fill the tire with air instead of clinching the tire, the bead locks it. Due to the sidewalls of clinchers being much thicker (➥ differences between thin and thick tires) and also the bead, clinchers have more rolling resistance than tubular. However, most brands are conducting research and trying to lower the rolling resistance on clinchers as well.
If you get a puncture on your clincher tire, then, unfortunately, you must mount off your bike and repair it right away instead of dragging it all the way to your home. However, there is no need to worry, it is not that hard to fix. In fact, you can repair it in just a few minutes and be on your way. There is no need to get any sort of expert help as it is a fairly simple job to do.
If you want to go for a brand new clincher tire, there are many options that you can choose from. Ultimately it all comes down to what you want and what kind of riding you are into.
2. Tubular Tires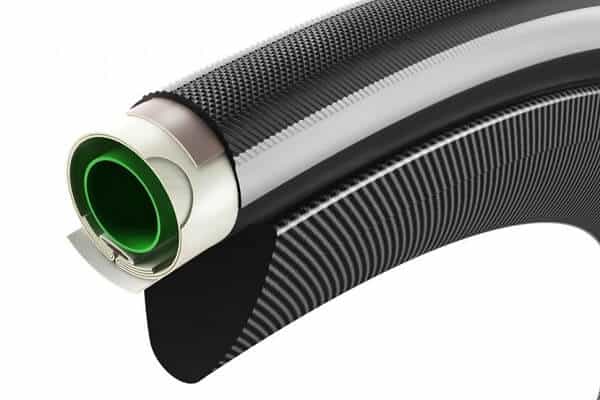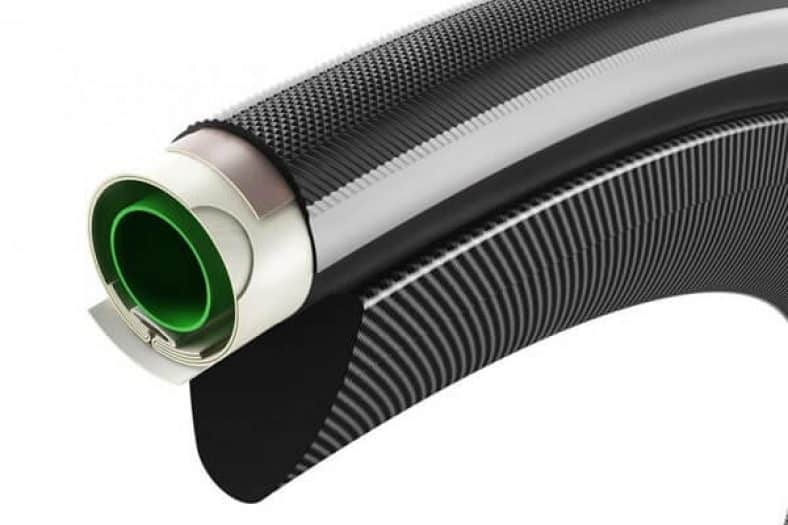 Image Source: road.cc
Tubular tires are mostly preferred by professionals. These hybrid tires are those which have been sewn up and shut around the tube of the tire. Therefore, the tubular tire is completely stitched and secured in place. Then you must either use tape or glue to firmly attach the tire onto the wheel of your bike. The wheel of the bike must be compatible with tubular tires. Wheels that are made specifically for tubular will not come with a hook which is usually used to attach clincher tires on the wheel.
Tubular tires are much lighter than clincher tires. This is because they are not equipped with the beads that you will usually find on clinchers. Therefore, a ride on tubular tires feels much more nimble and flexible compared to that on clincher tires. You will realize this instantly if you try them both out. Now, let's talk about the maintenance and repair of tubular. Punctures are always the worst when it comes to tires. However, it can be a bit more tricky with tubular. It takes quite a bit of effort to repair a punctured tubular tire. Sometimes, you may even have to get your tubular sewn up all over again. It's not all bad. There is also an advantage that tubular offers. As tubular tires consist of a closed system, if your tire gets punctured, it will release air in a much slower manner compared to clinchers. Also, due to the construction technique, there is less chance of tubular getting affected by pinch flats than clincher tires.
Tubular tires are not as common as clinchers. However, they are still quite popular among numerous road and triathlon cyclists. If you are new to tubular, you may need some time and practice to get the hang of them.
3. Tubeless Tires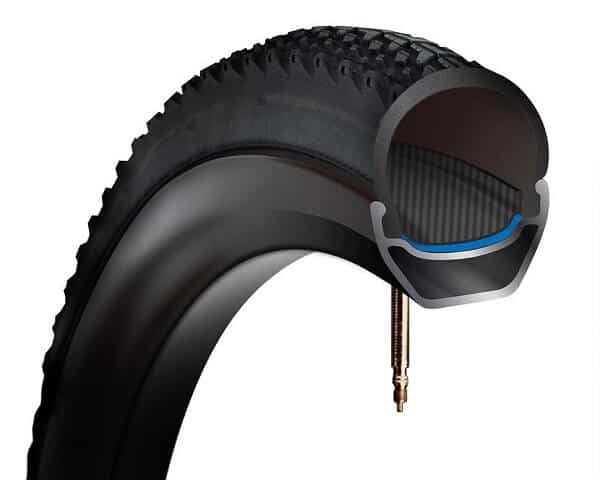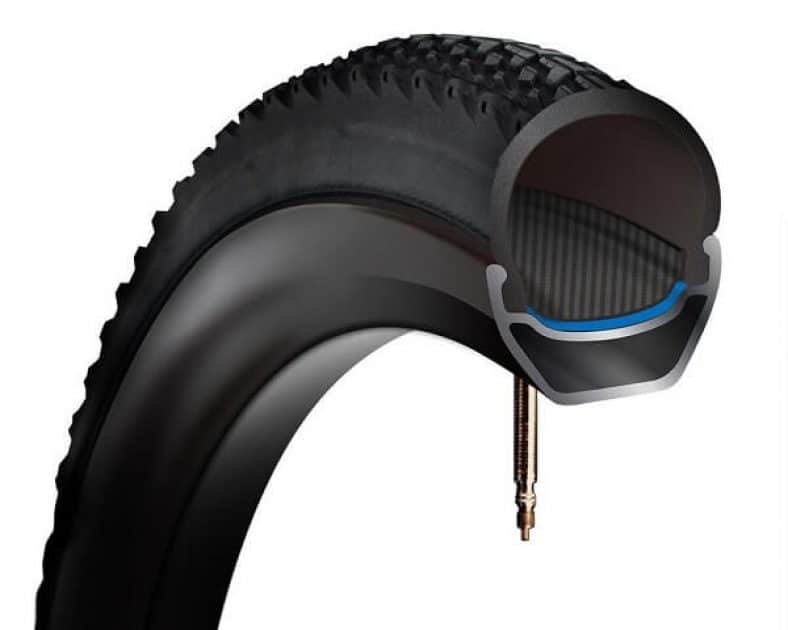 Image Source: bffbikes.com
Tubeless tires are quite like a combination of clincher and tubular tires. This type of tire is mostly used for mountain biking, however, now it is growing in demand for road biking. To attach a tubeless tire to your wheel, it is not required to fit any type of tube and nor is it necessary to use any tape or glue to fit it on to the rim. Tubeless tires are attached to your bike in the same way as they are with clincher tires. With that being said, you must ensure your rim is tubeless-ready. Then you can get the tire set on your wheel seamlessly.
The best part about having tubeless tires on your bike is the sealant. So while installing your tire, you should apply the sealant inside it. This sealant does quite a few things. First of all, it helps to maintain the air pressure of the tire intact at all times. Second of all, in case of a puncture, it will fill it up and seal the puncture area. There is another major benefit of going tubeless. Tubeless tires are more aerodynamic than tubular tires. They even outperform some of the typical clincher tires. Aero wheels are shifting their design towards a more rounded and wider profile. Therefore clinchers and tubeless tires are offering smoother performance compared to tubular.
We are learning more and more every day thanks to research and it shows that to go faster it is better to opt for tires with a width of about 25 mm. Also, reducing the tire pressure to 80 PSI does not have any negative effects on your tires. As a matter of fact, it actually offers benefits such as extra comfort and a better grip. Now, if you reduce the pressure of a clincher tire to 80 PSI, it increases the probability of it getting punctured quite easily or even pinched flats. These are not an issue for tubeless tires and so you can reach maximum speed without any fear.
➥ Our team has tested and reviewed a good number of tubeless tires for different kinds of mountain biking categories. You can get the reviews here: 26 inches MTB tires, and 29 inches MTB tires.
We have made a small comparison table that you can take a quick look at if you are short on time:
| Clincher | Tubular | Tubeless |
| --- | --- | --- |
| The tube and the tire are distinct from one another. | Tubular tires come in a one-piece arrangement. | Tubeless tires ofcourse do not consist of a tube and are found in a one-piece arrangement. |
| Clincher tires are a bit heavier than tubulars. | Tubular tires are lighter than both clincher and tubeless tires. | Tubeless tires are also slightly heavier than tubulars but lighter than clinchers |
| More likely to get flats and punctures from tire irons and spokes. | More puncture-resistant compared to clinchers. | Less prone to punctures and pinch flats. |
| It does not need any tape or glue to attach it to the rim of the wheel. | It can be attached to the rim by using tape or glue on the rim's outer part. | Tubeless tires also do not require any tape or glue to fit it onto the rim of the wheel. |
| Less expensive than tubular tires. | More expensive than clinchers. | Most expensive |
| Quite difficult to repair a flat. | Repairing a flat is fairly fast and simple. | Flats, small holes and splits can be fixed instantly using sealants. |
| Clincher tires offer moderate traction and control. | Tubular tires offer superior traction and handling | Tubeless tires can be used with lower tire pressure, which enhances control and traction. |
Frequently Asked Questions
Q1. Which type of tire is the fastest?
Ans.: Tubeless tires are the fastest as they have the lowest rolling resistance. The tubular tires are a close second followed by clincher tires. They are all quite close in terms of speed. However, if you are into time trials then a slight reduction in rolling resistance can make a big deal. If you want to learn more about this, watch the video linked below:
Q2. Which is better tubeless or with a tube?
Ans.: Tubeless tires are much safer as the sealant applied on them prevents any type of loss in terms of air just in case there is a pinch or puncture. Also, due to the absence of the tube, there is a significant reduction in friction while also maintaining a cool temperature of the tire. A lot of riders confirmed that removing the tube offers a much better riding feel. Furthermore, tubeless tires are capable of running at a much lower pressure compared to tubular tires. This allows more tread of the tire to be in direct contact with the road surface.
Q3. Can you use clincher tires on a tubeless rim?
Ans.: While it is absolutely possible to attach a tubeless tire to a clincher compatible rim, you just pump it up with the help of an inner tube. Likewise, a standard clincher tire can also be connected to a tubeless-ready rim by using an inner tube. However, you can only attain tubeless inflation by using a tubeless-ready tire and rim.
Conclusion
We hope you have a better idea about the different types of tires available and how they share both similarities and differences. If you want to learn more about them there is a myriad of information to know. We try to provide you with the most accurate and latest information through our articles. And that is the case for every article we post on our website. So keep an eye on our website to know about the latest trends and products of the cycling world. Thank you for reading this article. Take care and stay safe!