As Brooks claims,
"It is not the name of BROOKS which makes the saddle good, but the saddle and its excellence which makes the name supreme." – The Brooks Book for Cyclists, 1912. [Source]
Many will swear by this statement as these saddles indeed provide immense comfort, durability, and not to mention looks, as only a great leather saddle can provide.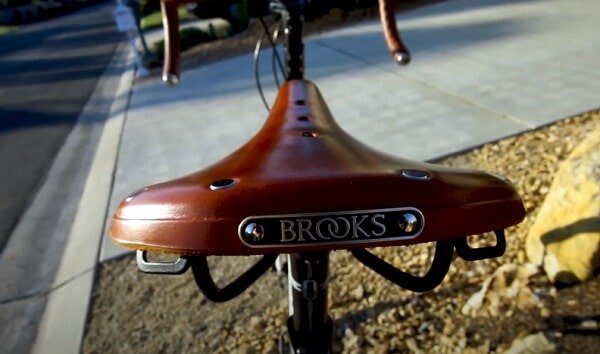 But as all leather products, they generally feel like hard plastic out of the box and you will need to break-in to them before finding that sweet spot of comfort. The natural way, of course, is to continuously use it until you hit that point.
For cycling seats this can, however, take a very long time, especially for pure thick leather ones as presented by Brooks. An approximately 1000 miles of use in fact. That's 1000 miles of potentially uncomfortable rides.
We can follow a few distinctive methods to speed this process of breaking-in up. Namely:
The Oil Soak
Saddle Soap
Proofide
Animal Oils (Mink)
The above mentioned methods can be quick or easy or even complicated but with fruitful results. It all depends on what you have available at hand, and we have considered all options in our choices.
Let's get started.
Steps to Break In a Saddle Quickly
1. The Oil Soak
The first method we are going to be talking about is, perhaps, the fastest amongst all the tests that we have done to break into our new Brooks saddle. It involves the use of leather dressings like neatsfoot oil, seal oil or your basic baseball glove oil.
We have used neatsfoot oil for our test. All of these are daily available in any online shops.
Now you can go two ways about it, one for softer leather like the casual touring saddles of the B15, and the other way for the race-ready B17 or Professional with its thicker and stiffer leather.
Soft Leather
Pour some of your preferred oil to cover the saddle.
Rub the oil in gently either by hand, soft rag or a kitchen towel.
Rub the oil on both upper and underside to get maximum surface area of the leather.
Leave the saddle for thirty minutes to an hour to soak in the oil.
Do this preferably under warmth, like near the window under the sun or near a radiator. It helps speed up the process.
Rub the excess oil off the saddle with a clean rag and take it out for a ride.
You should see the saddle being broken in before you have completed 200 miles on it. If not repeat the process every week until then.
Thicker and Harder Leather
A more drastic approach is required:
Take a small bowl or make a small bowl with aluminum foil and pour some of your preferred oil in it.
Place the saddle upside down on the bowl.
Pour in the rest of the oil, or about 4 ounces of it, into the bowl.
Let the saddle soak in it for thirty minutes to an hour.
Rub the excess oil off the saddle with a clean rag and take it out for a ride.
Same as before, you should have your saddle broken in after riding around 200 miles in it.
Keep in mind that you only need to immerse your saddle in oil only once in its lifetime. Go for the rubbing method every few weeks until broken in, and continue after every few months or when the sheen comes off the saddle.
2. Saddle Soap Application
The next is probably the easiest method in our book and it involves the use of saddle soap.
Saddle soaps are much easier to come by than proofide, and cheaper too, many come under $5.
Since it is a waxy substance, you may need to employ the use of an old rag to rub it in.
Take a small dab of saddle soap on an old rag.
Gently rub it in on the upper surface of the saddle.
Repeat and continue doing so until a sheen forms on the surface of the saddle.
Leave the saddle under warmth, under sunlight or near a radiator, to speed up the process.
Repeat the process every day, for two to 3 days before taking it out for a ride.
The saddle should soften and break in after a few weeks of riding.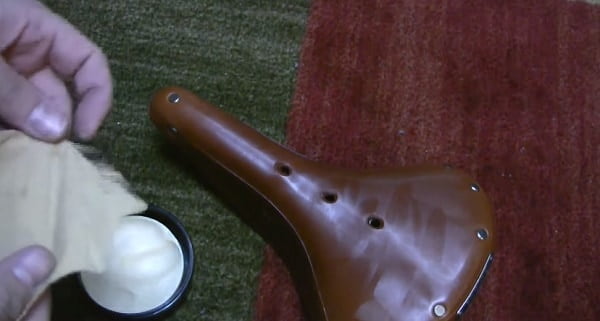 How to apply saddle soap to your Brooks saddle:
Brooks Saddle - Breaking in a B17 with saddle soap
3. Proofide (Suggested By Brooks)
While originally meant for maintenance, proofide can help soften the leather and speed up the breaking in process.
The process is easy and a lot similar to the saddle soap method.
Take a small dab of proofide on a soft rag.
Gently rub it in on both surfaces of the saddle for maximum coverage.
Once should be enough, but you can repeat until a sheen forms on the surface of the saddle.
Leave the saddle under warmth, under sunlight or near a radiator, to speed up the process.
Let it sit overnight before taking it out for a ride.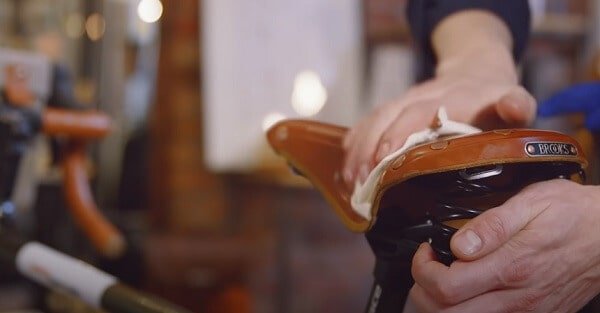 Brooks proofide can be a bit harder to find and may cost you around $10-15. This is still quite cheap considering a 50ml can of proofide can easily last a better part of two years, if not more.
4. The Most Complicated (Yet Fun): Mink Oil Application
We have saved the most complicated method we have tested out for last.
We have taken a page out of the Lon Haldeman's guide to breaking in a leather saddle, which involves the use of Mink Oil and a bunch of steps to follow.
Steps to Apply Mink Oil
Fill up a bucket with, preferably 2 gallons, of warm water.
Submerge your Brooks saddle completely under the water and leave it there for 5-10 minutes.
Afterwards, use your fingers to flex the saddle, especially around where the sit bones go. It should feel softer or pliable. If not, repeat the previous step and try again.
After you are satisfied with the pliability, dry the saddle off completely with a towel. Remove as much moisture as possible.
Rub the Mink Oil on both the top and the bottom of the saddle before it begins to cool. The warmth will help the leather absorb the oil much easily.
Put the saddle on your bike and go for a short ride (not more than a couple of minutes, the damp leather will be distorted if you go longer) for a tilt test on your old bike shorts (it will help rub off the excess Mink Oil on the saddle).
When the correct saddle tilt is achieved, leave the bike with the saddle on overnight.
Take the saddle out for a short spin again the next day. If the saddle still feels stiff, repeat steps 1-5 again and leave overnight.
When the saddle finally feels pliable to sit on, you will know that it is ready and only apply a single coating of Mink Oil before taking it out for a longer ride.
Coat the saddle with Mink Oil before heading out every time. It is important to keep the saddle from drying out at all for the first month of the process.
The saddle should be broken in just after a week or with 100 miles under its belt.
Final Words: Some Pro Tips From Us
First of all, make sure to use an old pair of bike shorts or a black pair when going on a ride after any breaking in method is performed. This is to avoid any residue to end up sticking to your more valuable clothes.
Even with your new Brooks saddle hitting that very coveted comfort point, let us not forget that these saddles are made up of leather, an organic material. It is imperative that you maintain them well.
Following the instructions on the box should be fine for the most part, but sometimes you just have to eye it out. If you notice that the saddle is losing its sheen (shininess), go ahead and apply a coat of proofide, wax, oil, or whatever you have available at hand, on it.
As the leather breaks in and becomes more pliable (loose) make sure to tighten the tension on the front of the saddle using the tightening tool that comes in the box. A tightening every 1000 miles should do it.
More on how to care for your Brooks saddle:
How To Care For Your Brooks Saddle: Everything You Need to Know!
 That said, we hope that the tips we have just provided help you get comfortable on your new purchase as soon as possible and also make the best out of this exciting new experience, just as we have.
Happy Riding!
Frequently Asked Questions
Q1) What is Brooks proofide?
Ans.: The proofide leather treatment paste based on bee's wax. It helps replenish the natural oils in organic leathers that tend to dry up over time, or when exposed to the elements.
Be careful to not use an excessive amount of proofide on your leather saddle, as it also softens the leather and might even distort its shape under enough pressure.
Q2) How do you date a Brooks saddle?
Ans.: The current and easiest way to date a Brooks saddle is to look for a colored stamp on its underside. The stamp represents the month with a letter and is surrounded by the year.
For saddles manufactured between 1960 and 1988, the manufacture date can be found stamped on the metal frames of the saddle.
There is no way to date saddles manufactured before the 60s however.