Hubs are the centerpiece of wheels in all bikes. They may seem small, but there is a lot about them that most people don't know. In general mountain bike hubs are a little more complicated than road bike hubs. In this article, we will discuss almost all there is know about mountain bike hubs, so that you can know your beloved bike just a little better.
Bike Hub Anatomy
Front hubs are comparatively a lot more simple than rear hubs which have additional mechanisms. Both front and rear hubs have the following components:-
Hub shell/body: This is the main component of a hub. It is the "body" or "shell" to which the spokes and the brake rotors (if disc brakes are used) are attached.
Bearings: The bearings allow the wheel to rotate smoothly while remaining attached to the bike. Hubs typically have two bearings, one on either side of the wheel.
End caps: These are the parts of the hub that attach to the fork dropouts of the bike and keep the wheel in the correct position. They can be changed to make a hub compatible with different axle standards.
Bearing sleeve or axle: The bearing sleeve is like an axle and it joins the two bearings and interfaces them with the wheel axle. The end caps are also attached to the bearing sleeve.
Rear hubs usually have these additional components:-
Freehub body: The freehub is found on the drive side of the rear hub. It is a splined component to which the cassette is installed. There are additional bearings in it that allows it to rotate independently of the hub body. It contains a ratcheting mechanism which transfers power to the cassette but also allows you to coast.
Ratchet mechanism: As mentioned above, this is the device that lets the freehub spin independently of the hub body in one direction, in other words, when coasting. But it also locks them together when you want to transmit power to the rear wheel and pedal in the forward direction. There are three types of mechanisms that are responsible for this – sprag clutches, ratchet-and-pawl mechanism, and ring-drive systems.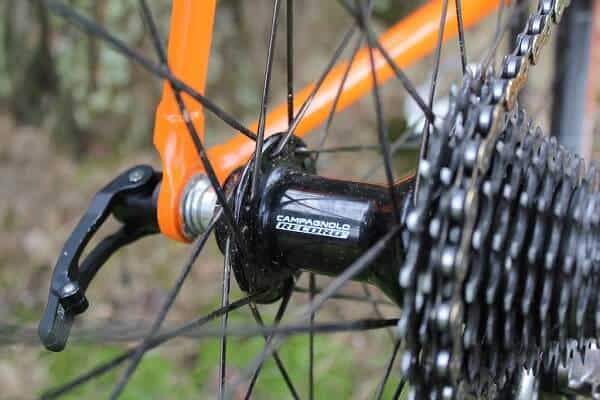 Types of Bearings
Nearly all bike hubs out there have one of two types of bearings. Cup and cone bearings are the older and more affordable type. These contain rings of loose ball bearings that rest inside 'cups' in the hub body, and are fixed in place by 'cones' which are conical nuts. Other than being cheap, cup and cone bearings also have the advantage of being easy to service at home. However, it can be tricky to adjust them perfectly.
The other, more expensive, type is called cartridge bearings. These consist of ball bearings or needles that rotate in a single unit called the cartridge. This can be removed quite easily for servicing or replacement when worn out. A lot of riders now prefer the convenience of using cartridge bearings since they don't require micro-adjusting or looking for stray ball bearings. However, they are more costly to replace.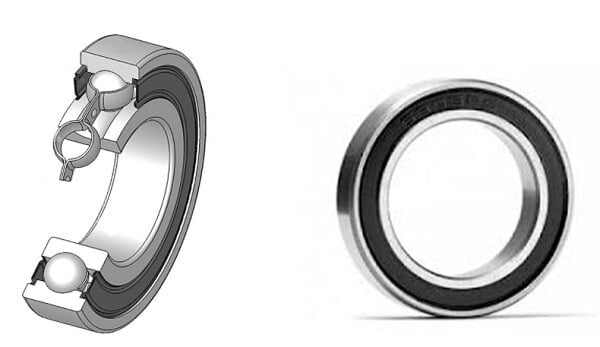 Materials
The majority of bike hubs are made of aluminium which is both lightweight and strong. Higher-end carbon fiber hubs are also available for disciplines such as XC racing. On the other end of the spectrum, there are steel hubs that are able to withstand the higher loads and impacts of dirt jumping, trail riding, or downhill riding.
Brake Rotor Attachment
We know that disc brakes have a rotor that is attached to the hub of the wheel. This attachment can be of two types – six bolt or centerlock. As the name suggests, six bolts are used while fixing a six bolt rotor to the hub. Meanwhile, a centerlock rotor attaches directly to one of the hub splines via a special lockring. Both types have largely the same level of performance and one is not really better than the other. It is useful to know that there are adapters that can make centerlock rotors attach to six bolt hubs and vice versa.
Axle Standards
Axle standards can be confusing for most people since there is no standard set by the industry. Thru axles and quick-release skewers have frame specific sizes. Therefore, you have to choose a hub or a wheel according to the frame and fork of your bike. The table below illustrates all the commonly found axle and hub standards.
Front Wheel
| Hub Width / Axle Length | Axle Diameter | Type / Use |
| --- | --- | --- |
| 100 mm | 9 mm | Quick-release (QR) |
| 100 mm | 15 mm | QR15 - Cross country and MTB |
| 110 mm | 15 mm | Boost 15 - Used in boost compatible forks, use of wider tires and a stiffer wheel is possible |
| 110 mm | 20 mm | Boost 20 - Large thru axles, found on long travel bikes that require additional stiffness |
Rear Wheel
| Hub Width / Axle Length | Axle Diameter | Type / Use |
| --- | --- | --- |
| 135 mm | 10 mm | Quick-release (QR) |
| 135 mm | 10 mm | Oversized QR skewer - Can be used in standard open-dropout frames, higher stiffness and strength |
| 142 mm | 12 mm | Regular thru axle - Most common thru axle length, common in non boost frames |
| 148 mm | 12 mm | Boost thru axle - For frames that are boost compatible, wider tires can be used |
| 150/157 mm | 12 mm | Super boost - Popular on downhill bikes, wider hub spacing for better strength |
Points of Engagement
This describes the number of points at which the cassette is engaged by the freehub's ratchet mechanism. Generally referred to as POE, higher-end hubs will usually have 36 POE or more while low-end hubs typically have somewhere around 18 to 24 POE.
For a ratchet-and-pawl mechanism hub, the number of ratchet ring teeth in the hub shell and the total number of pawls that are engaged at a specific time is what determines the number of POE of the hub. As a simple example, a hub with a 32-teeth ratchet ring that engages all the pawls at the same time will have 36 POE. In a ring drive hub all the teeth are designed to engage at once. Hence, the number of POE is equal to the total number of teeth of the rings.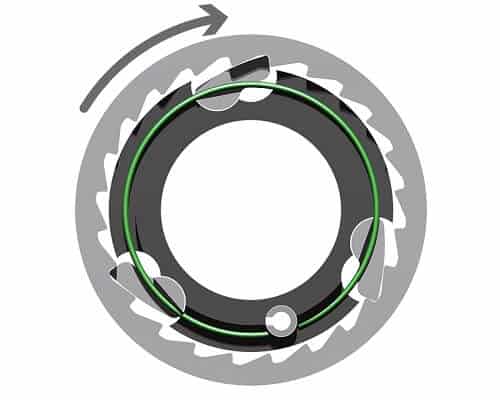 Number of Spokes
When you are shopping for a new hub to replace a wheelset, you will have to buy according to the number of spoke holes and their type available on the hub flange to that of the spoke holes drilled into the rim. As an example, a 36-hole hub can only work with a 36-spoke wheel, and requires a 36-hole rim.
Frequently Asked Questions
Q1. Are carbon fiber hubs suitable for mountain biking?
Ans.: That depends on your exact riding style and the intensity of use. Suppose you are a downhill or gravity rider. The forces that act on the hub in this case might be too much for carbon fiber to handle. In fact, many MTB riders don't even use aluminium hubs and instead opt for steel ones since they have the most strength. Carbon hubs are better suited to cross-country bikes where low weight might be important.
Q2. Are more points of engagement better?
Ans.: Generally, higher points of engagement are found on more expensive hubs. This is because more points of engagement means that the pedals feel more responsive and you can accelerate just a tiny bit faster. However, the higher number of teeth means that they are smaller and do not have the strength of larger teeth. This is usually not much of a problem for most riders but you might notice a difference in terms of long-term durability.
Conclusion
Even though hubs are a rather small component of bikes, there is a lot more to it than you might have thought. By now you should understand pretty much all there is to understand about hubs for mountain bikes. So, when you might want to change your hubs you will have a good idea about what to look for.